I am a huge advocate for juicing and for green smoothies so I'm always excited to find new recipes from friends who juice & blend! Today Ann is sharing her secret weapon: the Glowing Green Smoothie and it sounds awfully tasty!
"One of my New Year's Resolutions is to be healthier – and I'm sure I'm not alone here. A big change I made last year for getting fit for our wedding was having a green smoothie every morning. I barely had time to work out last year, but just making the small change to a green smoothie every morning helped me lose weight and cleared up my skin – two things that have always been on my list of resolutions!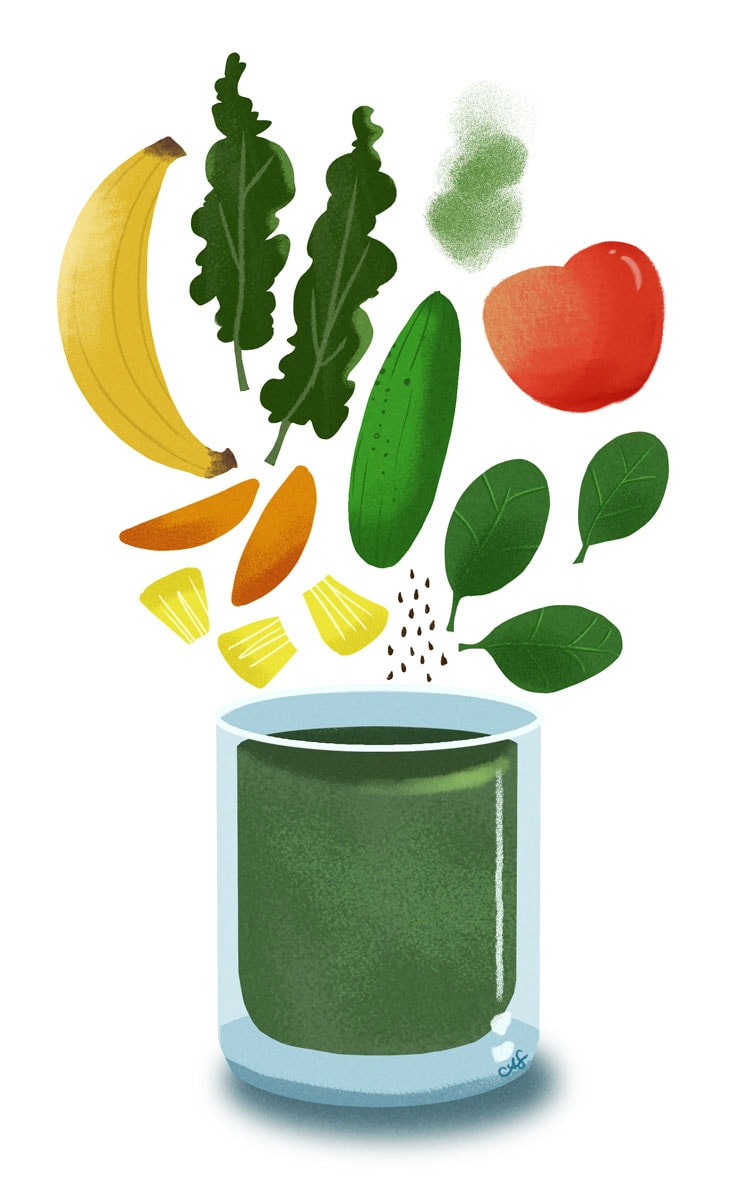 Illustration by Ann Shen
I've kept it up long after the wedding for many reasons – most of all because it was a small change that's made a huge impact in my life. You start off every morning with your fruit & vegetable servings checked off, which helps set you up to make good food choices (or not feel so bad about poorer choices) for the rest of the day; you get a ton of vitamins & nutrients first thing; and it keeps everything running smoothly in your body." - Ann
Good Morning Green Smoothie (based off of Kimberly Snyder's Glowing Green Smoothie)
*Author's note: Vegetables & fruit can be substituted for what you like - just keep the ratios similar.
Makes enough for 2
2 cups spinach
2 cups kale
½ cucumber
1 ½ cups filtered water
1 banana
1 apple or pear (cored)
¼ cup frozen mangos
¼ cup frozen pineapples
1 tsp spirulina
1 Tbsp chia seeds
Directions:
1. Start by blending greens with water – leafy stuff is hard to blend if you try to add it last.
2. Once liquified, add in the rest of the ingredients and blend until smooth. That's it! Enjoy!
Note: Best to drink it right away as the frozen fruit keeps it icy.