It's confession time once again, I've been in a real toddler meal slump over here. I realize I've had very little in the way of new and fun toddler meal ideas to share with you. Mostly because we've had a round of colds and because mac and cheese has made an appearance more regularly than normal. But mostly, I've been feeding the twins exactly the same meals that we have been eating, salmon and all. Here's a look at how I turned our family meals into toddler meals...it's time for What I Fed the Twins this Week!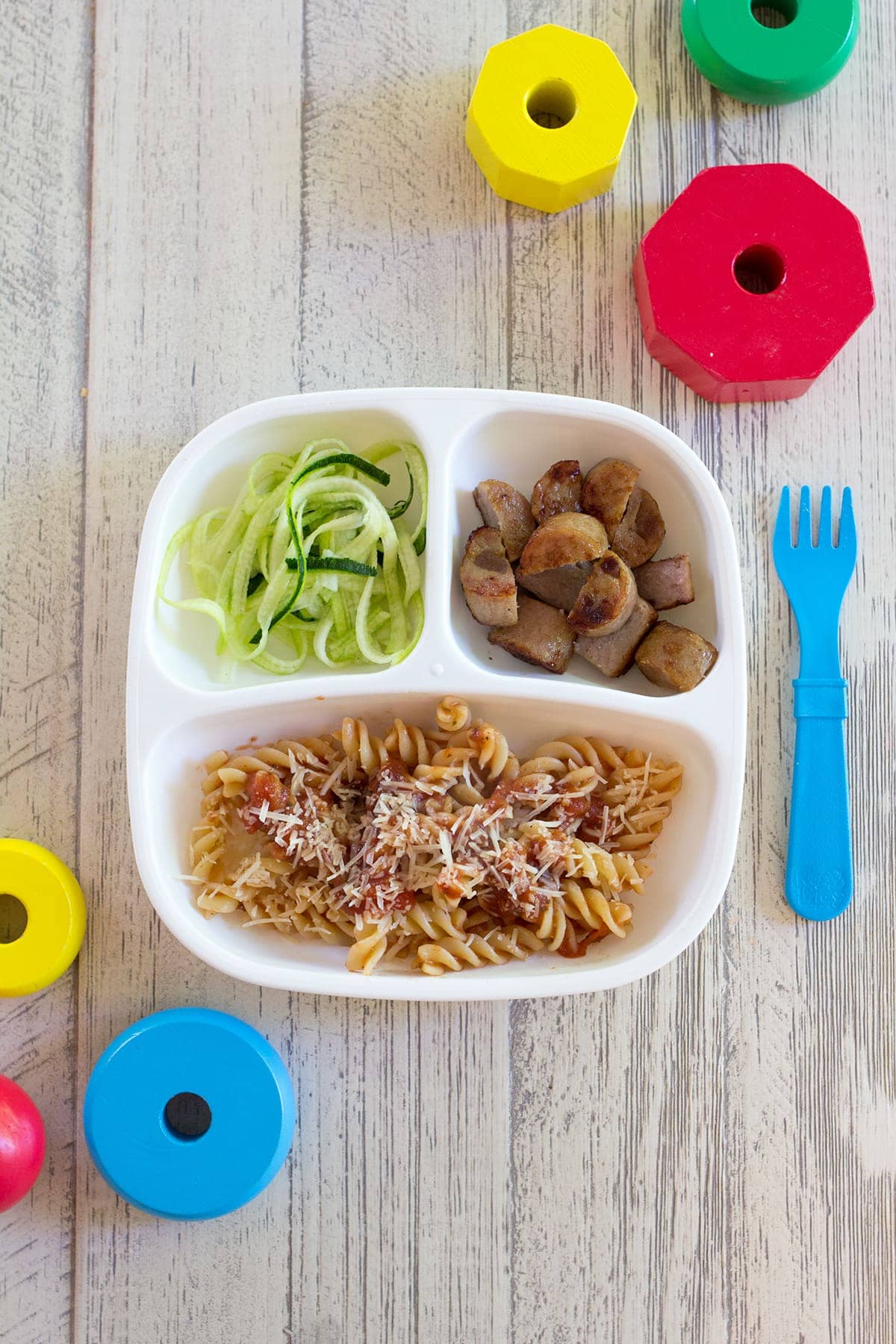 Dinner: Zoodles, pasta with marinara sauce and chicken apple sausage.
Notes: When I make pasta for the twins, I usually make zucchini noodles for myself and vice versa. This was the first time I tried serving the zoodles to the twins and they were not fans of the texture. As for the pasta and chicken apple sausage, well those are always a hit!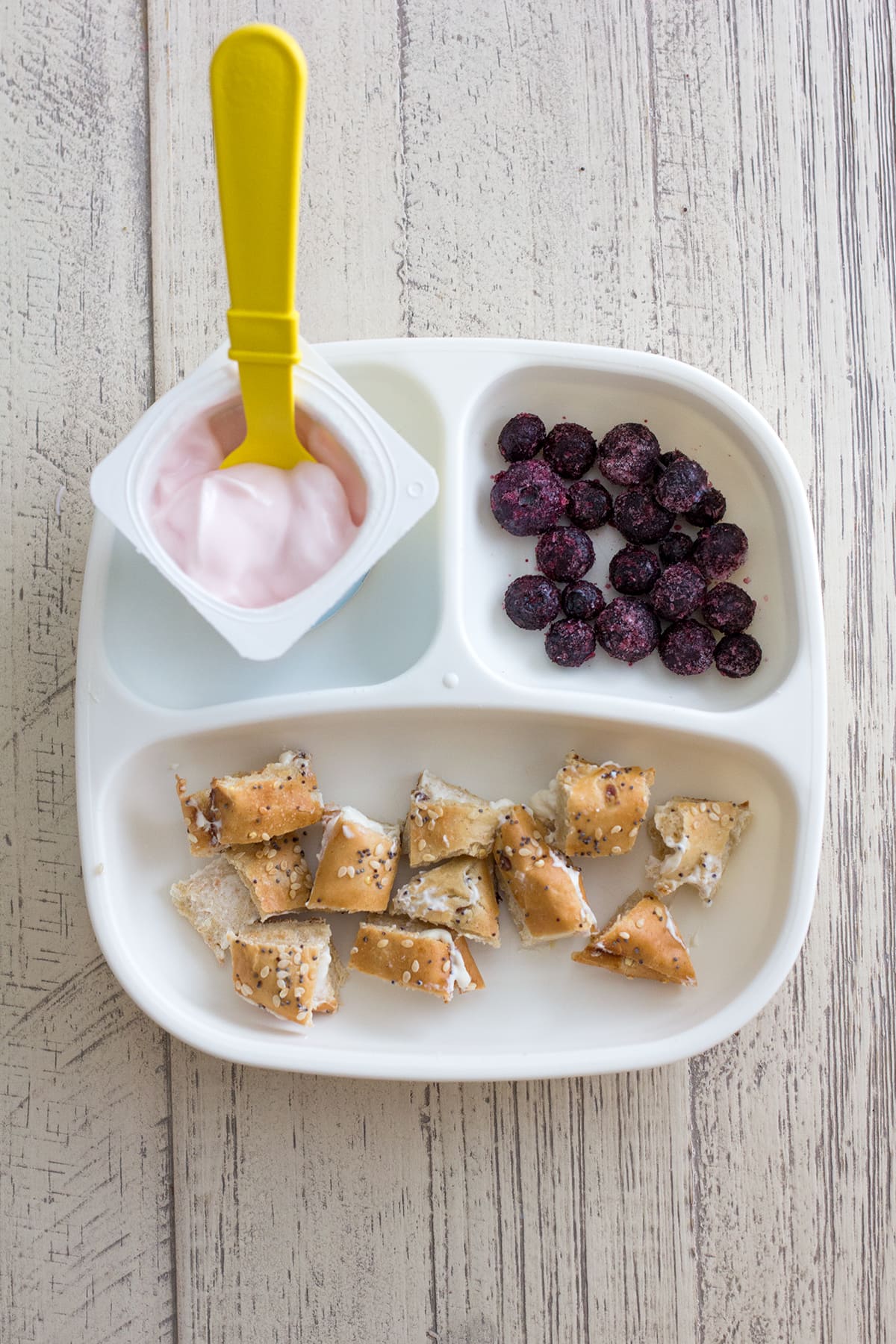 Breakfast: Bagel bites, blueberry yogurt and frozen blueberries.
Notes: Our favorite bagels are Dave's Killer Bread Blueberry bagels and everything bagels spread with cream cheese and cut into bite sized pieces. I've found that large pieces of bagel are too messy and hard to bite for tiny mouths but tiny bites are perfect!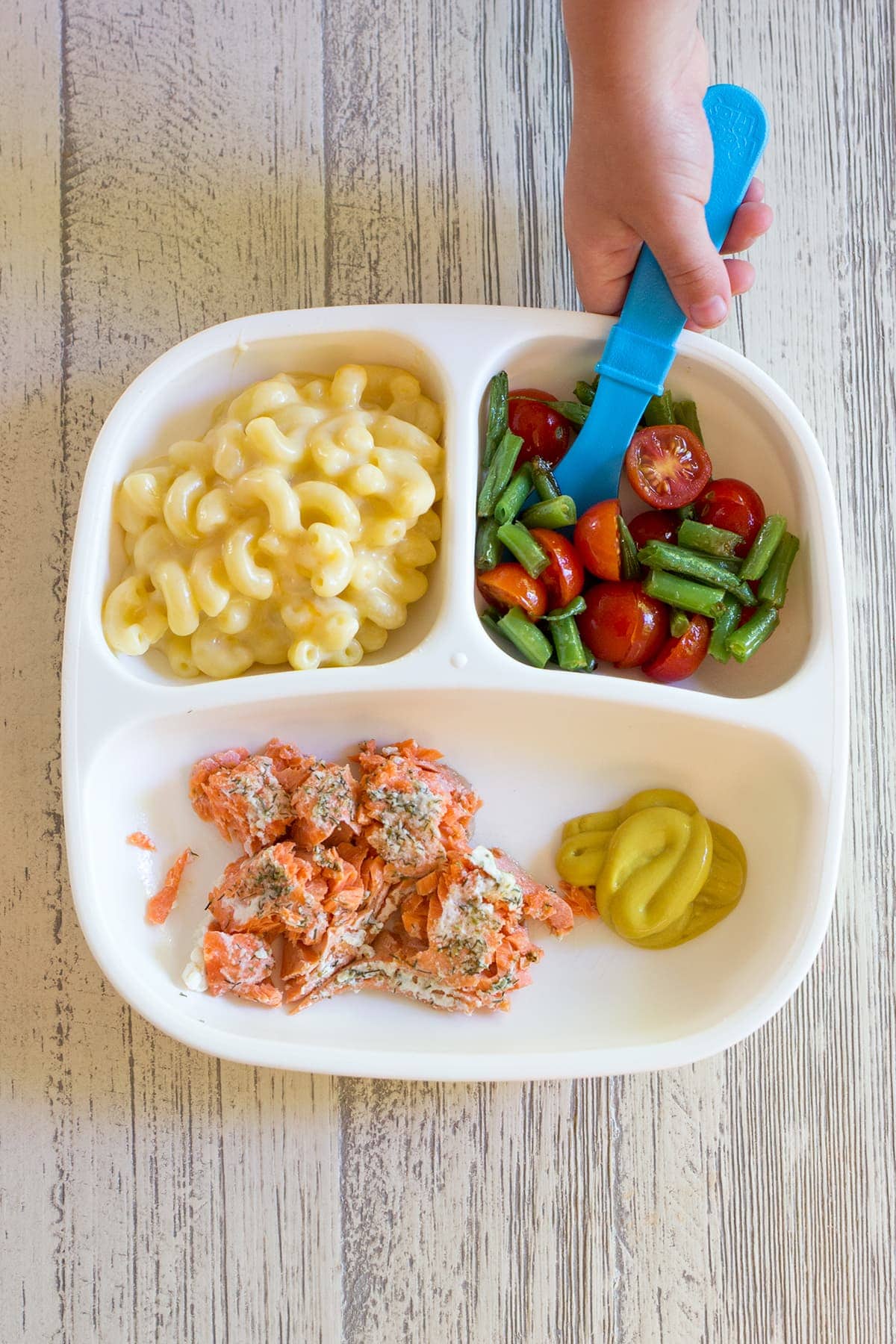 Dinner: Roasted salmon with dill, sautéed green beans, cherry tomatoes and macaroni and cheese.
Notes: Yes, the twins ate salmon, no they wouldn't touch the green beans! In my experience with feeding the twins, they will try most any meat or seafood as long as large quantities of mustard and ketchup are present for dipping and salmon is no exception. I roasted the salmon with olive oil, salt, pepper and dried dill for the entire family. *Make sure to cut toddler salmon into chunks, checking for any pin bones before serving.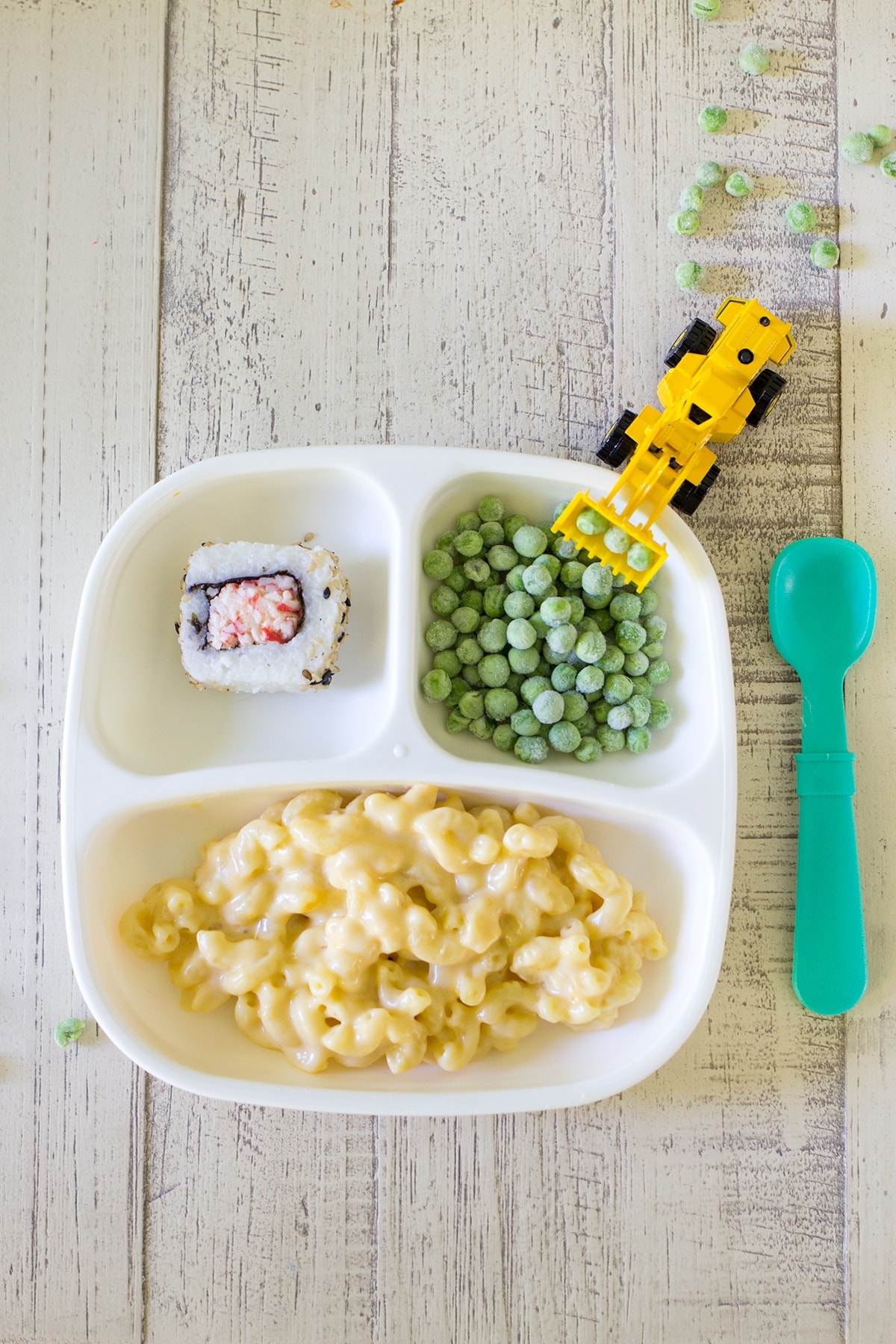 Lunch: Macaroni and cheese, frozen peas and sushi.
Notes: My kids are huge sushi lovers! Millie will eat anything from tuna sashimi to California rolls. (I know, it's unusual) Recently, she spotted a package of sushi in the refrigerated aisle of Trader Joe's and asked to buy it. If your toddler spots something in the store that they WANT to eat...I recommend trying it. (Within reason of course) If you have never tried sushi with your kids, I would recommend starting with a California roll. Cooked fish is usually best and this roll is mild in flavor and very kid friendly! Start by feeding your toddler the sweet filling with a little bite of rice.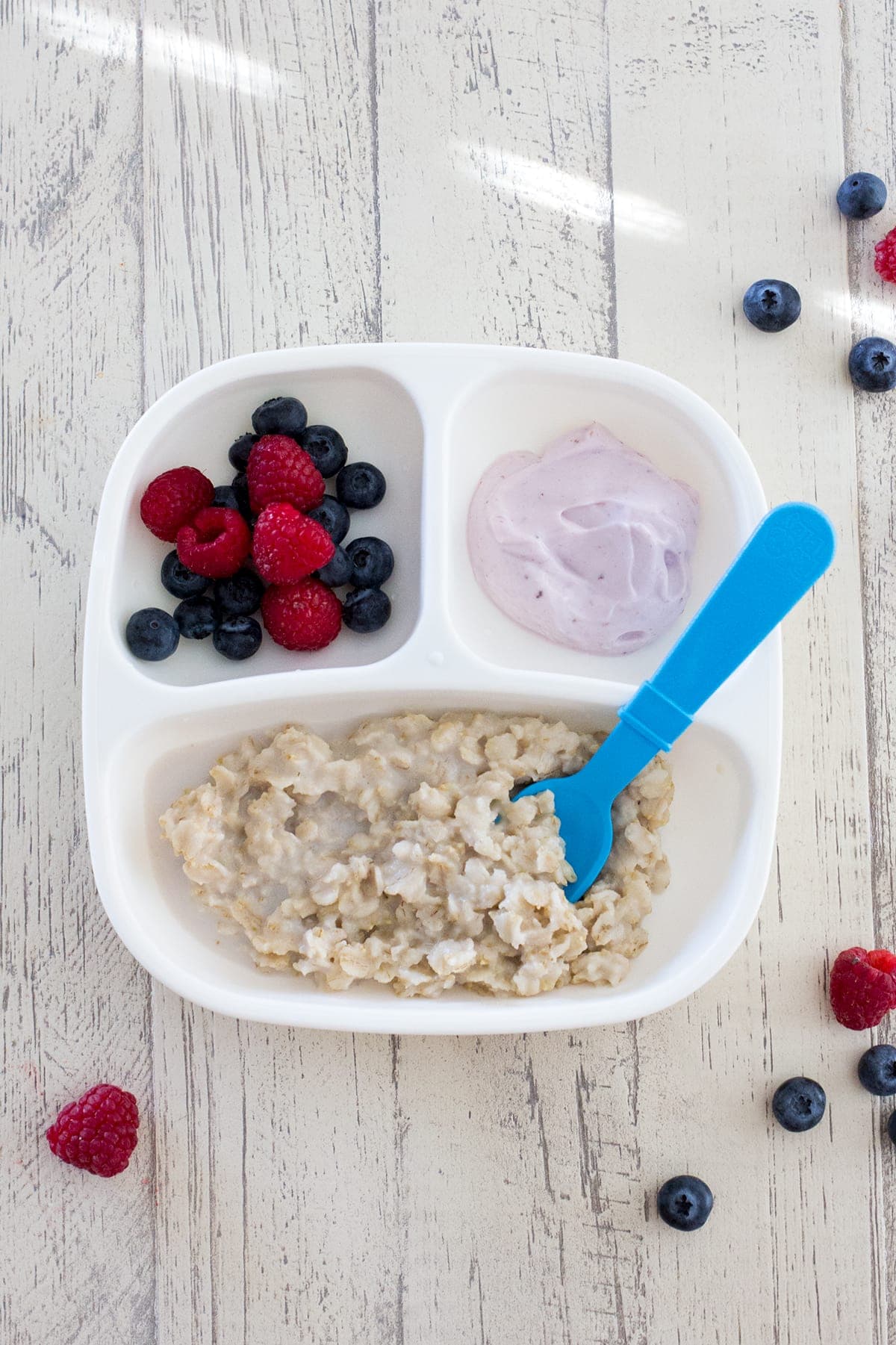 Breakfast: Oatmeal, yogurt and mixed berries.
Notes: I've shared this before but my kids always enjoy oatmeal for breakfast! I make it with whole milk, a tiny bit of butter and either maple syrup or a tiny bit of brown sugar. Yum! They also like overnight oats which are a great make-ahead meal.