Happy Friday and National Donut Day! While admittedly I am not much of a donut fan, I really can't resist a freshly fried, still warm and gooey, jelly-filled donut no matter how hard I try. Normally I would be posting a cocktail recipe on Style Me Pretty Living today but when I was asked to create a donut recipe for this most decadent of holidays I knew that Raspberry Glazed Donuts and Jelly-Filled Donuts were just the ticket!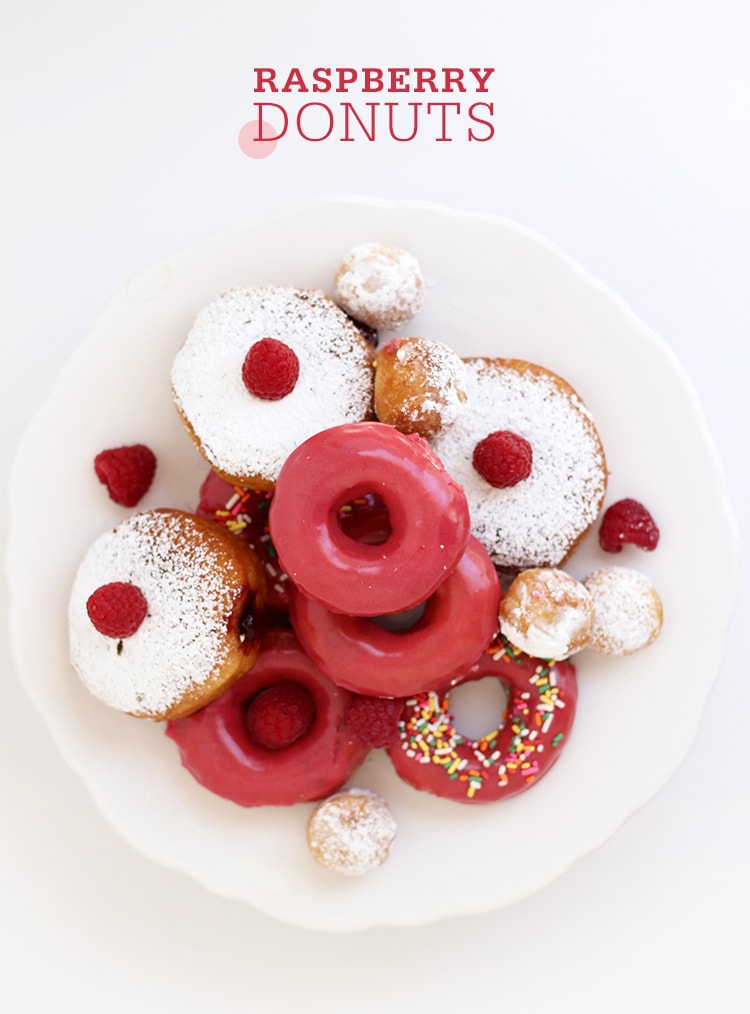 Before you dismiss this post as being overly complicated or time consuming, let me explain how incredibly, stupidly, easy these donuts are to make! Thanks to Erin's genius idea of using store bought biscuit dough, you can make donuts in the blink of an eye. Dangerous, I know and you won't believe how delicious they turn out!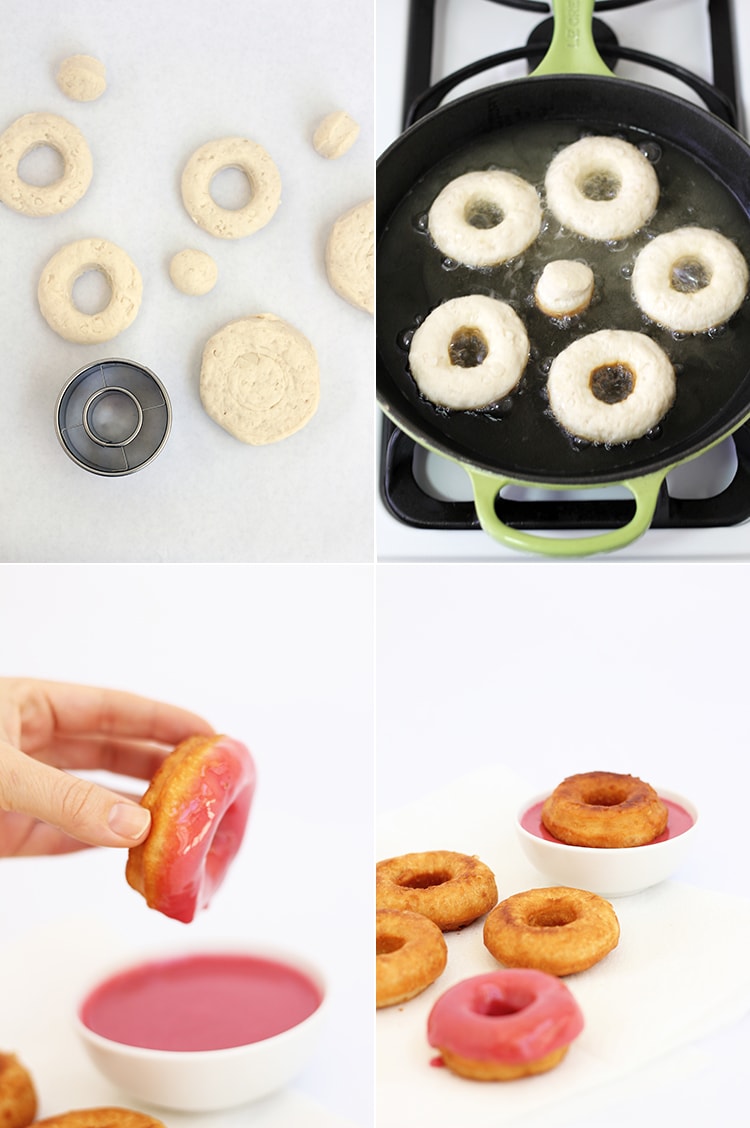 Dip them in homemade raspberry glaze, roll in powdered sugar, or stuff full of raspberry jelly and you are all set to devour. Or, take Erin's advice and dunk in cider before rolling in cinnamon-sugar. Whichever way you dress these donuts they are sure to be divine served with a cup of coffee!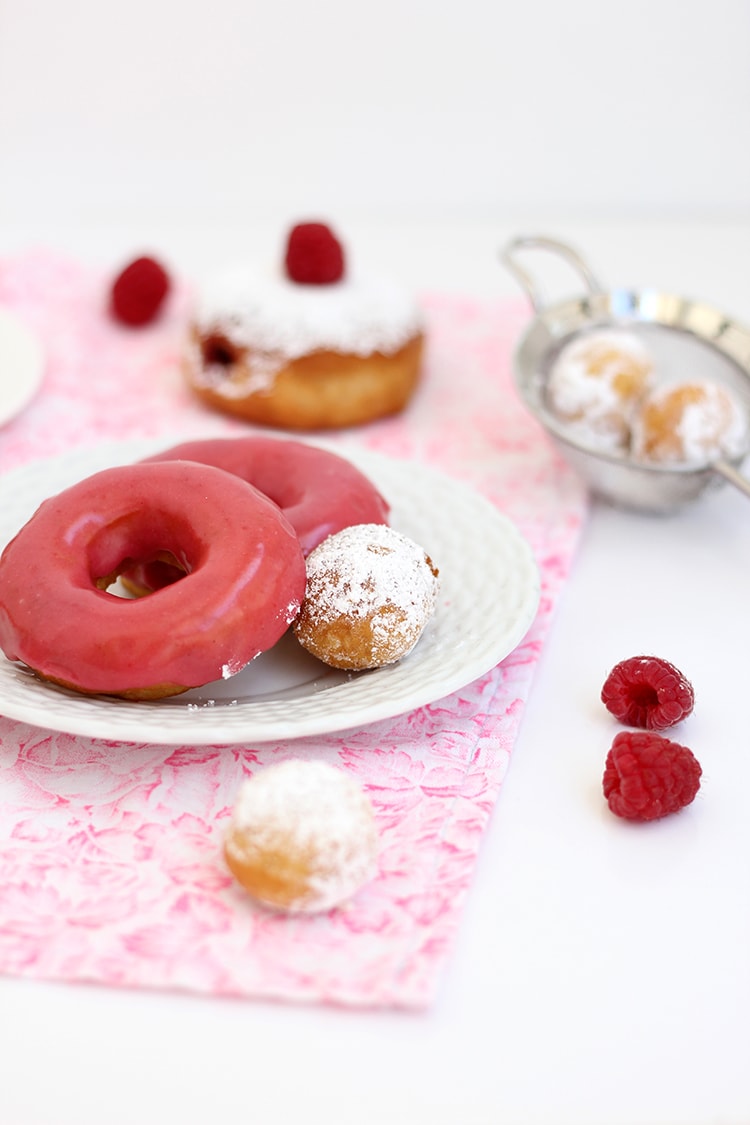 Personally I made a variety of choices so that everyone in my family had their favorites. The little powdered sugar donut holes didn't last 5-minutes when Jason got home. To see how I made the jelly-filled variety, visit my post on Style Me Pretty Living today. Now go grab a roll of biscuit dough and heat the oil, today any calories consumed due to donut eating don't count…it's a true fact!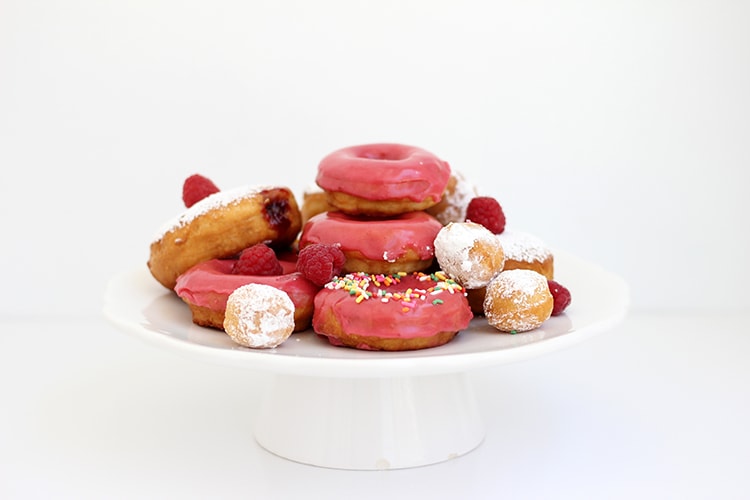 photos by Leah Bergman / post on Style My Pretty Living

Raspberry Jelly-Filled & Glazed Donuts
makes 16 donuts
2 (16 oz) rolls-Refrigerated Buttermilk Biscuit Dough
1 pint raspberries, plus more for garnish
2 cups confectioners sugar, plus more for garnish
1 tsp vanilla extract
seedless raspberry jelly
canola oil
sprinkles, optional
Directions:
Make the Glaze:
1.In a blender, puree 1 pint fresh raspberries. Strain through a fine mesh sieve to remove seeds and reserve the puree.
2. To the puree, whisk in 1 Tbs raspberry jelly, 2 cups confectioners sugar and 1 tsp vanilla extract. You can adjust the consistency by adding more confectioners sugar to thicken or heavy cream to thin. Set aside.
Make the Donuts:
1. Using a donut cutter or a set of round cookie cutters, cut donut shapes out of biscuit dough. Cut out centers for traditional donuts or leave whole for jelly filled. Save the cut out centers for making donut holes.
2. In a heavy pan, heat about 1″ of oil over medium heat. Oil is ready when it starts to ripple. Test oil by dropping in a small piece of dough. If it bubbles around the edges the oil is ready. Make sure oil is not too hot or donuts will burn.
3. Carefully drop in donuts and flip once the edges start to turn golden. This happens very quickly so don't walk away!
4. Remove donuts with a slotted spoon and drain on paper towels.
5. Once cool, dip in reserved glaze or roll in powdered sugar.