Curried Coconut Carrot Soup, is a creamy vegan soup made with coconut milk, curry and ginger perfect for a healthy weeknight dinner and delicious for vegetarians and meat lovers alike!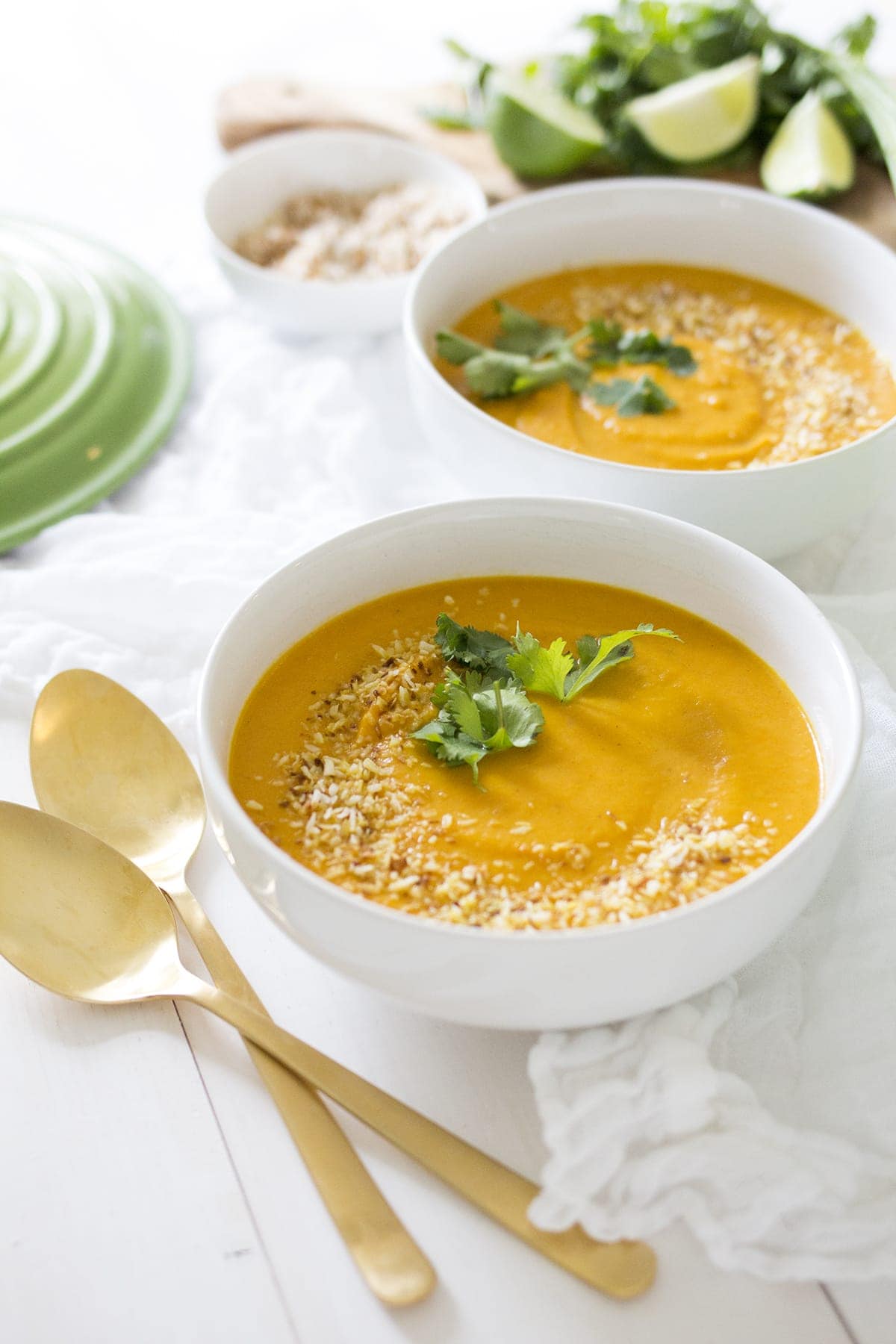 Carrot Soup Recipe
Does anyone else purchase a bag of carrots for a recipe, use two and then forget about the rest? It happens to me more often than I would like and I am NOT a fan of wasting food.
This past weekend I made a Curried Coconut Carrot Soup with the pile of carrots I had on hand (about 16 small-medium sized carrots to be exact) and liked it so much I thought I would share it with you...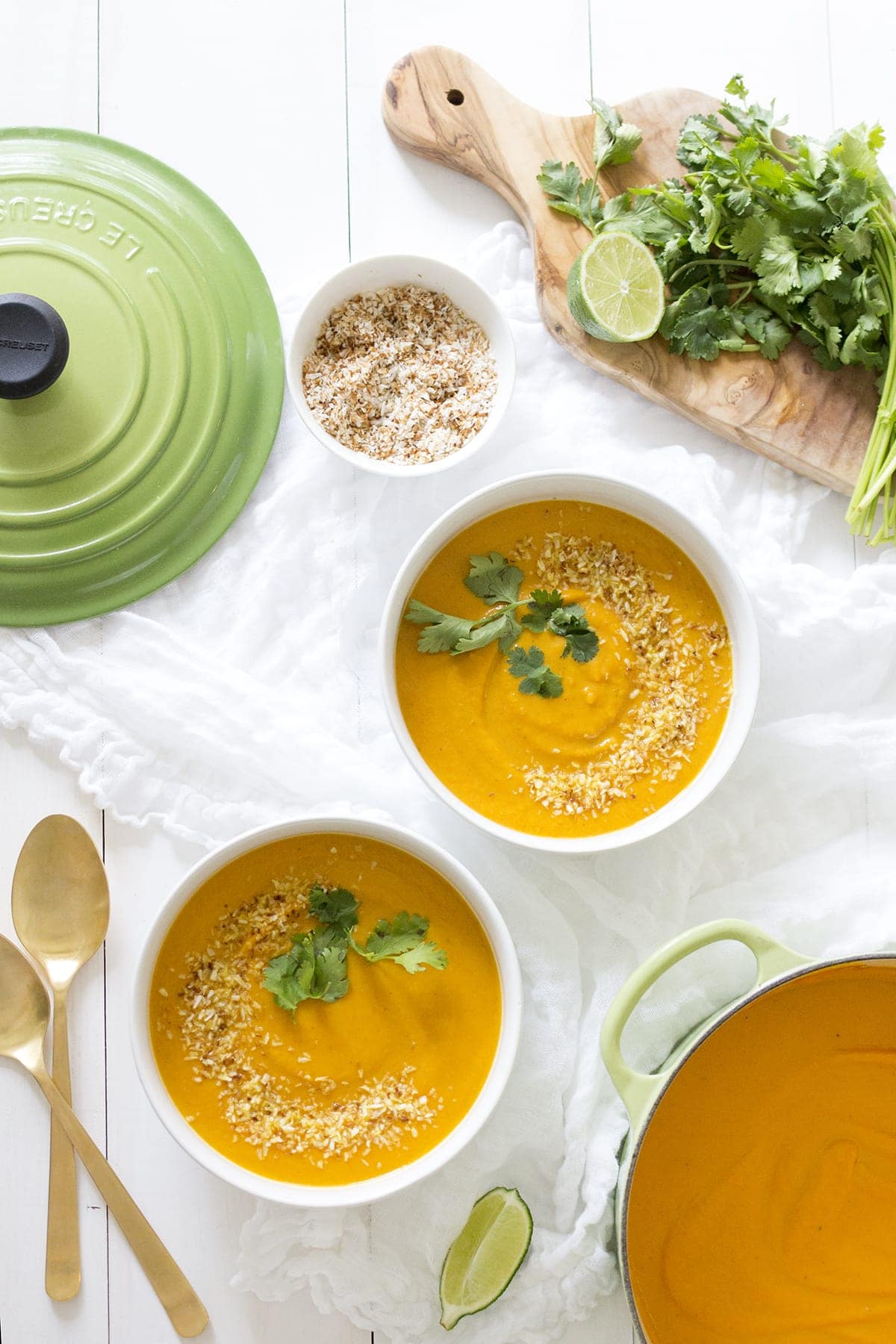 What to Serve with Carrot Soup
I served this carrot soup for dinner along with sautéed and seasoned cauliflower rice and steamed peas. Sort of an Indian inspired dinner and it was delicious! For the twins I cooked up some quick breaded turkey cutlets on the side as well because growing babies need their protein. Personally, I was completely content with big bowls of soup and the cauliflower rice, however the garlic naan from Trader Joe's would have rounded out this meal nicely.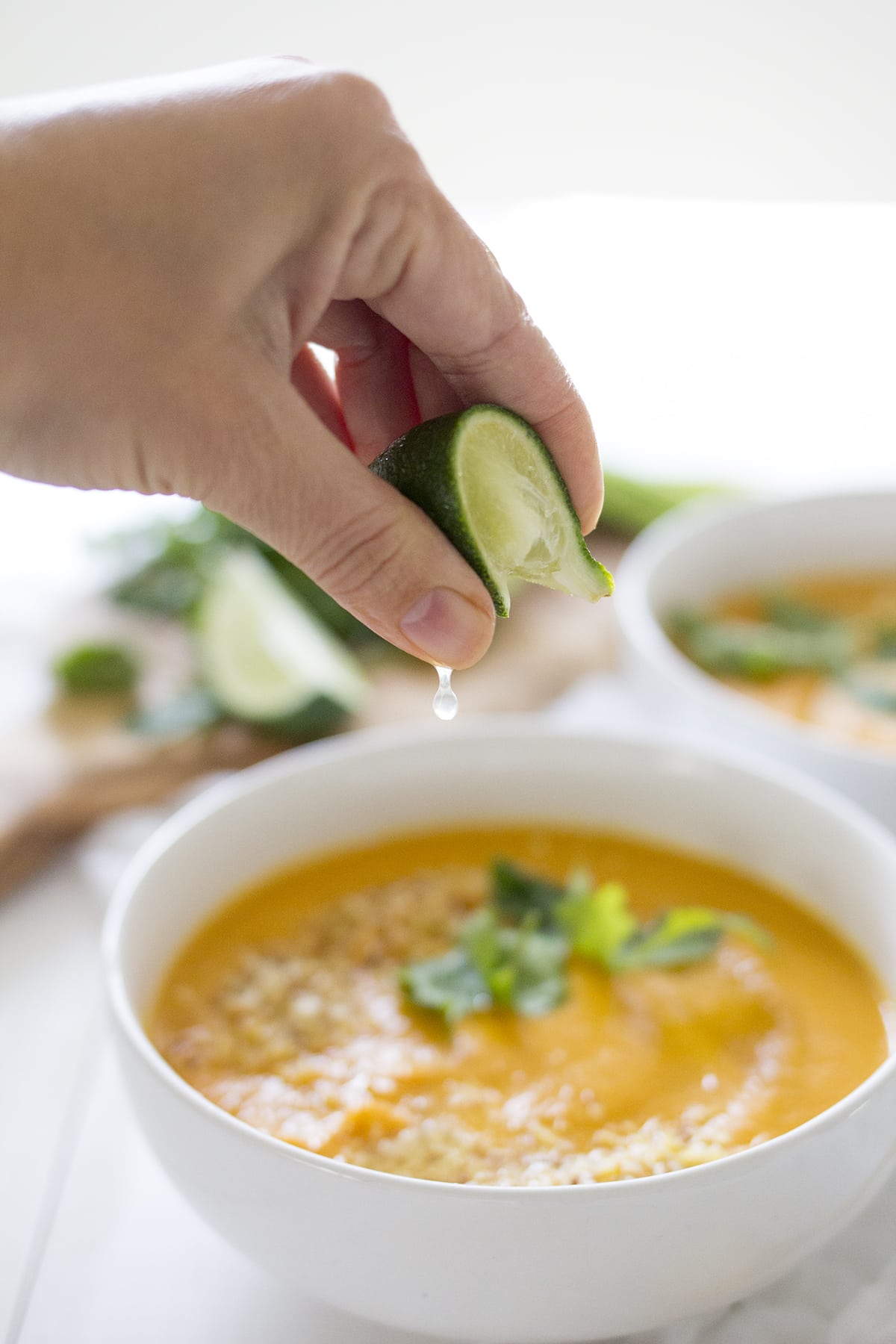 Ingredients In Curried Coconut Carrot Soup
As for the soup itself, there isn't a lot that goes into it! Just a whole bunch of carrots, onion and ginger, coconut milk and of course curry powder. No butter or milk are used in this recipe, however the end result is luscious and creamy.
I added just a squeeze of lime, toasted coconut and cilantro before serving and it was amazing! Definitely a soup I will make again and again. It makes a good amount so if you are serving it with other dishes, plan to have leftovers.
How to Make Carrot Soup
Sauté: cook onions and carrots first until tender!
Add some flavor: add the ginger, curry, coconut milk and vegetable stock.
Simmer: low and slow until carrots and veggies are soft.
Puree: I love using THIS immersion blender to puree all of my soups. This way you can puree right in the pot and not have to transfer hot soup in batches to a blender.
Who's ready to make soup for dinner? I hope you will try this delicious dish this week. If you do, please come back and let me know how you enjoyed it! I highly recommend serving it with a side of Trader Joe's Garlic Naan Bread, yum!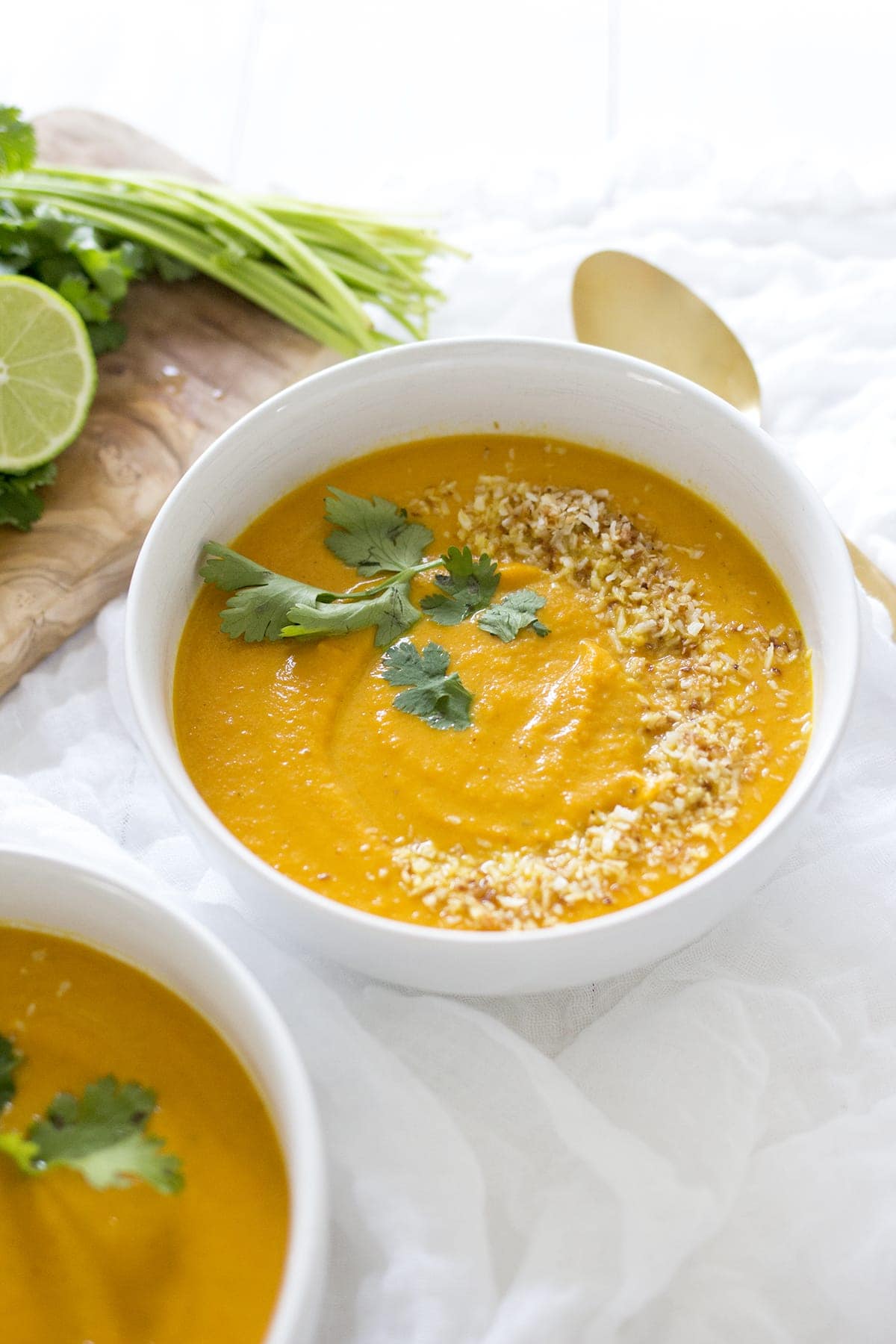 Looking for More Soup Recipes?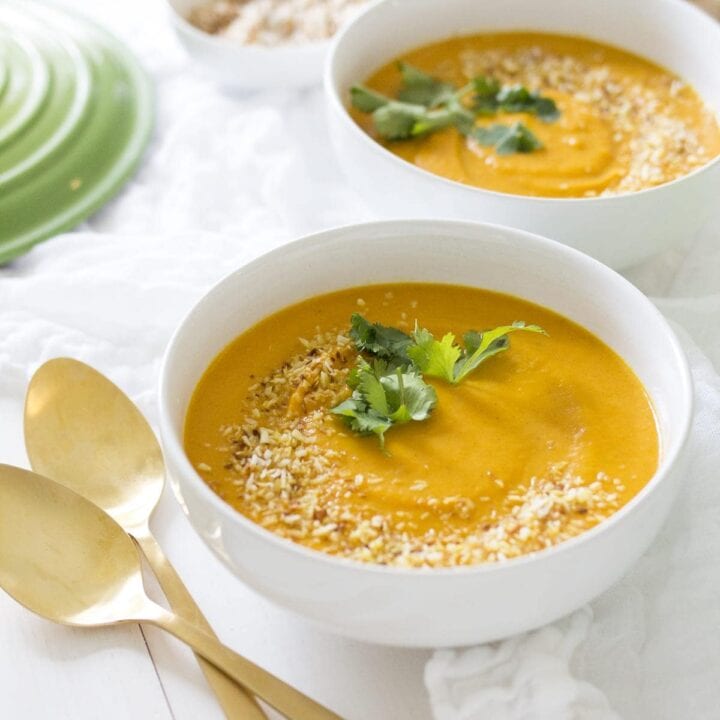 Curried Coconut Carrot Soup
A creamy, dairy-free and vegetarian, Curried Coconut Carrot Soup.
Ingredients
2 tablespoons coconut oil
1 small onion, peeled and diced
6 cups carrots, peeled and diced (this required 16 medium-sized carrots for me)
3 ½ cups vegetable stock
1 15-ounce can coconut milk
1 ½ tablespoons fresh ginger paste
1 tablespoon curry powder
Salt and pepper to taste
cilantro for garnish
lime wedges for garnish
toasted coconut for garnish
Instructions
Heat the coconut oil in a large soup pot and add the onions. Cook onions over medium heat for about 7 minutes or until they are soft and translucent. Add the carrots and cook for another 5 minutes.
Add the ginger and curry powder and cook stirring about 30 seconds until fragrant. Add in the stock and coconut milk.
Bring to a simmer then reduce to low and cook simmering for about 10-15 minutes covered or until carrots and veggies are soft.
Remove from heat and puree using an immersion blender or carefully blend soup in batches in a blender covered with a kitchen towel. Season with salt and pepper and garnish with cilantro and toasted coconut on the side. Serve with a squeeze of lime.
Save