I love making a Big Batch of Chunky Chicken Noodle Soup anytime the mood strikes for classic chicken and noodle soup. Simple, delicious, and absolutely perfect for those under-the-weather days or when you need a bowl of comfort.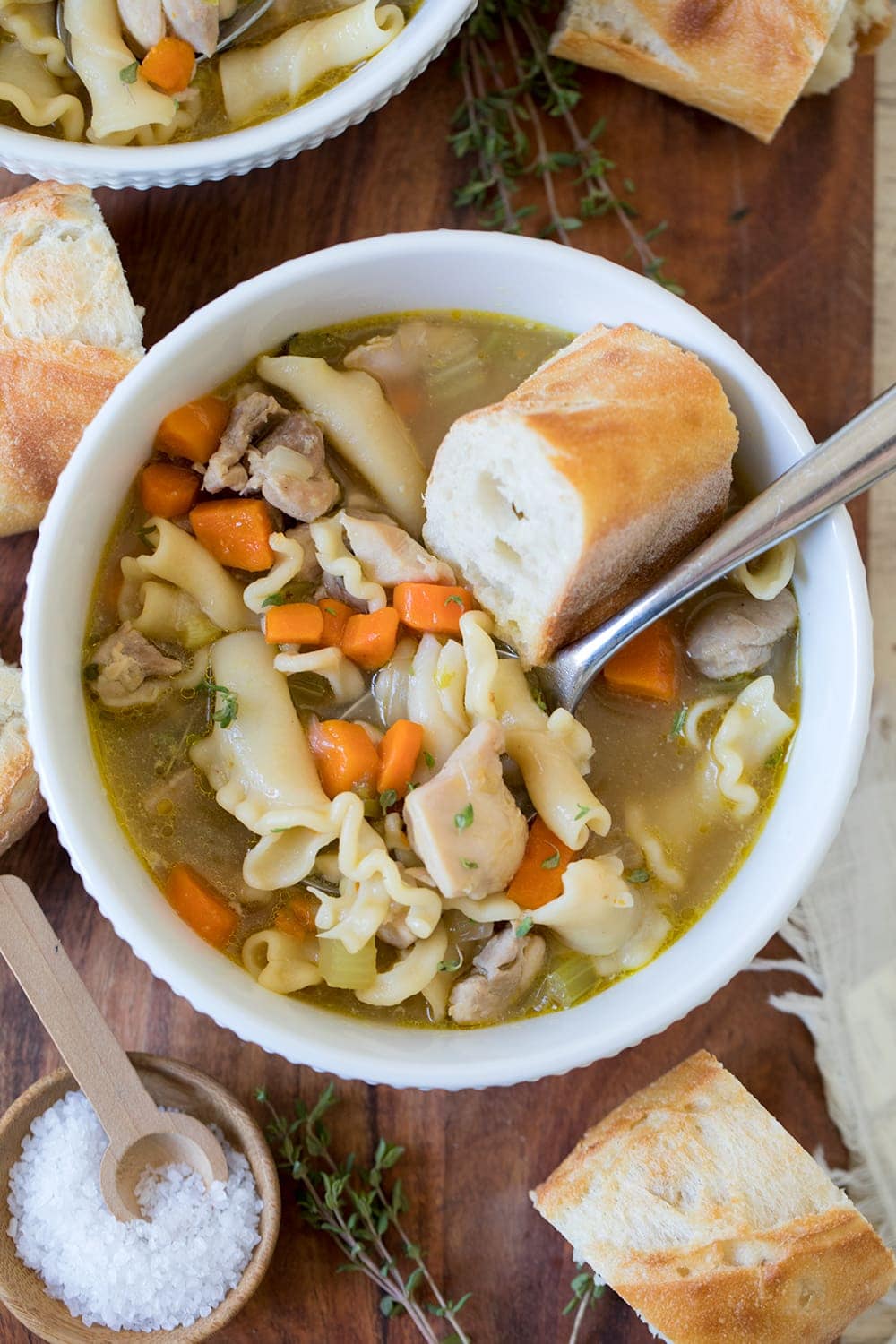 Big Batch Chunky Chicken Noodle Soup
I've made my homemade chicken noodle soup the same way for years and have only recently taken the time to write the recipe down. I reach for the same ingredients every time: chicken thighs, celery, onion, carrot, tons of garlic, fresh thyme, salt, pepper, good stock and of course noodles.
The flavors are classic, rich and clean. The kind of soup that you recognize as an old friend with the first bite.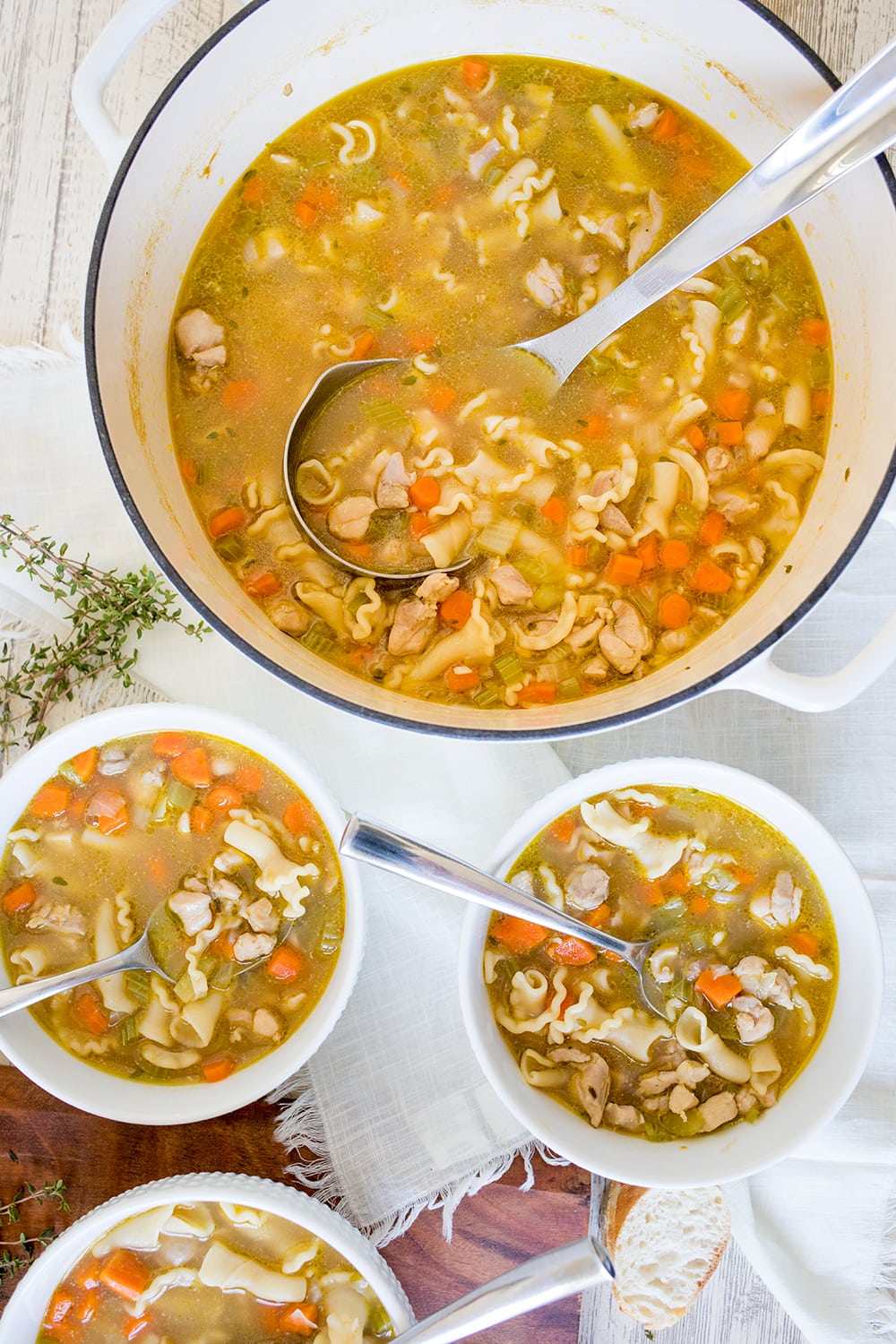 Recipe Using Chicken Thighs
You know a recipes will be flavorful if it calls for using chicken thighs. I feel like this affordable cut of meat gets a bad rap for being dark meat and therefore fatty.
The truth is, boneless skinless chicken thighs are the most flavorful and tender chicken meat to use in soups, especially when you are skipping a homemade stock. Thighs bring all the rich chicken flavor but are surprisingly lean and never dry. No one wants dry chicken in their soup!
LOOKING FOR MORE RECIPES USING CHICKEN THIGHS?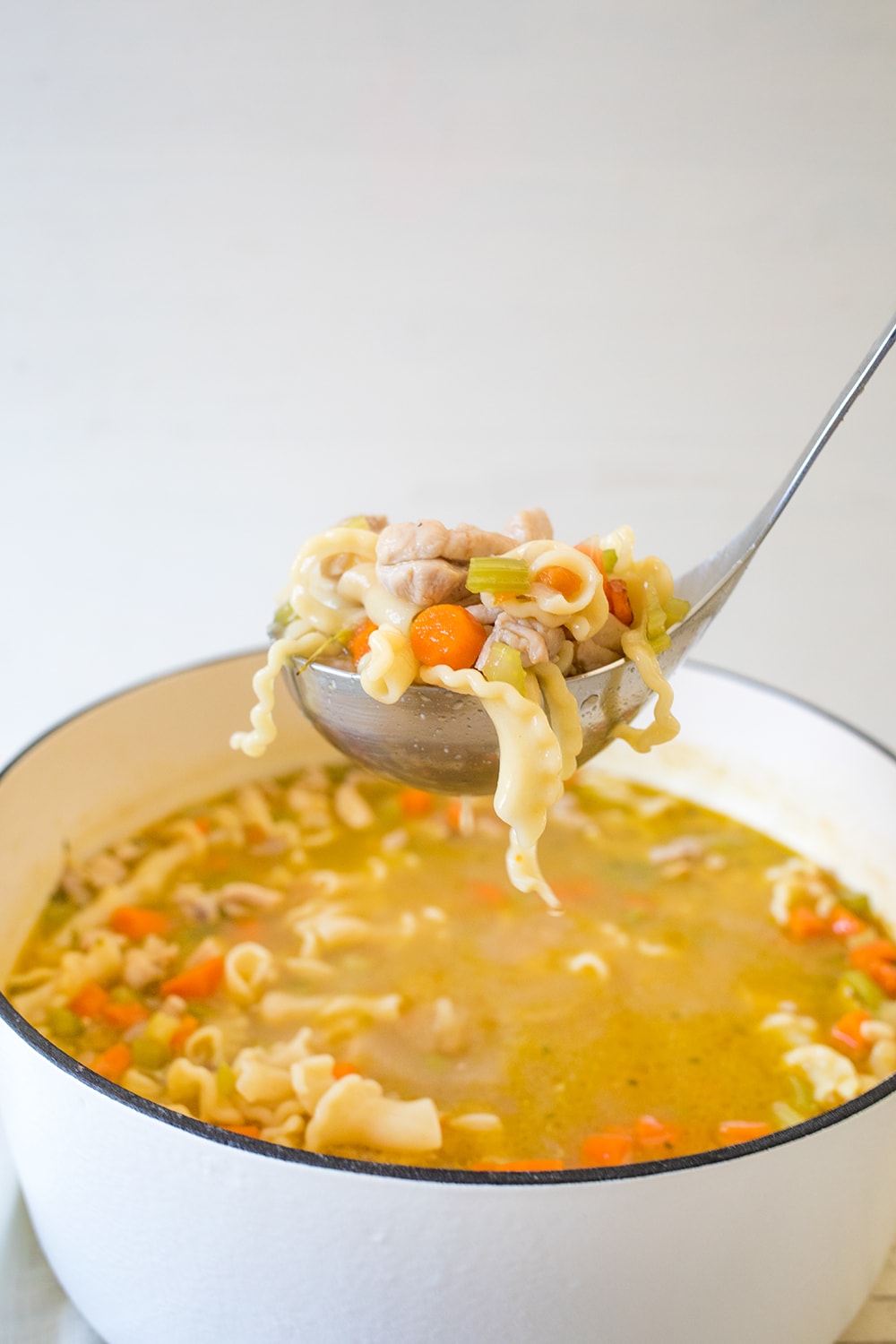 Homemade Chicken Noodle Soup
There is absolutely nothing store-bought that compares to homemade chicken noodle soup. And while it might sound labor intensive to make homemade soup, I can promise you that this recipe is as simple as they come!
If you are short on time, prep the veggies by chopping them the night before as well as the chicken and store in ziplock baggies or tupperware in the refrigerator. That way when it's time to prep dinner, all you have to do is drop, sautee, boil and eat!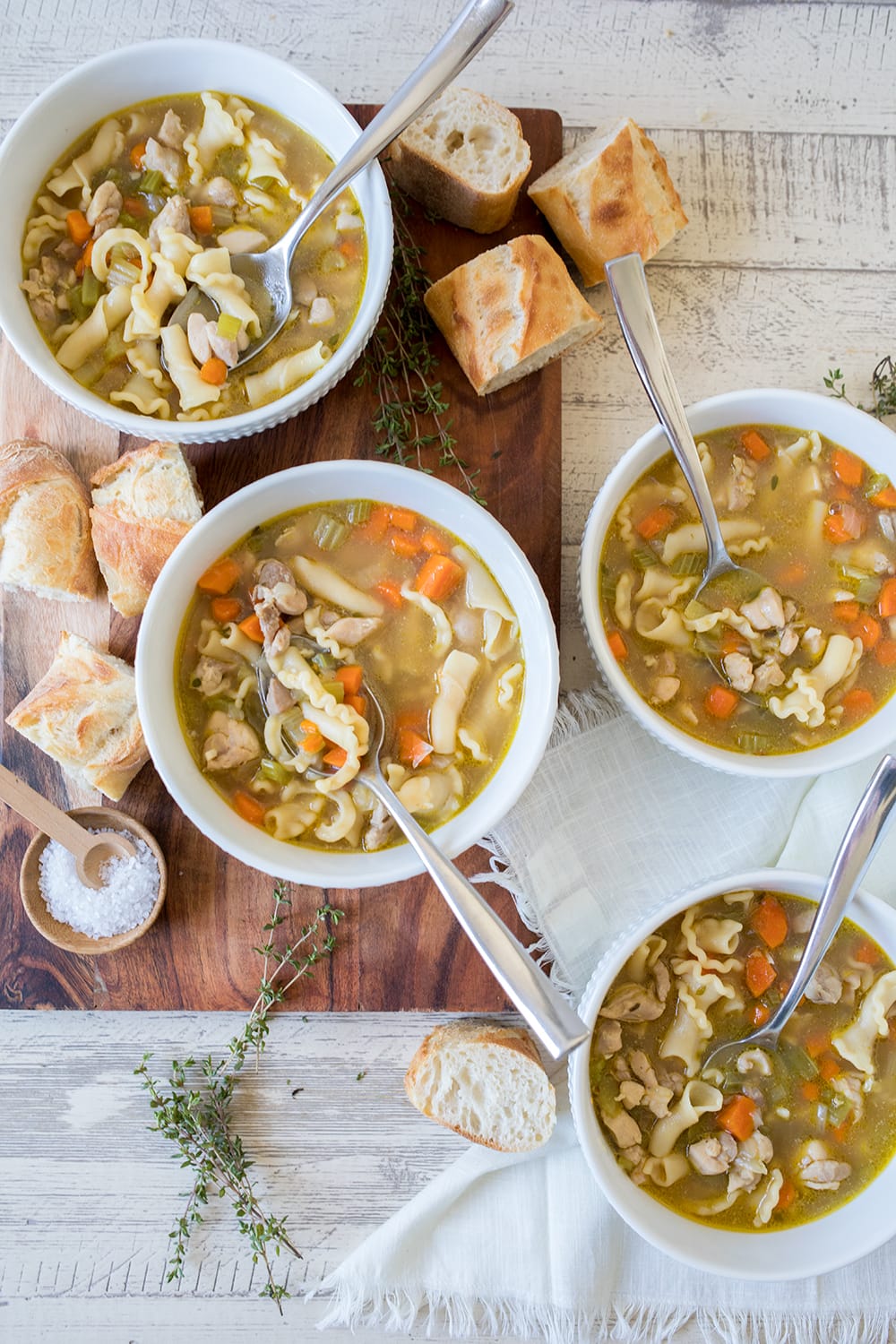 To build this soup I start by sauteeing carrots, onions, celery and a ton of garlic. If you read my recipe and think woah, too much garlic, think again! This simple soup only has a few ingredients and the garlic adds so much flavor to the broth. Trust me, you'll want to add all of it.
Plus garlic is a natural cold buster so bring on the garlicky goodness! Truth be told, this is a big batch recipe and the garlic becomes a very mild flavor in all of this broth.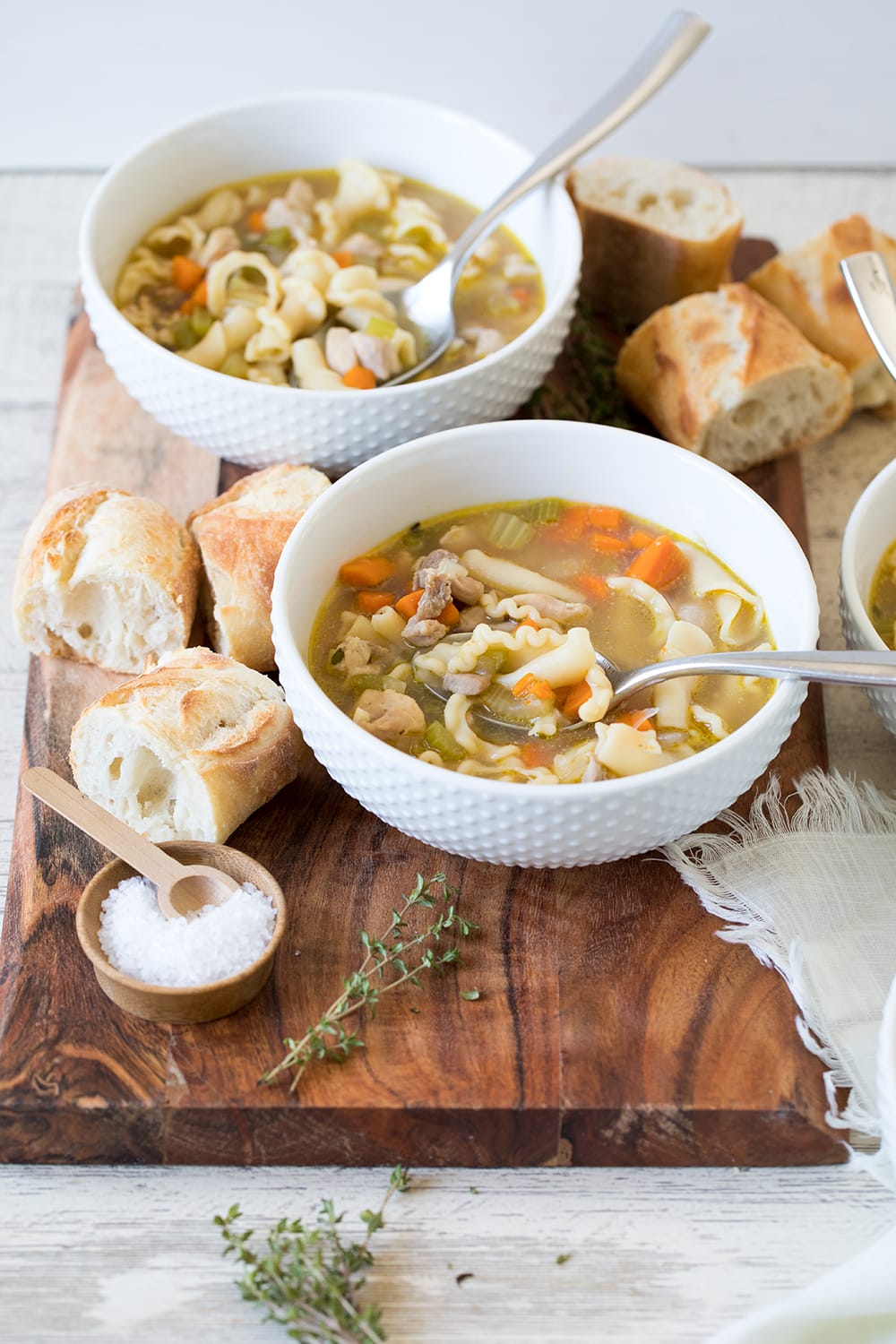 Prepping Chicken Noodle Soup Ahead
I've found that the best method for prepping chicken noodle soup ahead of time is to make it all the way up to the last step and hold off on adding the noodles. The longer noodles sit in soup, the more liquid they absorb and the softer they become.
Instead, reheat your soup to a low boil and drop the noodles in when you are ready to eat. That way you will have fresh al dente noodles anytime!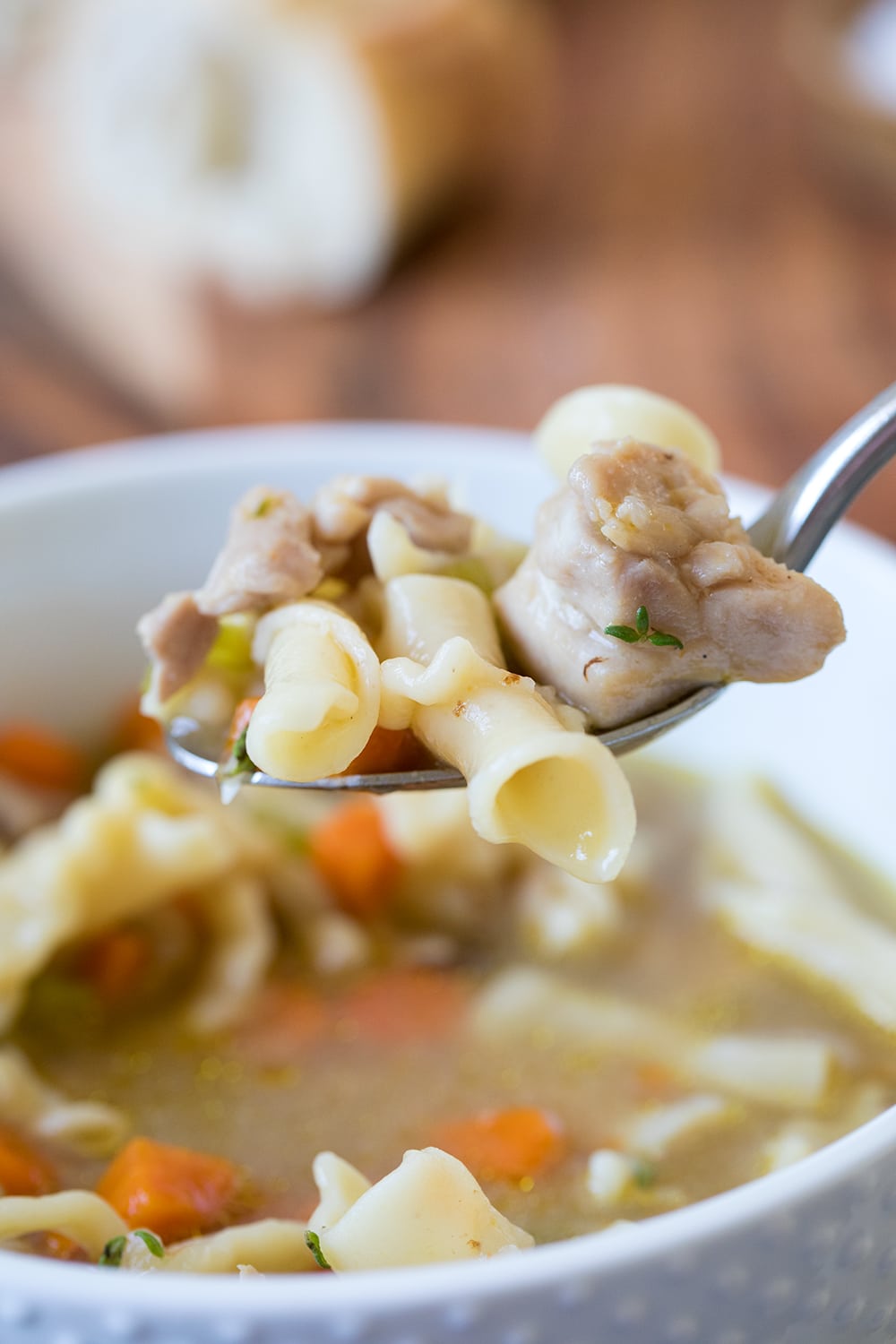 The Best Noodles For Chicken Noodle Soup
Lots of recipes will call for egg noodles in chicken noodle soup, however I think the best noodles for chicken noodle soup are the Organic Gigli Pasta noodles from Trader Joe's. They are made with just two ingredients: 100% durum wheat semolina flour and water plus they have a fun curly shape that cooks up rather large.
It adds such a lovely texture to the soup. You can also use your favorite shape of noodle but I recommend it have some curl to it. If you can find it, give Gigli a try!
Because I love having something to soak soup up with and because carbs are comfort, I always serve my Chunky Chicken Noodle Soup with warm baked French Baguette. Something crusty that stands up to hot broth is always a good idea. Bonus points if you slather it in salted butter. Now that's my love language!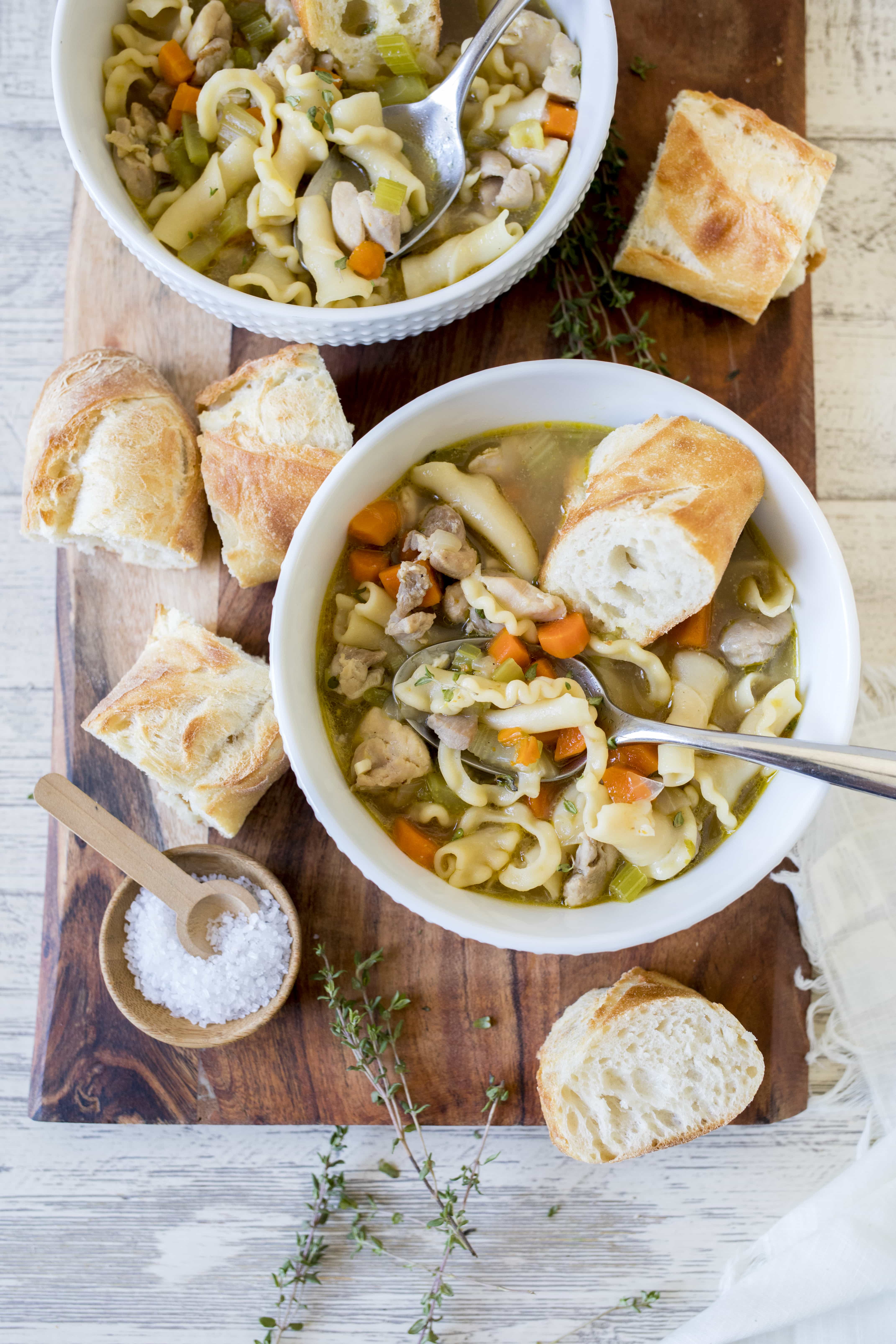 With cool fall days and long winter night on the horizon, you will definitely want to have this soup recipe in your recipe box. If you make this recipe, please leave a comment on this post telling me what you think! I hope your family will love it as much as mine does.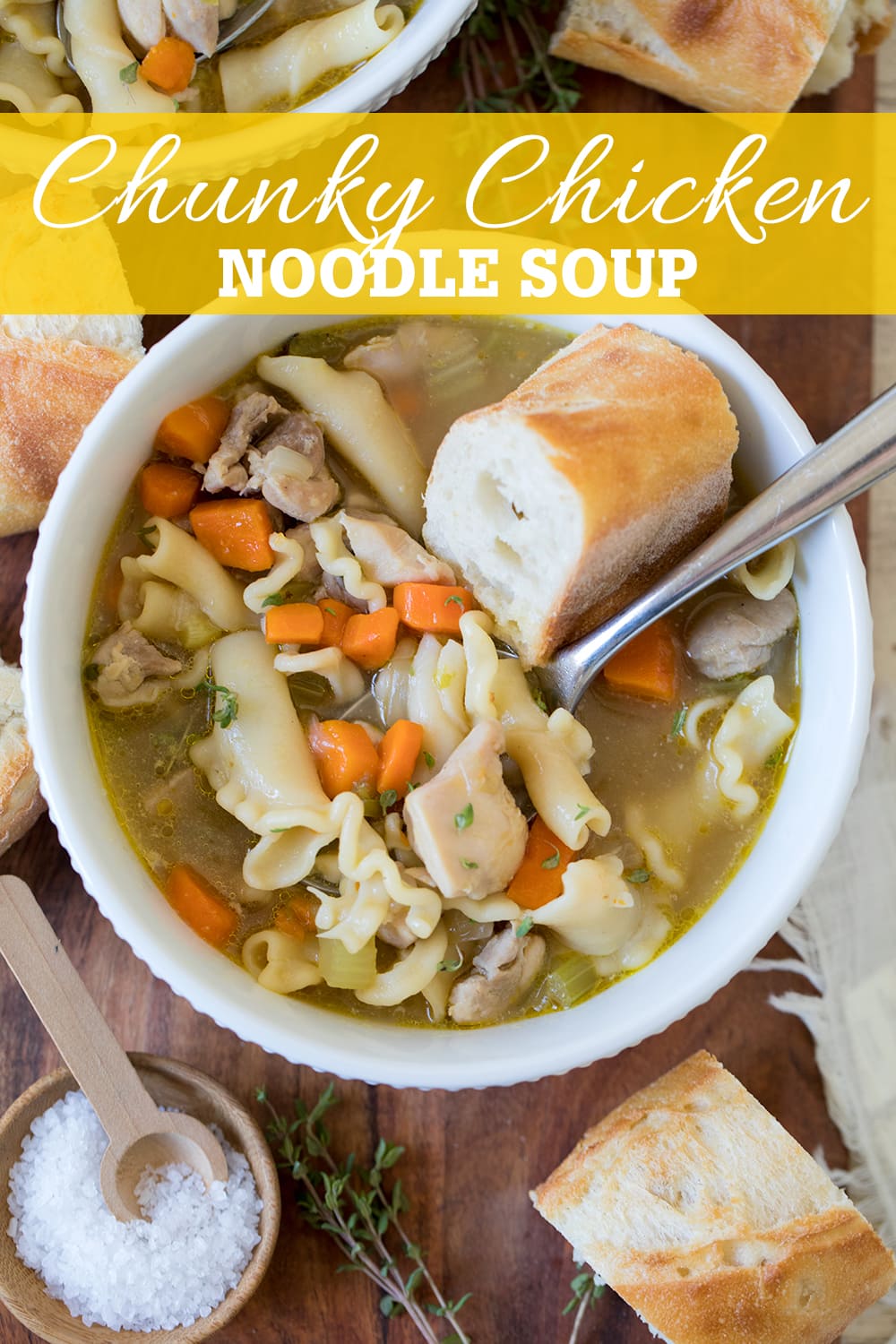 More Soup Recipes to Love!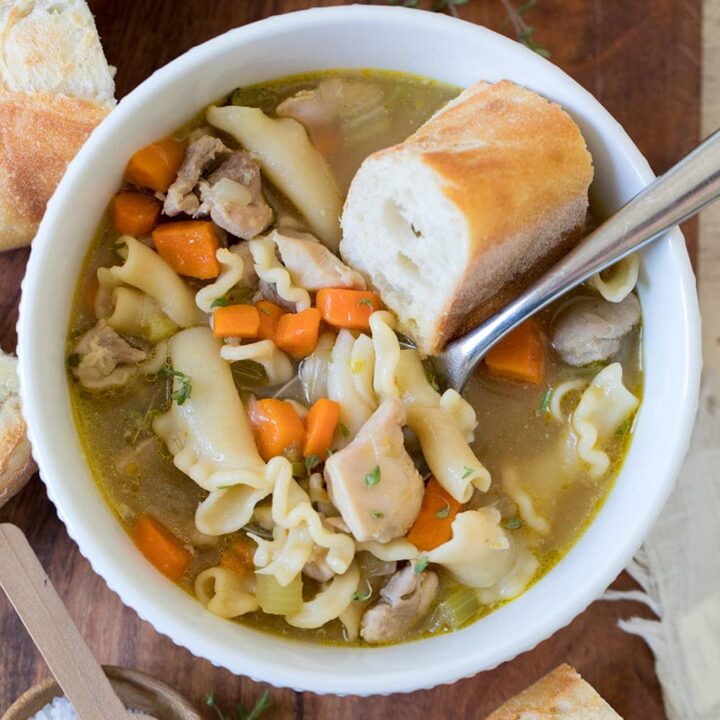 Big Batch Chunky Chicken Noodle Soup
Classic chunky chicken noodle soup with carrots.
Ingredients
3 lbs boneless skinless chicken thighs
2 cups diced celery
2 cups diced carrots
1 large onion, diced
6-7 cloves garlic
3 large sprigs fresh thyme
96 oz Organic Chicken Stock (I like Trader Joe's organic)
½ pound Gigli pasta
olive oil
Kosher salt and ground black pepper
Instructions
Chop chicken thighs into small bite sized pieces using a sharp knife.
In a large stock pot or dutch oven over medium heat, add about 2 tablespoons of olive oil.
Add in chicken and season with 1 teaspoon Kosher salt and a pinch of pepper.
Sautee until chicken is cooked through, this will only take a couple of minutes.
Remove chicken using a slotted spoon to a bowl and set aside.
Add more oil to the pot (only if needed) and add in the chopped celery, carrots, onion, garlic and thyme.
Cook stirring the veggie mixture until the onion are translucent and the carrots begin to soften but are still firm about 5 minutes. Season veggies with 1 teaspoon kosher salt and another pinch of pepper.
Add chicken back to the pot along with all of the chicken stock.
Increase the heat to high and bring soup to a boil.
Drop in the pasta and cook according to package directions or just until noodles are al dente.
Remove from heat, taste and season with more salt and pepper if needed. Carefully remove the thyme stems with tongs.
Ladle into bowls and serve hot with crusty bread.