Sour Cream and Chive Mashed Red Potatoes are a must make side dish for any holiday meal!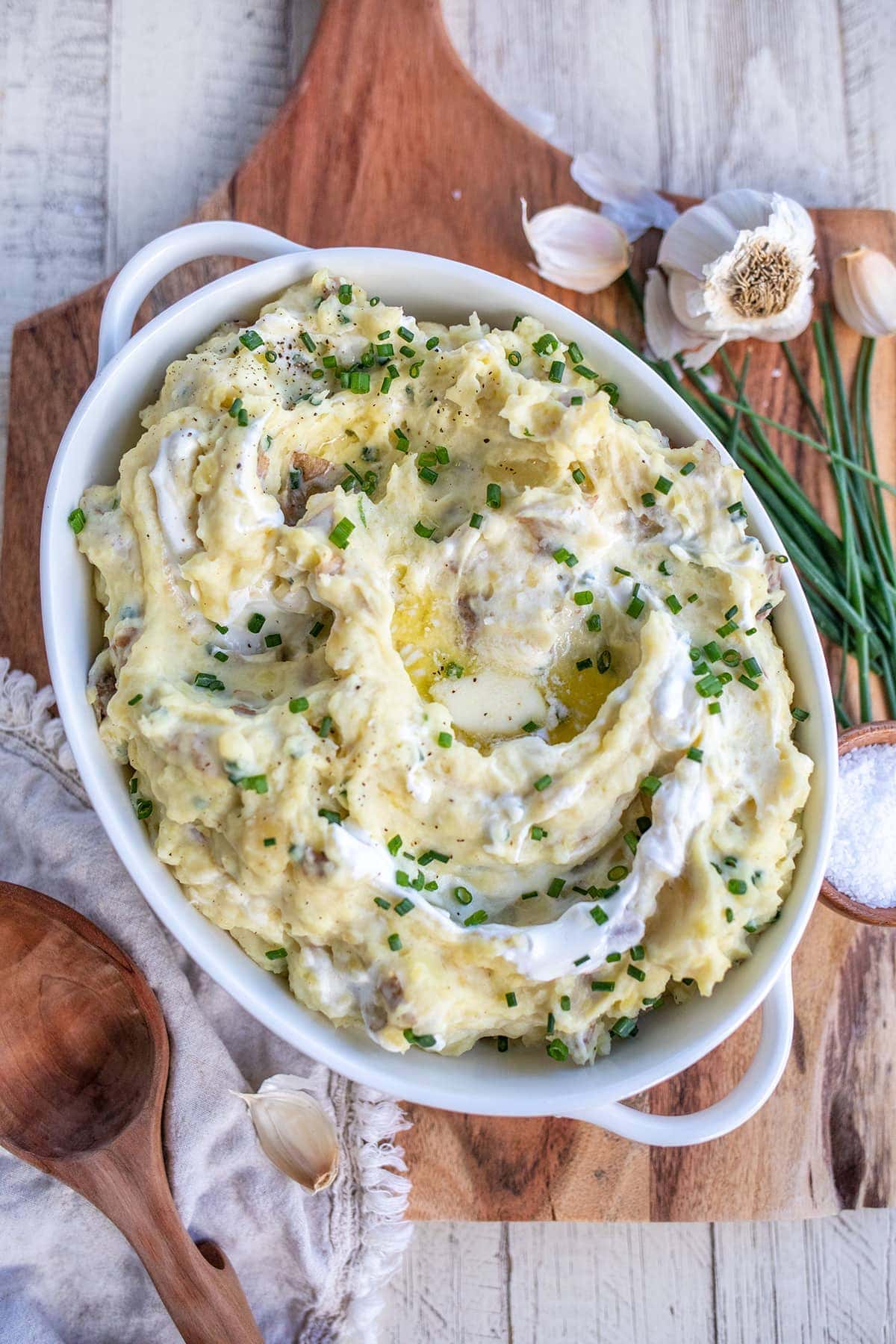 Sour Cream Chive Mashed Red Potatoes
Mashed potatoes are always one of my favorite side dishes during the holidays right up there with sausage stuffing and cranberry sauce! While there is a million ways to mash and mix them, this is my personal favorite. I love the combination of tangy sour cream and fresh chopped chives to bring so much flavor to a simple dish.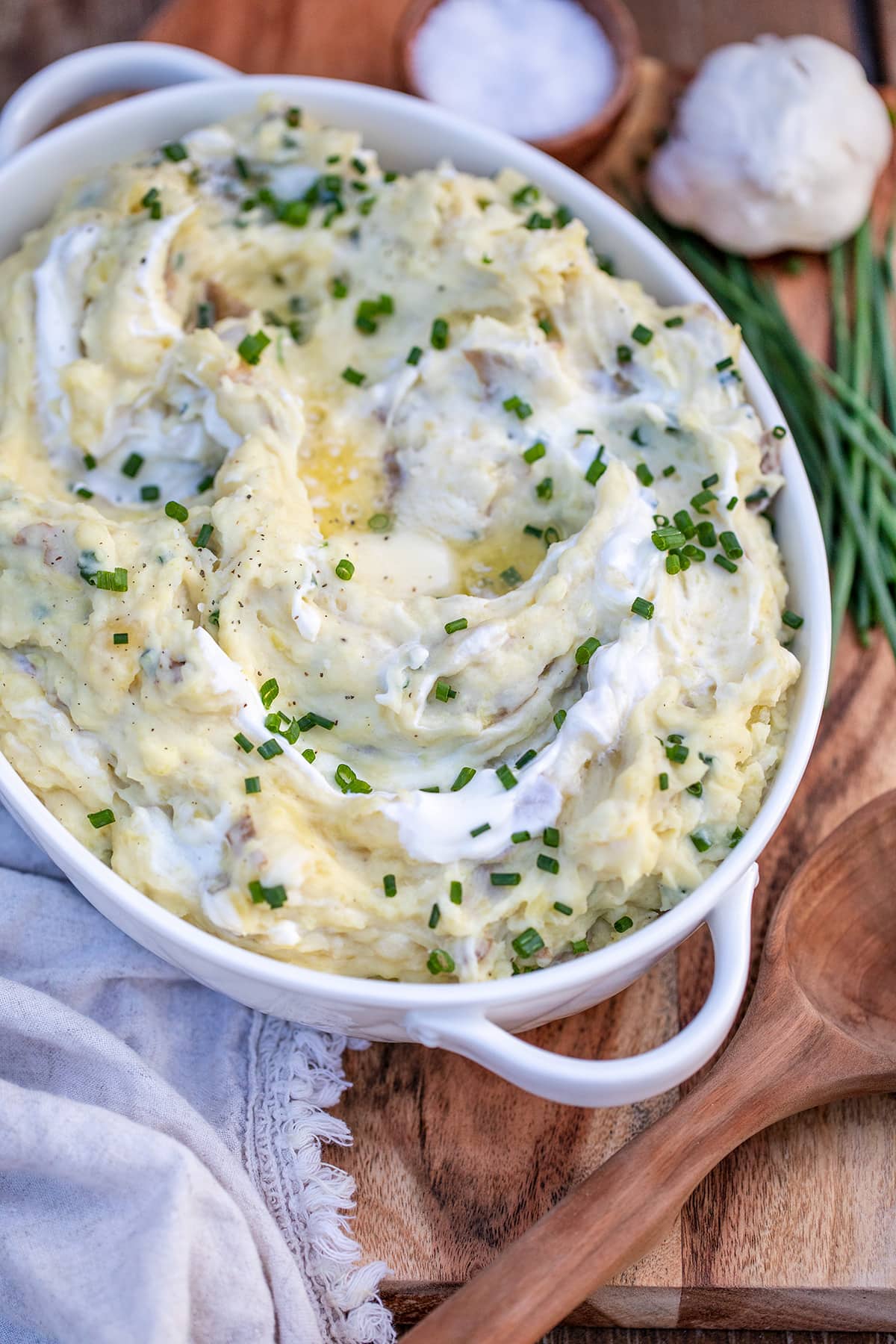 Ingredients Needed For Mashed Red Potatoes
Potatoes - I love using small red skinned potatoes for mashed potatoes because they have a very buttery flavor but the skin adds an earthy, rustic quality to the mash.
Butter - this is a must for any mashed potato recipe!
Sour Cream - this adds tangy flavor and also a delicious creamy consistency to the mashed potatoes.
Milk- you will need just a little bit to thin out the texture of your mash.
Garlic - fresh garlic cloves cooked down with the potatoes and mashed add a mild garlic flavor.
Chives - fresh chopped chives bring a bright onion flavor that blends so well with the sour cream.
Salt & Pepper - for seasoning.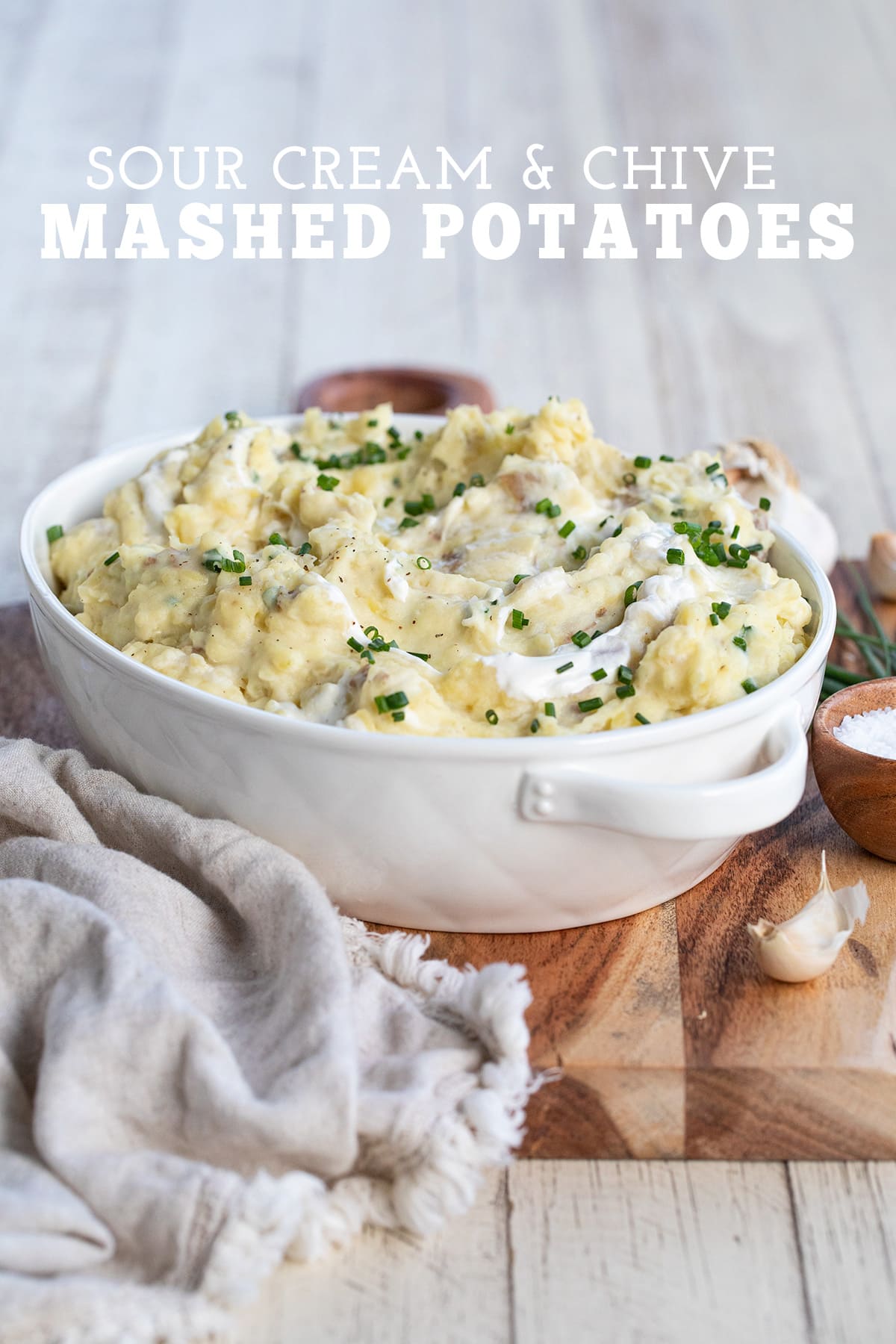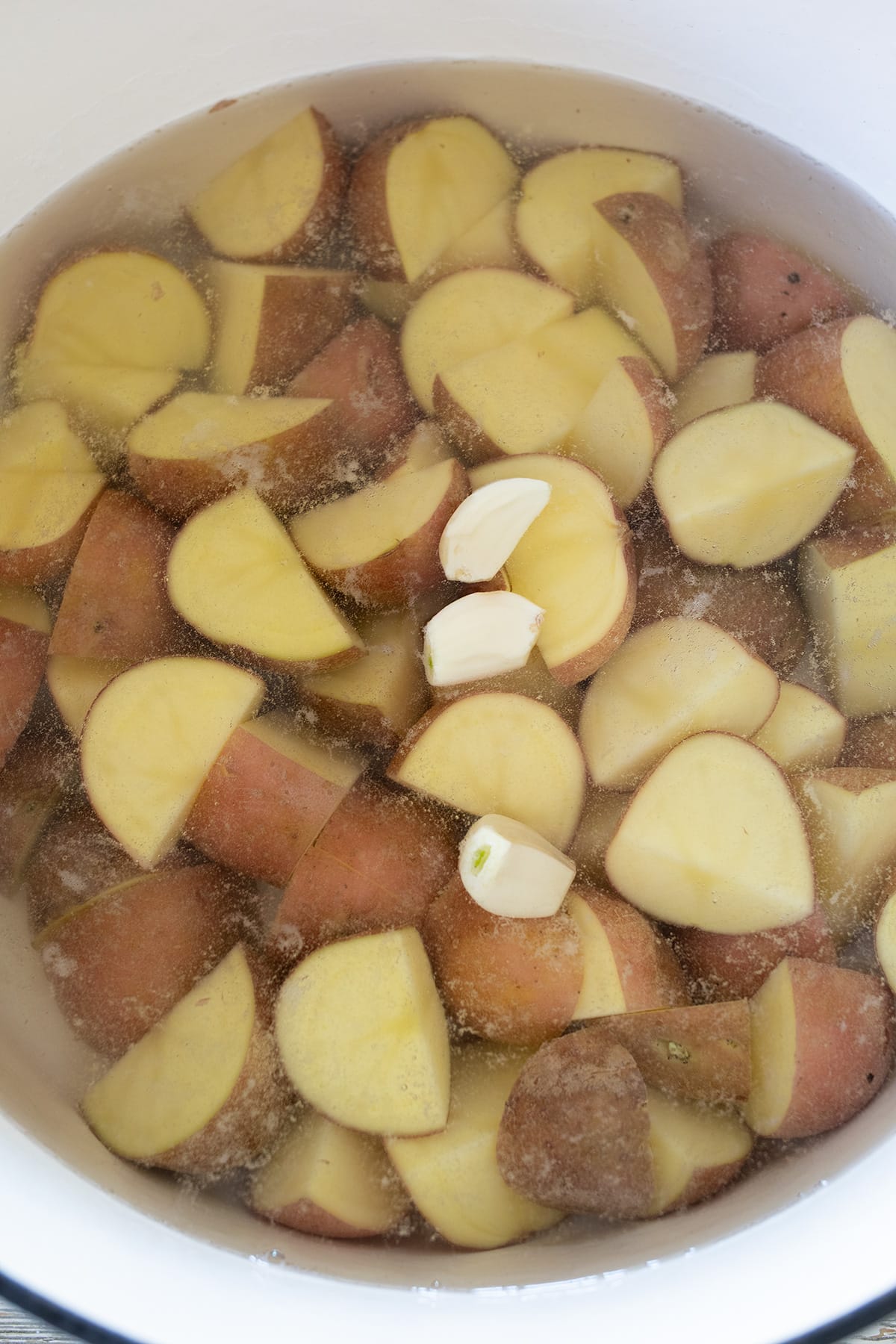 How to Make the Best Mashed Potatoes
Scrub - make sure you wash and scrub potatoes and remove any eyes.
Boil - add quartered potatoes and garlic to a large part of cold water and bring to a boil.
Drain & Dry - Drain and return to the pot. Cover with a kitchen towel and let potatoes dry out a bit.
Mash- Mash roughly or to the texture you like best.
Cream - add in the butter, milk, salt and pepper and whip together.
Stir - stir in sour cream and chives.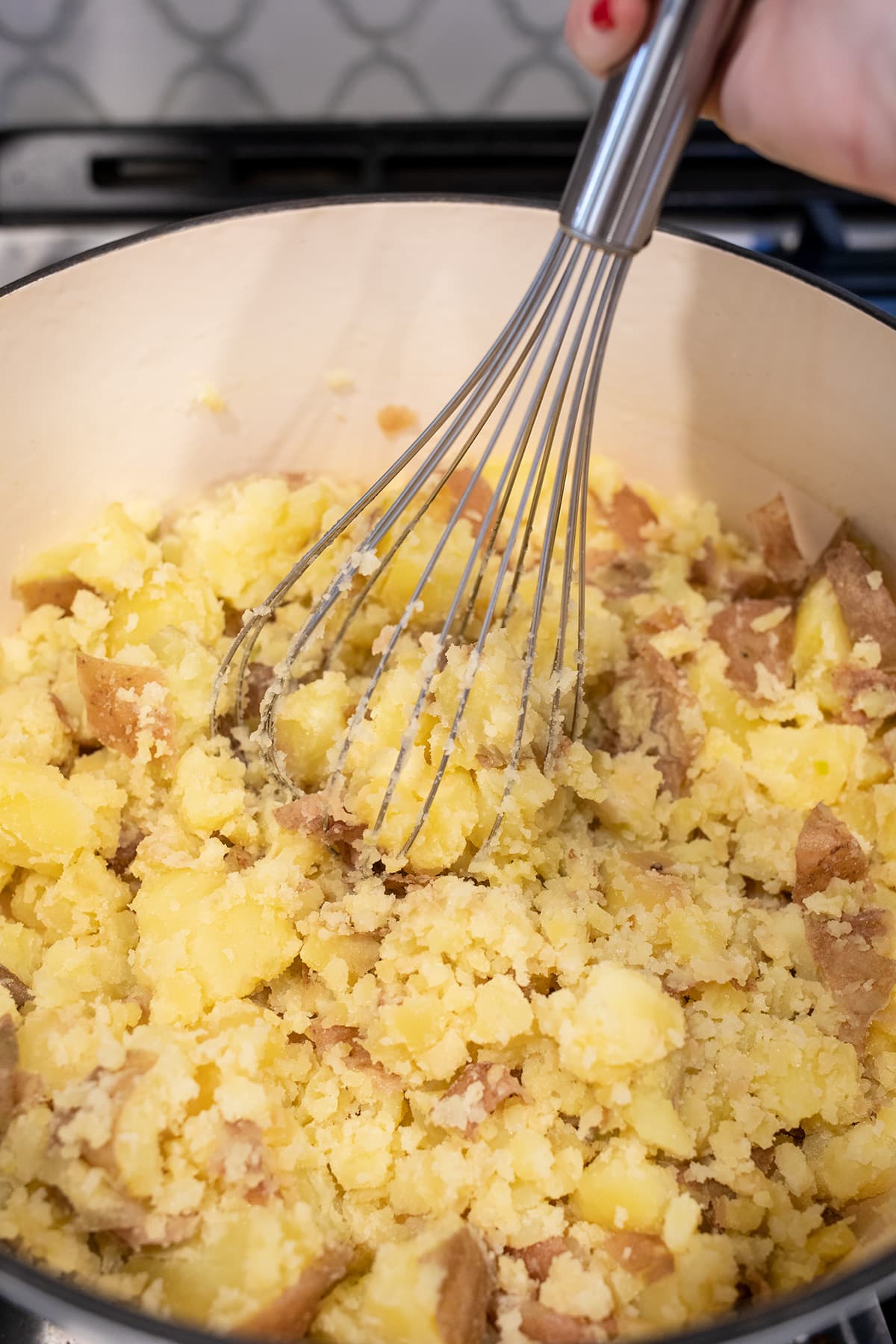 Tips to Making Fluffy Mashed Potatoes
Cold Water - start the potatoes in cold water. This helps them cook evenly.
Tender- Boil just until potatoes are fork tender. This means a fork can be easily inserted into the potato fully.
Dry - drying out potatoes under a kitchen towel in the pot is a crucial step! This drys out any lingering moisture and helps your potatoes have the fluffiest texture ever!
Whip- mash, and whip by hand. DO NOT USE a kitchen aid mixer unless you like gummy potatoes.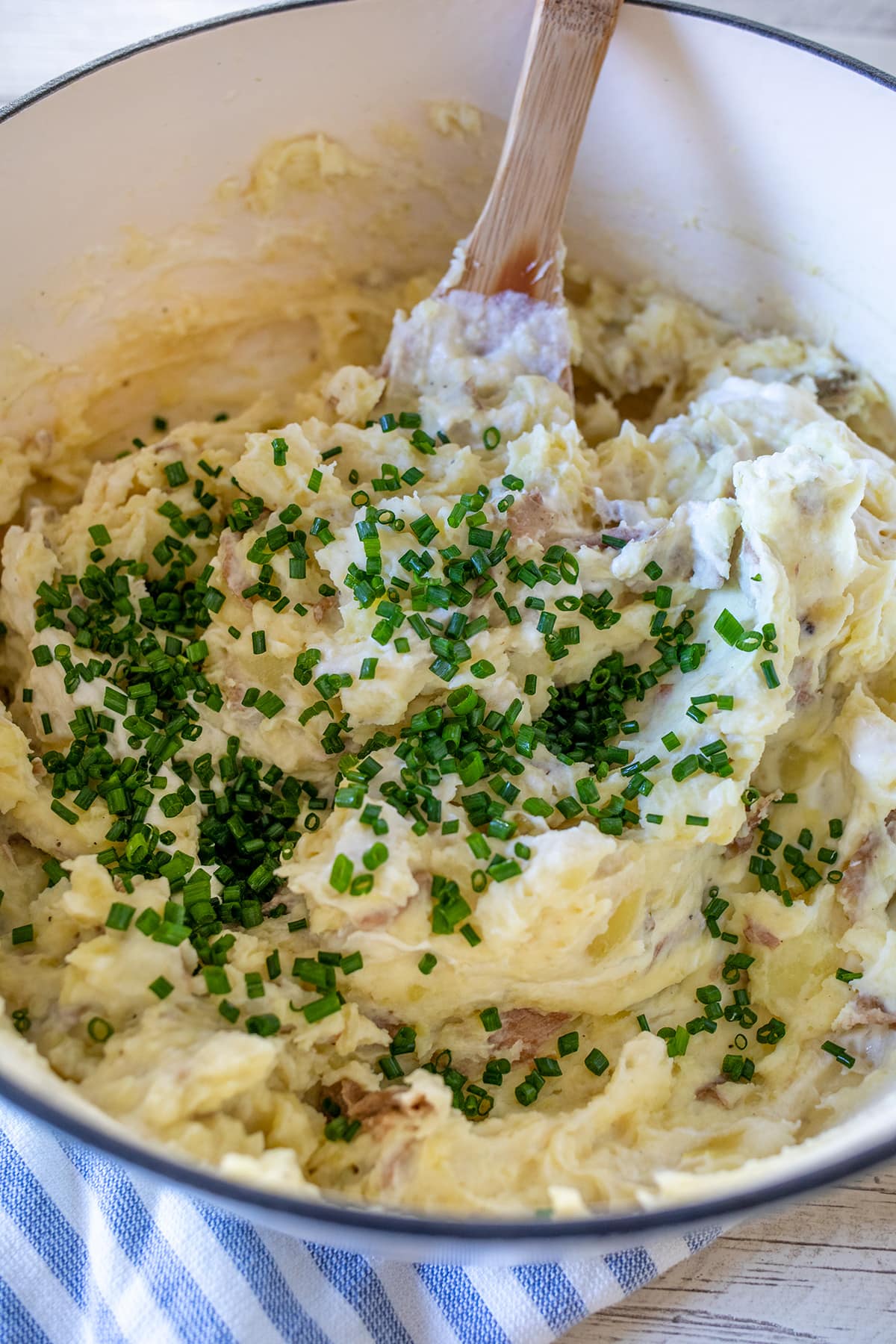 Possible Variations for Mashed Potatoes:
Potatoes - my other favorite variety of potato to use are Yukon Gold. They are very creamy and buttery in texture, much like red potatoes but with a softer skin. I never recommend Russet potatoes for a mash as their texture is much more grainy.
Cheese - try stirring in your favorite shredded cheese from parmesan to cheddar or gruyere!
Bacon - turn these mashed potatoes into loaded mashed potatoes with crispy chopped bacon stirred in.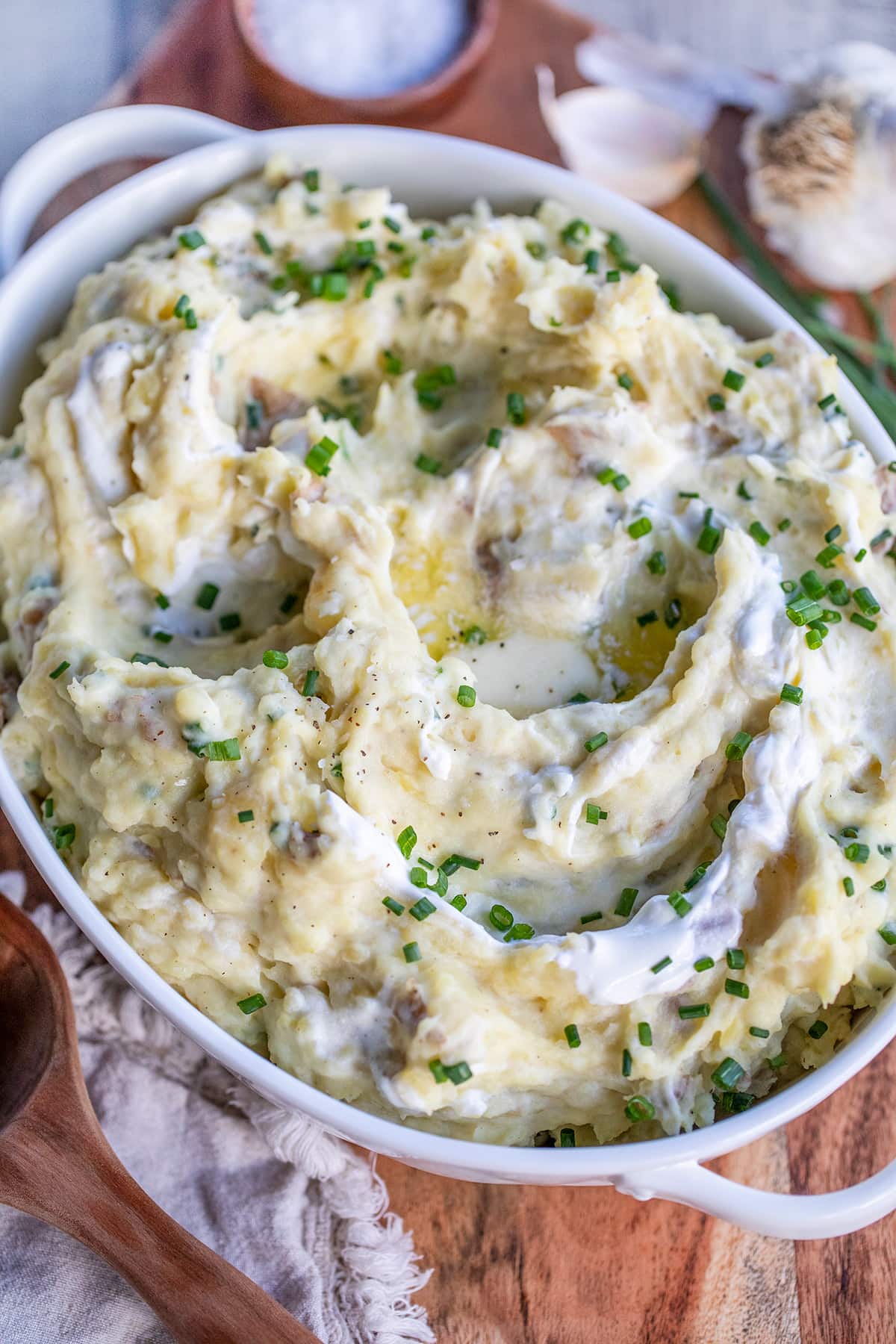 How to Make Mashed Potatoes Ahead:
Mashed potatoes are actually a great side dish to make ahead of time! Here are a few ways I prep potatoes the day before.
Night Before/Morning Of: You can wash and quarter your potatoes and leave them in the pot of cold water, covered, in your refrigerator until you are ready to boil and mash. This will add some extra time to your cooking as the water will be extra cold.
Reheating: You can also make the mashed potatoes completely and then reheat them just before dinner. To do this, you will want to make the potatoes all the way up to the sour cream and chive step. Cool and transfer to a covered (oven proof) dish in the refrigerator. When you are ready to reheat, in the oven until covered at 350 for about 30 minutes. Before serving stir in sour cream and chives.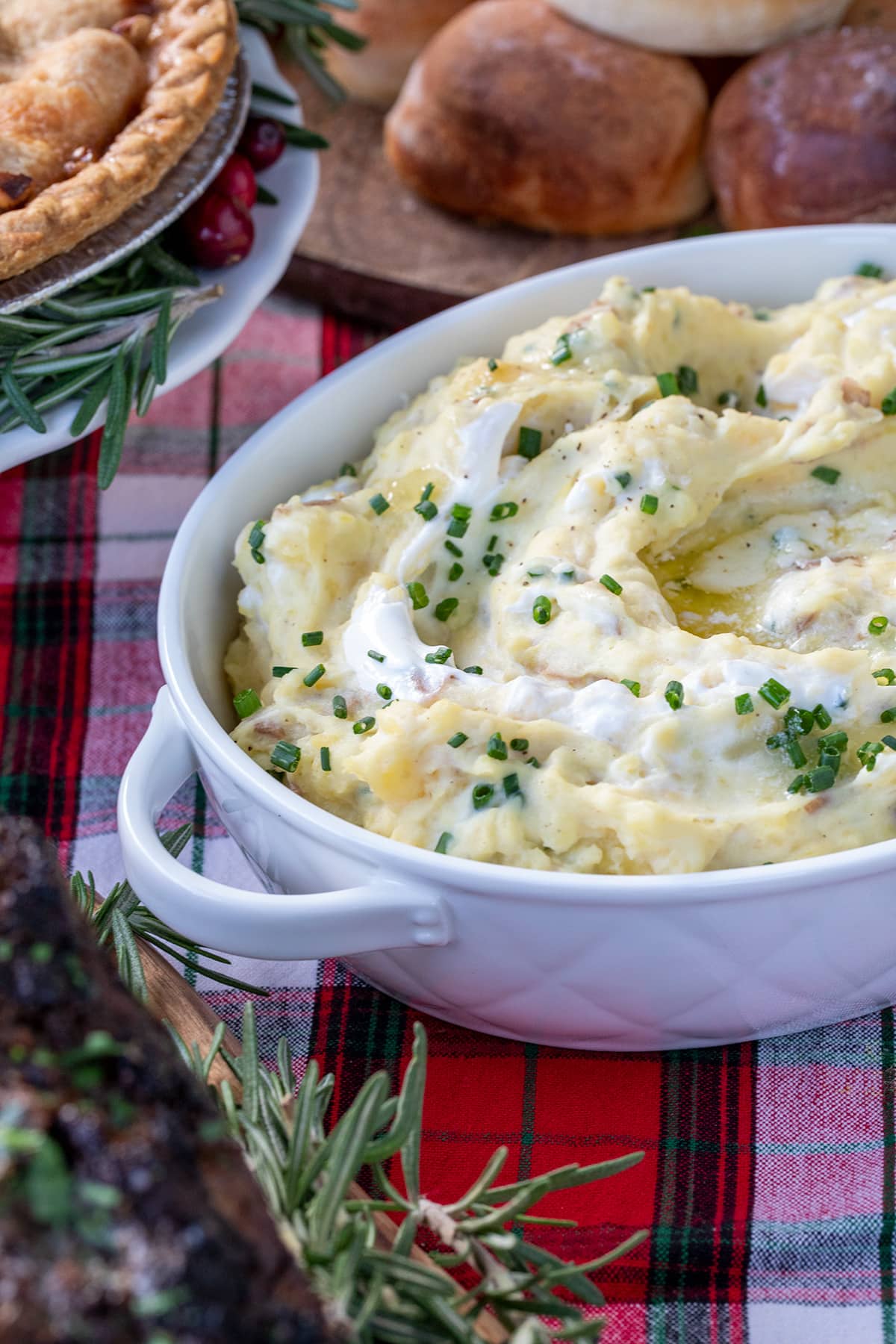 What to Make for Dinner:
These mashed potatoes are delicious served anytime of the year but I really love them for Thanksgiving and Christmas Dinner. Here are some other dishes to make with these mashed taters.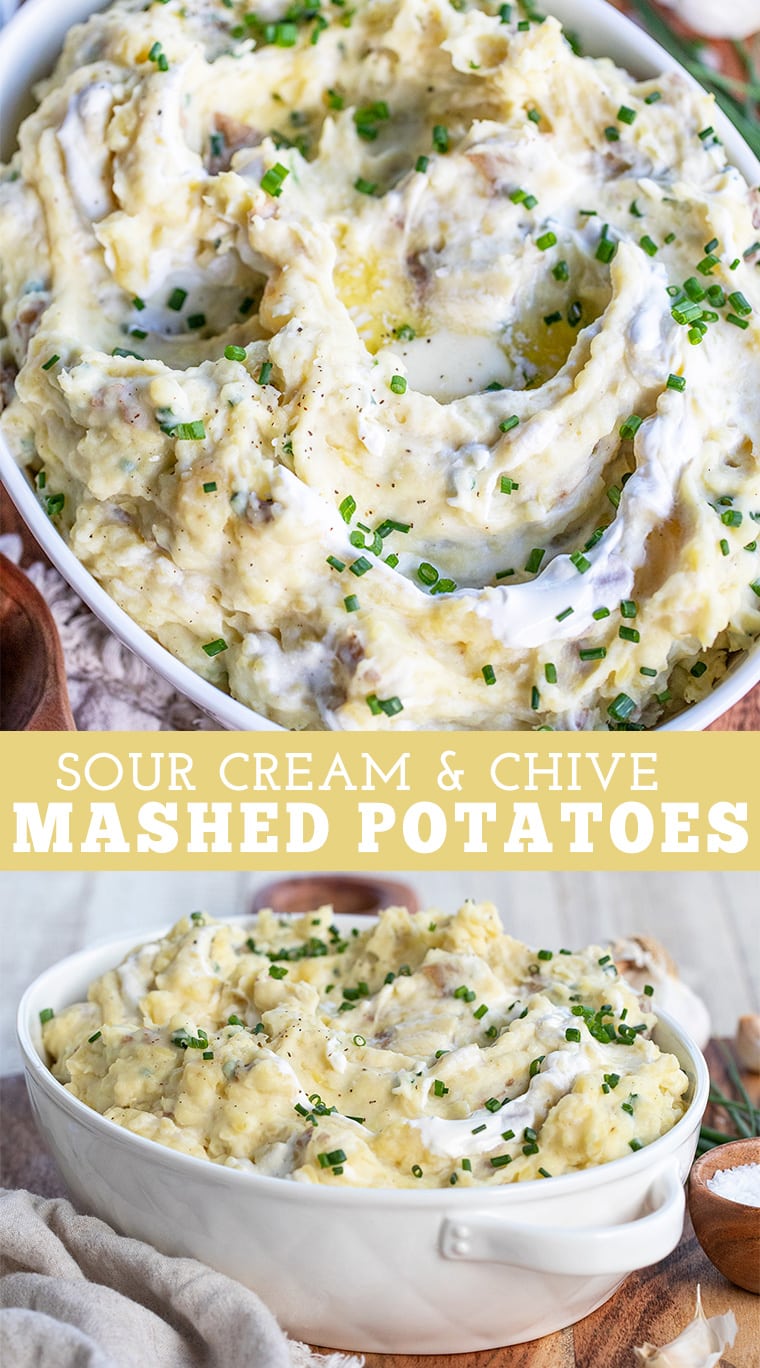 If you make this recipe, I'd love for you to come back and leave a comment and review in the box below! It's so helpful to my readers and to me. Thank you for being here and for trying my recipes. Cheers, Leah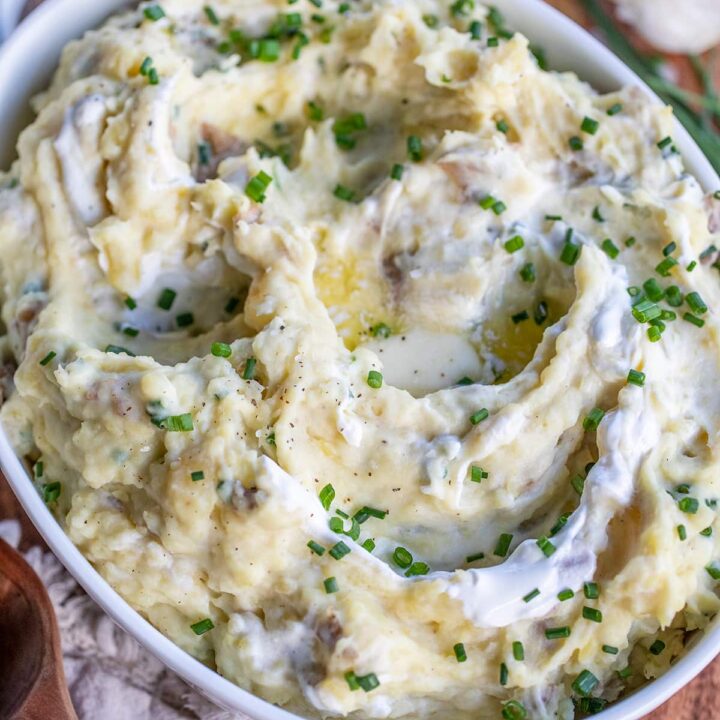 Sour Cream and Chive Mashed Red Potatoes
Mashed red potatoes with sour cream and chives.
Ingredients
3 pound bag Red Potatoes
1 stick salted butter
1 teaspoon Kosher salt
¼ teaspoon black pepper
3 cloves garlic
½ cup sour cream
½ cup whole milk
¼ cup chopped chives
Instructions
Scrub red potatoes well and cut into quarters.
Place potatoes into a large pot of cold water. The water should come up to the top of the potatoes so that all are submerged.
Add garlic cloves to water; they will cook with the potatoes.
Bring potatoes to a boil over high heat.
Once the water is boiling, continue to cook over medium-high until the potatoes are fork tender about 10-12 minutes.
Carefully drain potatoes and return to the pot. Cover loosely with a kitchen towel leaving a small opening for steam to vent. This step is crucial as it helps the potatoes dry out a bit and results in a fluffy potato. Let potatoes dry and steam for about 10 minutes!
In another small sauce pan combine 1 stick of butter and milk. Heat over low until the butter is melted and the milk is hot. Be careful not to boil your milk.
Once the potatoes are dried, remove the towel and mash with a potato masher or whisk. You can keep them chunky or mash until very smooth, your choice!
As you mash, slowly pour in the melted butter and milk mixture. Add the salt and pepper and gently toss to combine with a wooden spoon.
Swirl in the sour cream and fresh chives. I like to leave ribbons of sour cream through out my mashed potatoes so I don't over mix.
Serve immediately. Note: if you are not going to serve these right away, wait to add the chives just before serving.