On the first day of homeschool we made Apple Cinnamon Playdough. Scented like cinnamon apples and redish pink in color, this is the perfect dough for creative play or an apple themed unit of study! This recipe makes a big batch that will last all month long.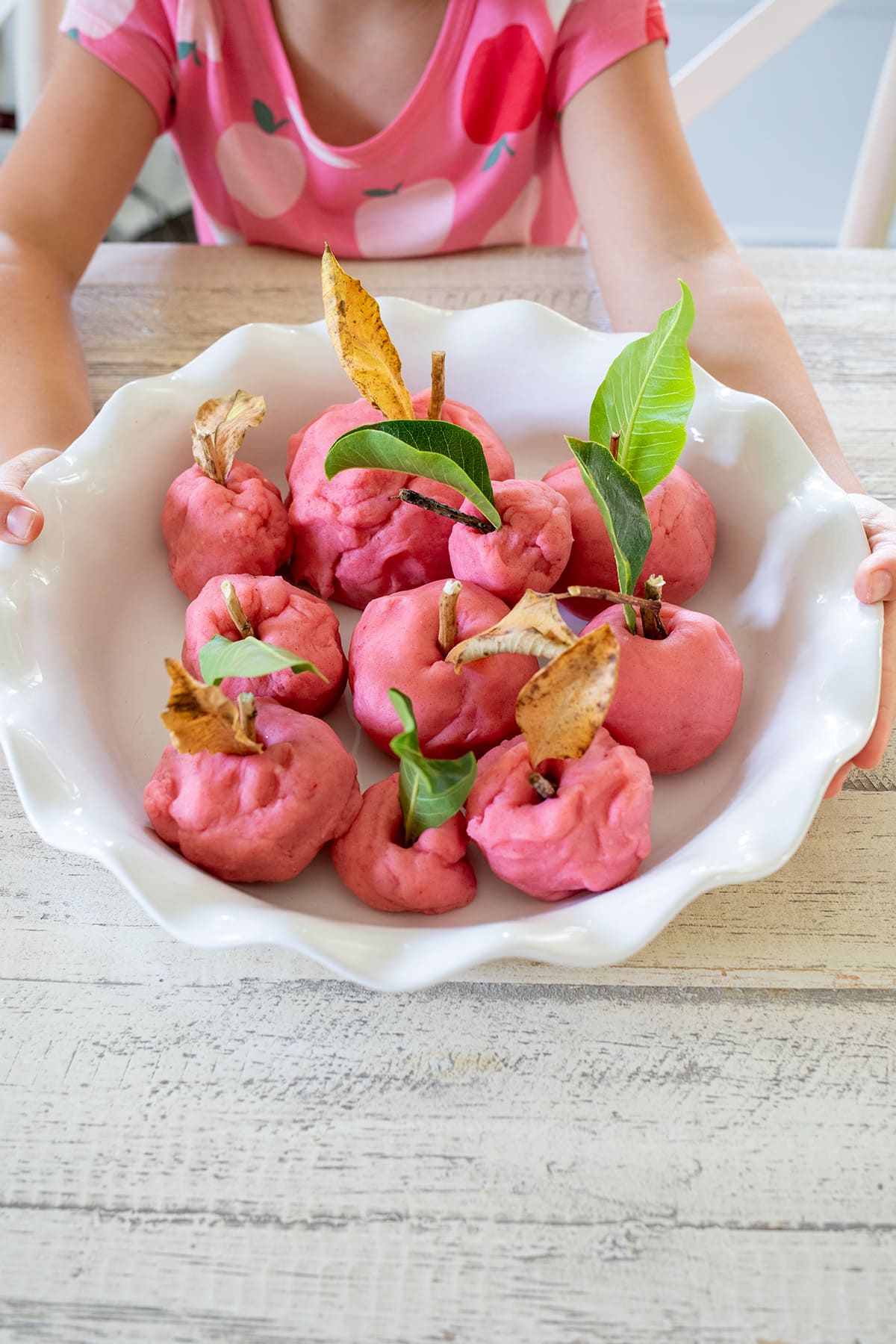 Apple Cinnamon Playdough
As we embark on the adventure of homeschool with the twins this year, I made a plan to make a new batch of playdough each month. September is our Apple Month with all things "apple related" as the until of study. So naturally we had to make our playdough scented like cinnamon apples.
To encourage the play, we went into the backyard and collected little twigs and leaves to make our playdough apples. They turned out so cute and the entire process of making the playdough and then playing with it lasted a solid hour.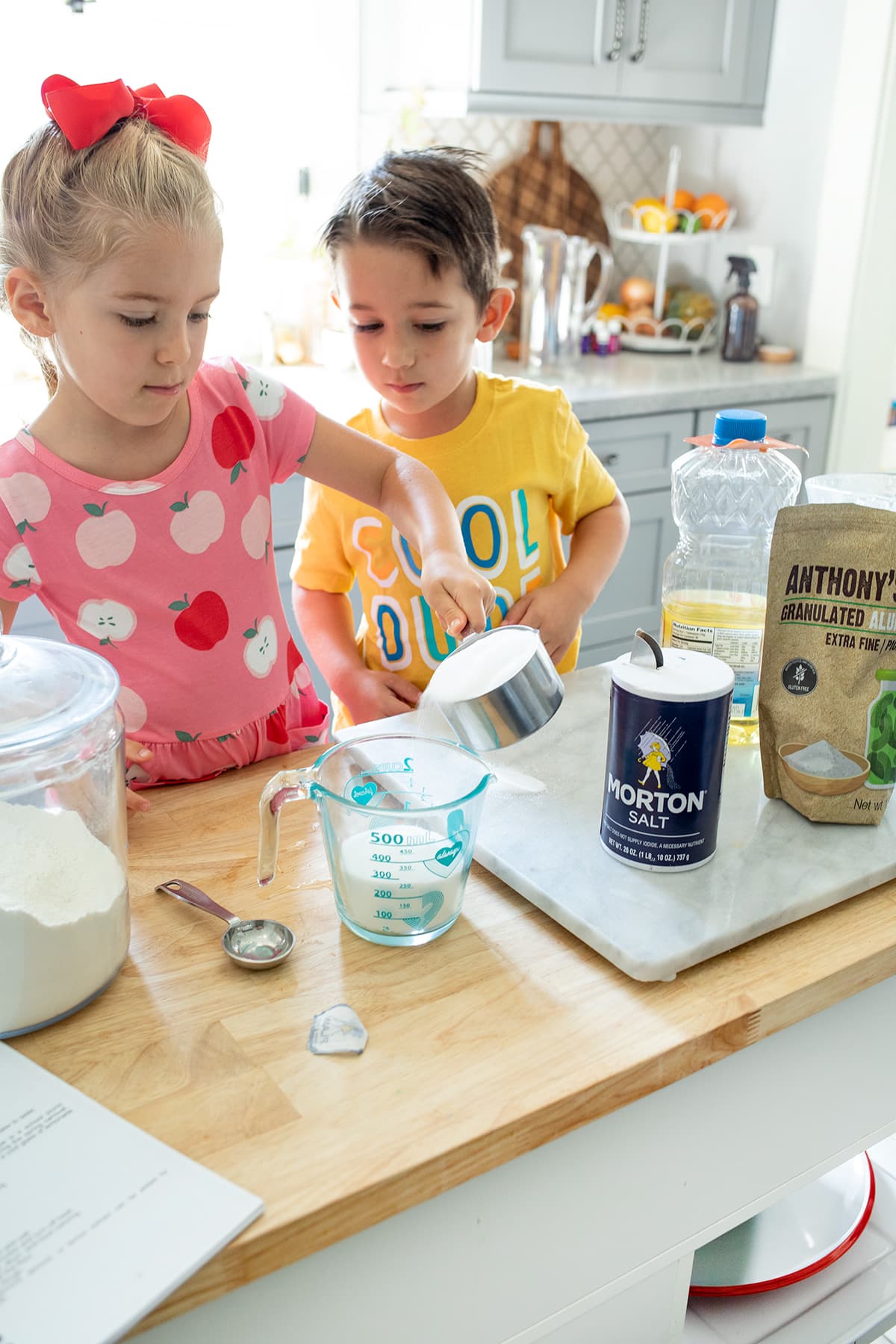 The Best Alum Playdough
I first learned the base for this playdough recipe in the twins preschool classroom when I helped cook it with the class. I had never made an alum playdough before and I was pleasantly surprised at the texture and how long it stayed fresh, even with a dozen preschoolers playing with it daily. I use the same base recipe for this Gingerbread Playdough.
NOTE: If you don't have alum you can also try my Cream of Tartar Playdough recipe, however the shelf life is not as long as with Alum.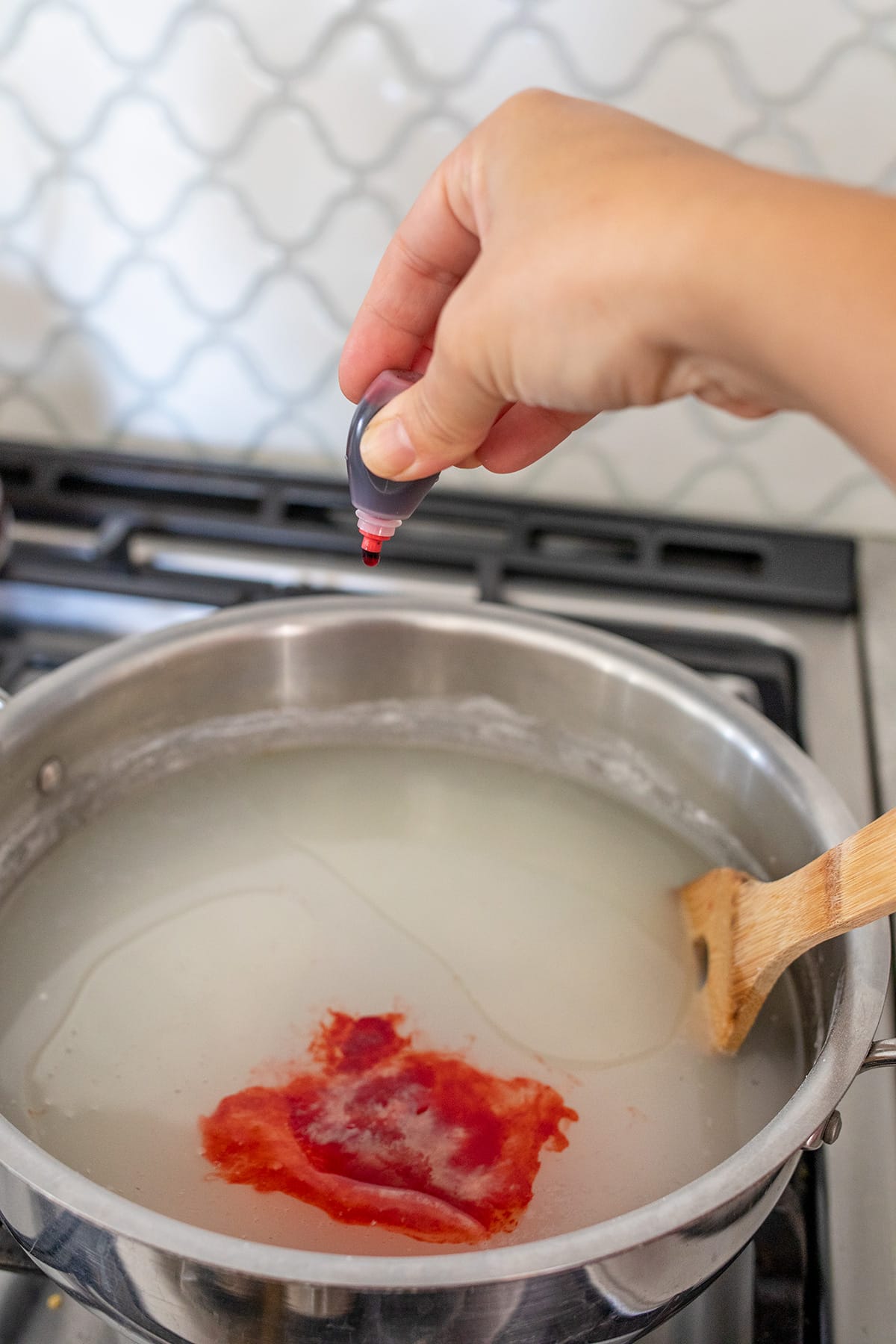 Ingredients in Playdough
Flour - All Purpose white flour works best. I have used whole wheat flour but it changes the texture.
Oil - Vegetable or Canola Oil.
Water
Alum - this is food grade and usually used to preserve pickles! You can get a bag on Amazon here.
Salt - regular old table salt.
Food Coloring - we used an entire bottle of red food coloring to get this pink.
Essential Oils - optional but this is how you get the "apple cinnamon scent." We mixed Cinnamon Bark, Orange and Lemon!
Glitter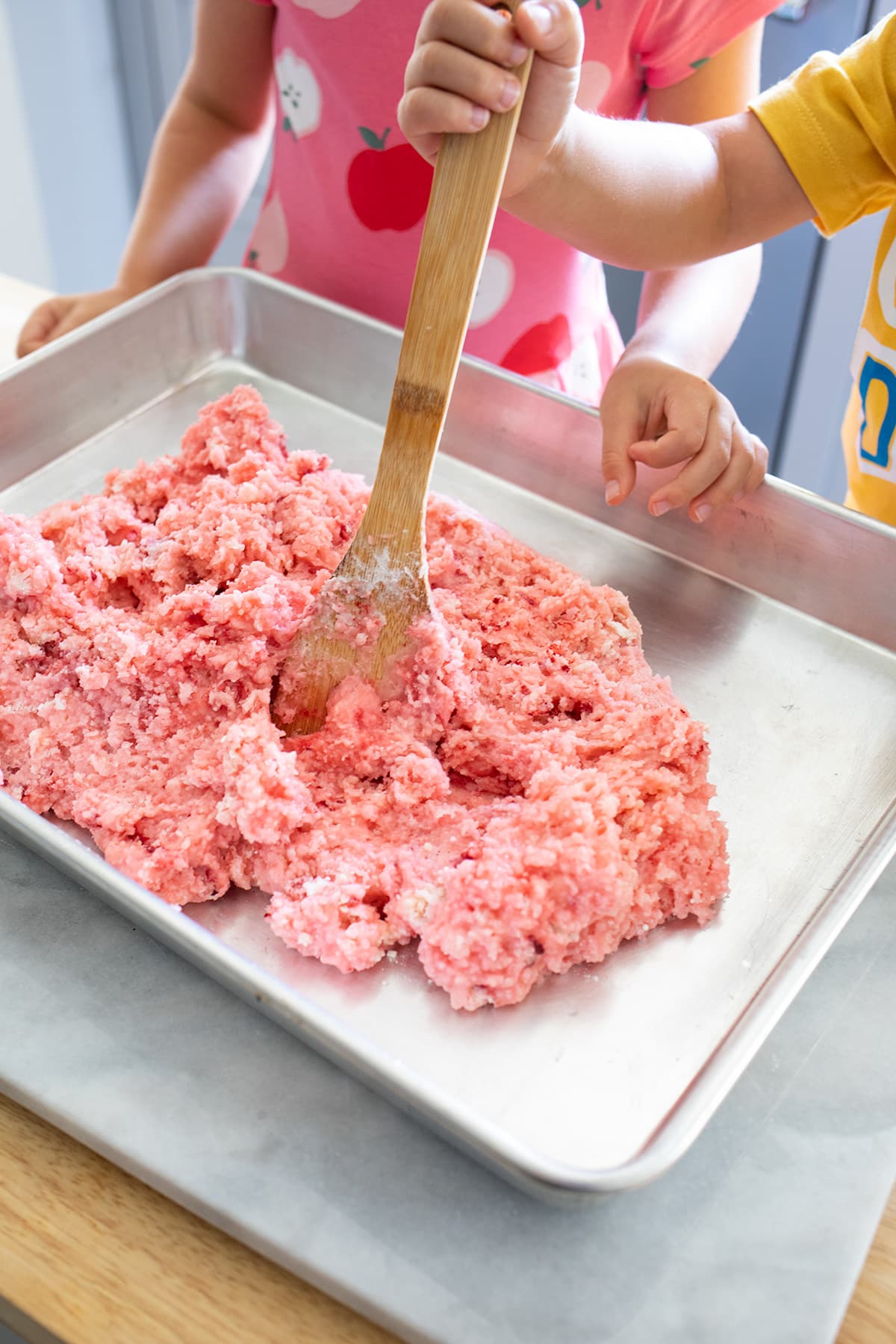 How to Make Cooked Playdough
The beauty of cooked playdough is that it gives kids an opportunity to cook and craft with you. The process does take a bit longer but the end result is worth it and the playdough lasts significantly longer if stored in an airtight container. The process of cooking also results in warm playdough which can be very soothing for little hands to play with.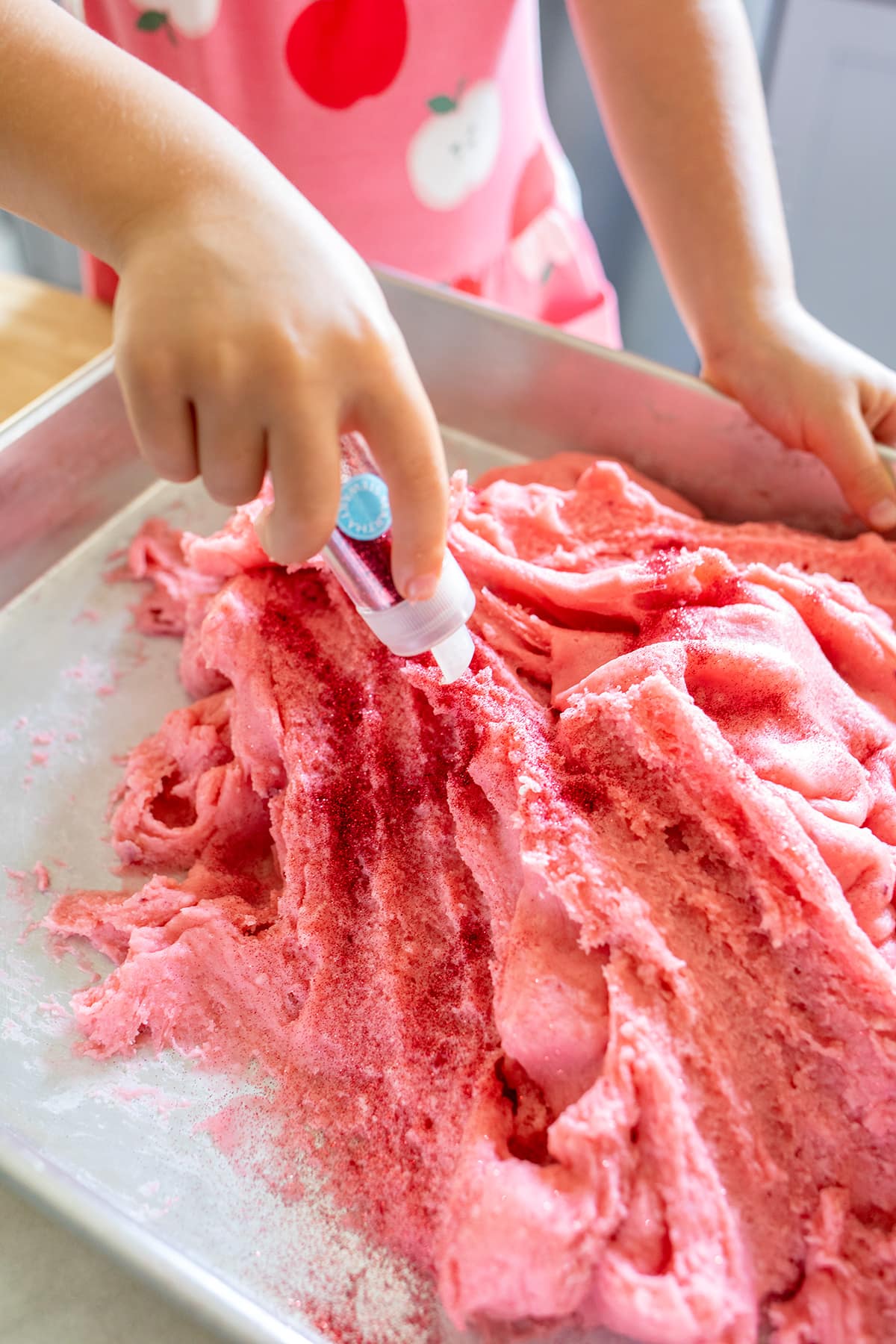 Steps for Cooked Playdough
Boil - boil water in the largest pot your kitchen has! This recipe makes a TON of dough. (enough for a classroom that is.)
Dissolve - add the salt and cook for a few minutes to dissolve the salt. It doesn't have to be completely dissolved so don't take too much time here.
Add- turn off the heat and add in the oil, essential oils, alum and food coloring. It's really important to add the food coloring in this step so that it colors the water BEFORE you mix in the flour. Otherwise you will end up with clumps of color.
Flour - Add in the flour and keep stirring with a wooden spoon.
Knead - turn the mixture out onto protected surface and (when it's cool enough to handle) begin kneading. Have kids help knead the warm dough to mix it together until smooth. Do not add more flour, the dough starts out sticky but comes together once you knead. Just keep at it!
Glitter- we added glitter as an afterthought this time around. Two things to note: glitter can be added at just about any step although with the water and oil is best. Also, I prefer chunky glitter for playdough although we didn't have any today.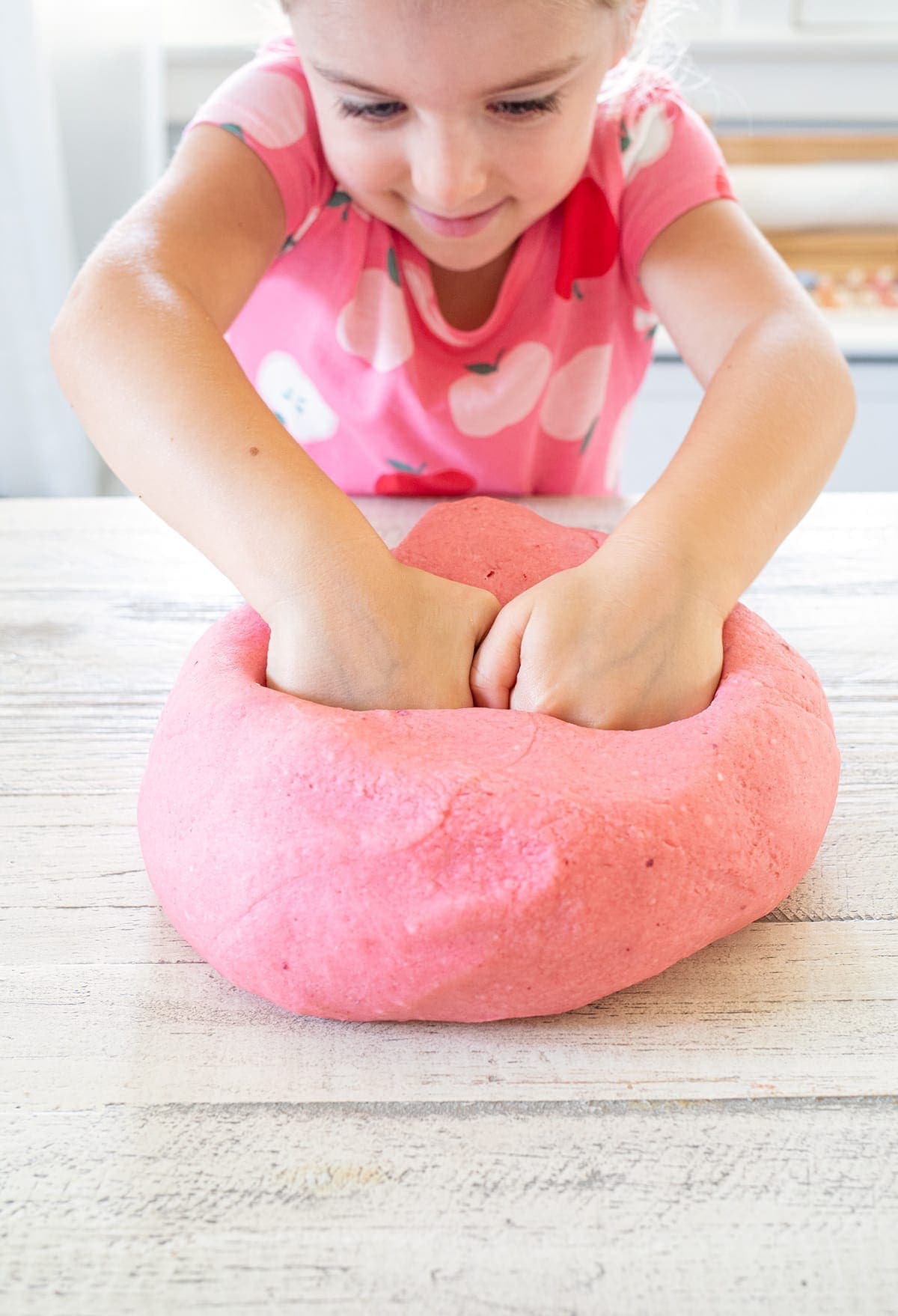 Look at how that dough came together! It's really pretty magical what happens if you just keep kneading it. So don't give up or add more flour if it appears sticky at first. Just trust the recipe and let your kiddos have fun playing with the warm dough. It's part of the process.
NOTE: make sure you turn the hot dough out onto a surface and allow it to cool slightly before letting kids knead it. Always test the temperature yourself first so that no little hand get burned.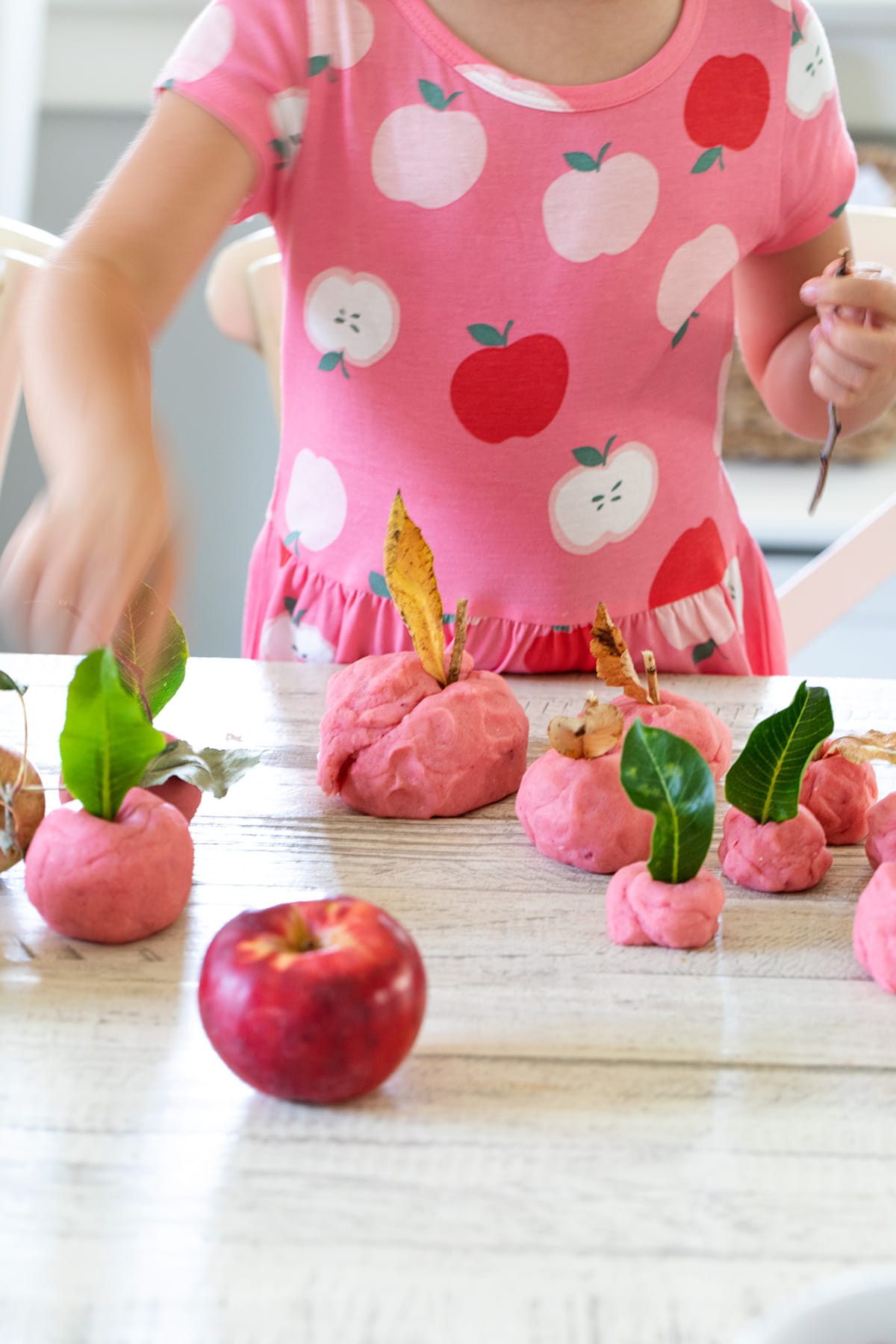 Making Playdough Apples
We recently visited an apple farm to pick apples and our unit of study is all Apple themed this September so I though this would be a fun craft to add to the unit. You could also cut out little felt leaves and use popsicle sticks or other craft sticks as the stems which would make this craft able to be played with again and again.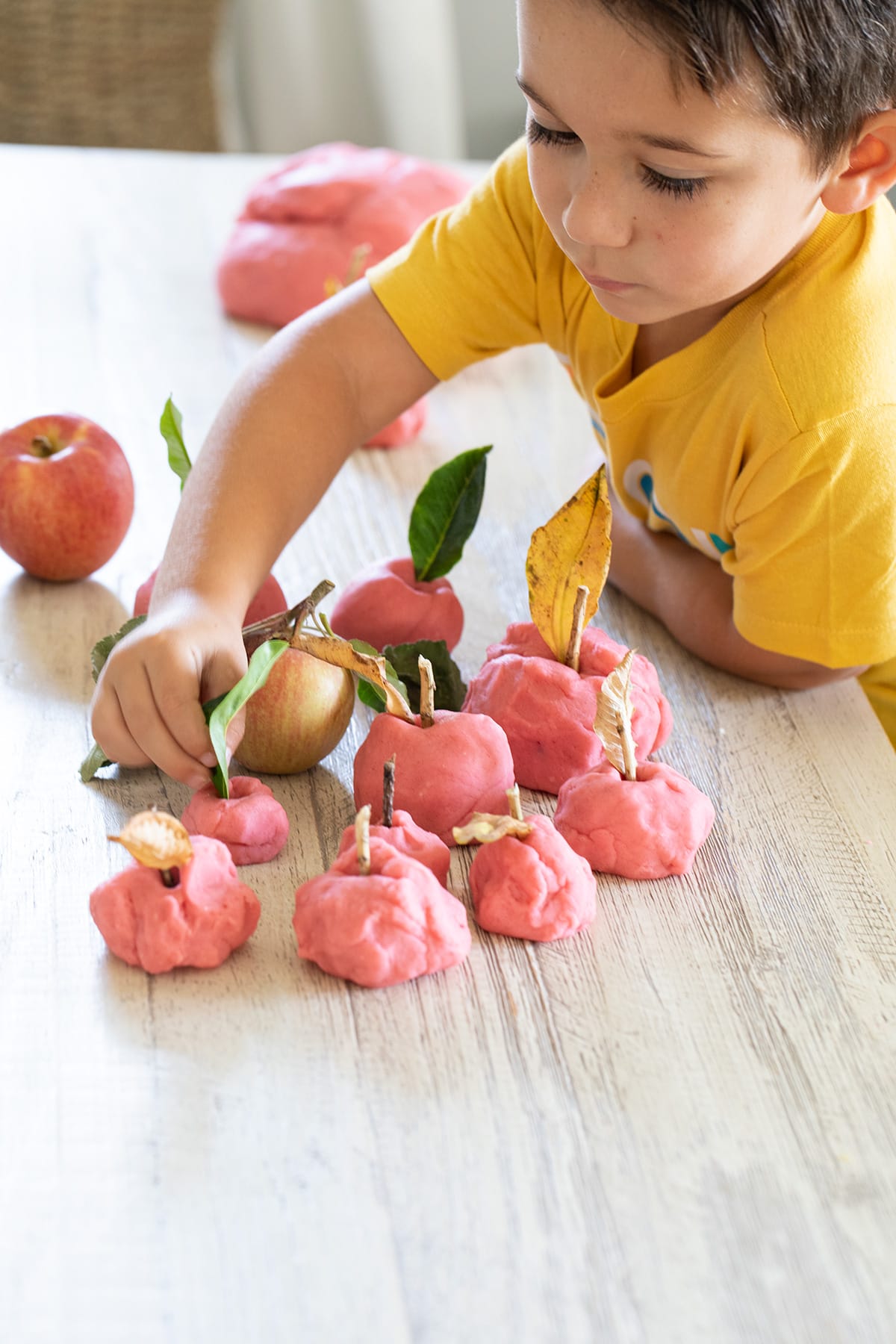 Creative Apple Play Ideas
Apples for sale! Turn this into an apple stand and use the opportunity for older kids to exchange play money for apples.
Apple Pie. Give kids small pie tins, and a rolling pins, and turn this into a bakery.
Counting. Use mini playdough apples as manipulatives for a basic math lesson. Substraction? Take away an apple by smashing it!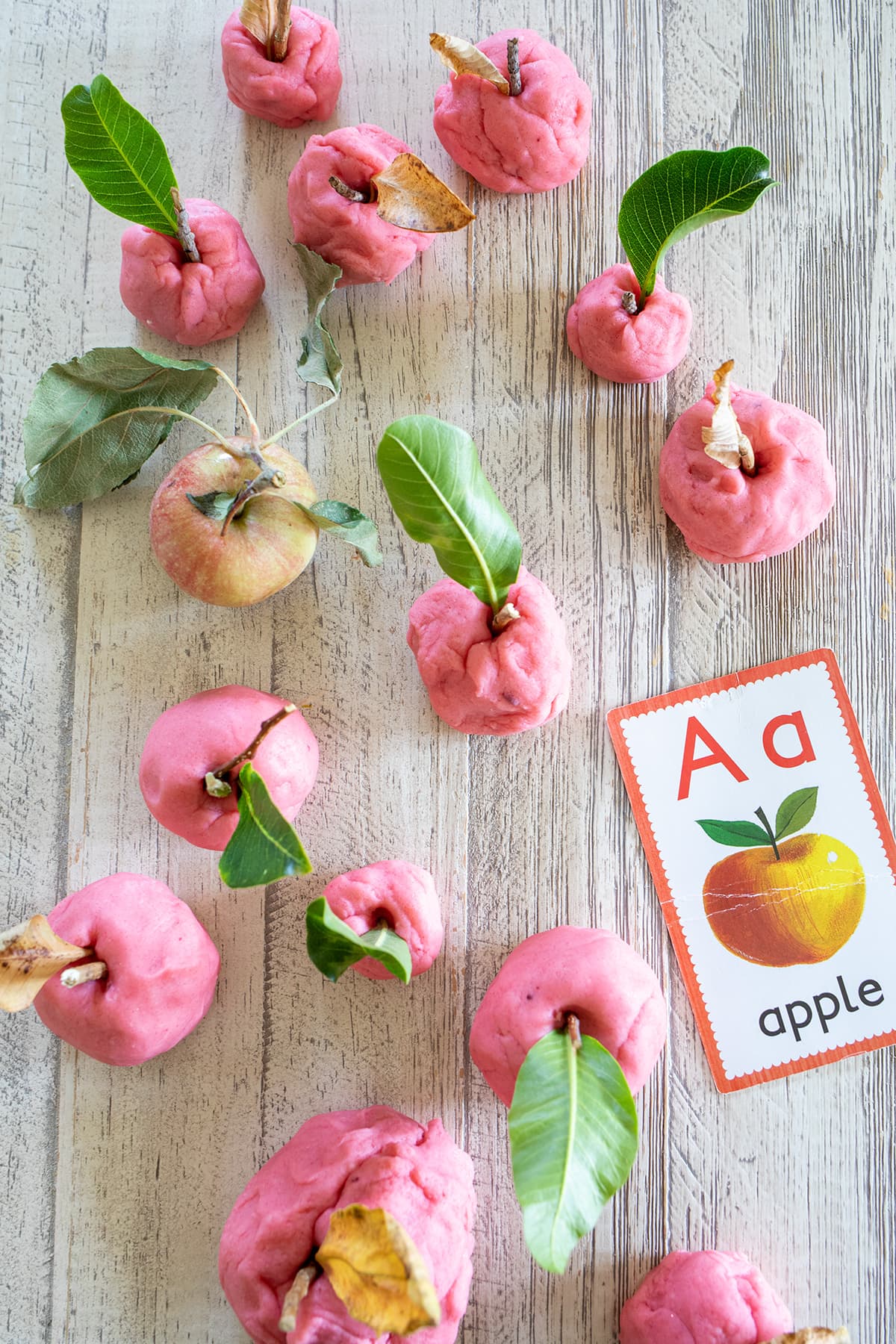 More Playdough & Slime Recipes to Try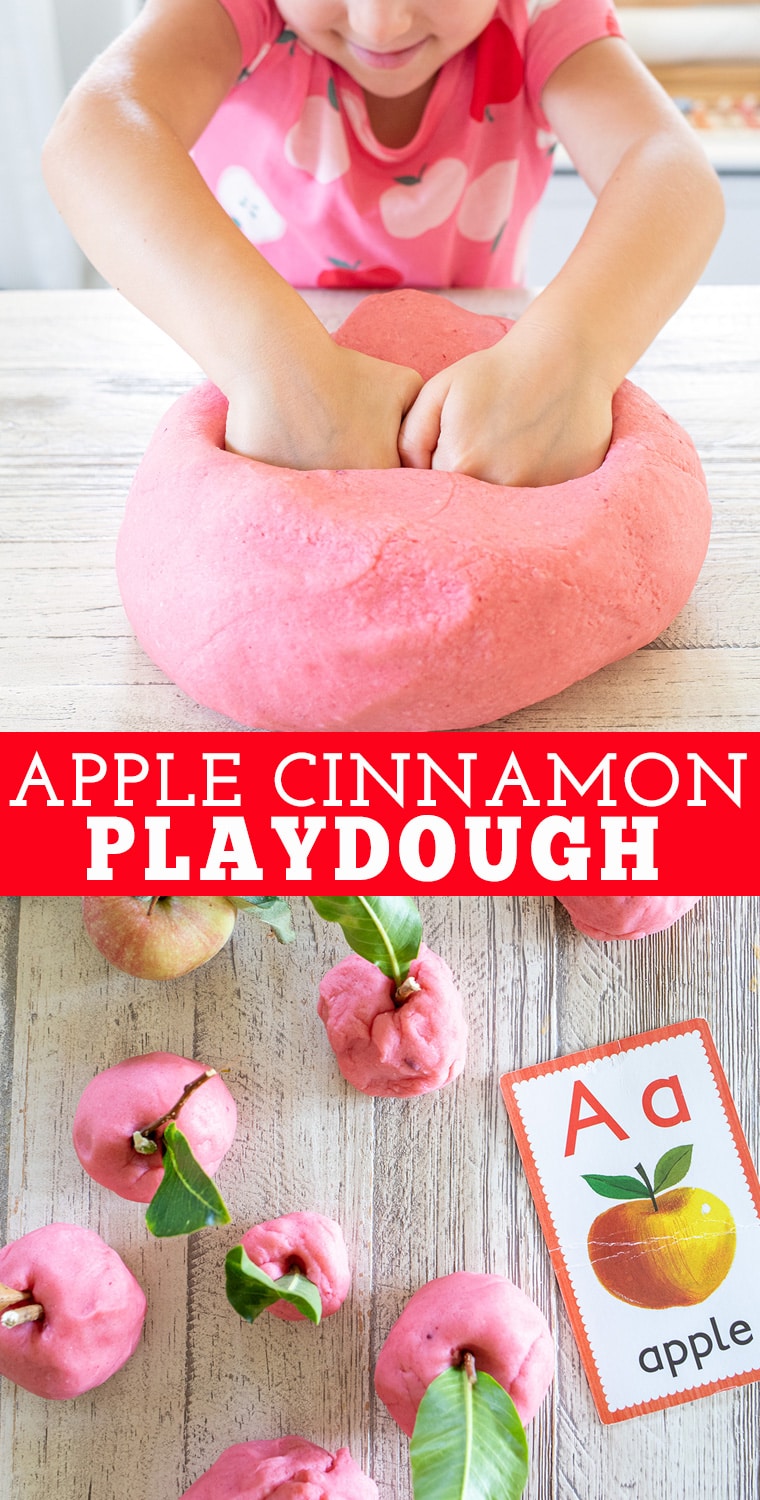 I hope you will enjoy this playdough as much as we do! Make sure to store playdough in a large air tight tupperware to keep it as long as possible. This recipe makes a ton and last for at least 3 weeks if stored properly.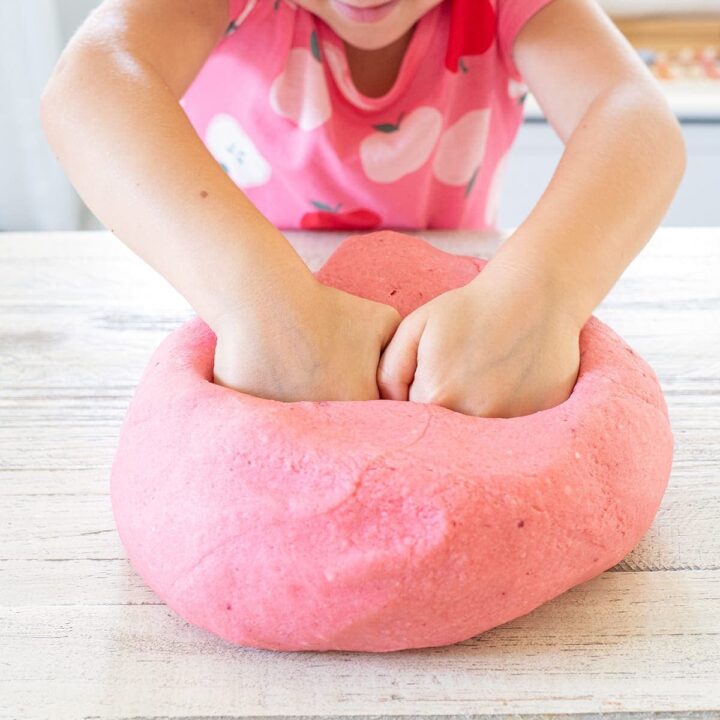 Apple Cinnamon Playdough
Additional Time:
20 minutes
Classic Kindergarten cooked alum playdough colored and scented with essential oils to smell like apple cinnamon! Perfect for an apple unit of study or creative play.
Ingredients
6 cups water
2 cups salt
4 tablespoons vegetable or canola oil
2 tablespoons alum
1 bottle red food coloring
6 cups all purpose flour
12 drops (Young Living) Cinnamon Bark Essential oil
8 drops lemon essential oil
8 drops orange essential oil
Instructions
In the largest pot you can find, bring water to a boil.
Add salt and cook stirring with a wooden spoon to dissolve. Cook 1-2 minutes and turn off heat. Note: The salt does not have to be completely dissolved to move onto the next step.
Add the oil, essential oils, alum, and food coloring. Glitter as well if desired!
Add the flour and stir carefully to combine. The dough will be sticky at this point, just keep stirring with a wooden spoon.
Turn dough out onto a work surface and allow to cool enough to touch.
Knead dough or have kids knead warm dough until it comes together completely and is smooth. Just keep at it! Do not add more flour, trust the recipe and just keep kneading.
Store in an airtight tupperware.
Notes
Glitter- we added glitter as an afterthought this time around. Two things to note: glitter can be added at just about any step although with the water and oil is best. Also, I prefer chunky glitter for playdough although we didn't have any today.
Temperature - make sure dough is cool enough to handle before asking children to help knead it.