Gingerbread Playdough is a fun activity to do with your little ones during the holiday season. It makes for hours of imaginary "baking" play as well as the cutest homemade gift for little friends. Did I mention, it smells amazing?!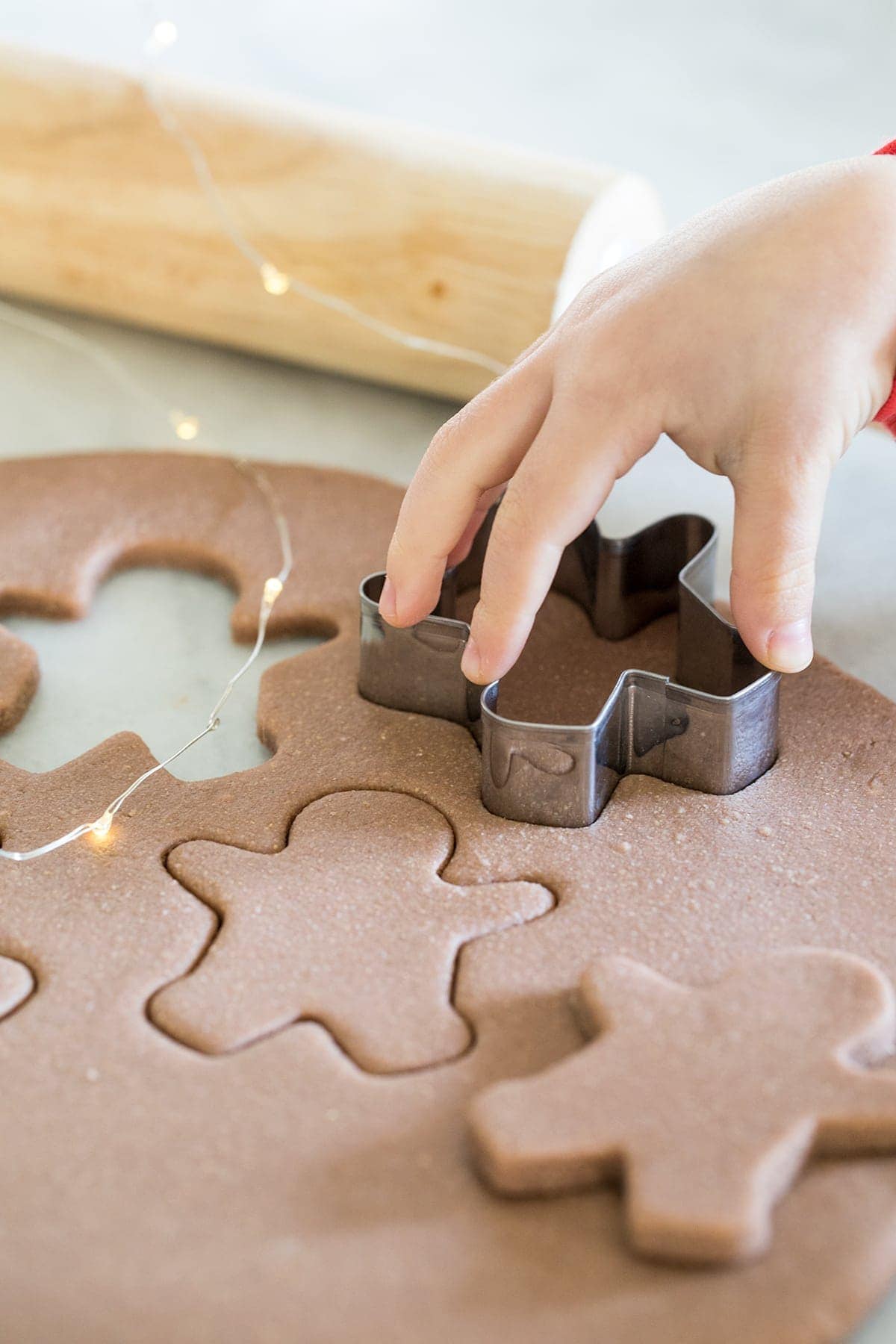 The Best Preschool Playdough Recipe
There are lots of recipes out there for playdough and I've tried quite a few. However, since the twins started Pre-school and I've been volunteering in their classroom, I've come to find that some playdough recipes are just flat out better than others. This recipe is compliments of Jackson and Millie's Preschool and I have to say, it's the best recipe I've ever made. It lasts longer, has a better consistency, and stay soft and pliable for way longer than any other recipes I've made. In the classroom we make a big triple batch maybe once a month switching up the color, scent, and usually adding different glitter.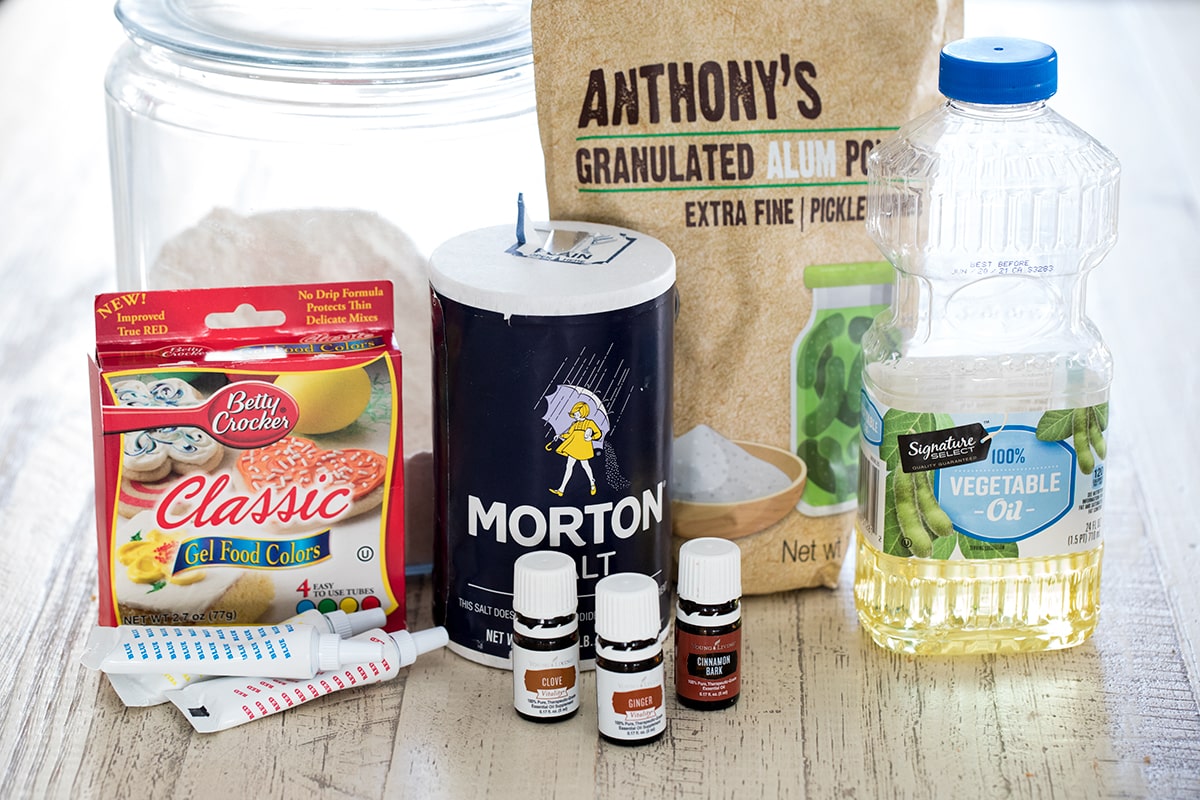 How to Make Alum Playdough
This recipe is really simple but requires an ingredient that you might not already have in your pantry, alum. Before making this playdough I had never purchased alum before but it's a pretty versatile product. It's also found in baking powder, can be used to make homemade toothpaste and even deodorant, who knew! I purchased a bag on Amazon but you can find a smaller quantity at your local grocery store.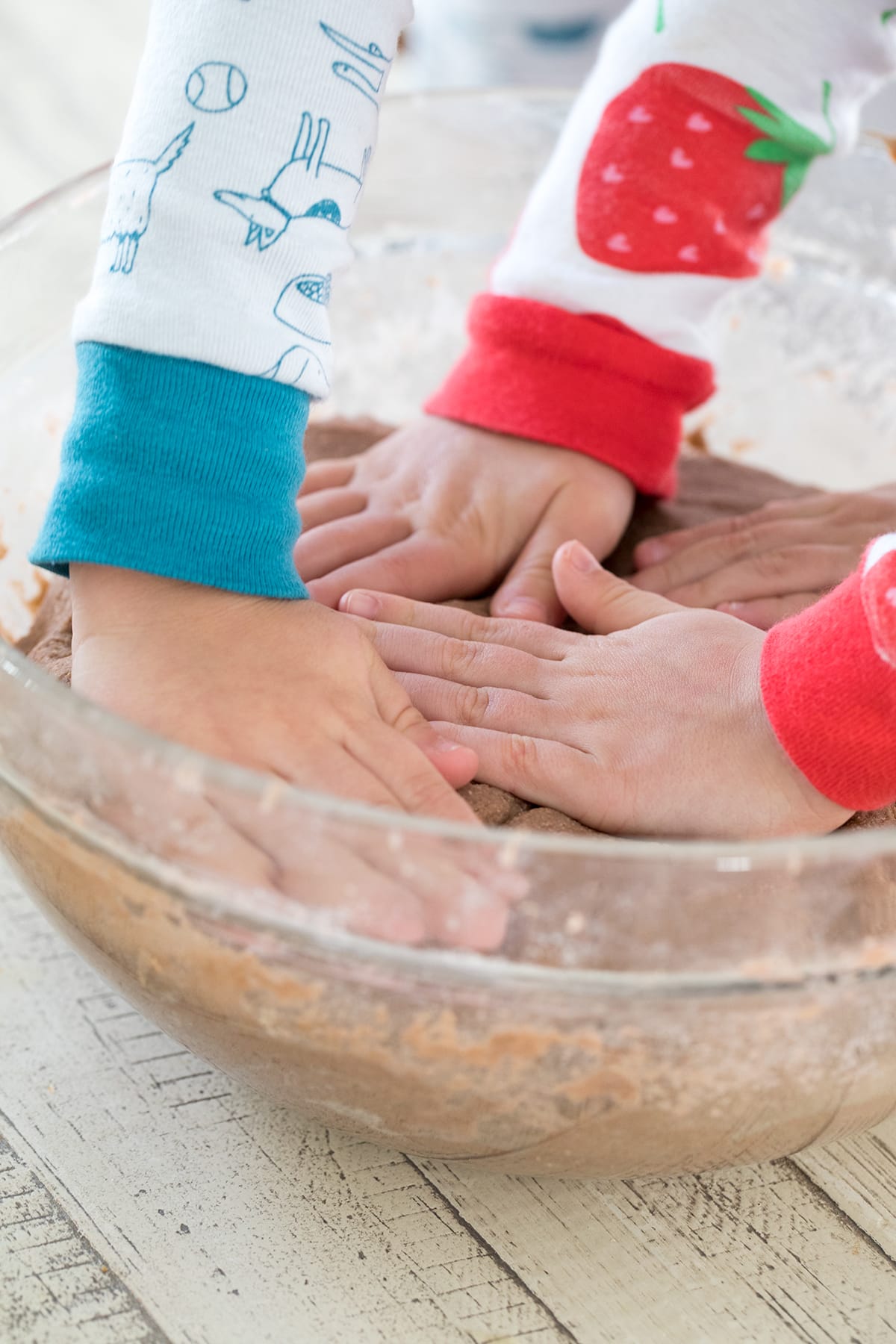 How to Make Homemade Gingerbread Playdough
As I mentioned before, this is a CLASSIC Preschool Recipe for Playdough. For this batch I chose to dye it brown and add essential oils to make it smell like gingerbread...however you really can use this recipe to create any number of amazing playdough creations. Change up the food coloring, scent, add glitter, you name it! For this recipe I used gel food coloring to achieve a brown color and Young Living Cinnamon Bark, Clove, and Ginger essential oils to create the smell of gingerbread. It's pretty delightful!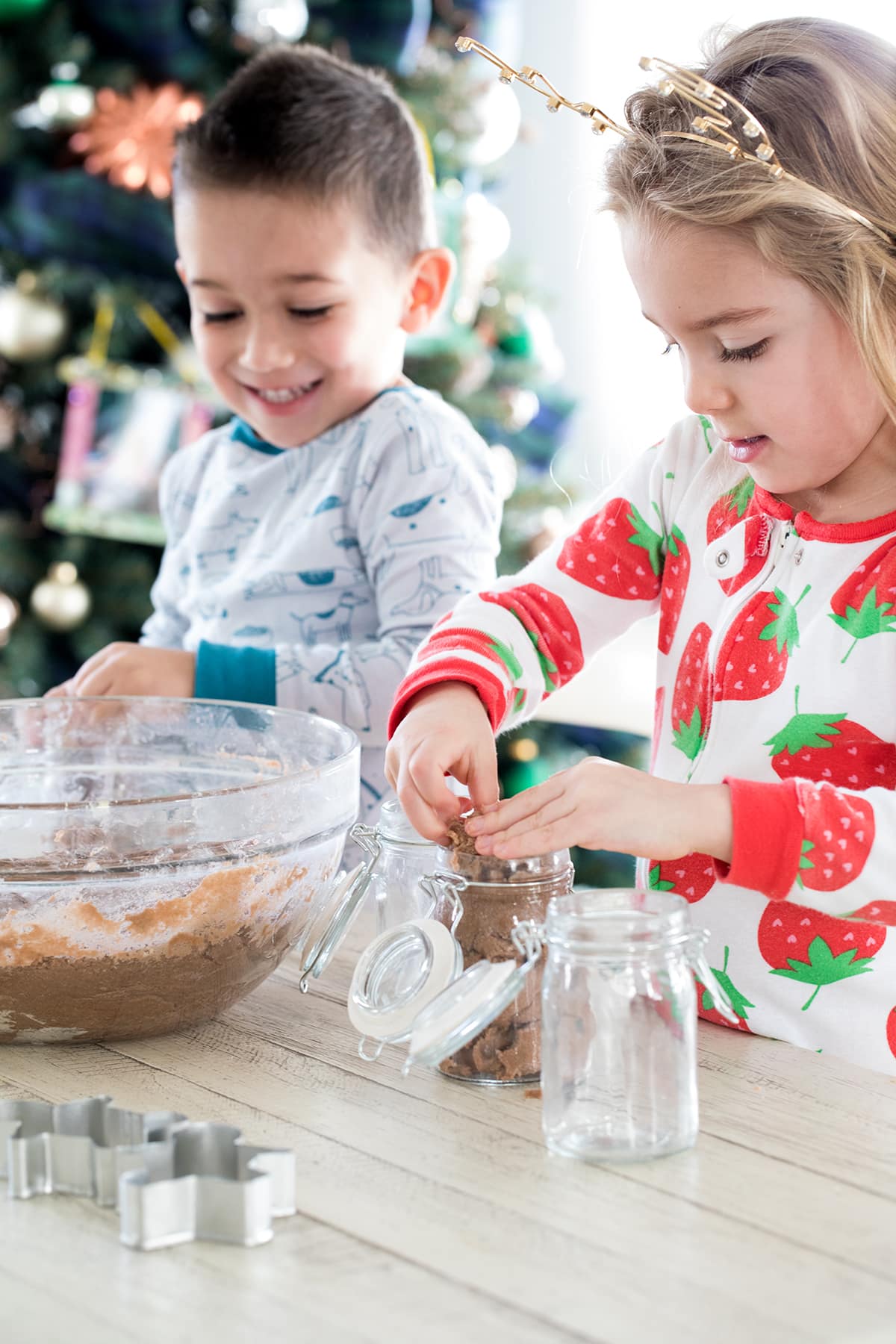 Gingerbread Scented Playdough
While I used essential oils for this playdough, I have seen recipes out there that call for using classic gingerbread ground spices to scent your dough. Personally, I haven't tried that technique but I'm sure you could experiment with dried spices if that is what you have. I would use some combination of the following: cinnamon, ground ginger, clove and nutmeg.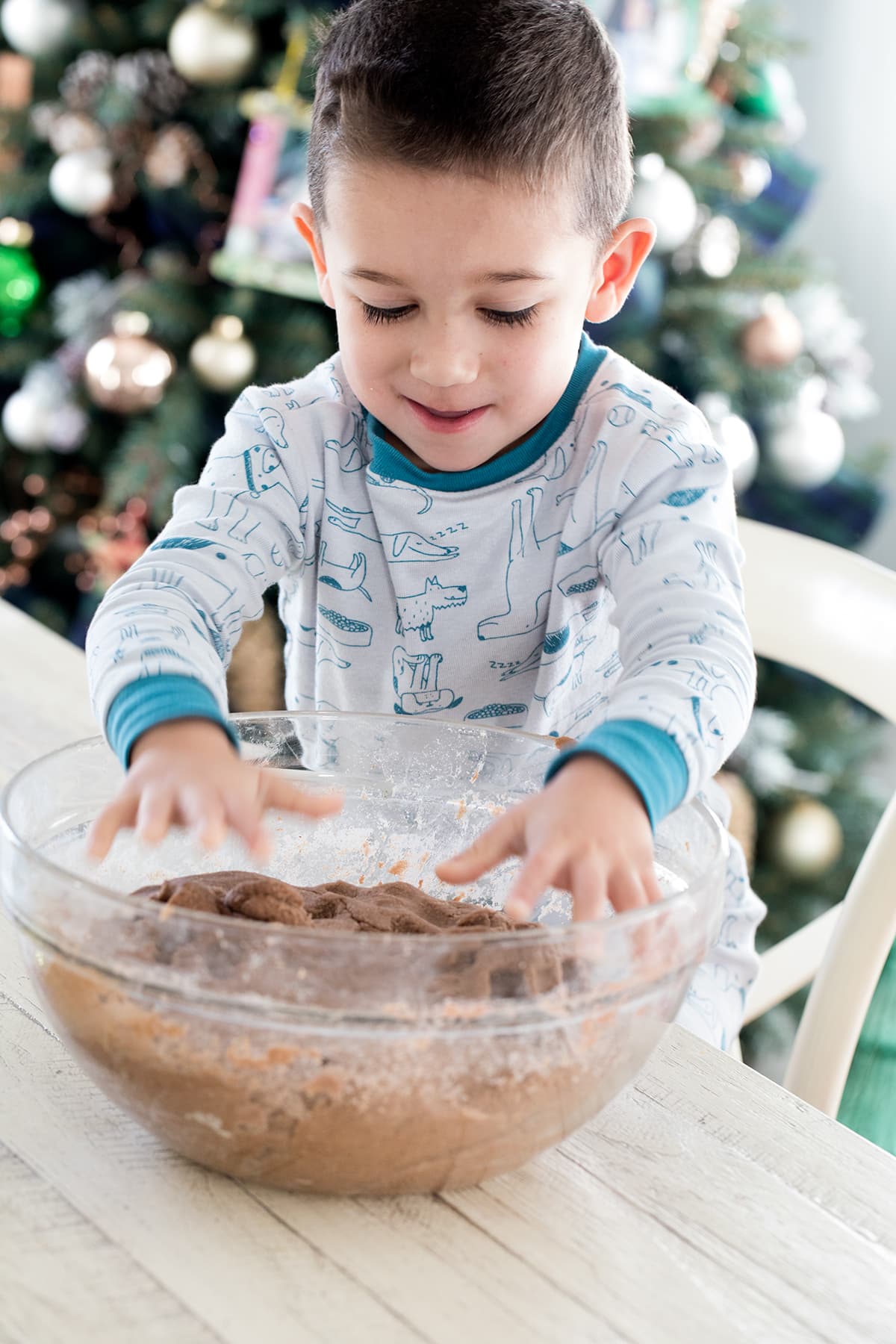 Recipe for Cooked Playdough
There are tons of recipes for playdough that don't require cooking, however, I truly believe that the cooked playdough recipes have the best consistency. Start by bringing water to a boil and dissolve the salt into the water. From there, simply mix in oil, alum, any food coloring you like, and lastly the flour. This step takes the most muscle and I usually transfer the mixture to a large heatproof bowl at this point to really get some leverage. This is also the step in which I add my essential oils. If you are using powdered spices, I would mix them with the flour first.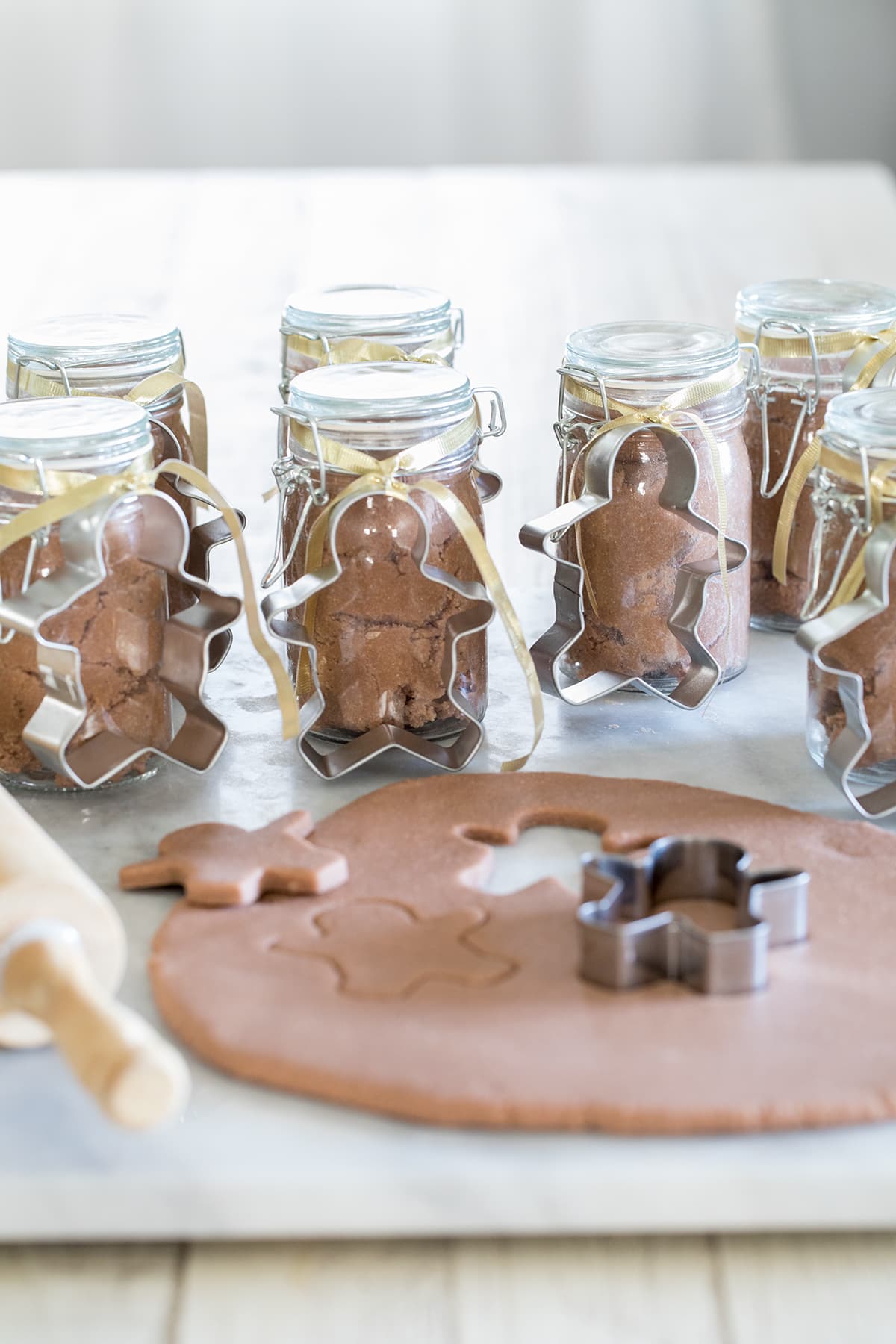 Knead Your Playdough
At this point, it's time to knead your dough. WARNING: The dough will be HOT! So either do as I do and turn it out onto a counter and use gloves, or wait a bit if it's too hot to handle. Definitely do not give this dough to small children to knead at this point until the dough cools down a bit. You will need to KNEAD it in order to evenly distribute the essential oils and get the proper consistency of the dough. If it feels too sticky, keep kneading. It should come together nicely however if it's not coming together you can sprinkle in a bit more flour.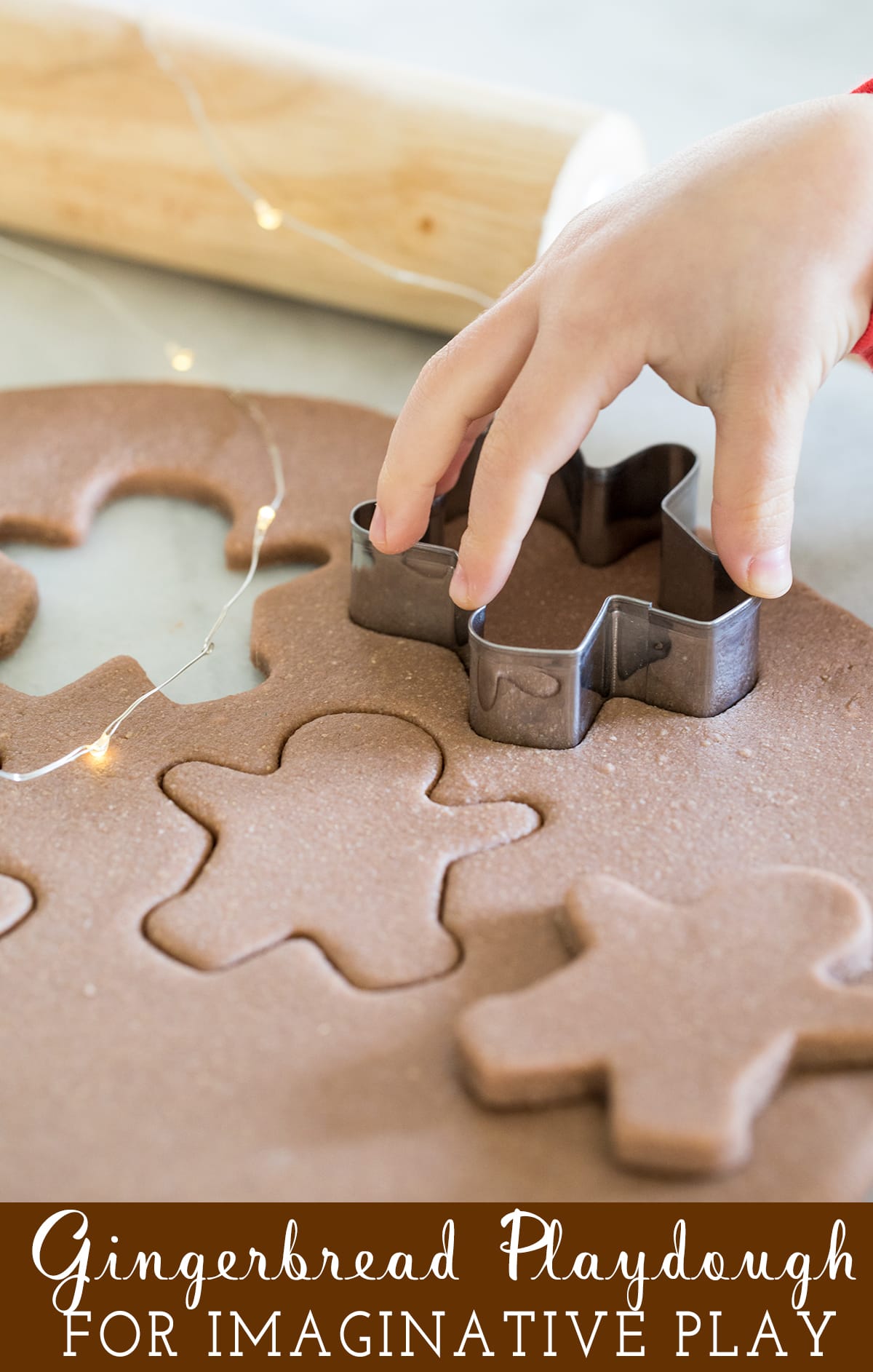 How to Store Homemade Playdough
Once your dough is smooth, it's ready to play with or package up! At the twin's preschool they store the giant (3x) batch in a large tupperware container and bring it out daily for playtime. Every few weeks (3-4) it gets discarded and a fresh batch is made. YES, this recipe is that hearty that it stands up to toddlers handling it daily for weeks before it's time to replace it. Didn't I say I love this recipe? Keep your batch of playdough in an airtight container at room temperature for about 2-3 weeks to be safe. (longer if it still looks fresh)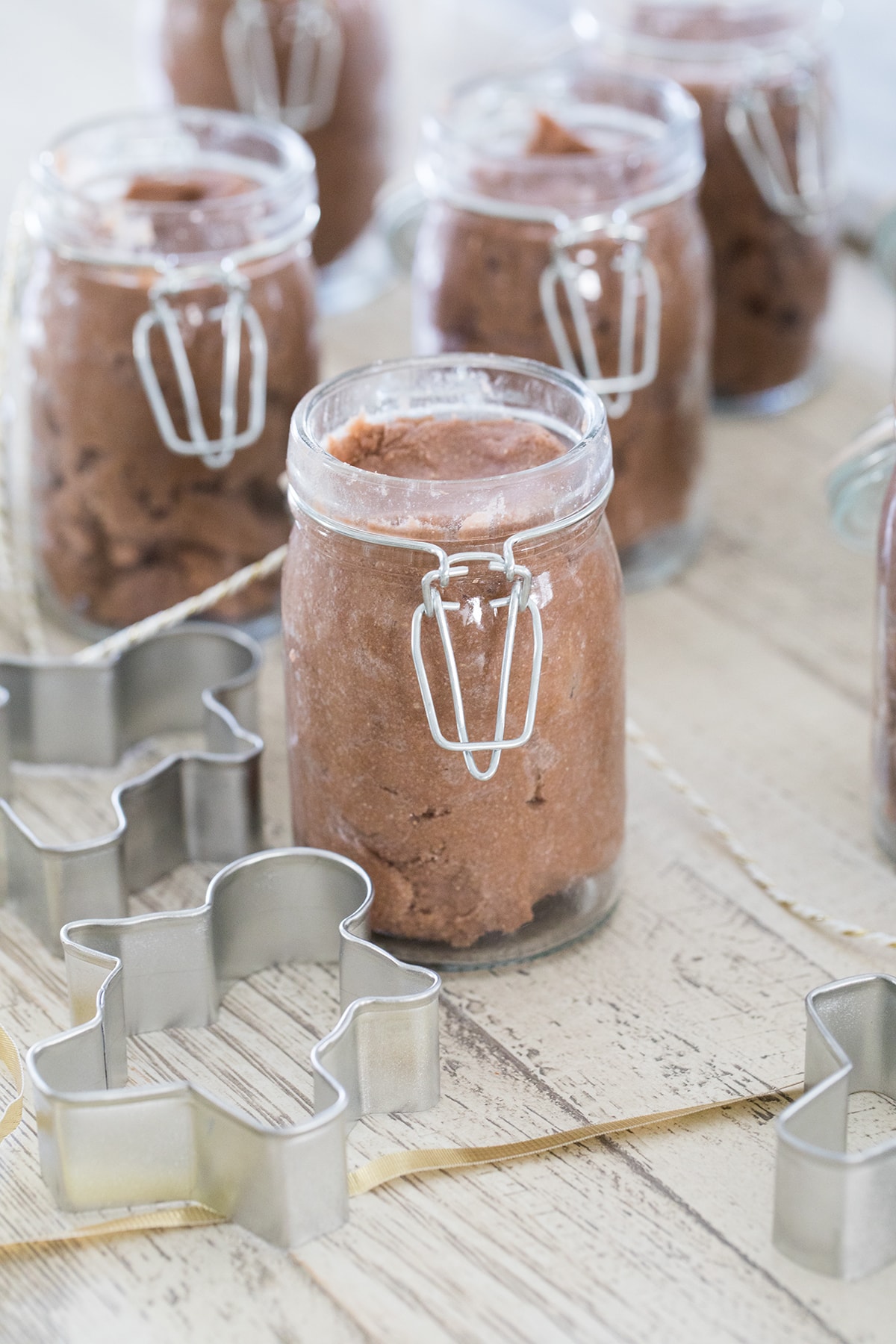 Gingerbread Playdough Homemade Gifts
This year, the twins and I made a batch of this gingerbread playdough to give as gifts to all of their friends. I went to Michael's Crafts Store and bought small glass jars, ribbon and little gingerbread cookie cutters to package up the dough with. From there the twins helped stuff all of the jars with playdough. We filled seven jars and still had a ton of leftover dough which I'm keeping for playtime with the twins. To finish off the gifts, we wrapped each jar with gold ribbon and tied on a gingerbread man cookie cutter. It was simple and so much fun! It would also be adorable to gift these with mini rolling pins. Kids will play for hours rolling out their "cookie dough" and cutting out cookies. I gave the twins baking sheets and they pretended to bake for a good portion of the morning!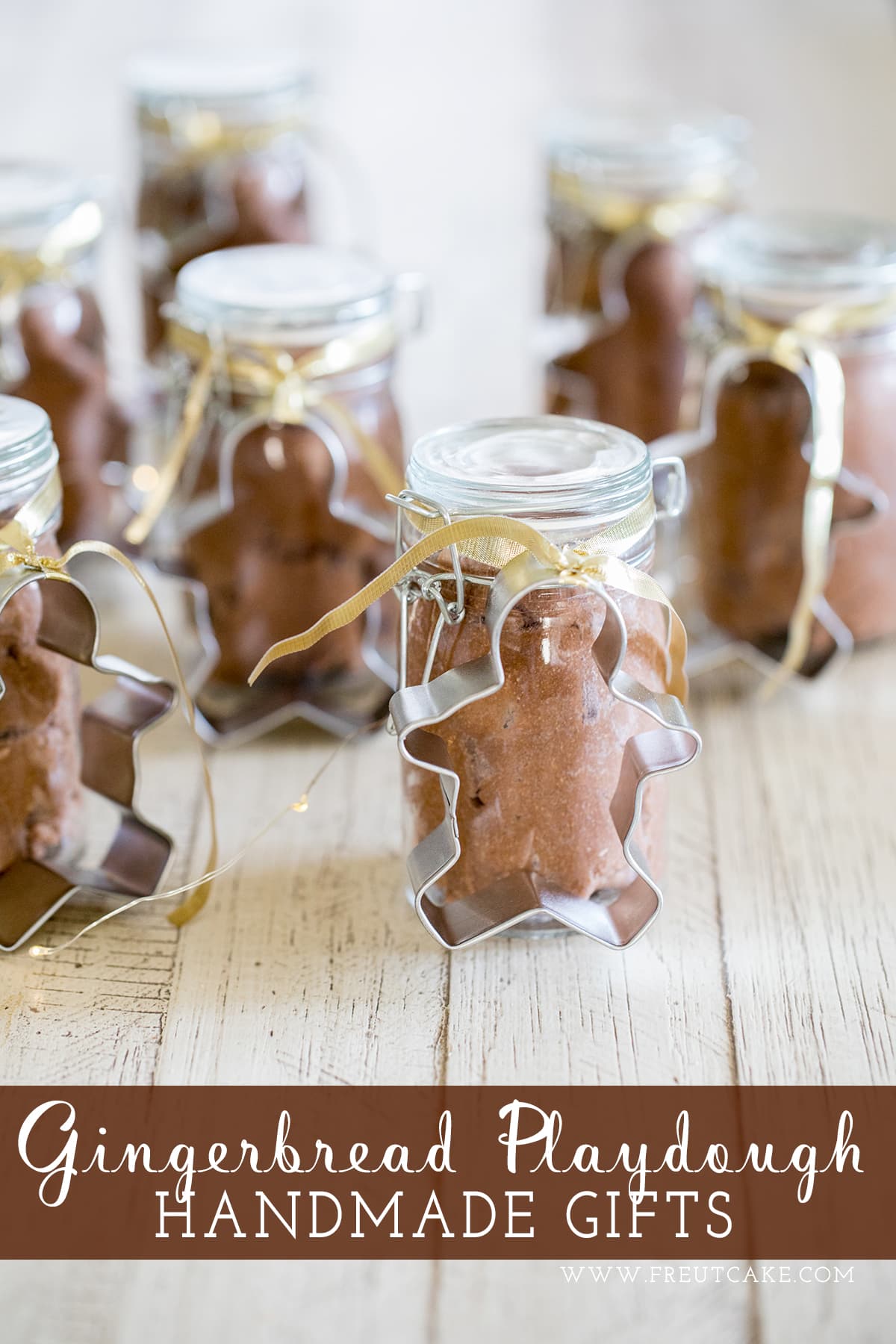 What Substitutions Can I Make?
When it comes to substitutions in this playdough, the base recipe shouldn't be changed much. You can use whole wheat flour instead of all-purpose flour (that's what I did here) if that's what you have on hand. The texture will be a bit grainier however. Other substitutions:
liquid food coloring or gel food coloring - both work
essential oils
glitter - chunky glitter works best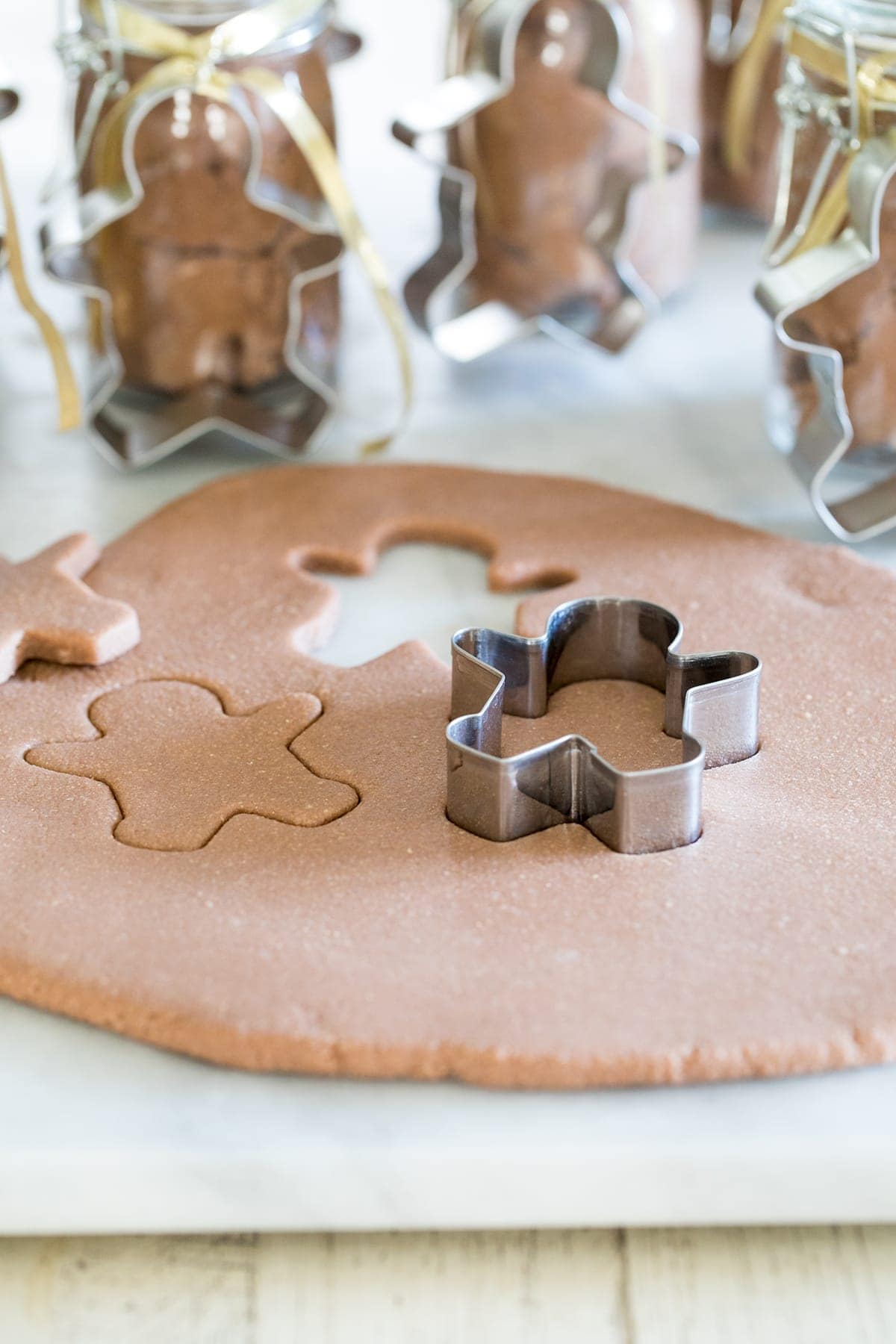 More Toddler Friendly Crafts
Looking for More Toddler Friendly Activities? Here are a few you might like to try! If you make this Gingerbread Playdough or any of my recipes or crafts, please share your photos on social media and tag me @freutcake #freutcake so that I can see your creations! And come back and leave a comment in the box below telling me how your little ones liked it.
How to Make Salt Dough Ornaments
Glitter Playdough
Calming Essential Oil Crayons
10 Handmade Ornaments to Make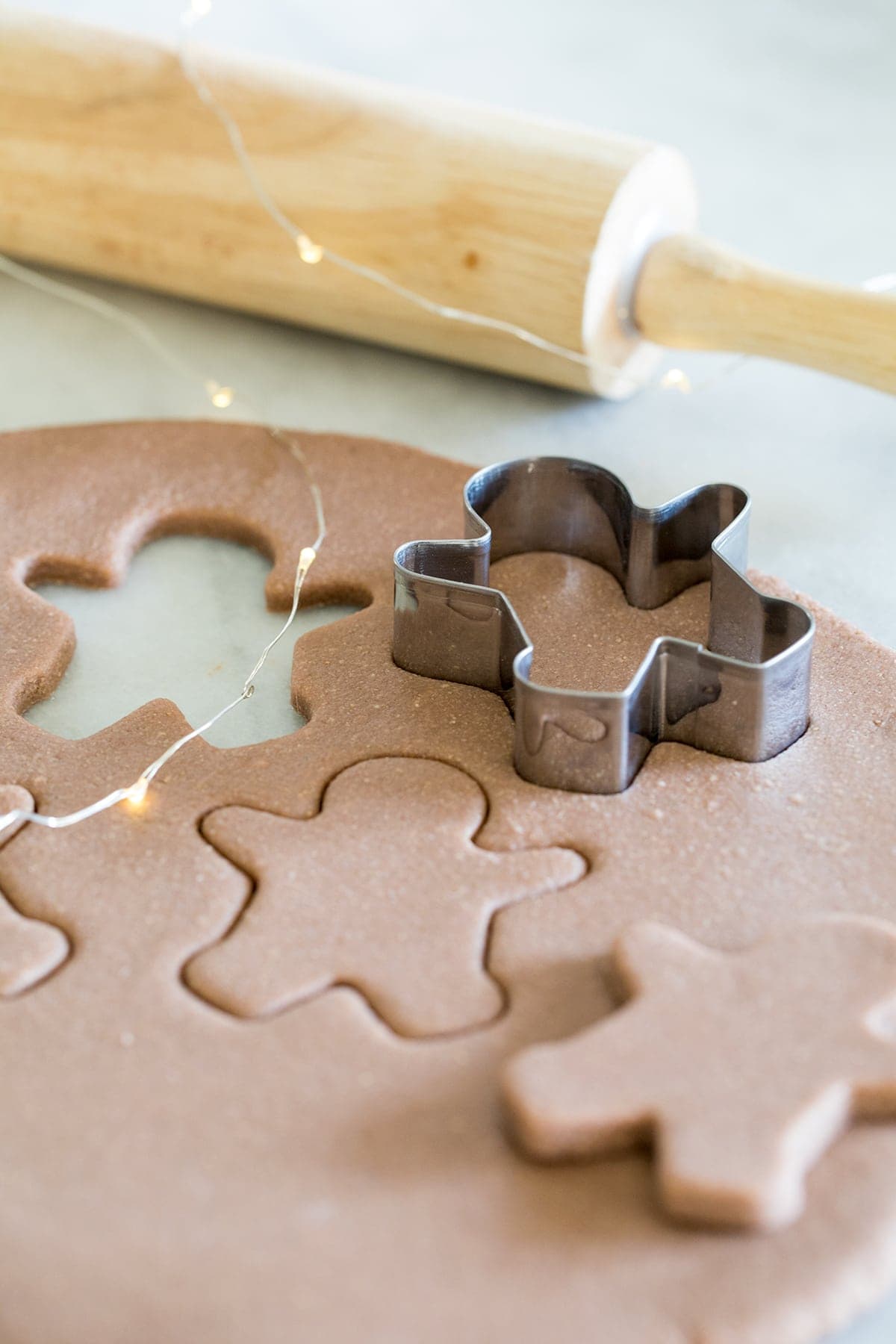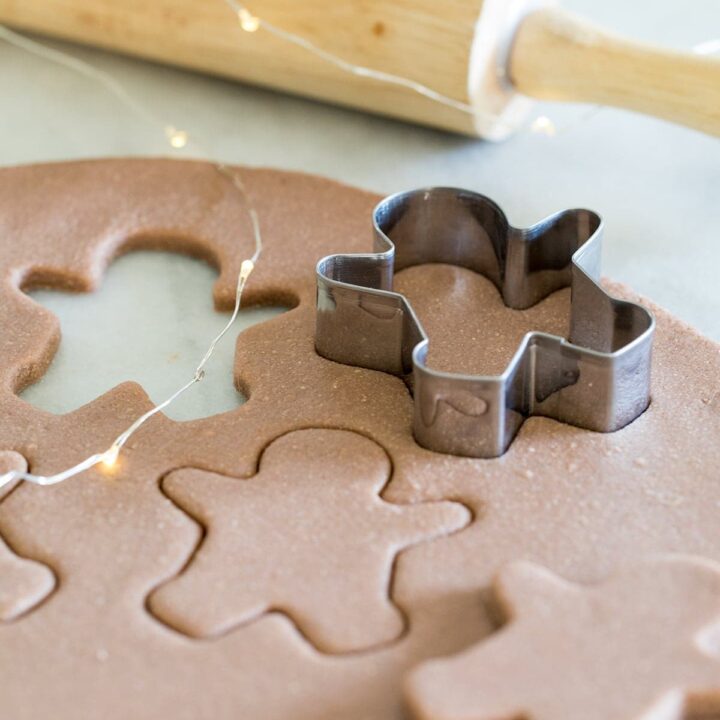 Gingerbread Playdough
Yield:
A LOT of playdough
Classic Preschool playdough scented and colored to look like gingerbread cookie dough!
Ingredients
6 cups water
2 cups salt
4 Tablespoons vegetable oil
2 Tablespoons alum
food coloring - I used red, green and yellow gel food coloring to achieve brown. Follow the color recipe on the box!
6 cups flour
15-20 drops Young Living cinnamon bark essential oil
11 drops Young Living Ginger essential oil
11 drops Young Living Clove essential oil
Instructions
Boil water in a very large pot.
Add salt and stir to partially dissolve. Cook an additional 1-2 minutes. The salt does not need to be fully dissolved.
Turn off heat and add oil, alum, food coloring, and essential oils.
Using a wooden spoon to stir, begin adding flour a little at a time and stirring vigorously until combined.
Knead dough by hand being careful as the dough will be HOT. This is a step for adults.
Once the dough is cooled enough to handle, it's ready to play with or package up. Warm playdough can be soothing for toddlers to play with.
Notes
To store: keep in an airtight tupperware at room temperature for 2-3 weeks.
Substitutions: if you don't have essential oils you can use dry gingerbread spices such as ground ginger, cinnamon, nutmeg and clove! I haven't personally tried this method so I don't have exact measurements for you. Add the dry spices to your flour before adding to the liquid.