Did you like playing with (or eating) playdough as a kid? I absolutely loved it! Not the eating part, just the playing part…moving right along.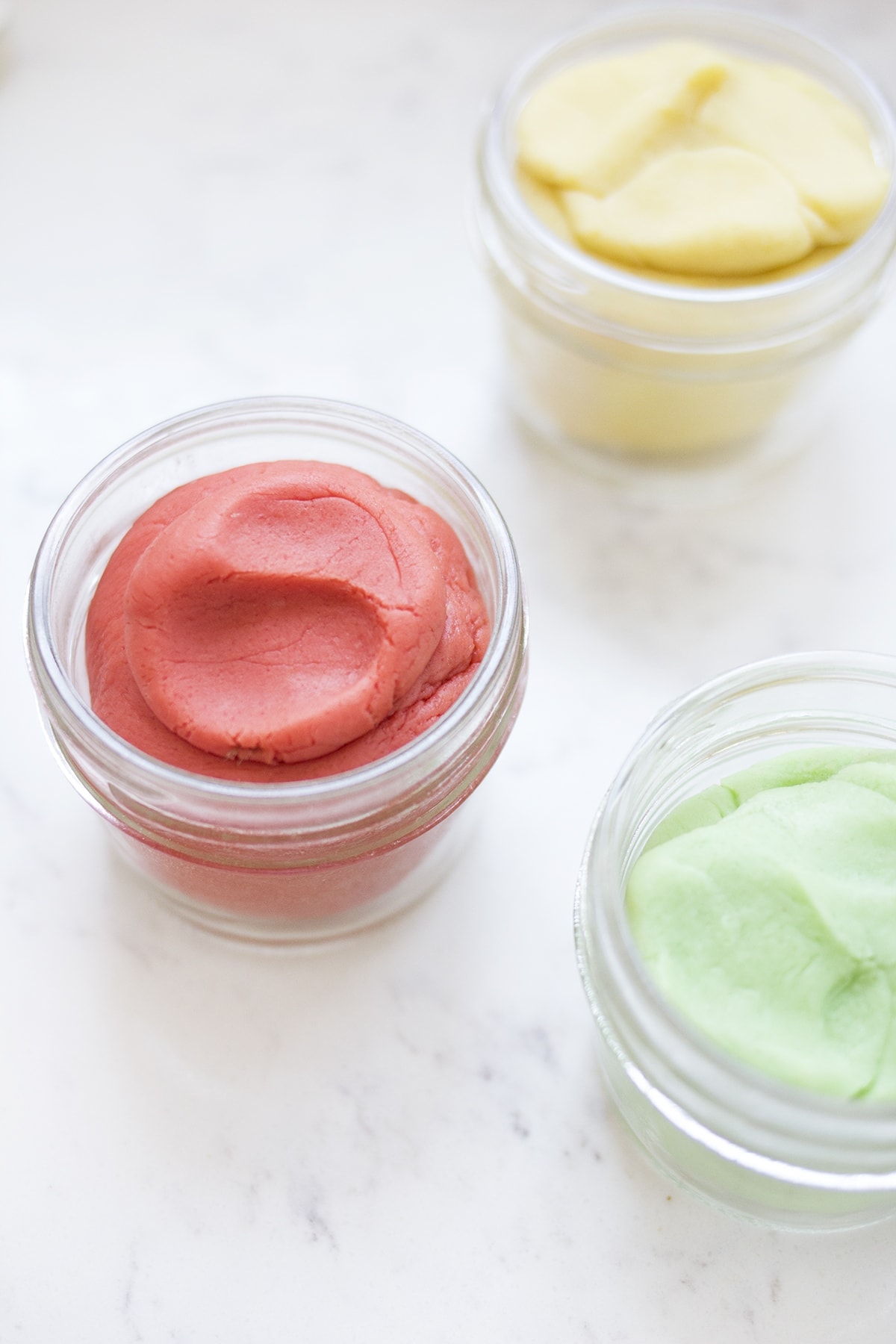 Making Edible Playdough
As a wee child, I mostly enjoyed crafting little pizzas and other "edible" goodies out of my dough, and could sit for hours playing with the stuff. I'm pretty sure my Mom, or the Montessori Kindergarten I attended, or someone in my life, made homemade playdough for me because I have a rather unpleasant memory of tasting a chunk of it, ha! I guess those little pizzas were just too irresistible not to bite.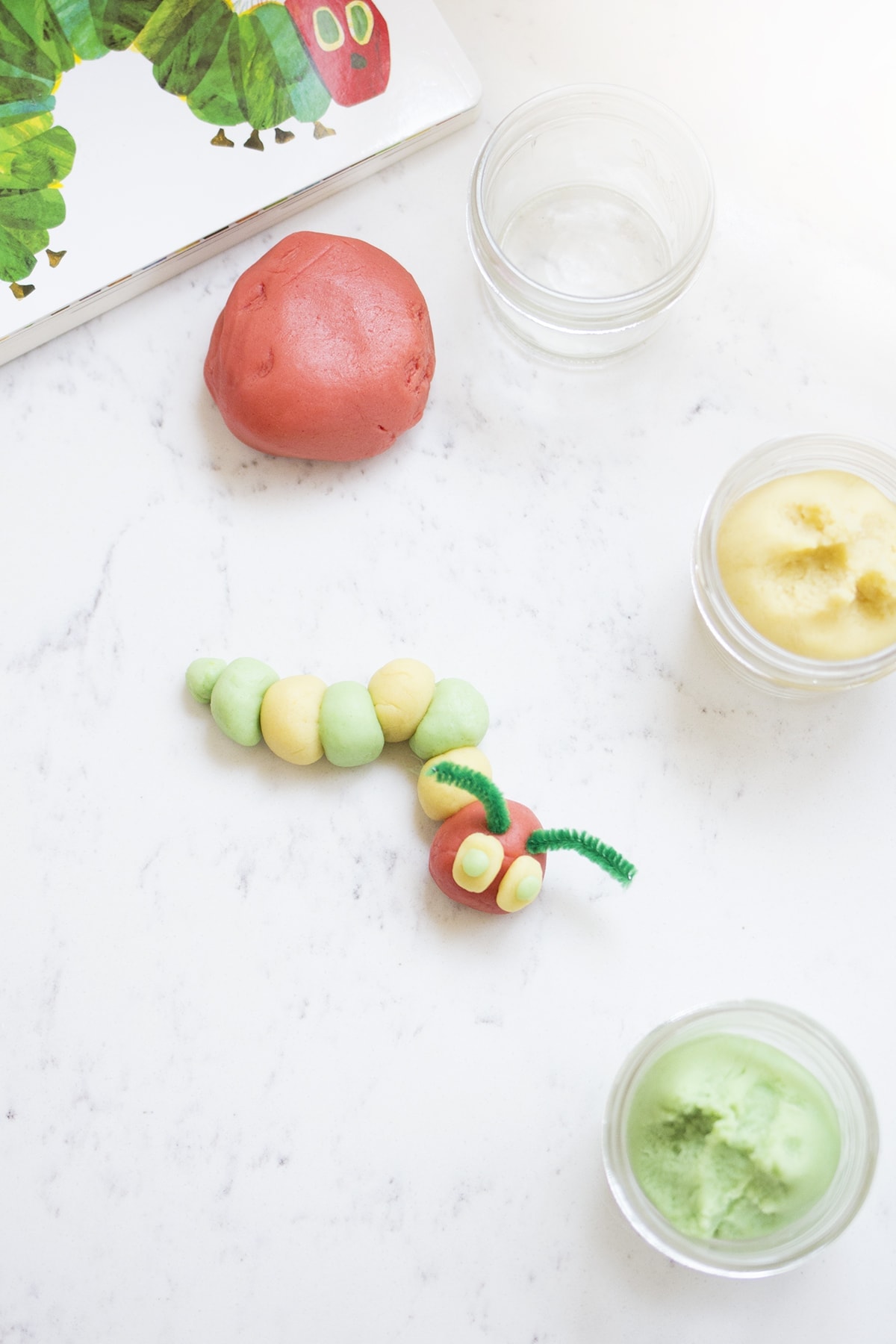 How to Make Jello Playdough
I honestly can't wait for the twins to get to the arts and crafts stage so that I can sit for hours with them rolling out playdough and creating my own little factory of baby labor pizza makers. Oh, you know I'm just joking…sort of.
Last weekend we threw the twins a Very Hungry Caterpillar 1st birthday party for their friends at the Southern California Children's Museum here in Pasadena. (I'll be sharing photos next week!) Since every good kid's party MUST have a fun favor, I made homemade Jello playdough for the littlest guests to take home.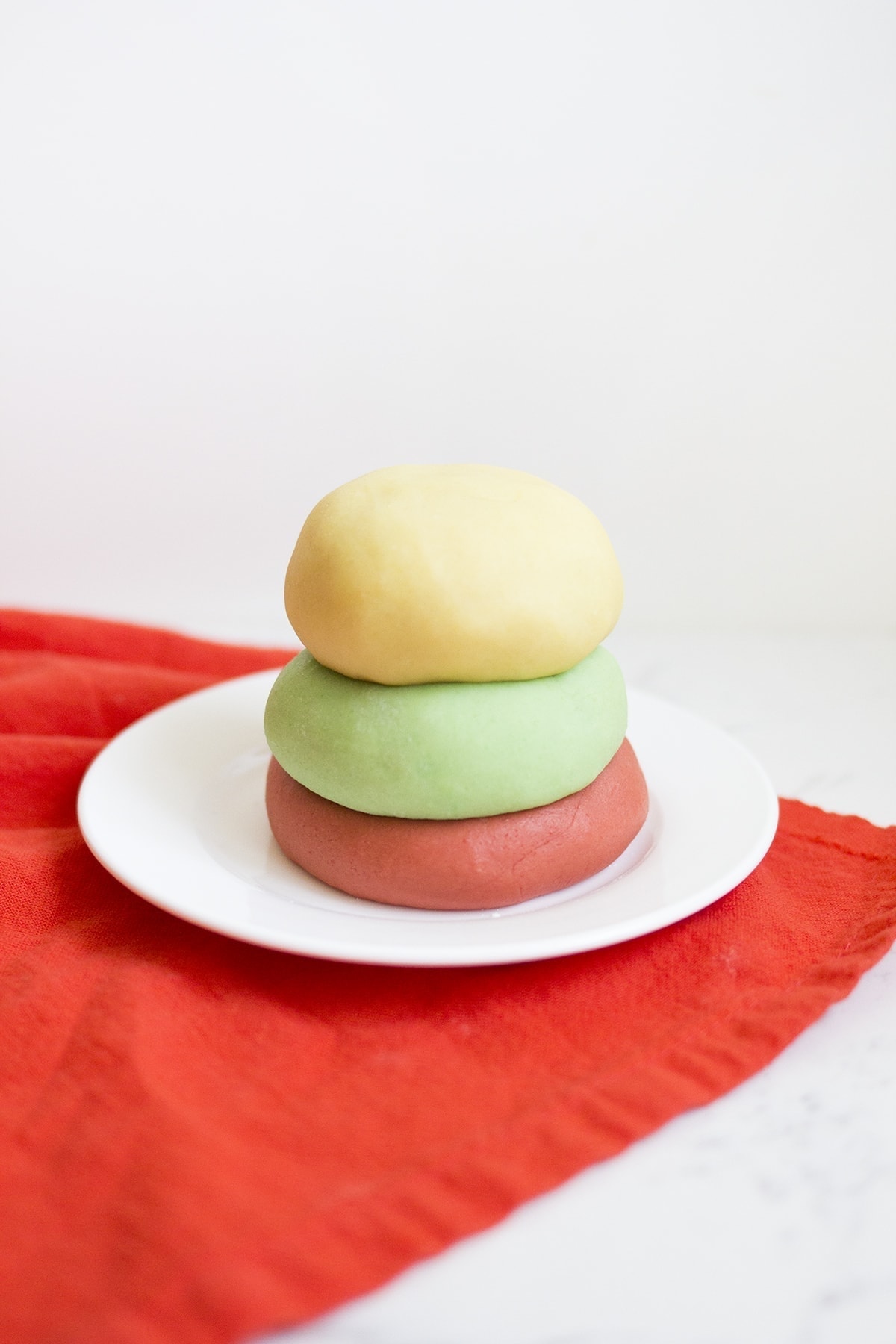 Really it was just my excuse to buy Jello (one of my other favorite things) and try out this fun recipe. No more stinky sour playdough. This stuff smells like fruity heaven, and as my Mom put it, perfect for encouraging kids to eat it. Ha! Do I detect a bit of sarcasm there Grandma? Me thinks so. But make it I did, and gift it I did, and I will definitely be making it again for Millie and Jackson when they are old enough.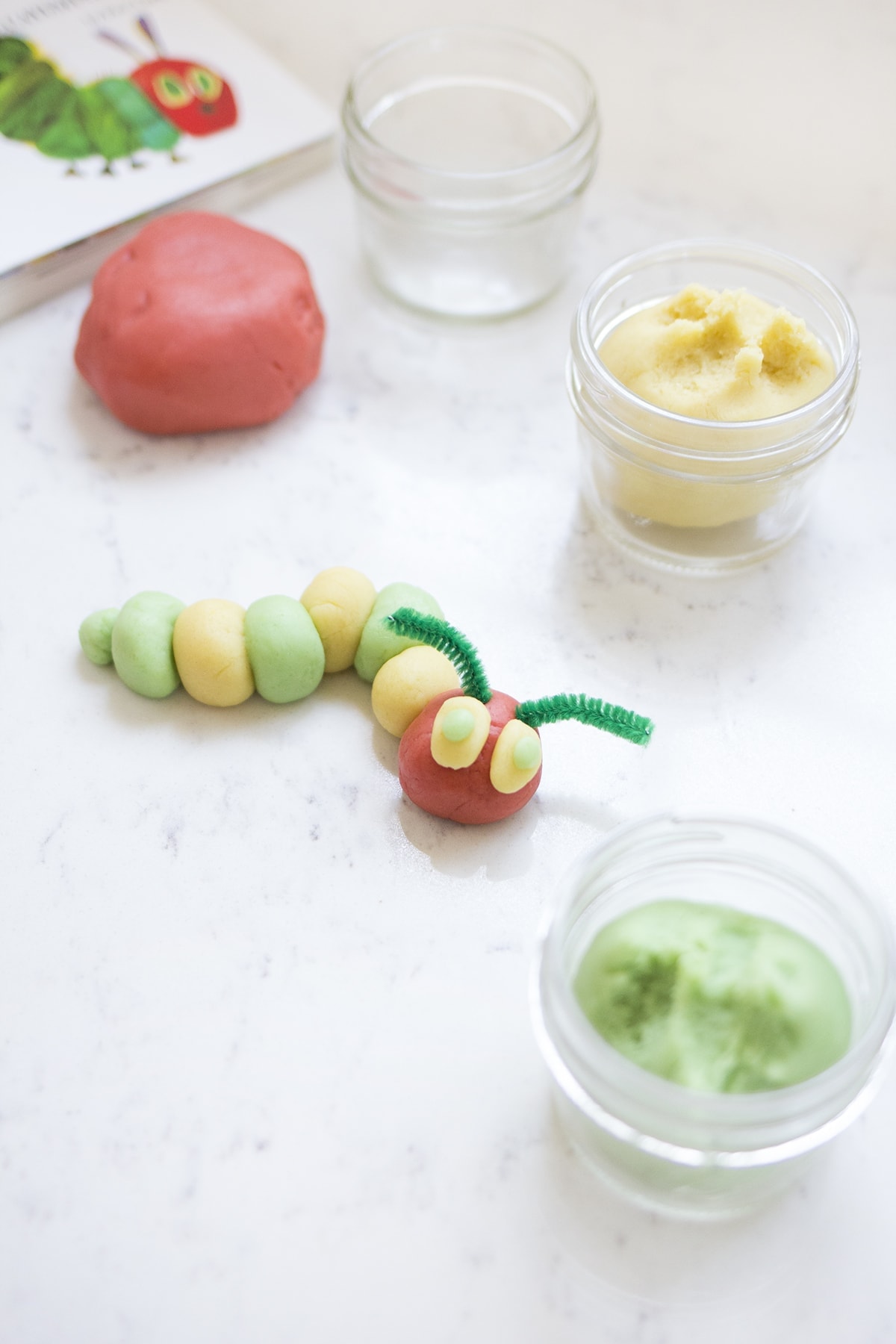 The best part is you don't have to cook this recipe, or kneed in any extra food coloring if you don't feel like dying your hands 50 shades of green, red and yellow. My only tip, definitely work in the extra ½ cup of flour that the recipe calls for! Trust me, it kneads it, haha, hoho, sorry…I've been snacking on playdough again. My first batch for the party was a bit sticky and could have used more flour.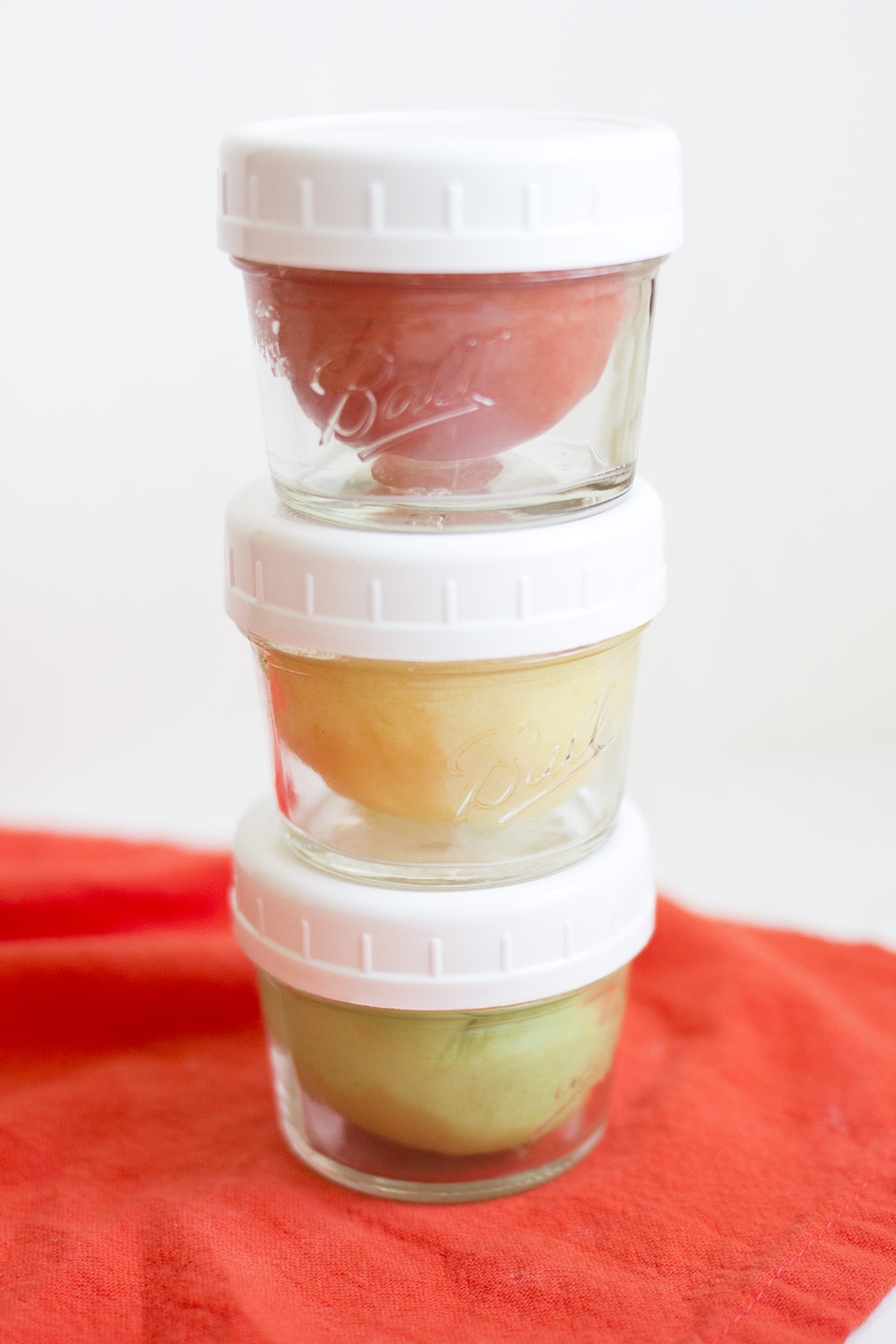 So, do you have a good recipe for playdough? Ever made it with Jello? Tell me what you really think in the comments below.
More Playdough Recipes to Try:
More Crafts for Kids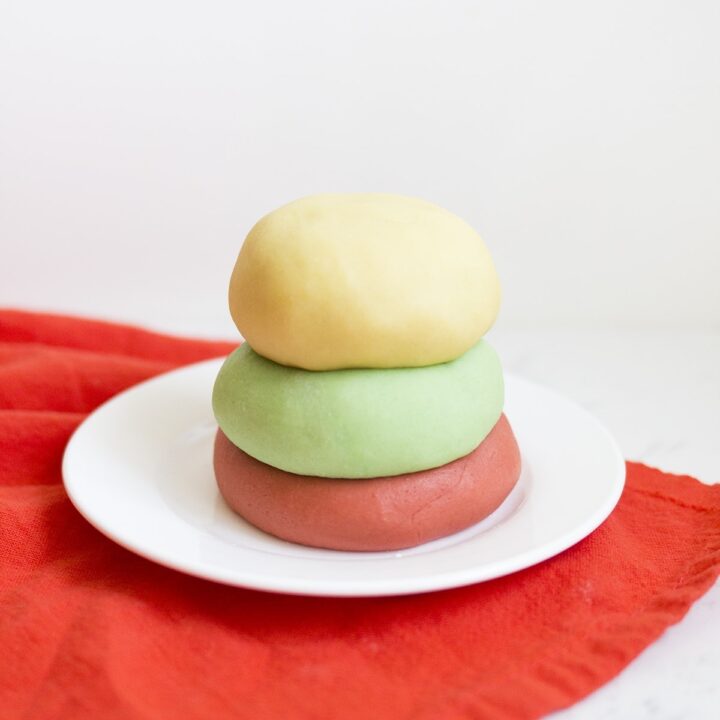 How to Make Jello Playdough
How to make playdough out of Jello.
Materials
1 cup Boiling water
4 Tbs Vegetable Oil
½ cup salt
3 ½ cups flour (½ cup reserved)
6 oz Jello Mix
Tools
Kettle - to boil water
large mixing bowl
measuring cups and spoons
wooden spoon
Instructions
In a large mixing bowl combine dry ingredients.
Add in boiling water and mix with a wooden spoon.
Add in vegetable oil, and mix until incorporated. The dough
will still be very lumpy.
Sprinkle work surface with reserved ½ cup of flour, dump
out dough and kneed dough until its all mixed together.
If the playdough is sticky add flour, if too dry add more
oil.
Store for in an airtight container for 2-3 weeks.


Notes
If the playdough is sticky add flour, if too dry add more
oil.
Store for in an airtight container for 2-3 weeks.