Over the weekend we made a Toddler Safe Halloween Glitter Slime Recipe that is fast, easy, and so much fun to play with! This slime recipe only has 3 Ingredients and no Borax so it's worry free for kids and parents. Once the slime is mixed it's virtually mess-free so it's great for sensory play, preschool, or kindergarten classrooms. Here's how we made it…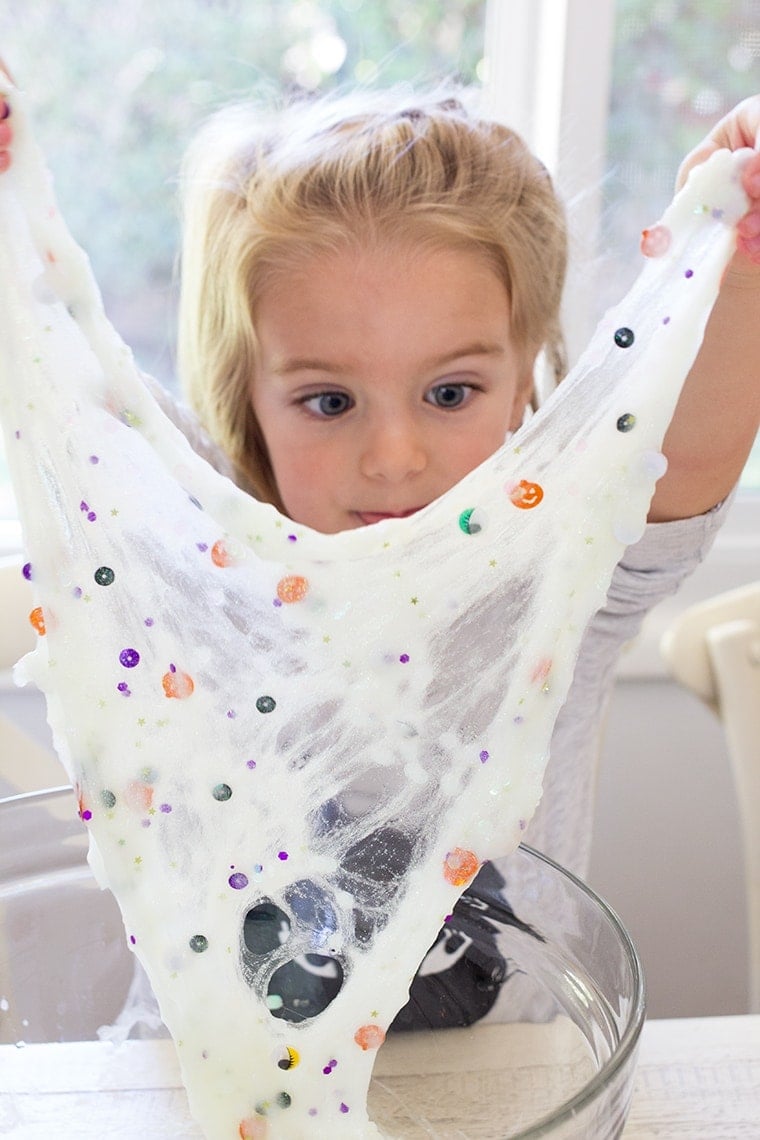 Toddler Safe Glitter Slime Recipe Ingredients
This Toddler Safe Halloween Glitter Slime Recipe only has 3-Ingredients but we added in chunky glitter, sequins, and googly eyeballs for fun. I will say that the more you mix in, the firmer your slime becomes, so just be aware of that when letting toddlers add mix-ins as they can be heavy handed with the glitter! The full recipe is posted at the end with measurements etc, but to get started, here are the ingredients we used:
Glue: either glow-in-the-dark or glitter glue. We made a batch with each!
Glitter: this is a fun pack of glitter! I was able to find Halloween themed colors and shapes of chunky glitter at Target.
Googly Eyeballs: here's a great pack for slime making.
Baking Soda
Contact Lens Solution: You must use a contact lens solution that contains boric acid or your slime will not form. Here's the brand I use.
Large Mixing Bowls
Rubber Spatulas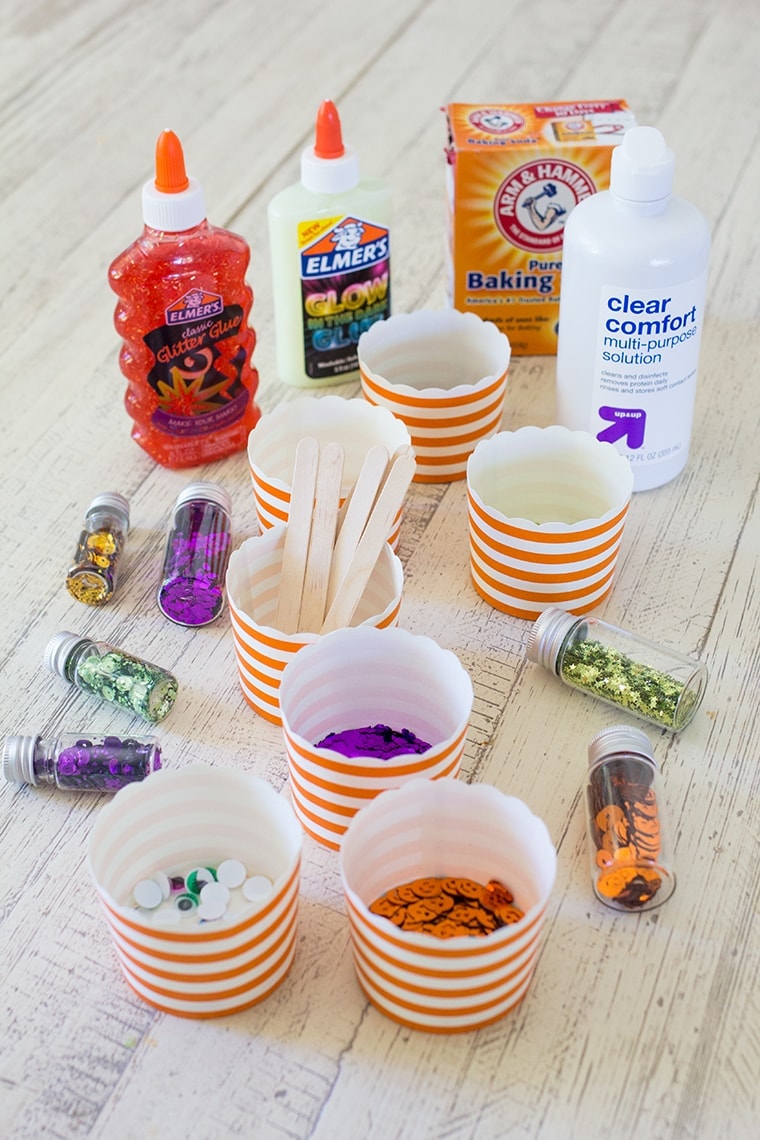 Glitter Slime
To make the glitter adding process a bit "cleaner" I portioned out a small amount of each color into paper cups. This way the twins could reach in and add a pinch at a time. Also, using chunky glitter and sequins is key with toddlers! Fine glitter would have been a disaster but this was fairly easy to clean up.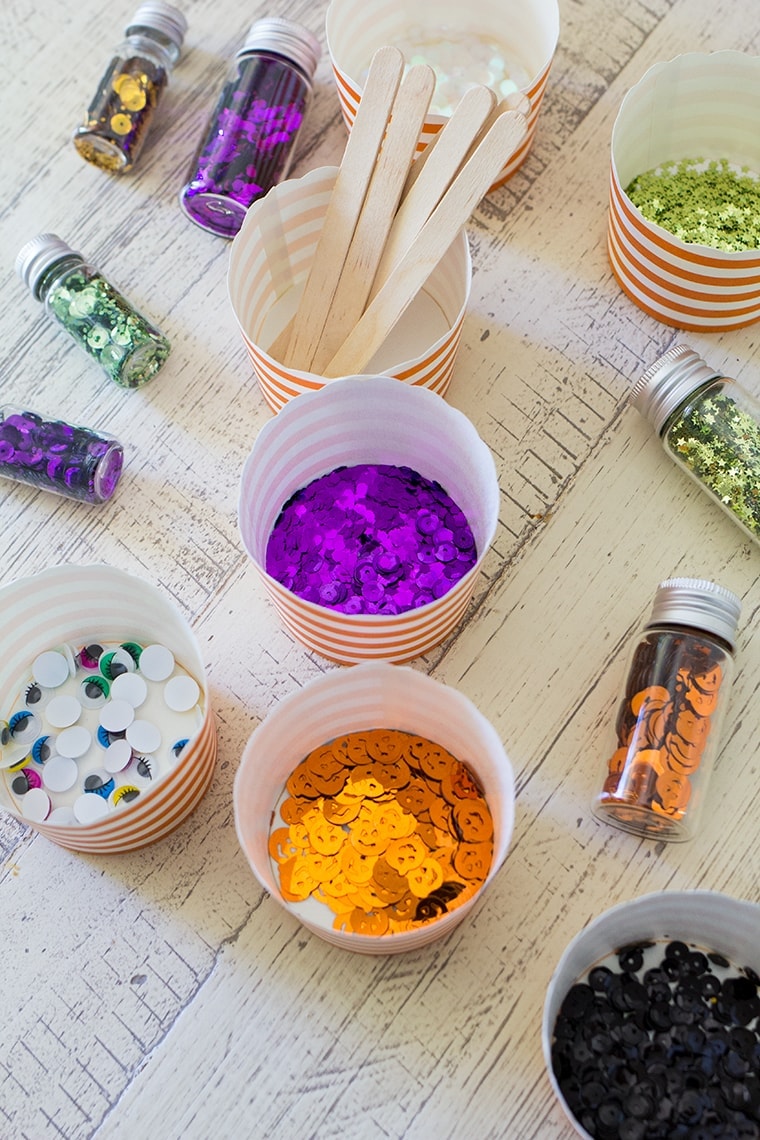 Steps for Making Glitter Slime
STEP 1: Squeeze out one entire 6oz bottle of glue into a large mixing bowl. You will need to help toddlers with this step to get as much glue out of the bottle as possible!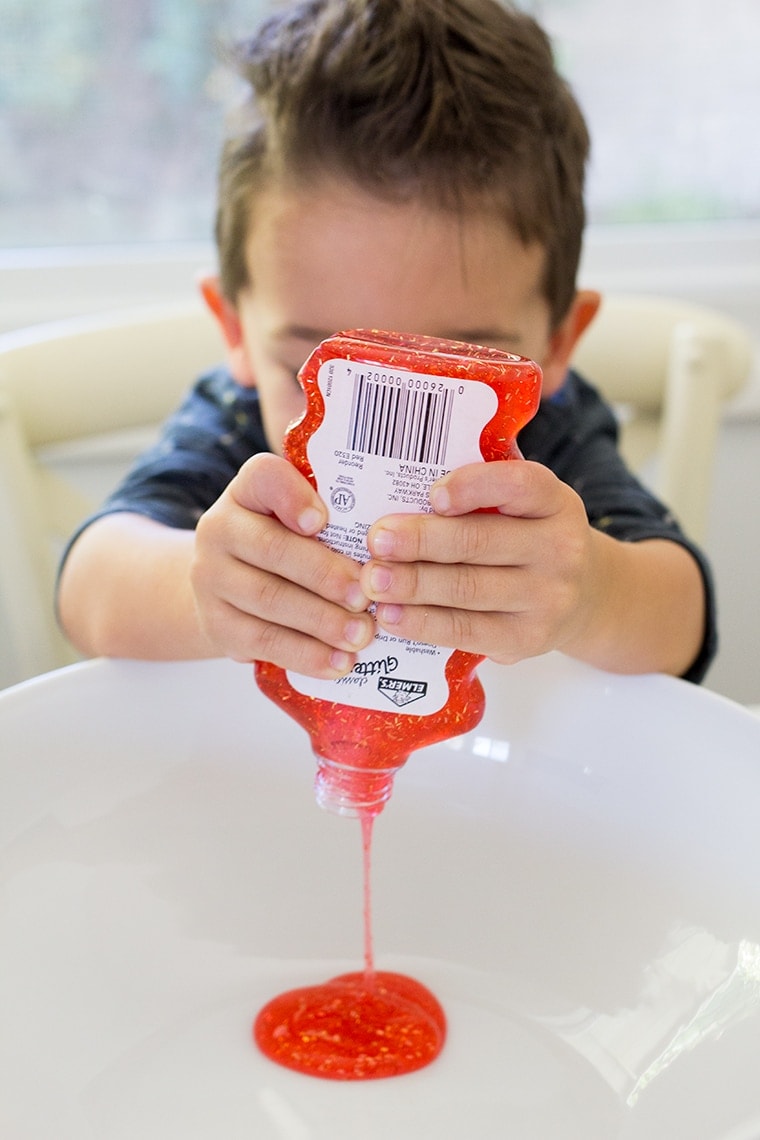 STEP 2: Add in 1/2 Tablespoon of baking soda and mix to combine.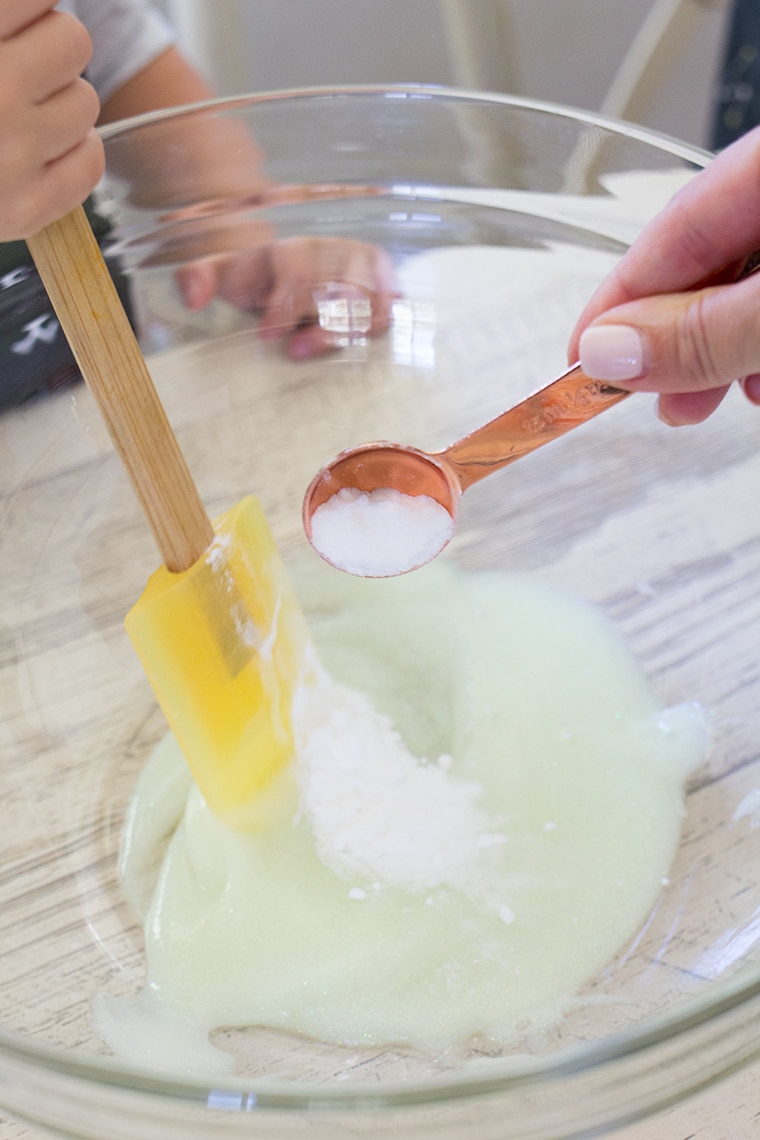 STEP 3: Mix in any glitter, sequins or googly eyeballs you want! It's important to mix in the glitter before you add in the contact lens solution or it will harder to mix in.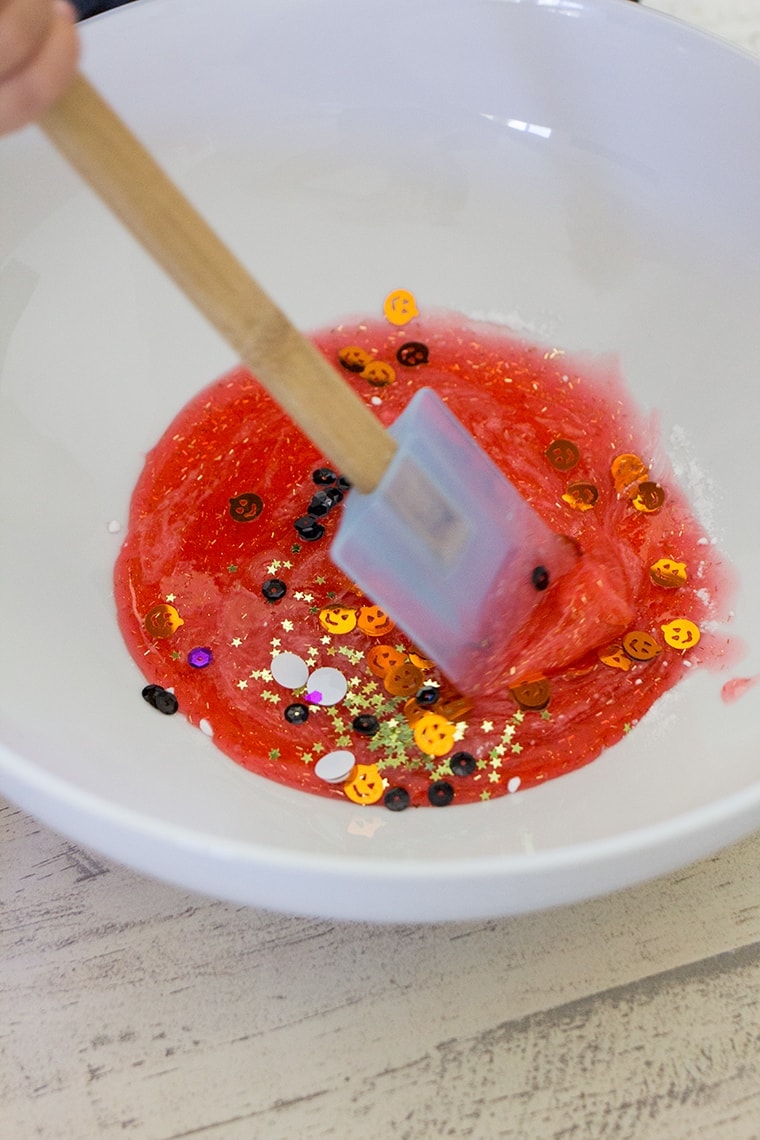 Let toddlers choose their favorite glitter, sequins, or googly eyeballs to mix in. This was the twin's favorite part of the process!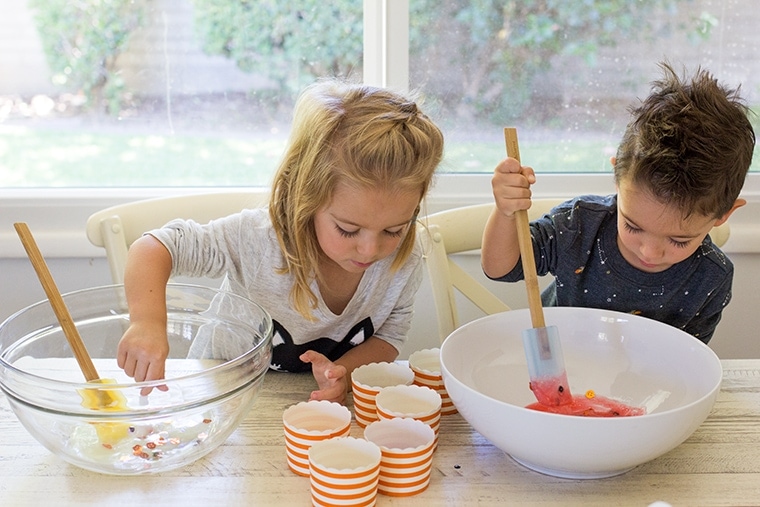 It also took the longest as they kept going back for another pinch of glitter. At this point, just embrase the mess. HA!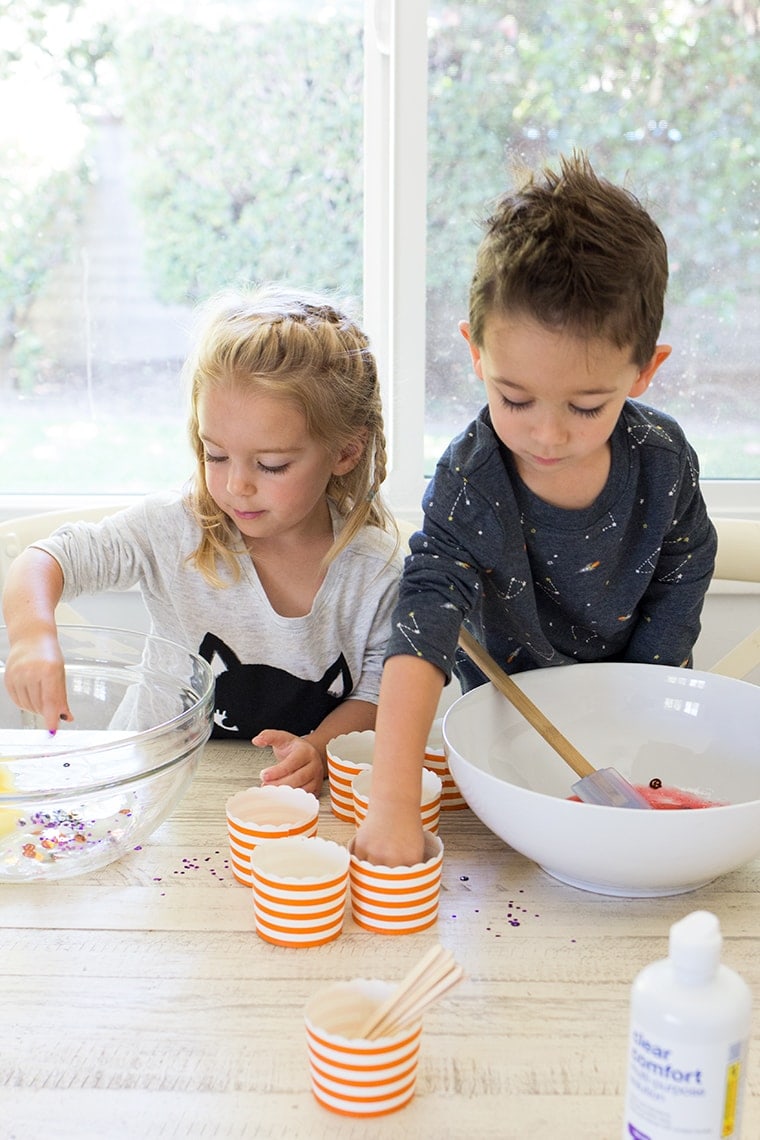 STEP 4: Add in 1 1/2 Tablespoons of contact lens solution and keep mixing until the slime activates and firms up. You might want to start with 1 Tablespoon of solution first and keep mixing. If it needs to firm up a bit more at the additional 1/2 Tablespoon.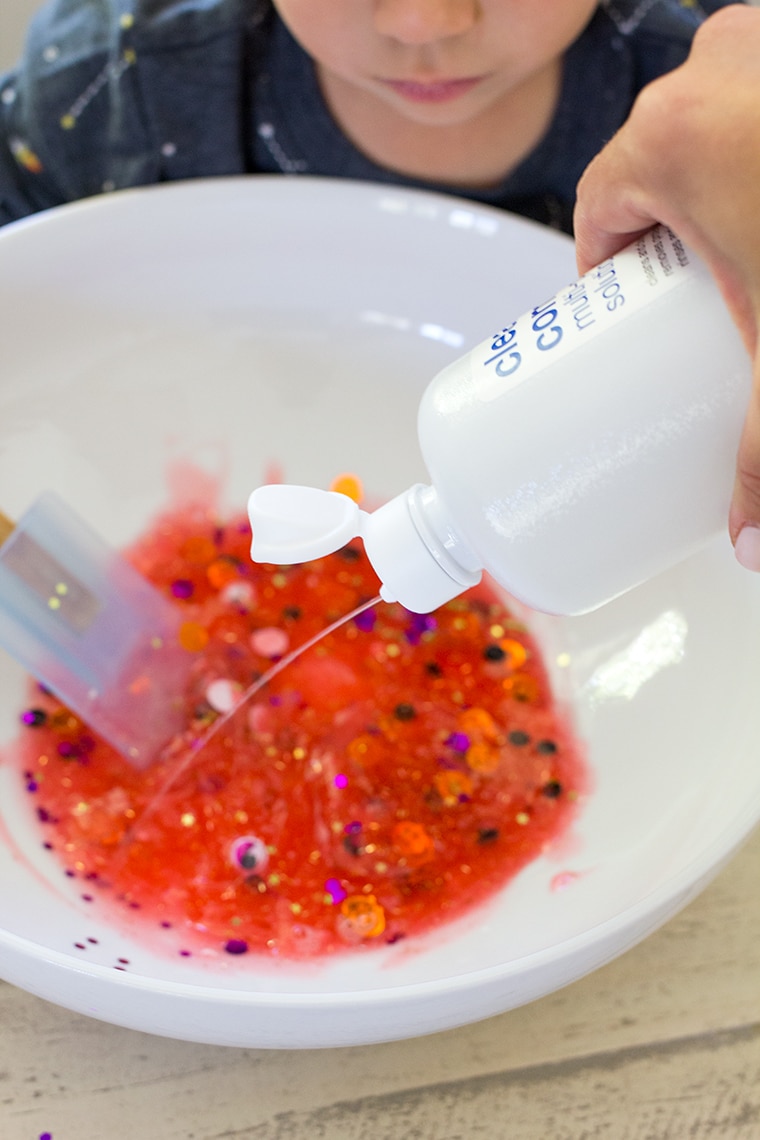 STEP 5: Get your hands in there and kneed it! The slime will become firmer and firmer as your toddler plays with it.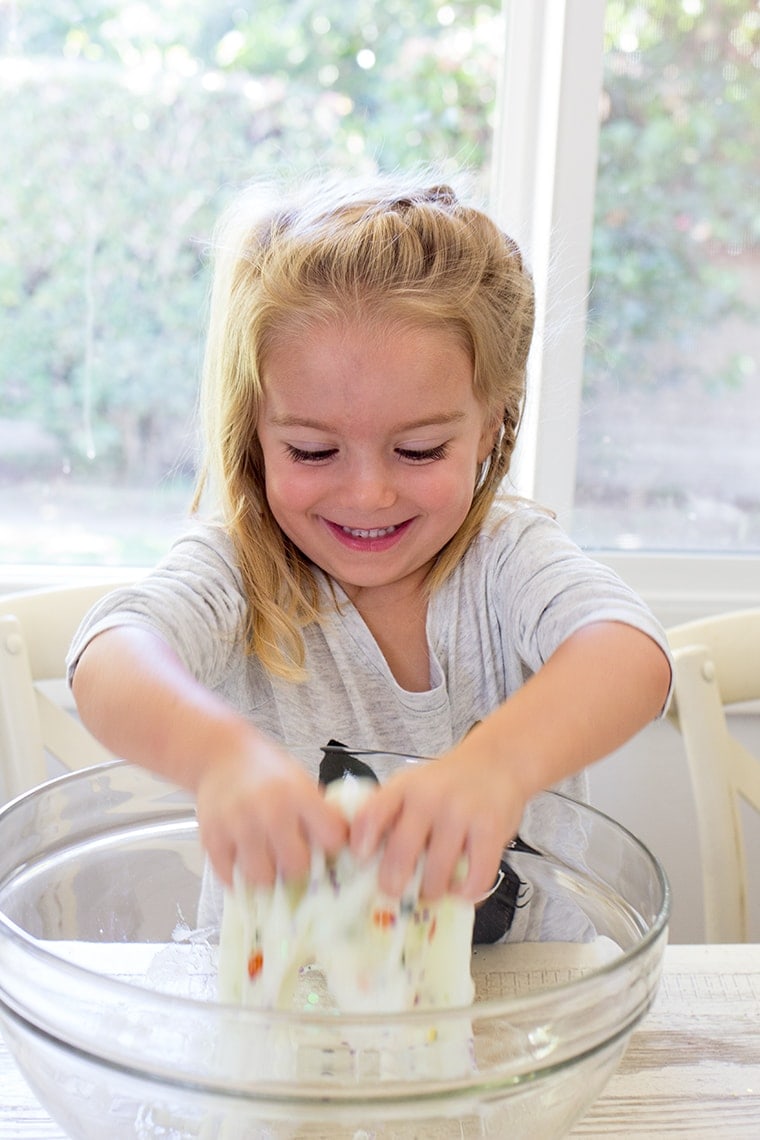 At this point, you can take away the bowls and let them stretch, poke and play.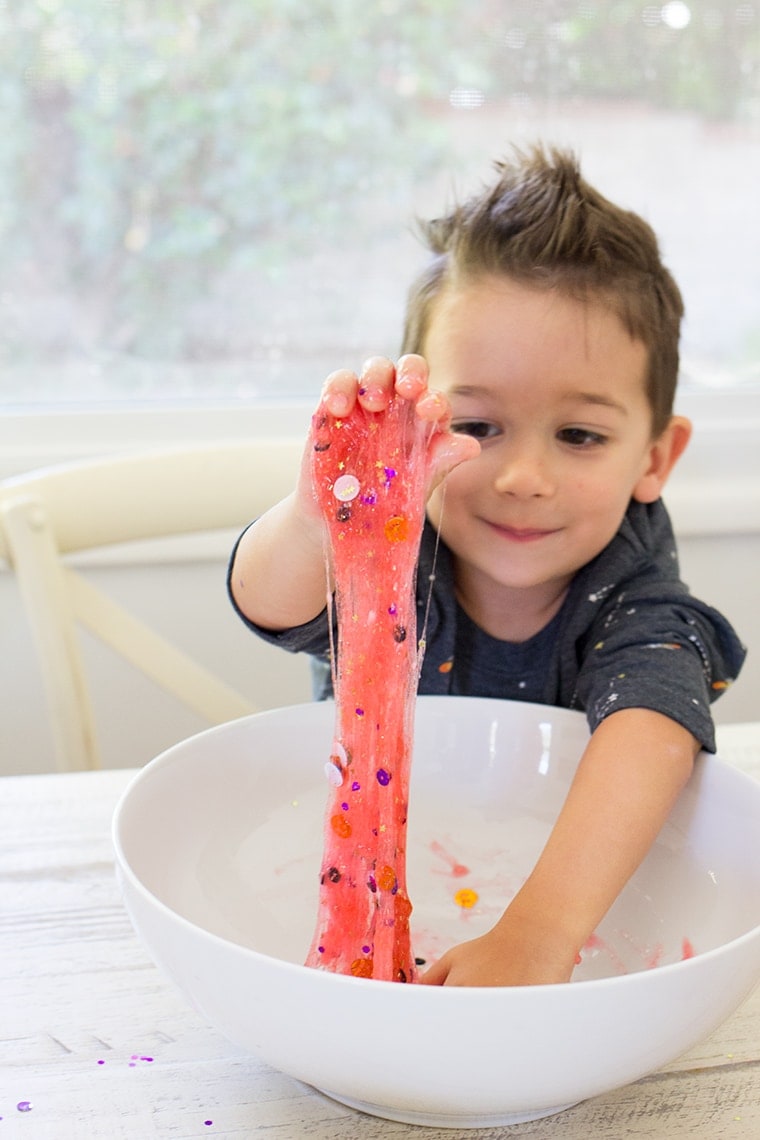 Stretch it long, fold it, and poke it. This Toddler Safe Halloween Glitter Slime Recipe is so much fun to play with. We ended up making three batches by the day's end and stored them in ziplock bags when we were done playing.
Cleaning up Slime
I rolled the twins sleeves up while we mixed the glue and made the slime but inevitably, it still got on their clothes. The good news, all of it washed off in the laundry! Because there is no food coloring in this slime recipe, nothing stained and the glue was washable. No stained hands or clothes with this recipe which is just another reason to love it. Happy slime making!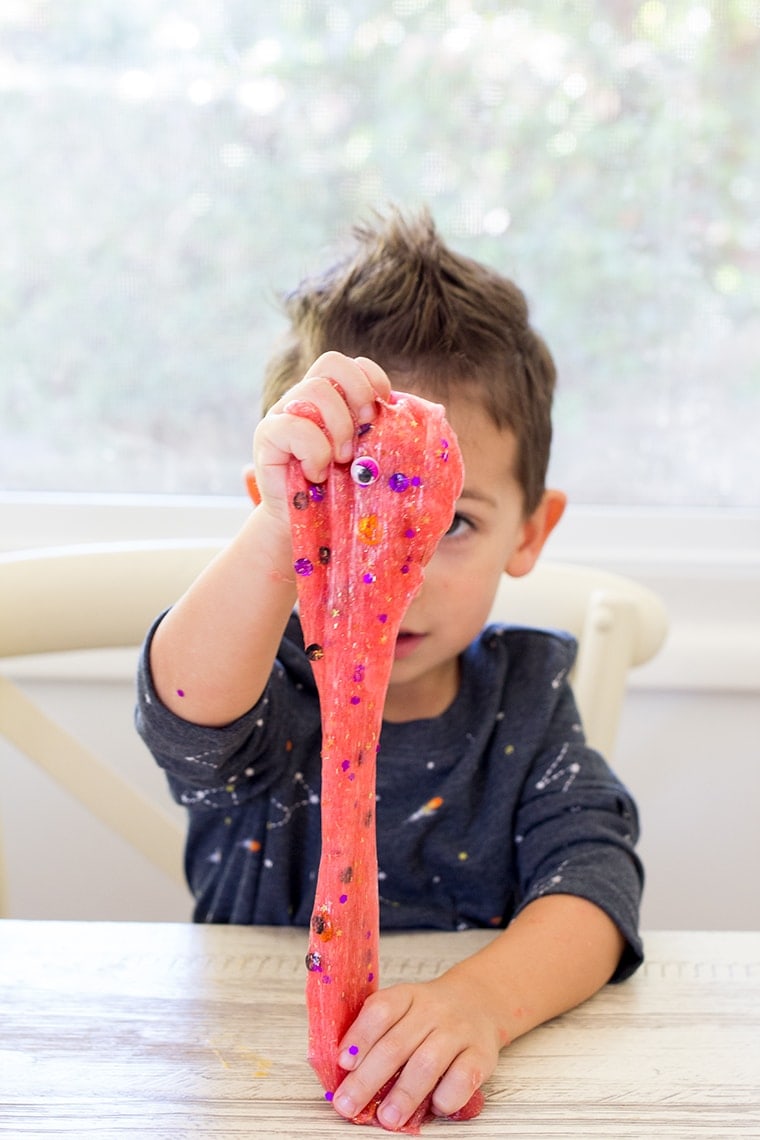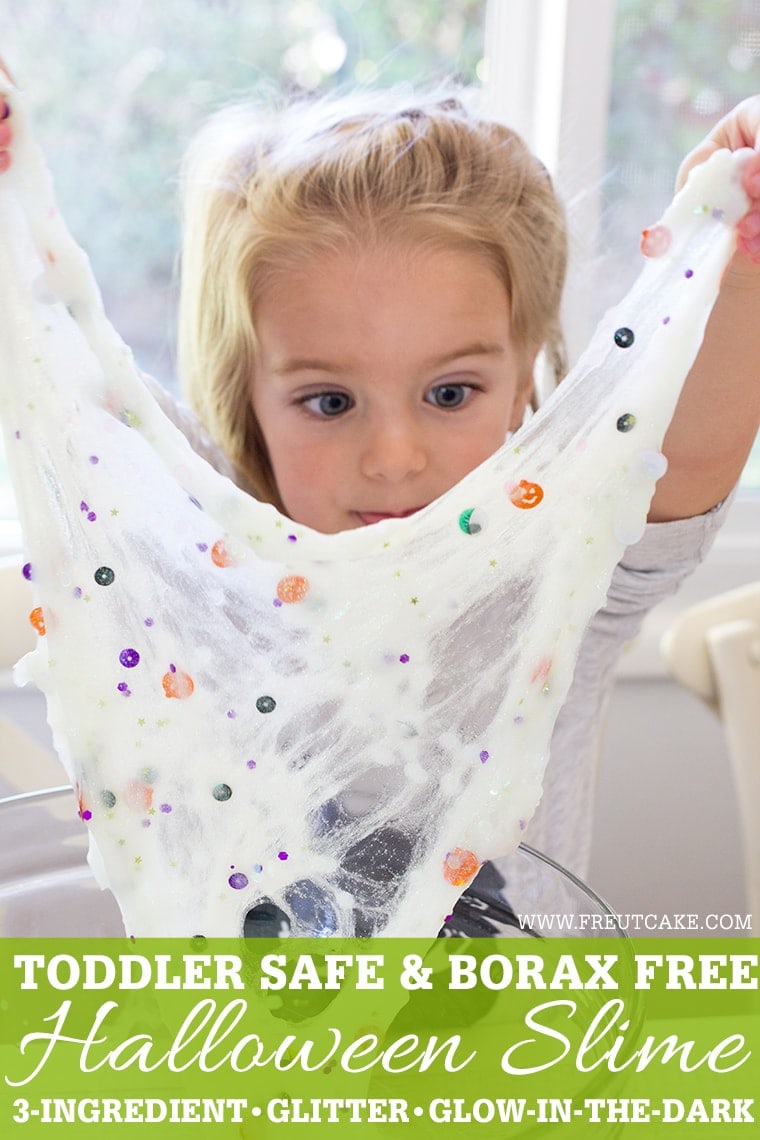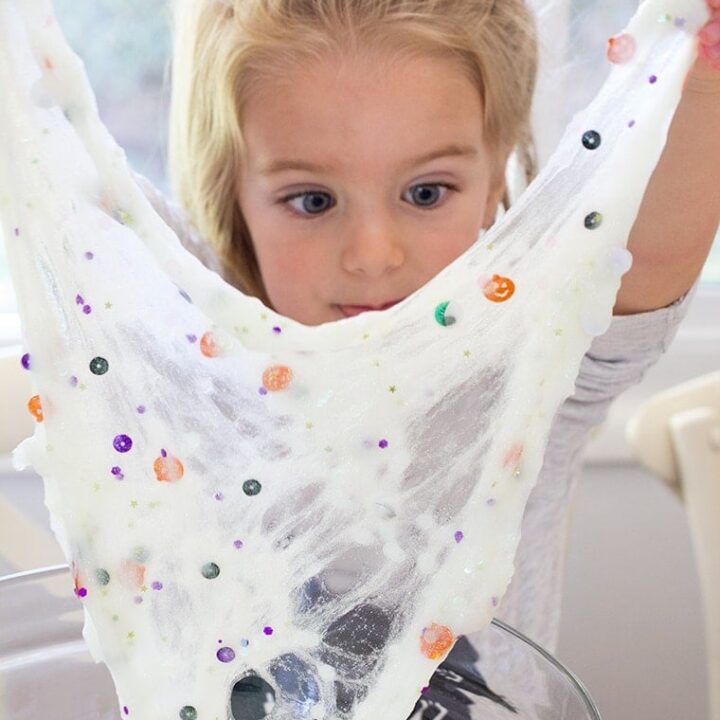 Toddler Safe Halloween Glitter Slime Recipe
Toddler Safe Halloween Glitter Slime Recipe only has 3 Ingredients and no Borax so it's worry free for kids. Great for sensory play, preschool, or kindergarten classrooms. Mess free and quick to make for ages 3 and up.
Ingredients
6 oz bottle of glitter glue or glow in the dark glue
1/2 Tablespoon baking soda
1 Tablespoon - 1 1/2 Tablespoons contact lens solution (containing boric acid)
Mix ins: glitter, sequins, googly eyes optional but fun! See post for details.
Instructions
In a mixing bowl squeeze out entire bottle of glue.
Mix in baking soda and any glitter etc.
Mix in contact lens solution (start with 1 Tablespoon) and stir until slime begins to come together.
Use hands to knead slime until it's firm.
Notes
See blog post for step by step notes and tips as well as ingredient info.