Not quite play dough but not as runny as oobleck, this Three Ingredient Edible Sensory Dough is a fun and messy recipe for little hands to make.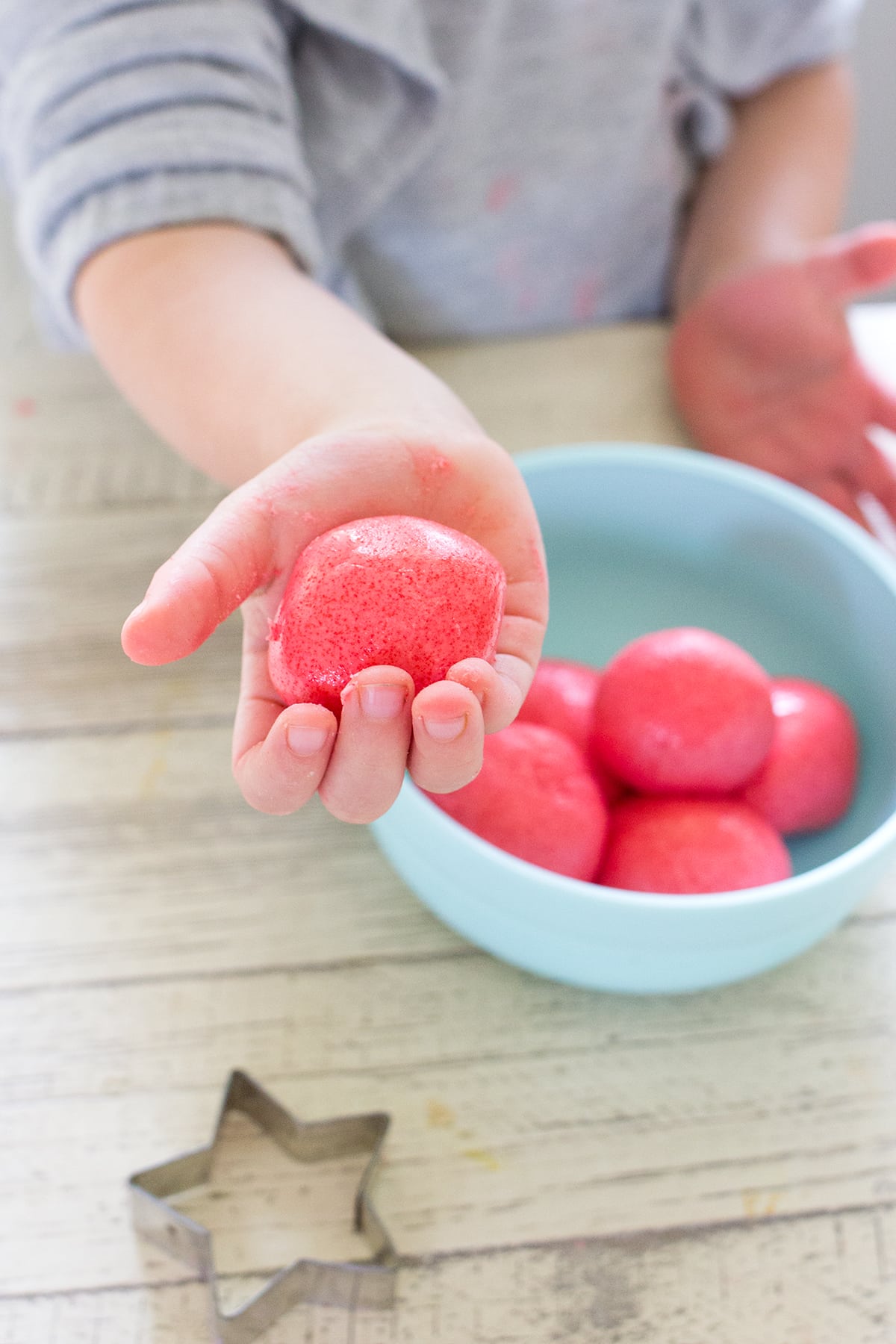 Taste Safe Sensory Dough
Do you remember mixing corn starch and water in science class to demonstrate how the mixture behaves like a liquid or a solid depending on how much pressure is applied? That strange substance is called oobleck and I remember really enjoying poking and squishing it in turn.
Yesterday, I made a sensory dough with the twins that was very similar but holds it's shape better, smells delicious, and is (technically) edible...although maybe we should call it taste-able because I don't actually recommend eating it.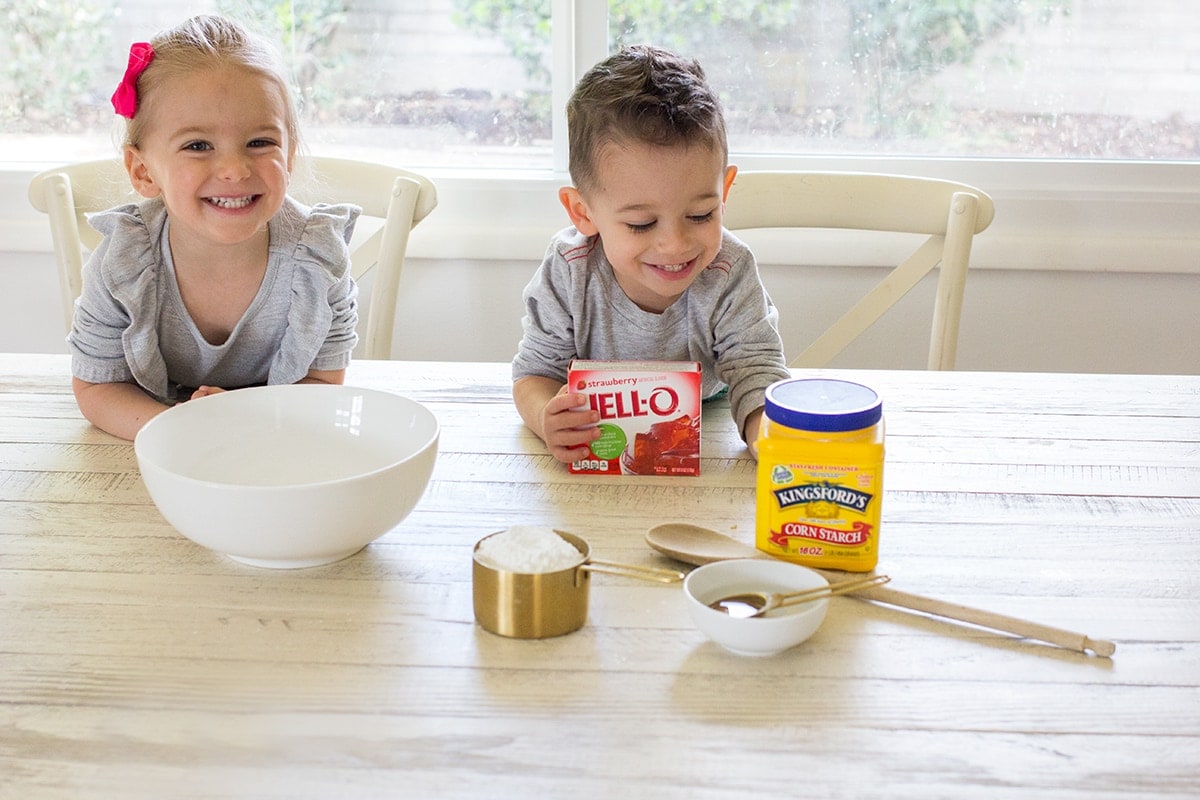 Ingredients in Sensory Dough
A mix of Jello (which I always have in my pantry), corn starch, and a few tablespoons of water is all that's needed. It's fast to make and little helpers can pour and mix the ingredients which they love.
Jello - you can use whatever flavor you want to create different colors and scents.
Cornstarch - this is what gives the dough it's unique texture.
Water - just a little bit but you can play with the amount to create a firmer or softer texture.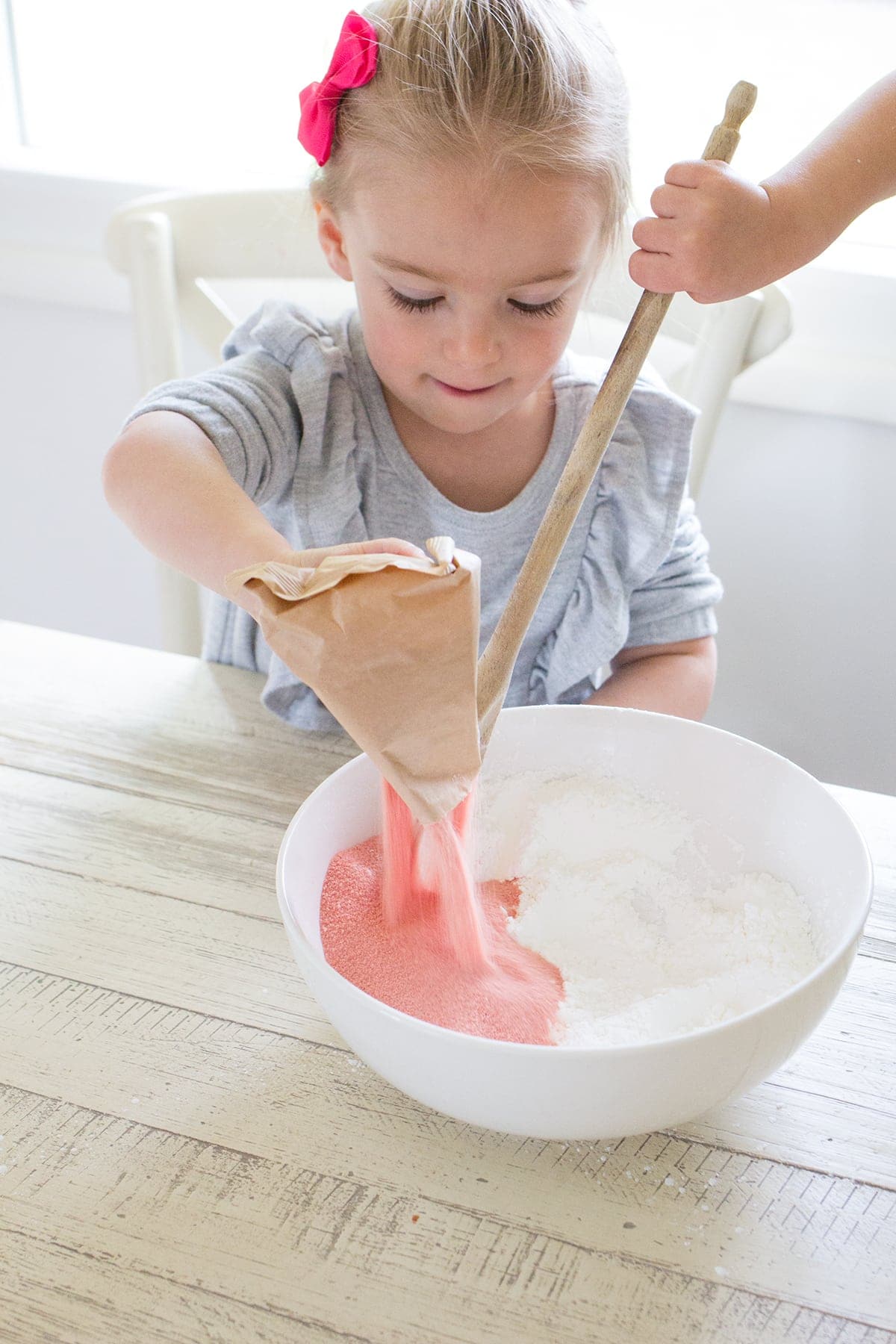 How to Make Sensory Dough
Parents, go into this process knowing that you, your kids, and your kitchen table will be thoroughly covered in a mess...just breath and go with it.
Dry Ingredients -In a large bowl, combine cornstarch and jello and mix to combine.
Water - Add in the water, one tablespoon at a time stirring until you get the desired consistency that your kids want to play with!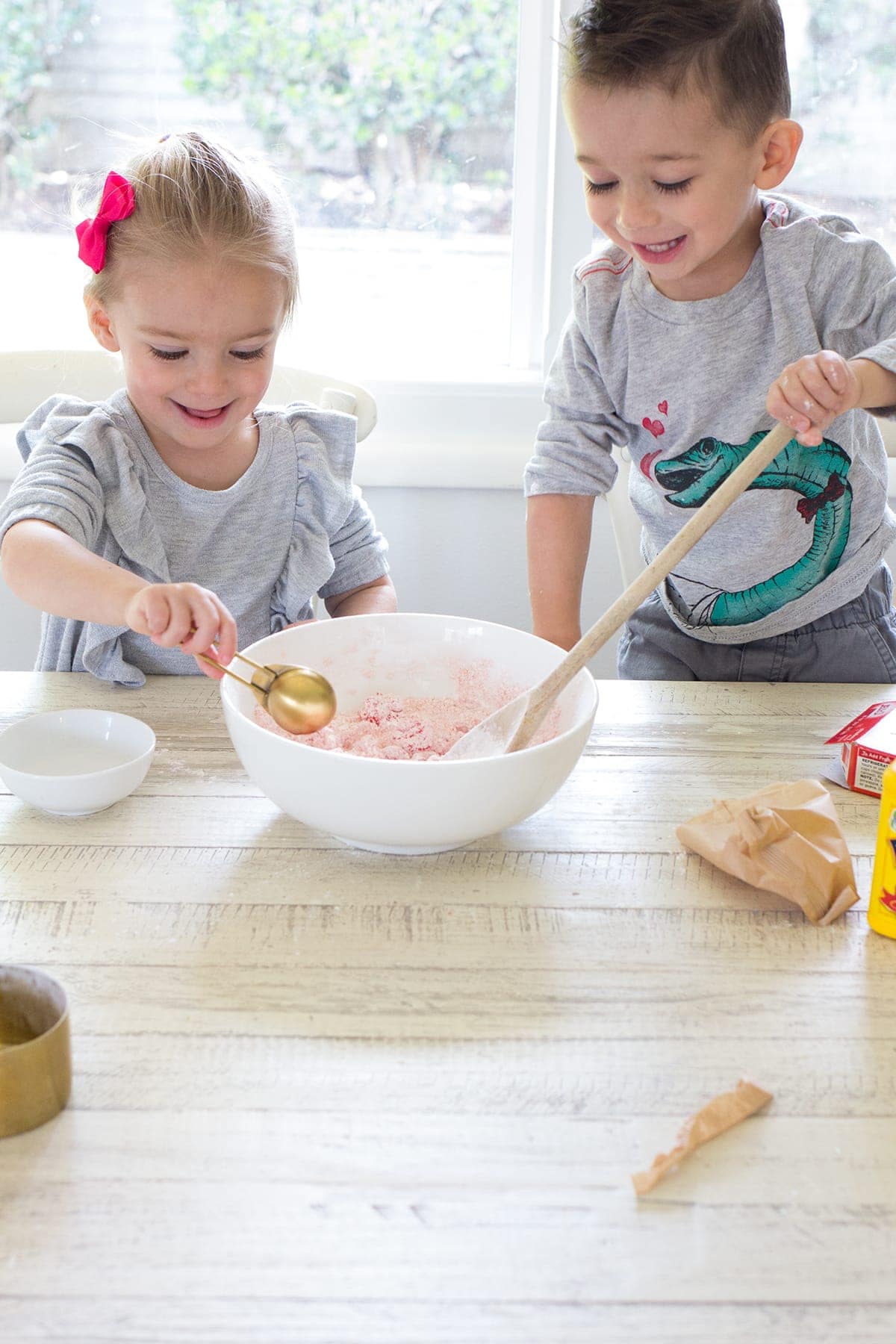 Ooblek vs Sensory Dough
If you add too much water and your dough becomes too much of a liquid, you can mix in more cornstarch. Although that's a fun Ooblek texture and is super fun for messy sensory bin play.
If the dough is too stiff, mix in more water. There is no wrong way to do this and it's all up to your senses to create the consistency you like best...or I should say, your little ones like best.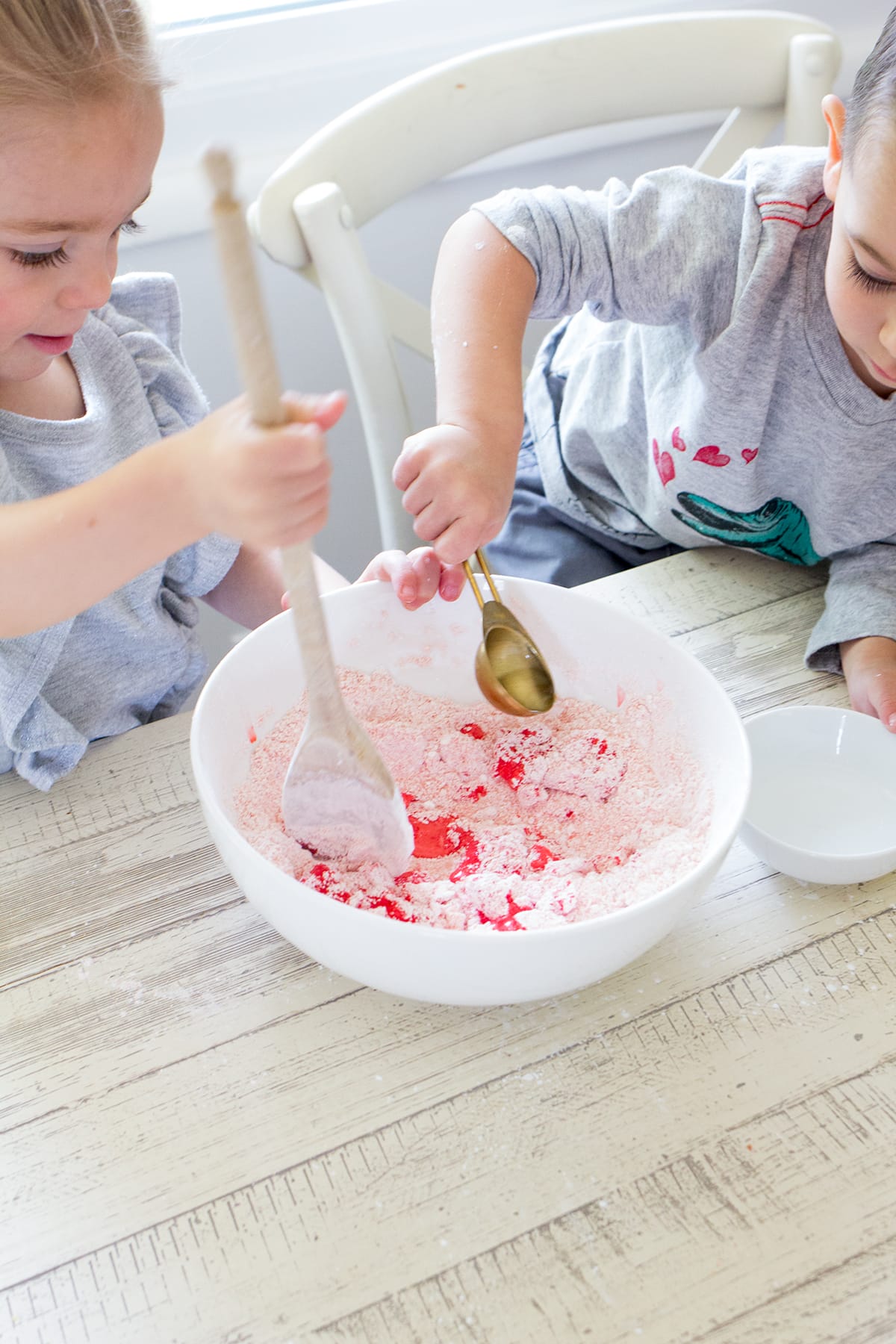 Tips for Making Sensory Dough
Cornstarch makes this dough tough to mix (hence the whole "acts like a solid" bit) so grown ups will need to help with the final mixing.
Our first round of dough was much softer with about 6 tablespoons of water added. The mix was sticky and fun but a bit soft, more like a thick Oobleck consistency. If you decide to make this sort of sensory dough, I would recommend giving it to toddlers on a rimmed sheet pan or in a sensor bin with spoons to play with.
Let your little ones do all of the pouring and mixing unless they need help. Remember: the process is more important than the product.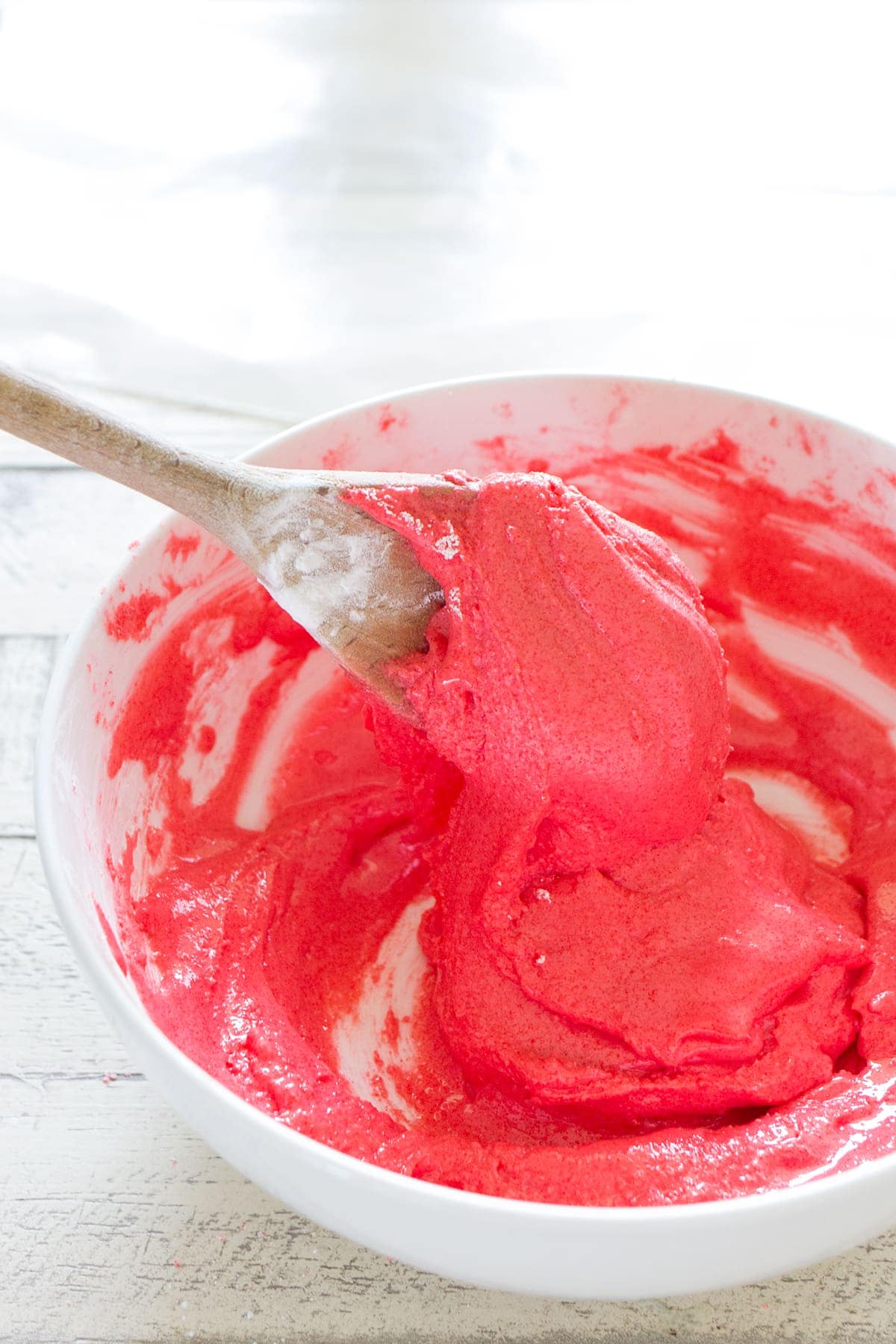 Scented Sensory Dough
This dough smells absolutely amazing thanks to the Jello. I reminded my twins that this dough is not to eat but I also wasn't worried about them taking a little taste as everything in this recipe is technically edible.
Experiment with different Jello flavors to find the scent your kids like best! I also have a fun Jello Playdough Recipe that is super fun to make.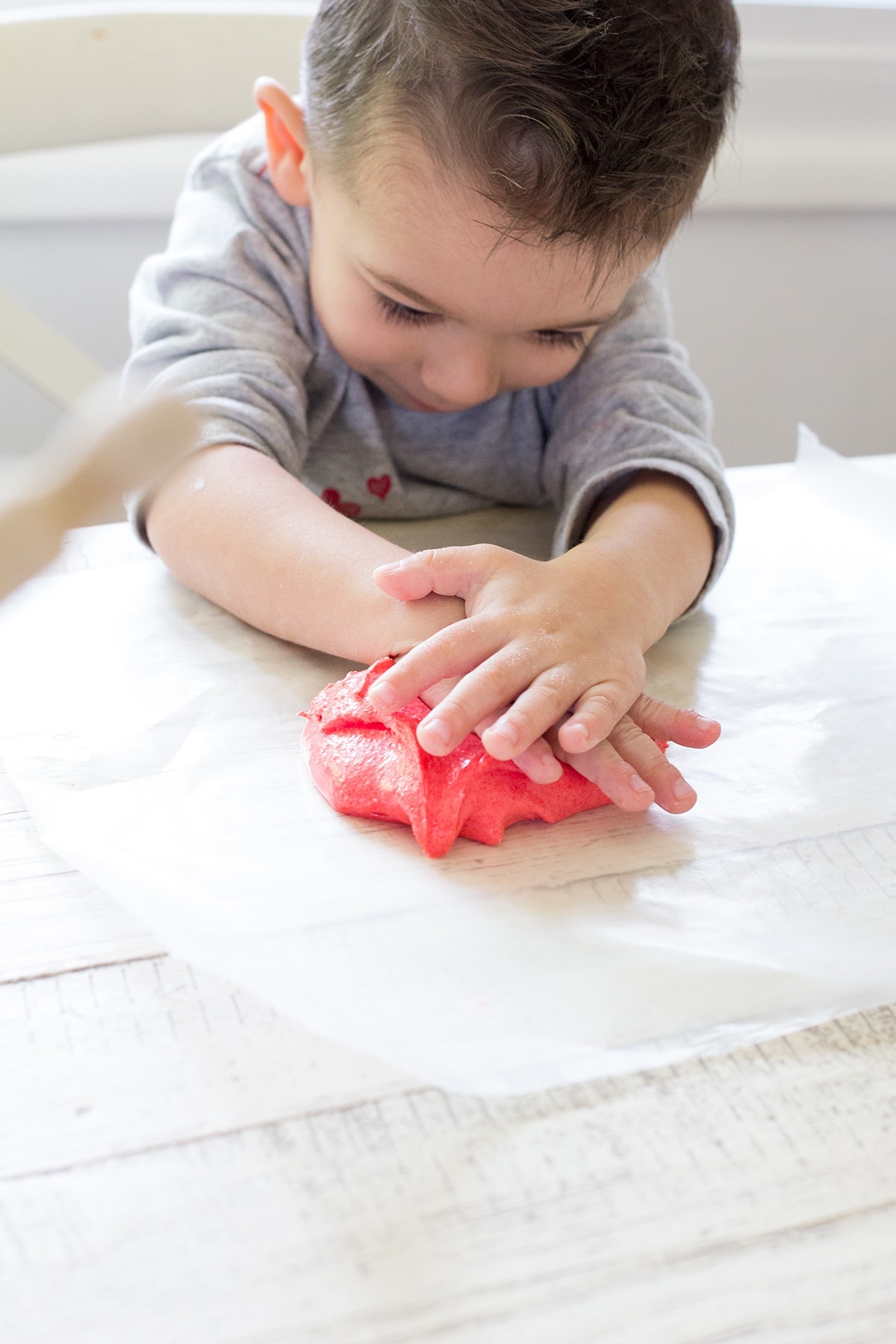 What if the Dough is too Sticky?
My twins aren't huge fans of having anything stuck to their hands at this age (AGE 3) so we added in more cornstarch and gave it a good mix. If you decide to make a thicker dough, it's easier to start with a wooden spoon and then switch to kneading by hand once it thickens.
After the dough was a bit more solid the twins used cookie cutters and rolled the dough into balls like they would with play dough.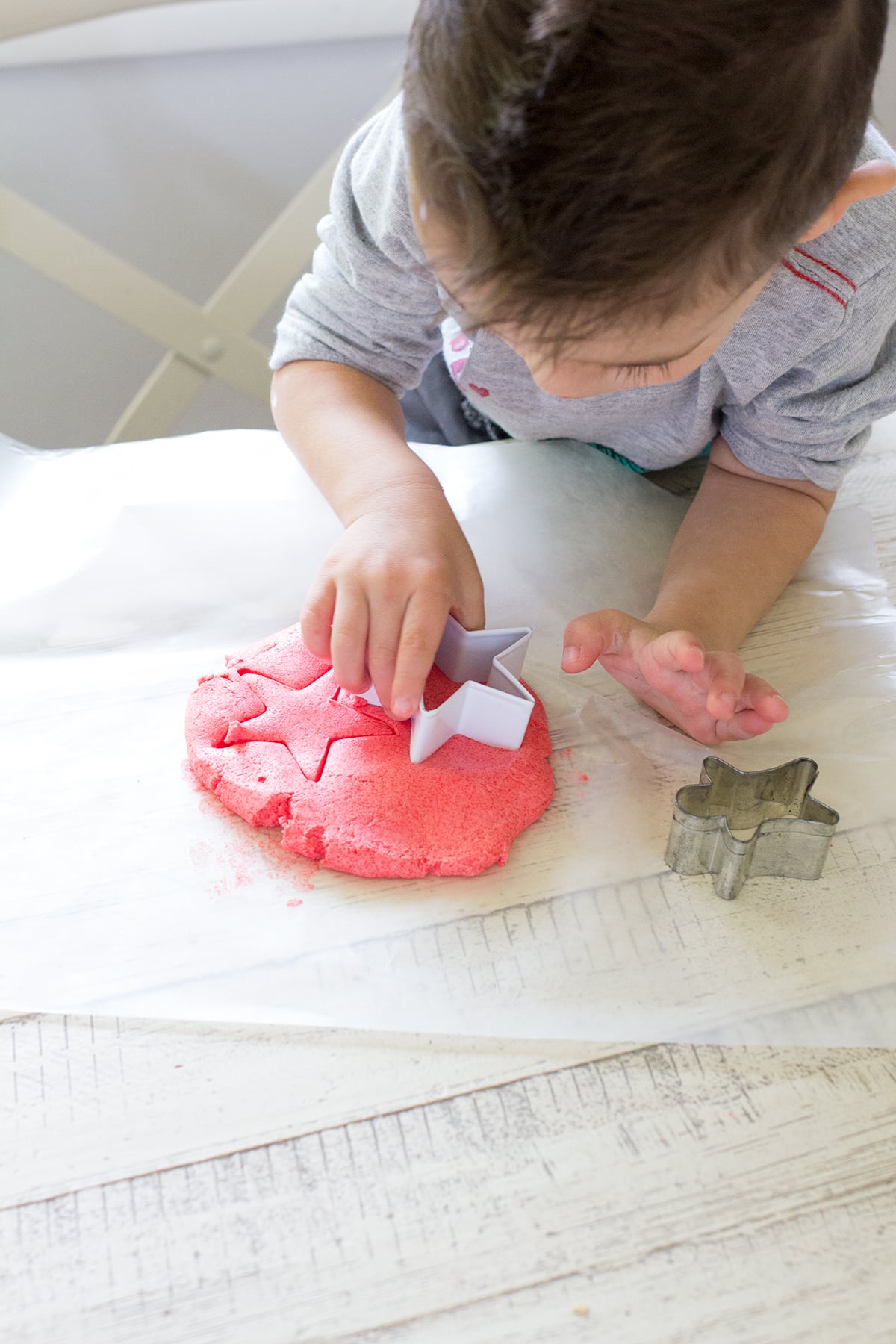 Variations to This Sensory Dough
Personally, I thought the softer consistency was more fun, but I would definitely give it to the twins outside on rimmed sheet pans the next time we make it. That particular consistency requires a hose nearby. Here are some other variations:
Try different Jello flavors to switch up the color and scent.
Add more or less water to turn it from oobleck to dough.
No Jello? You can always play with a combo of cornstarch and water and add a couple of drops of food coloring if you want it to be colorful.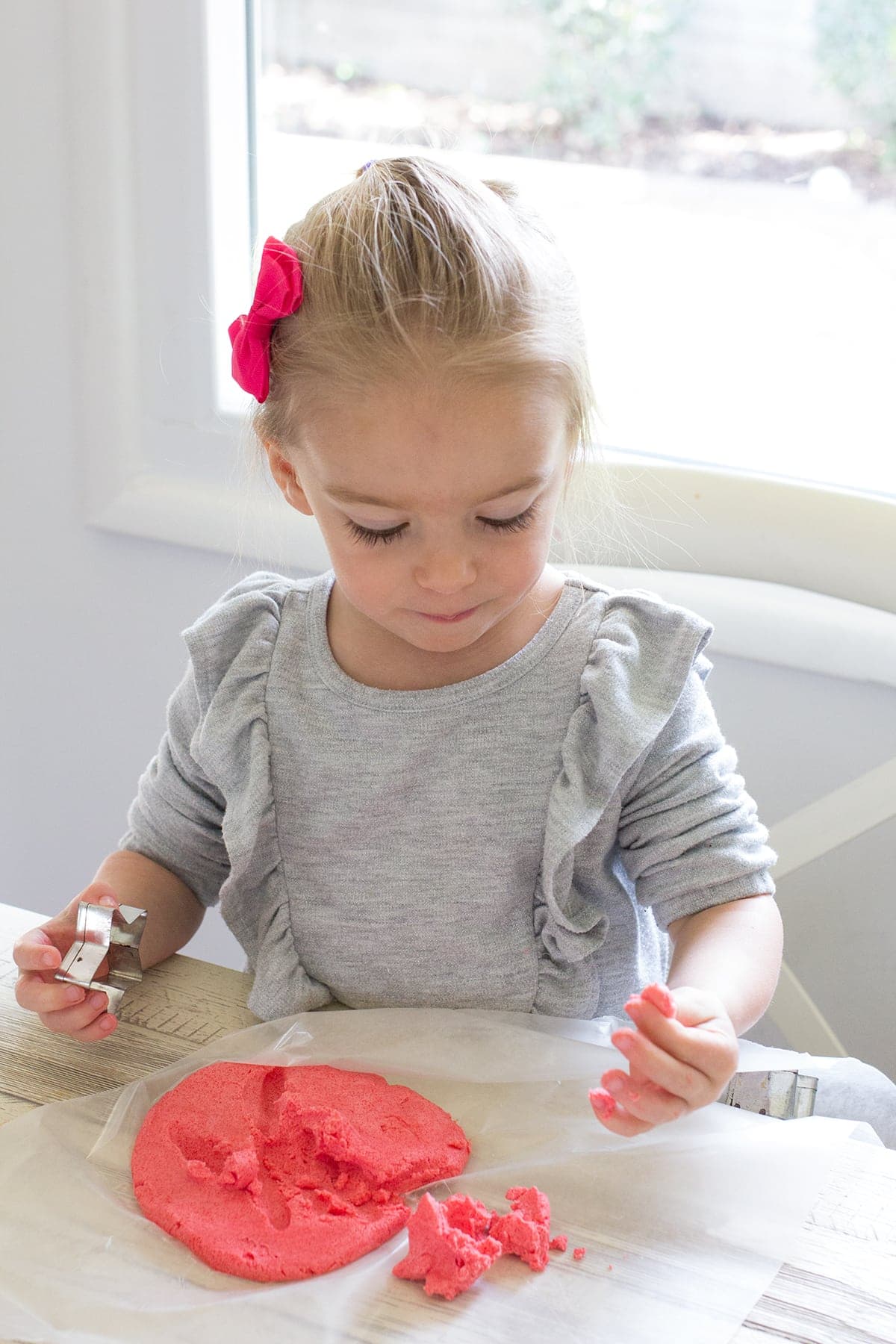 This dough is quick to make and great for getting kids involved with mixing, pouring and getting messy. As it turns out, only a couple of bites were taken...Jackson, I'm looking at you.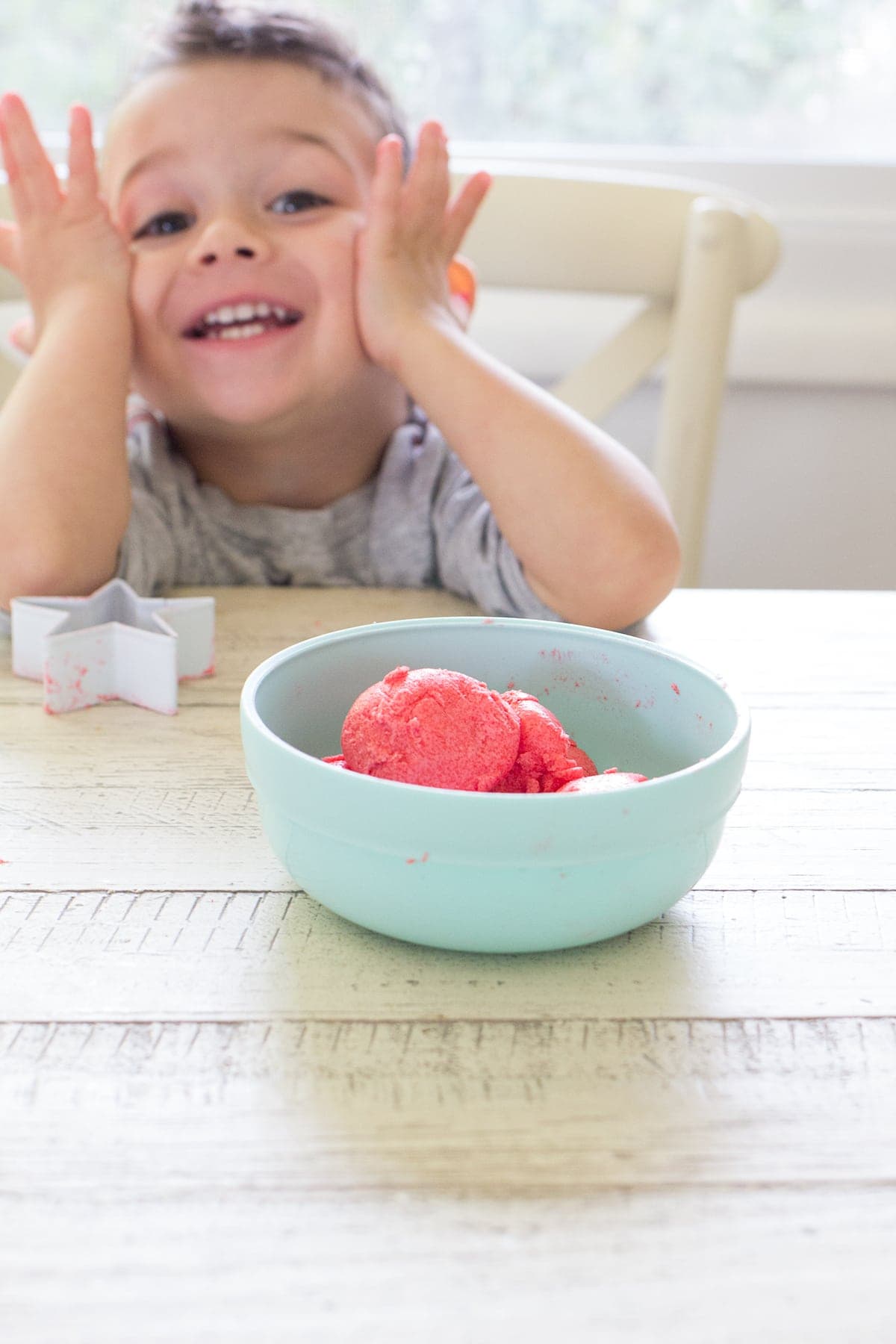 More Playdough Recipes for Kids
More Crafts for Kids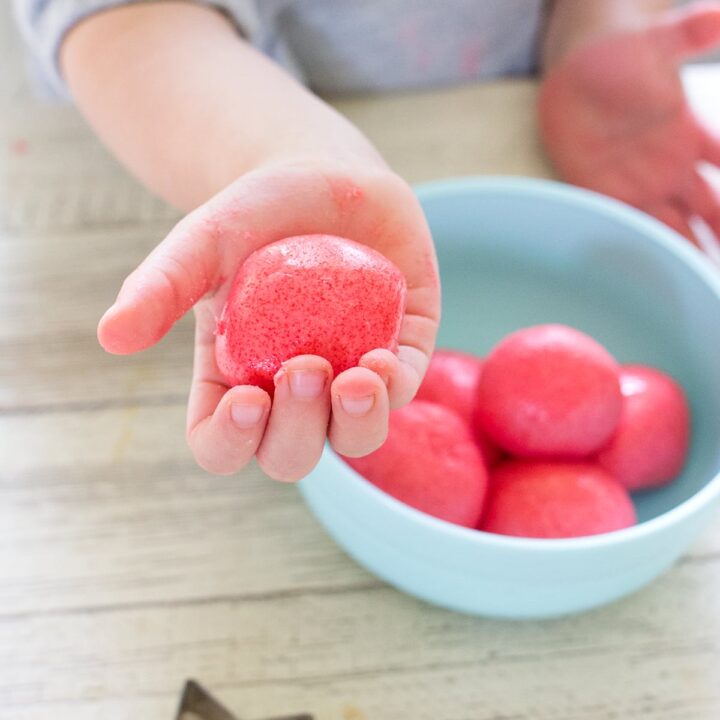 Three Ingredient "Edible" Sensory Dough
A "taste safe" sensory dough for kids to make with Jello and cornstarch.
Ingredients
1 cup corn starch
1 (6 oz) box strawberry Jello
4 Tablespoons water (or more if desired)
Instructions
In a large bowl mix together corn starch and Jello.
Slowly add in water, one tablespoon at a time, until mixture comes together to form a dough. You can add more water or cornstarch if needed.
If you make a thick dough, you may want to finish kneading it together by hand.
Play and enjoy!
Notes
Possible Variations:
Try different Jello flavors to switch up the color and scent.
Add more or less water to turn it from oobleck to dough. 
No Jello? You can always play with a combo of cornstarch and water and add a couple of drops of food coloring if you want it to be colorful.
Notes on eating:
While this dough is technically edible and completely food safe, I would not recommend allowing children to do more than taste it. This is why I call this dough "taste safe." It's meant to be played with not eaten.