I like to think that my obsession with scones, small finger sandwiches, and tea with cream & sugar is a result of my English heritage. You know, the distant relatives who lived somewhere in England 100 years ago? Yes, that's the heritage I'm referring to! Truthfully, I just like having an excuse to indulge in a few of my favorite tea-treats every once in a while. While fresh berries are in season, I love making raspberry scones. They happen to be quick to make and delicious to eat same day. Promise me you'll make a batch this weekend and send me a few? I'll have the lemon curd and clotted cream ready.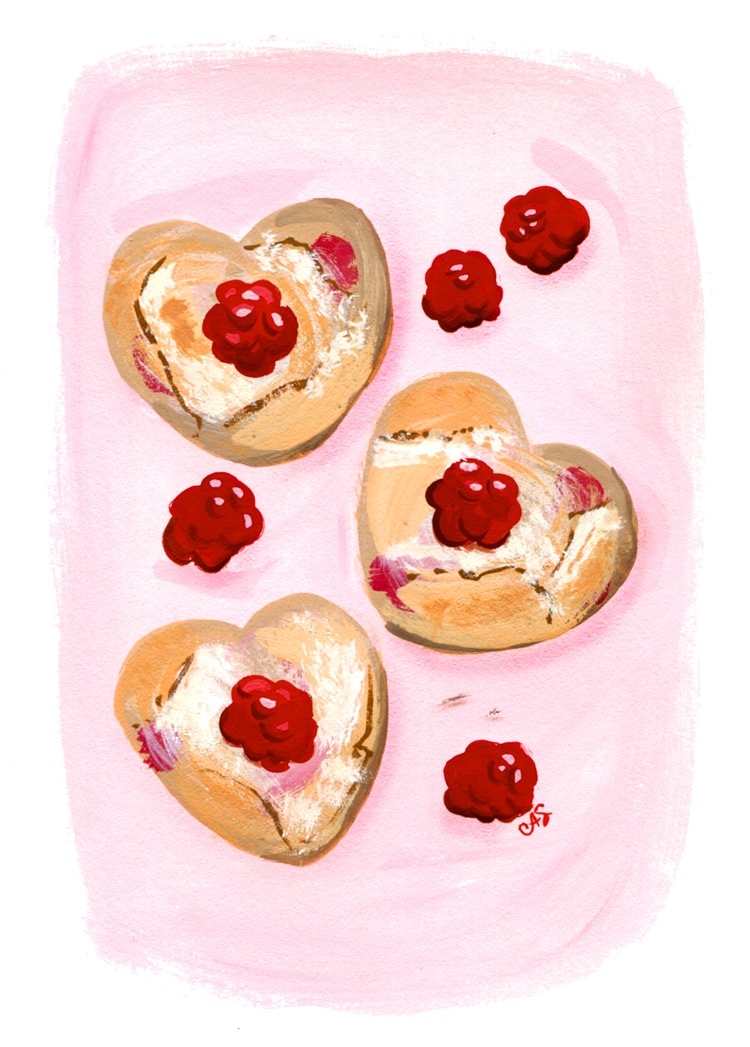 Illustration by Ann Shen for Freutcake
Raspberry Scones– recipe via Martha Stewart 
2 1/2 cups all-purpose flour, plus more for work surface
1/4 cup plus 1 tablespoon sugar
1 tablespoon baking powder
3/4 teaspoon coarse salt
1/2 cup (1 stick) cold unsalted butter, cut into small pieces
3/4 cup buttermilk
1 large egg yolk
1 1/2 cups fresh raspberries (6 ounces)
Directions:
Preheat oven to 400. In a food processor, pulse together flour, cup sugar, baking powder, and salt. Add butter and pulse until pea-size pieces form. In a small bowl, whisk together buttermilk and egg yolk. Slowly pour buttermilk mixture through feed tube into processor, pulsing until dough just comes together.
Step 2Transfer dough to a lightly floured work surface and sprinkle raspberries on top. Knead three times to fold in raspberries (there may be loose pieces of dough and a stray berry or two). Gather and pat dough into a 1-inch-thick square and cut or pull apart into 2-inch pieces. Place pieces, about 2 inches apart, on two parchment-lined rimmed baking sheets and sprinkle tops with 1 tablespoon sugar.
Step 3Bake until golden brown, 15 to 18 minutes, rotating sheets halfway through. Let scones cool slightly on sheets on wire racks. Serve warm or at room temperature.