Decorating the Christmas tree is one of my favorite things! This year I kept my usual collection of ornaments packed away and trimmed the tree with homemade garlands of white popcorn, sugared cranberries, mini pinecones, and Christmas cookies. It's a winter wonderland of sugary treats and woodsy accents all nestled amongst snowy flocked branches.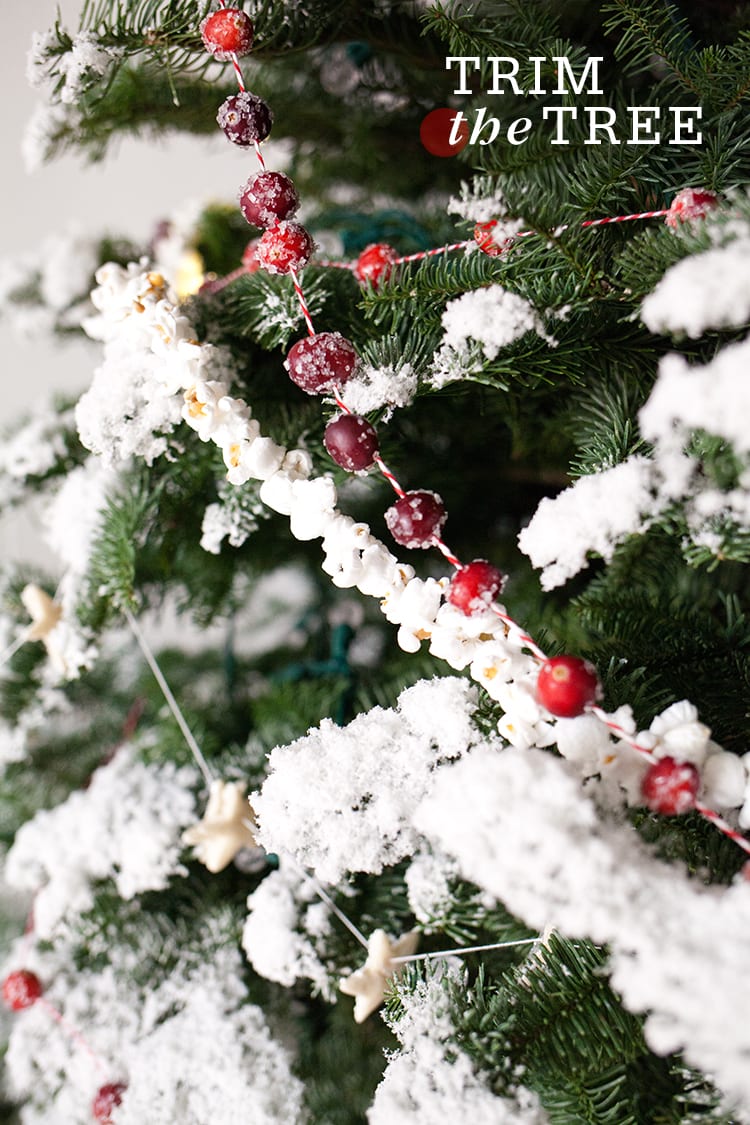 Trim the Tree with Four Homemade Garlands
Of course decorating the Christmas tree is always more fun with company so I invited over a couple girlfriends and turned my dining room table into the Santa's workshop of Christmas garlands!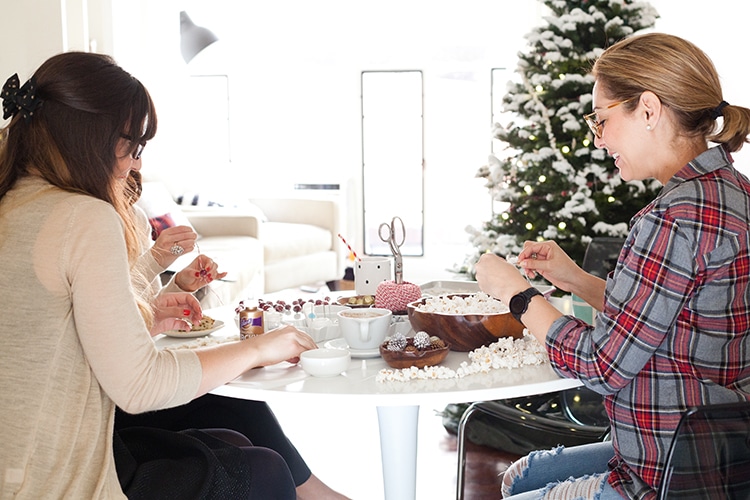 Christmas Tree Decorating Party
I set out bowls of mini pinecones, jingle bells, popcorn and glitter. Sheets of baked ornament cookies to decorate, baker's twine, needles and thread so that everyone had something to string. We sipped hot cocoa, snacked on cinnamon rolls and listed to Christmas tunes. And I thought to myself "Why can't every day be just like this one?"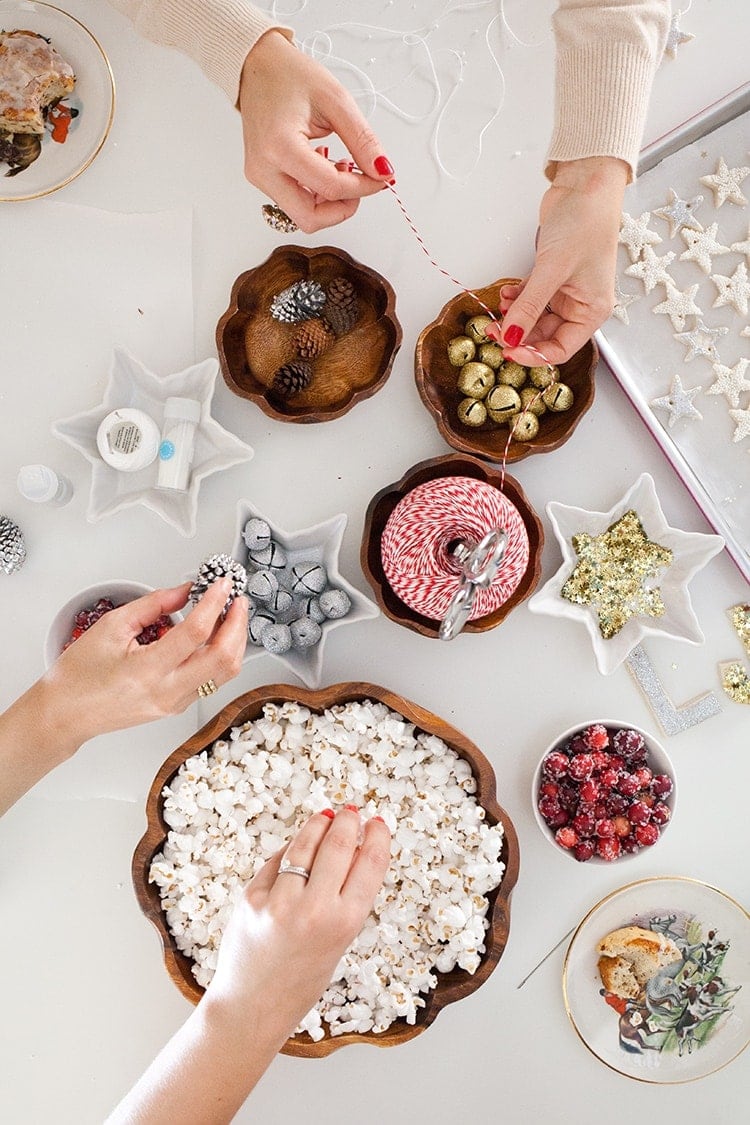 Here are the four styles of homemade garlands we created...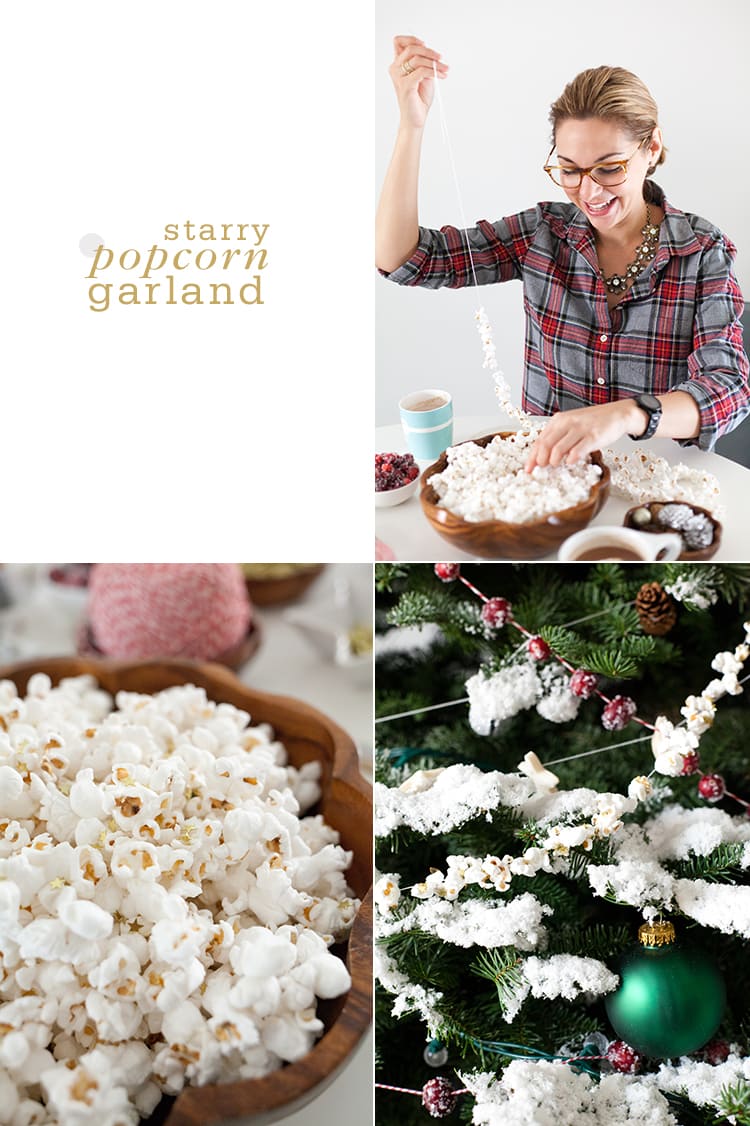 Starry Popcorn Garland
Puffs of white kernel popcorn flecked with little gold star glitter strung on a simple white thread. Amy was a popcorn stringing pro and had the tree covered in white in no time!
Here's how to make it:
1. Pop white kernel popcorn on the stovetop and allow to cool.
2. Using a heavy tapestry needle threaded with white cotton thread, string popcorn one piece at a time through the roundest part of the kernel.
3. Continue threading on popcorn until your string is filled.
4. Lay garland out on a work surface and dot with white craft glue. Sprinkle with gold star confetti or glitter and allow to dry before hanging on the tree.
Note: glue will dissolve the popcorn kernel slightly so I recommend using it in moderation.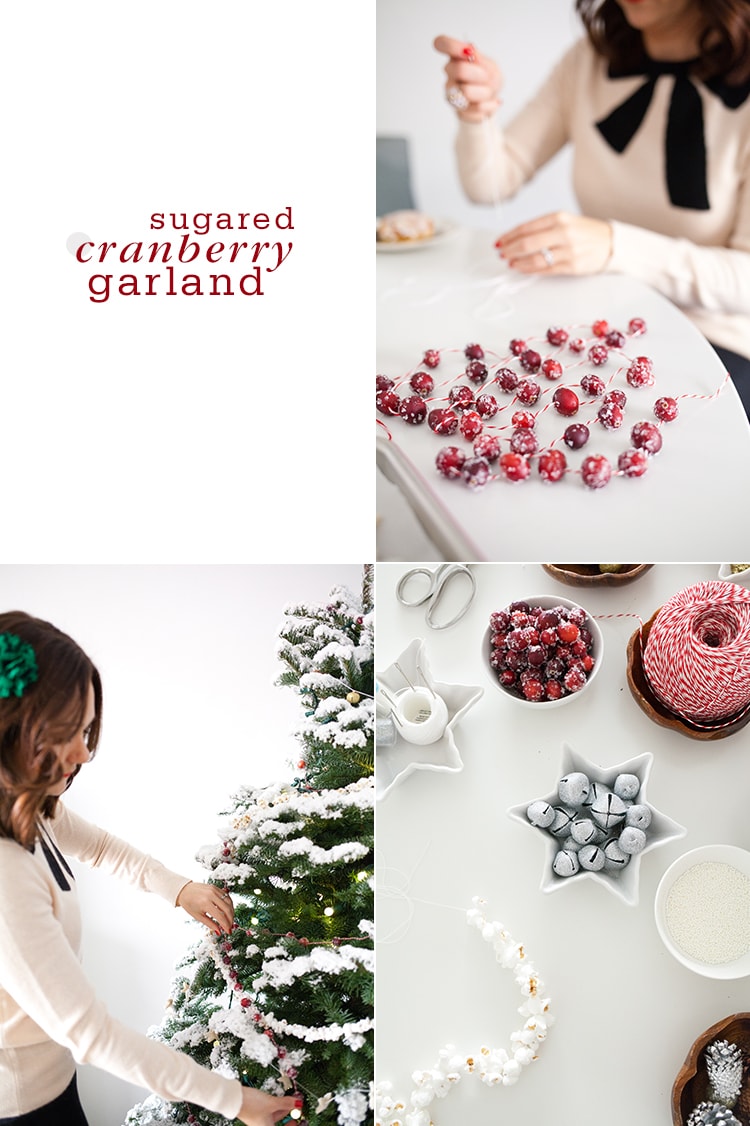 Sugared Cranberry Garland
These sparkling red berries strung on candy striped bakers twine are almost too pretty to be real!
Here's how to make it:
1. In a large Ziploc bag, toss fresh cranberries with white craft glue until each berry is well coated.
2. Sprinkle in a generous amount of white sanding sugar and toss a second time to coat.
3. Shake berries out onto a baking sheet lined with wax paper to dry. Glue should dry clear.
4. Thread a heavy tapestry needle with red and white bakers twine. Carefully thread on one cranberry at a time until your garland is filled.
Note: threading cranberries is very easy if you go through the side of the berry.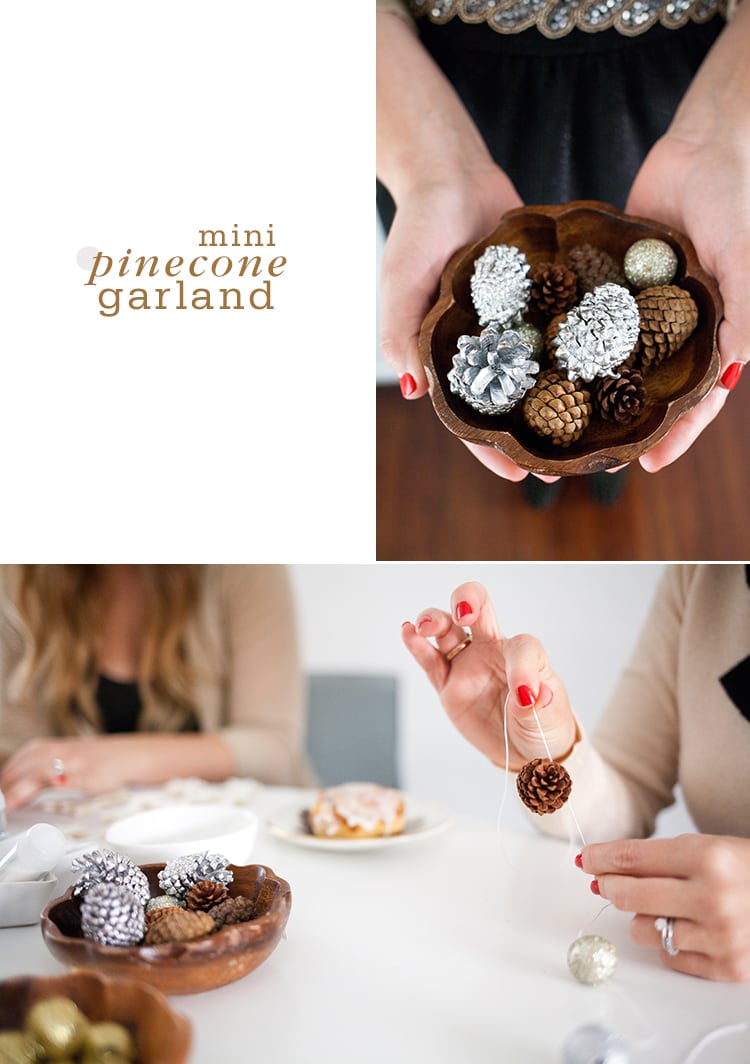 Mini Pinecone Garland
Little cinnamon scented pine cones mixed with silver and gold jingle bells add a fun and woodsy touch to our snowy tree!
Here's how to make it:
1. Giving a few inches space between each addition, tie mini-pine cones and glittered jingle bells onto strands of cotton thread (no needle needed).
note: I found mini cinnamon scented pine cones, gold and silver jingle bells at Michael's Craft Store.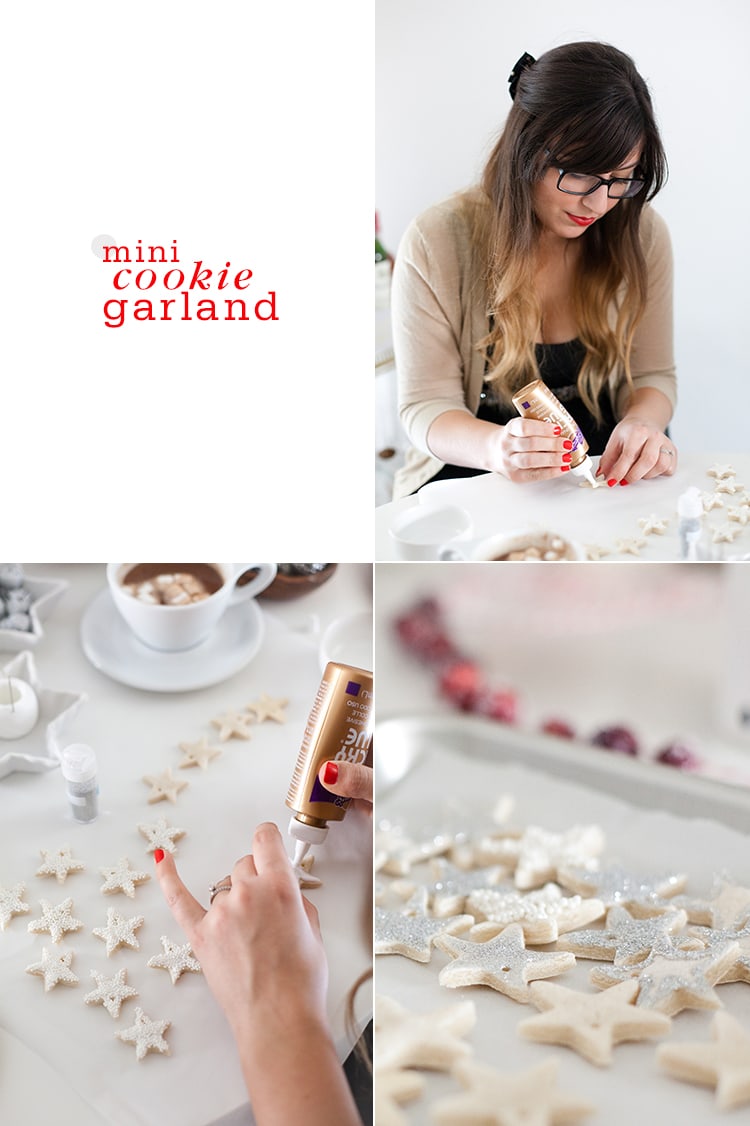 Mini Star Cookie Garland
Pretty little "frosted" and sprinkled star cookies look good enough to eat! Don't be fooled by Marisa's magical decorating skills...these salt dough cookies are strictly ornaments.
Here's how to make it:
1. Prepare salt dough cookie ornaments- recipe coming soon!
2. Using craft glue, "frost" cookies and dip in bowls of white nonpareils and silver glitter to coat one side. Allow cookies to dry completely.
3. Using a heavy tapestry needle and white cotton thread, sting one cookie at a time tying a knot around each to hold in place.
It's hard to choose which garland I like best but the sweet little Christmas star cookies really won my heart so I'll be sharing a full tutorial very soon!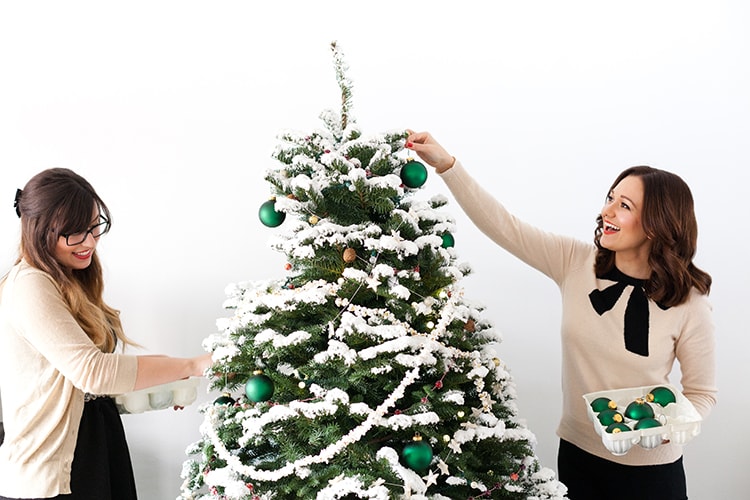 After the garlands were hung, we added a few simple green ball ornaments for the final touch and lit the tree. I just wish you could see our woodsy Winter Wonderland tree all lit up at night. It's a magical sight to be seen! Do you ever make homemade decorations for your Christmas tree? I hope you will give a few of these garlands a try! Please Note: While they may look sweet, none of these garlands are edible!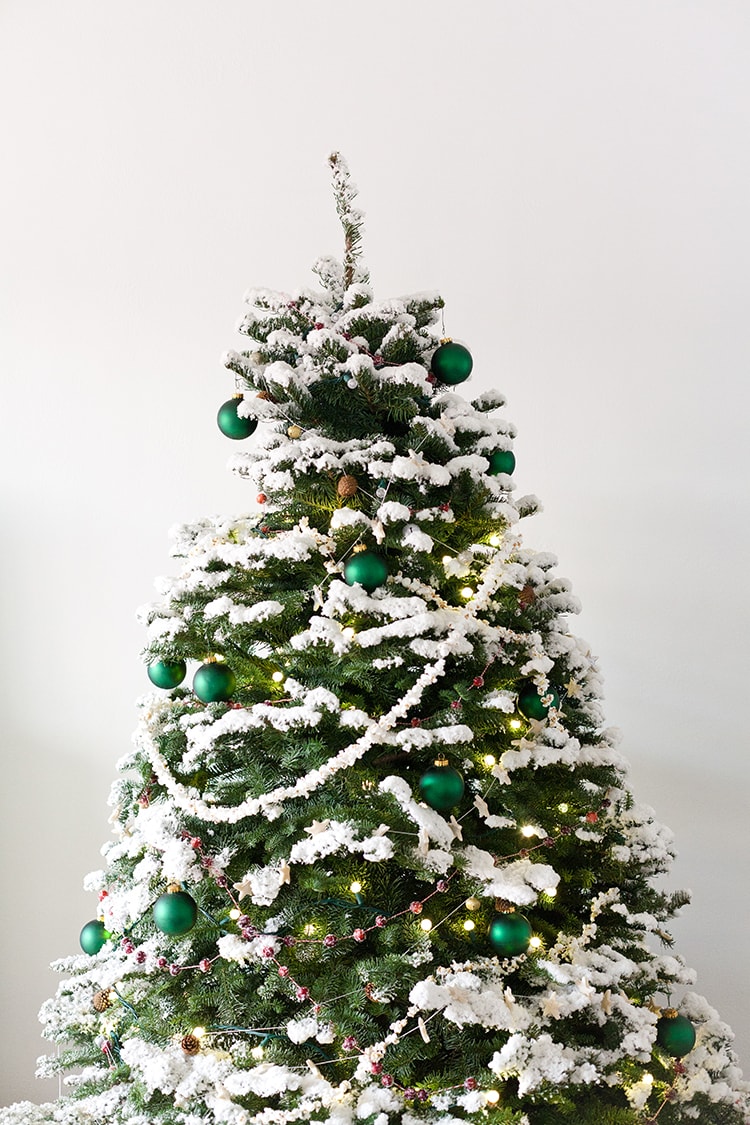 Looking for More Christmas Decor Inspiration? You Might Like...