Halloween is all about sweet treats, and I have the perfect cocktail to satisfy your adult sweet tooth this year. Coconut White Russians only need three simple ingredients, are easy to make on Halloween night, and taste like a candy bar. After all, we can't let the kids have all the fun!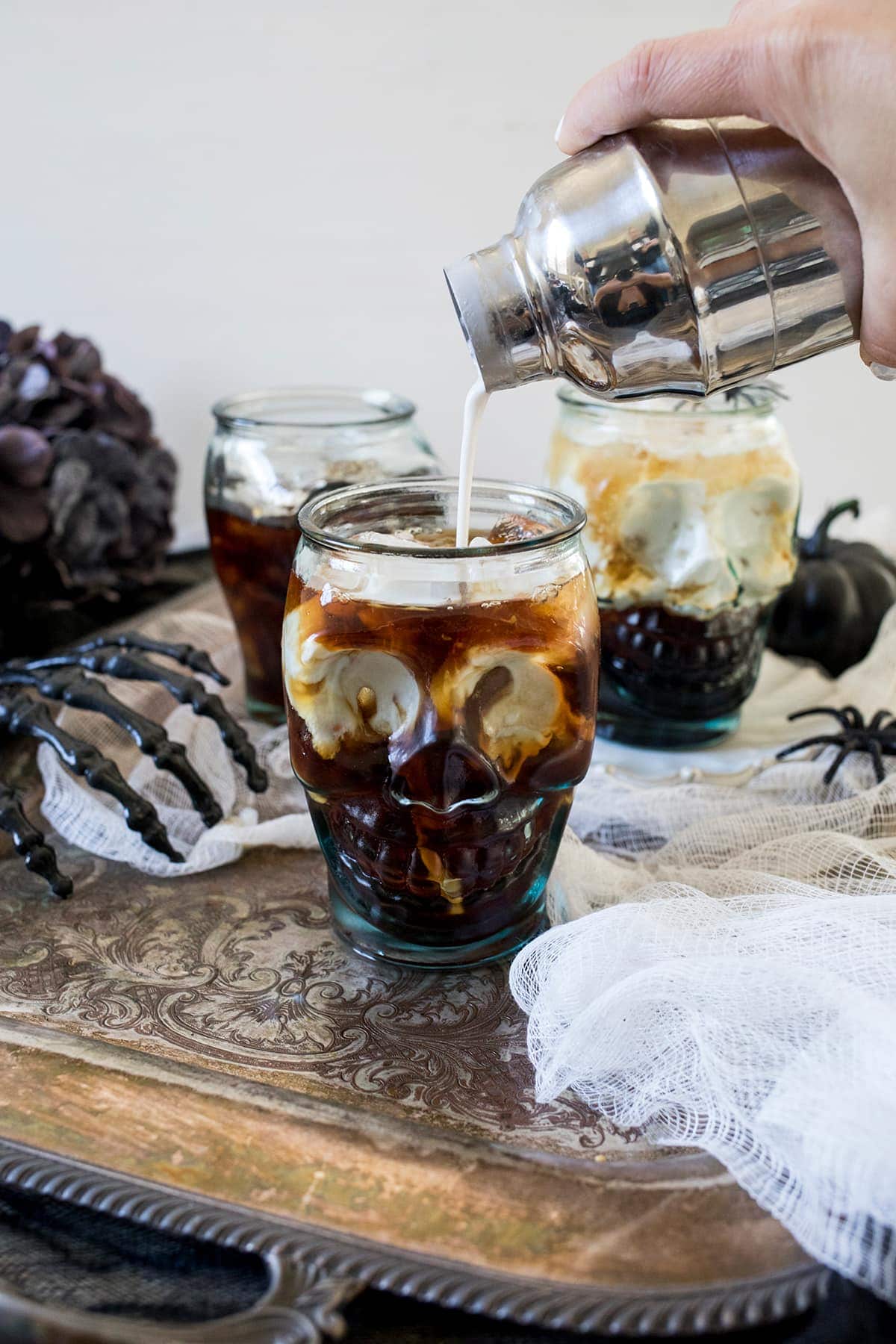 WATCH ME MAKE COCONUT WHITE RUSSIANS LIVE ON FOX 5 SAN DIEGO NEWS!
Coconut White Russians
If you've ever poured yourself a classic White Russian, you'll know that it's one of THE MOST simple cocktails to make. Vodka, Kahlua (or your favorite coffee liqueur) and a splash of cream. It's the cocktail that I caught my parents pouring for a night cap time and time again, probably because it's not overly boozy. My Coconut White Russians are a bit on the lighter side and non-dairy thanks to coconut cream in place of the heavy cream. The coconut cream adds even more delicious sweet flavor to the coffee liqueur but also lightens the drink up so that you can sneak a few more candy bars from your kid's trick-or-treat bag. It's call "Mom Tax."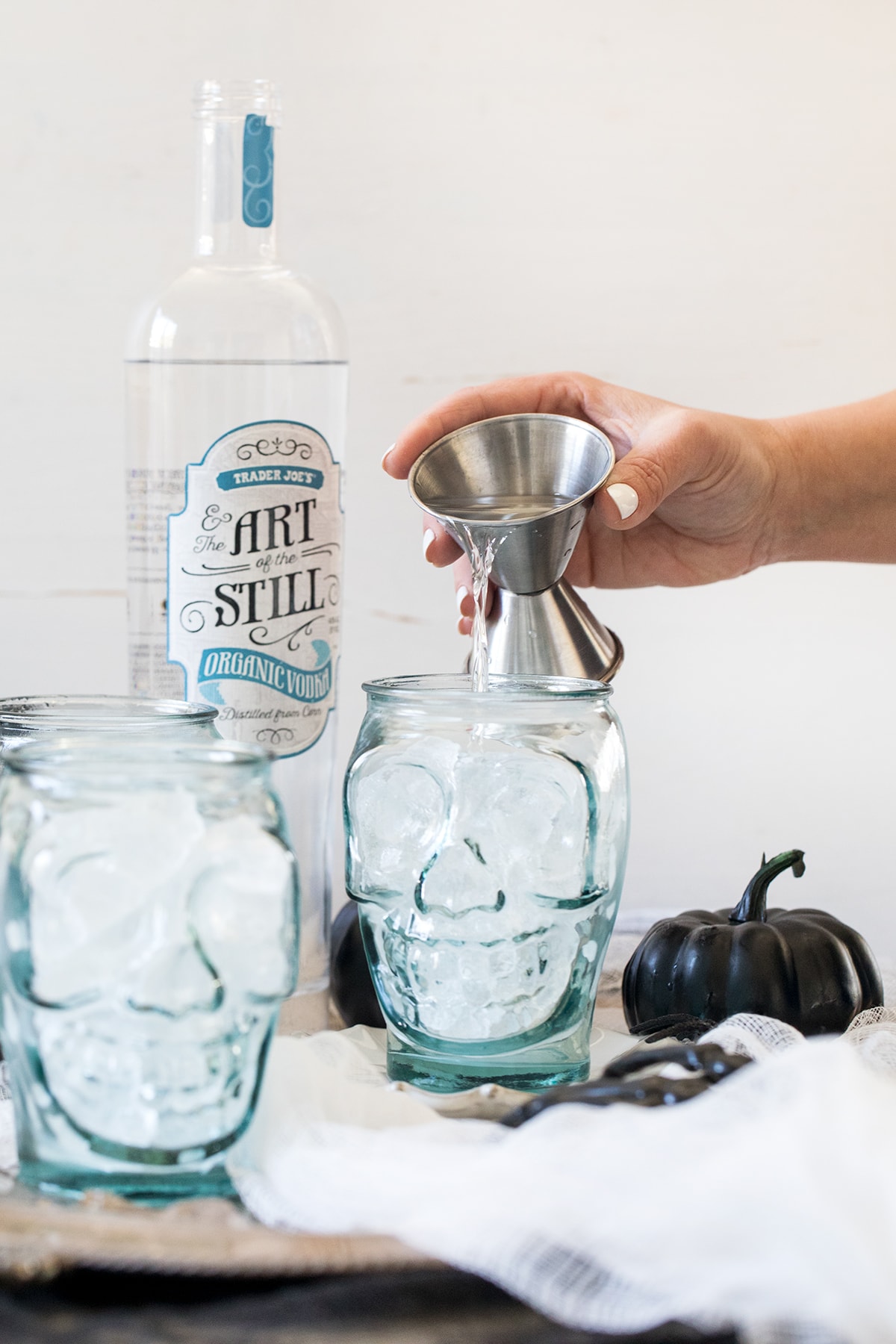 Trader Joe's Organic Vodka
Have you tried Trader Joe's Organic Vodka yet? According to Tastings.com The Art of the Still Organic Vodka is:
Bright clear color. Tropical aromas and flavors of circus peanut, coconut cream pie, and banana cake with a silky, bright, dry-yet-fruity medium body and a tingling, delightful, medium finish with accents of limestone, vanilla milk, nutskin, and waxy dried fruit finish. A pleasant fruity vodka vodka that will mix well in carefree cocktails.
Leave it to the tasting experts to find coconut cream pie in this vodka! I can't say that I taste banana cake, however I do get the vanilla milk notes and find it perfect for mixed drinks. Plus, this vodka is incredibly affordable and certified organic which is a double win in my book.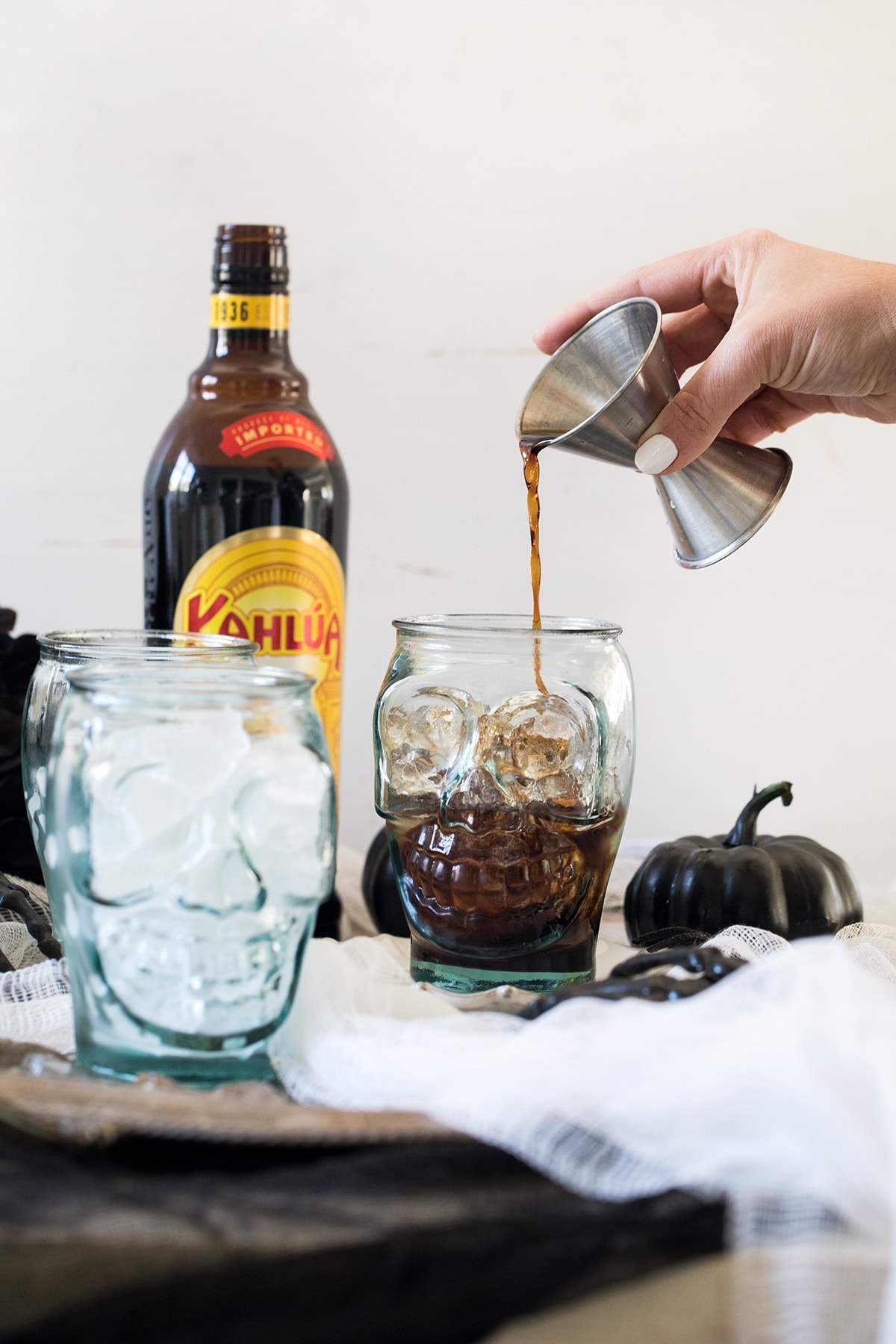 Next comes the Kahlua and if you are an adult and you don't have a bottle of Kahlua stashed away in a cabinet somewhere, are you even living? Pour it over ice cream, add a splash to your Saturday morning coffee, or enjoy it on the rocks with vodka and coconut cream. This bottle won't go to waste! Isn't being an adult fun?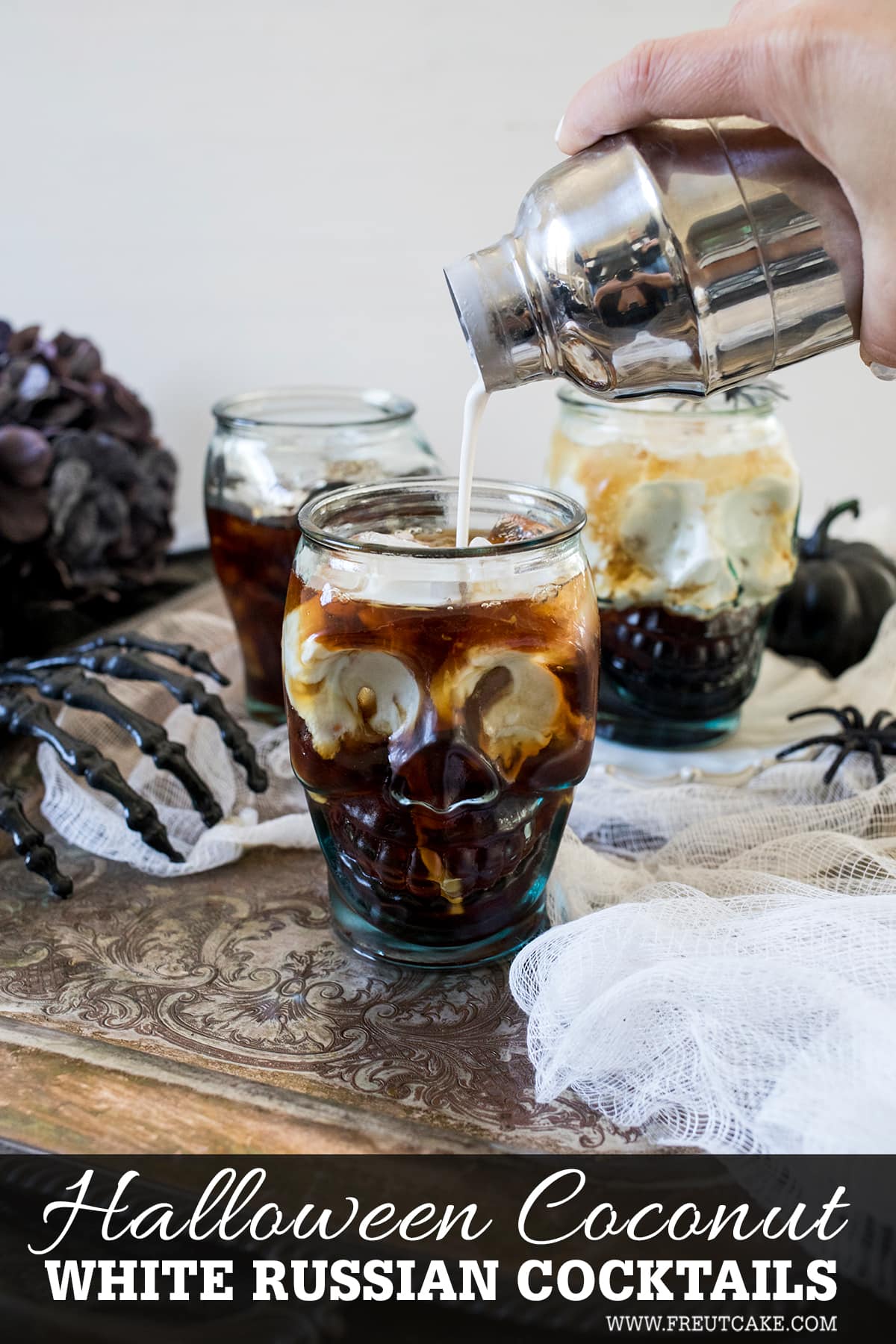 Coconut Cream In Cocktails
I love using coconut cream in cocktails from margaritas to White Russians because it adds so much delicious flavor. For this cocktail I used the full-fat canned coconut cream (not coconut milk) found at Trader Joe's. I would not recommend using a sweetened coconut cream like you might use for Pina Coladas because that would add too much sweetness. One note about Coconut Cream in Cocktails: it does have a tendency to separate a bit due to the alcohol so if this bothers you, by all means use classic half & half or heavy cream.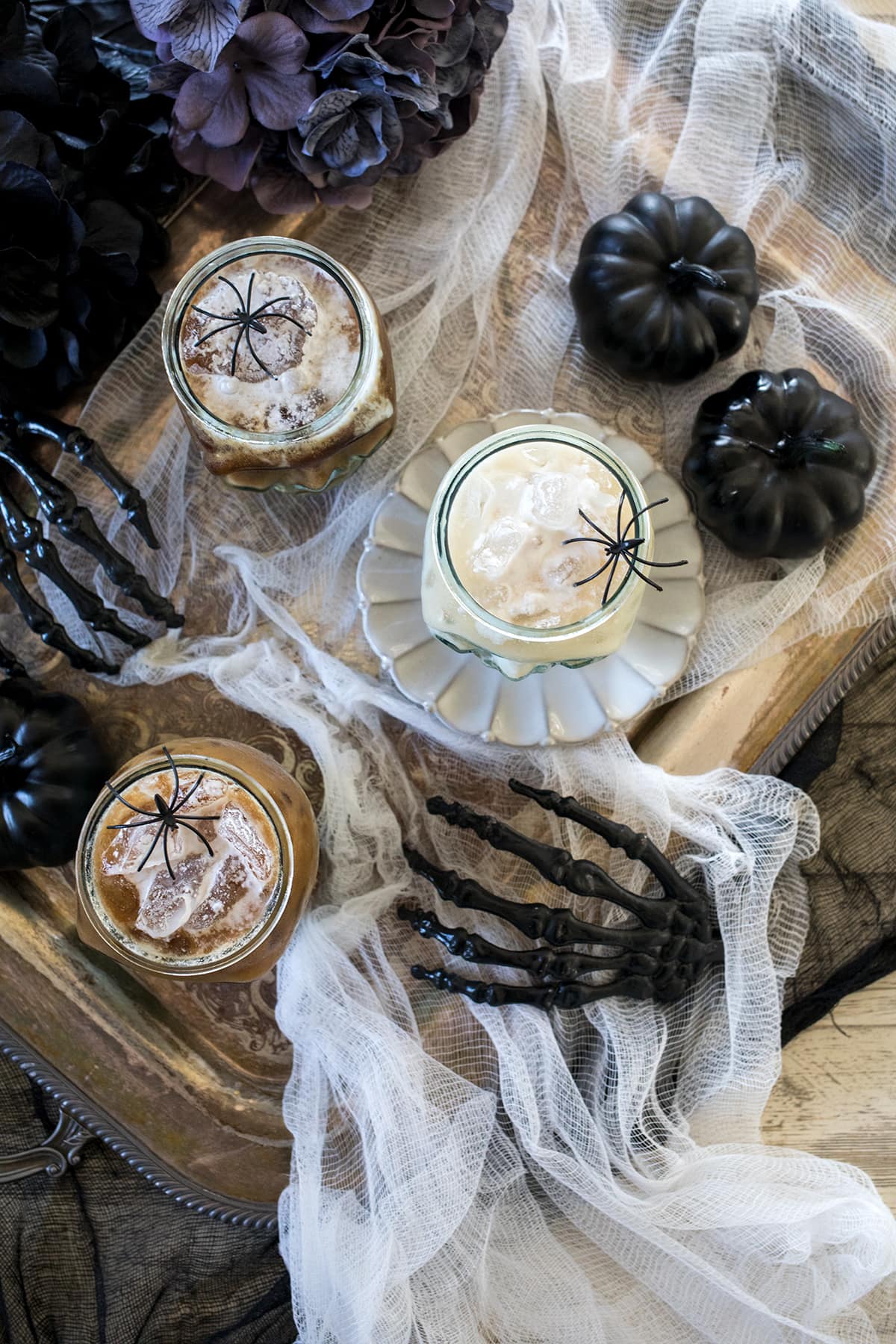 Scull Cocktail Glasses
One of my favorite part of this cocktail is how it looks once you pour the coconut cream over top of the Kahlua and it settles down into the eye sockets of these scull glasses. So creepy! I found a set of four of these Scull Cocktail Glasses at Home Goods in their holiday section however you can find lots of other scull glass on Amazon like these here or these!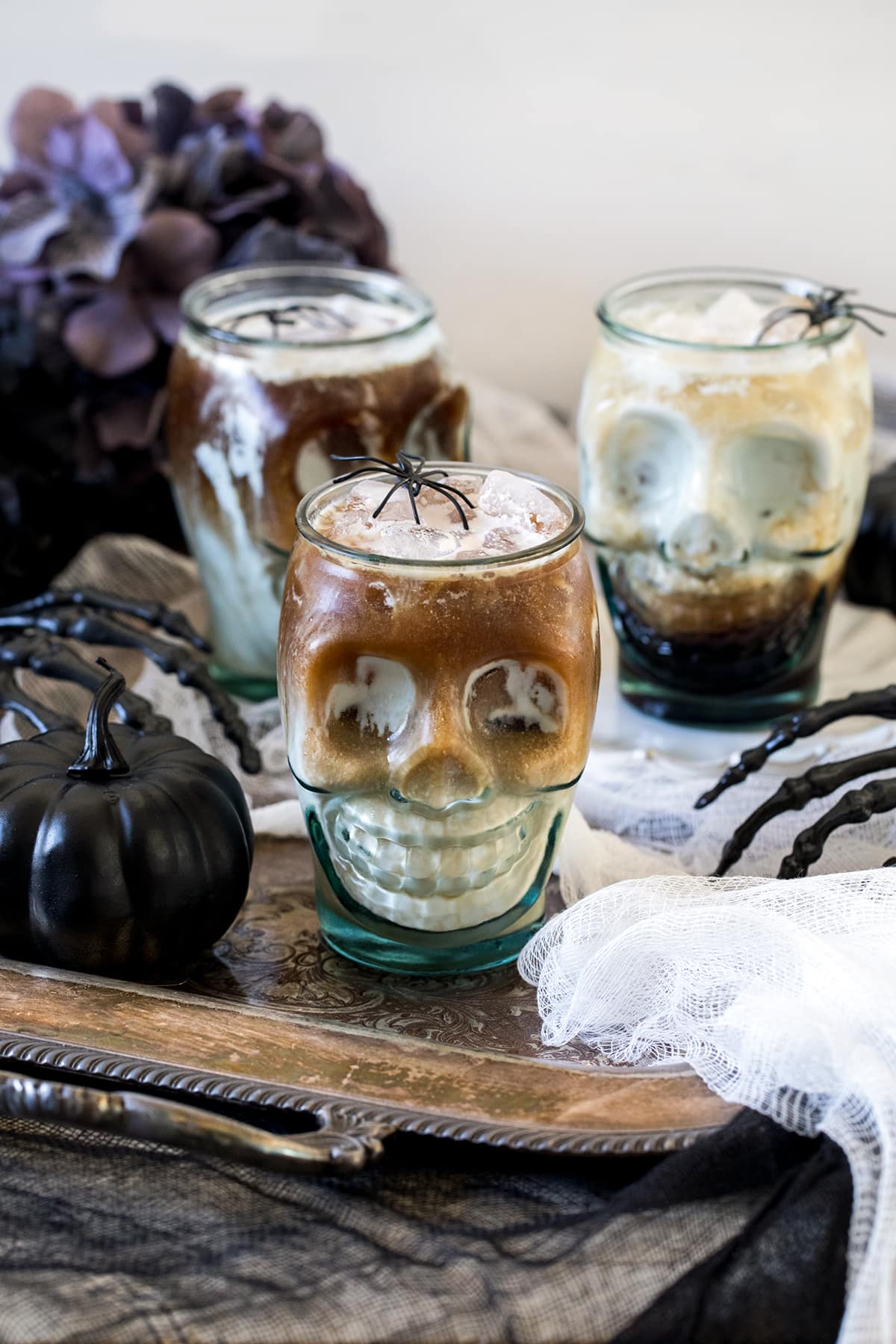 Isn't this just the perfect sweet and creepy Halloween cocktail? If you are looking for more Halloween cocktail recipe inspiration you might also like: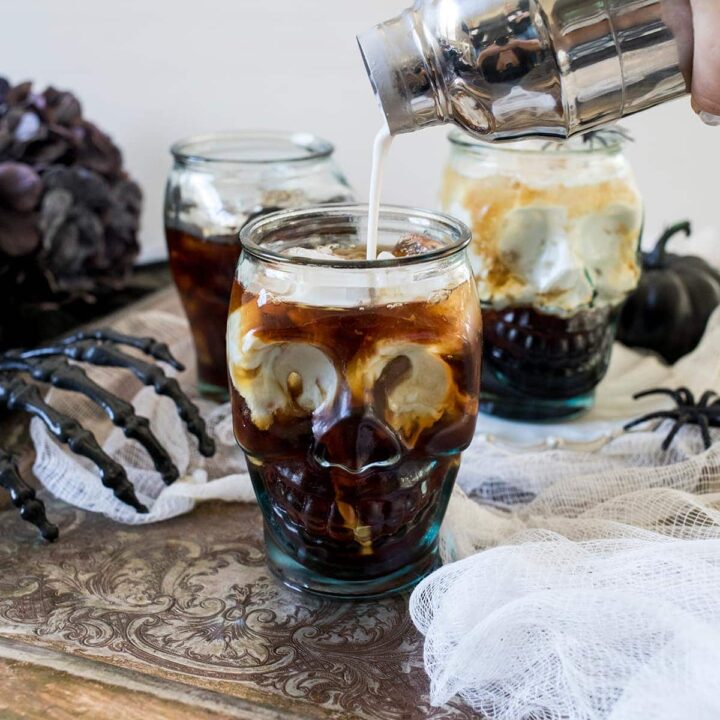 Halloween Coconut White Russians
Coconut White Russian Cocktails are the perfect sweet drink for Halloween night.
Ingredients
2 oz Vodka
2 oz Kahlua
2 oz Coconut Cream
ice
Instructions
Fill a scull cocktail glass with ice.
Pour equal parts vodka and kahlua over the ice and stir to combine.
Top with coconut cream and serve immediately.
Notes
Make sure to shake the can of coconut cream very well before using it in these drinks. Alternately, you can pour the coconut cream into a cocktail shaker and shake until smooth before pouring over cocktails, like I did.

Coconut Cream has a tendency to separate a bit in cocktails. If this bothers you, you can substitute classic heavy cream.