Pumpkin Spice Margaritas might sound completely strange but they are a surprisingly delicious alternative to typical pumpkin spice drinks. Tequila, orange liqueur, pumpkin and fall spices all work unexpectedly well together in this fun fall cocktail.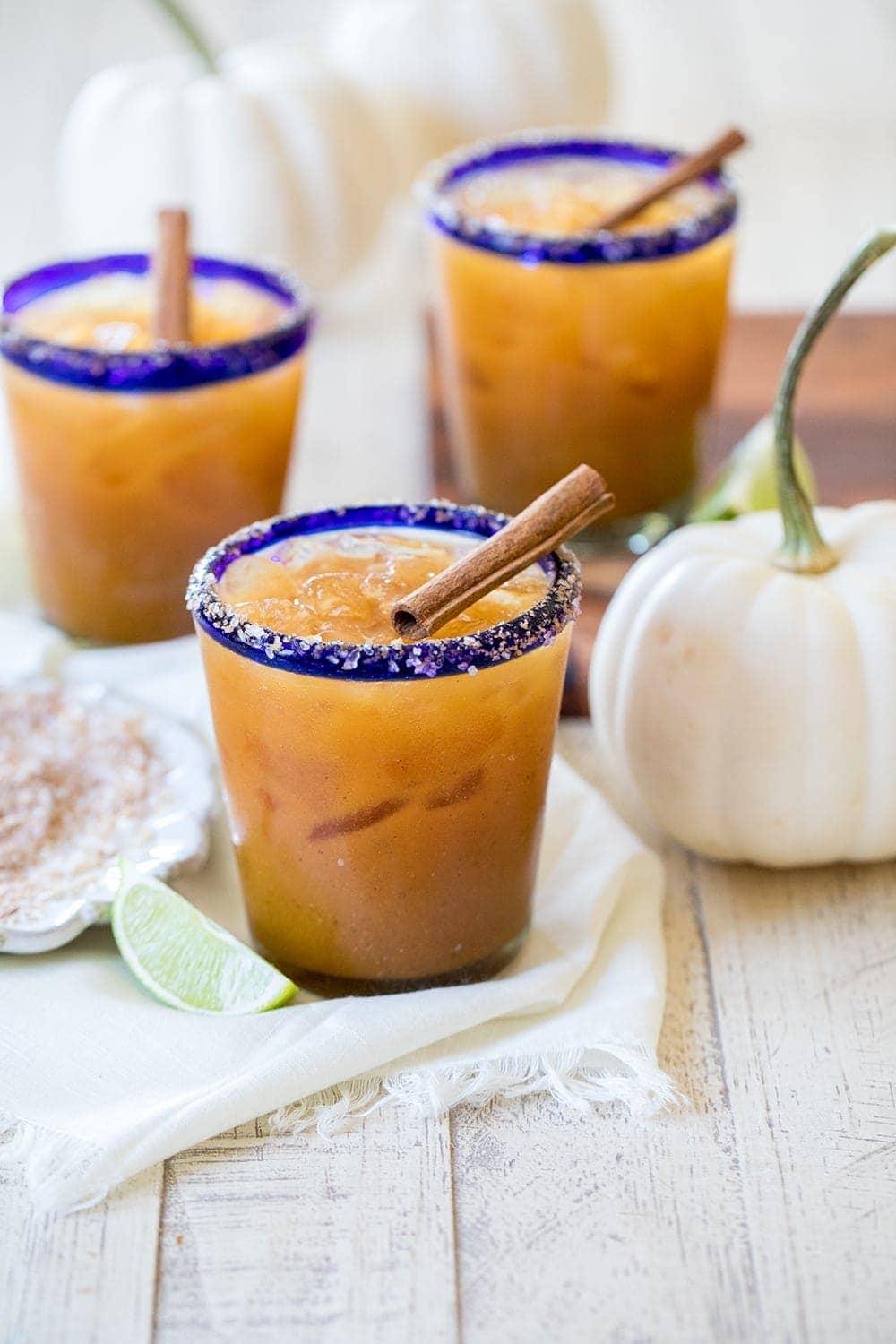 Pumpkin Spice Margarita Recipe
You might typically think of pumpkin spice as the stuff that Starbucks Lattes and scented candles are made of but let me tell you, TRUE pumpkin spice is a delicious blend of spices and makes for a really unique cocktail. I recently posted a reader poll on my Instagram and low and behold, quite a few of you requested Pumpkin Spice Margarita Recipe! The challenge was on and I think I mastered this unique but delicious combination of classic summer cocktail and trendy fall flavors.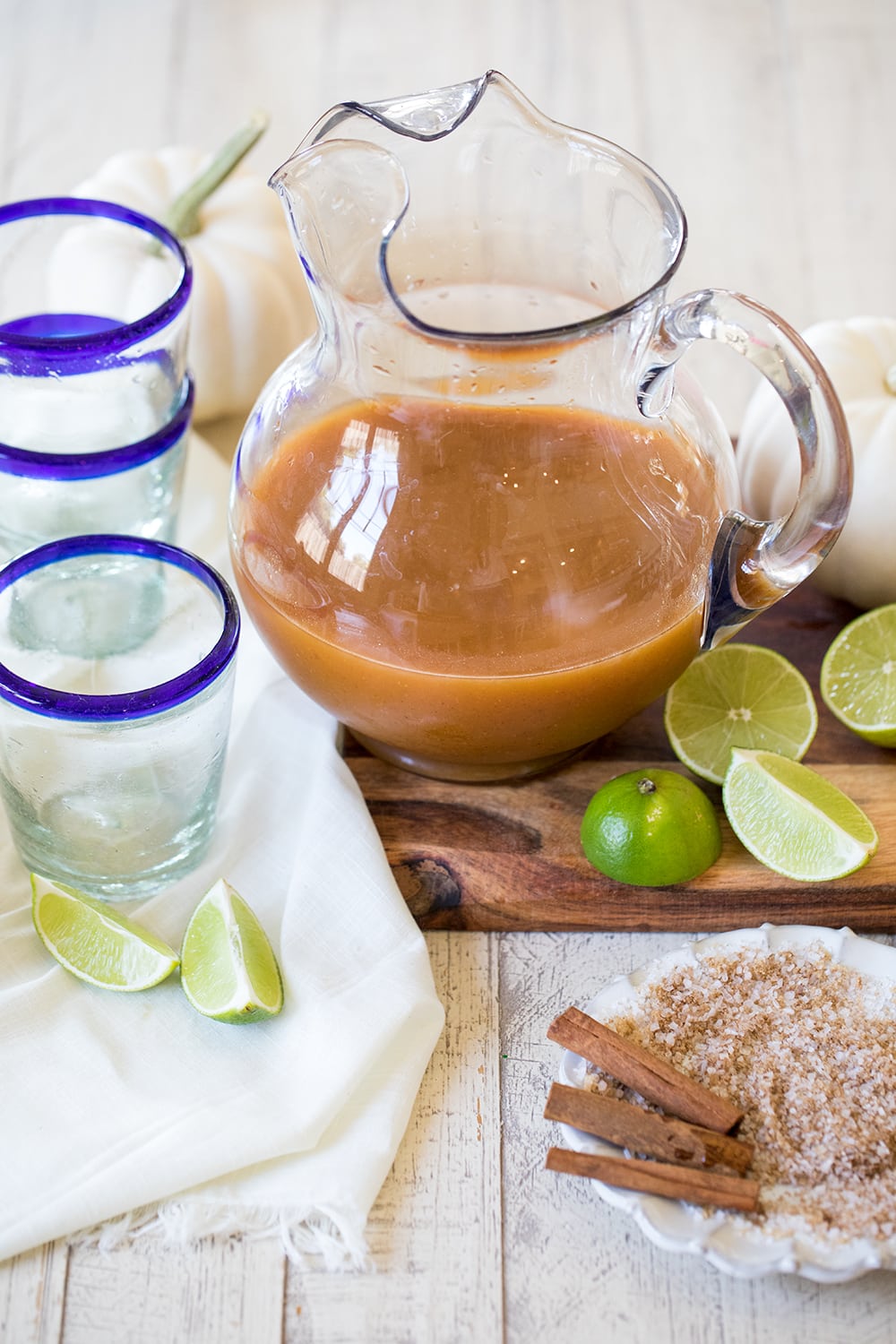 Classic Cointreau Margarita
Pretty much every margarita I make starts with the classic cointreau margarita. Tequila, cointreau and fresh lime juice shaken with ice to chill: perfectly simple. You really can't beat this classic combo. Which is why I had to use it as the base for my Pumpkin Spice Margarita.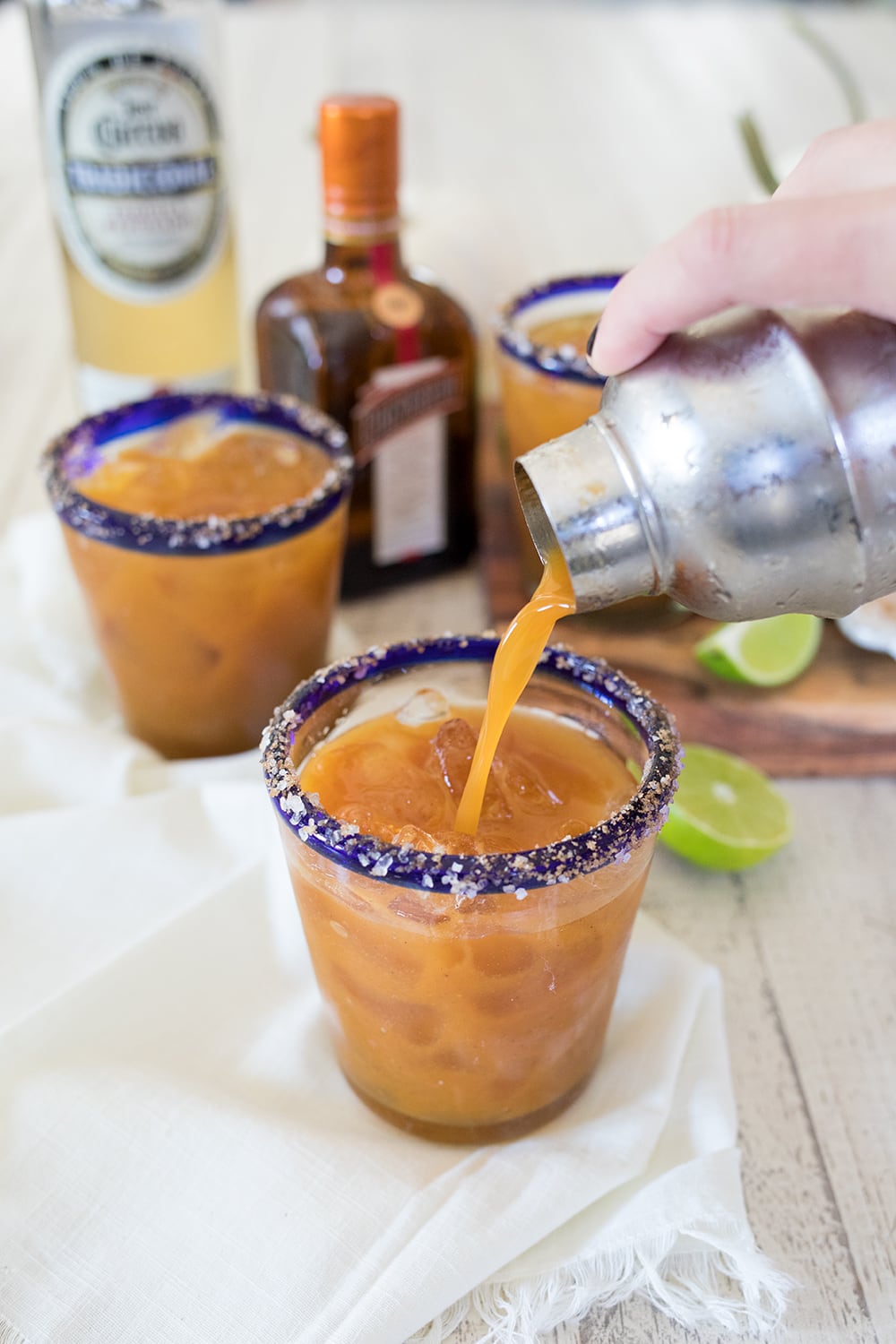 Pumpkin Spice Simple Syrup
Brown sugar, water, cinnamon, clove, nutmeg and ginger; all simmered together and cooled into a sweet and spicy syrup are what give this pumpkin spice margarita it's spicy fall flavor. Once the syrup cools, mix in fresh pumpkin puree and you have the sweet pumpkin base for one delicious batch of margs.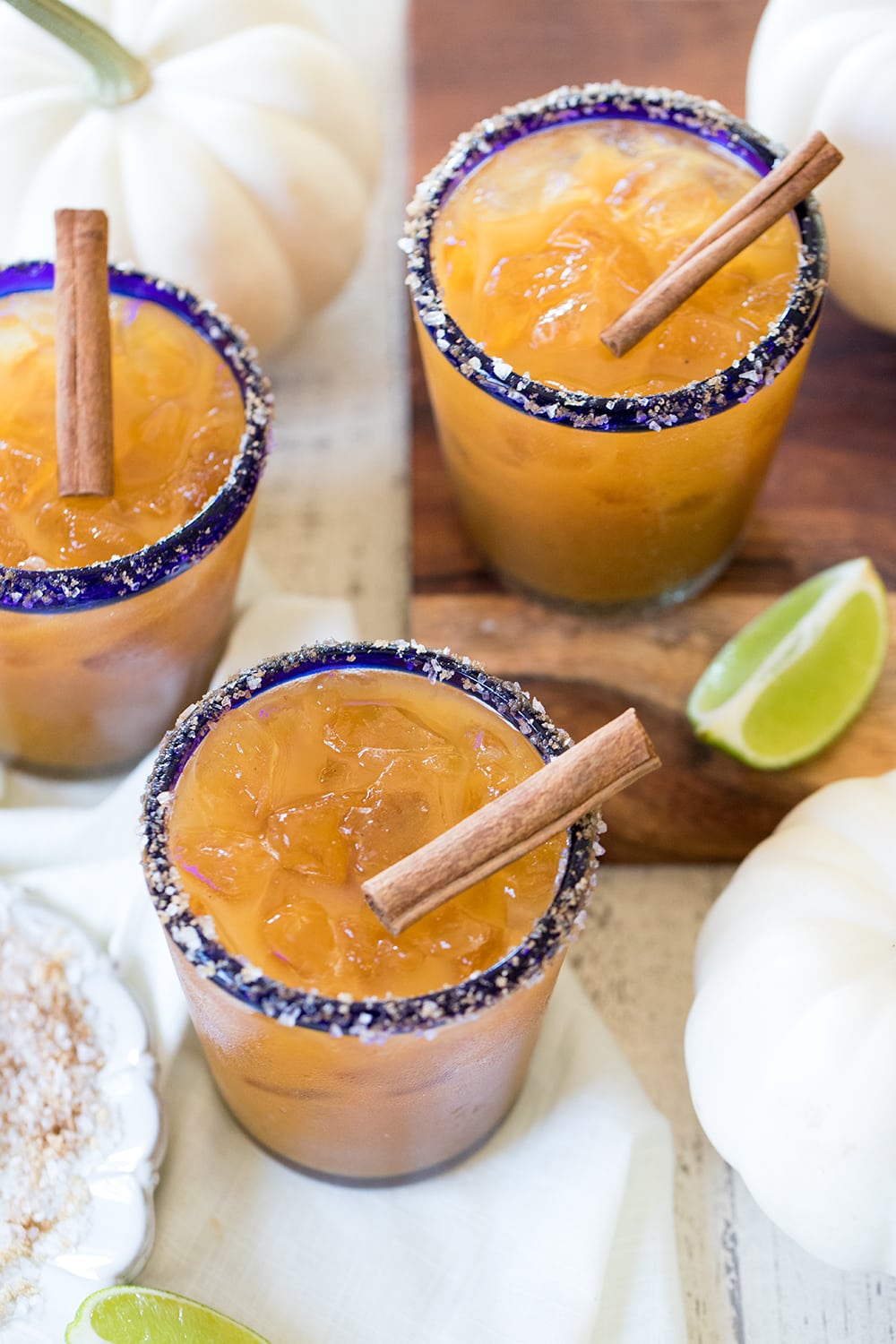 I salted, sugared and spiced the rim with a blend of brown sugar, sea salt, and cinnamon to give the margaritas a sweet and salty kick with each sip. Let me tell you…if you've never added sugar to your salted margarita rims, you are going to be hooked. The flavor combo keeps you coming back for more with every sip. I hope you will try this cocktail and leave me a comment letting me know what you think. Cheers to fall!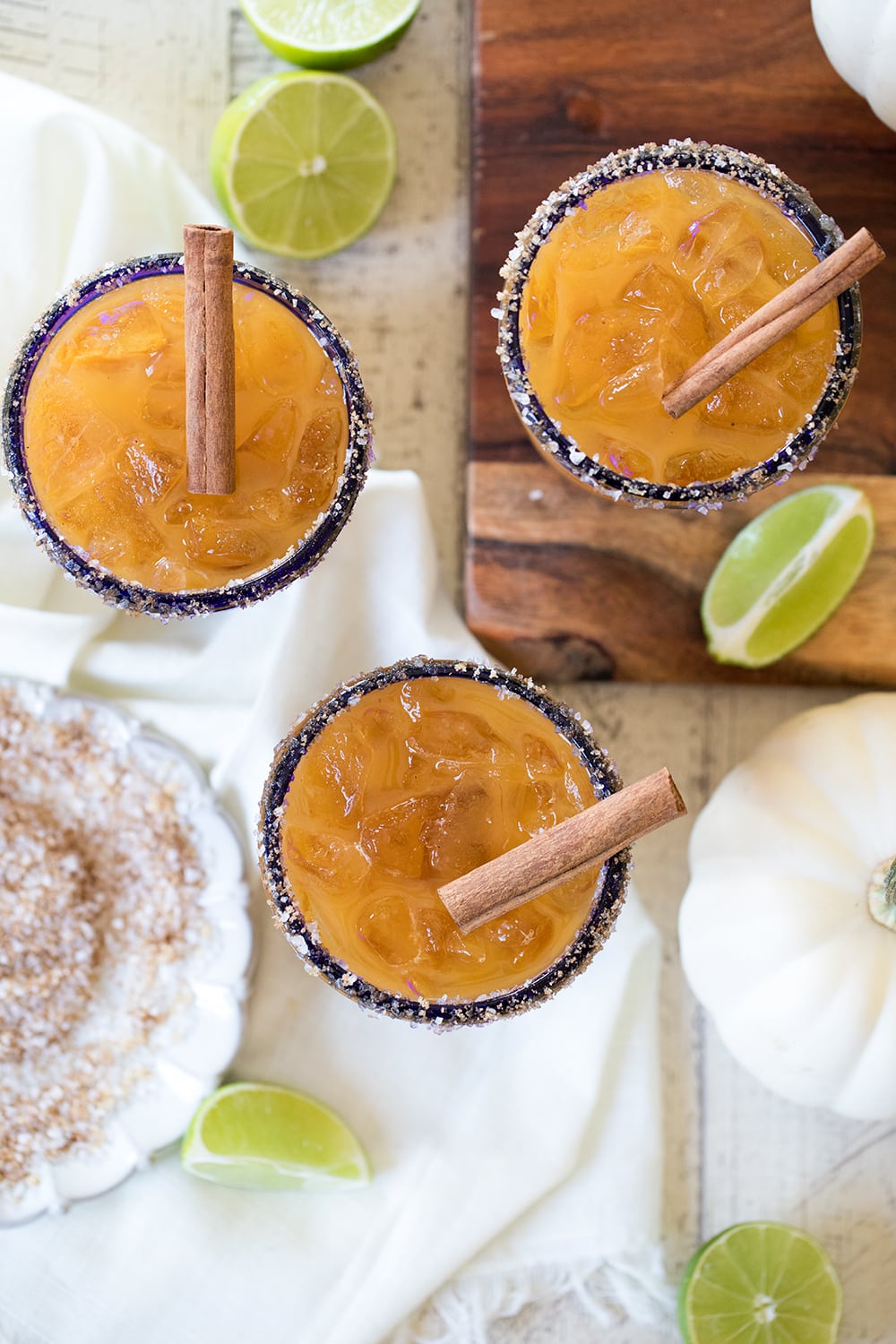 Looking for more fall cocktails? You might love these recipes!
Sparkling Fall Hard Apple Cider Sangria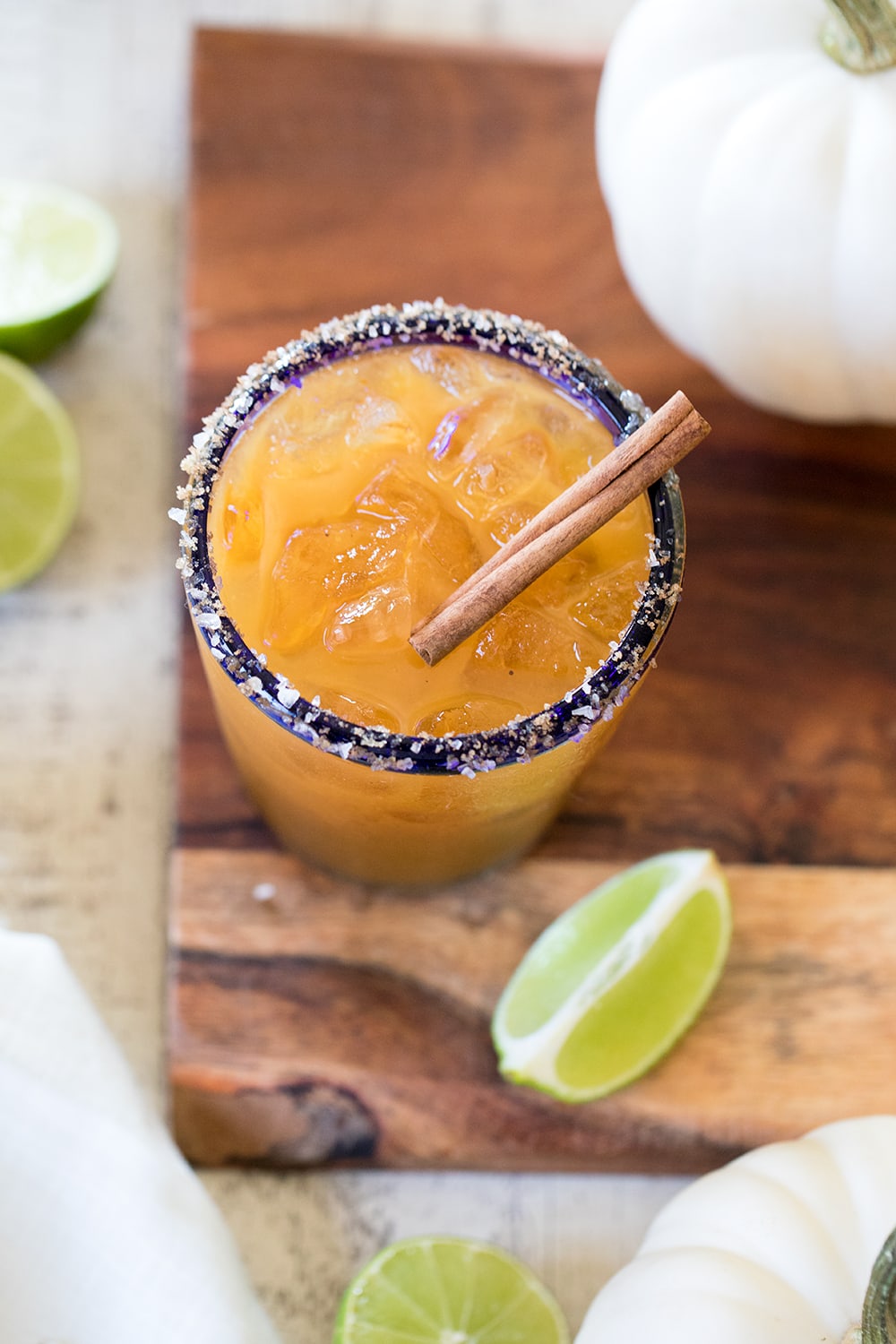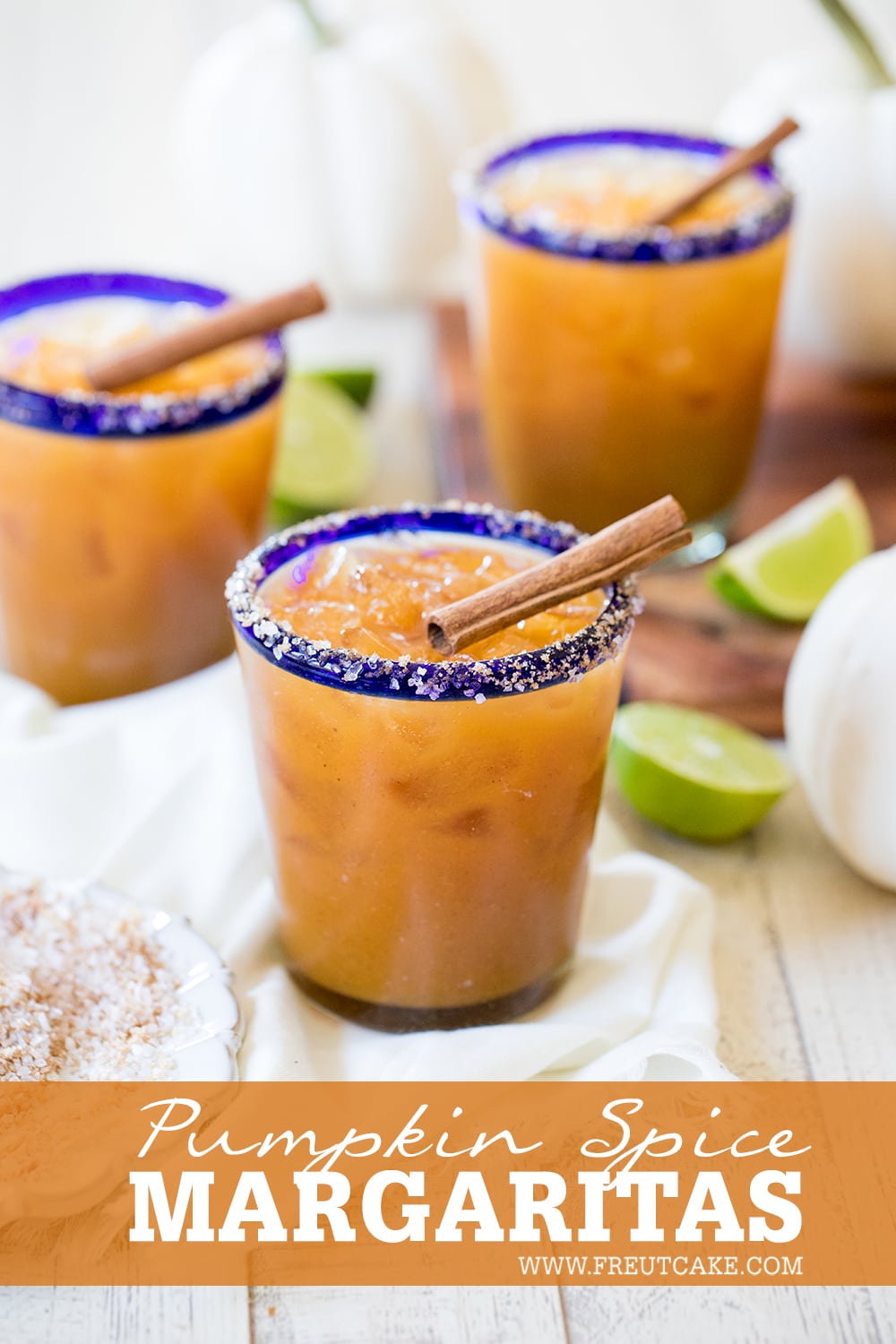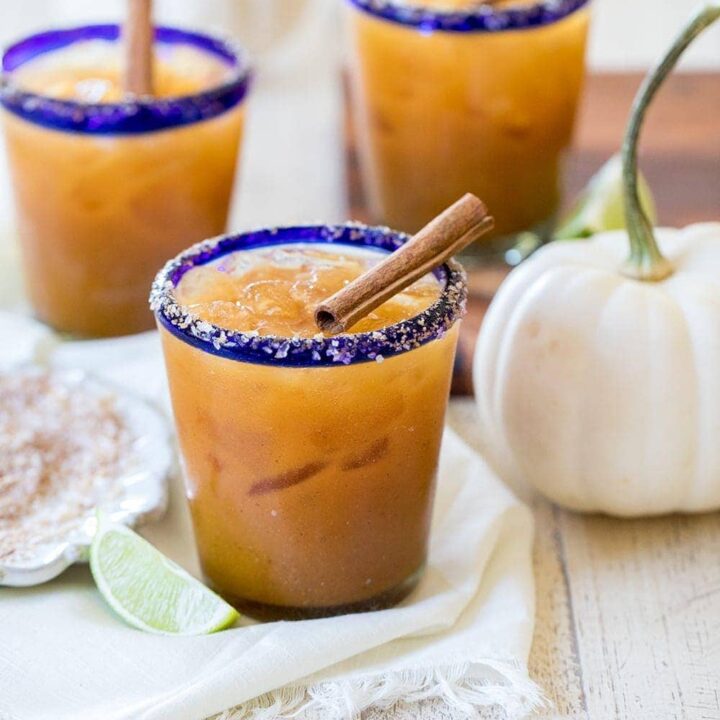 Pumpkin Spice Margaritas
A pumpkin spice margarita on the rocks with a pumpkin spice salted rim.
Ingredients
2 oz Repisado Tequila
1 oz Cointreau
1/2 oz fresh lime juice
2 oz Pumpkin Spice Puree
Pumpkin Spice Puree:
1 cup light brown sugar
1 cup water
1 teaspoon ground cinnamon
1/2 teaspoon ground nutmeg
1/2 teaspoon ground ginger
1/8 teaspoon ground clove
1 (15 oz) can pumpkin puree
Note: this will make more puree than is needed for one cocktail.
Spiced Rim:
2 Tablespoons coarse sea salt
1 Tablespoon brown sugar
1/4 teaspoon ground cinnamon
Cinnamon sticks for garnish
Lime wedges
Instructions
In a sauce pan combine brown sugar, water and spices for the simple syrup. Bring to a simmer and and cook over medium-low stirring until sugar is dissolved. Remove from heat and cool completely.
Whisk in canned pumpkin once syrup is cooled and chill or set aside until ready to use.
Make the rim mixture by combining coarse sea salt, brown sugar and cinnamon on a small plate.
Wet the rim of your margarita glass with a lime wedge and dip in the salt mixture. Fill glass with ice and set aside to make the cocktail.
In a cocktail shaker filled with ice combine: 2 oz tequila, 1 oz cointreau, 1/2 oz lime juice and 2 oz of pumpkin simple syrup puree. Shake until well chilled.
Strain into prepared glass, garnish with cinnamon stick and enjoy!
Notes
This recipe can easily be adapted to a pitcher cocktail by mixing 2 parts tequila, 2 parts pumpkin mixture, 1 part cointreau and 1/2 parts fresh lime juice. When ready to serve, stir and pour over glasses filled with ice and rimmed with salt-sugar-spice mixture.