In the world of margaritas, spicy margaritas made with fresh Jalapeño, reign supreme! Muddled jalapeño peppers add a fresh heat while a Chamoy and Tajin dipped rim adds salty spicy flavor with each sip.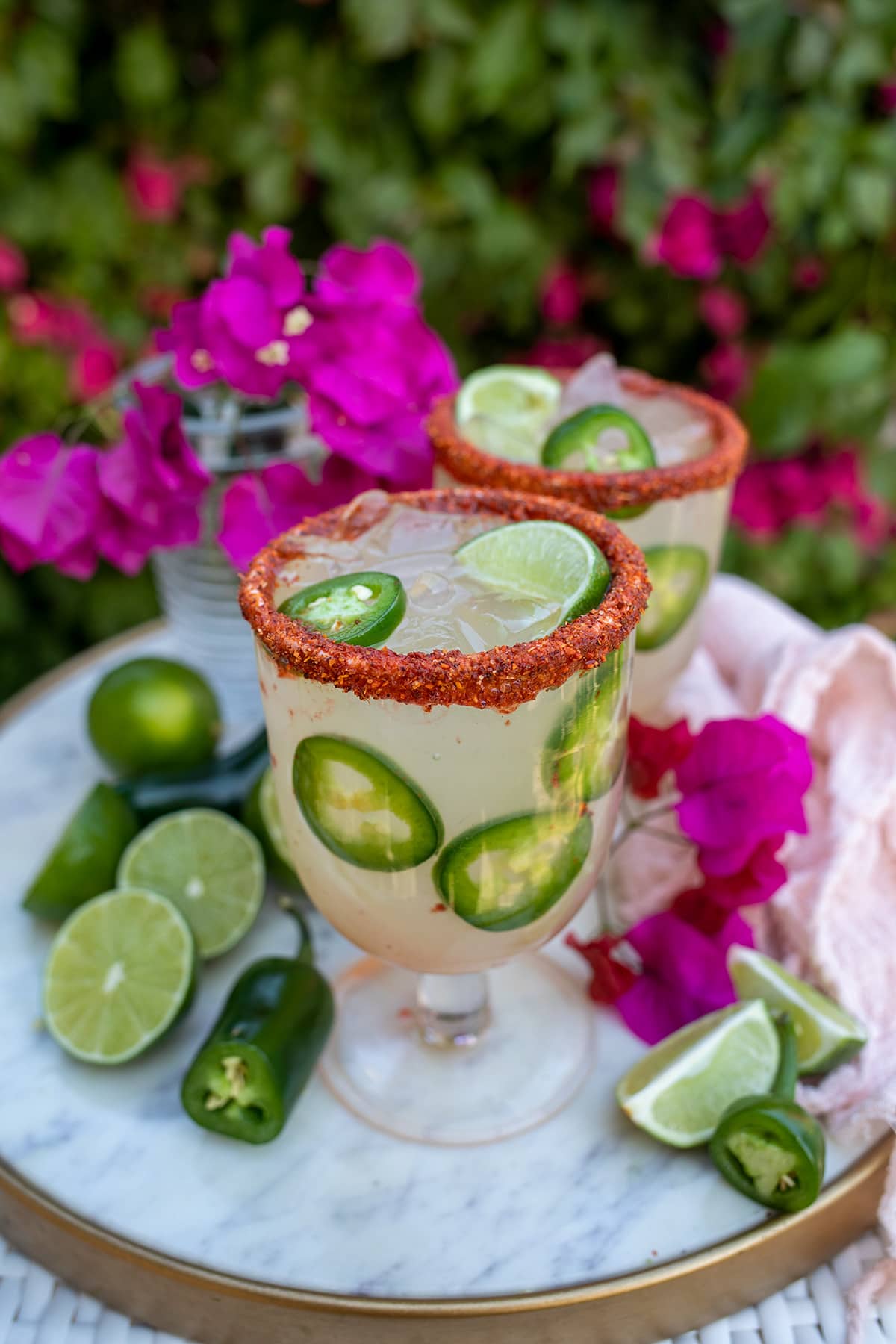 Spicy Margarita Recipe
A spicy cocktail might sound strange if you've never tried one but if you like things on the hotter side, one sip will have you hooked. I've shared other spicy margaritas recipes like my Chili Pomegranate Margarita, Spicy Orange Margarita, and my Spicy Jalapeño Mango Margarita but never the classic Jalapeño Margarita! How is this possible?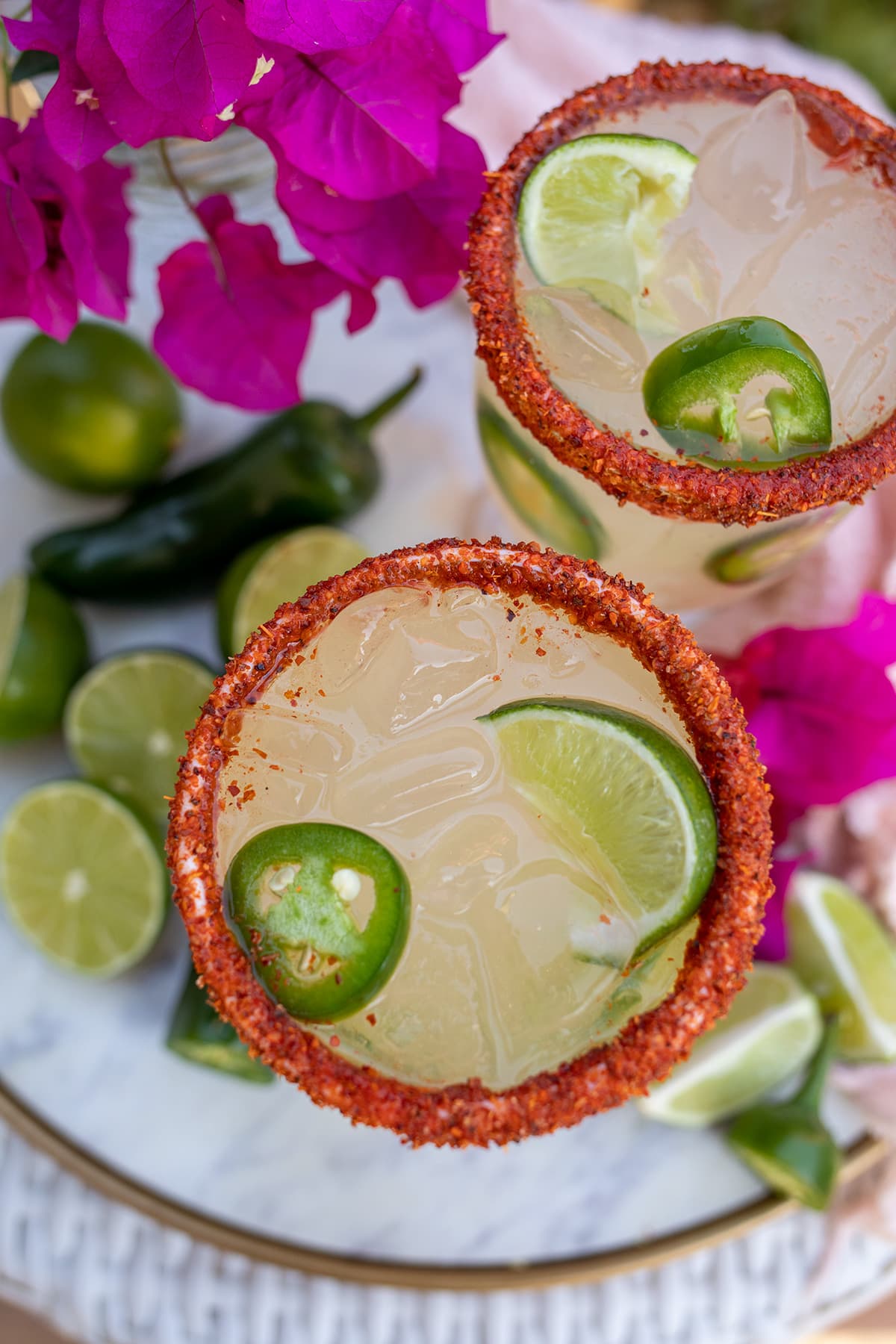 I love this recipe because it is so fresh and simple with no added syrups or sugar so it's not overly sweet. Just a few ingredients are needed to create this cocktail and the chili rim is completely optional.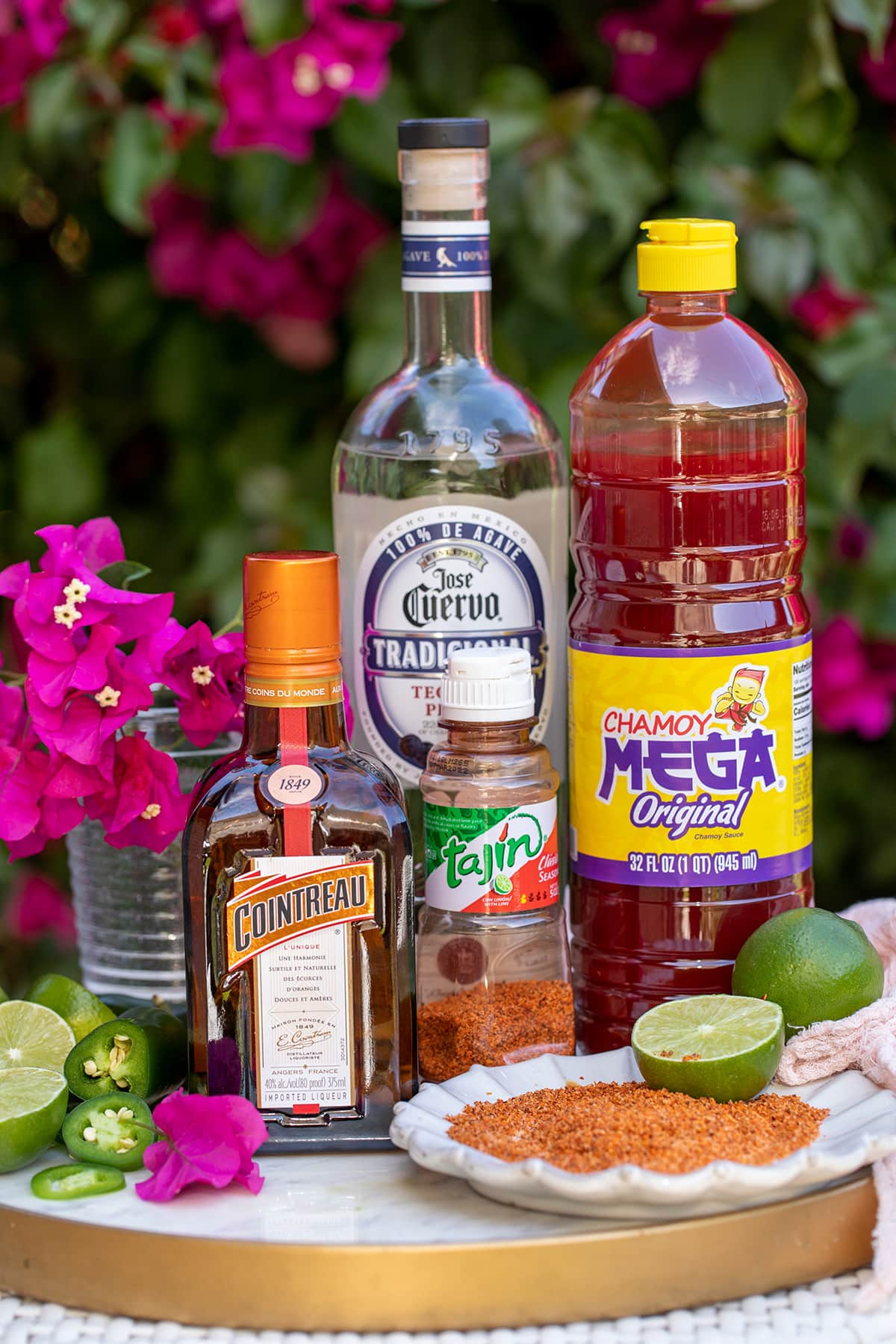 Spicy Margarita Ingredients
Tequila – I like using Silver Tequila for this margarita.
Cointreau – my favorite orange liqueur.
Lime Juice -only the freshly squeezed kind.
Jalapeños - you can use as much or as little fresh jalapeño as you like.
Tajin - this is a popular Mexican spice blend made with a combination of salt, chili peppers, and dehydrated lime.
Chamoy - is a salty, sweet, spicy and tart Mexican condiment that is popular in cocktails.
Ice - you'll need ice for the cocktail shaker and the glass!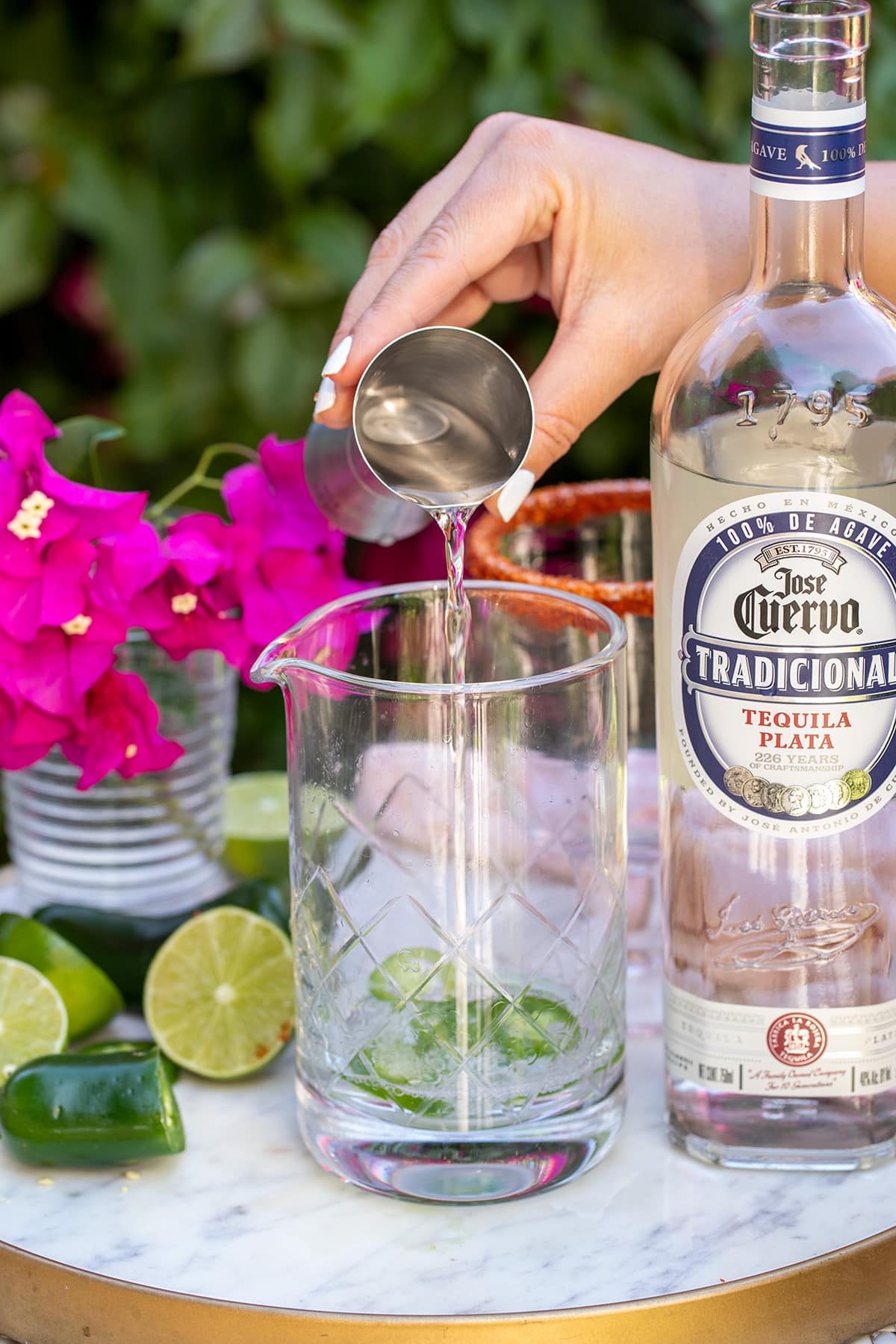 How to Make a Spicy Margarita
Jalapeño - slice a few pieces of jalapeño and place in the bottom of cocktail shaker. Add as much or as little jalapeño as you can handle for your own spice preference.
Liqueur – add tequila, Cointreau and lime juice.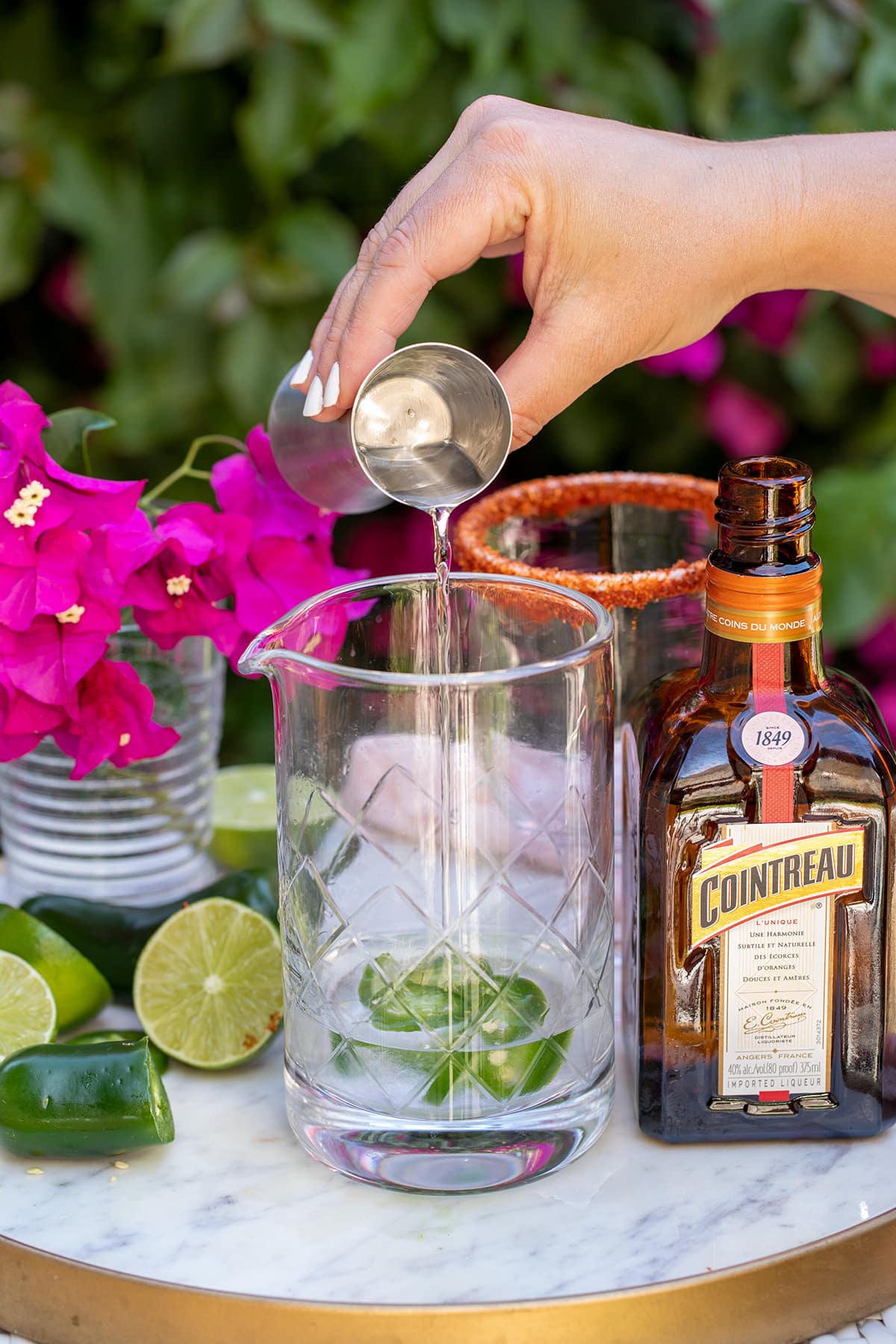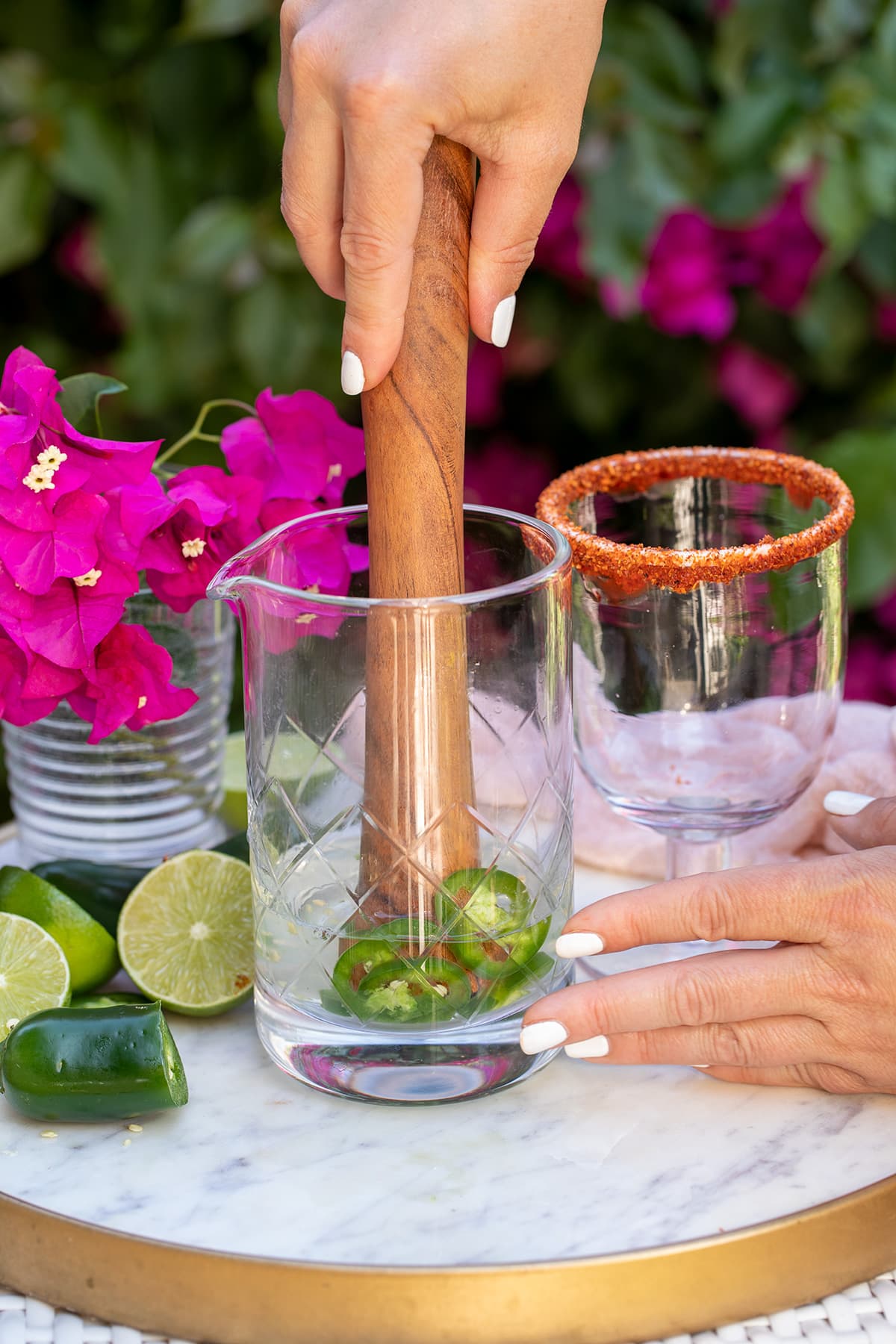 Muddle - muddle the jalapeño well to infuse spice into the alcohol. I use a wooden cocktail muddler for this but if you don't have one you can use the handle of a wooden spoon! Just make sure you are really breaking up the jalapeño to release all of the flavor.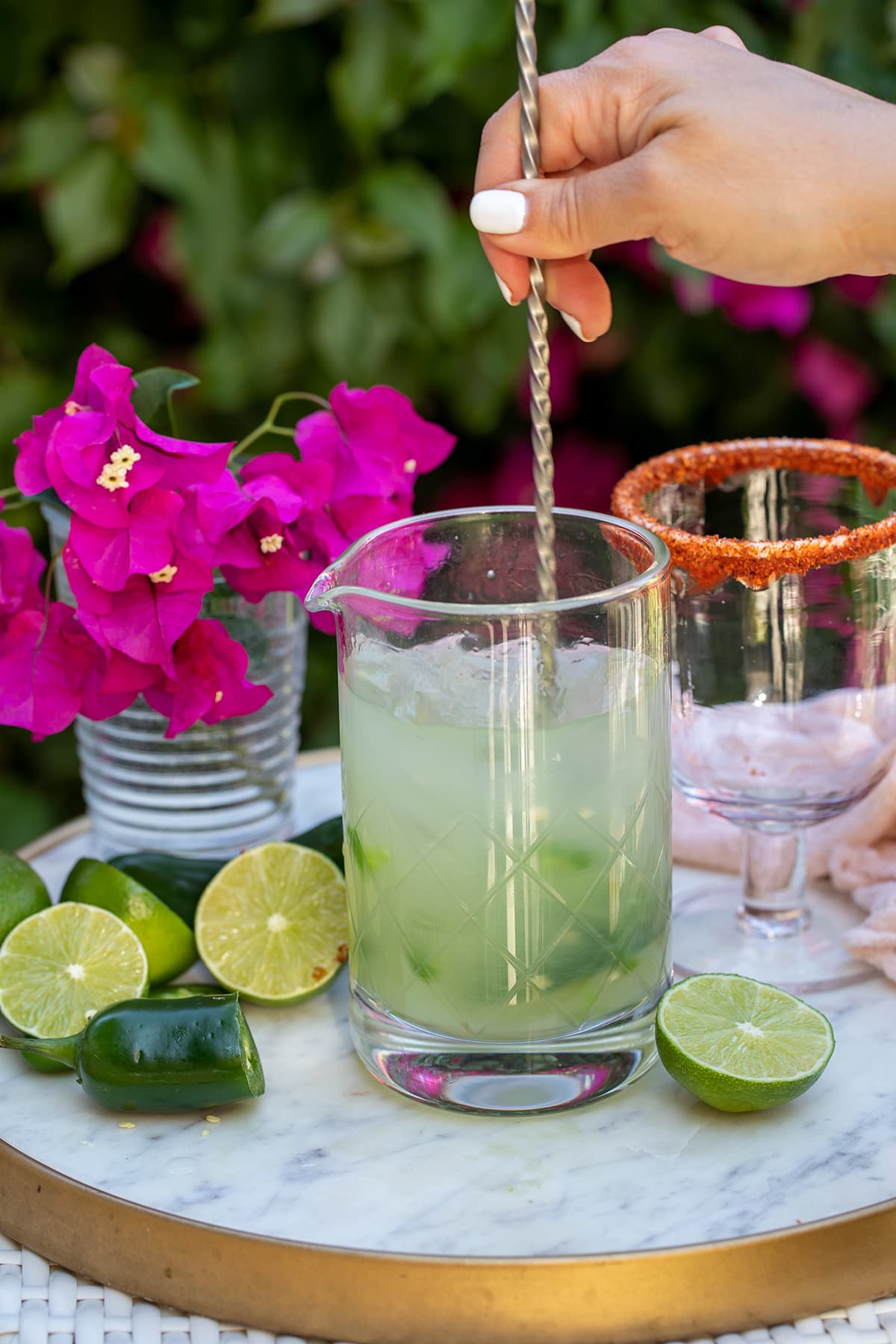 Rim - dip margarita glass in Chamoy then in Tajin to create a spicy rim.
Ice - fill glass with ice.
Shake or Stir - fill cocktail shaker with ice and shake well or stir to chill and combine all of the ingredients. For this post I stirred the margarita but I usually shake in a cocktail shaker. Either work well as long as you make sure to take your time.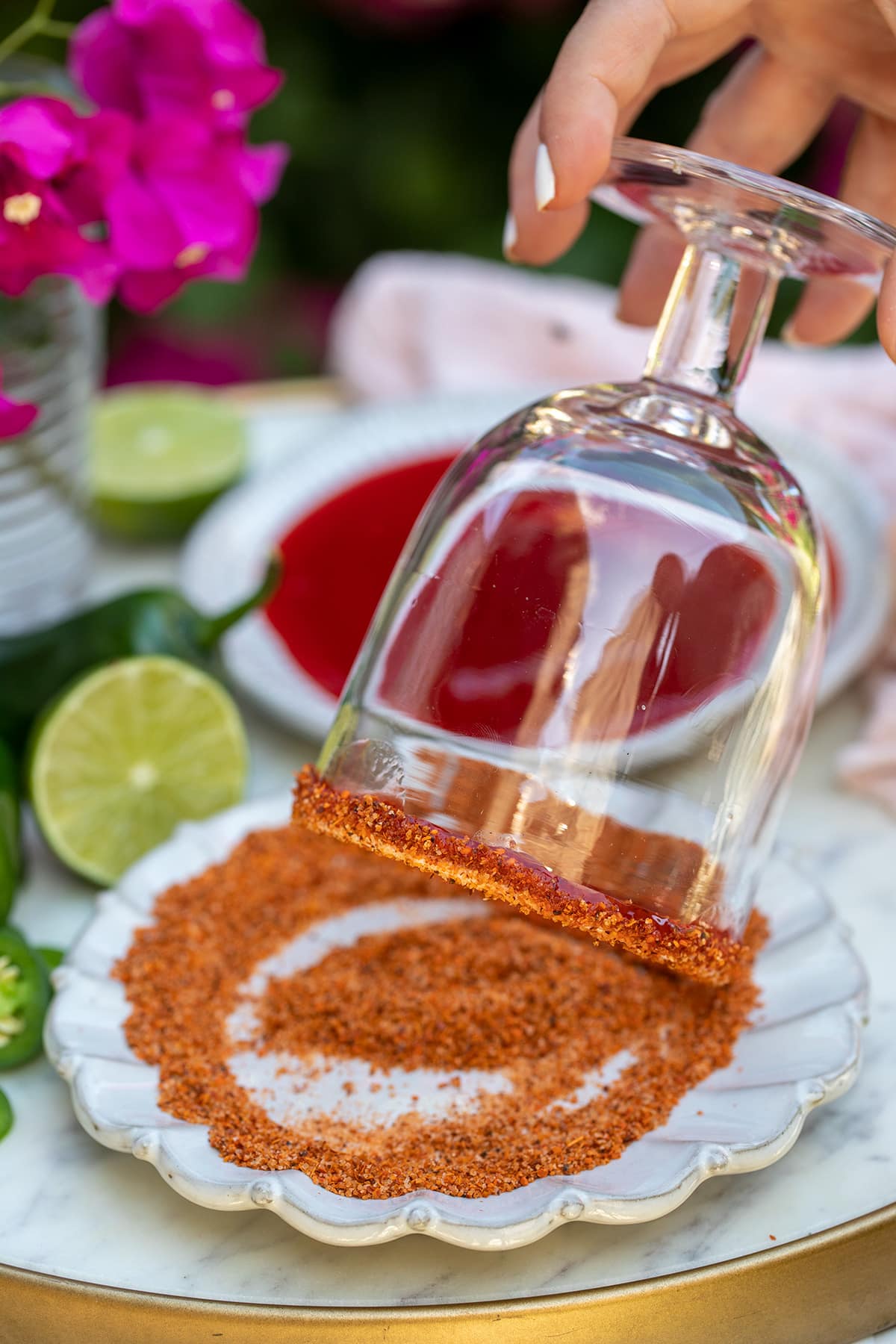 Strain – the margarita into your ice filled glass and discard old ice and jalapeño.
Garnish - with fresh jalapeño slices and lime.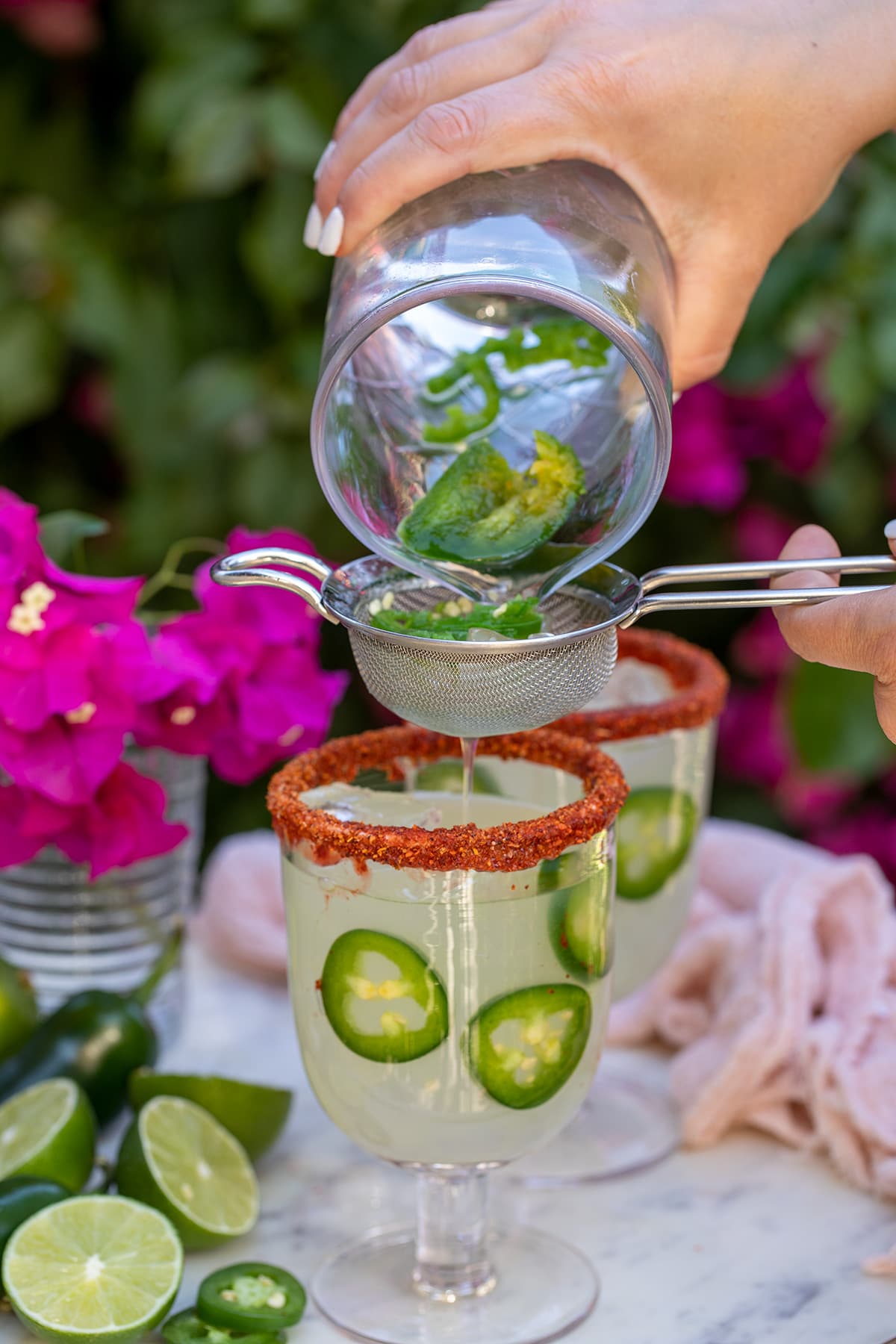 Spicy Skinny Margarita
Because this drink does not have any simple syrup it is technically a "skinny margarita" although almost every margarita I make is! I've never understood why restaurants use sweetened margarita mix, sweet and sour mix or simple syrup in their margaritas.
You can add agave if you want a bit of sweetness but I honestly don't believe it needs any. The Cointreau does add a bit of sweet orange flavor but it's very subtle.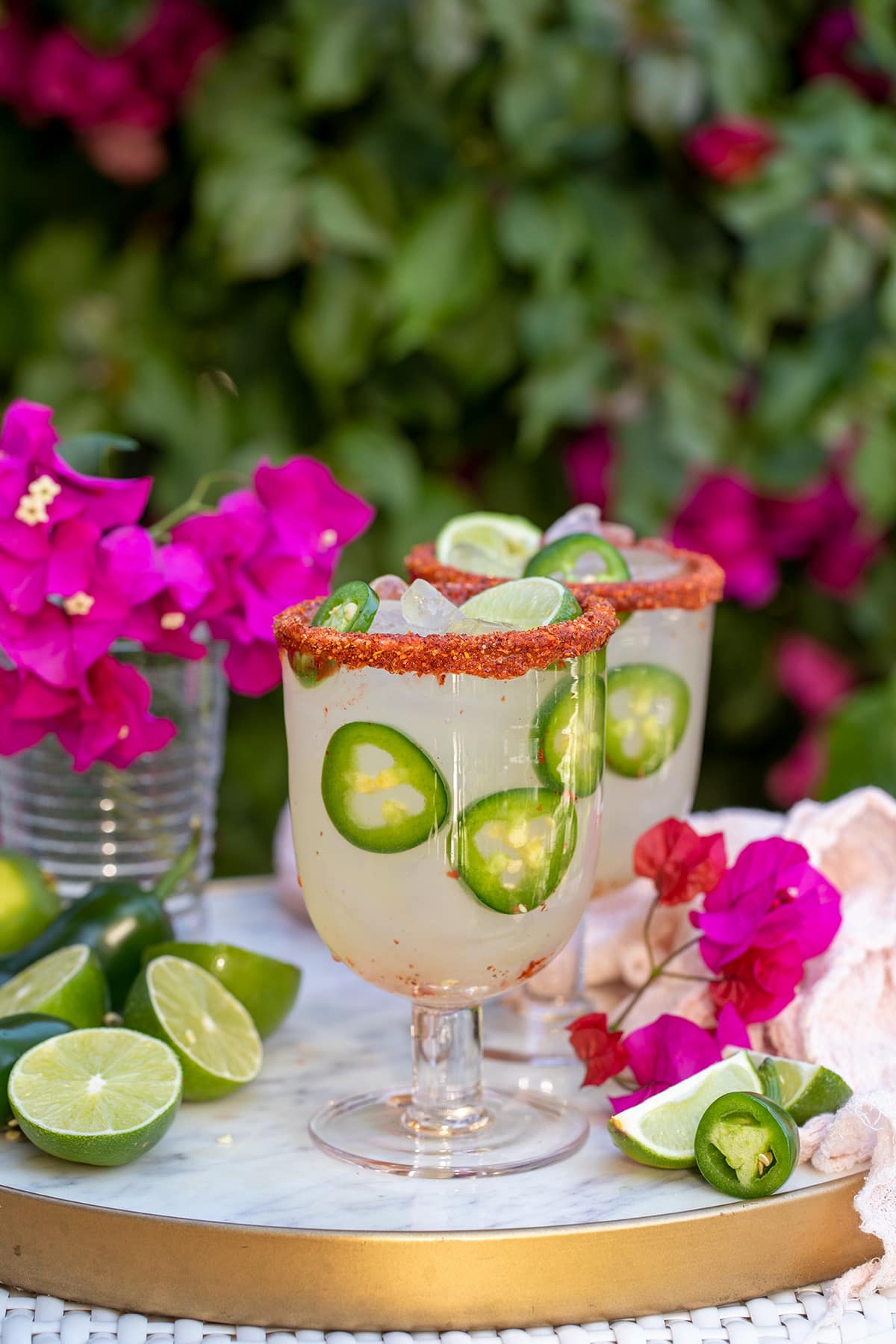 This really is a beautiful drink! Spicy Margaritas are perfect for serving on taco night with Mahi Mango Fish Tacos and Grilled Corn Salad.
More Margarita Recipes to Try: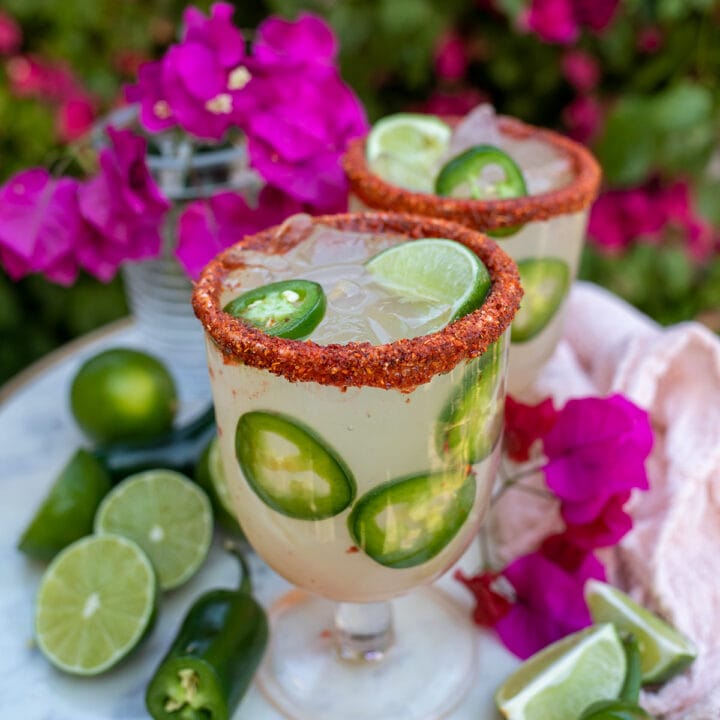 Spicy Jalapeño Margarita
A spicy muddled jalapeño margarita with a Chamoy and Tajin rim.
Ingredients
2 ounces Silver Tequila
1.5 oz Cointreau
juice of 1 lime
3-4 slices of fresh jalapeño + more for garnish (or to taste)
ice
Chamoy, for the rim dip
Tajin, for the rim dip
Instructions
In a cocktail shaker add jalapeño slices, tequila, Cointreau, and lime juice.
Muddle with a wooden cocktail muddler to break up the jalapeño and infuse the tequila.
Fill shaker with ice and shake until well chilled.
Dip the rim of cocktail glass in Chamoy sauce and then in Tajin.
Fill with ice and fresh slices of jalapeño.
Strain margarita into prepared glass, discarding the muddled jalapeño and old ice.
Garnish with lime.
Notes
You can adjust the spice level by adding more or less jalapeño. Every pepper is different and some are much more spicy than others so start with less and you can always add more. Enjoy!
Nutrition Information:
Yield:

1
Serving Size:

1
Amount Per Serving:
Calories:

453
Total Fat:

19g
Saturated Fat:

7g
Trans Fat:

0g
Unsaturated Fat:

11g
Cholesterol:

28mg
Sodium:

1438mg
Carbohydrates:

17g
Fiber:

2g
Sugar:

13g
Protein:

2g