What's the best part of being in a book club? The friends and food of course…oh, and a few really good reads! If you've been following along with our Freutcake Book Club, we are currently diving into The Vacationers by Emma Straub for our July book. It's the story of a family on vacation in Mallorca Spain and all of the drama that ensues. When Blue Diamond asked me to throw a summer soiree with their almonds, I knew just the party to host.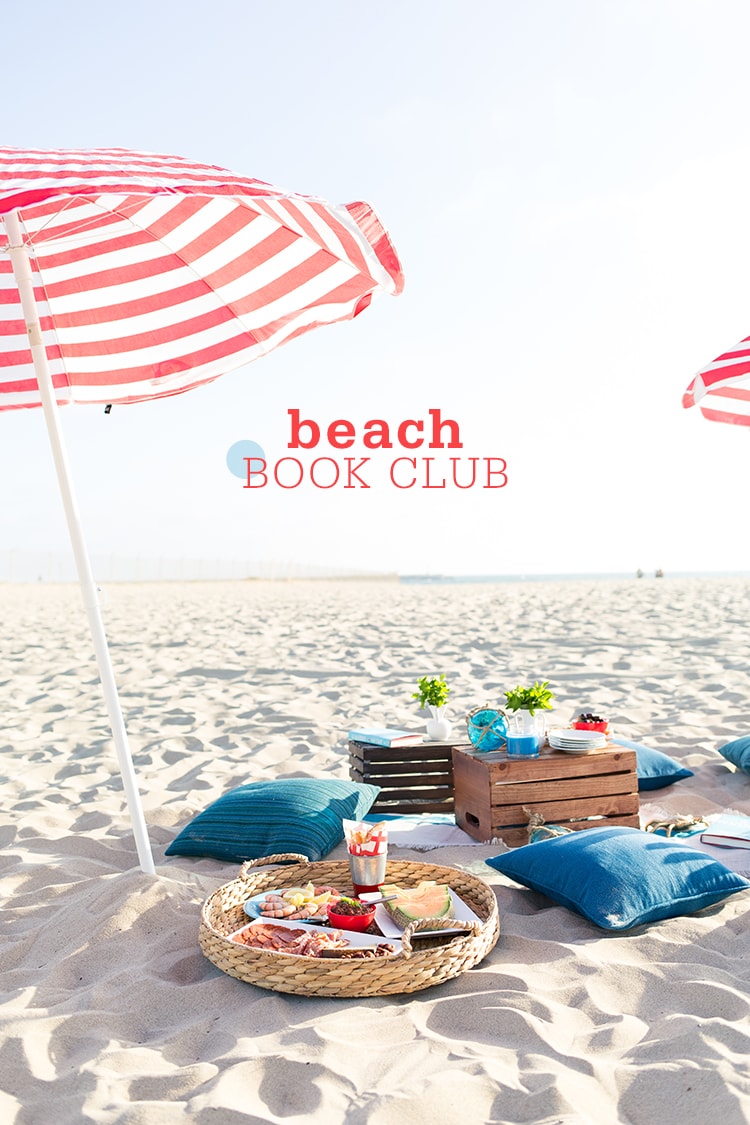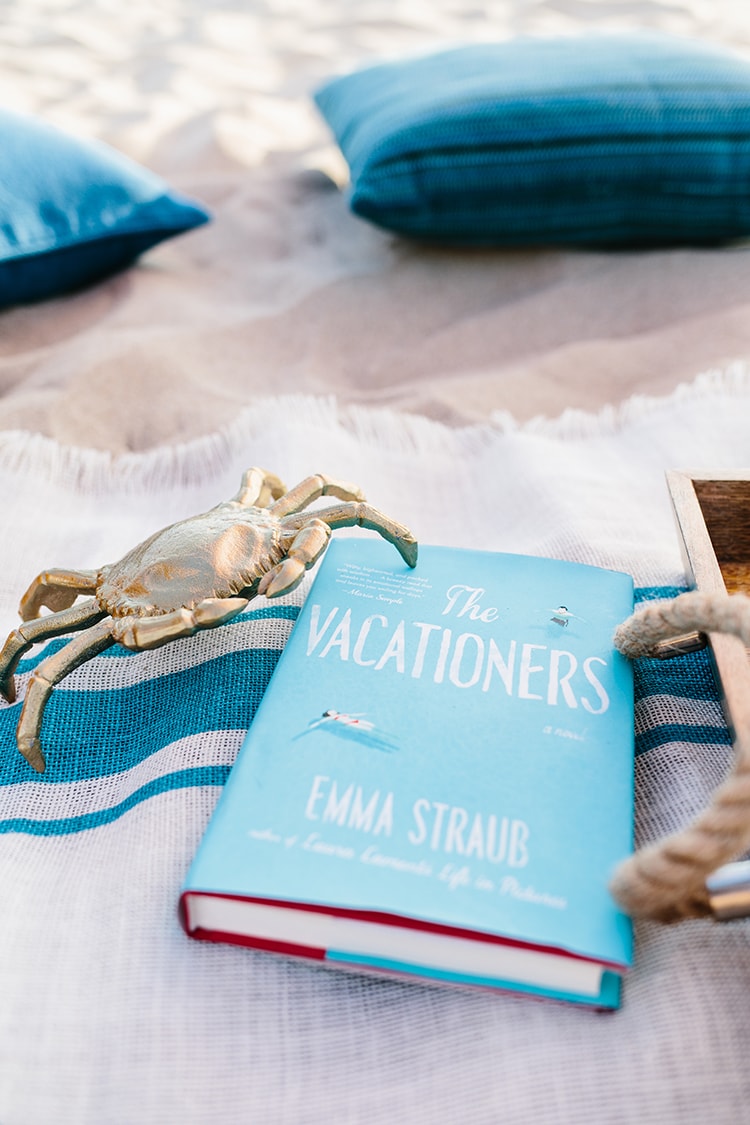 Beach Book Club right on the sand with Spanish tapas, sangria, olives, and of course lots of almonds! After all almonds are oh, so Spanish.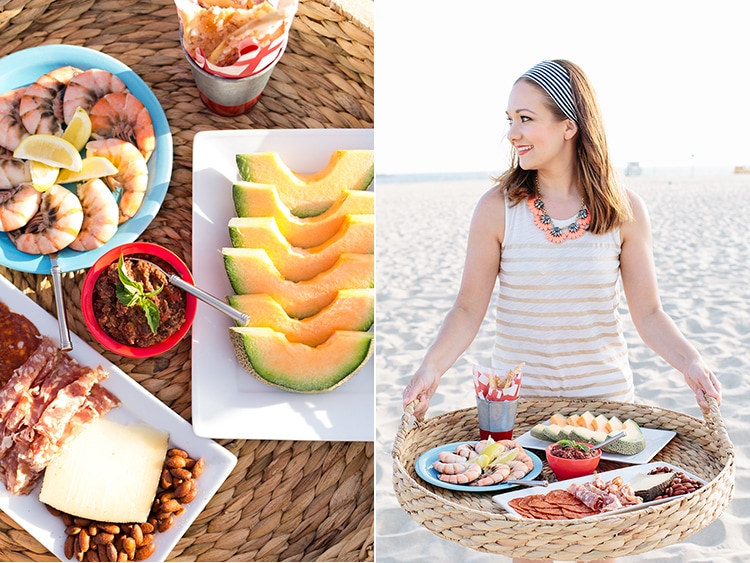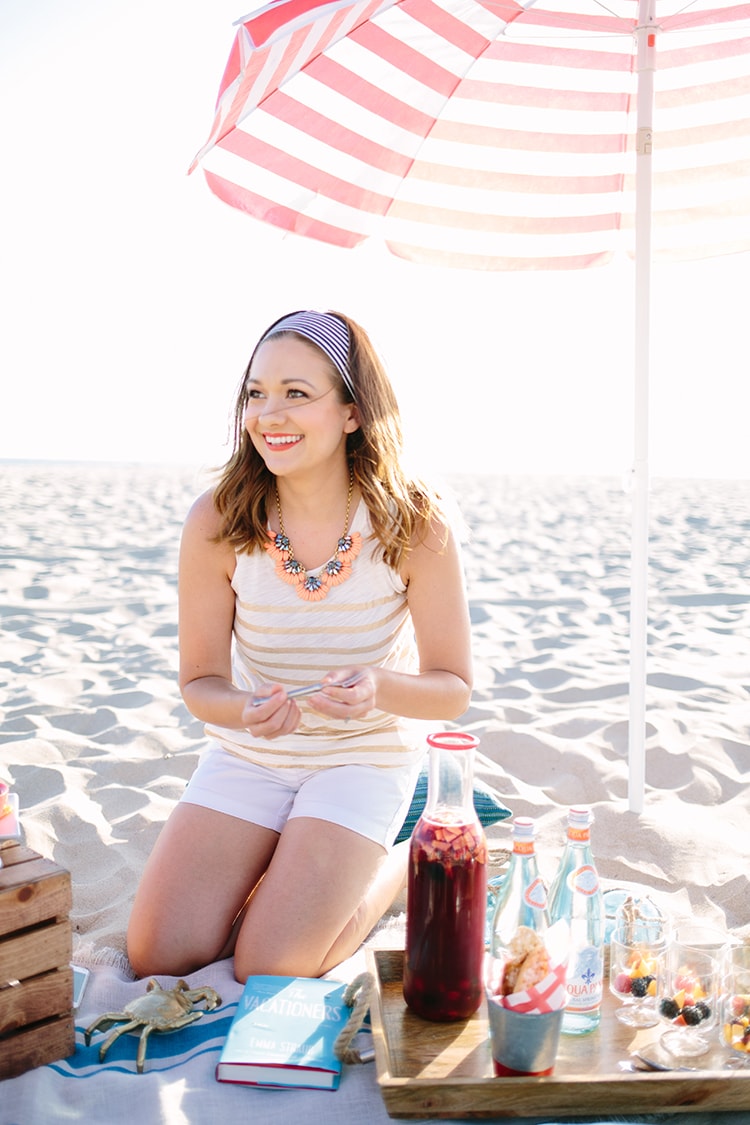 Lucky for me, The Vacationers lends itself so nicely to menu inspiration. For our book club dinner I served: Tapas (small bites) of Spanish olives, soft Spanish goats milk cheese rolled in crushed Lime n' Chili Almonds, Olive & Almond Tapenade served with Cheddar Cheese Nut Thins for dipping, large Steamed Prawns with lemon and garlic, Melon and Sparkling Red Wine Sangria.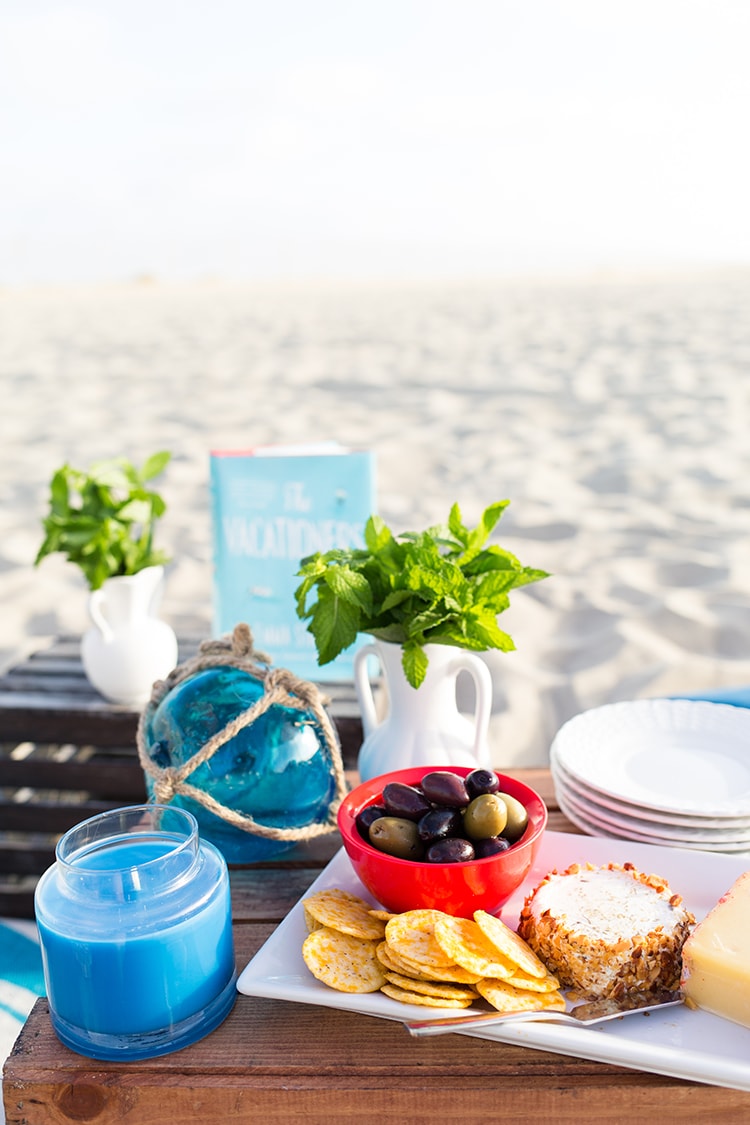 We may not be traveling to beautiful Mallorca this summer but book club sure transported us there! With the beach breeze in our hair, and a glass of sangria in hand, it was easy to pretend we were on vacation.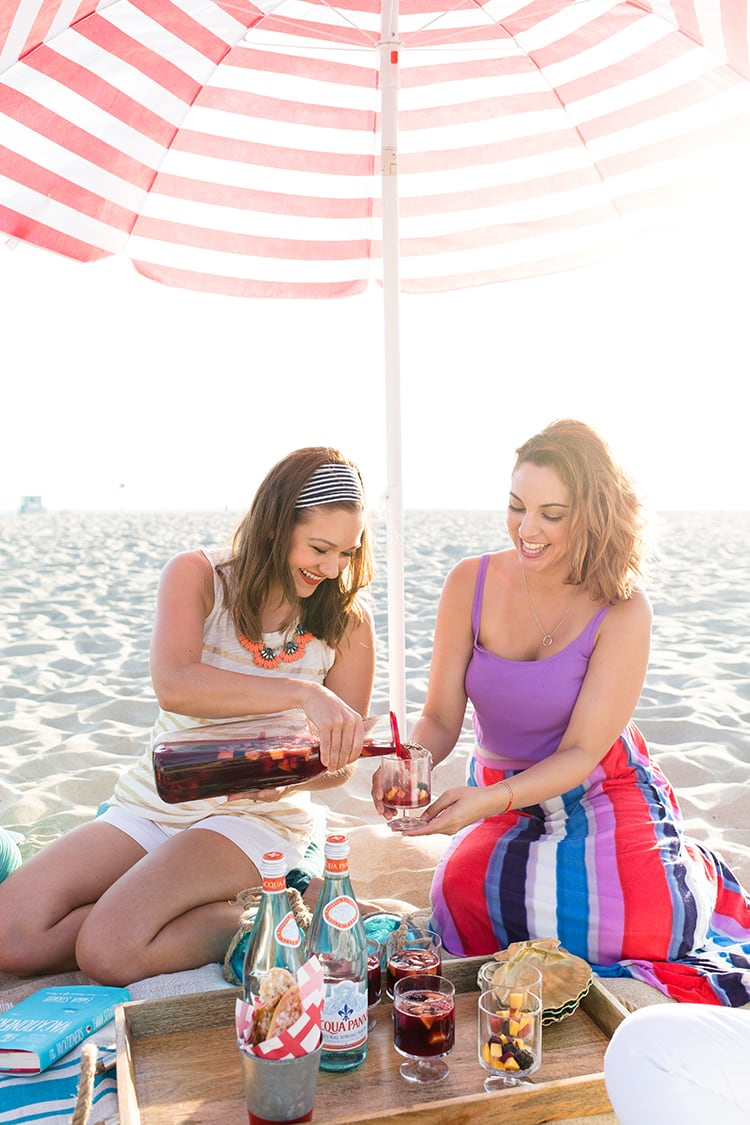 If you and your book club have been reading The Vacationers or plan to read it, I highly recommend hosting your book club at the beach. It was such a fun evening to gather up the ladies, our books, and enjoy dinner on the sand. Of course we mixed in some light conversation about the book as well!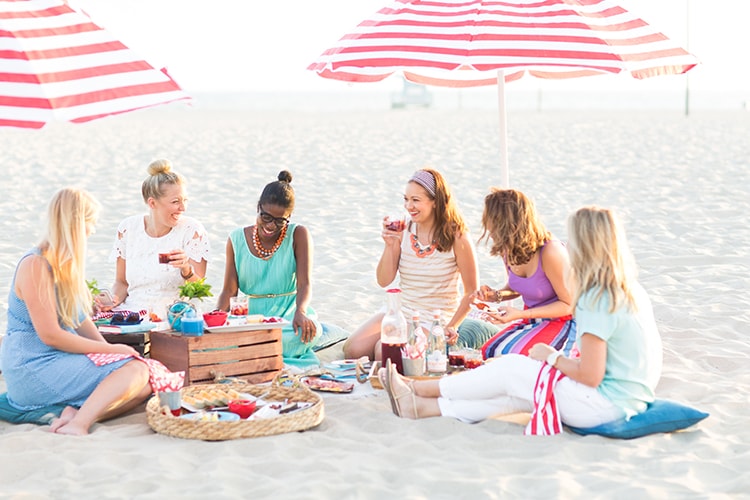 We will be posting discussion questions for The Vacationers at the end of the month and we would love for you and your book clubs to join in! Book club or not, I hope you will try these recipes with your friends. It's sure to be a tasty night to remember…without the Mallorcan family vacation drama of course!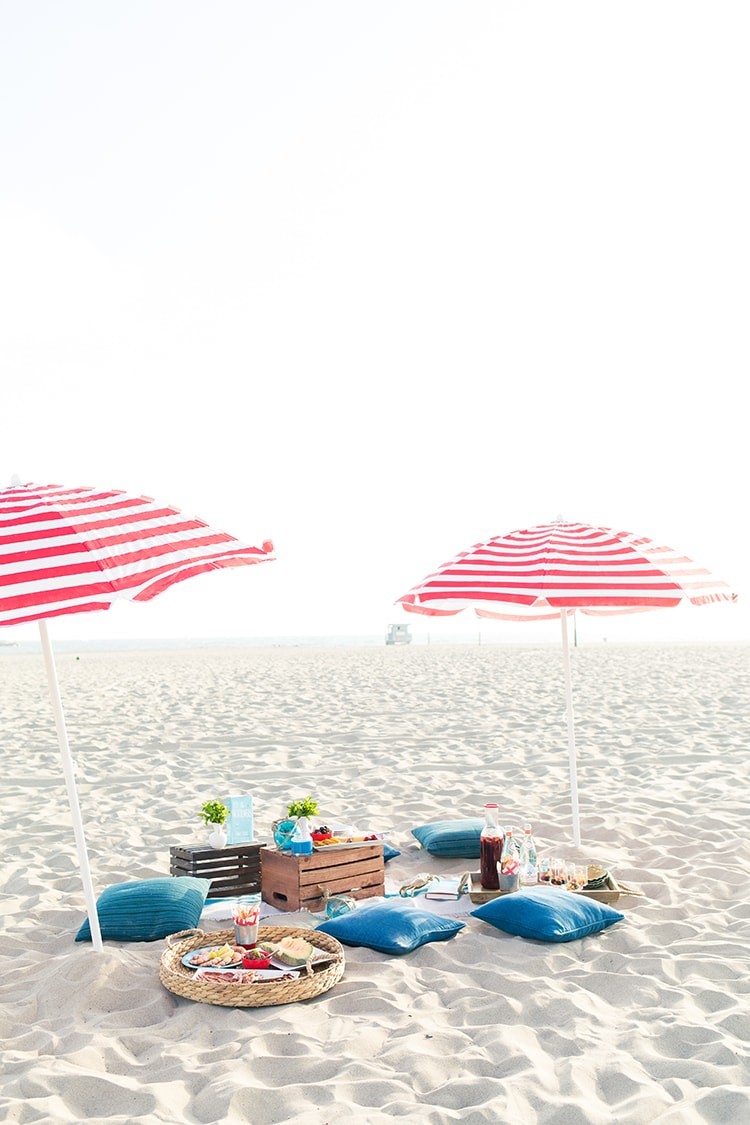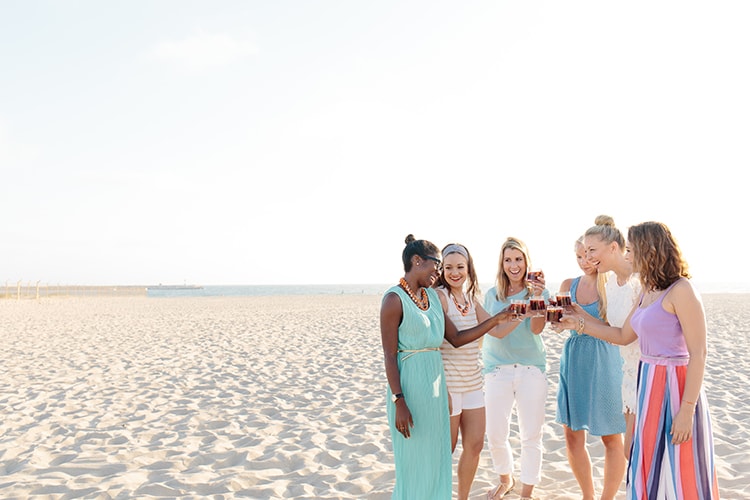 The Vacationers Book Club Menu: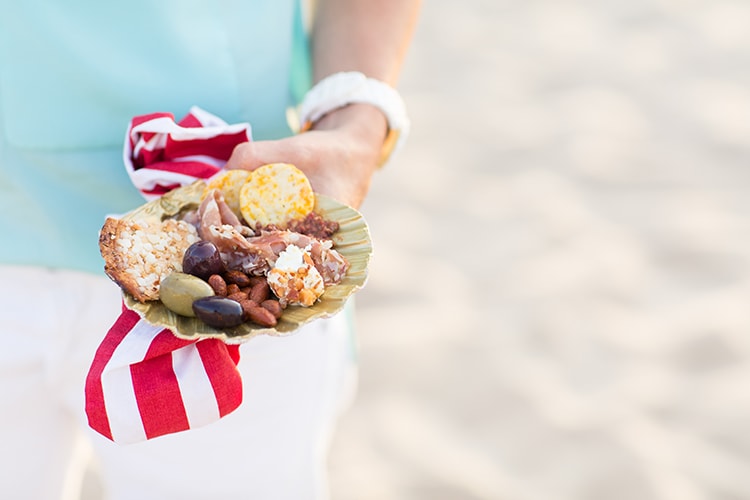 Olive & Almond Tapenade- adapted from Blue Diamond
2 cloves garlic
1 cup pitted mixed Spanish olives, well drained
⅓ cup Blue Diamond Salt & Vinegar Almonds
¼ cup roasted red peppers
2 tbsp. fresh basil leaves
1 tbsp. capers
Blue Diamond Almond Cheddar Nut Thins, for serving
Directions:
1. With blender or food processor running, drop in garlic cloves to finely chop. Add remaining ingredients except Nut Thins and pulse on and off until all ingredients are finely chopped.
2. May be served right away but is best if allowed to chill for at least 1 hour for flavors to blend. Serve with Cheddar Nut Thins for dipping.
---
Garlic & Lemon Prawns
Serves 6
1 ½ lbs prawns or large shrimp
5-6 cloves of garlic
pinch of salt
1 lemon
Directions:
1. Thoroughly rinse shrimp under cold running water and place in a colander while you boil water.
2. Bring water and peeled garlic cloves to a rolling boil in a large stockpot. Add a pinch of salt. Add shrimp and boil approximately 5 minutes until pink. Do not overcook!
3. Drain shrimp into a colander. Cool 10-15 minutes. Refrigerate at least 1-2 hours in a sealed container until chilled.
4. Cut lemon into quarters. When you are ready to serve shrimp, remove from refrigerator and arrange on a plate with slices of lemon. Squeeze lemon over shrimp, if desired.
---
Almond Crusted Goat Cheese
1 round of soft Spanish goats milk cheese
¼ cup Blue Diamond Lime n' Chili Almonds
Directions:
1. Chop almonds until finely minced.
2. Roll cheese edges in almonds, pressing into the sides.
3. Serve with Cheddar Nut Thins.
---
Sparkling Red Sangria
note: for adults only

1 bottle Prosecco or Cava
1 bottle fruity red wine such as Pinot Noir
1 cup pineapple juice
2 nectarines, diced
1 pint blackberries
1 pint raspberries
Directions:
1. Add all fruit to the bottom of a pitcher and muddle gently with a wooden spoon.
2. Add in pineapple juice and red wine and allow to chill (covered) for at least 2 hours but overnight is best.
3. Just before serving, pour in Prosecco or Cava. Stir gently and serve!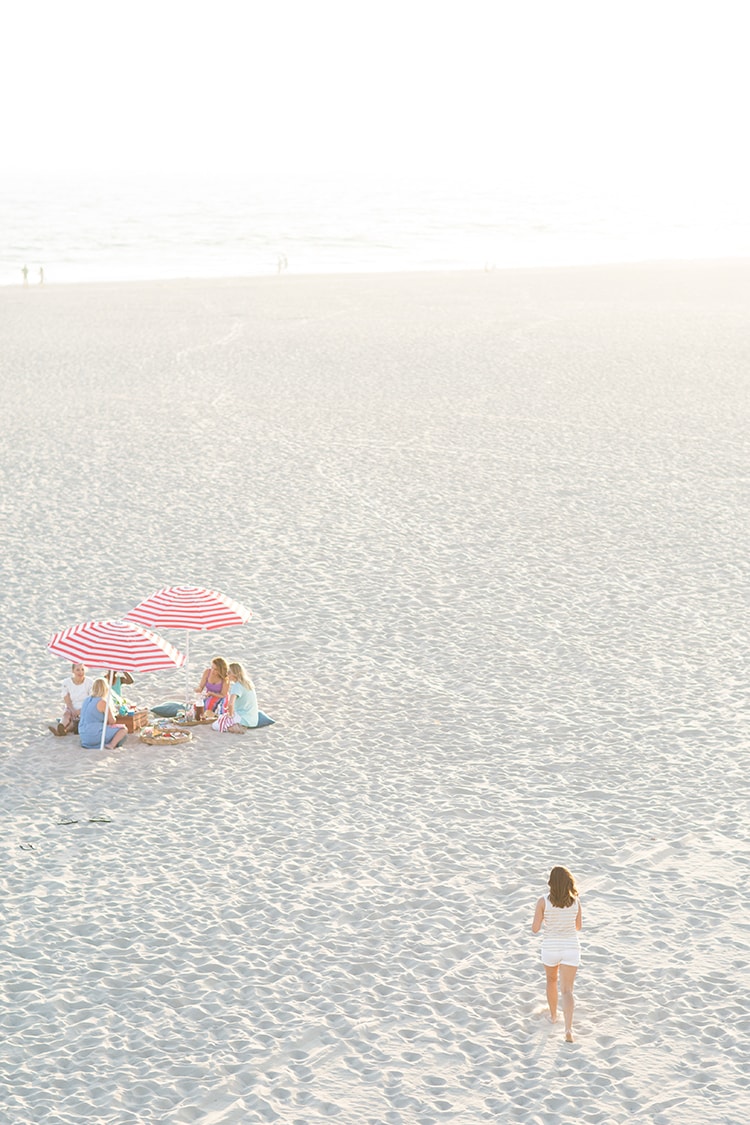 Disclosure: This post is sponsored by Blue Diamond Almonds but all opinions expressed here are my own. Thank you for supporting the sponsors who allow me to continue creating new content for Freutcake!