Banana Bread Overnight Oats have all the flavors of homemade banana bread but make for a healthy and FAST breakfast.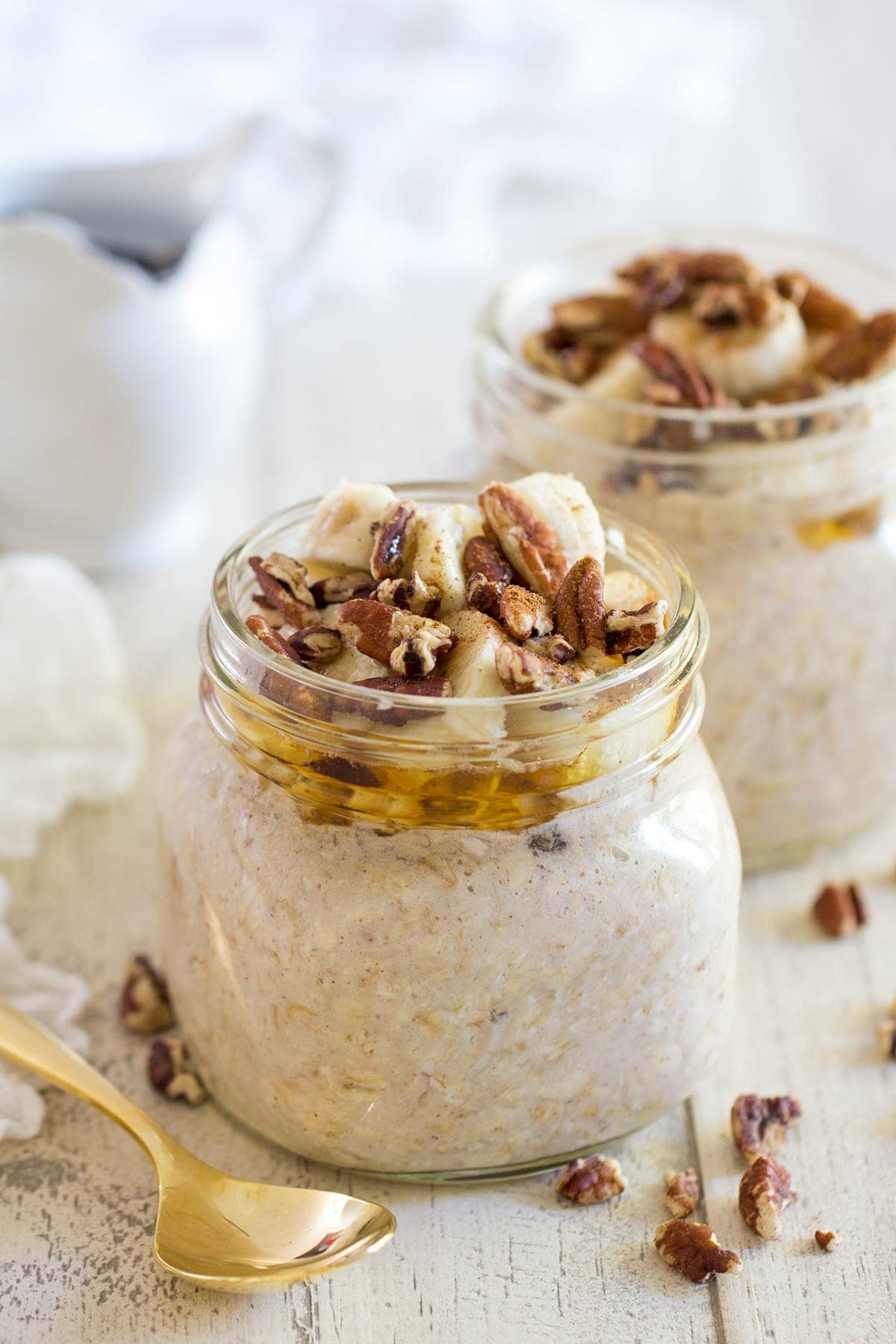 Banana Bread Overnight Oats
Overnight oats are a thing of magic, and let me tell you why. I'm usually woken up between 6:30 and 7:00 am by one of my twins yelling "Mooooommmy, I'm awaaaaake!" from their bedroom. As many of you know who have or have had toddler age kids, you hit the ground running. I barely have time to sip my coffee let alone eat a meal before I'm swept up in the morning mayhem. These quick (made the night before) overnight oats are a life saver.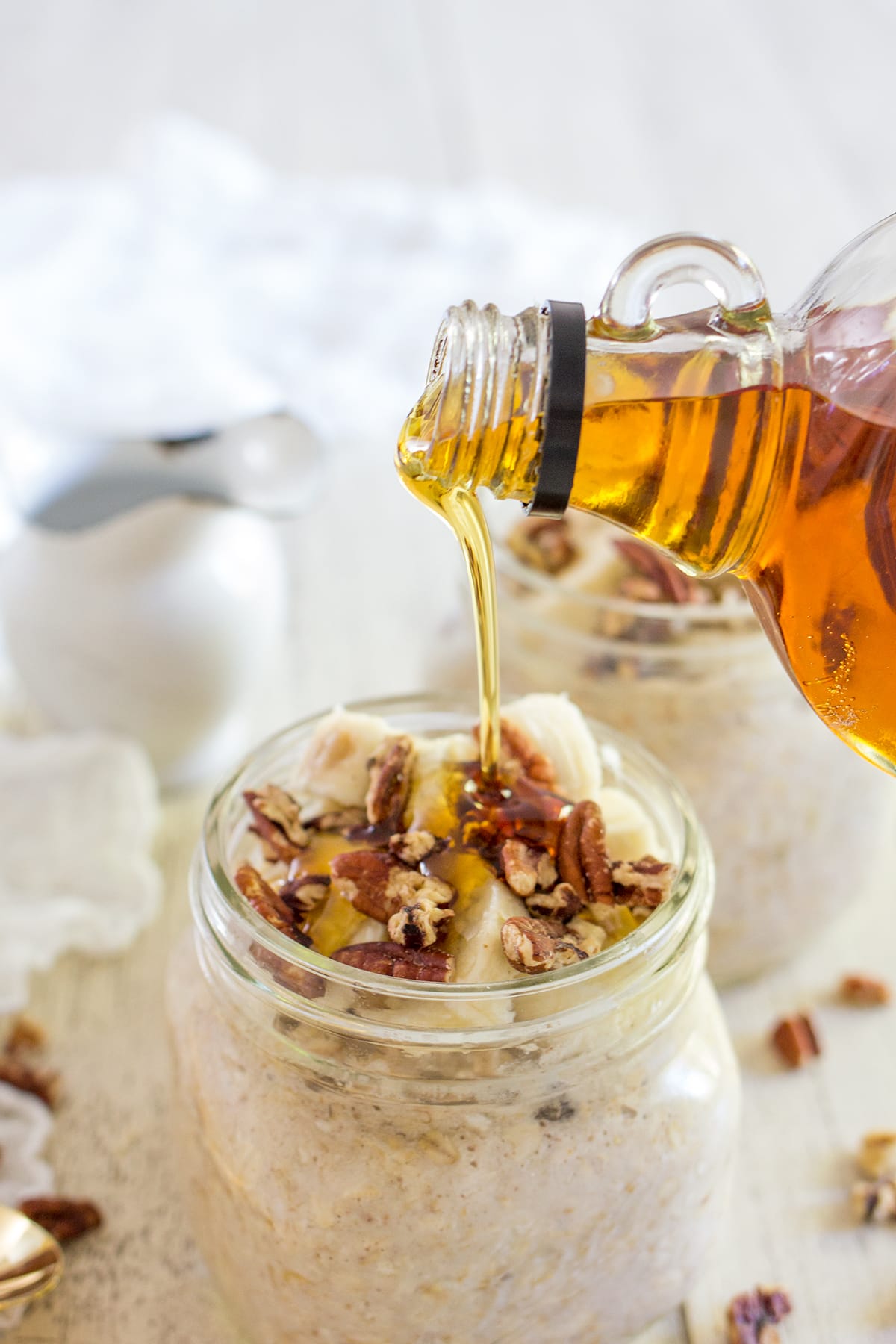 It takes less than 10 minutes to prep the oats and I do it all of that right before bed. Throw the ingredients in a mixing bowl, give it a good stir and divide into mason jars. There is absolutely no cooking needed. In the morning you have breakfast ready for you with no prep time needed.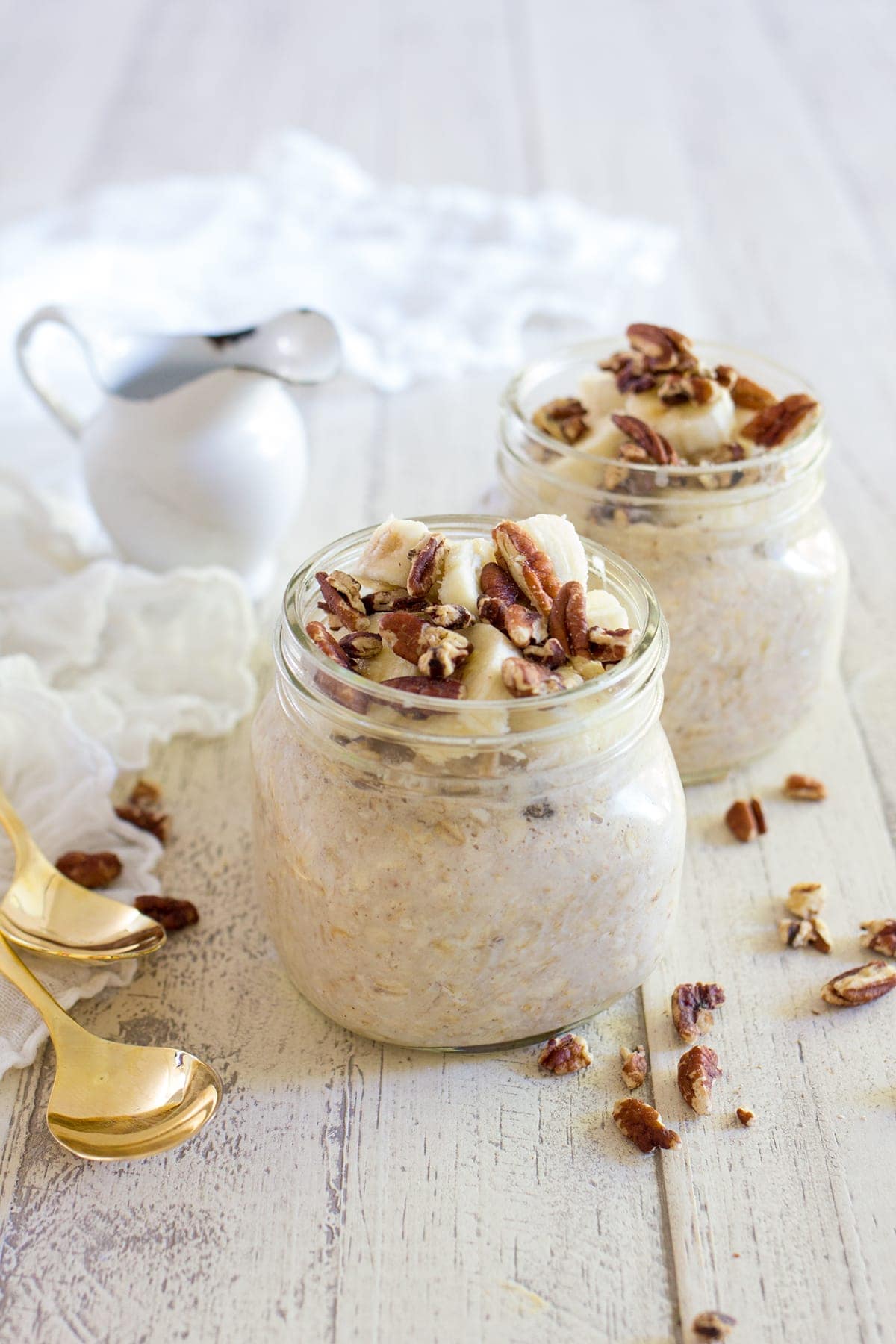 In the morning I like to top mine with freshly sliced banana, walnuts and just a drizzle of maple syrup. Every bite tastes like freshly baked banana bread and I'm thankful that I didn't have to heat a skillet or mess with eggs.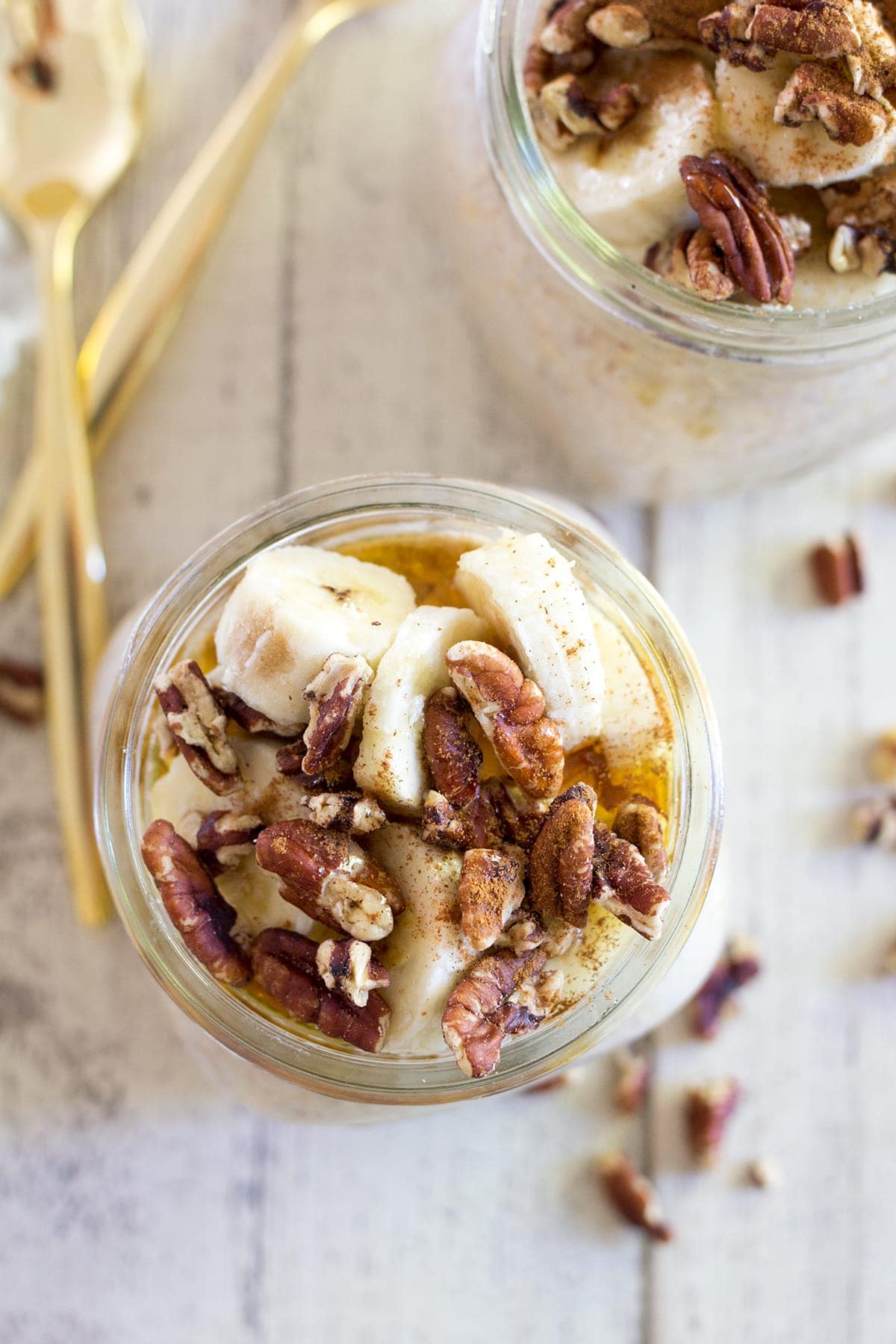 Not a fan of banana? Try my Chia Berry Overnight Oats! The mix-in possibilities are truly endless and you can get creative making your own flavors with the base recipe.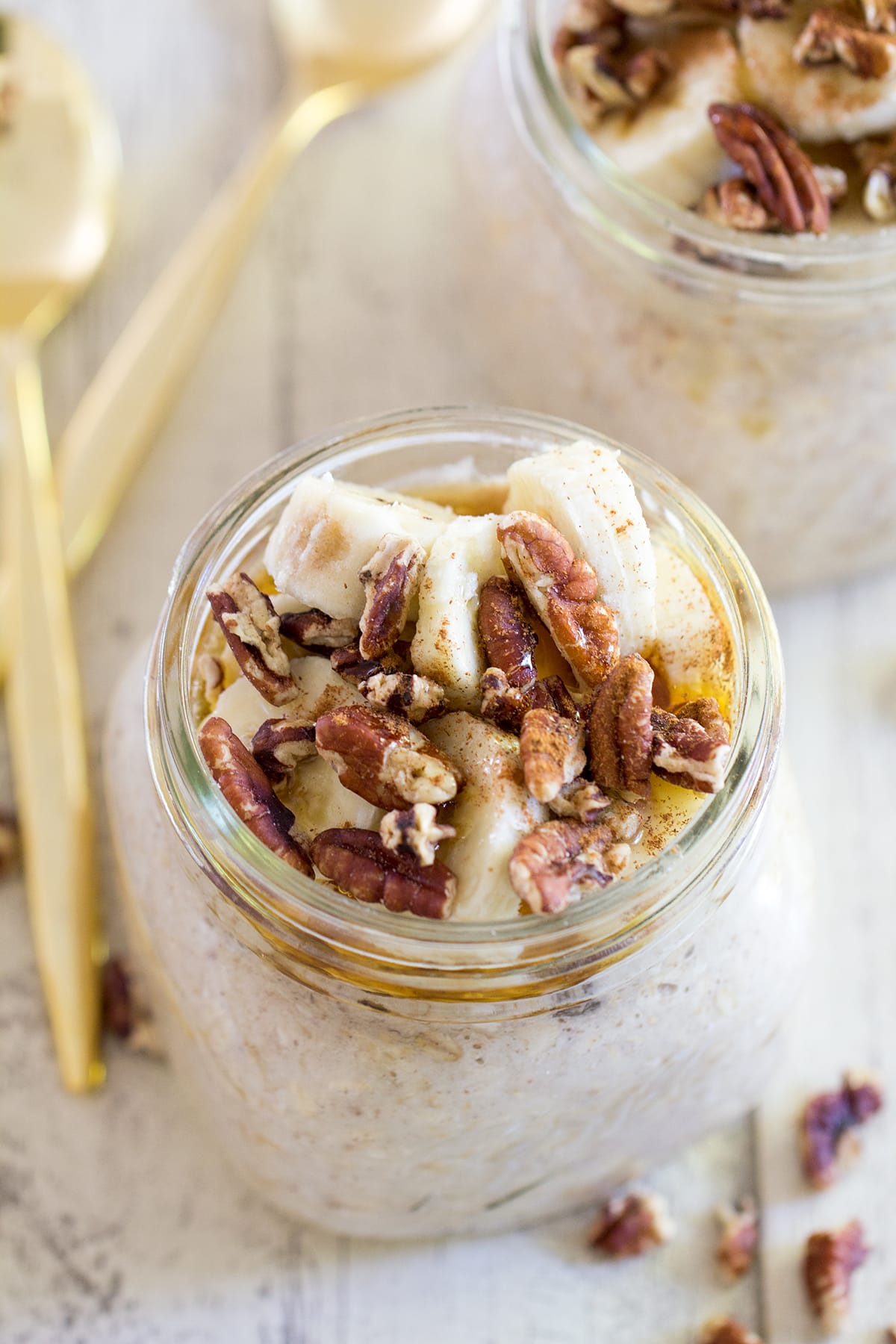 Even my twins love these oats! Just the other day I say on the floor of our playroom feeding them bite after bite of these overnight oats while we read and played. There really do need to be more recipes for easy, portable and delicious make-ahead breakfasts. I hope you will give this recipe a try! Don't forget to leave me a comment in the section below letting me know how you like it.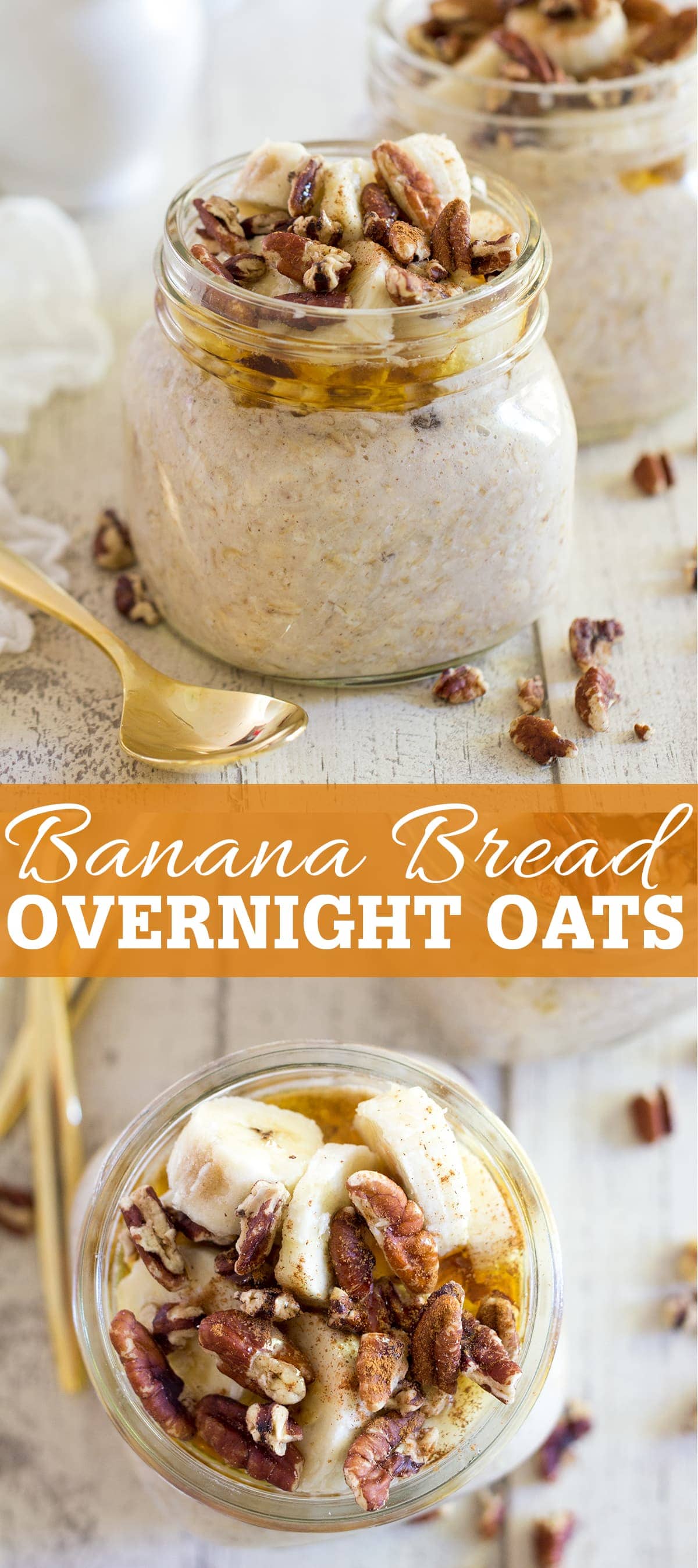 More Banana Bread Recipes to Try:
Banana Bread Breakfast Barley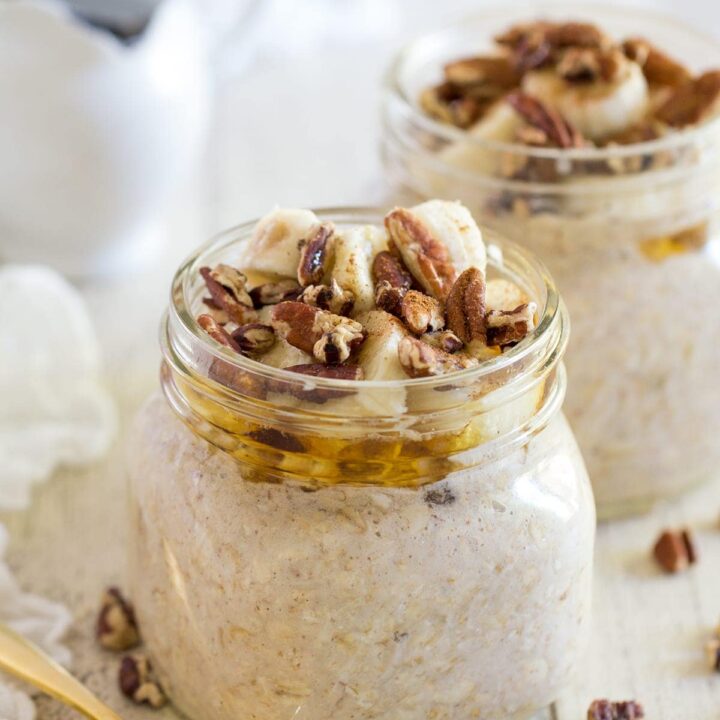 Banana Bread Overnight Oats
Note: This recipe makes three servings of overnight oats.
Ingredients
2 cups old fashioned oats
2 cups unsweetened almond milk
½ cup mashed ripe banana
1 teaspoon cinnamon
2 Tablespoons maple syrup
1 teaspoon vanilla extract
pinch of salt
¼ cup chopped walnuts plus more for topping
sliced banana, walnuts, sprinkle of cinnamon, and drizzle of maple syrup for garnish (optional)
Instructions
Combine oats, almond milk, mashed banana, cinnamon, maple syrup, vanilla extract, salt and walnuts in a mixing bowl.
Mix until well combined and then divide between 3 small mason jars.
Cover tightly and refrigerate overnight.
To serve, garnish with sliced banana, walnuts, cinnamon and maple syrup.
Eat chilled and enjoy!