Raspberry Lemon Sweet Rolls are made-from-scratch yeast based sweet rolls filled with sweet raspberries and topped with a tart lemon glaze.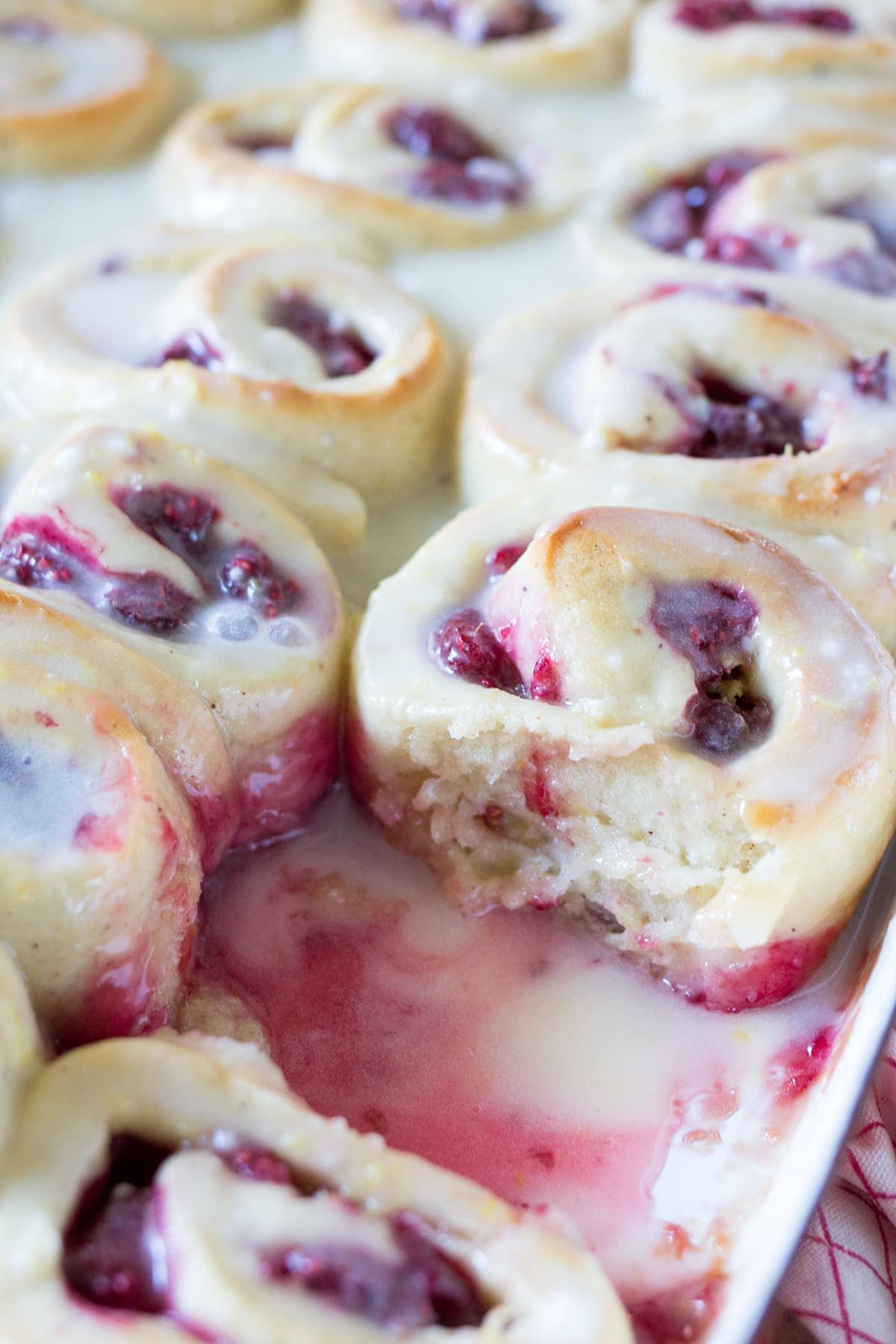 Raspberry Lemon Sweet Rolls
I originally intended to post these sweet rolls for Valentine's Day. They're sweet, pink and perfect for a special occasion breakfast with the ones you love. And there is absolutely no reason that we need a holiday to make them!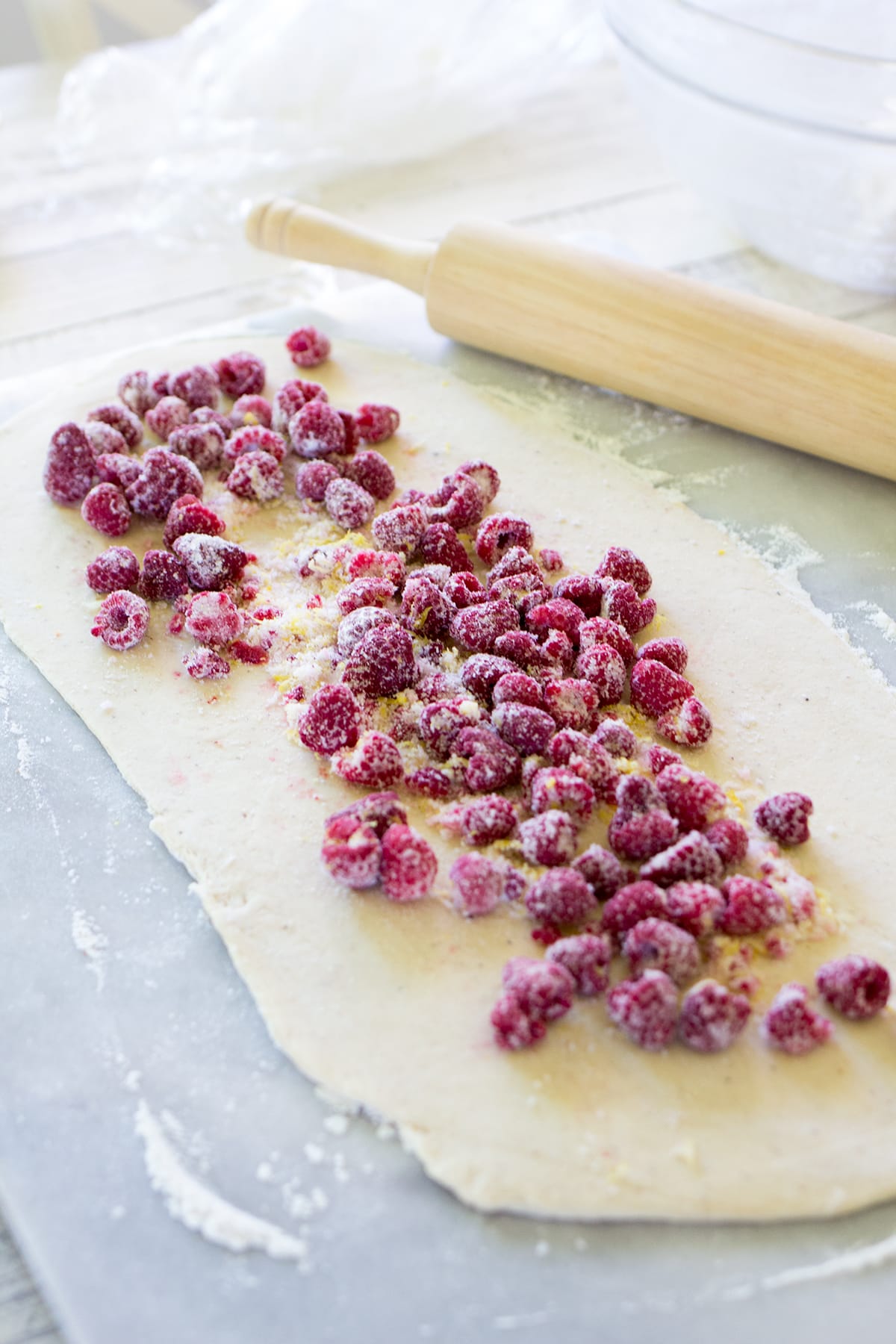 The homemade sweet roll dough recipe is a basic recipe I found on Food Network and can be used with any sort of filling combination you can come up with! Cinnamon and brown sugar with pecans, blueberry, apple, you name it! I love nothing more than a sweet and tart lemon glaze so I paired that with a raspberry lemon filling.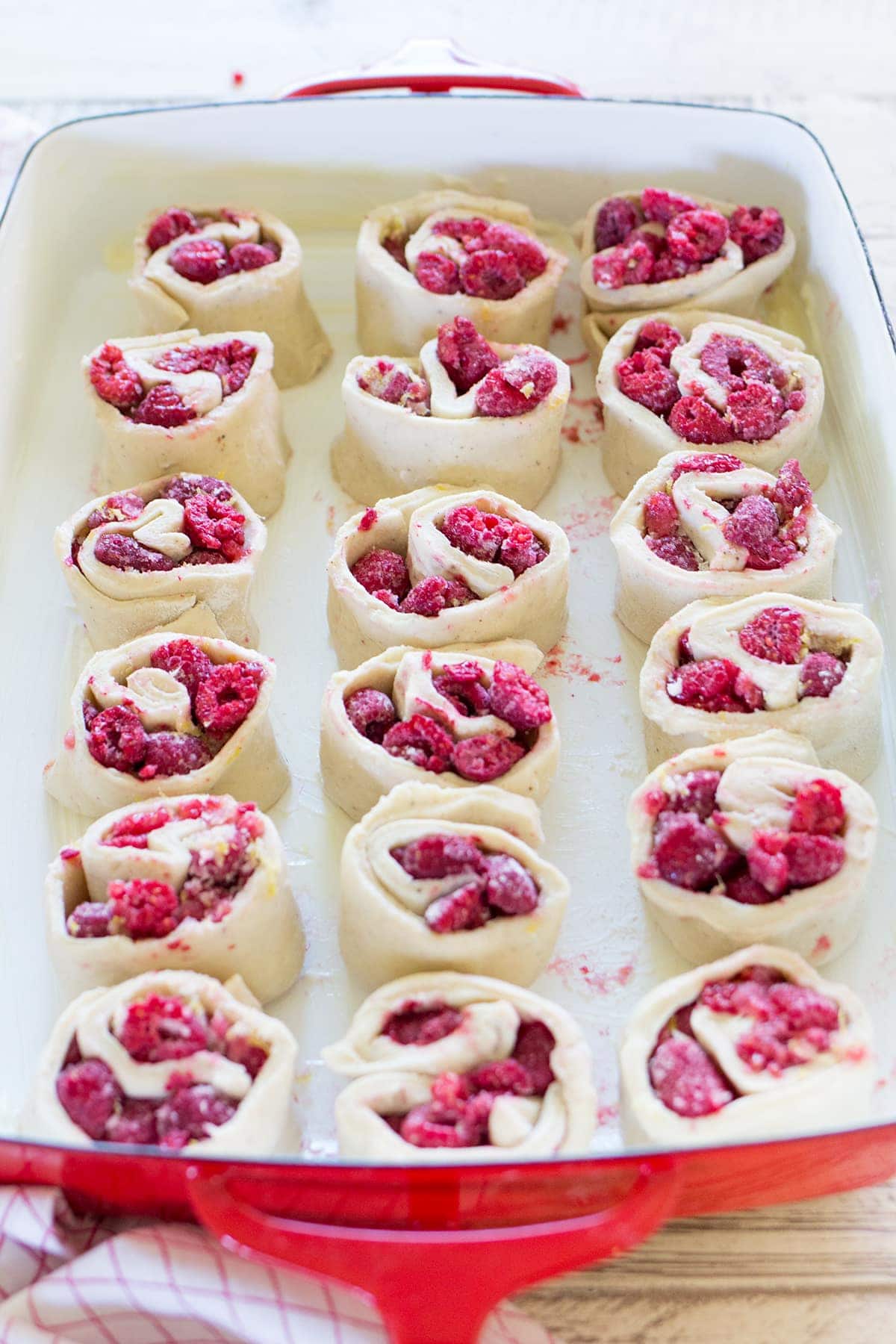 The combination of sweet bread plus the tart and natural sweetness of the fruit, make for roll that isn't overly sticky sweet. It's a nice reprise from cinnamon rolls that (in my opinion) can sometimes be overly dessert-like.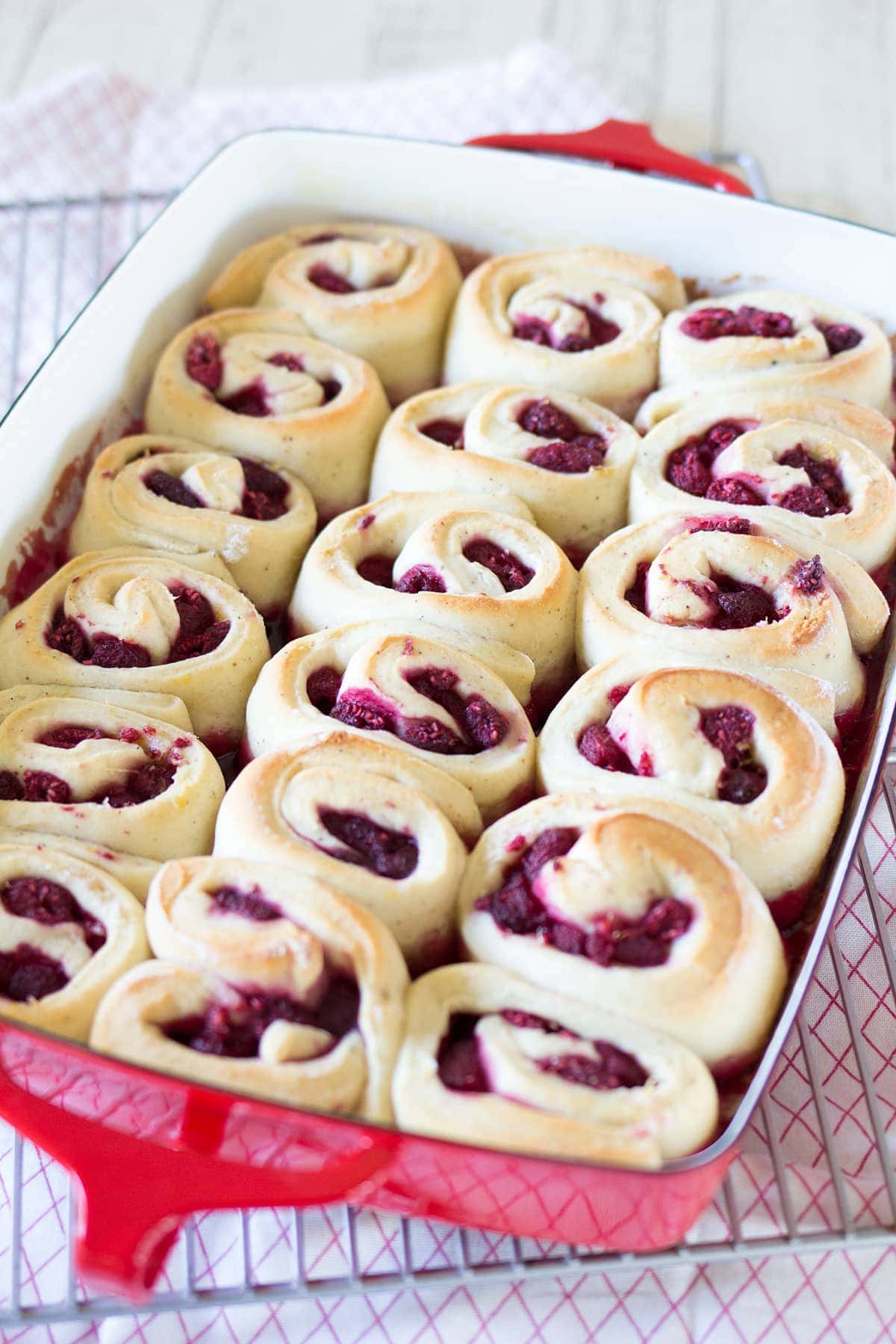 The hint of nutmeg gives a nice flavor to the dough and I would definitely recommend adding it!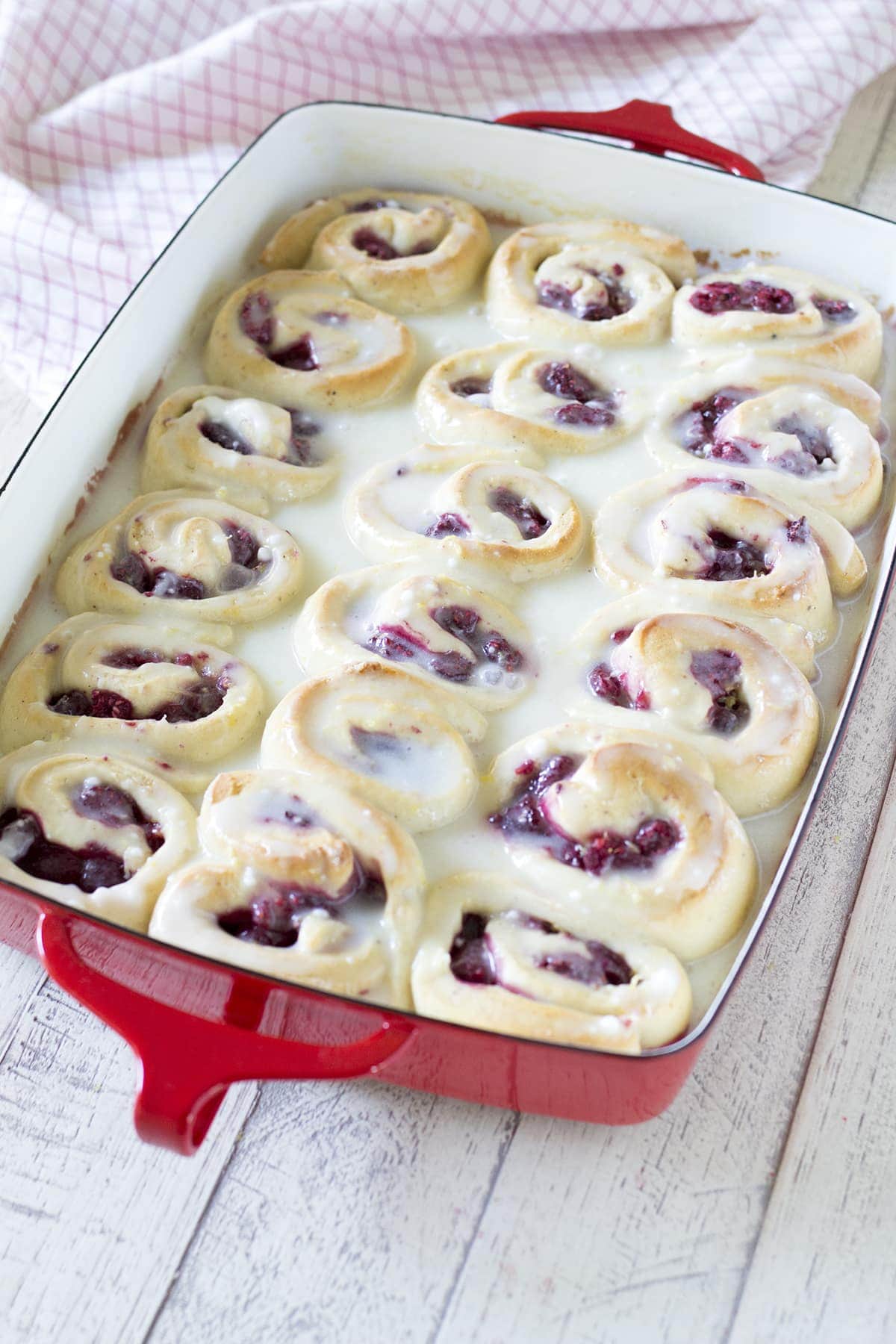 Prep this dough the day before and wake up a bit early to prep. When your family wakes up you'll impress the heck out of them with a pan of these sweet rolls. Serve with coffee and you'll be licking the glaze off of the bottom of the pan in no time.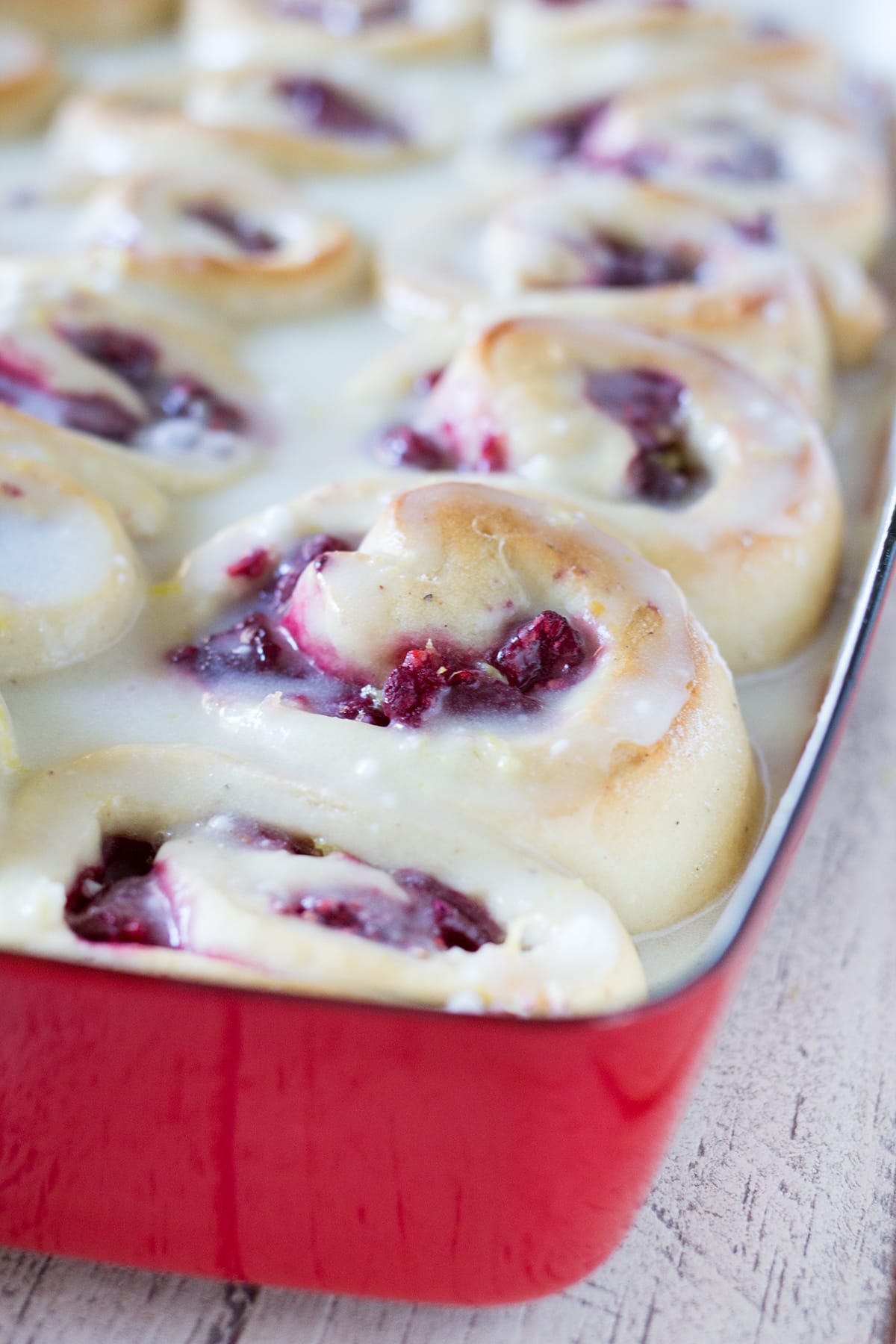 I mean...look at those sweet little rolls! Don't you just want to eat them alive? Now let's get to the recipe...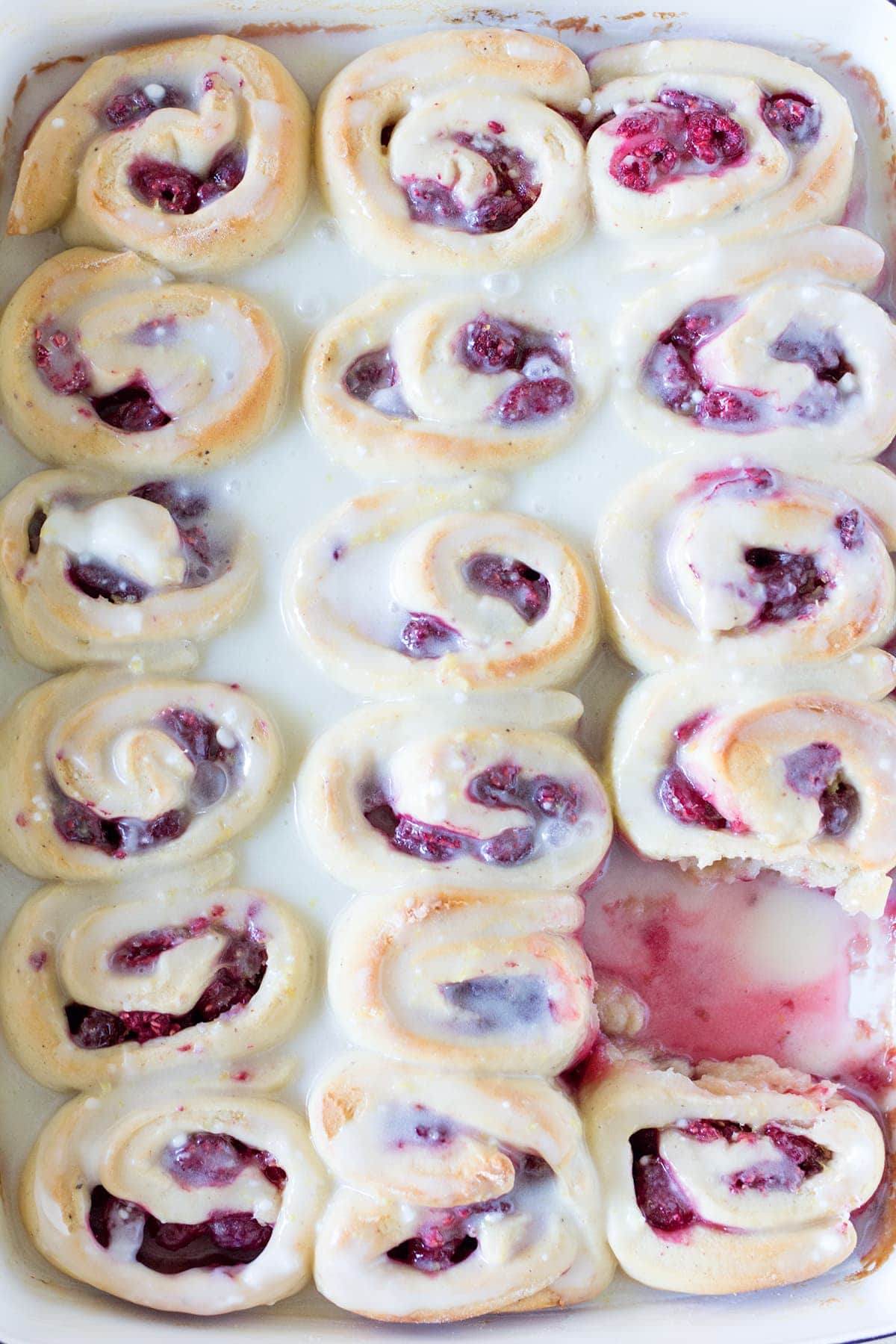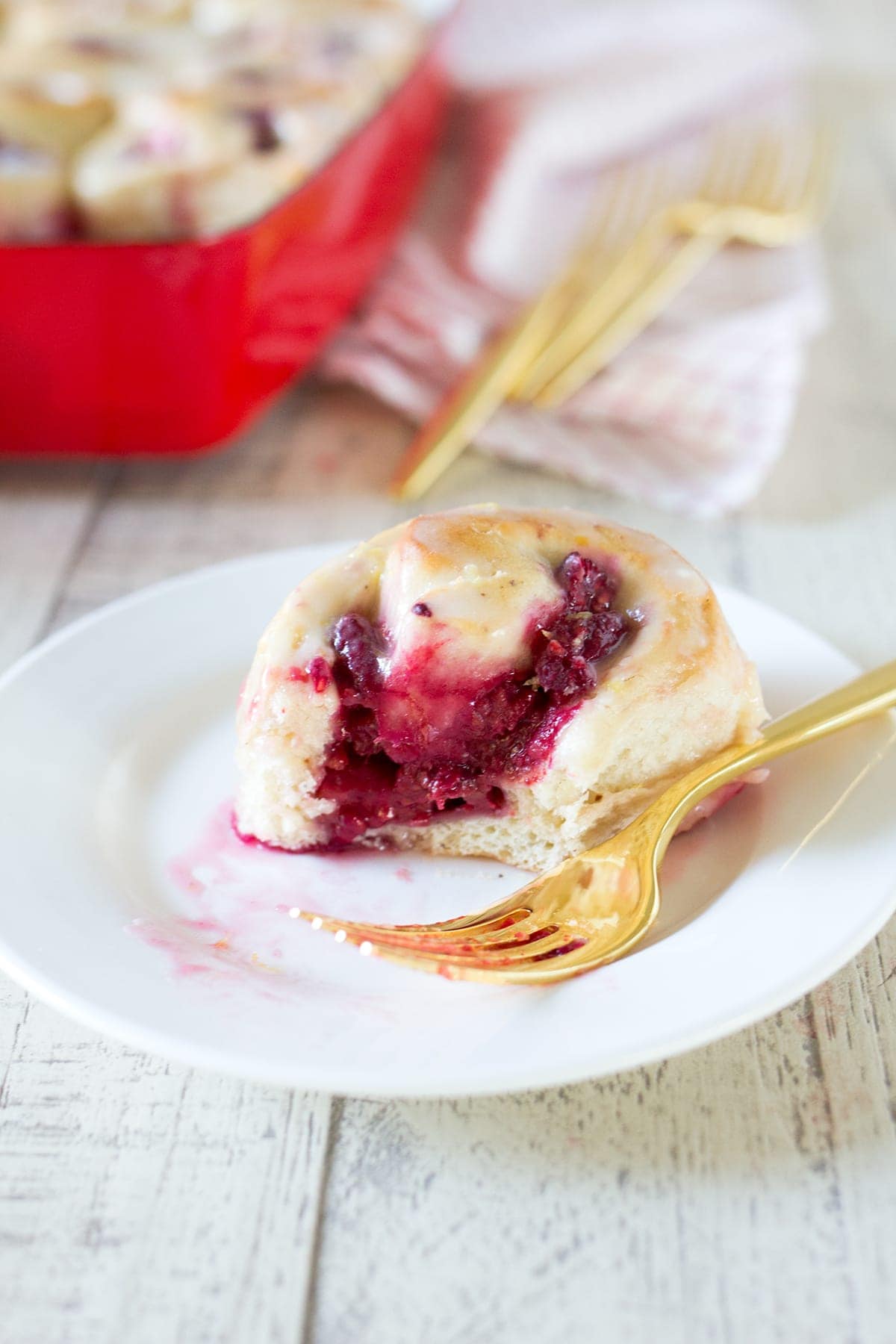 More Delicious Baking Recipes: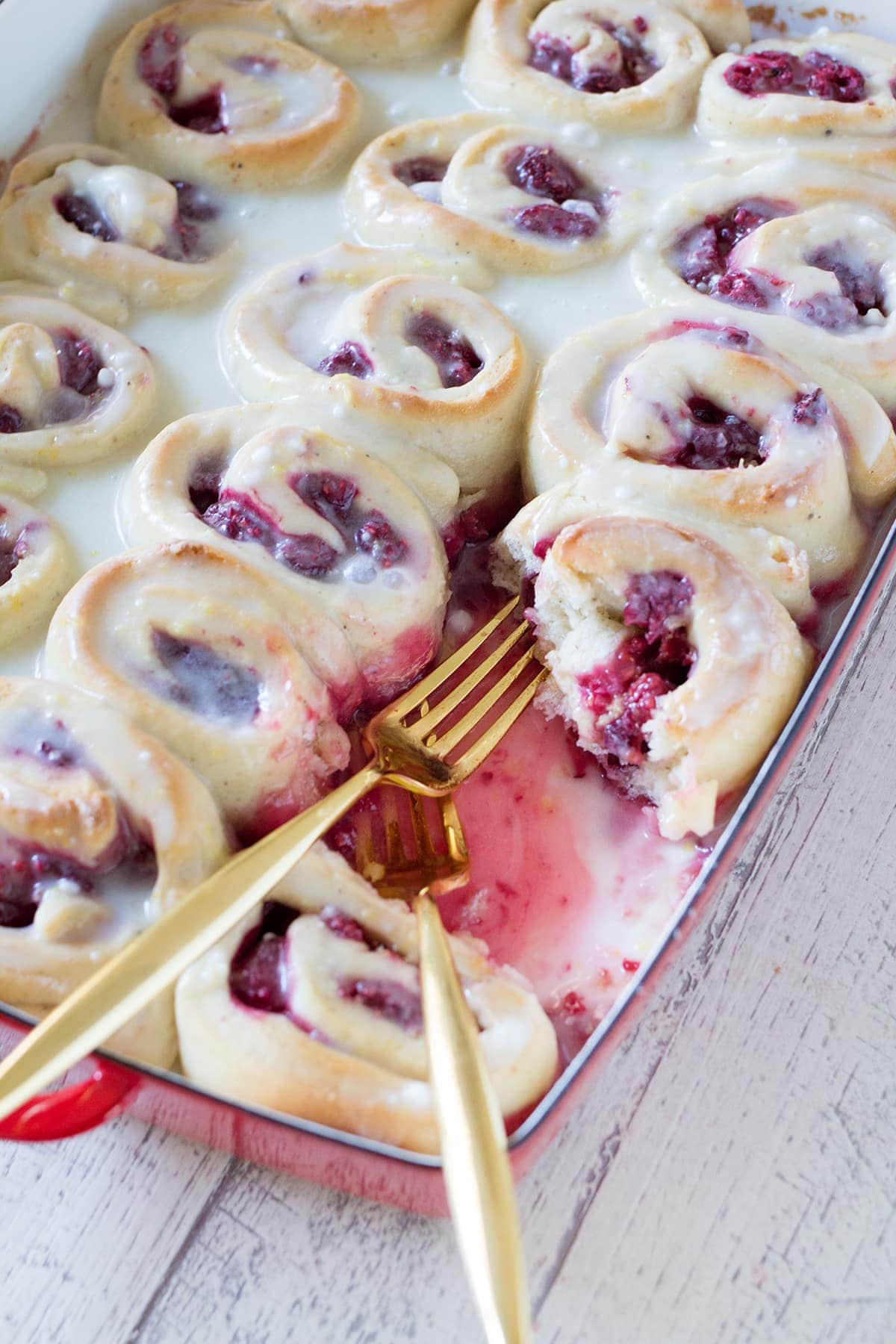 Note: This is a bit of a time consuming recipe due to proofing time for the sweet roll dough. Please read through entire recipe before starting so that you can plan appropriately.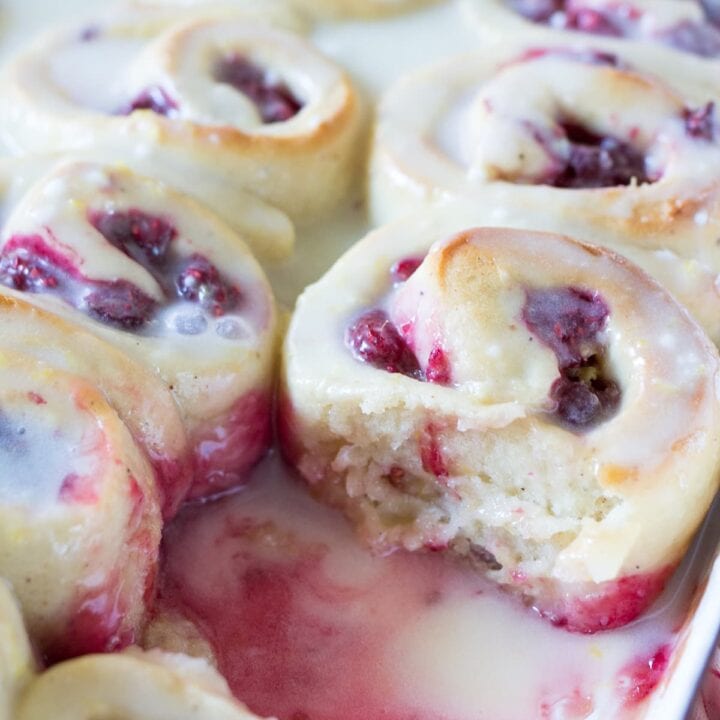 Raspberry Lemon Sweet Rolls
Ingredients
½ cup whole milk
1 ¼-ounce packet active dry yeast (2 ¼ teaspoons)
¼ cup sugar
4 tablespoons unsalted butter, melted and slightly cooled, plus more for brushing
1 large egg yolk
1 ½ teaspoons vanilla extract
2 ¾ cups all-purpose flour, plus more for dusting
¾ teaspoon salt
½ teaspoon freshly grated nutmeg (optional)
Glaze :
2 cups confectioners sugar
juice of 1 lemon
zest of 1 lemon
3 tablespoon melted butter
2 tablespoon whole milk
Filling:
1 12 oz bag frozen raspberries
⅓ cup sugar
zest of 1 lemon
1 heaping teaspoon corn starch
Instructions
Warm ½ cup water and the milk in a saucepan over low heat until a thermometer registers 100 degrees F to 110 degrees F. Remove from the heat and sprinkle the yeast on top, then sprinkle with a pinch of the sugar; set aside, undisturbed, until foamy, about 5 minutes.
Whisk the melted butter, egg yolk and vanilla into the yeast mixture until combined. In a large bowl, whisk the flour, the remaining sugar, the salt and nutmeg. Make a well in the center, then add the yeast mixture and stir with a wooden spoon to make a thick and slightly sticky dough. Turn out onto a floured surface and knead until soft and elastic, about 6 minutes. Shape into a ball.
Brush a large bowl with butter. Add the dough, turning to coat lightly with the butter. Cover with plastic wrap and let rise at room temperature until the dough is doubled in size, about 1 hour, 15 minutes.
Turn the dough out of the bowl and knead briefly to release excess air; re-form into a ball and return to the bowl. Lightly butter a large piece of plastic wrap and lay it directly on the surface of the dough. Cover the bowl tightly with plastic wrap and refrigerate at least 4 hours or overnight.
Butter a large 9x13" baking pan and set aside.
In a bowl combine all of the filling ingredients: frozen raspberries, sugar, lemon zest and corn starch.
On a floured surface, use a floured rolling pin to roll out dough. (you may want to do this in two batches)
Sprinkle on the raspberry mixture and roll up tightly into a log.
Cut into 2" slices and place in buttered pan.
Cover loosely with a towel and place in a warm place to proof for 1 hour. On top of a dryer or on the stovetop while oven pre-heats for example.
Preheat oven to 350 degrees.
Once the rolls have proofed and puffed just slightly, remove towel and bake 25 minutes or until golden brown.
Remove from oven and allow to cool on a cooling rack while you make the glaze.
In a bowl whisk together confectioners sugar, lemon zest, lemon juice, butter and milk.
After rolls have cooled enough that the glaze won't melt, pour over sweet rolls. You may want to start by pouring half of the glaze or pour more based on personal preference.
Serve immediately and enjoy!