Lemon Poppy Seed Muffins with Lemon Curd Filling are a must bake winter treat!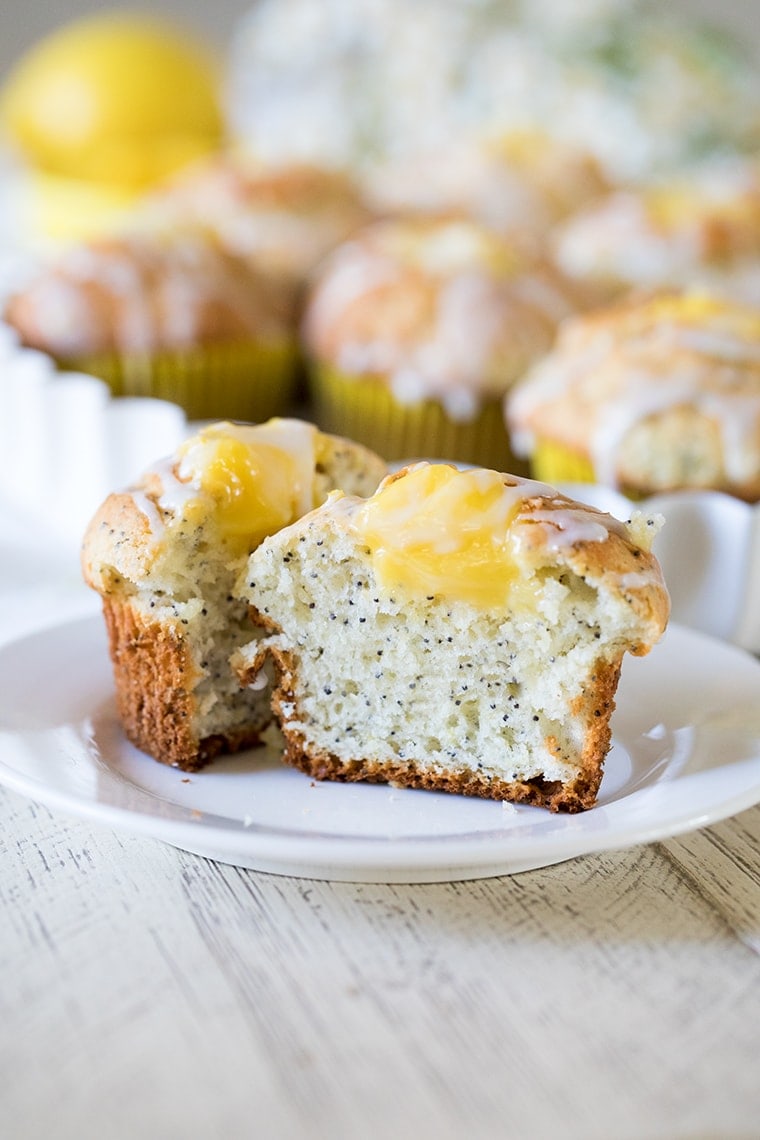 Lemon Poppy Seed Muffins with Lemon Curd Filling
Citrus is winter's silver lining. A bright, fresh and uplifting reminder that the cold months are only temporary and that warmth and sunshine are on their way! I'm celebrating winter citrus with Lemon Poppy Seed Muffins with lemon curd filling. Make your own lemon curd (this is my favorite recipe) or buy it in the store. Either way you are going to love the flavor of these muffins!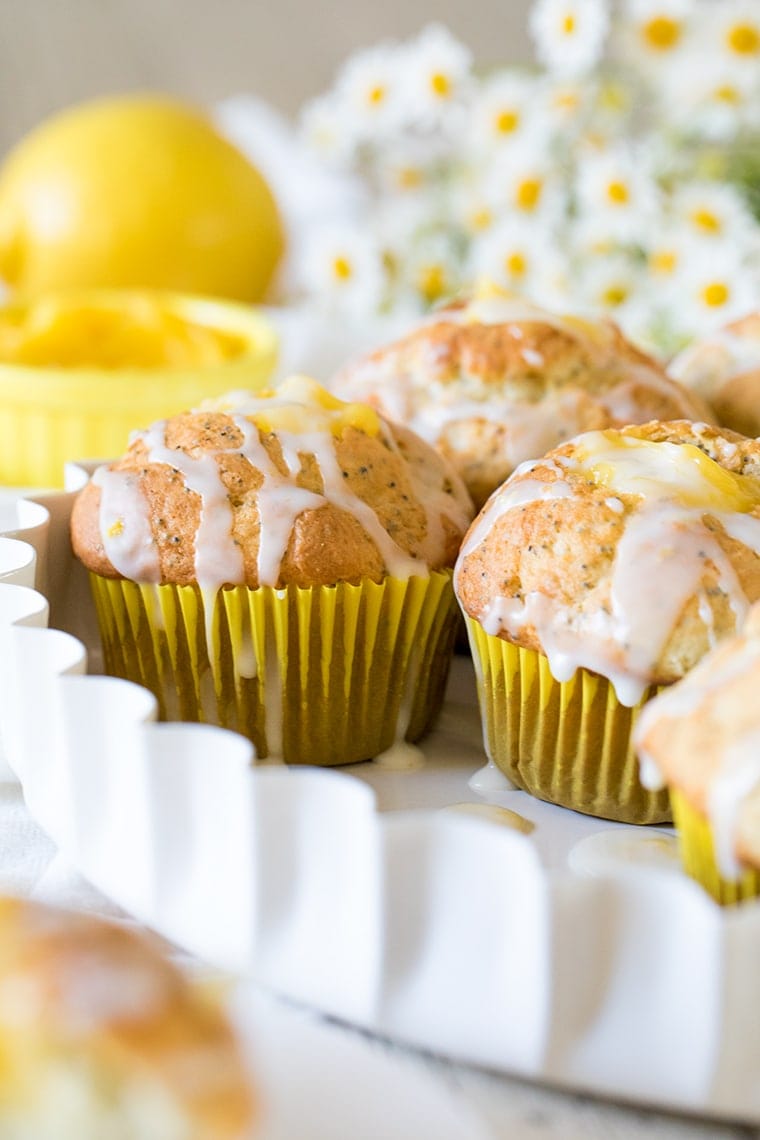 Lemon Poppy Seed Muffins
Truthfully, lemon poppy seed muffins can never have too much lemon flavor. I pack in the fresh lemon zest and even add a few drops of my favorite Young Living Lemon Vitality essential oils as well to give it an extra flavor boost. You can always add in lemon extract if you don't have vitality oils or just stick with the lemon zest!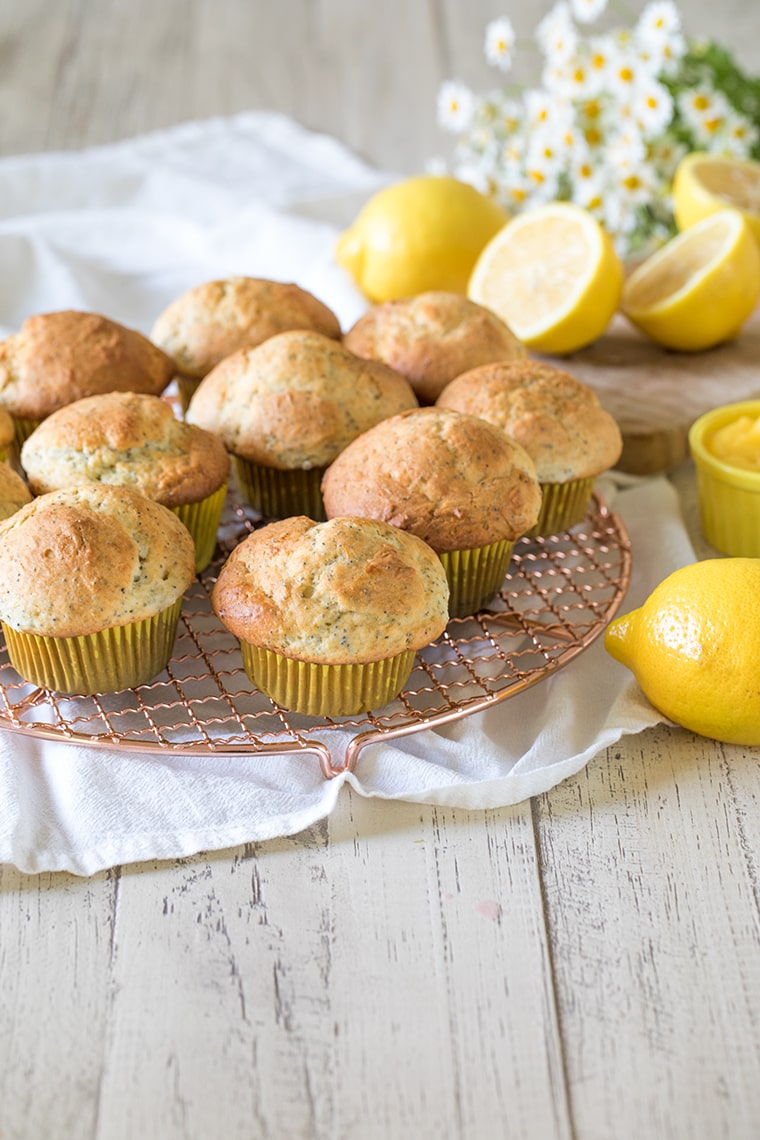 The Perfect Lemon Poppy Seed Muffin
Is this the perfect lemon poppy seed muffin? That may be up for debate among muffin lovers, but I will say, this is the best I've made so far thanks to a recipe from Cook's Illustrated and their recipes are usually pretty darn perfect. It's light and fluffy inside with a nice crumb to it while still having a puffed and crispy top.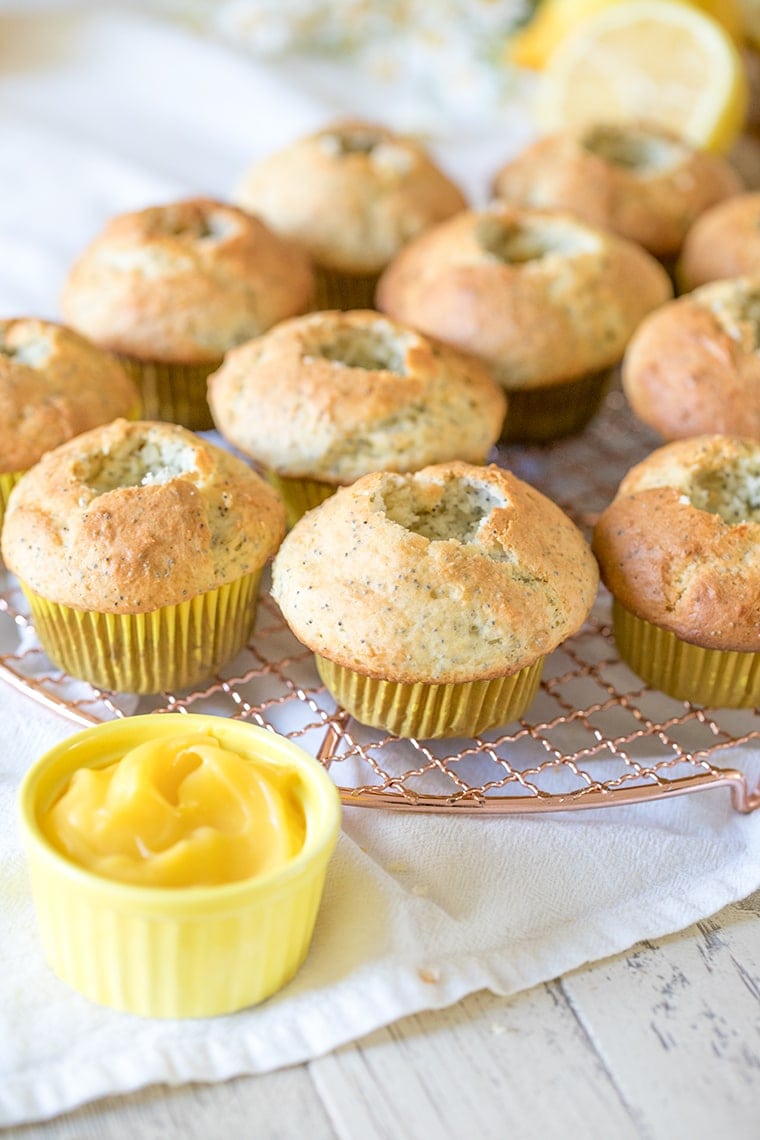 Homemade Lemon Curd
If you have time, or an exploding lemon tree, I recommend making your own batch of homemade lemon curd. I have a favorite recipe here on the blog that you can print or grab a jar of your favorite brand at the grocery store. Homemade lemon curd always seems to have a fresh tartness that you can't find in packaged curds and it's pretty simple to make. Start by cooling your muffins completely before scooping out just a teaspoon's worth of muffin from the center and filling it with curd.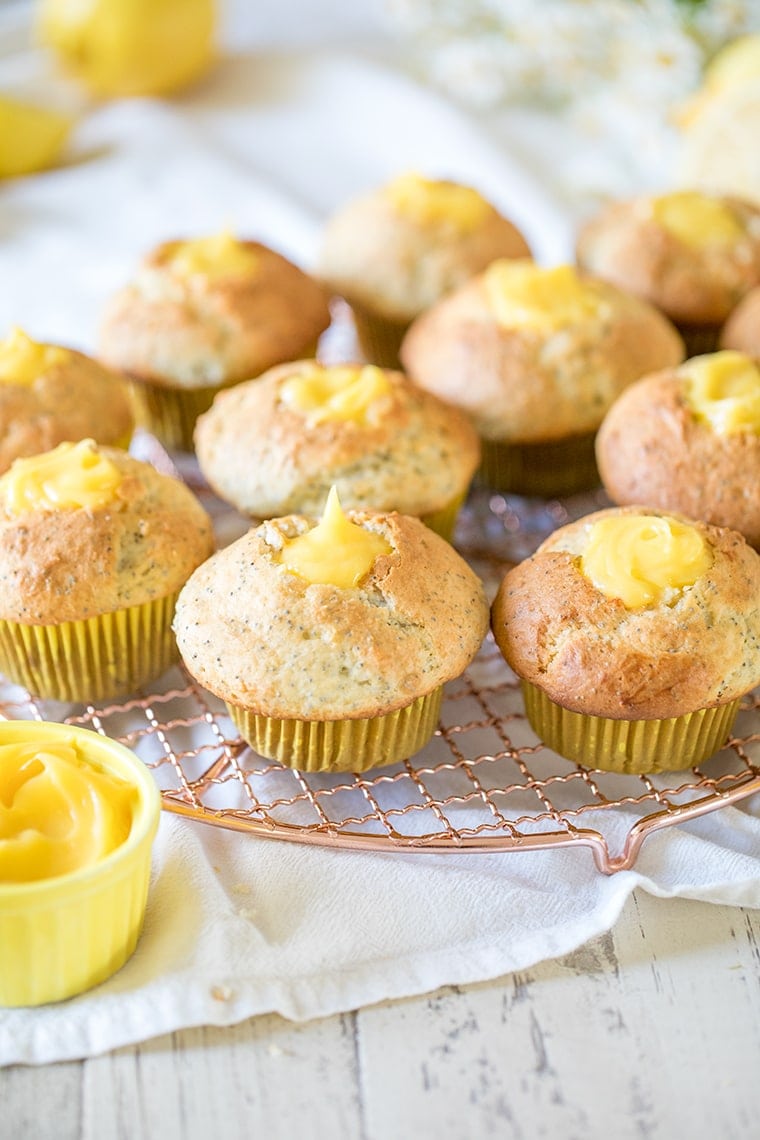 I used a small teaspoon to fill in the muffins and it gives such a professional bakery quality look to such a simple muffin. You can skip the filling part but it is a sweet touch. I will note that these muffins will need to be refrigerated due to the curd center so I recommend serving them the same day or waiting to fill them until just before serving!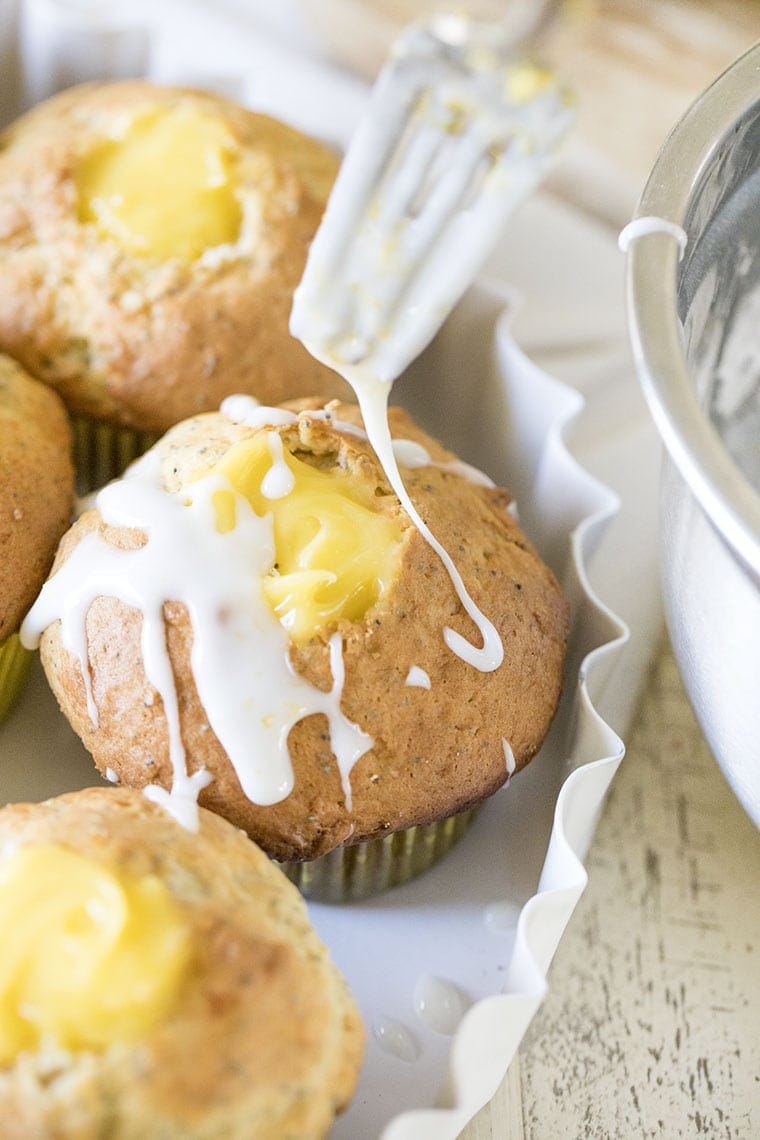 Quick Lemon Glaze
Next drizzle on a quick lemon glaze made with powdered sugar, fresh lemon juice and lemon zest. It finishes the muffins so nicely and gives more fresh lemon flavor! I also use a similar glaze in my FAVORITE Lemon Cake Recipe.
Don't these Lemon Poppy Seed Muffins look like daisies? The perfect segue into spring if you ask me, and a welcome burst of sunshine for these rainy months.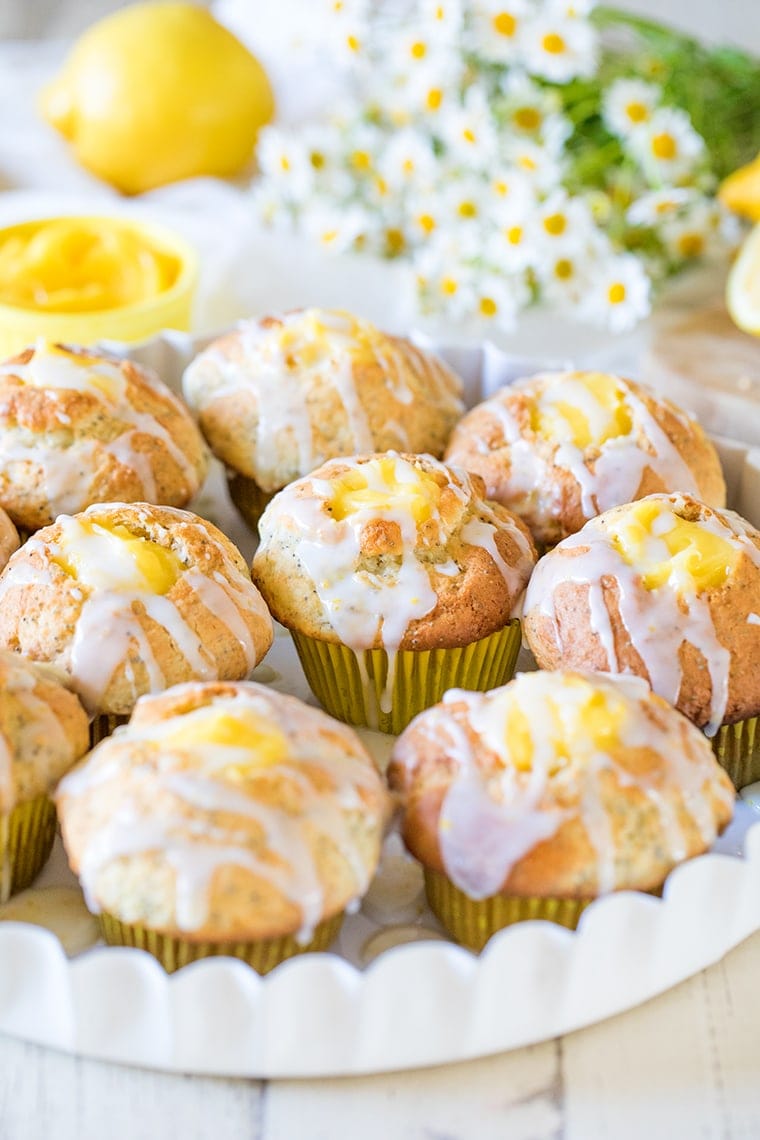 More Recipes for Lemon Lovers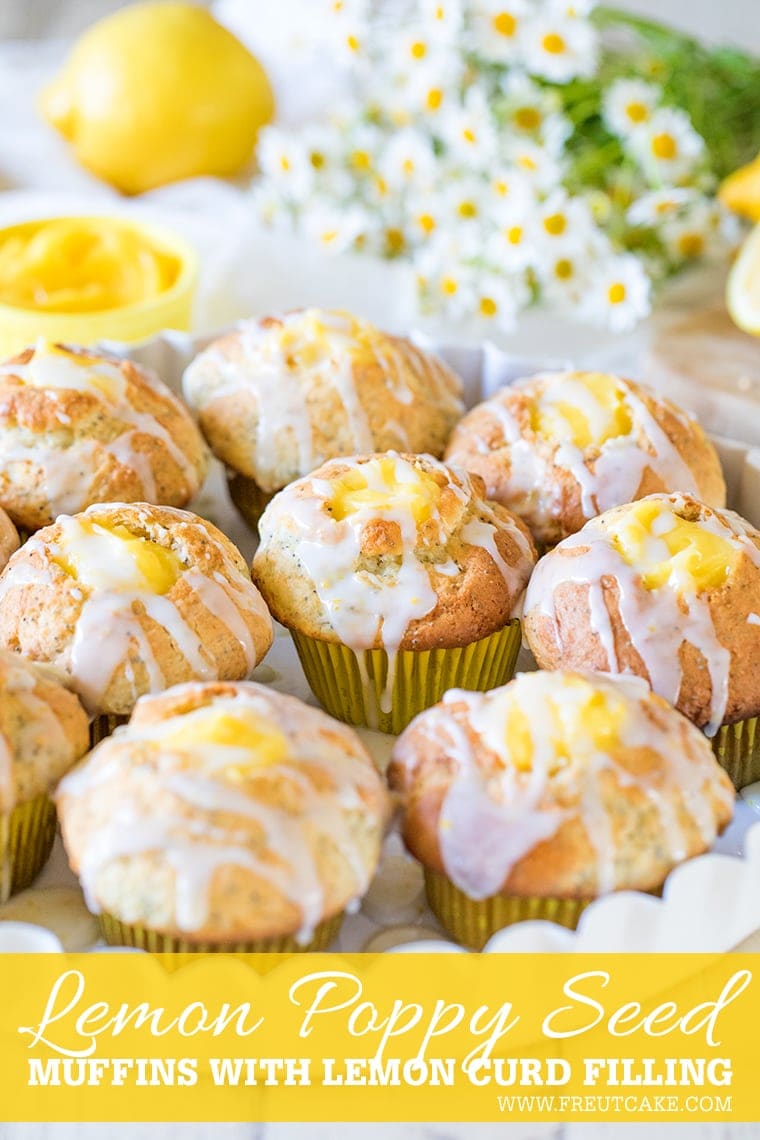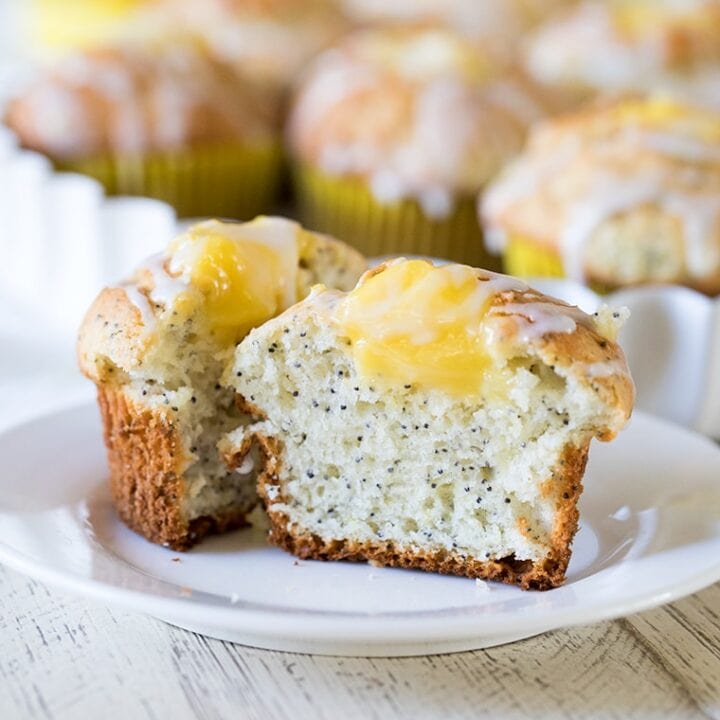 Lemon Poppy Seed Muffins with Lemon Curd Filling
Fluffy lemon poppy seed muffins filled with lemon curd and drizzled with a sweet lemon glaze.
Ingredients
3 cups unbleached all-purpose flour
1 tablespoon baking powder
½ teaspoon baking soda
3 tablespoons poppy seeds
½ teaspoon table salt

10 tablespoons unsalted butter, softened
1 cup granulated sugar, less 1 tablespoon
2 tablespoons grated lemon zest
2 large eggs
1½ cups plain low-fat yogurt
Cooking spray or additional unsalted butter for muffin tins
 or paper liners
Lemon Curd
Lemon Glaze:
1 cup powdered sugar
1-2 Tablespoons lemon juice
1 teaspoon lemon zest
Instructions
Preheat oven to 375 degrees. Mix flour, baking powder, baking soda, poppy seeds, and salt in medium bowl; set aside.
Beat butter and sugar with electric mixer on medium-high speed until light and fluffy, about 2 minutes. Add lemon zest to butter-sugar mixture. Add eggs, one at a time, beating well after each addition. Beat in one-half of dry ingredients. Beat in one-third of yogurt. Beat in remaining dry ingredients in two batches, alternating with yogurt, until incorporated.
Spray or line muffin tins or coat lightly with butter. Use large ice cream scoop to divide batter among filling them about ¾ of the way full. This recipe makes between 14-16 muffins depending on the depth of your muffin tins.
Bake until muffins are golden brown, 20-25 minutes. Set on wire rack to cool slightly, about 5 minutes. Remove muffins from tin and allow to cool completely on a wire rack.
Use teaspoon measuring spoon to scoop out the center of each muffin. Fill with lemon curd.
To make the glaze: whisk together powdered sugar, lemon juice and lemon zest. Start with 1 Tablespoon of lemon juice and add up to 2 Tablespoons or until it's liquid enough to drizzle.
Use a fork to drizzle glaze over the muffins. Serve immediately.