The twins are at preschool for another hour, the Pumpkin Chicken Enchiladas are bubbling away in the oven, and I'm feeling somewhat accomplished for the first time in a long time.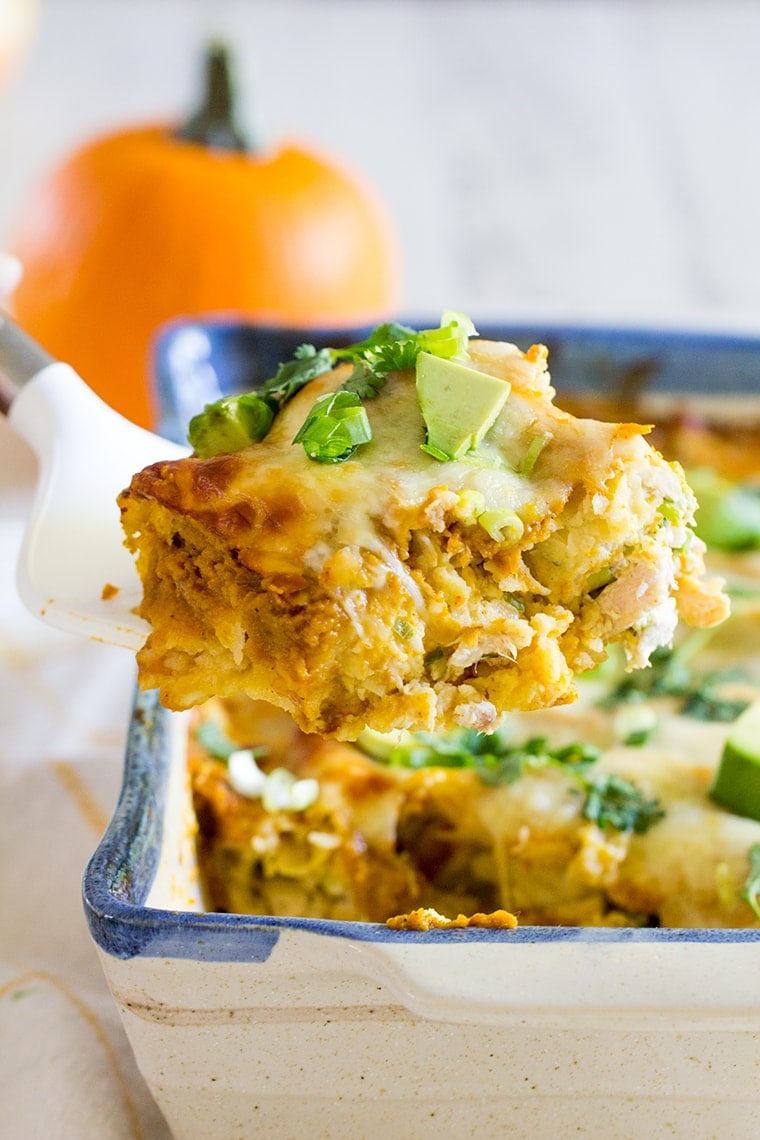 Easy Pumpkin Chicken Enchiladas
Not that this recipe for (easy) Pumpkin Chicken Enchiladas take a whole mess of time, they really don't, but today was the first time I've cooked without someone tugging on my leg or yelling demands from the playroom in as long as I can remember.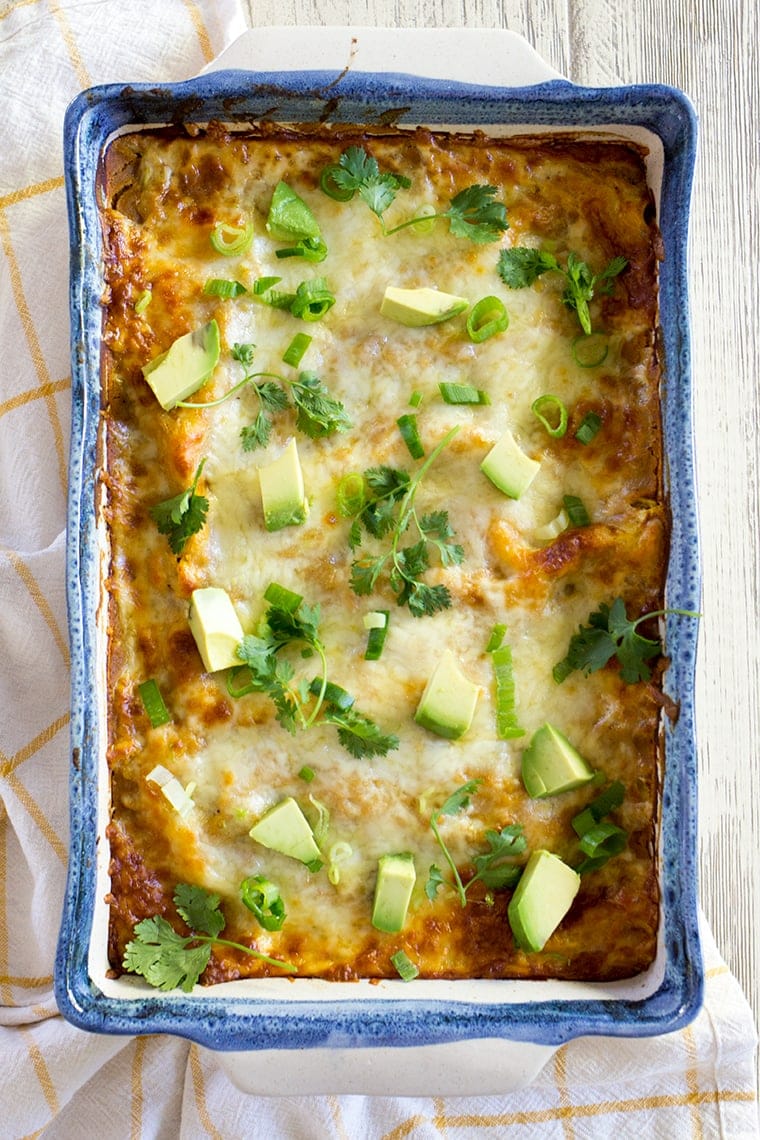 It felt good to be alone in the kitchen again, to make the pumpkin enchilada sauce in the blender without having to shout a "LOUD NOISE" warning first. Dinner will be ready when the kids are home from school and that makes me feel pretty damn accomplished.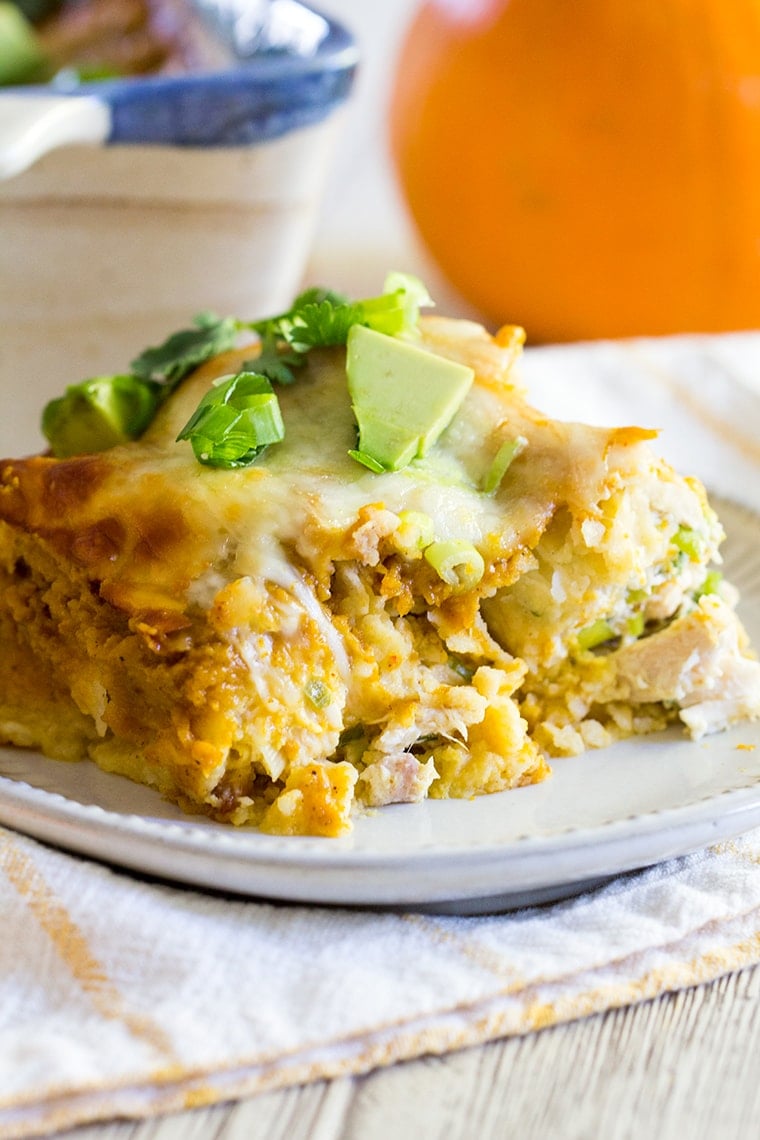 Chicken Enchilada Filling
When it comes to chicken enchilada filling, there is nothing worse than dry chicken! Store bought rotisserie chicken ensures a super moist filling along with sour cream. Season to taste with salt and pepper and don't forget the sliced green onions. They impart so much flavor in your chicken enchilada filling.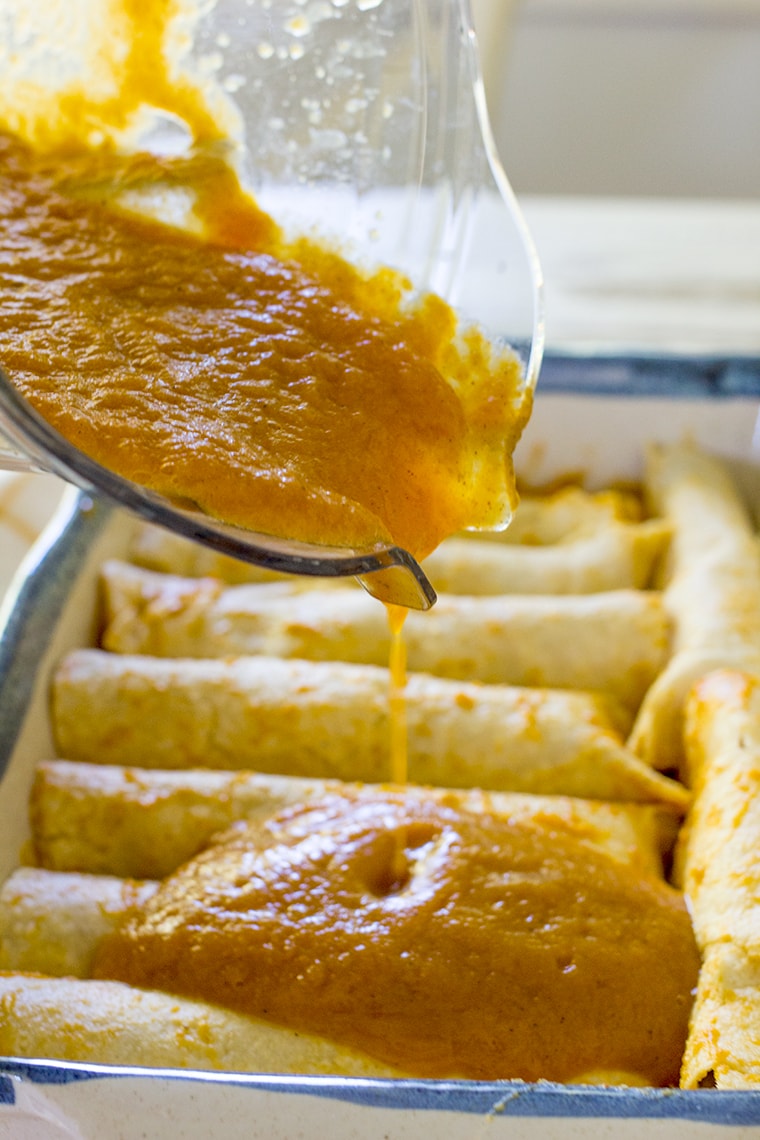 Homemade Pumpkin Enchilada Sauce
This homemade pumpkin enchilada sauce is just a few simple ingredients and it comes together quick in your blender. For the sauce I puree canned pumpkin with chili powder, chicken broth, fresh garlic cloves and cinnamon. It sounds like a strange little mix but the cinnamon adds warmth and reinforces the pumpkin notes in the sauce while the garlic, chili, and chicken stock bring home the enchilada flavors. It's also a great way to use up cans of pumpkin puree you might have in your cabinet.
Recipes Using Canned Pumpkin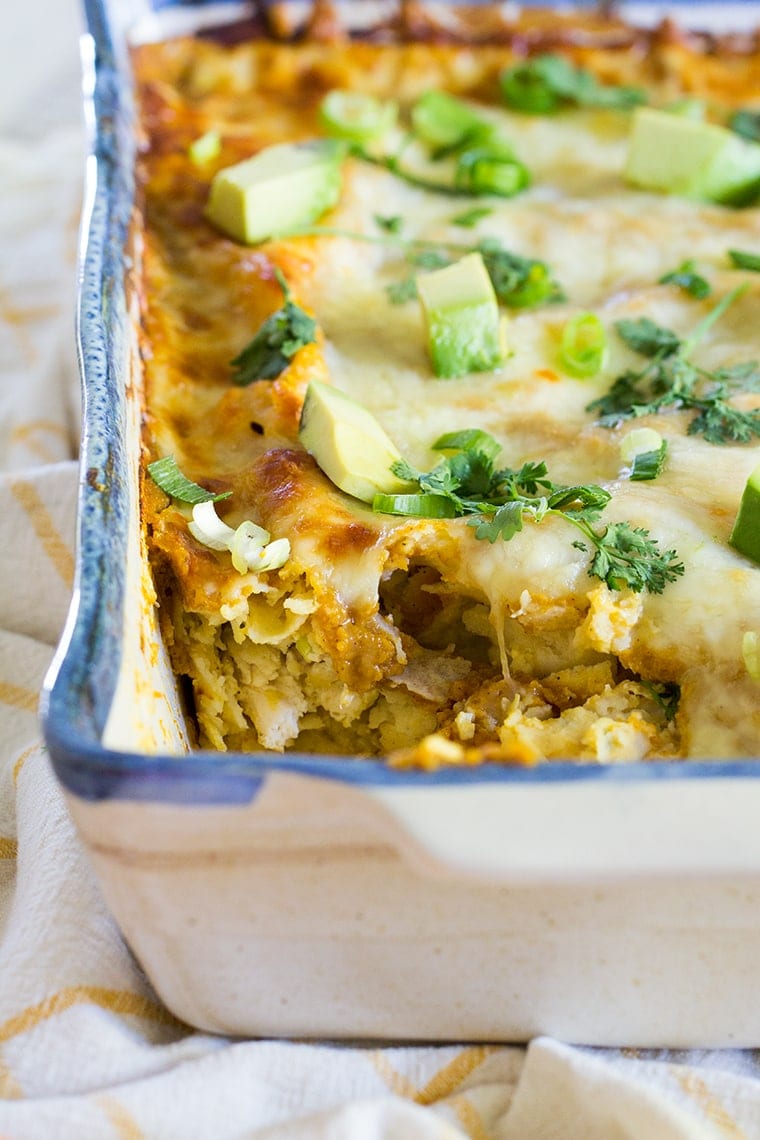 Corn tortillas aren't quite traditional in enchiladas but I like the rustic nature of corn mixed with pumpkin and chicken. It tastes a bit more fall-like and less like the soggy enchiladas with canned sauce we all can remember tasting at some point in our lives. I don't fry my tortillas in oil first but if you want to add that step you definitely can!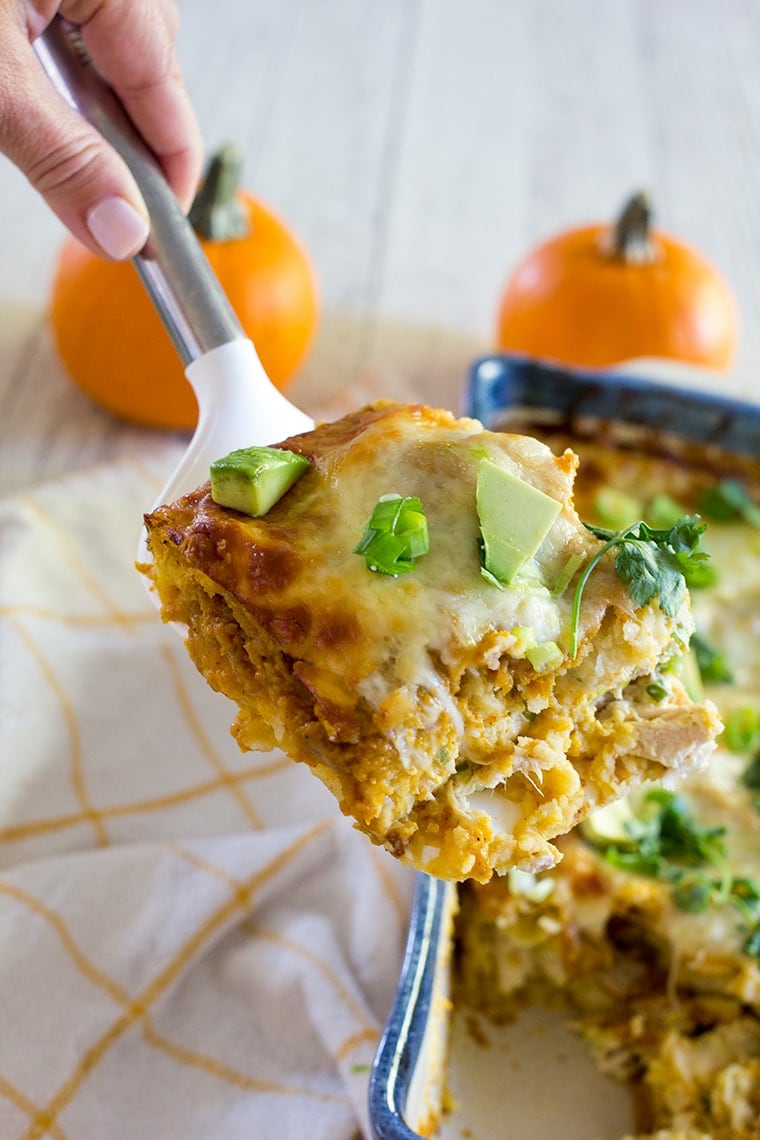 Now all there is to do is fill, roll, and top with the rest of our luscious garlicy homemade pumpkin enchilada sauce. Oh, and cheese, don't forget about the cheese my friends! Heck, I never do. Monterey Jack is my favorite for enchiladas because it's gooey and melty and mild in flavor. I'll save some on the side for quesadillas for the twins. The jury is still out as to whether or not they will each these enchiladas but with enough sour cream dolloped on top, they probably will.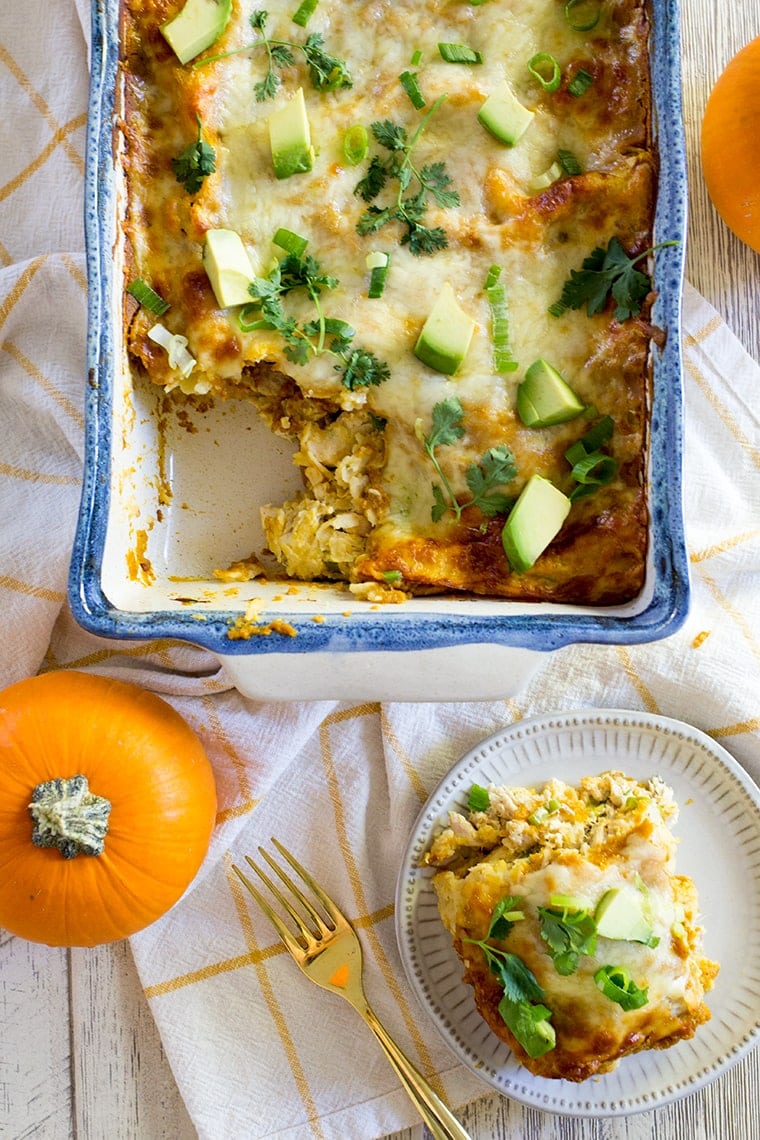 Pumpkin Chicken Enchiladas are fabulous on their own but also delicious topped with fresh avocado, cilantro and more green onions. Sprinkle the toppings over your enchiladas before cutting and serving or offer them on the side along with a bowl of sour cream. I'm a rebel and cut my enchiladas into squares but serve however you like.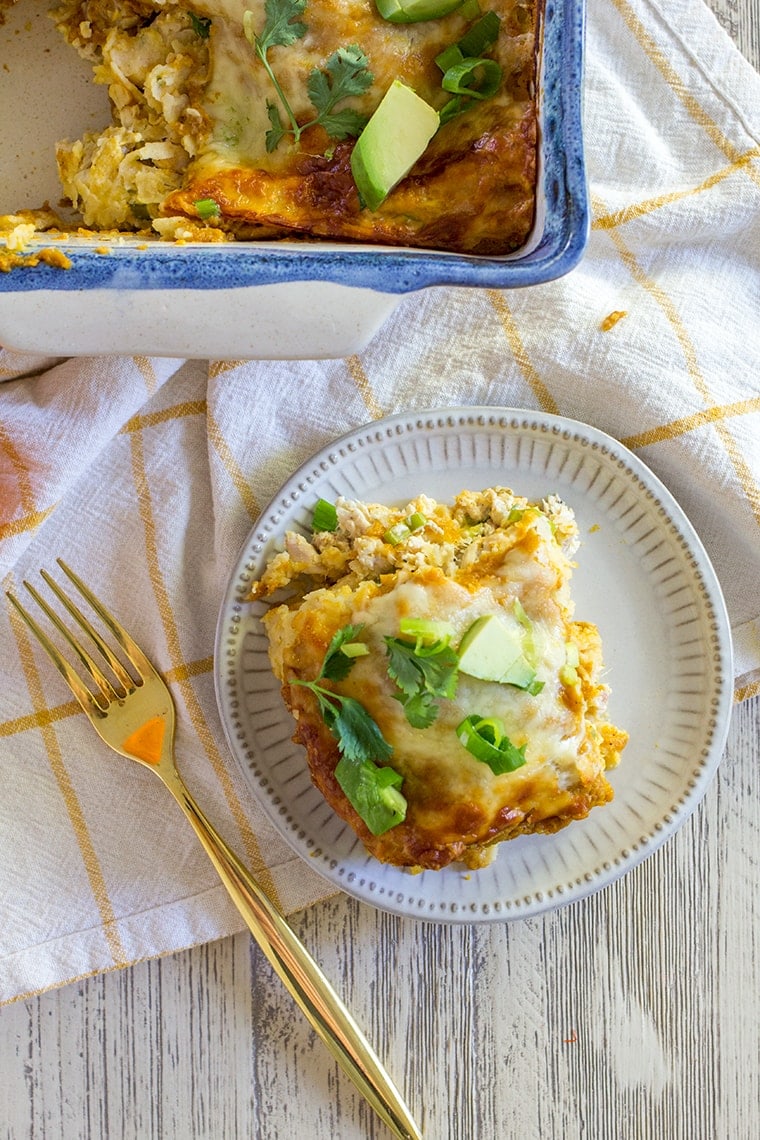 These Pumpkin Chicken Enchiladas are such delicious and comforting weeknight or weekend family dinner recipe. Everyone at the table will love the pumpkin flavor of this sauce and you'll love the rotisserie chicken short cut. Happy pumpkin season!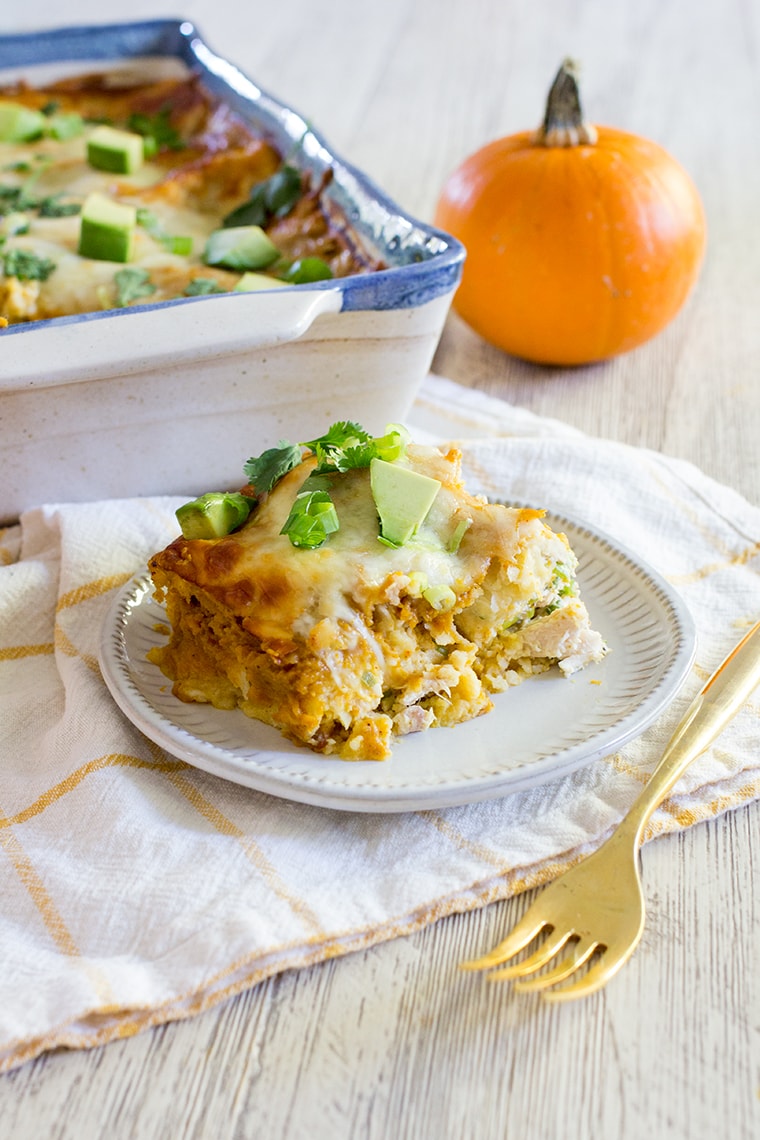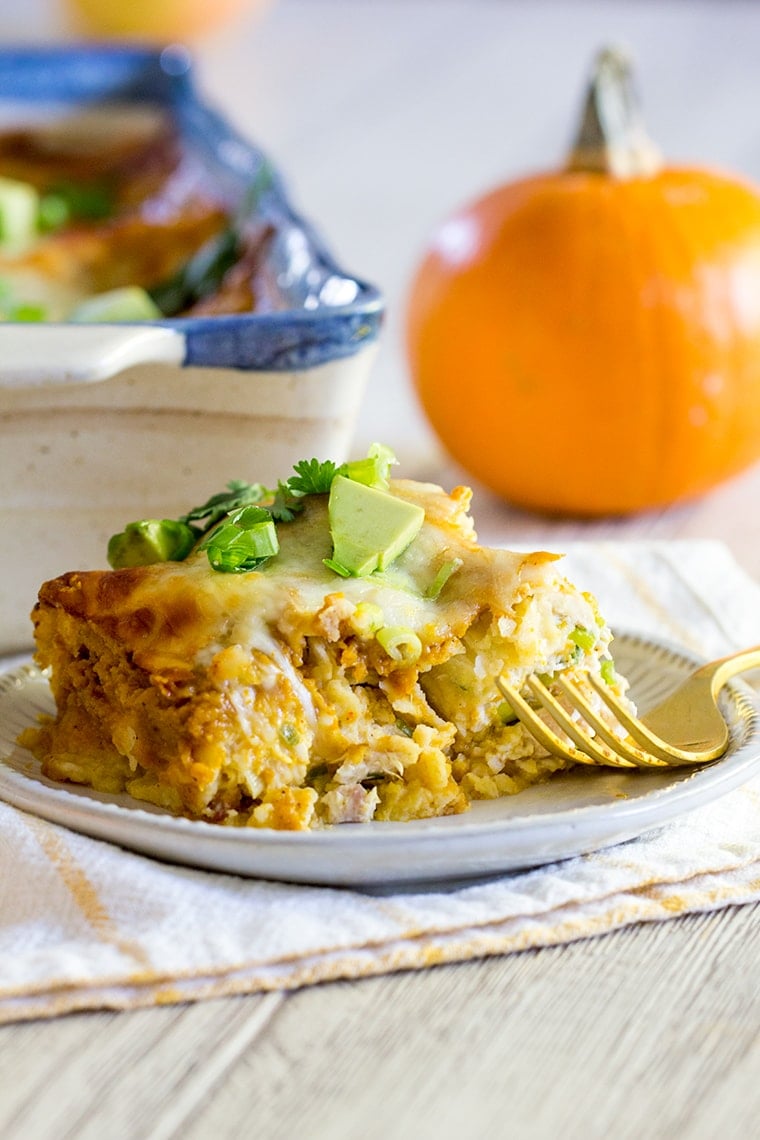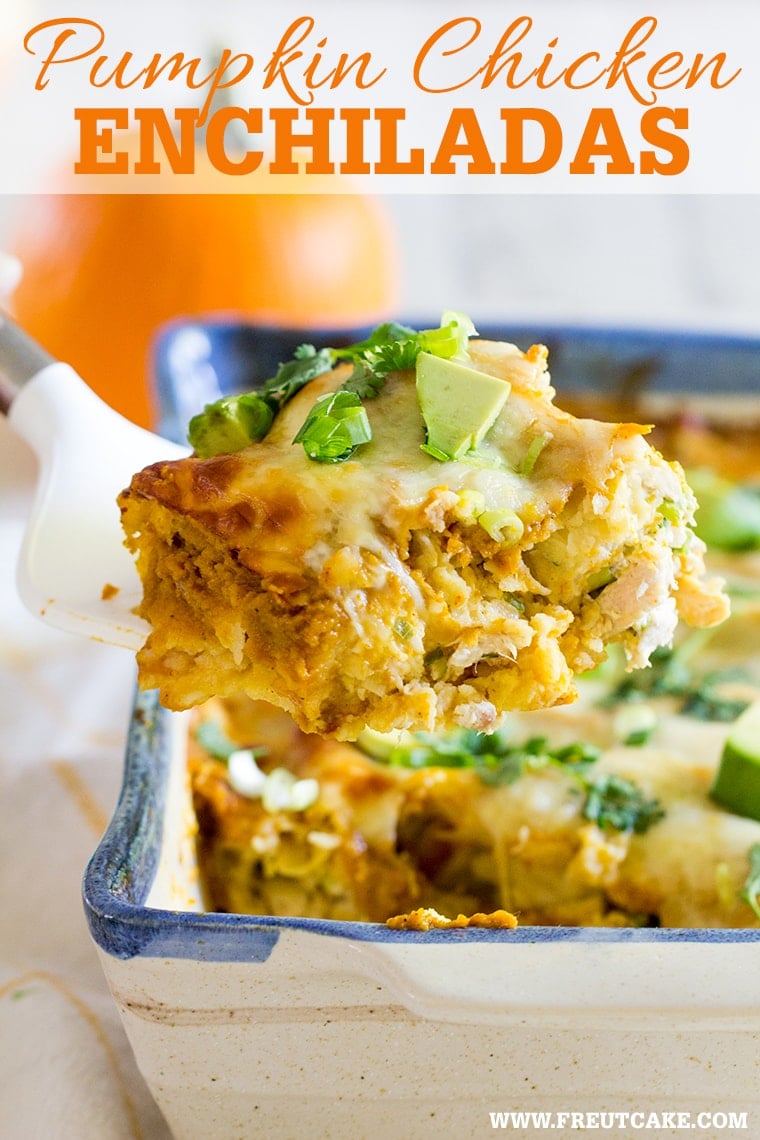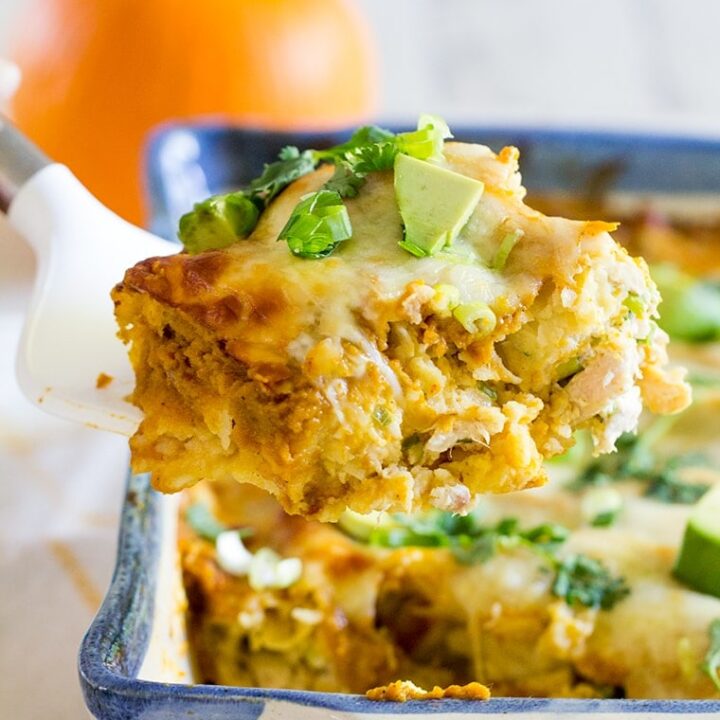 Pumpkin Chicken Enchiladas
Pumpkin Chicken Enchiladas with a Pumpkin Enchilada Sauce make an easy and delicious family weeknight or weekend dinner perfect for fall.
Ingredients
1 rotisserie chicken, skin removed, meat shredded
½ cup thinly sliced green onions
½ cup sour cream
Coarse salt and ground pepper
1 can (15 ounces) pumpkin puree
2 ½ cups chicken broth
4 cloves garlic, peeled
1 jalapeño (remove ribs and seeds for less heat), optional if you like spicy!
1 teaspoon chili powder
½ teaspoon ground cinnamon
9 (6-inch) soft white corn tortillas
1 ½ cups grated monterey jack cheese (6 ounces)
avocado, cilantro, sour cream & scallions for serving, optional
Instructions
Preheat oven to 425 degrees. In a medium bowl, combine shredded chicken, sour cream and scallions. Season generously with salt and pepper to taste; set aside.
In a blender, puree pumpkin, garlic, jalapeño, chili powder, chicken broth, cinnamon, 2 teaspoons salt, and ¼ teaspoon pepper until smooth. Pour 1 cup of sauce in the bottom of baking dish.
Pour a second cup of sauce onto a plate, this will be for dipping your tortillas in.
One at a time dip each side of the tortillas in sauce, fill with about ⅓ cup of chicken mixture, roll and place seam side down in baking dish. Repeat until all 9 tortillas are filled and rolled.
Pour remaining sauce on top of rolled enchiladas covering evenly and sprinkle with cheese.
Bake until cheese is golden and sauce is bubbling, 25 to 30 minutes. Let cool 5 minutes before serving.
Top with sliced avocado, cilantro, and more green onion if desired. Serve with more sour cream.