Friends, I have eaten A LOT of fish tacos and these Mahi Mango Fish Tacos are the best I've ever had. I know, that's a bold statement but I stand behind it and here's why...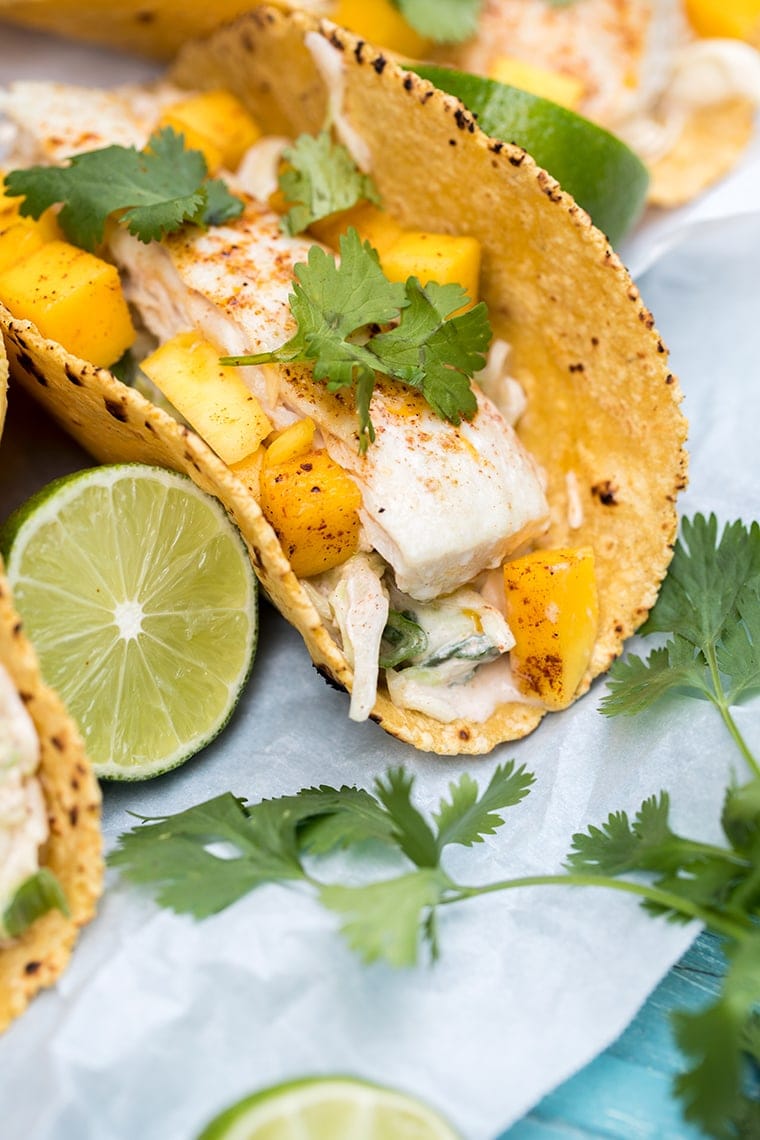 Mahi Mango Fish Tacos
Now before I get into the recipe, and why these are the best tasting fish tacos ever...I need to preface this by saying that these Mahi Mango Fish Tacos are the best non-beer battered fish tacos I've ever tasted. I feel like the two really can't be compared and next I'll have to master a recipe for the fried variety because man I love them!
The other critical point is that you follow the recipe exactly. The ingredients in this recipe are few and simple but the combination creates a flavor profile that really can't be beat. So follow my recipe exactly (something I don't usually say) and then come back and tell me how you liked them! Ok, let's move along to the recipe.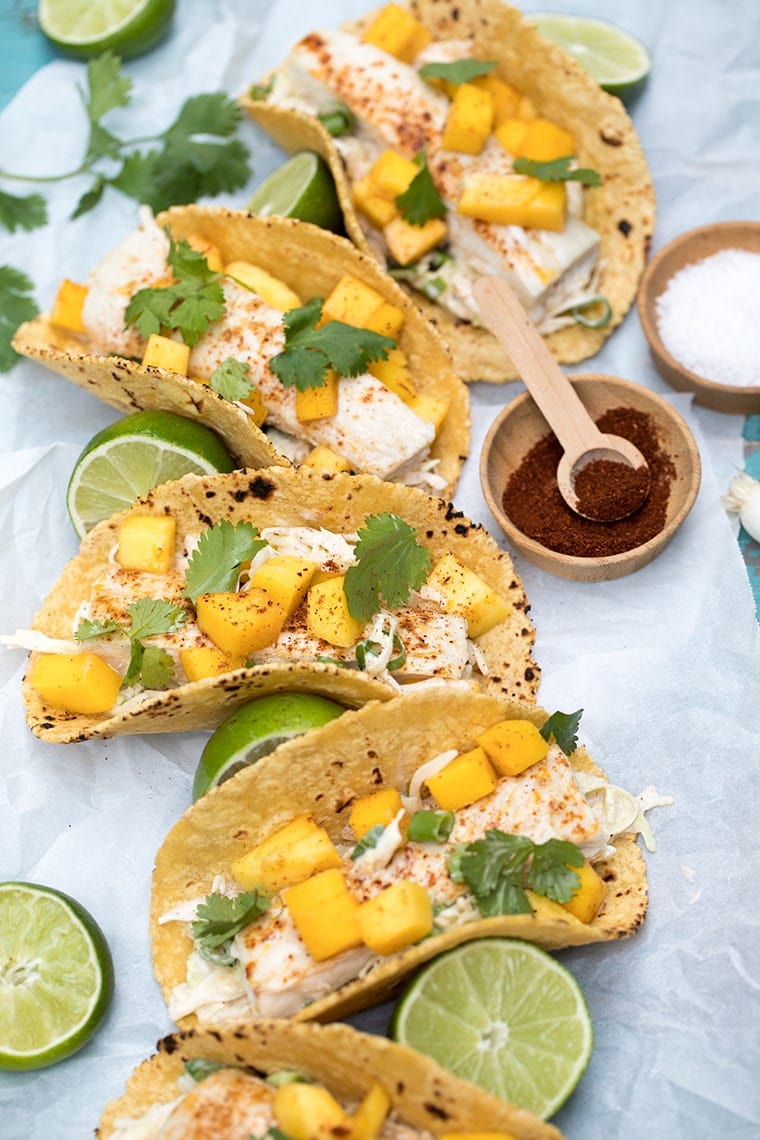 Mahi Mahi Fish Tacos
Let's talk fish for a minute! When I first started making fish tacos I always bought tilapia. It's inexpensive, pretty much always available here in California and cooks up white and flakey in minutes. The problem I found was the taste. Tilapia can have a muddy/dirty flavor that I just don't love.
Mahi Mahi however is a much meatier fish with more substance to the filet and a much cleaner sweeter flavor! Here's the trick: I buy the frozen Mahi Mahi filets at Trader Joe's and they are incredible. Leave them in the fridge to defrost overnight and you are good to go. I will honestly never go back to tilapia!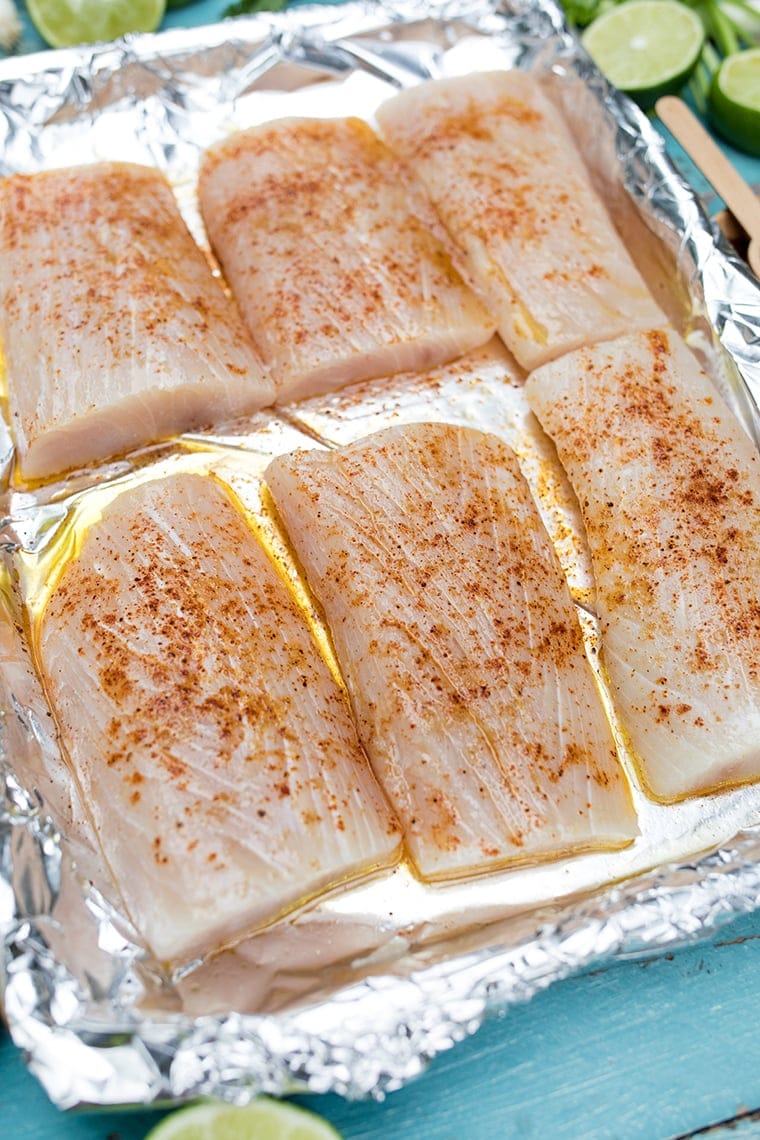 How to Cook Mahi Mahi in the Oven
I make life easy for myself and bake my Mahi Mahi which cuts down on the mess of cooking fish in a pan. Drizzle the fish with olive oil and season generously with salt, chili powder and cumin. It bakes up quick in a 375 degree oven in 12 minutes or so depending on the thickness of your filets. Doesn't get much easier than that!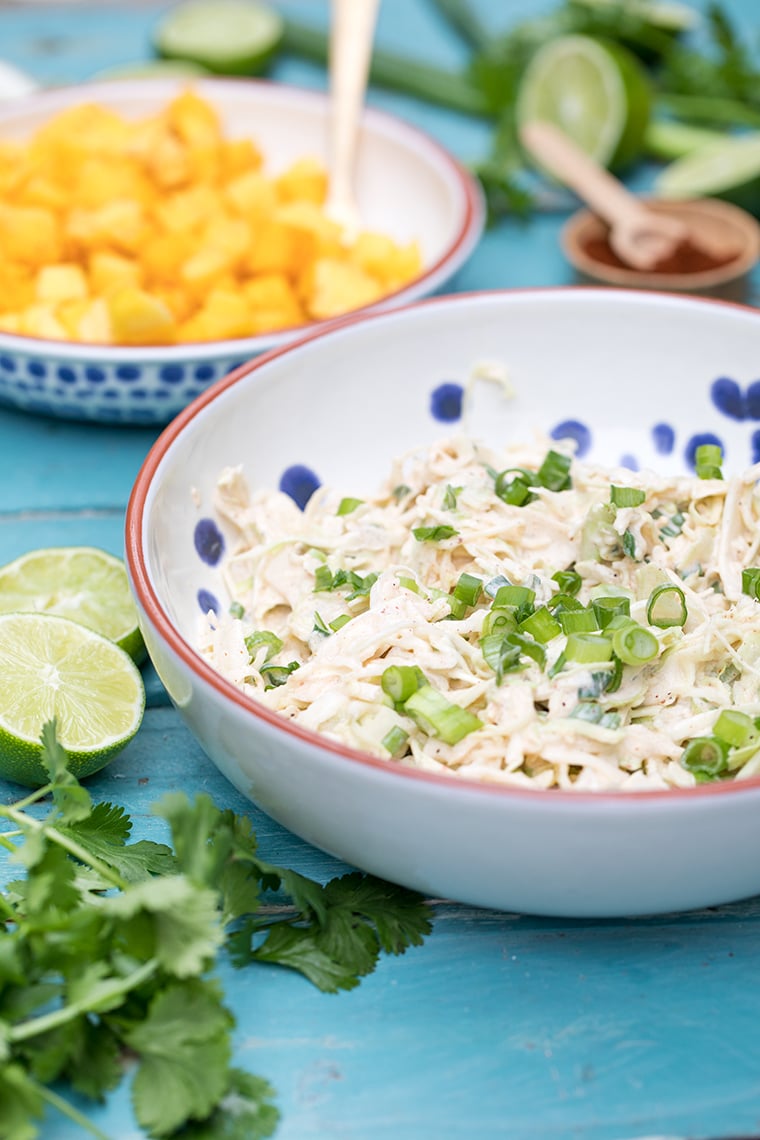 Cabbage Slaw for Tacos
Next up, cabbage slaw for our tacos! Ok, actually I always make the slaw first because it gives it time to rest and soften while the fish cooks. I make a quick dressing of sour cream, lime juice and seasonings and toss that over shredded cabbage and green onions. The creaminess reminds me of Baja style fish tacos and you gotta have that cabbage crunch. A few green onions add in so much flavor so don't skip this delicious ingredient.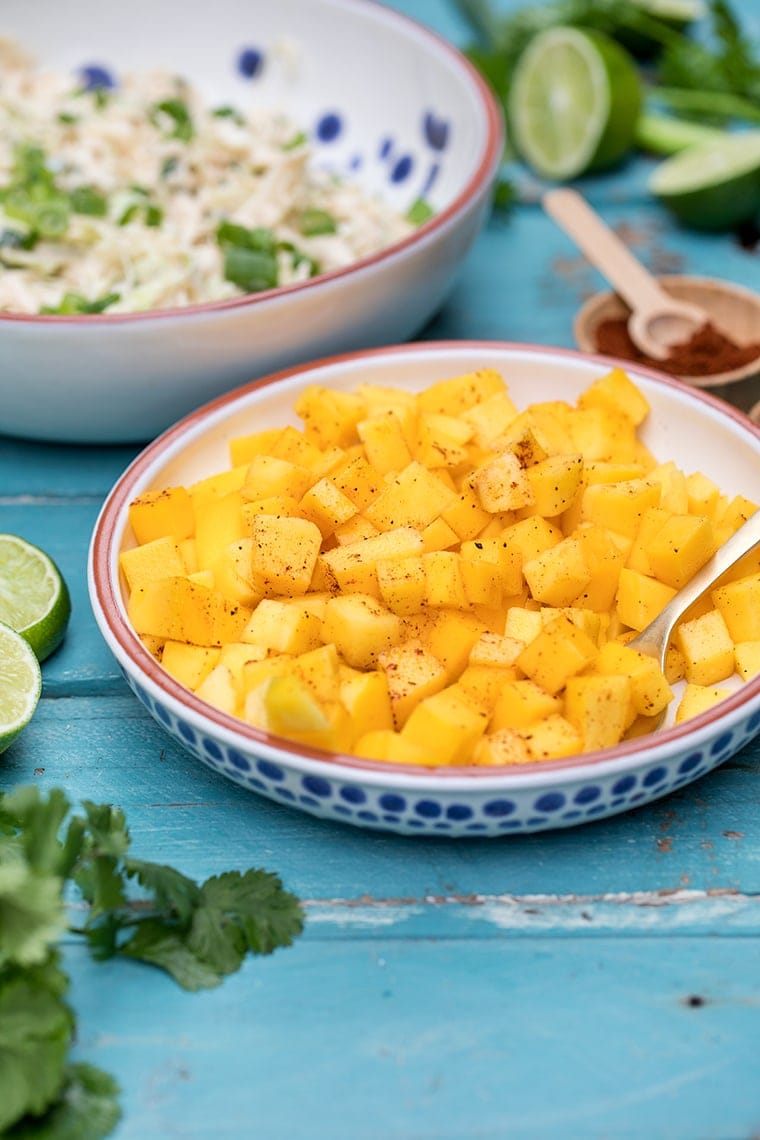 Mango with Chili
Back in my early fish taco days (ahem, tilapia) I used to make this Mango Salsa recipe. It was delicious but I like it more over a cooked piece of salmon for example versus in my tacos...too much onion! Now we simply dice up ripe mango, squeeze with some lime and sprinkle with chili powder.
Pile it high as a final topping to your Mahi Mango Fish Tacos and you won't be sorry! It gives these savory tacos such a sweet and fresh kick which compliments the fish nicely.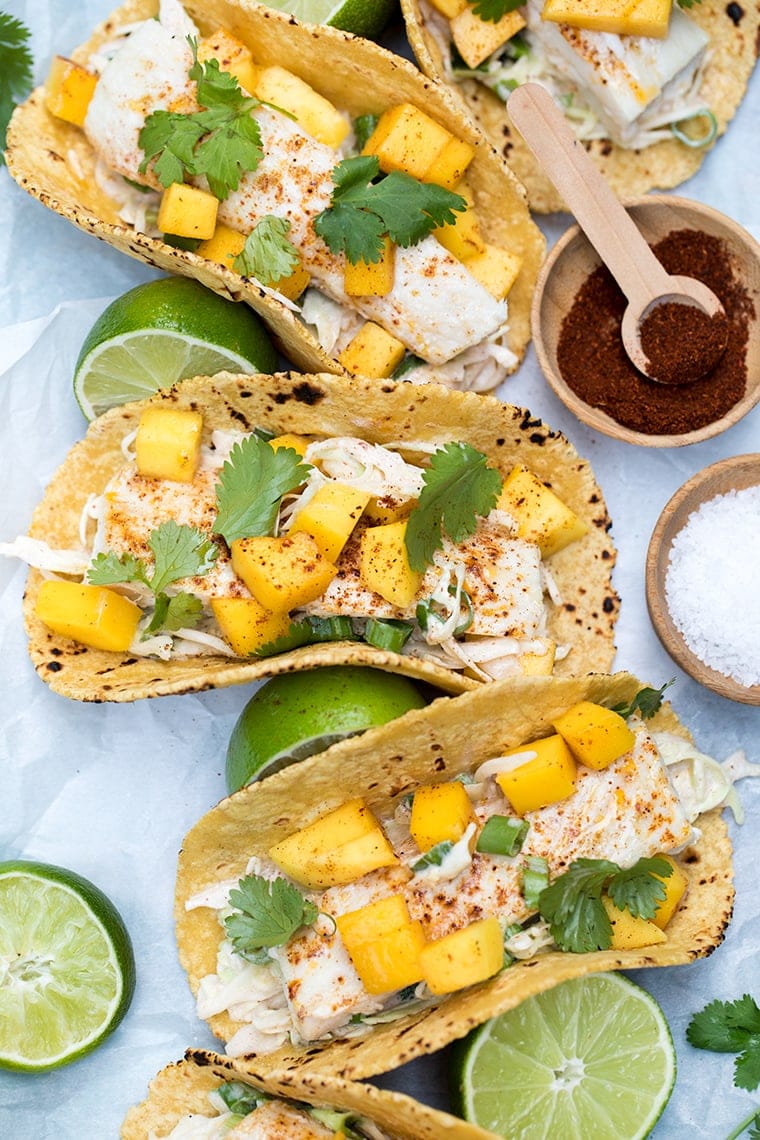 The BEST Corn Tortillas for Tacos
Now that the fish is cooking and our slaw and mangos are seasoned, it's tortilla time! YEARS ago I sample the Corn and Wheat Tortillas from Trader Joe's and was absolutely hooked. They are thicker thank your average corn tortilla and the wheat gives them a chewy texture but with all of that corn tortilla flavor.
They really are the ultimate tortilla for fish tacos. Of course if you don't have Trader Joe's where you live, just buy your favorite soft and pliable corn tortillas! The other NECESSARY step here is to quickly char them over your stove-top burner. Be careful and use tongs to flip tortillas quickly over the open flame. It gives that charred authentic flavor you want.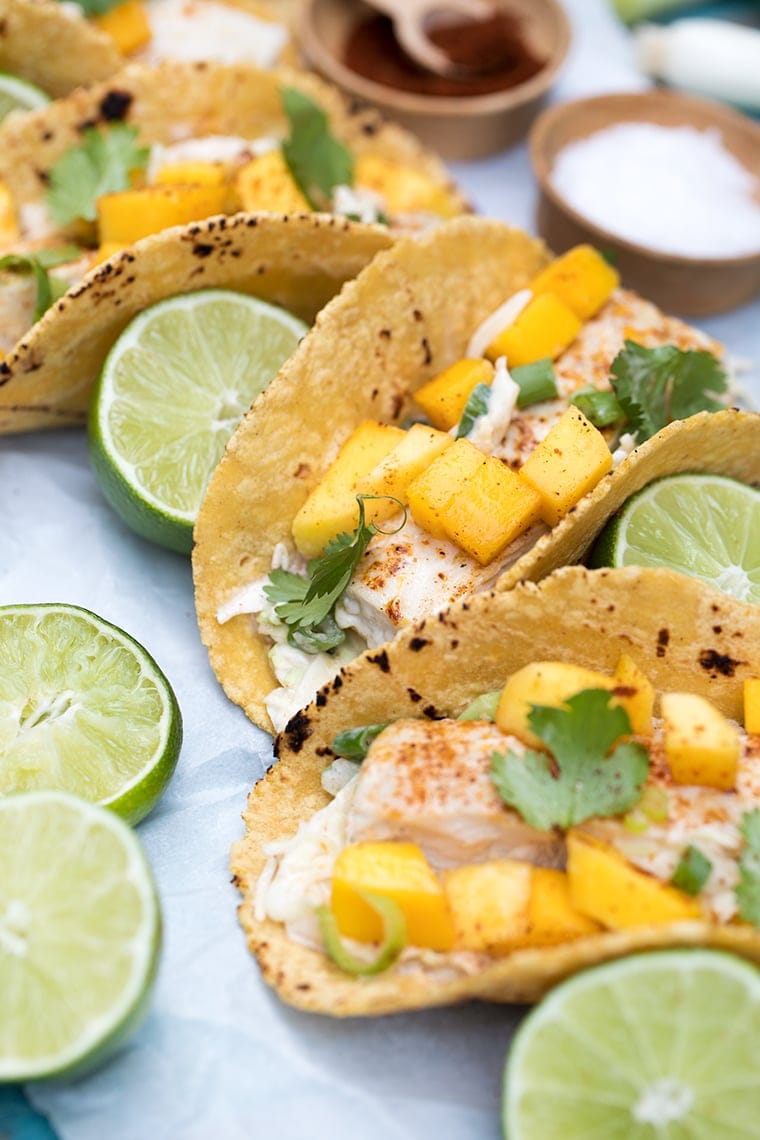 Ok, so now that we've covered the very best fish, tortillas, how to make a killer slaw and why mango is SO necessary...who's hungry and ready to try this recipe? To assemble the tacos I start by laying down a layer of slaw in the bottom of each tortilla. Top it with half a filet of fish, mango and a few torn cilantro leaves.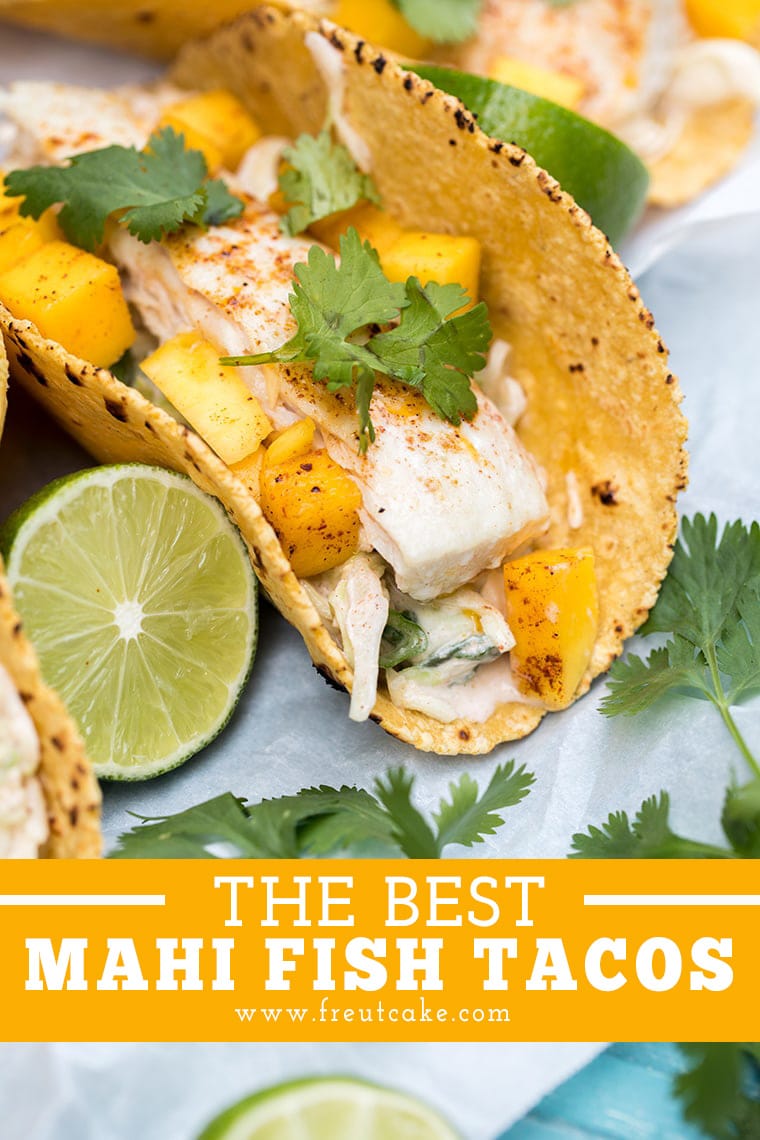 Eat these tacos while the fish is warm and the slaw is cool. Yep, these are THE BEST FISH TACOS EVER! I'm not afraid to say it and I even though we ate these for dinner tonight I'm hungry for them all over again.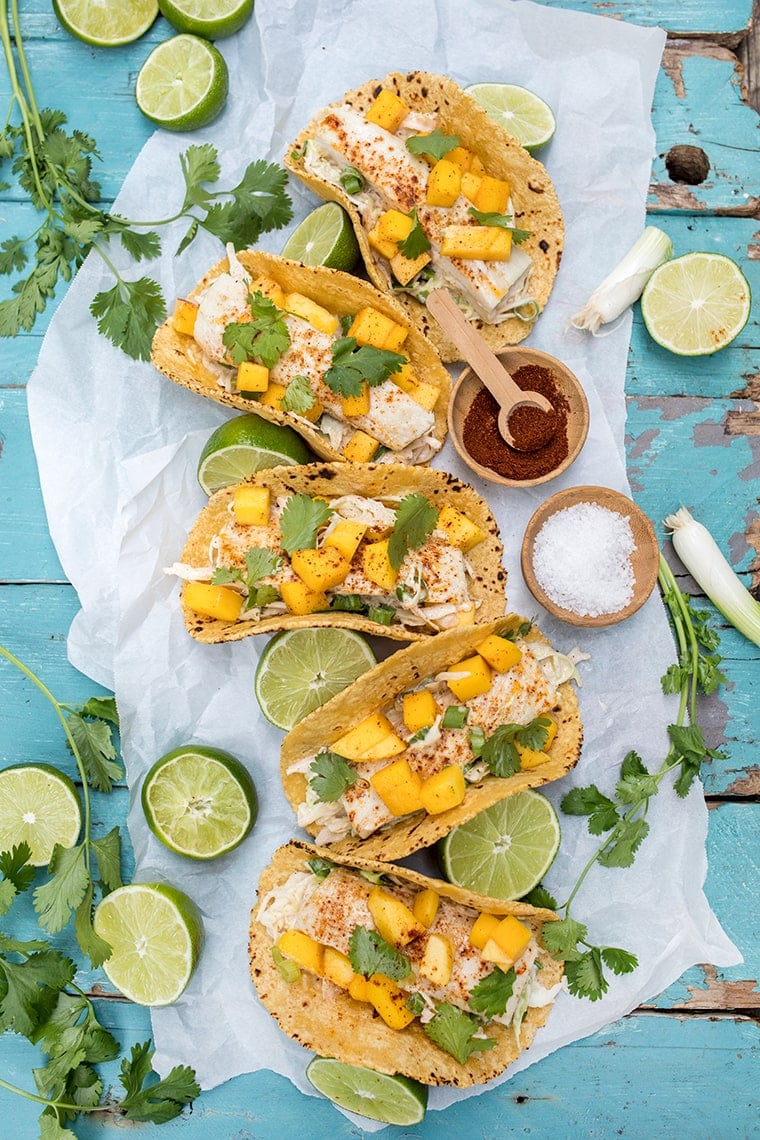 What to Serve with Fish Tacos
We'll be making these tacos all summer long along with THIS GUACAMOLE and THIS CORN SALAD. Yum!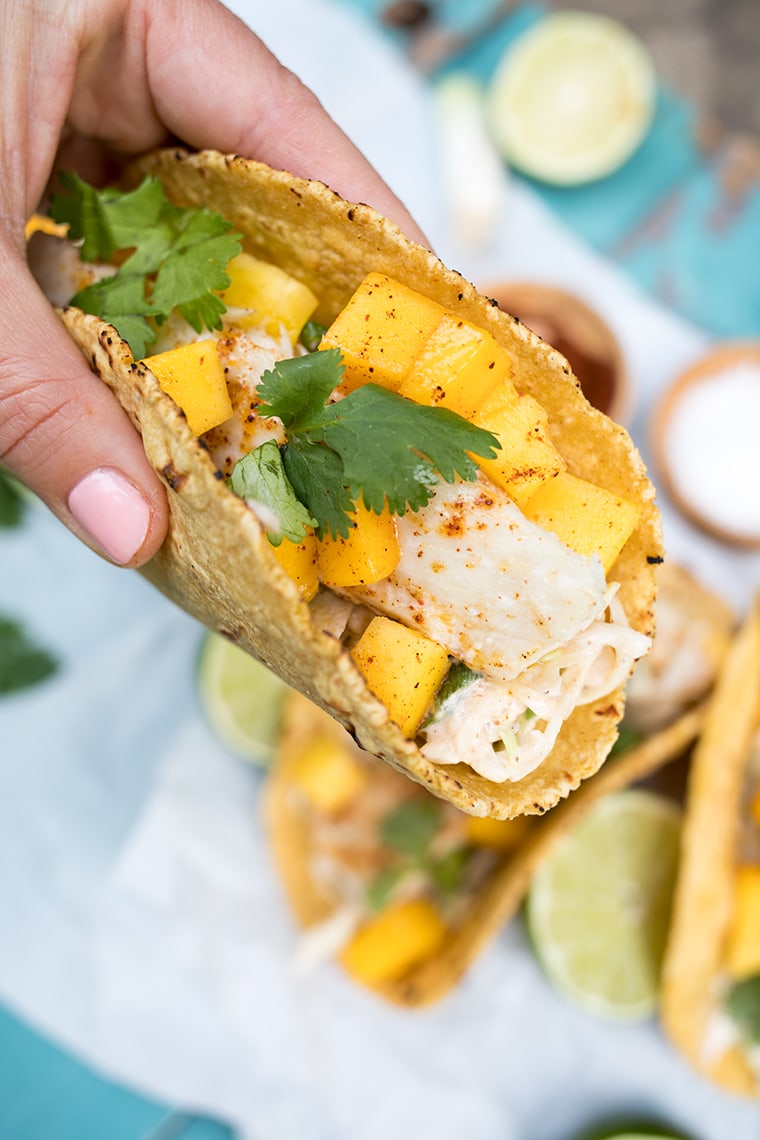 More Delicious Taco Recipes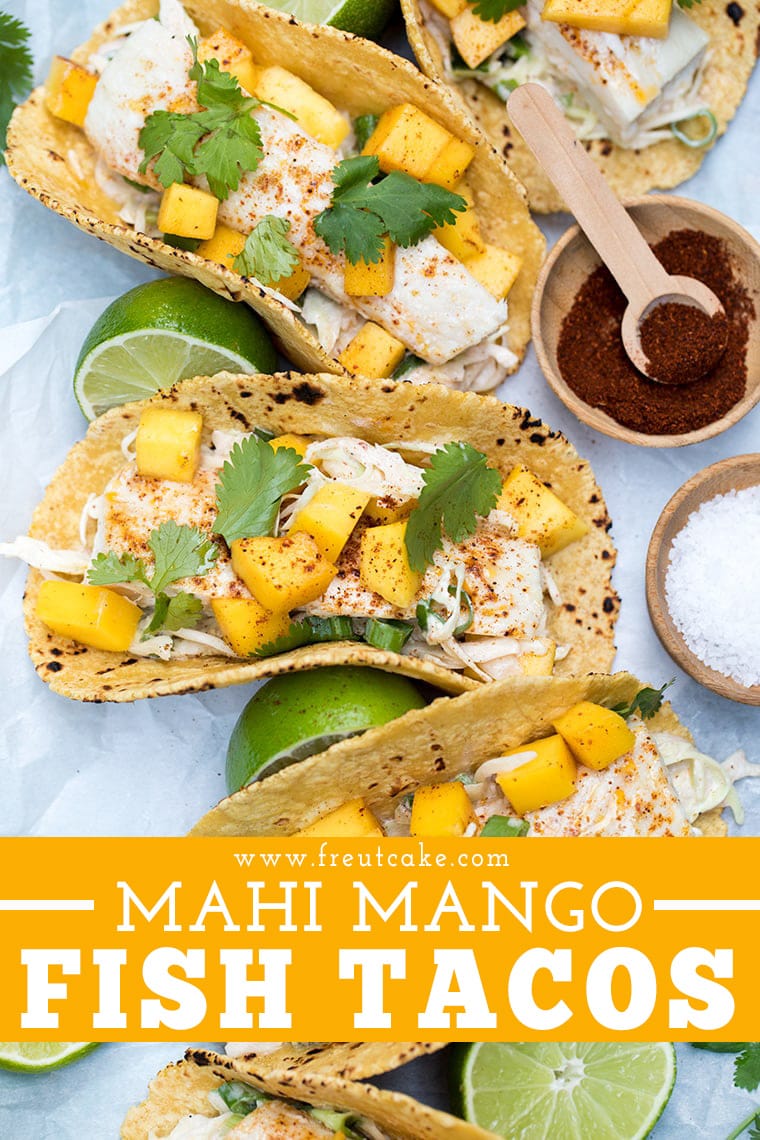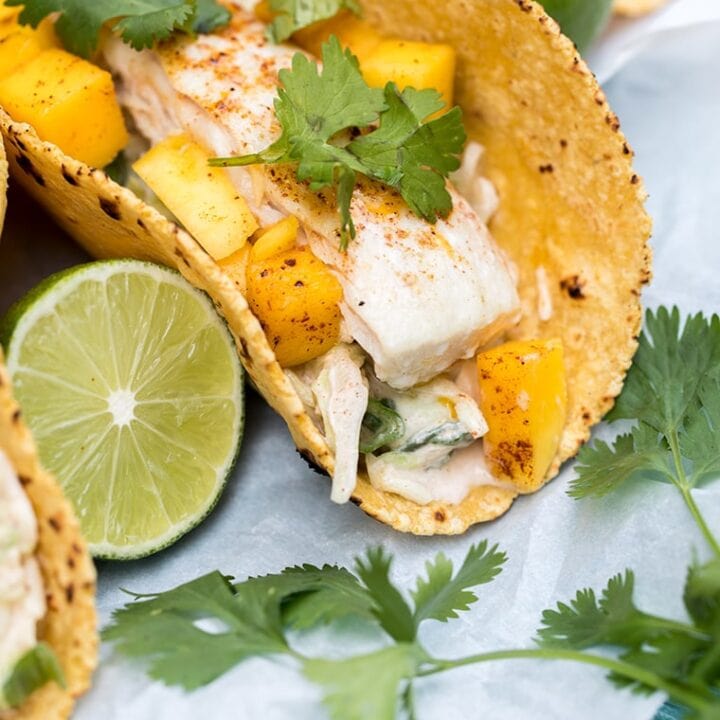 Mahi Mango Fish Tacos
The very best Mahi Mahi fish tacos with a creamy slaw and fresh mango salsa.
Ingredients
For the Fish:
6 Mahi Mahi Fillets, I buy frozen from Trader Joes
olive oil or coconut oil
salt
cumin
chili pepper
1 lime
2 packages Trader Joe's Corn & Wheat Tortillas
For the Slaw:
1 (10oz) bag shredded green cabbage
3 green onions sliced (whites and green)
⅓ cup sour cream
juice of 2 limes
½ teaspoon kosher salt
½ teaspoon chili powder
pinch of cumin
pinch of black pepper
For the mango:
2 cups diced fresh mango
juice of ½ a lime
dash of chili powder
Instructions
Preheat oven to 375 and line a rimmed baking sheet with foil.
In a mixing bowl, whisk together the dressing for the cabbage slaw by combining sour cream, lime juice, kosher salt, chili powder, cumin and black pepper. Toss in shredded cabbage and green onions and set aside.
Place fish on lined baking sheet and drizzle both sides with olive oil. Season generously on both sides with salt, cumin and chili powder. Just sprinkle it on, no measuring here!
Bake 12 minutes or until fish is cooked through. The time will depend on the thickness of the fish. Do not overcook as fish can dry out quickly! 12 minutes always seems to be perfect for me.
While the fish cooks, dice mango and place in a bowl. Squeeze lime juice over it and sprinkle with chili powder. Toss and set aside.
Char tortillas over an open flame on the stove top.
To serve, place a good amount of slaw in each warm tortilla. Top with ½ a fish fillet and a spoon full of mango. Serve immediately while the fish is warm!
Notes
Please read my post for all of my tips and tricks!