Roasted Tomato Soup is the perfect way to enjoy the flavors of late summer tomatoes while welcoming in the coziness of fall. Roasted Tomatoes add a deep, sweet flavor to this homemade tomato soup.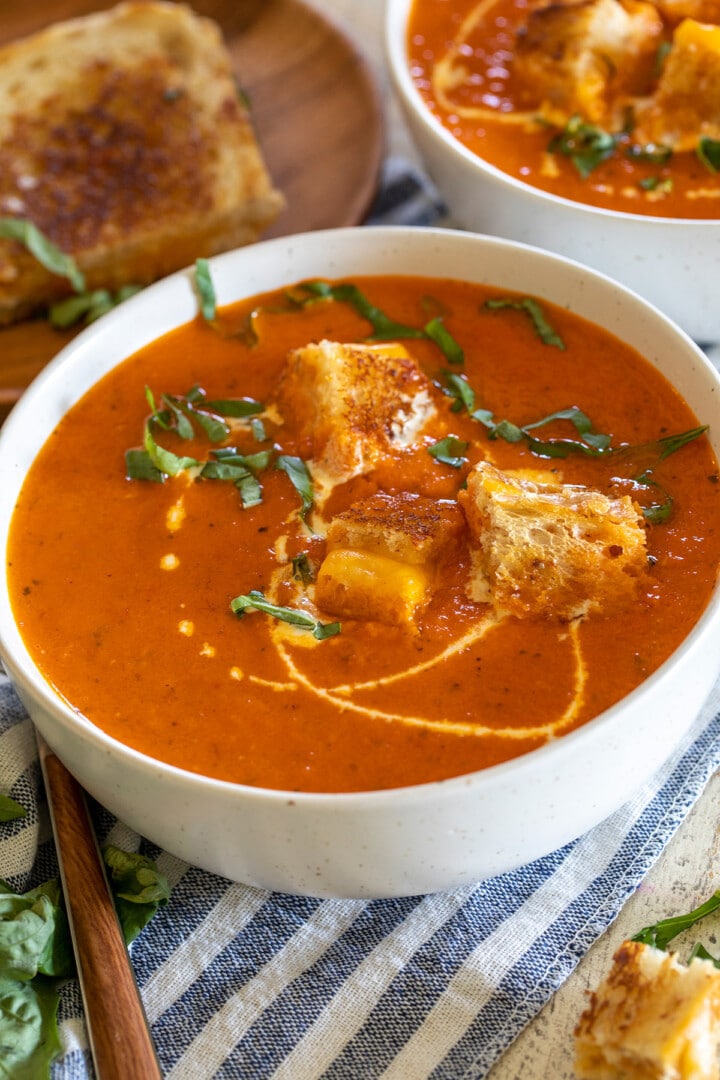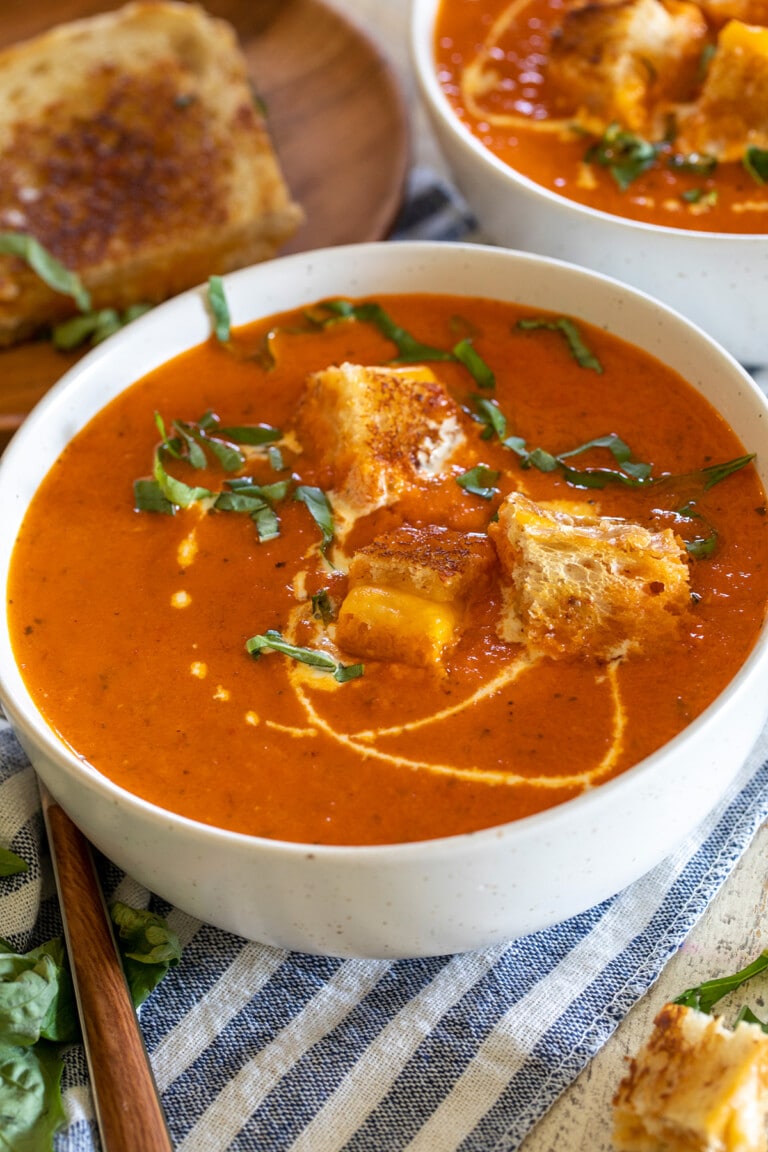 Roasted Red Pepper and Tomato Soup
Tomato soup with a grilled cheese sandwich for dipping is right up there with my Grandma's Macaroni and Cheese, as the ultimate in comfort food meals. I add a jar of roasted red peppers to my soup to add even more flavor for a more complex tomato soup.
Nothing beats the flavor of homemade and in this case, from scratch tomato soup blows anything pre-made, out of the water.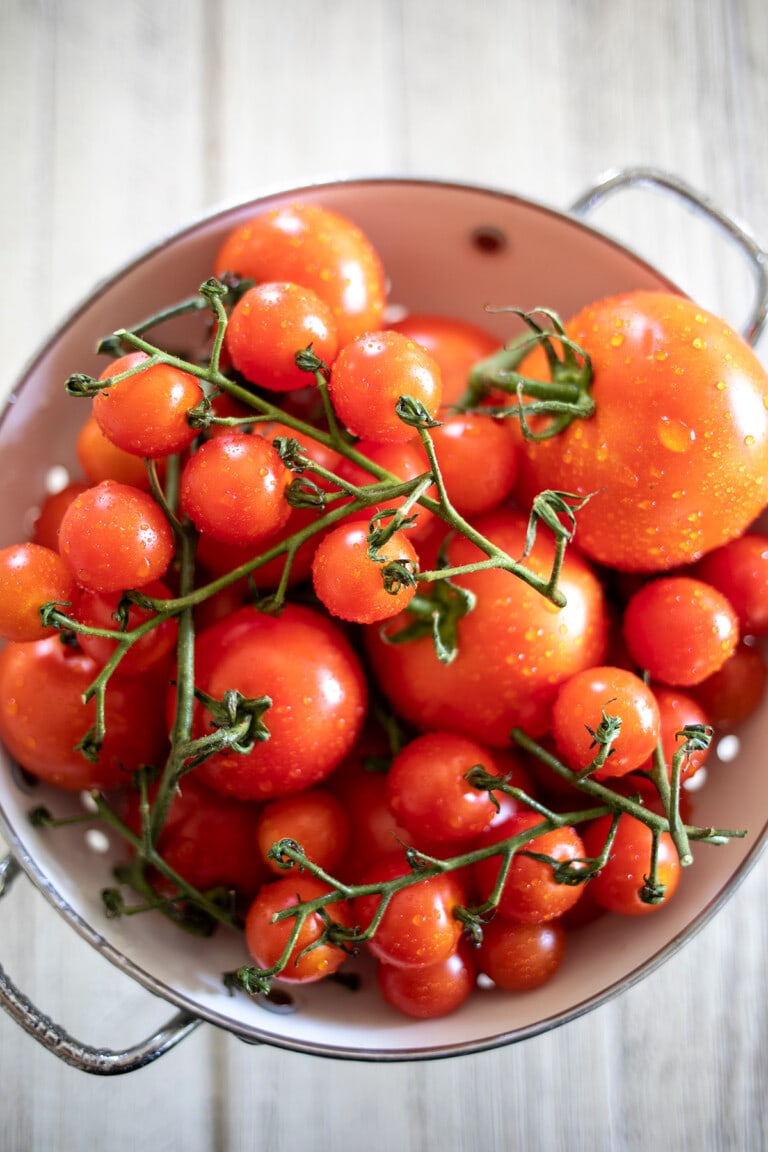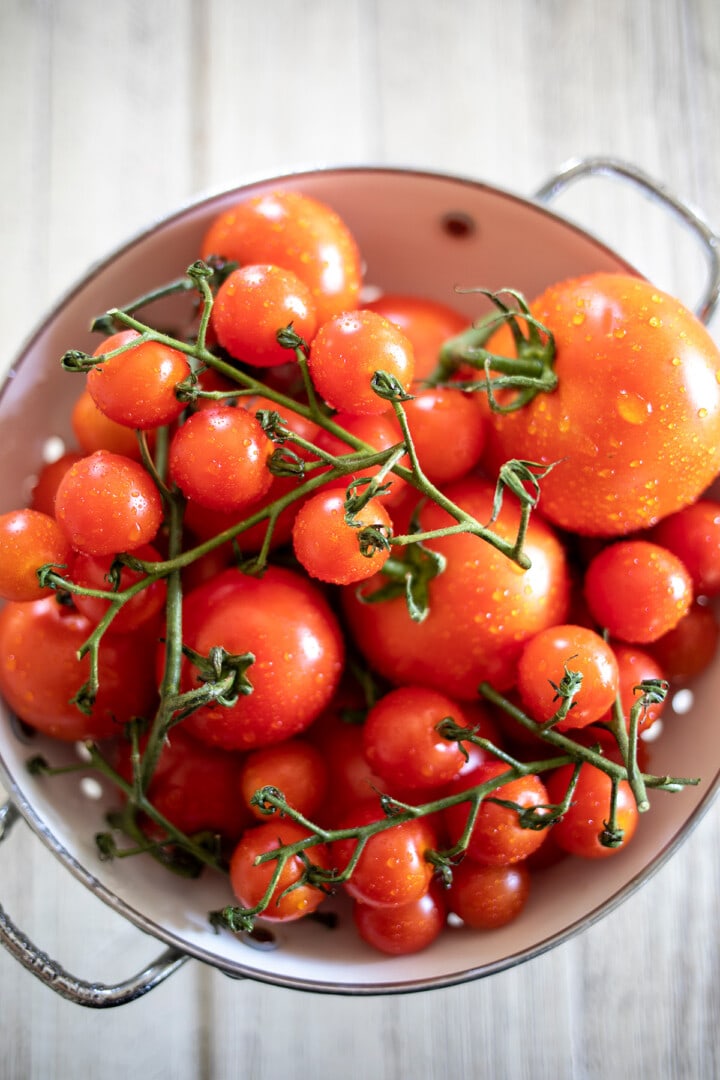 What Tomatoes are Best for Soup?
The very best tomatoes are organic and fresh off the vine. I tend to buy smaller, tomatoes like cocktail tomatoes, Roma and plum tomatoes or any tomatoes that are still on the vine as I find they have the best flavor.
When it comes to store bought tomatoes, I stay away from classic beef steak tomato for soup as I find they are less concentrated in flavor and more watery. If you have a garden filled with different varieties of tomatoes, use whatever you have! Homegrown is always the most delicious.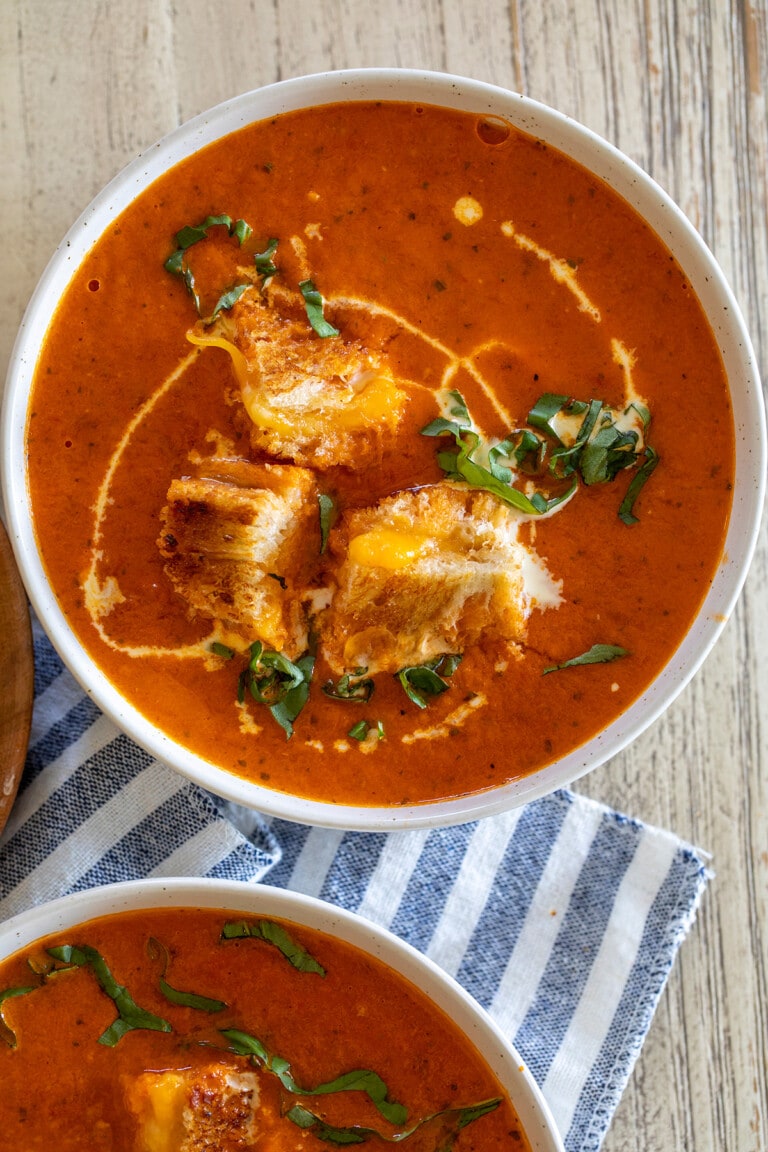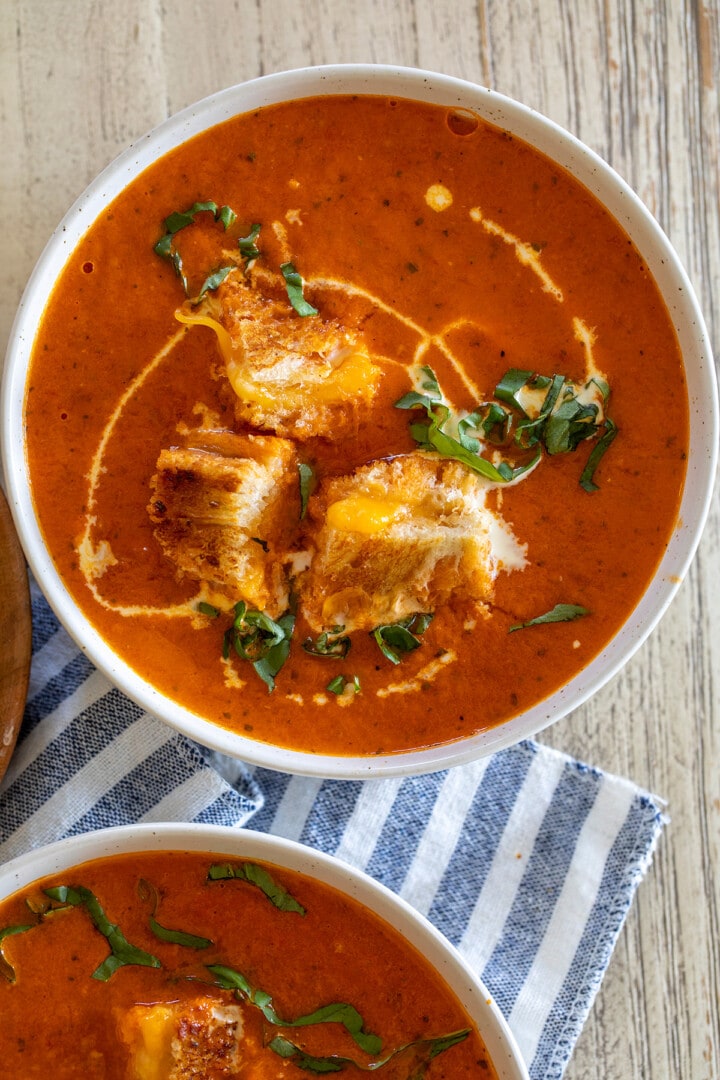 Ingredients in Roasted Tomato Soup
Tomatoes - I used a variety of cocktail and cherry tomatoes on the vine.
Onion - to add more flavor to the soup.
Fire Roasted Red Bell Peppers - you can find these in a jar in most grocery stores.
Garlic - because everything is better with garlic.
Chicken Stock - you can also use veggie stock however I like the flavor of chicken.
Butter and Olive Oil - the combination of both add a richer flavor to the soup.
Dried Oregano - this compliments the roasted tomato flavor.
Basil - fresh basil gives a beautiful soft herb flavor to the soup.
Salt & Pepper - Kosher salt and fresh ground black pepper. Because we don't cook without them!
See recipe card for quantities.

Instructions
The first step in making delicious roasted tomato soup, is to roast the tomatoes in a very hot oven. Line the sheet pan with parchment paper so that the tomatoes don't react to the aluminum which will give a metallic flavor to your soup.
While the tomatoes roast in the oven, sautee the onion in butter and olive oil in a large non-reactive pot like a dutch oven.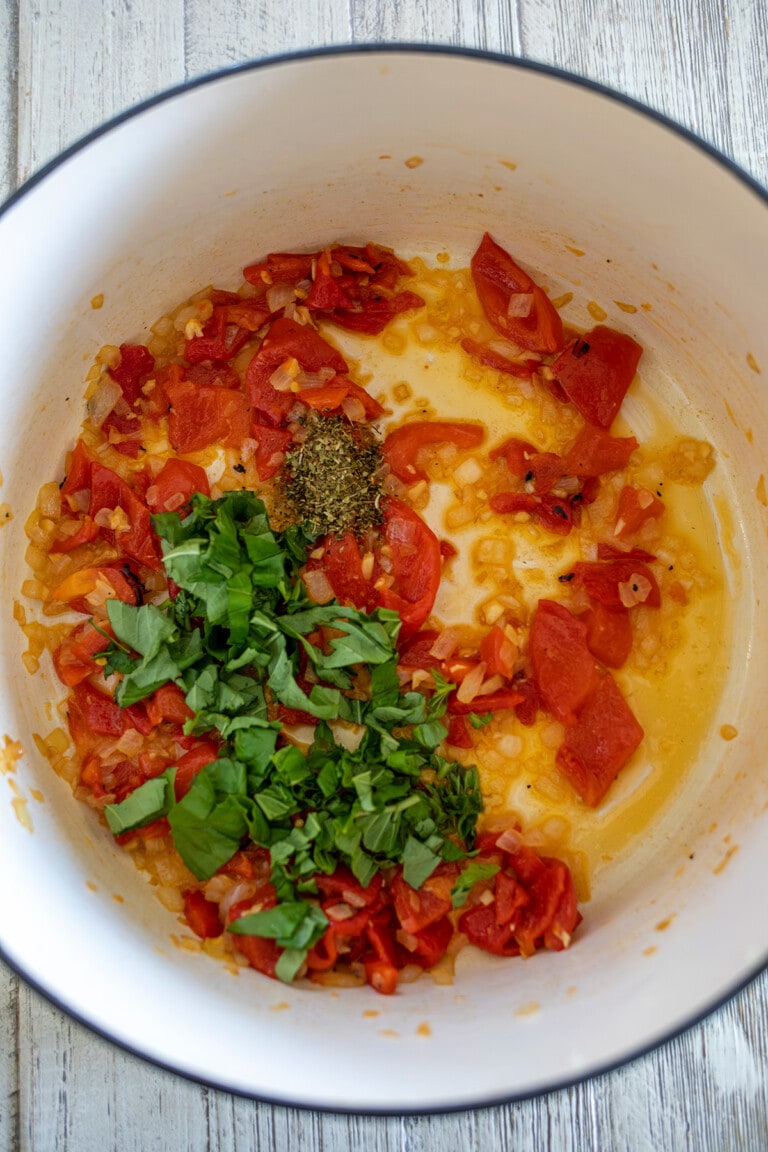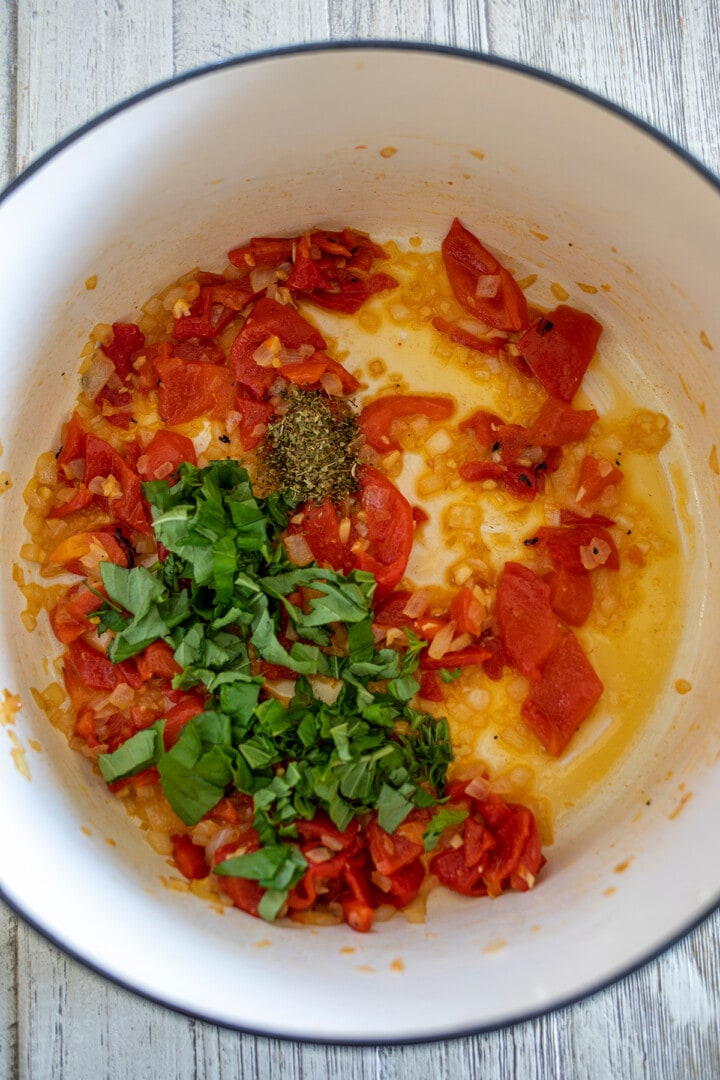 Once the onions are soft, add in minced garlic, roasted red bell peppers, dried oregano, and fresh basil. This soup comes together quickly and you will only cook the herbs and peppers for a quick minute before adding in the chicken stock.
Deglazing the pot with chicken stock brings up any bits stock to the bottom of the pan which means added flavor! Bring to a simmer.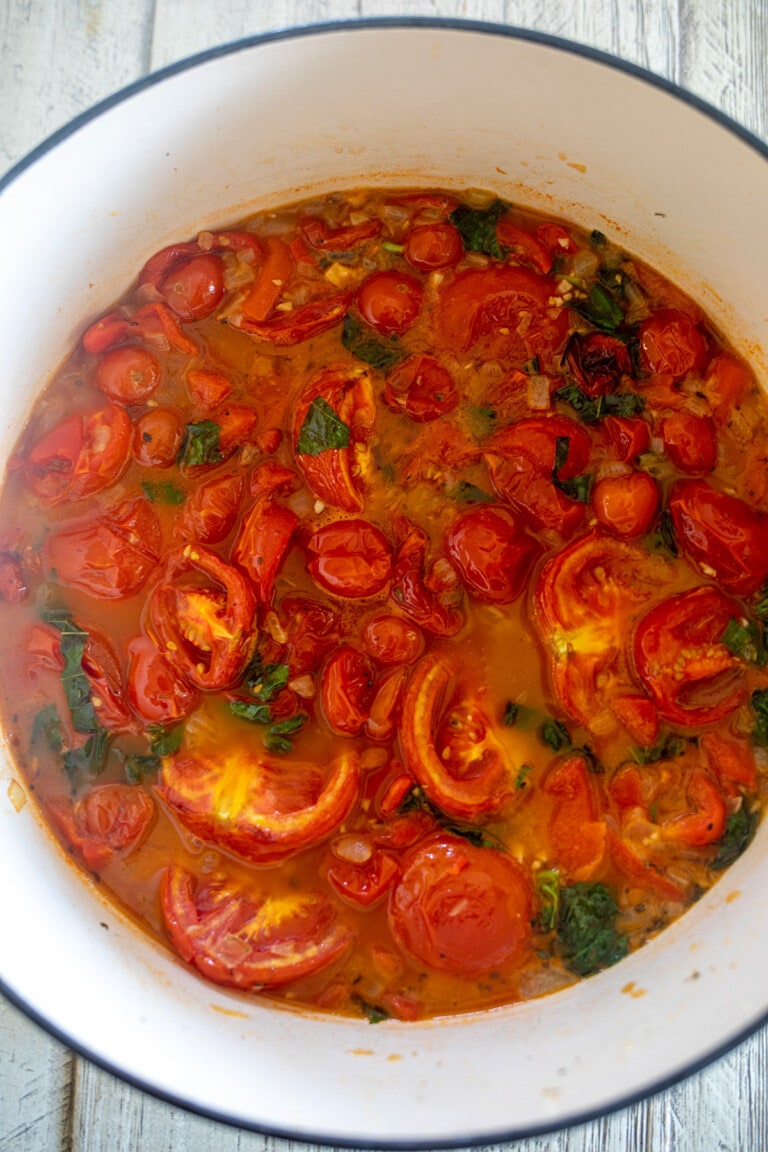 At this point, the tomatoes will be done roasting and can be scraped into the simmering broth and herbs. Make sure to add in every bit of juice and pan drippings from the roasted tomatoes! All of that goodness is added flavor for the soup.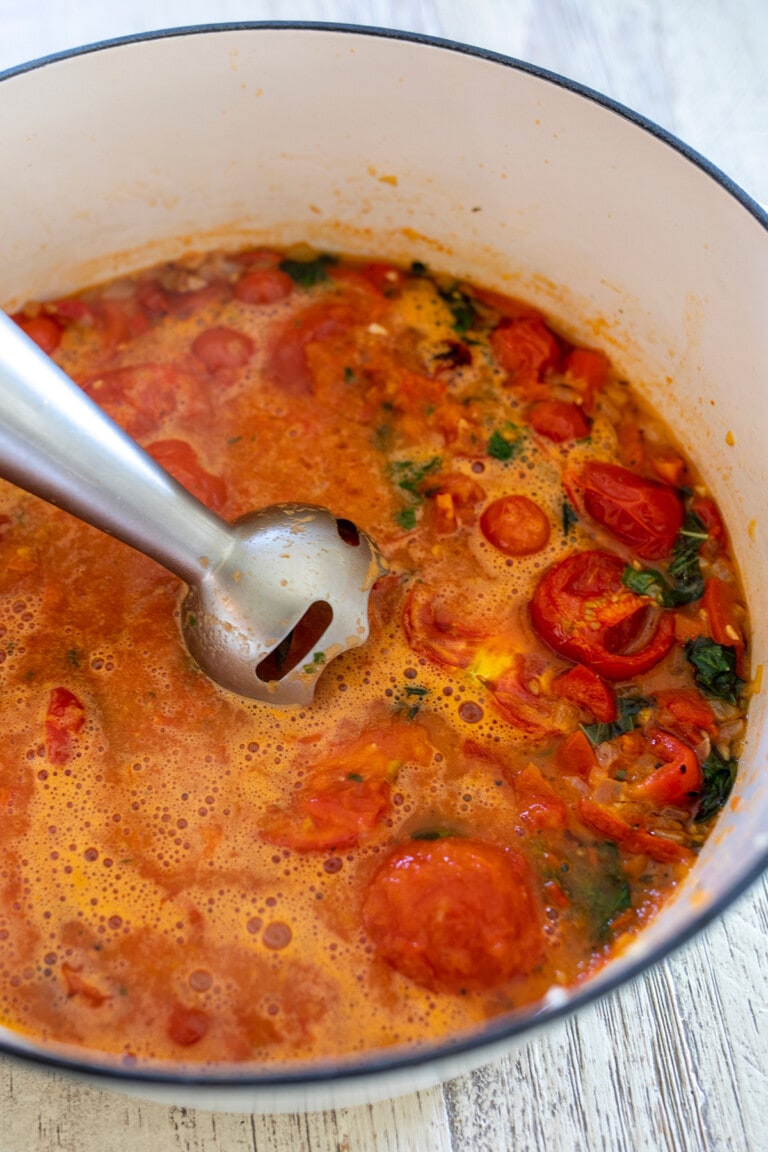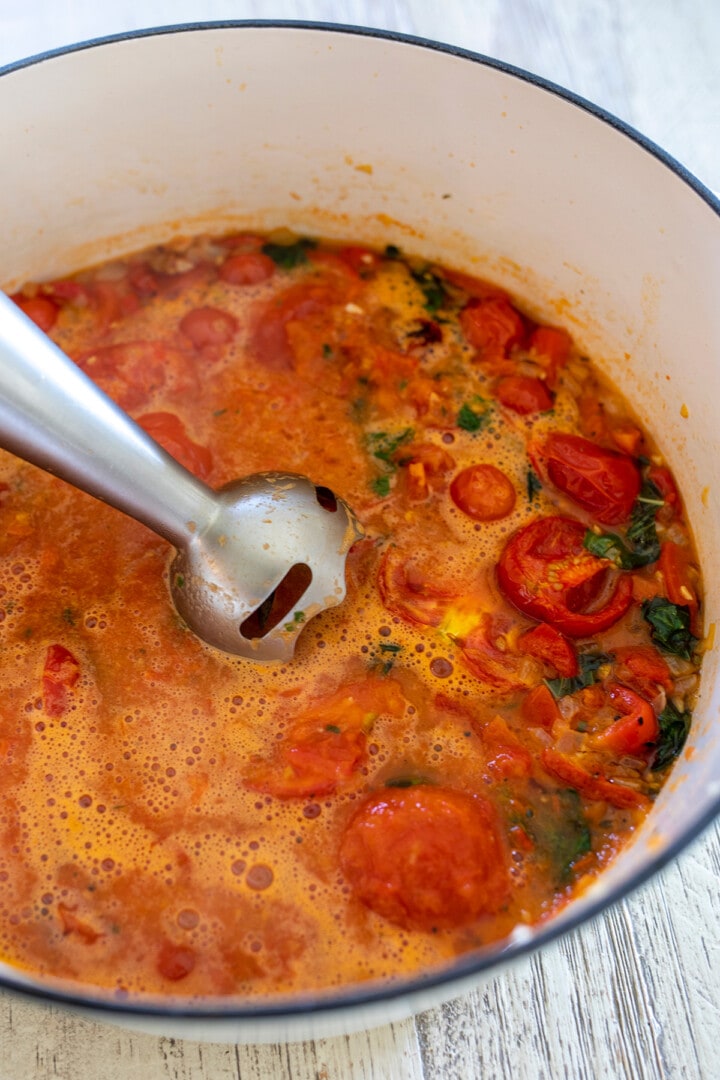 Time to puree the soup! You can do this two different ways, in a blender or with an immersion blender like I have. My immersion blender is one of my favorite kitchen tools and makes soup making so much easier as you don't have to transfer hot liquid to a blender.
If you do decide to use a standard blender, be very careful to transfer the hot soup and tomatoes in batches and cover the top of the lid with dish towel to avoid any splattering.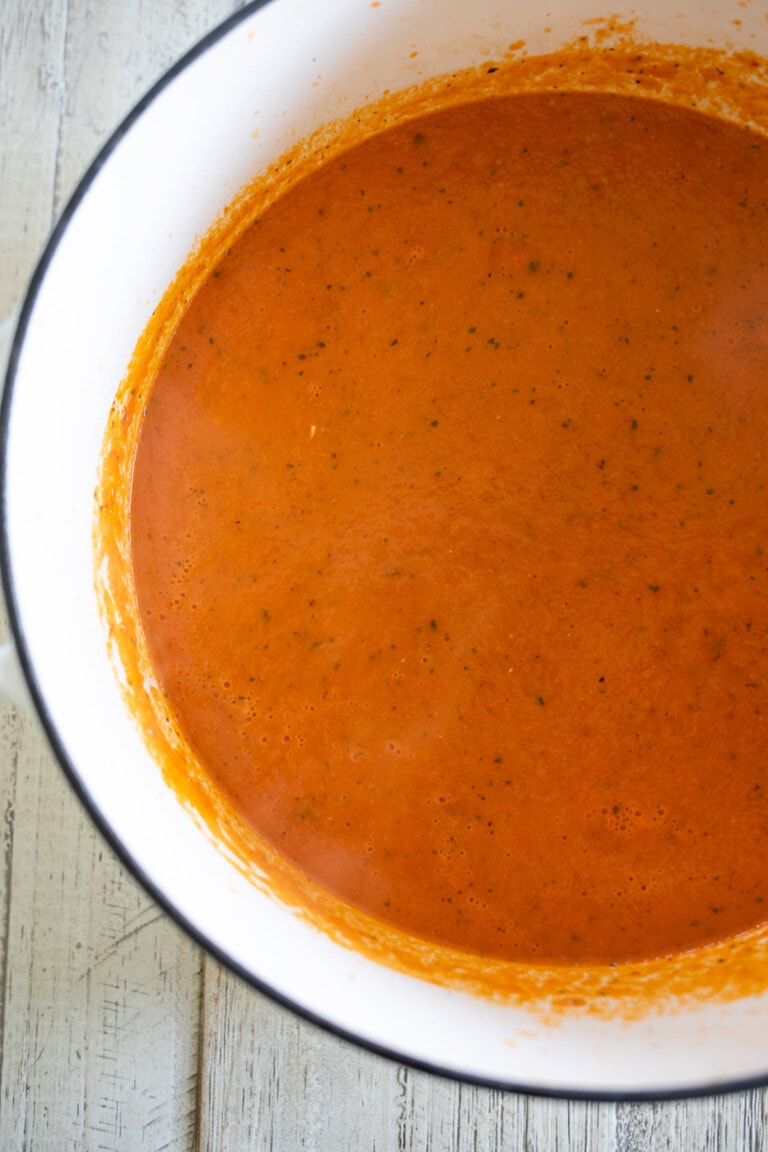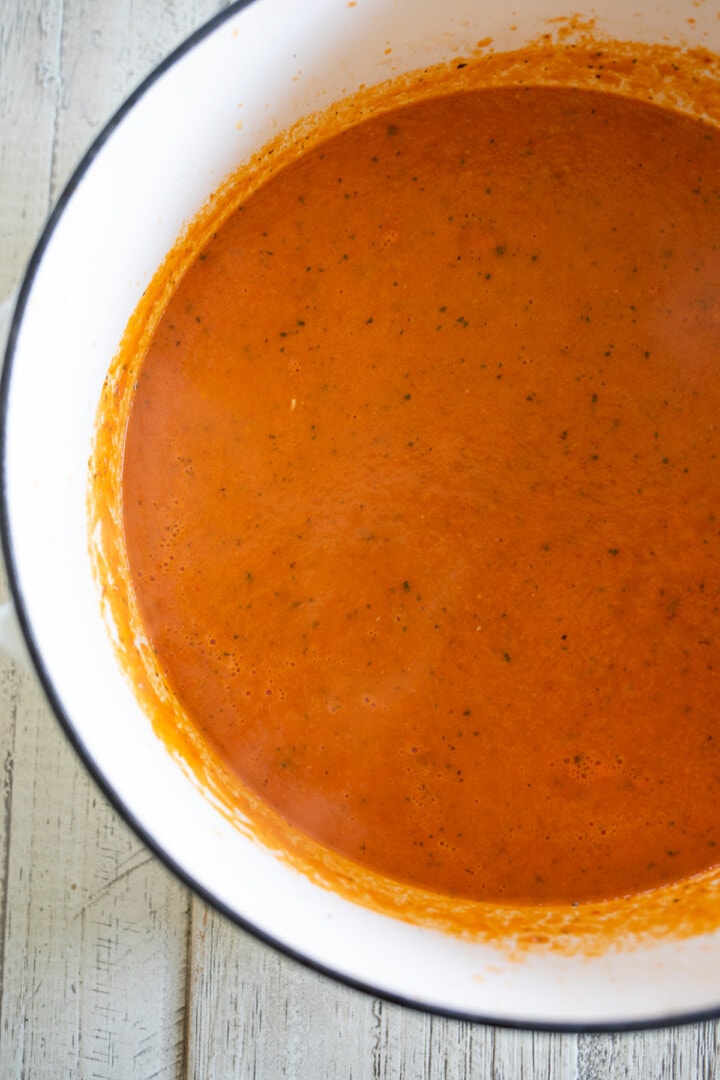 Do You Have to Peel Tomatoes for Soup?
I do not think it's necessary to peel roasted tomatoes! The skin becomes tender and adds a more rustic texture to the soup which I really enjoy. You can choose to puree the soup as chunky or smooth as you like.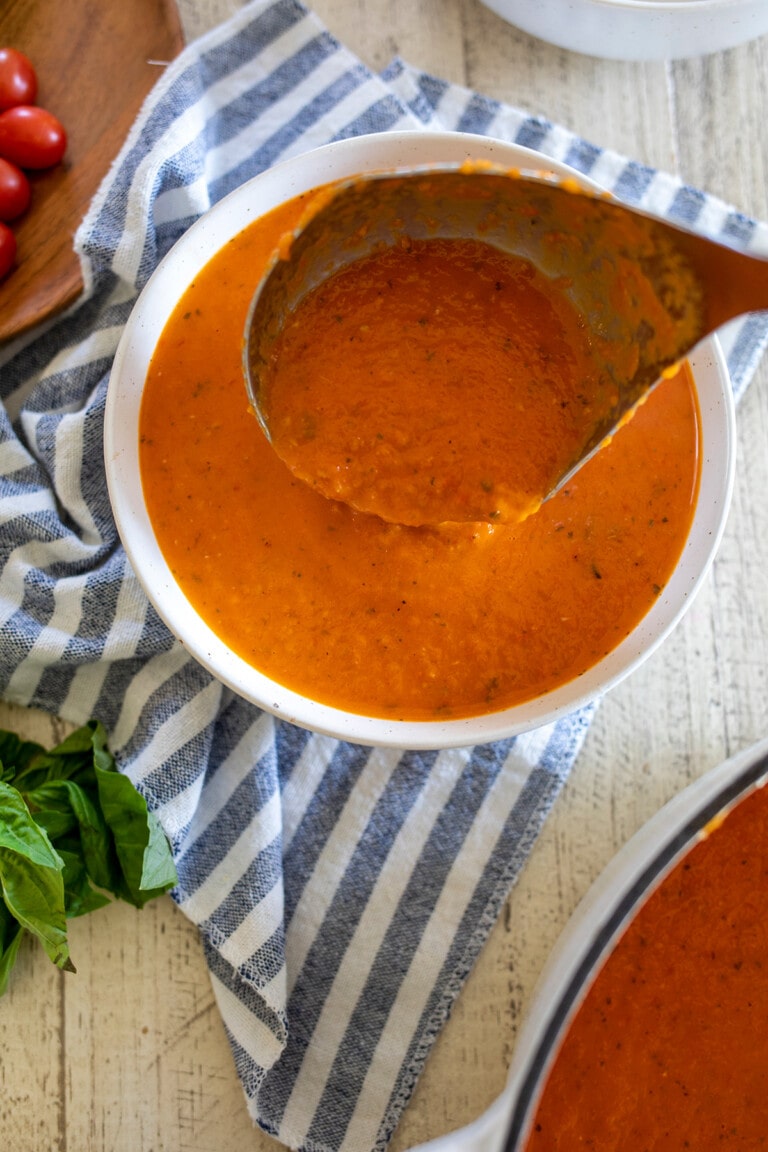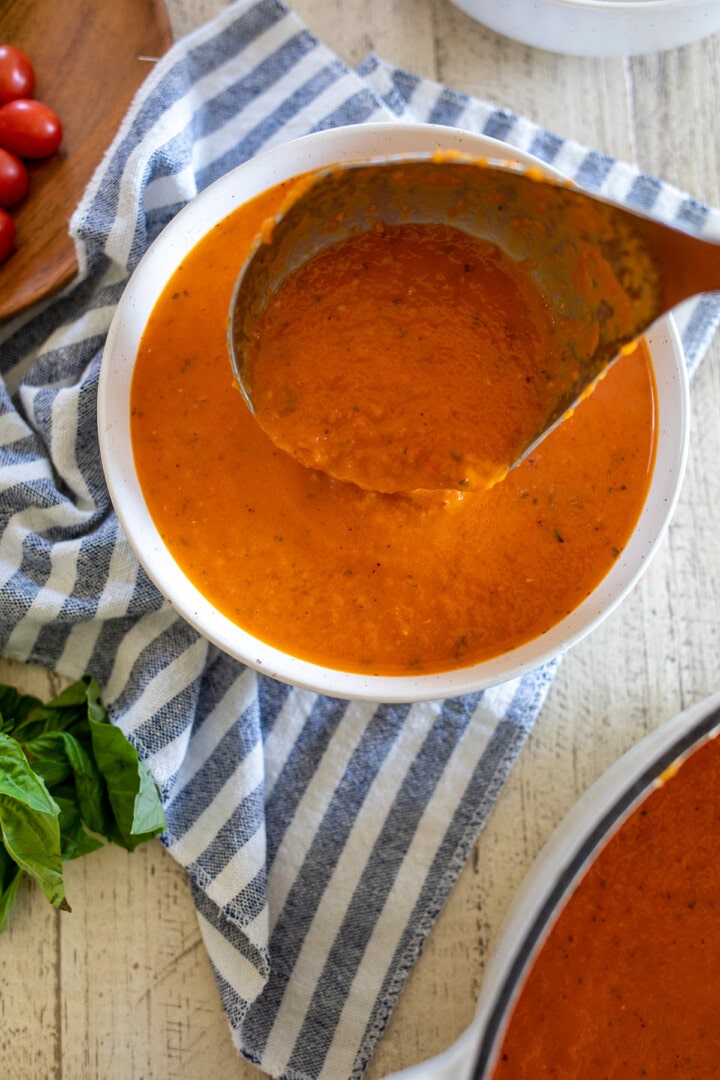 Before serving the soup, taste once more for seasoning and add more salt and pepper if needed! You can also add a small amount of heavy cream if you want a creamy finish however I find this soup luscious enough without any dairy at all.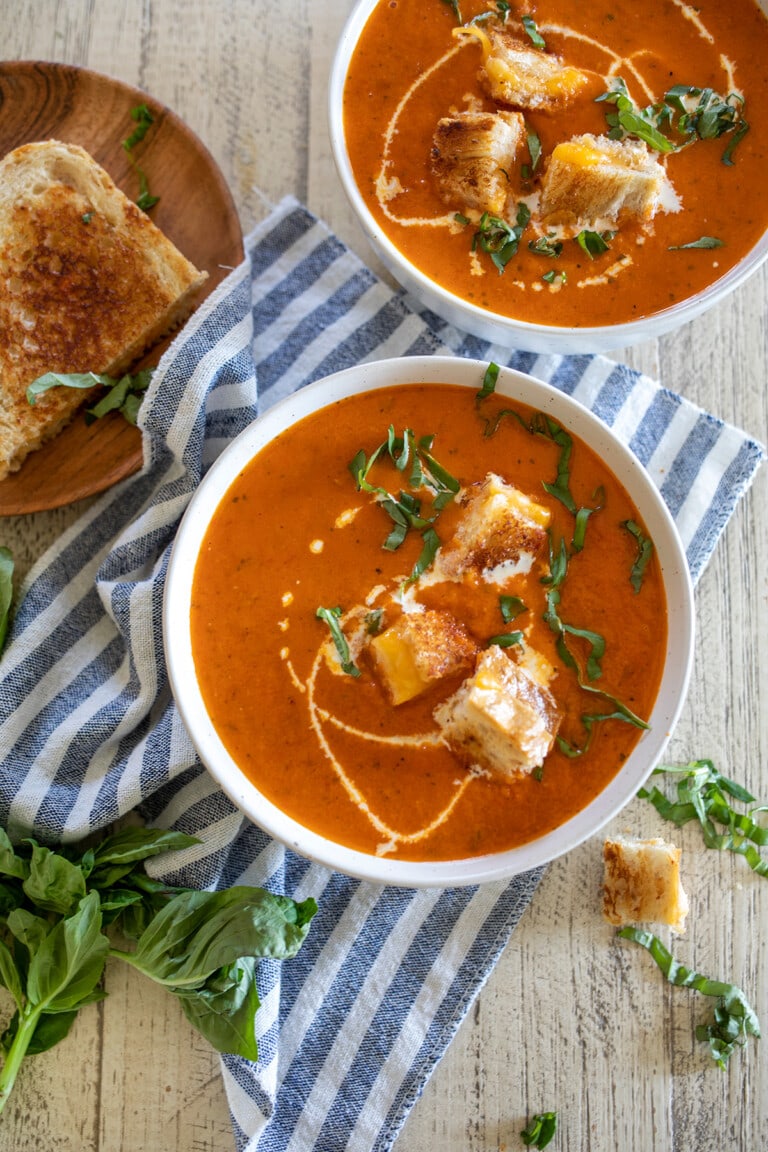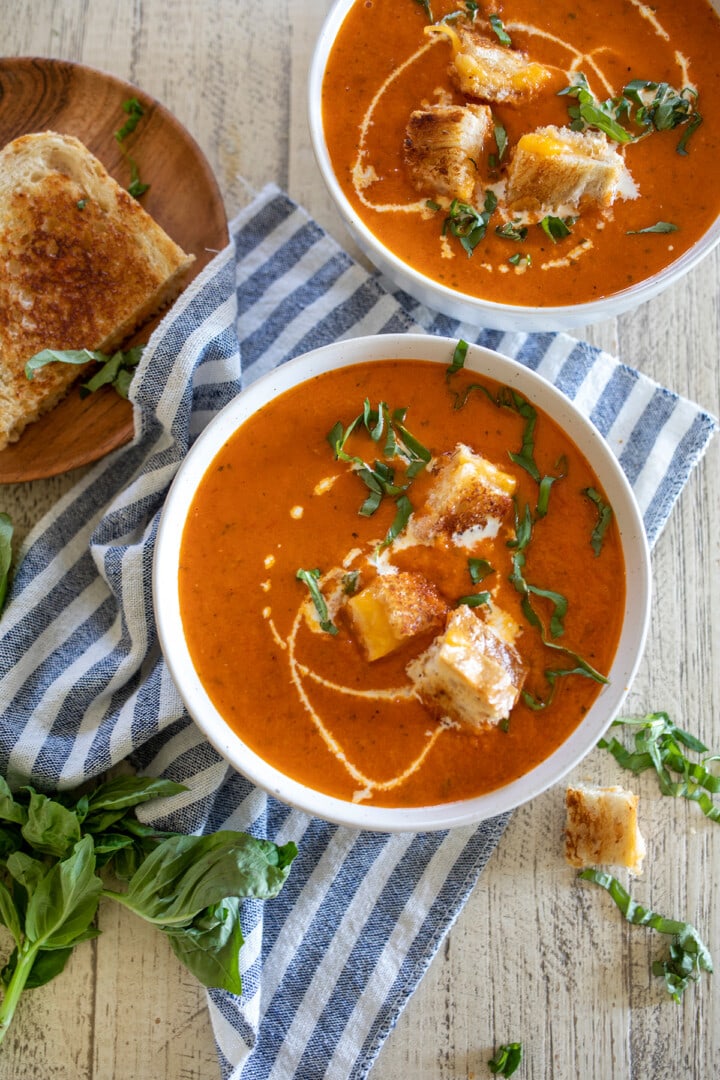 Tip: I love serving this Roasted Tomato Soup with grilled cheese sandwiches or grilled cheese croutons! To make these simply cut a grilled cheese sandwich down into bite sized cubes and add to soup just before serving. A drizzle of cream and more fresh basil finishes this soup nicely.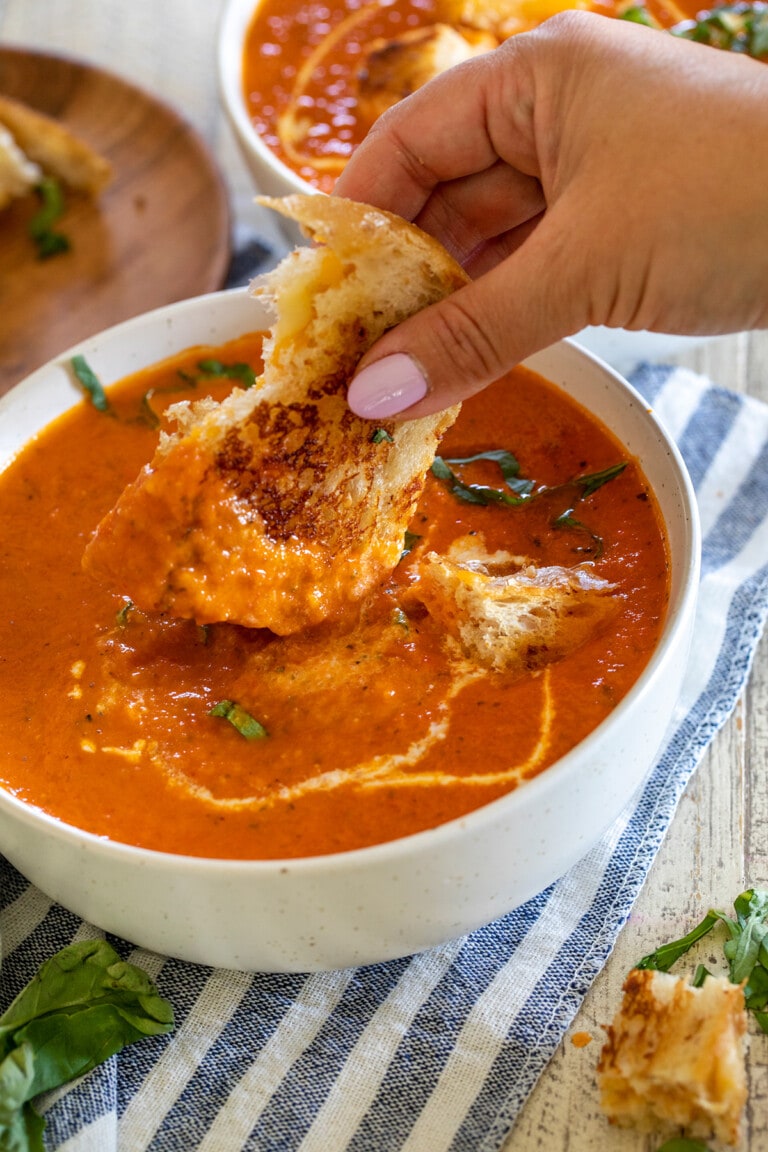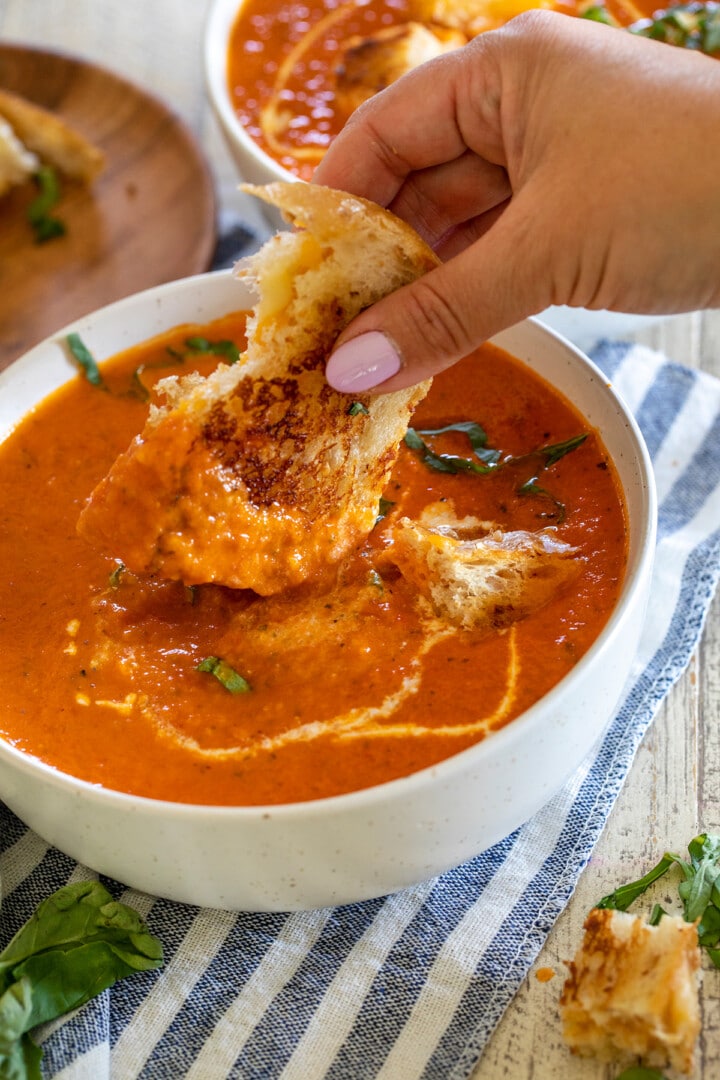 Substitutions and Variations
This recipe is rather simple so I don't generally substitute a whole lot however here are a few changes you can make:
Chicken Stock - vegetable stock also works and will make this recipe vegetarian friendly.
Red Peppers - if you cannot find roasted red peppers, you can leave this ingredient out however I do think it adds amazing flavor to the soup.
Heavy Cream - if you want a creamier soup you can add ½ cup of heavy whipping cream to the soup after pureeing. I generally finish the soup with a small drizzle of cream however.
Spicy - if you want to add a kick to the soup, try adding in ½ teaspoon of red chili flakes along with the dried oregano. You can adjust that amount with more or less based on taste.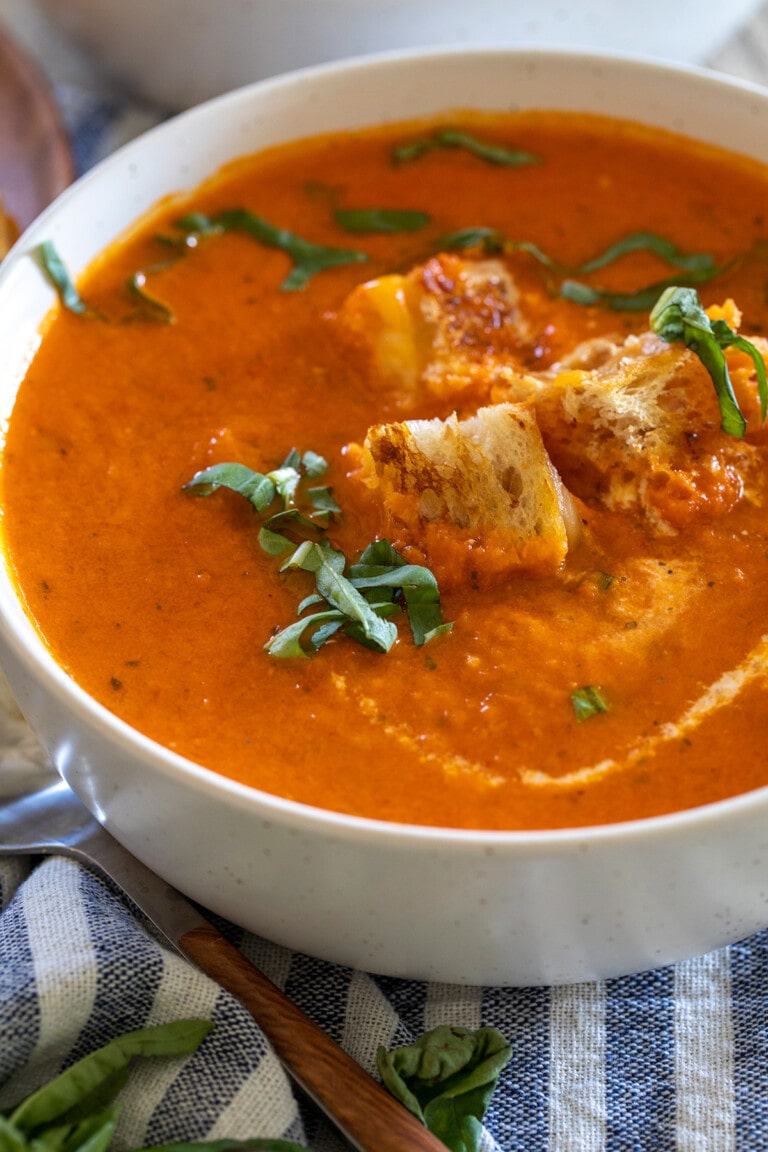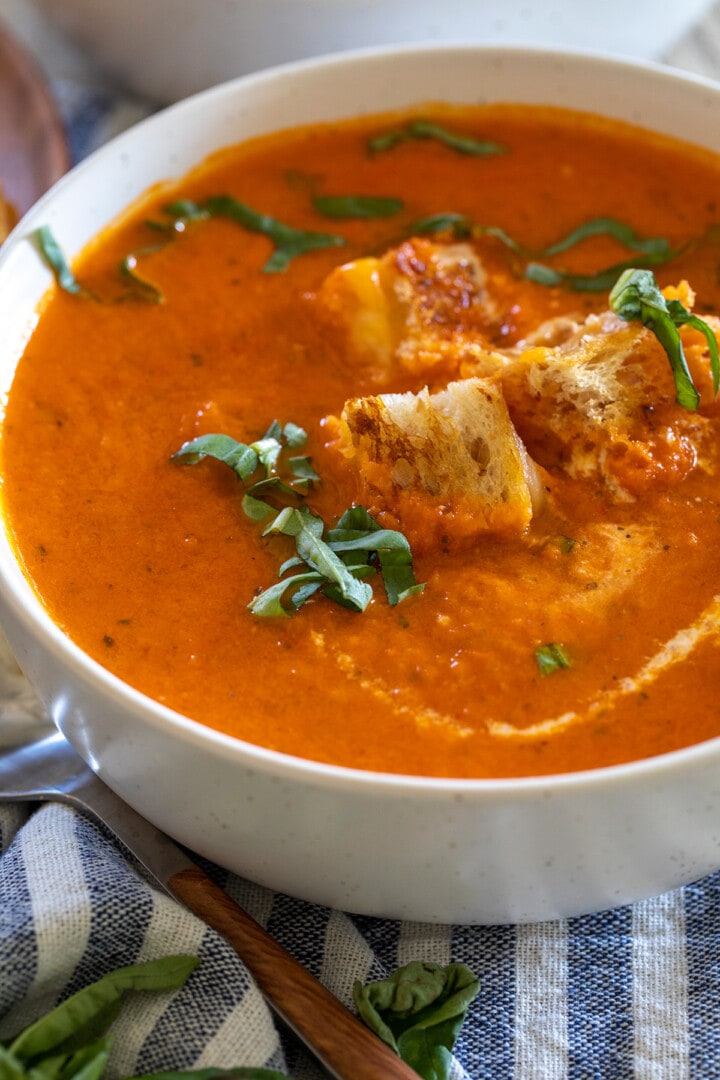 How to Store Tomato Soup
Store the soup in large glass mason jars in the refrigerator for up to three days. I prefer storing in a glass container versus as tomato soup can stain plastic tupperware. You can freeze homemade tomato soup for 4 to 6 months.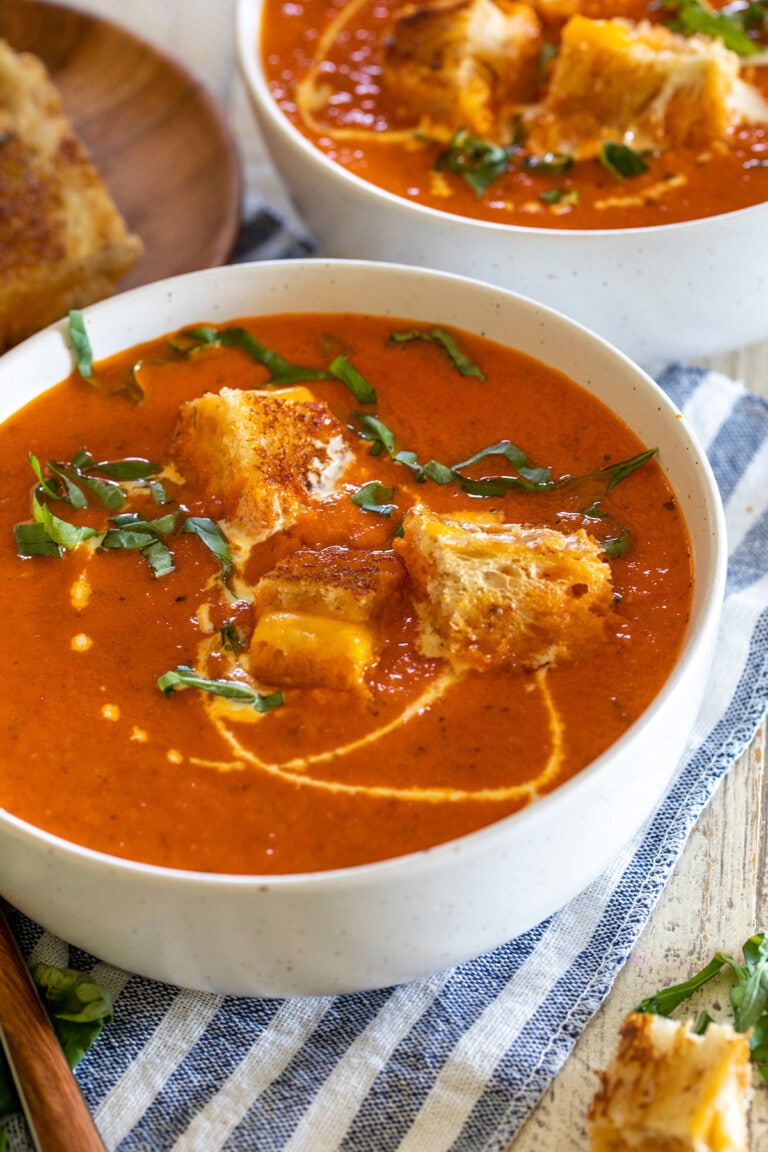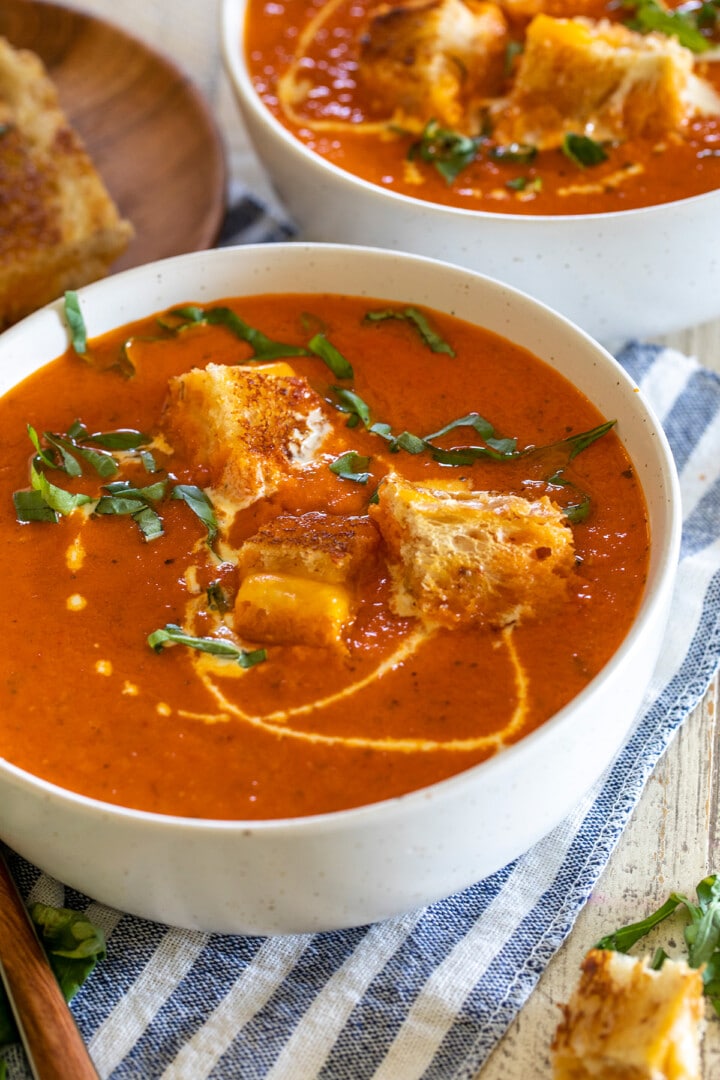 More Soup Recipes to Enjoy!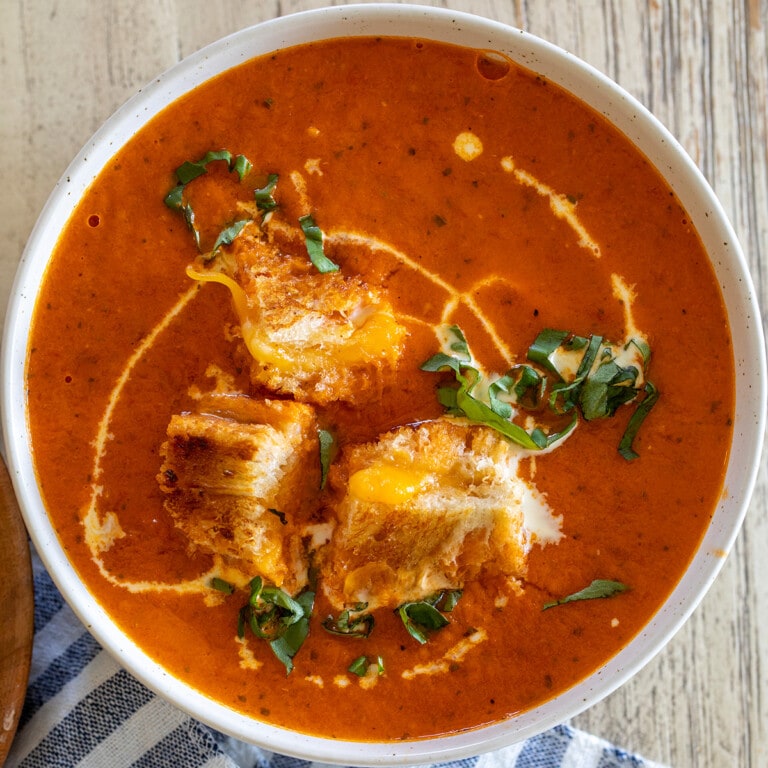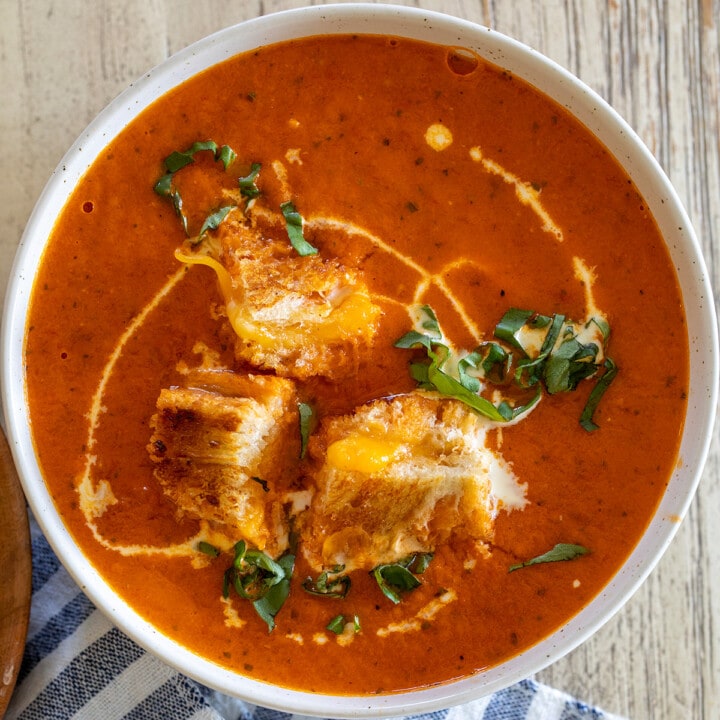 Roasted Tomato Soup
Additional Time:
10 minutes
Total Time:
1 hour
5 minutes
A homemade tomato soup made with roasted tomatoes, fire roasted red peppers, garlic, onion and basil.
Ingredients
2 Tablespoons salted butter
2 Tablespoons olive oil
1 cup diced yellow onion
2 cloves garlic, minced
4 pounds tomatoes, see note for variety
1 12oz jar fire roasted red bell peppers, drained
2 cups chicken stock
½ cup fresh basil, plus more for garnish
½ teaspoon dried oregano leaves
kosher salt
ground black pepper
(optional) ½ cup heavy creamy
Instructions
Preheat oven to 400 degrees.
Line a rimmed baking sheet with parchment paper and arrange tomatoes. If the tomatoes are large, cut in half or quarters.
Drizzle tomatoes with olive oil and season with salt and pepper.
Roast for 45 minutes until tomatoes are soft and slightly caramelized.
While the tomatoes roast begin prepping the remaining ingredients: Dice the onion, mince garlic, chop red peppers into small pieces, and pick basil from the stem.
In a large non-reactive pot or dutch oven over medium heat, add 2 Tablespoons each of butter and olive oil. Add onion and sautee for 5 minutes stirring frequently until onions are soft and translucent.
Add minced garlic, red peppers, basil and oregano. Cook for one more minute until fragrant.
Add in 2 cups chicken stock and bring to a simmer.
Remove roasted tomatoes from the oven and add to the simmering broth. Make sure to add all pan drippings as well!
Bring back to a simmer before turning off the heat.
Puree soup with an immersion blender until smooth or transfer carefully in small batches to a blender to puree. See notes.
If using a blender, return to pot.
Taste and season with additional salt and pepper as needed.
Optional: at this point add in ½ cup heavy cream if you want a creamy tomato soup. Alternately, you can garnish with a drizzle of cream.
Serve hot with fresh basil, a drizzle of cream and grilled cheese.
Notes
What Tomatoes are Best for Soup?
I recommend using a variety of tomatoes like cocktail tomatoes, Roma and plum tomatoes or any tomatoes that are still on the vine as they have the best flavor. I don't recommend beef steak tomatoes.
Pureeing the Soup:
If you are using a standard blender rather than an immersion blender, be very careful to transfer the hot soup and tomatoes in batches and cover the blender lid with dish towel to avoid any splattering. Return to pot after all batches are pureed.
Recommended Products
This site uses affiliate links in which I may earn a small percentage from qualifying purchases.
Nutrition Information:
Yield:

4
Serving Size:

1
Amount Per Serving:
Calories:

310
Total Fat:

18g
Saturated Fat:

5g
Trans Fat:

0g
Unsaturated Fat:

11g
Cholesterol:

19mg
Sodium:

322mg
Carbohydrates:

34g
Fiber:

8g
Sugar:

20g
Protein:

9g