While most people are making corned beef with cabbage and potatoes for St. Patrick's Day, I'm making Corned Beef Tacos! This is my FAVORITE way to enjoy corned beef, topped with a tangy mustard slaw, and wrapped in corn tortillas. YUM.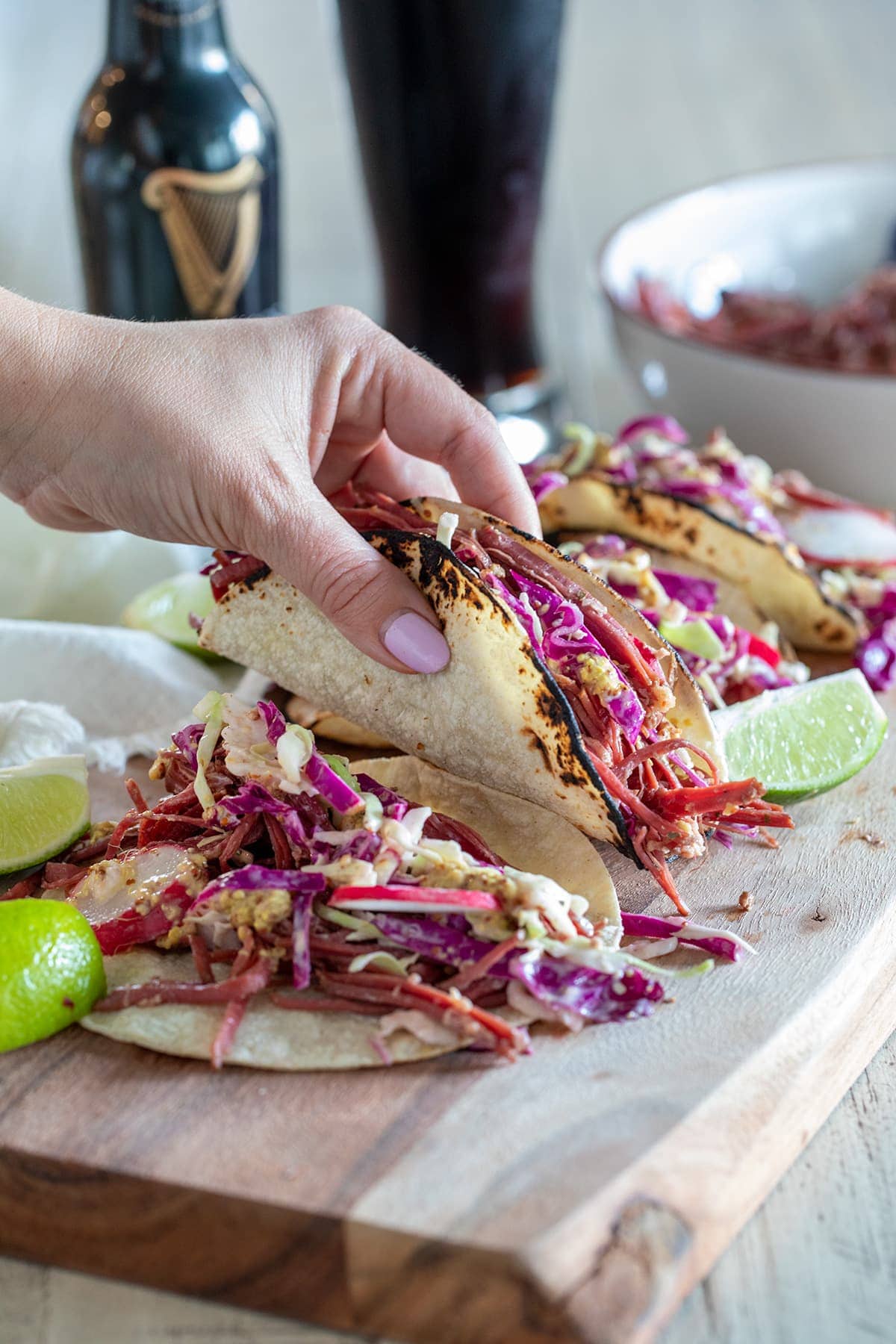 Corned Beef Tacos Recipe
Years ago, I had corned beef tacos for the first time and my mind was blown. It was so genius yet so simple. All the flavors of corned beef but with fresh cabbage slaw instead of the steamed and soggy version (sorry but it's true.) I was hooked. Now, I make these tacos every year and it couldn't be simpler thanks to Trader Joe's Corned Beef plus my easy method for cooking corned beef. (HINT: Instant Pot!)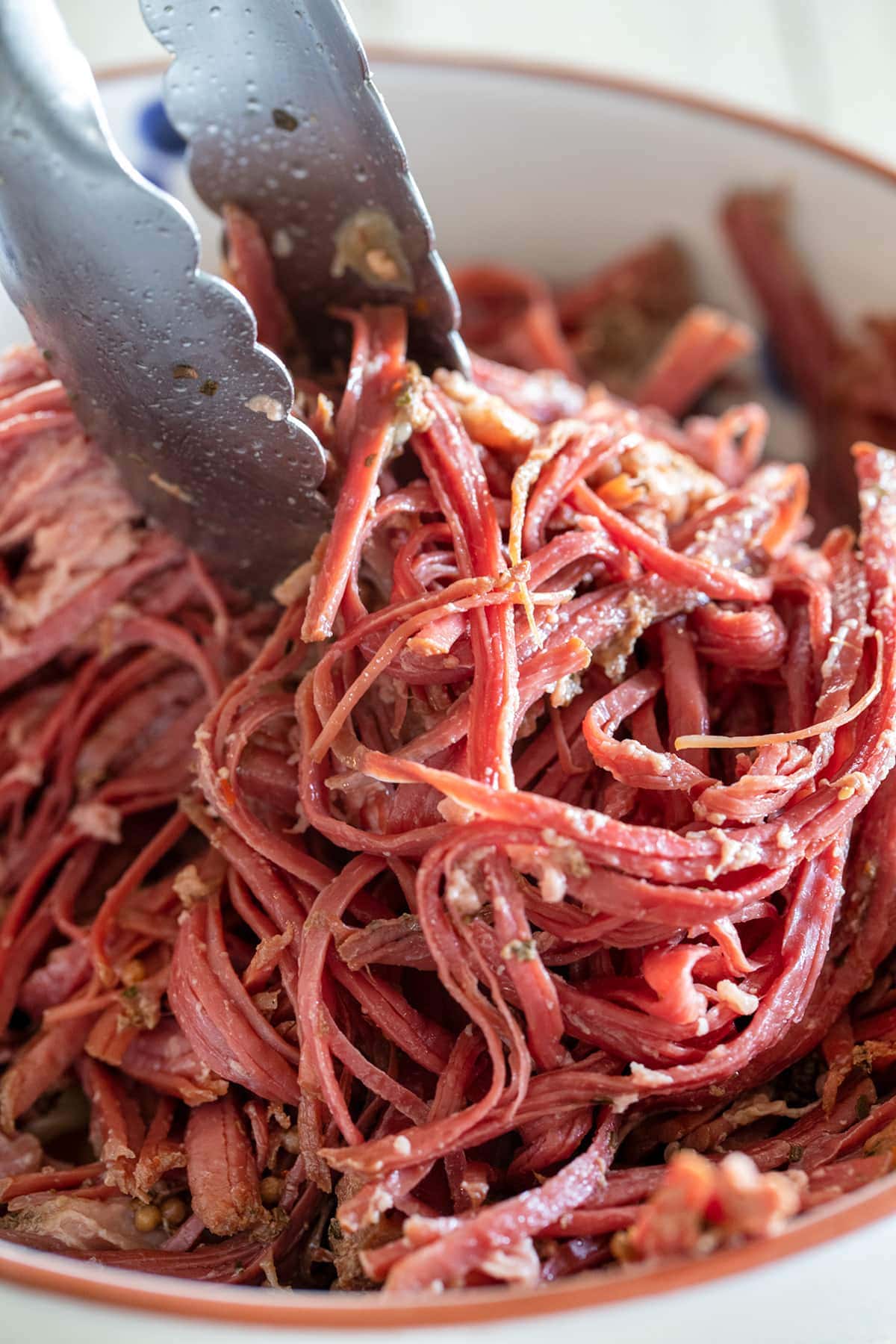 Ingredients Needed for Corned Beef Tacos:
Corned Beef- cooked and shredded, here's the recipe!
Cabbage - I like to use both green and purple cabbage.
Vinegar - red wine vinegar gives the slaw a delicious tang.
Sour cream - to make the slaw creamy and delicious.
Dijon mustard - grainy and delicious with corned beef!
Tortillas - personally I like corn tortillas for this recipe but you can use flour.
Salt and Pepper - because seasoning is good.
Radishes & Limes - for garnish.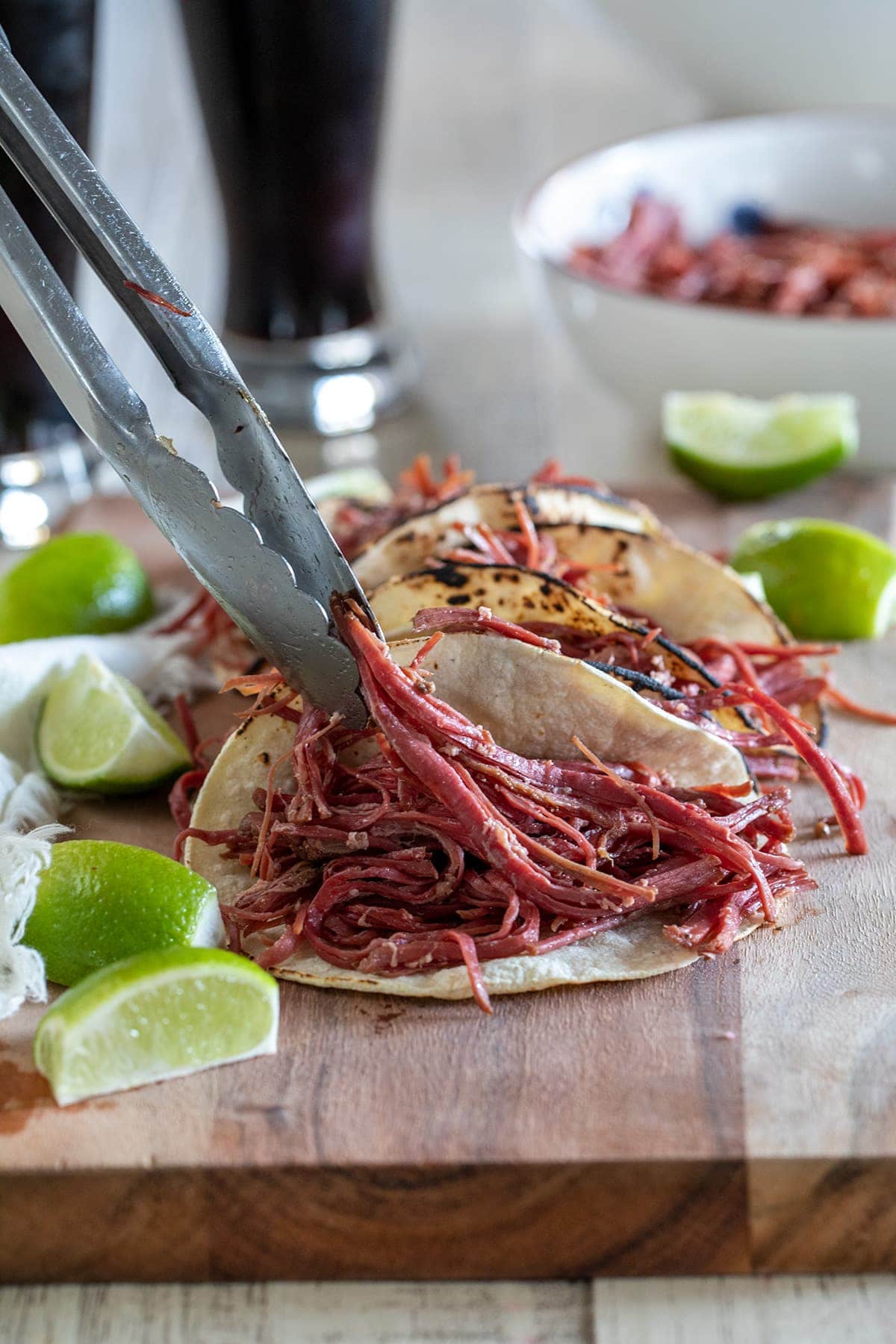 How to Make Corned Beef Tacos
I can't tell you enough how EASY these tacos are to make. The Instant Pot does all the work cooking the corned beef so all you have to prep is a simple slaw and char a few tortillas. We can handle this. This is how you make them...
Cook the Corned Beef - here is my recipe for Instant Pot Corned Beef.
Prep the Slaw - cabbage, dressing, toss and top!
Char Tortillas- if you aren't charring your tortillas over your gas stove flame, try it! Heat a burner to low and carefully, with tongs, flip your tortillas back and forth until you have a nice char. Delicious!
Fill & Eat - fill tortillas with shredded corned beef, slaw, and a couple of radish slices. Eat and enjoy!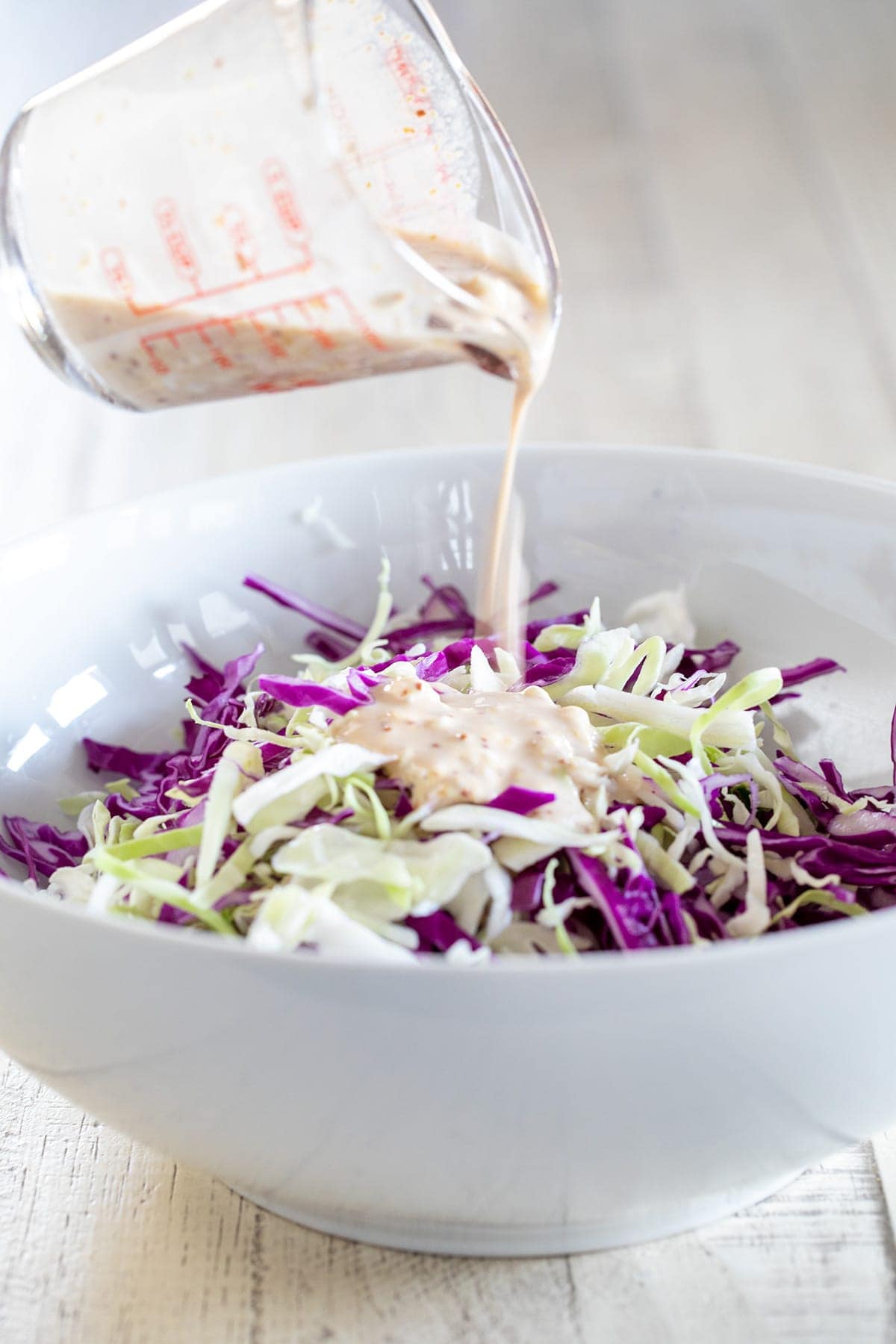 Cabbage Slaw for Tacos
Tacos are nothing but meat without toppings and what better to top them with than a delicious creamy, tangy, and crunchy cabbage slaw? I take the short-cut of using store-bought shredded cabbage so all that really needs prepping is the dressing. Whisk together red wine vinegar, sour cream, and dijon mustard and season it well with salt and pepper. Pour over the cabbage and you have a delicious slaw in no time!
Garnish with sliced radishes and limes on the side. I love the crunch that the cabbage slaw and radishes add to these tacos. You could also add fresh cilantro and chopped green onions if you are looking for more flavor options!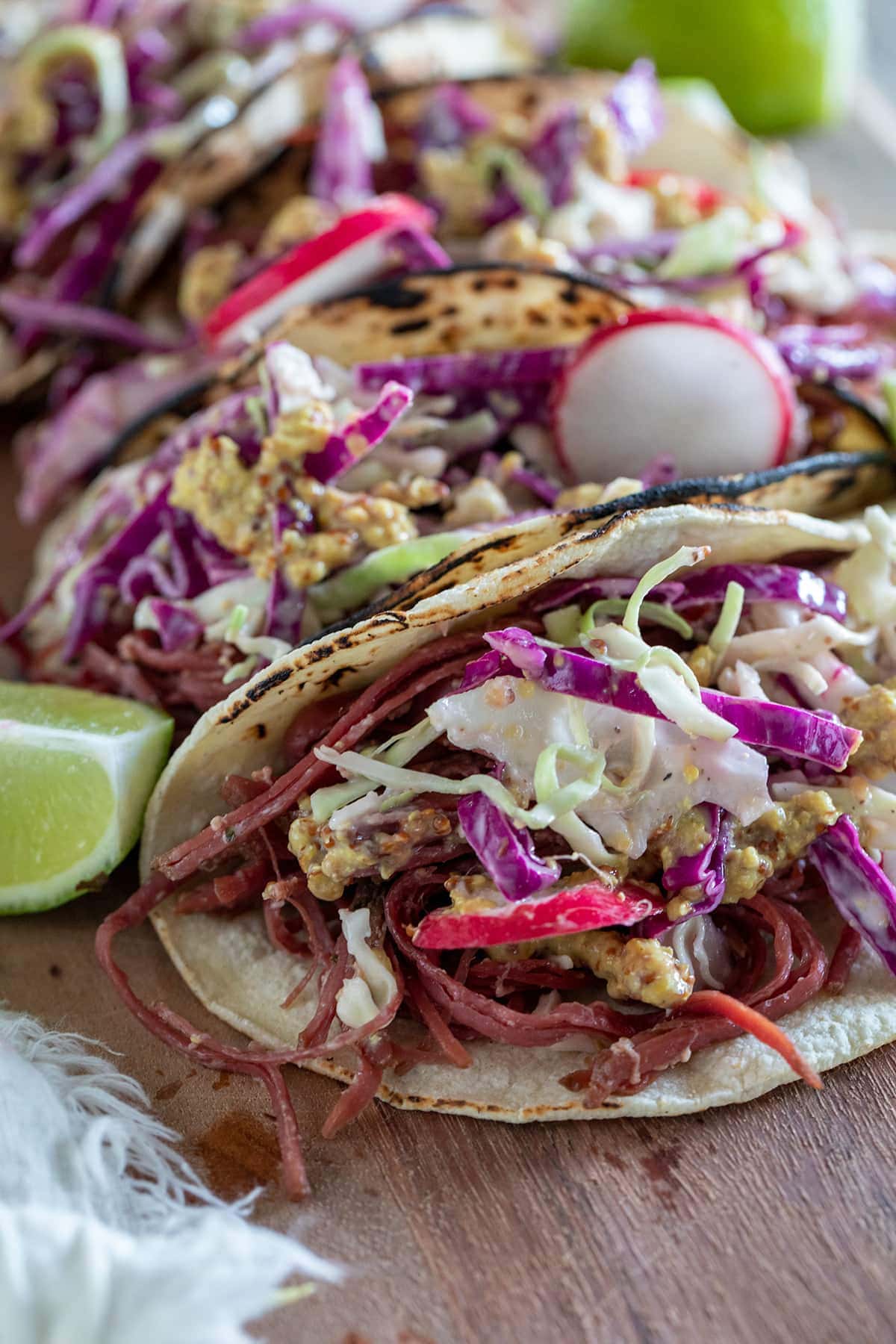 What to Serve with Corned Beef Tacos
These corned beef tacos are perfect for a St. Patrick's Day dinner or really any weeknight dinner! The corned beef can be made earlier in the day or even a day ahead and simply reheated. I would recommend serving these tacos with cold Guinness which is truly all you need. However if you are looking for side dishes, you might want to serve this with Creamy Dill Fried Potatoes, oh ya!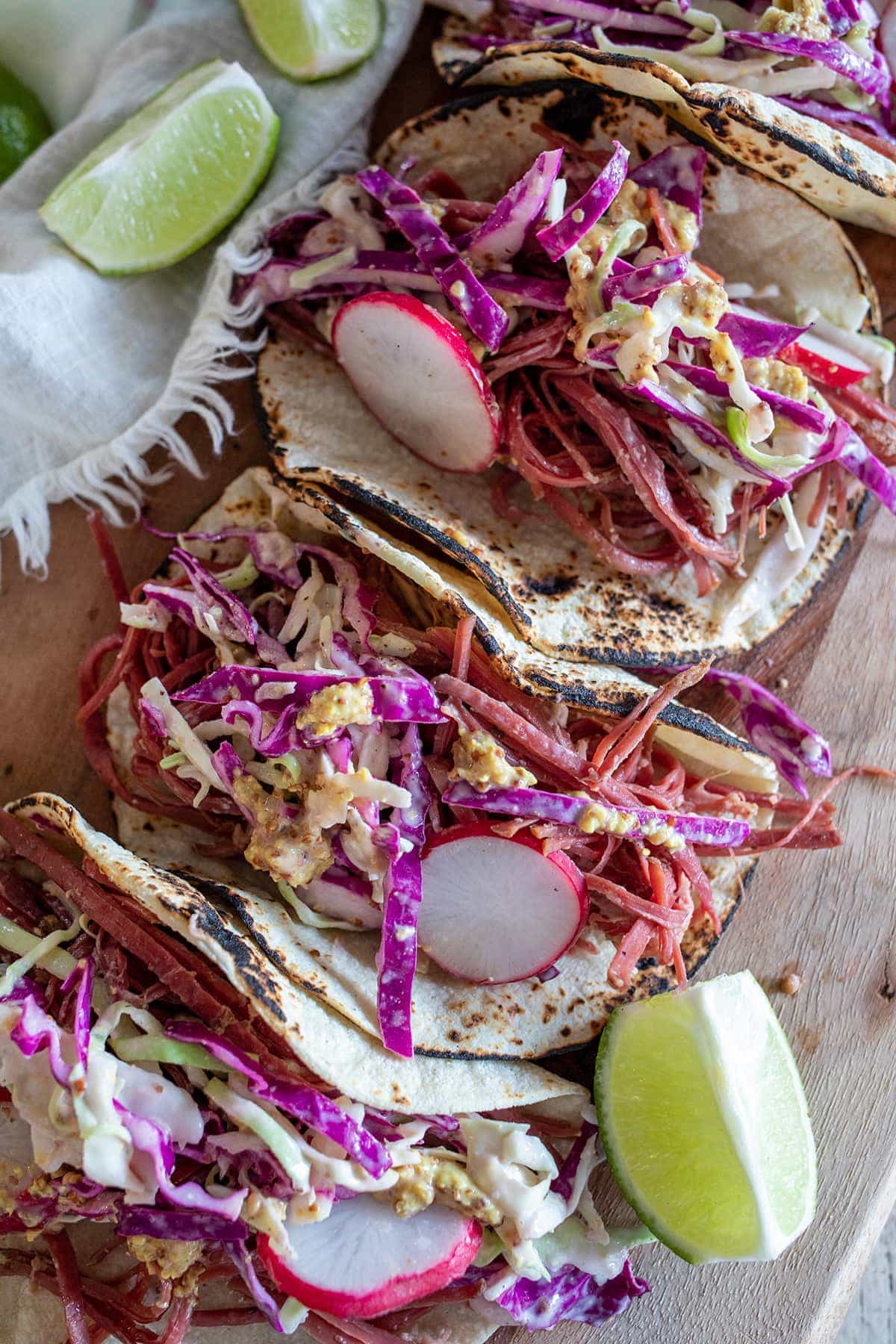 More Delicious St. Patrick's Day Recipes:
I hope you are inspired to try these tacos this year for St. Patrick's Day. If you make this recipe, I'd love to hear what you think! Leave a comment in the box below and share a picture on Instagram with the tags @freutcake #freutcake so that I can see your tasty tacos.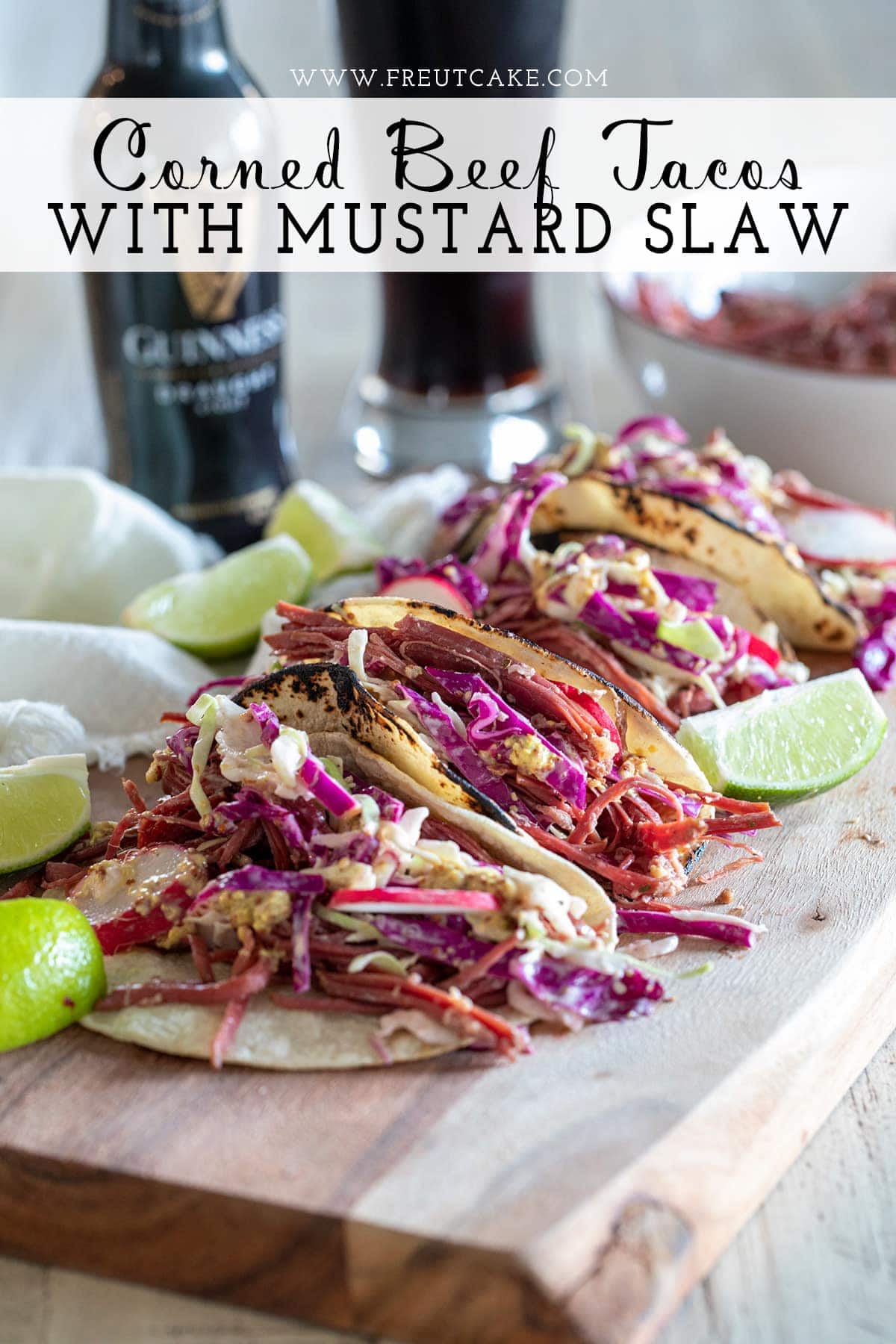 Corned Beef Tacos
Tasty corned beef tacos topped with a crunchy mustard slaw make an easy and delicious dinner for St. Patrick's Day.
Ingredients
Corned beef, shredded (see recipe link below)
10 oz shredded cabbage purple & green mix
⅛ cup red wine vinegar
2 heaping Tablespoons sour cream
2 Tablespoons grainy Dijon mustard
salt and pepper
radishes sliced
corn tortillas
Instructions
Make the dressing: in a bowl or glass measuring cup, combine vinegar, sour cream and mustard. Whisk until smooth.
Taste and season with salt and pepper.
In a large bowl, toss together shredded cabbage and dressing.
Char tortillas over an low flame on your stovetop, flipping carefully with metal tongs to warm.
Fill tacos with shredded corned beef, cabbage slaw, and a few sliced radishes. Serve immediately and enjoy warm!