Cooking corned beef in the Instant Pot could not be more simple or time saving! Get fall-apart tender corned beef on the table in just two hours! I use this method for my Corned Beef Tacos but it would also be perfect for serving sliced alongside cabbage and potatoes for a classic St. Patrick's Day dinner.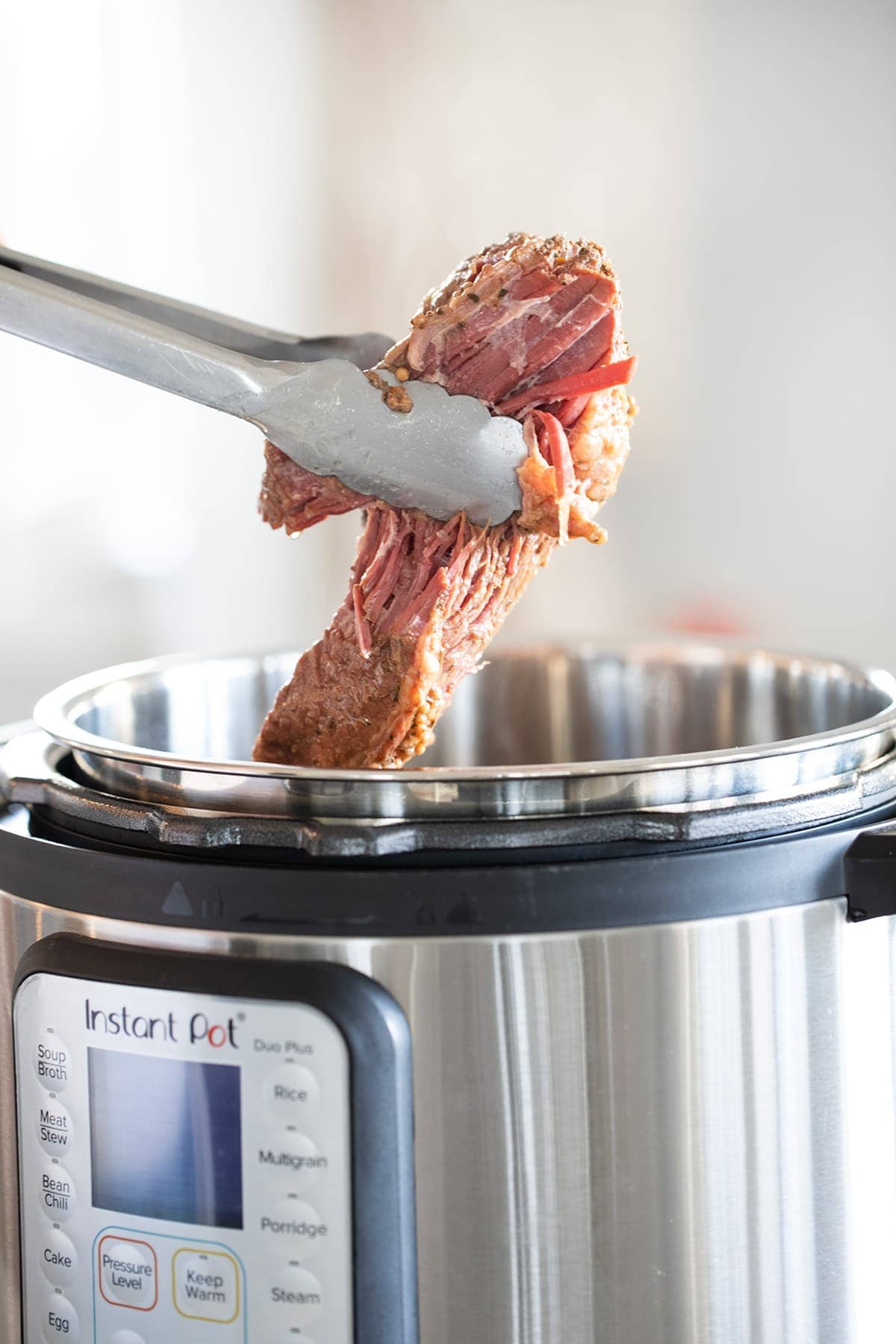 Instant Pot Corned Beef
Every year around St. Patrick's Day I look forward to cooking corned beef. That distinct flavor of allspice, cinnamon, ginger, coriander, cloves, nutmeg and mustard seed mixed with the saltiness is mouthwatering. What I don't love about cooking corned beef is waiting 3-4 hours for it to cook on the stovetop or even longer in a crockpot!
Enter fast and easy Instant Pot Corned Beef. Ready in just 2 hourse from start to finish, this beef is a winner in my book. The quicker I can get dinner on the table the better! I have a Corned Beef Tacos and I love it for meals like this.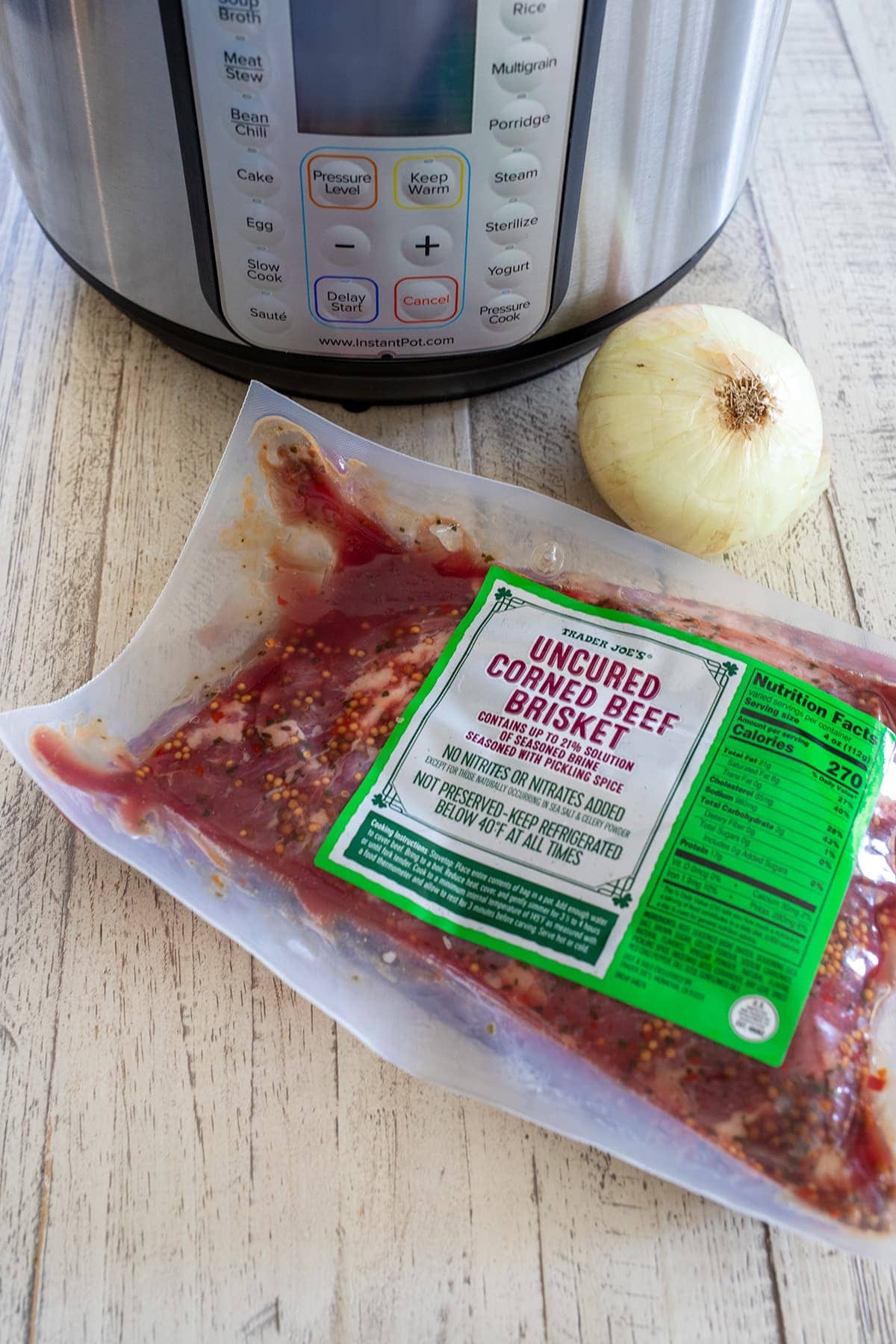 Ingredients for Cooking Corned Beef:
You can use a corned beef brisket with dry seasoning packet for this recipe or you can use (my favorite) Trader Joe's Uncured Corned Beef Brisket which comes packaged in a seasoning brine in the refrigerated meat section. I kid you not, this is the best corned beef and it's super flavorful. Here's what you need...
Corned Beef Brisket - either in seasoning brine or with a dry seasoning packet.
Onion- because the more flavor the better!
Water - simple enough.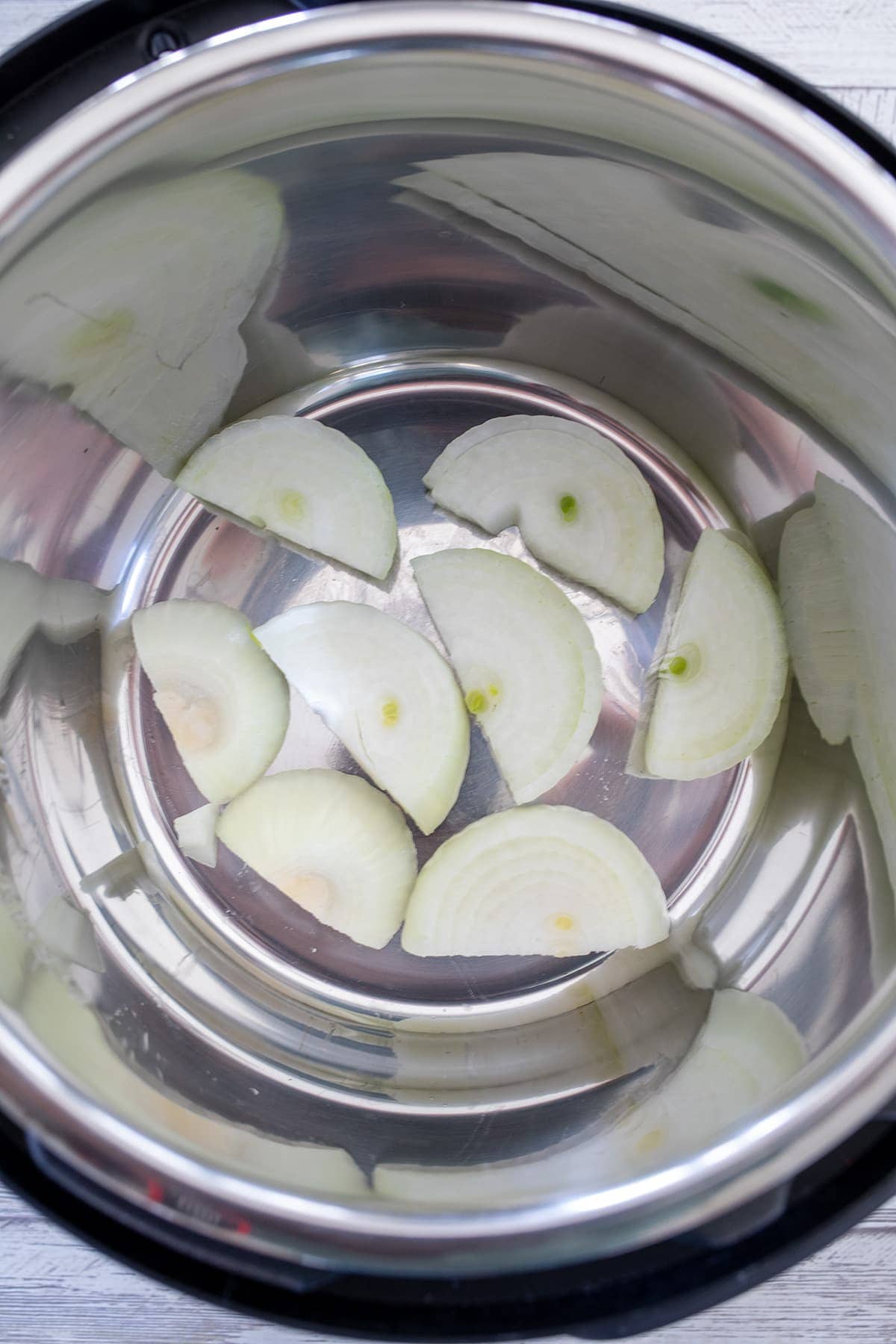 How to Cook Corned Beef in the Instant Pot:
Onion- start by slicing 1 large onion and layering it in the bottom of your Instant Pot.
Corned Beef - empty the contents of the corned beef package into the pot. Meat, seasoning and all.
Water - just enough to the top of the beef.
Set the Instant Pot- lock the lid in place and start pressure cooking! See recipe below for specifics.
Release - I find that 15 minutes of natural release followed by quick release results in the most tender corned beef!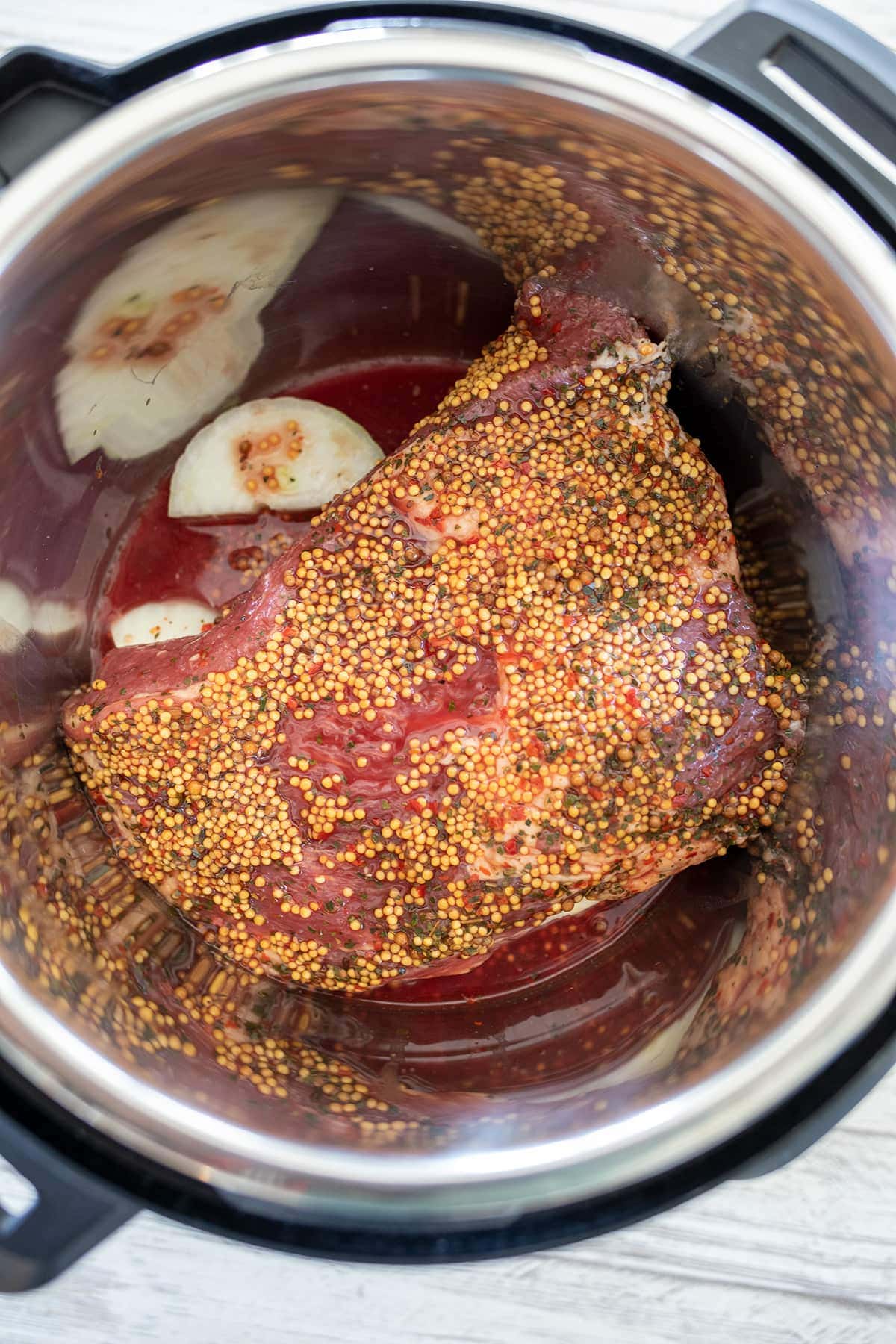 Possible Variations:
Beer- Some people use a mixture of beer and water for the cooking liquid. If you chose to go that route I would recommend replacing one cup of water from the recipe below with one 12 oz bottle of beer.
Broth - you can also use beef broth in place of water however I would only recommend doing this with a dry seasoning packet. The Trader Joe's brine calls for water.
Garlic - I find the seasoning in corned beef to be flavorful enough but if you want to spice it up even more, add 3-4 cloves of garlic to the cooking liquid as well.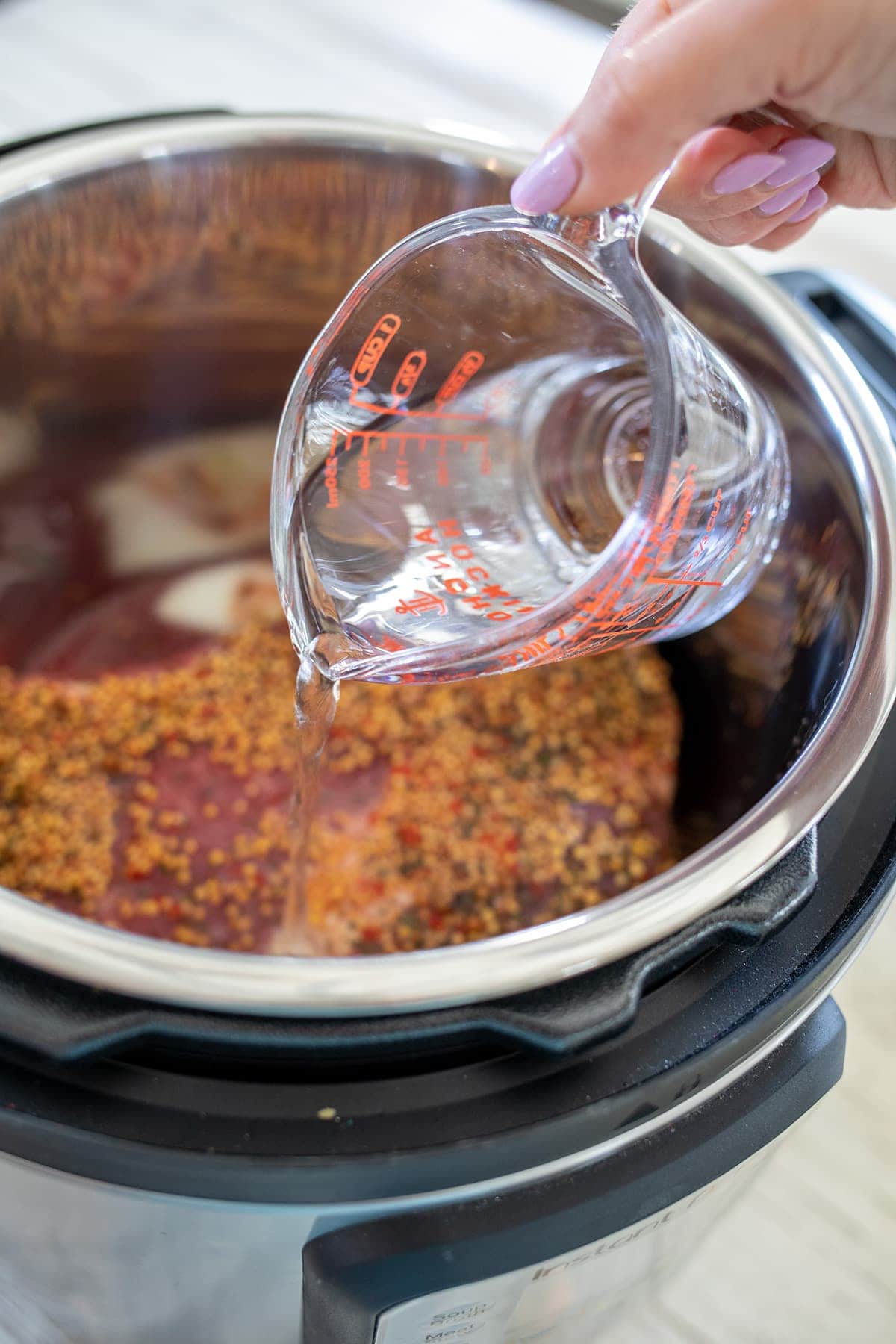 Tips for Cooking Corned Beef:
Do I Rinse The Corned Beef Before Cooking? Many sites and recipes will recommend that you rinse your brined corned beef before cooking it to remove the excess saltiness. However, if you are using the Trader Joe's Corned Beef as I do, the package specifically instructs you to cook the beef with the entire contents of the bag.
Make Sure the Meat is Covered. This means that the liquid level should almost entirely cover your corned beef. If you are cooking a larger piece of meat, you may need more liquid than this recipe calls for.
Tender Corned Beef: Cooking corned beef in a pressure cooker like the Instant Pot will ensure that it is fall apart tender! The natural release time also helps with this so don't rush that portion of the recipe.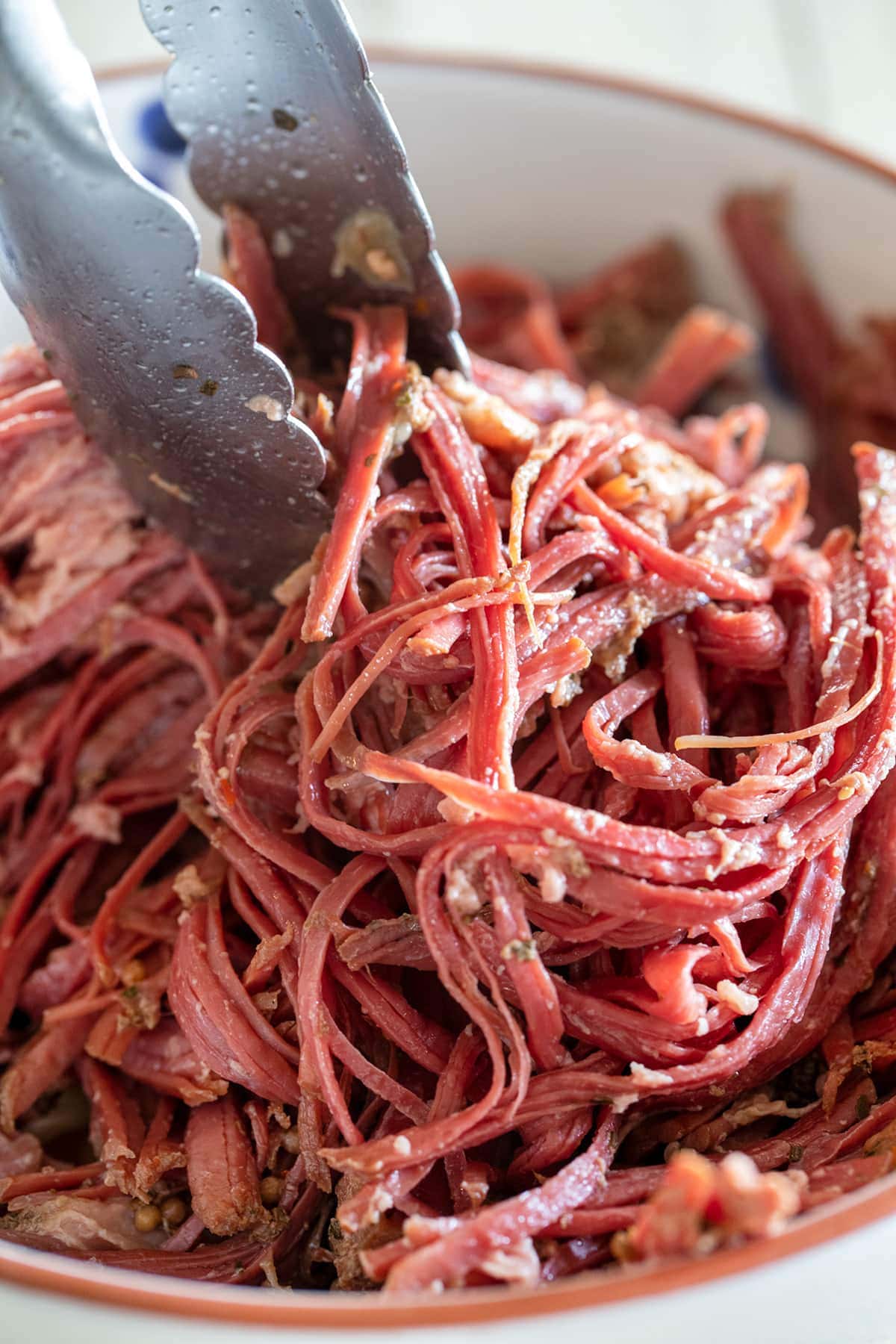 What to Serve with Corned Beef:
Cabbage and Potatoes: are a classic side dish and you can cook them in the remaining cooking liquid in your Instant Pot right after your beef is finished or on the stovetop.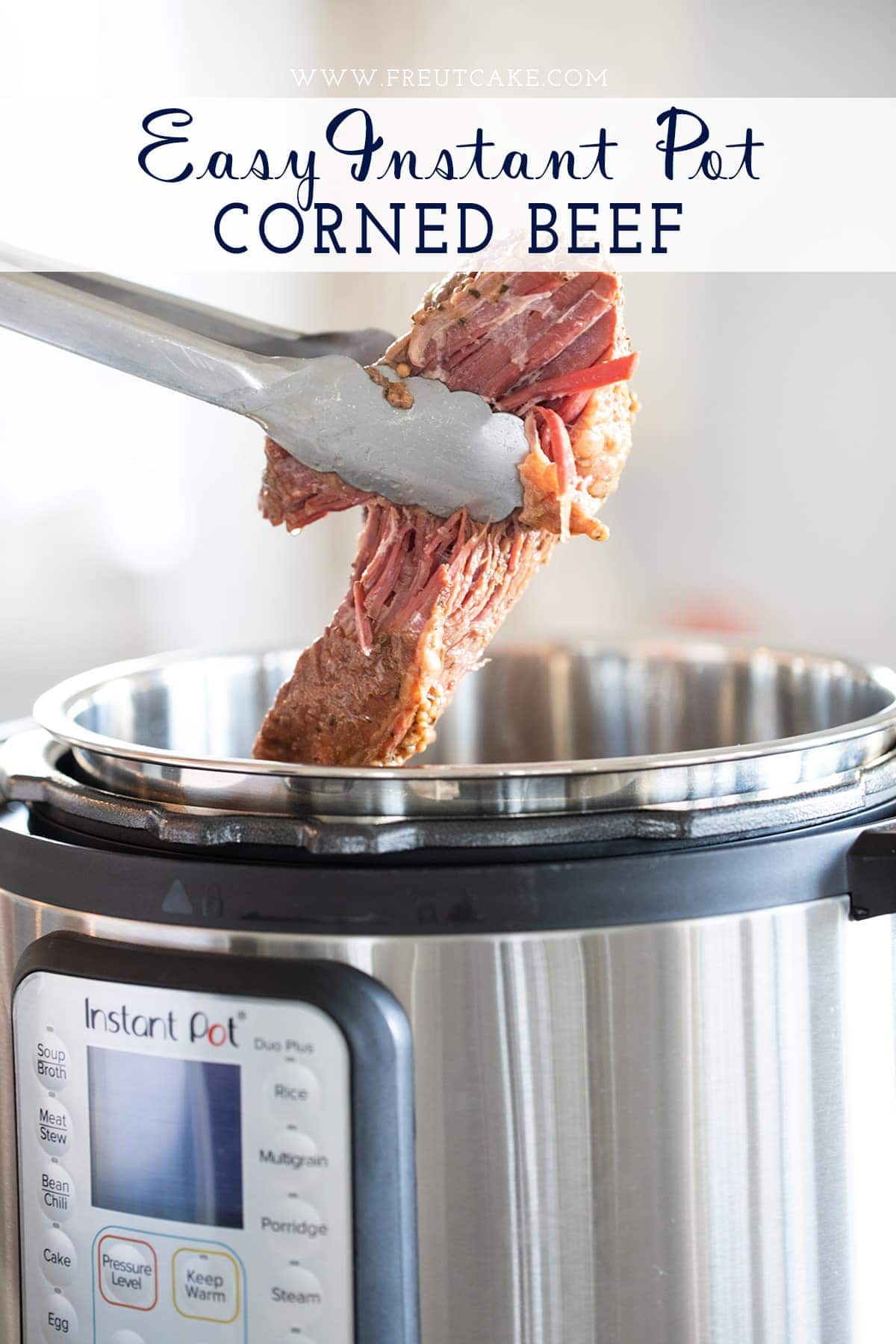 Who's hungry for corned beef? Time to get pressure cooking! I hope you will try this method for cooking corned beef and let me know how you like it in the comments below.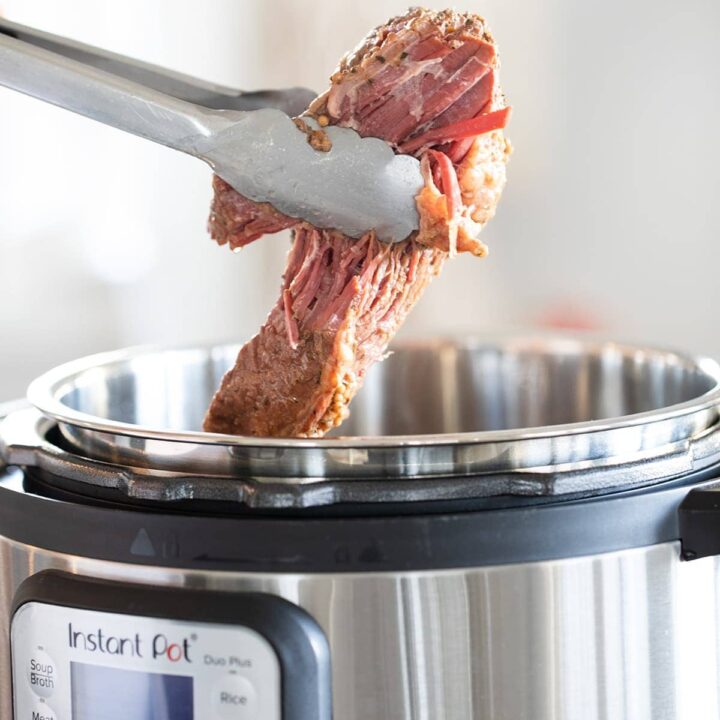 Instant Pot Corned Beef
Cook Time:
1 hour
30 minutes
Additional Time:
30 minutes
Total Time:
2 hours
5 minutes
How to Cook Corned Beef in the Instant Pot in just over 2 hours! Delicious, fast and fall-apart tender.
Ingredients
3 pound Trader Joe's Uncured Corned Beef Brisket
1 large yellow onion
5 cups water
Instructions
Peel and thickly slice onion, placing it in the bottom of a 6-quart Instant Pot.
Remove corned beef brisket from the packaging and place on top of the onions. (If you are using a Trader Joe's corned beef you will include the entire contents of the bag.)
Cover with water. For a 3 lb brisket this took 5 cups but you might need more or less to cover the meat.
Seal Instant Pot lid and set for Pressure Cook on HIGH for 90 minutes.
Allow pressure to naturally release for 15 minutes before carefully quick releasing the valve. (Ready Instant Pot Manual for this.)
Once the red pressure button has popped it's safe to remove the lid.
Remove corned beef from liquid and slice or shred. Discard liquid or add potatoes and carrots and cook for additional time according to Instant Pot Instructions (high: about 4 minutes.)
Notes
Please read post for variations and recipe notes!
This method can also be used on corned beef with a seasoning packet.
Please read tips in this post if you are using a brand other than Trader Joes.
Recommended Products
This site uses affiliate links in which I may earn a small percentage from qualifying purchases.