Warm weather is on the horizon and Grilled Shrimp Tacos with Avocado Crema are on the menu.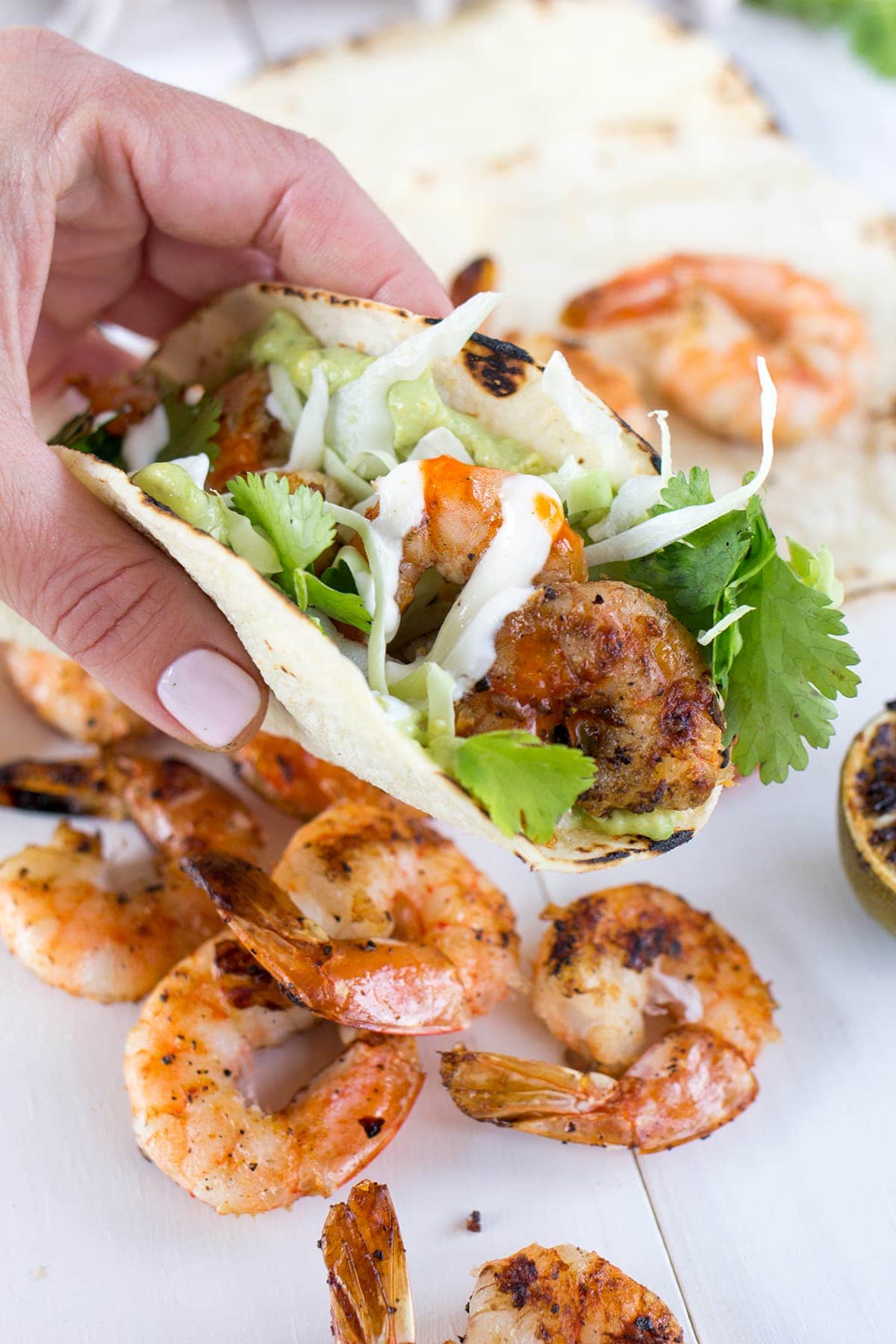 Fire up the grill and skewer jumbo shrimp. A simple drizzle of olive oil and a generous (to down-right hefty) sprinkling of season salt and pepper is really all you need but if you have time, this Citrus Rum Marinade is delicious as well! As for the seasoned salt you use, any will do. I have been using the Trader Joe's Seasoned Salt because I think it has nice flavor but Lawry's is also delicious or a homemade mix of your favorite seasonings.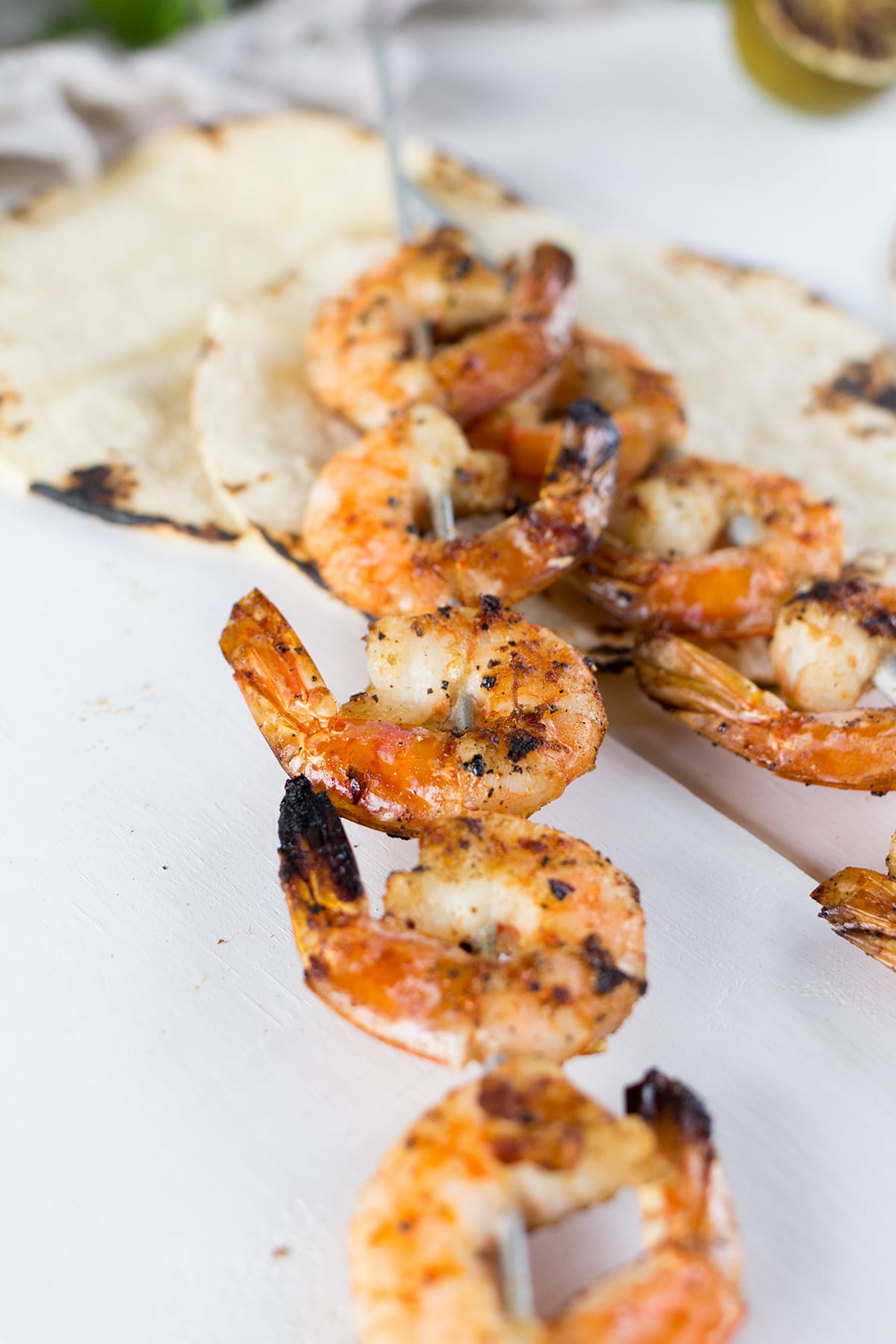 The trick, if you want to call it that, to grilled shrimp is not to over cook them. I guess you could say that's the trick to cooking all shrimp in general. They only take a few minutes to turn from raw and grey to tender and pink. Once they are pink throughout it's time to eat!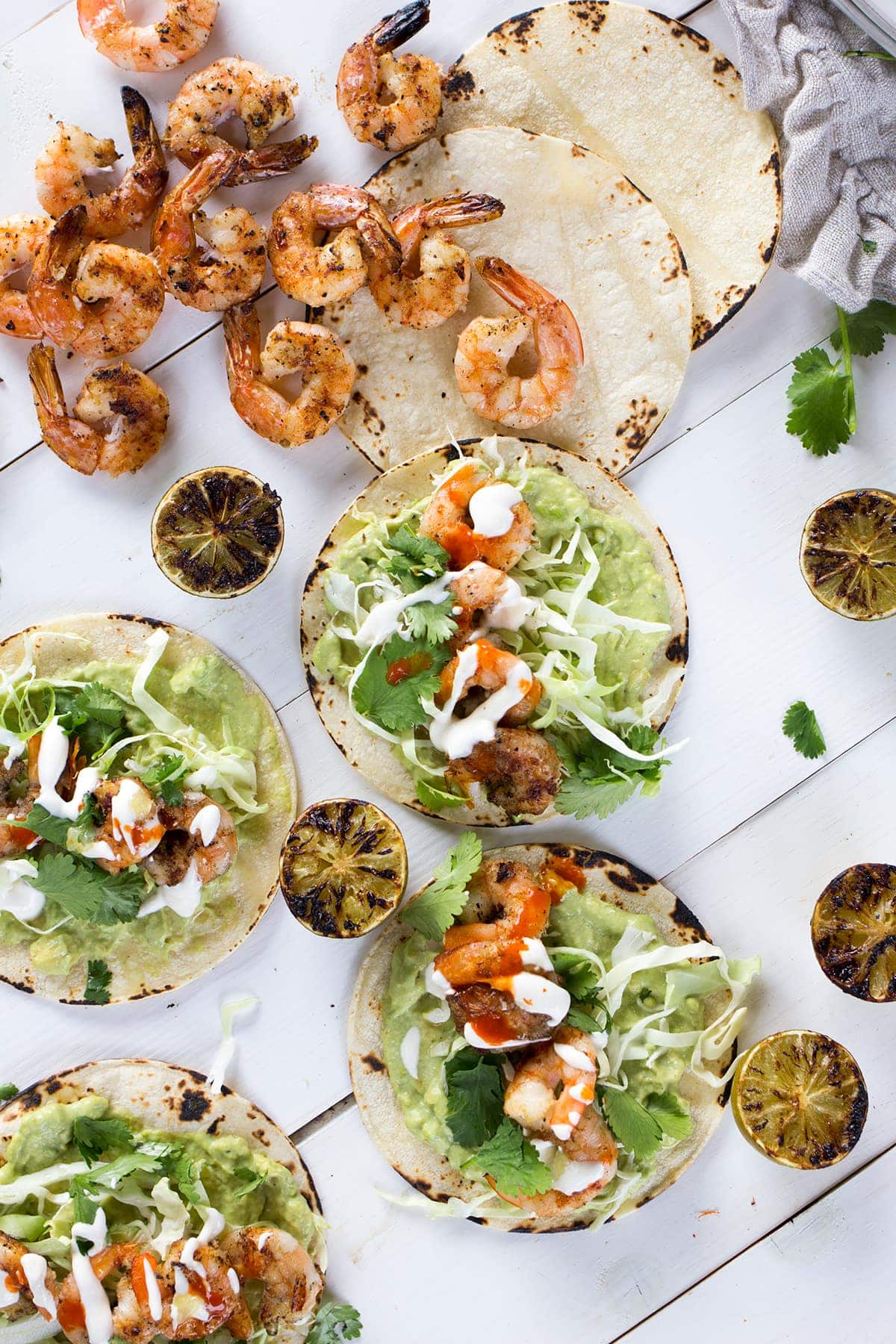 These tacos are really quite simple ingredient wise with a base of creamy Avocado Crema topped with shredded cabbage (I buy a pre-shredded bag) shrimp, fresh cilantro, a drizzle of more crema and a good squeeze of lime. The flavors are fresh and light but so satisfying on a warm spring or summer evening.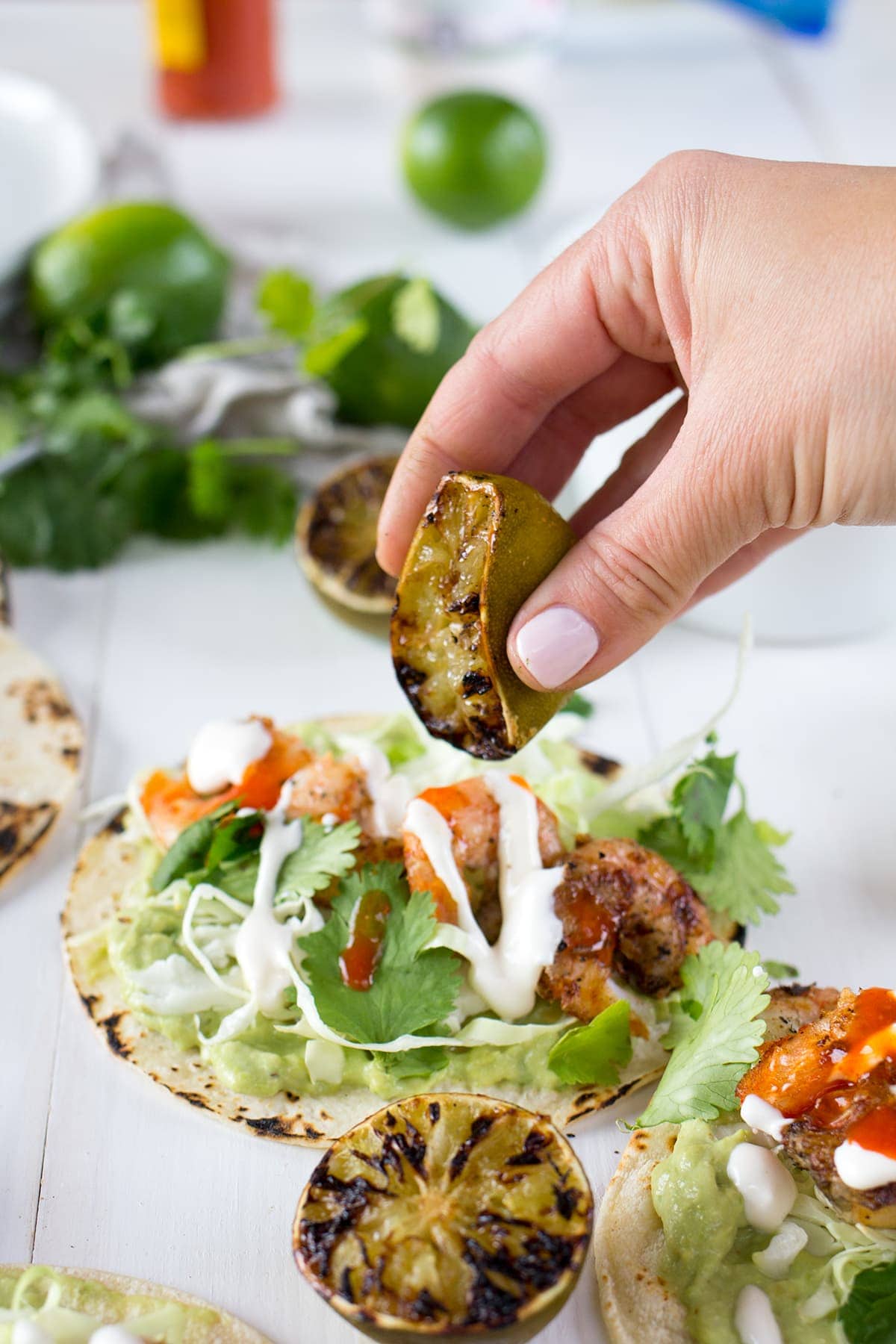 If you want extra flavor, throw a couple of halved limes on the grill to char. They give a bitter but delicious charred flavor to the tacos.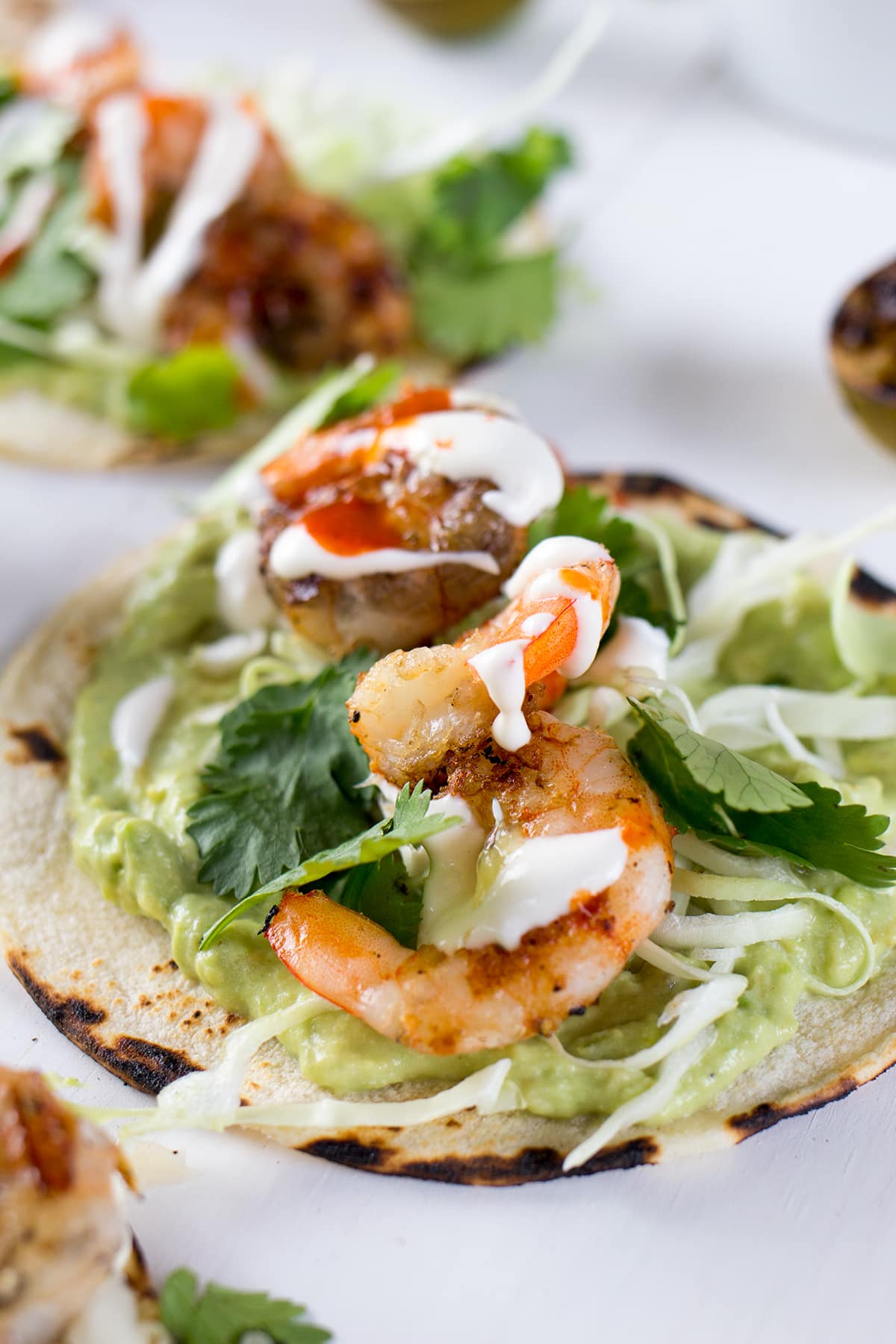 Sweet spring days will quickly turn to long summer nights and these lighter meals will be a welcome change from our heavy winter classics. Who else is more than ready for warmer weather?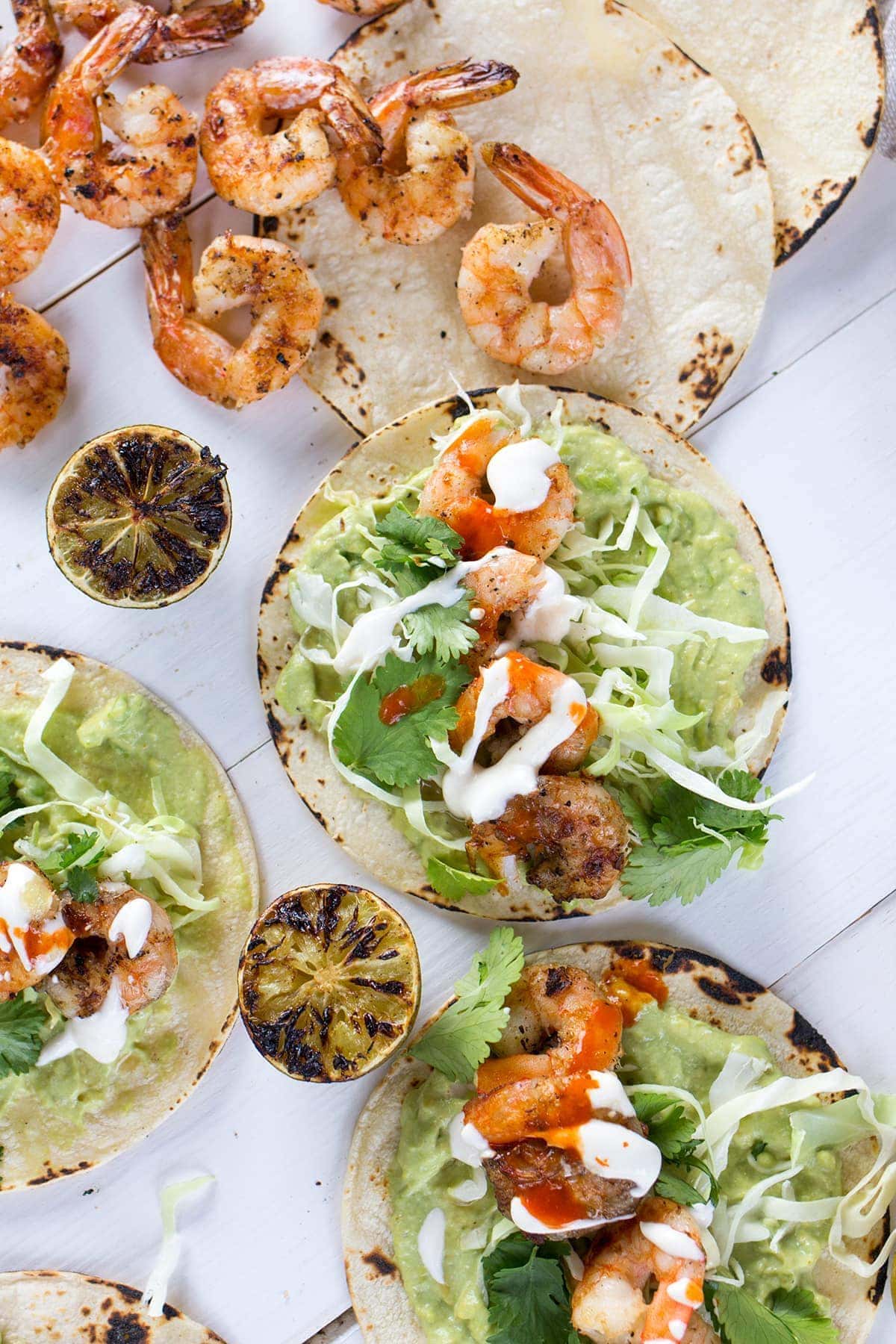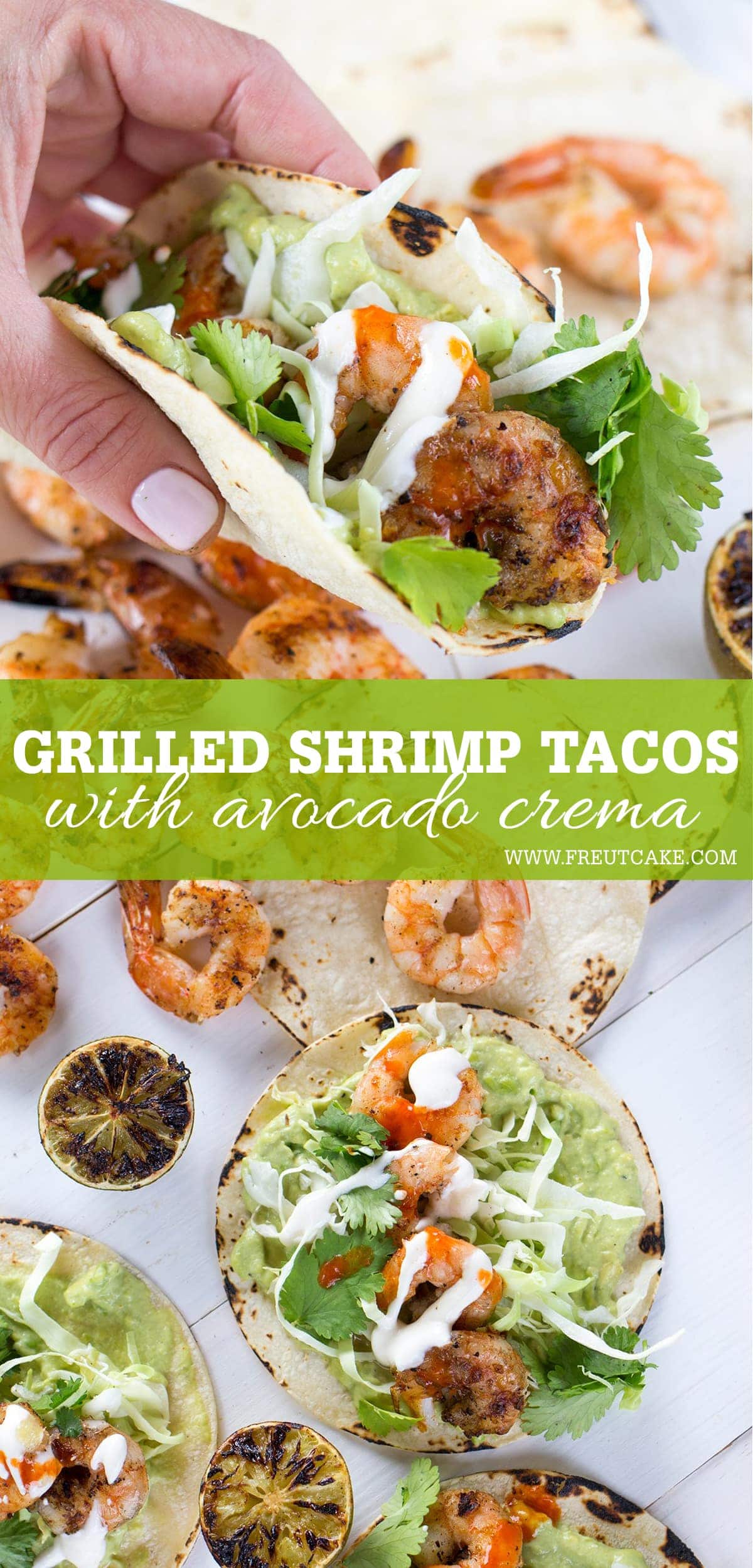 Grilled Shrimp Tacos with Avocado Crema
Ingredients
24 large shrimp peeled and deveined
olive oil
seasoned salt
pepper
8 corn tortillas
shredded cabbage
fresh cilantro for garnish
limes for garnish
Mexican crema for garnish
Avocado Crema:
1 large avocado or 2 small avocados
1/4 cup Mexican crema (or sour cream)
1 clove garlic, minced fine
squeeze of lime juice
salt and pepper
Instructions
Fire up the grill! I use Mesquite wood charcoal but any will do.
Make the Avocado Crema: In a bowl smash avocado. Mix in minced garlic, and Mexican crema until smooth. Season to taste with lime juice, salt and pepper. Note: Season well as this is the base for your tacos.
Rinse shrimp under cold water and pat dry with a paper towel.
Drizzle shrimp with olive oil and season very generously with your favorite seasoned salt blend and freshly ground black pepper.
Skewer shrimp and place on grill. Grill 3-4 minutes per side just until pink throughout. Depending on how hot your coals are, the shrimp can cook very quickly. Remove skewers from the grill and remove shrimp.
Heat tortillas on the stove top (they will dry out on the grill) just until hot and slightly charred.
Top each tortilla with a dollop of avocado crema and spread. Add shredded cabbage, shrimp, torn cilantro, and a squeeze of lime juice. Drizzle with more Mexican crema.
Serve immediately, while hot!