Apple Season might be upon us but it's still hot as blazes in California. Which is why Sparkling Fall Hard Apple Cider Sangria is one of my favorite drinks to make this time of year.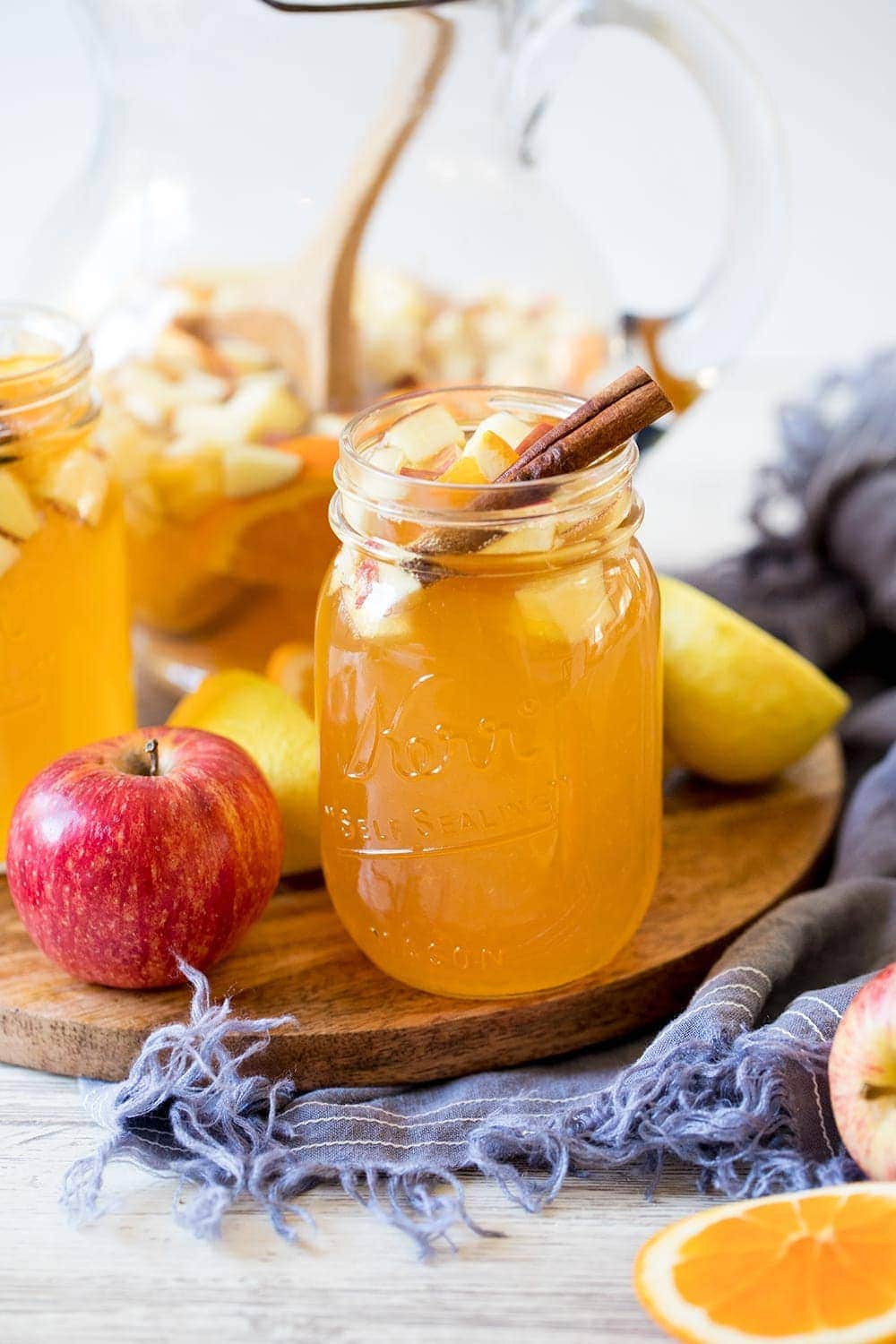 Sparkling Apple Cider Sangria
Sparkling Fall Hard Apple Cider Sangria is the most simple sangria you will ever make but also completely delicious and packed with apple flavor.
It's much lighter than wine based sangrias and with the carbonation from the hard cider, it's much more refreshing on those hot late summer or early fall days.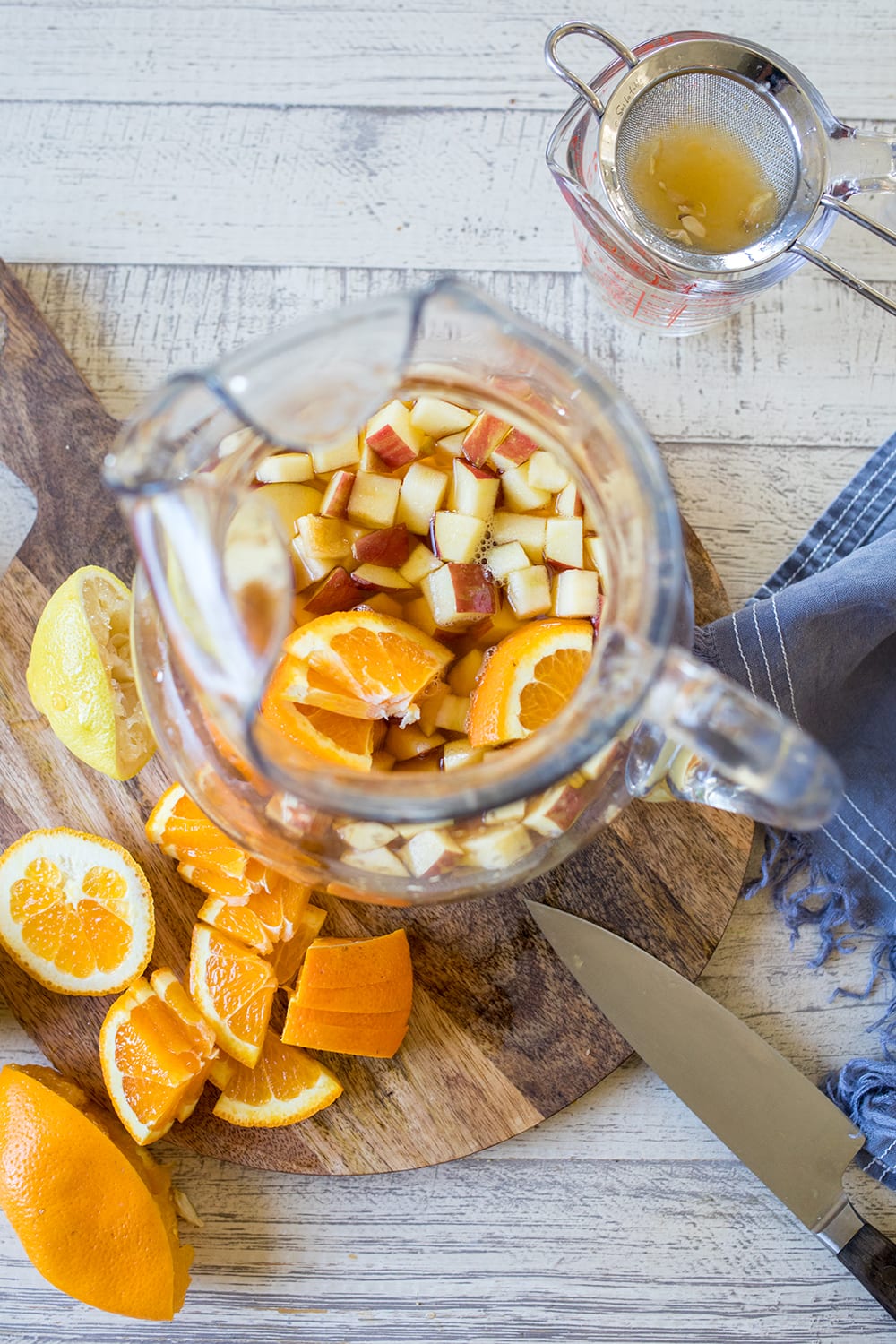 What Fruit to Add to Sangria
Classic sangria usually calls for sliced lemon, lime and orange. In this very non-traditional version I added tops of diced apple and orange.
I personally like cutting the fruit small so that it can be easily poured into glasses when served. Eating the booze soaked fruit at the end of a glass is one of the simple joys of sangria!
Brandy: Buy the Good Stuff!
Next comes the brandy and while we are only adding one cup to the sangria, I still caution you to get the good stuff. No one likes a Sangria induced headache from cheap-o brandy. Ugh. Plus a better quality Brandy will give a richer flavor and when there are only a few ingredients, you want them to be quality!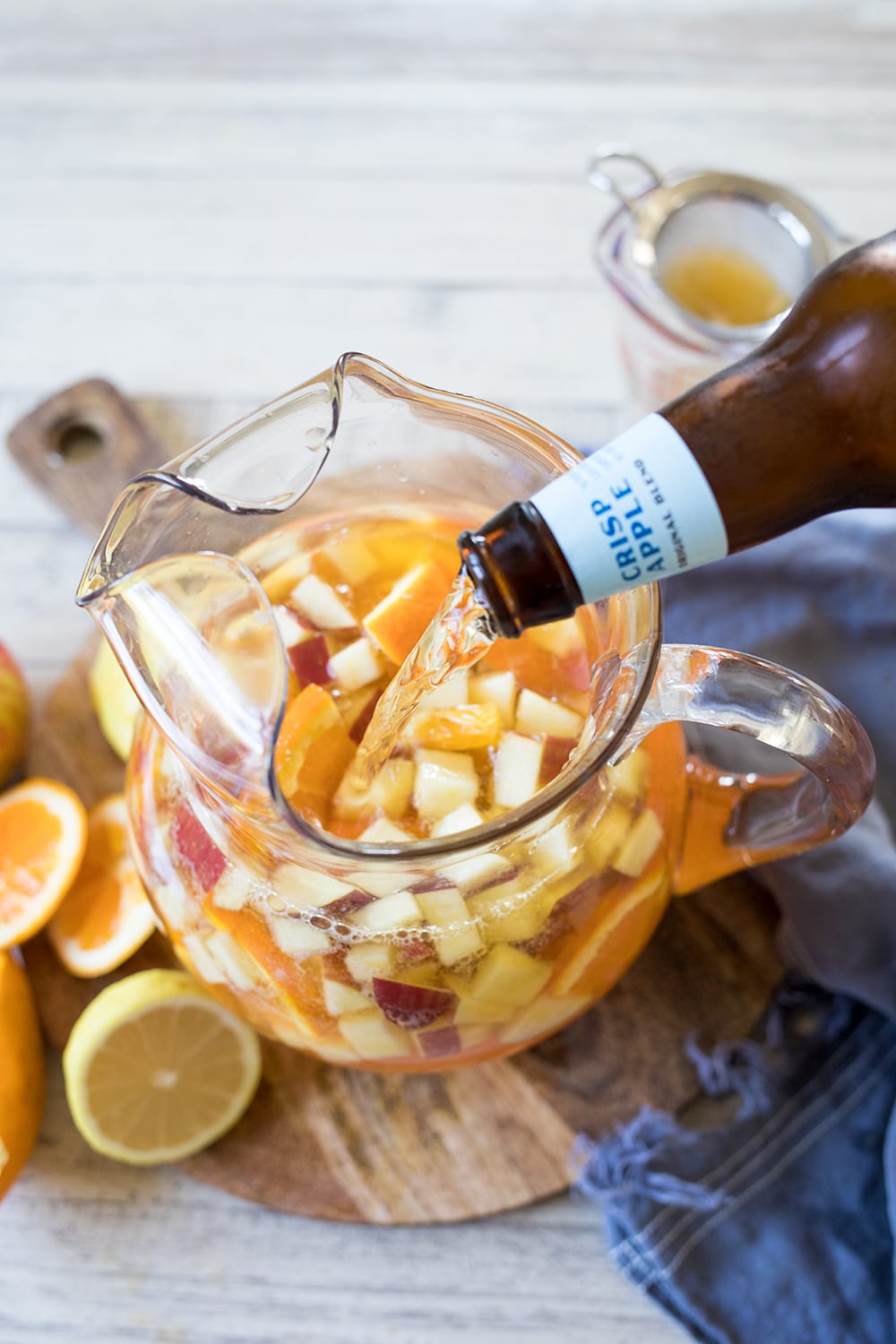 The Best Hard Apple Cider
The hard apple cider really is the star of this recipe and also the short-cut ingredient because it adds effervescence, sweetness and apple flavor!
The Best Hard Apple Cider to use for this sangria is really any with a crisp flavor profile. We used Angry Orchard but there are tons of Hard Ciders out there with with crisp or dry profiles. Look for those or use your favorite.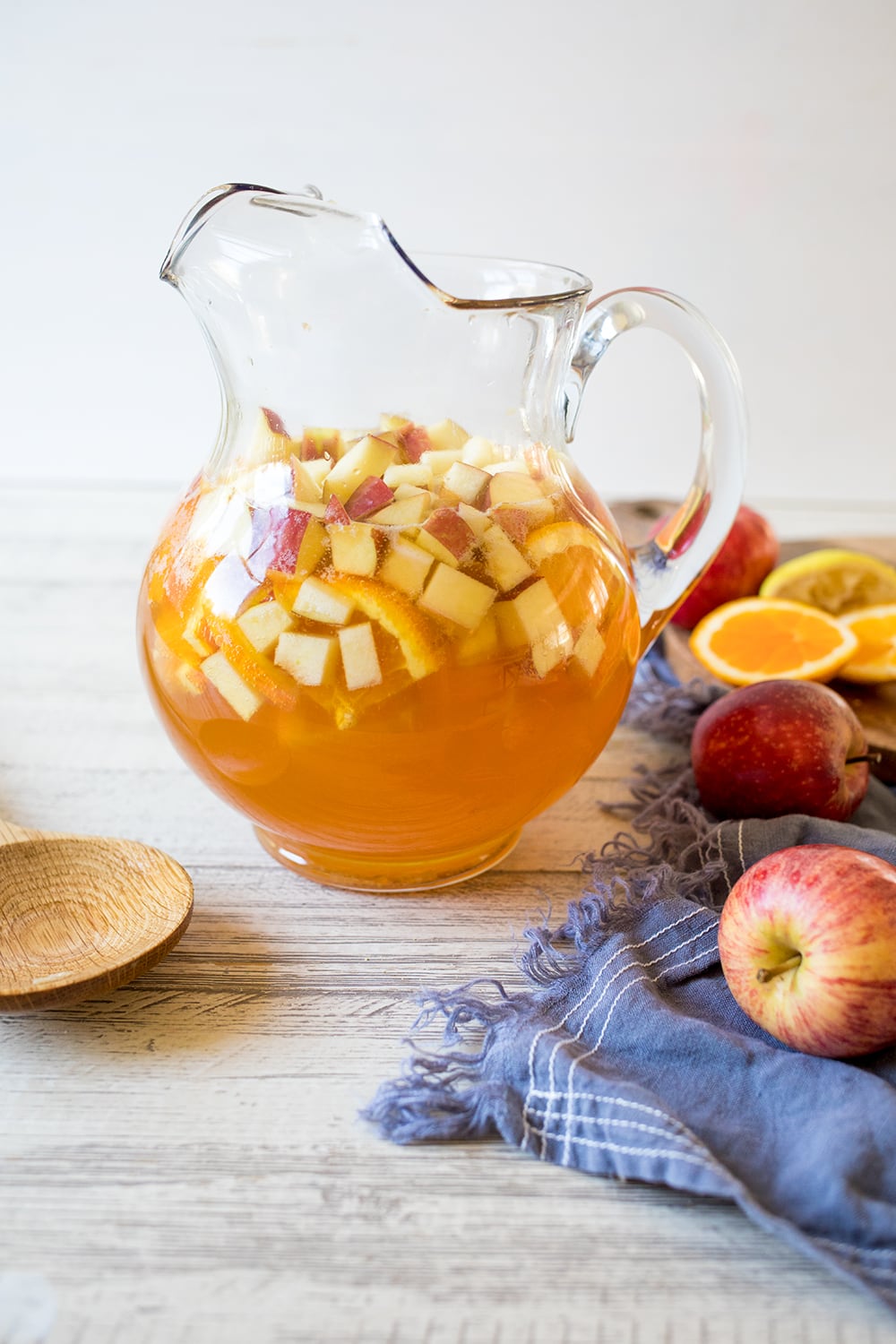 Next, pop a few cinnamon sticks in and let the entire mixture chill in the refrigerator until well chilled. Unlike most sangria that can sit for hours or even days before drinking, this Sparkling Hard Apple Cider Sangria is ready after about 30 minutes in the fridge.
Honestly, it's great enjoyed right away but if you give it time to sit the cinnamon sticks will impart more flavor. Just don't make it too far in advance or you'll loose your bubbles.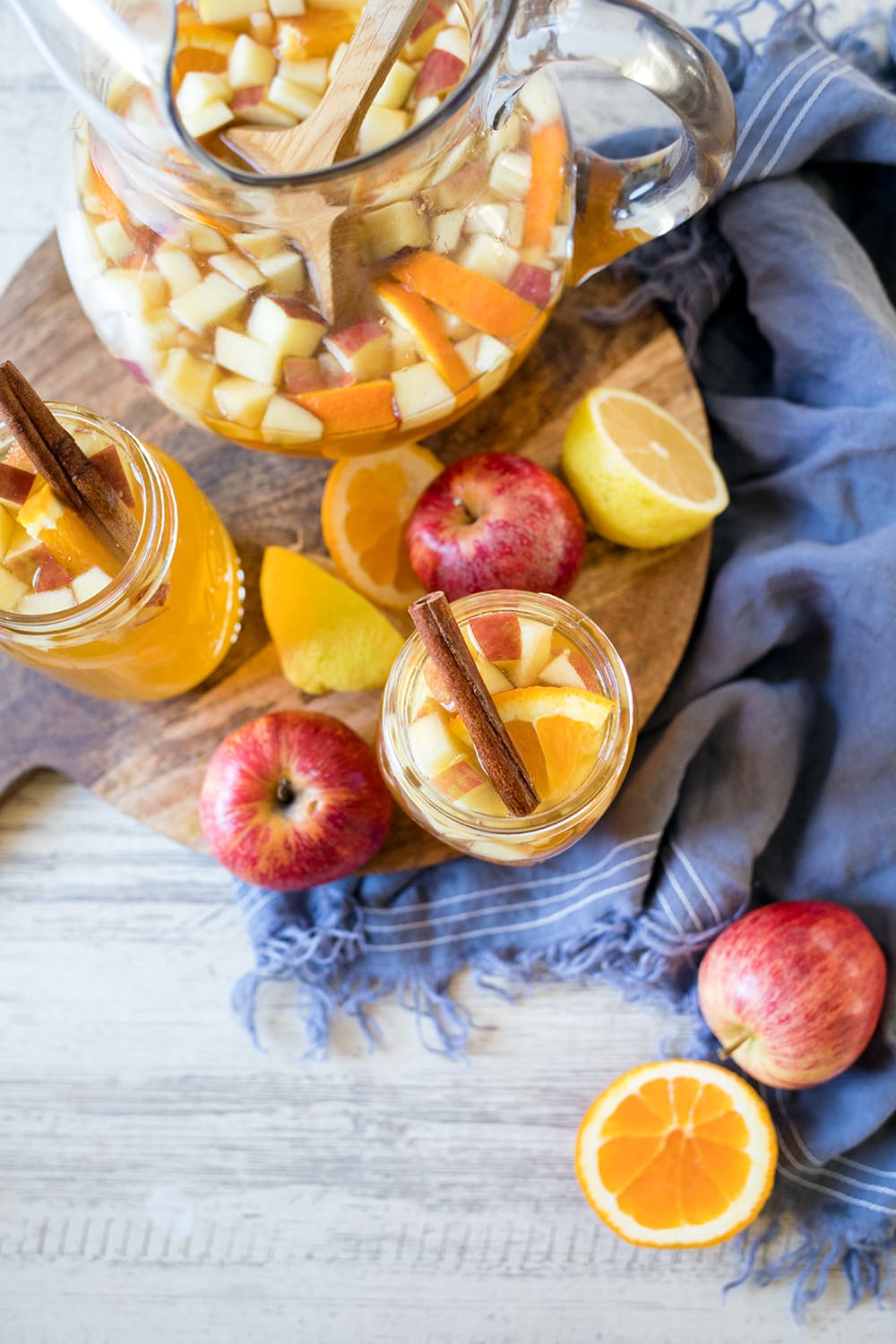 To garnish this sangria, a fresh cinnamon stick of course! The flavors of the orange, apple, cinnamon and brandy give all of those cozy, warm fall feelings while still remaining refreshing on a warm day. This sangria would be delicious served with a cheese board like this Fall Inspired Cheese Board.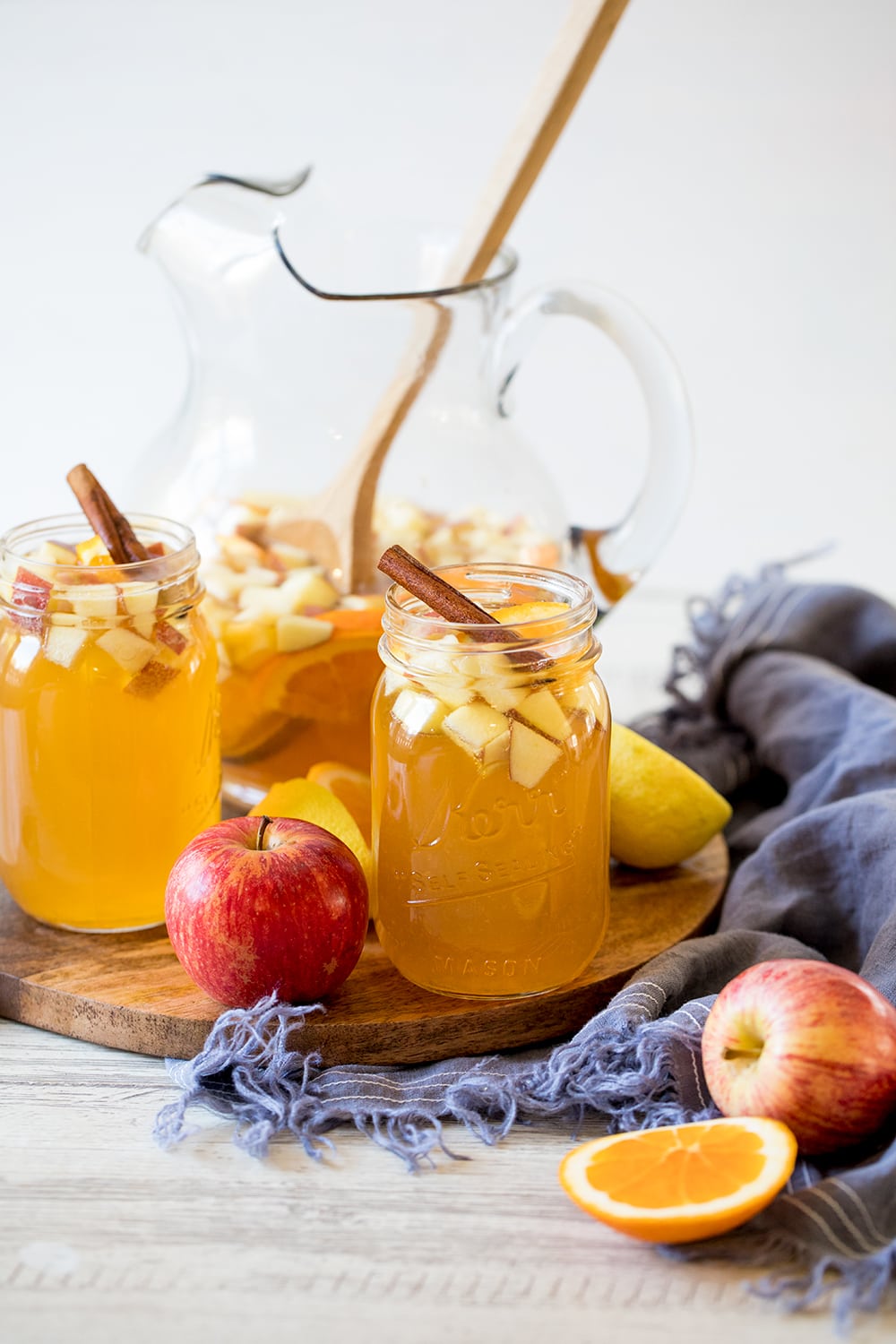 More Fall Apple Inspired Recipes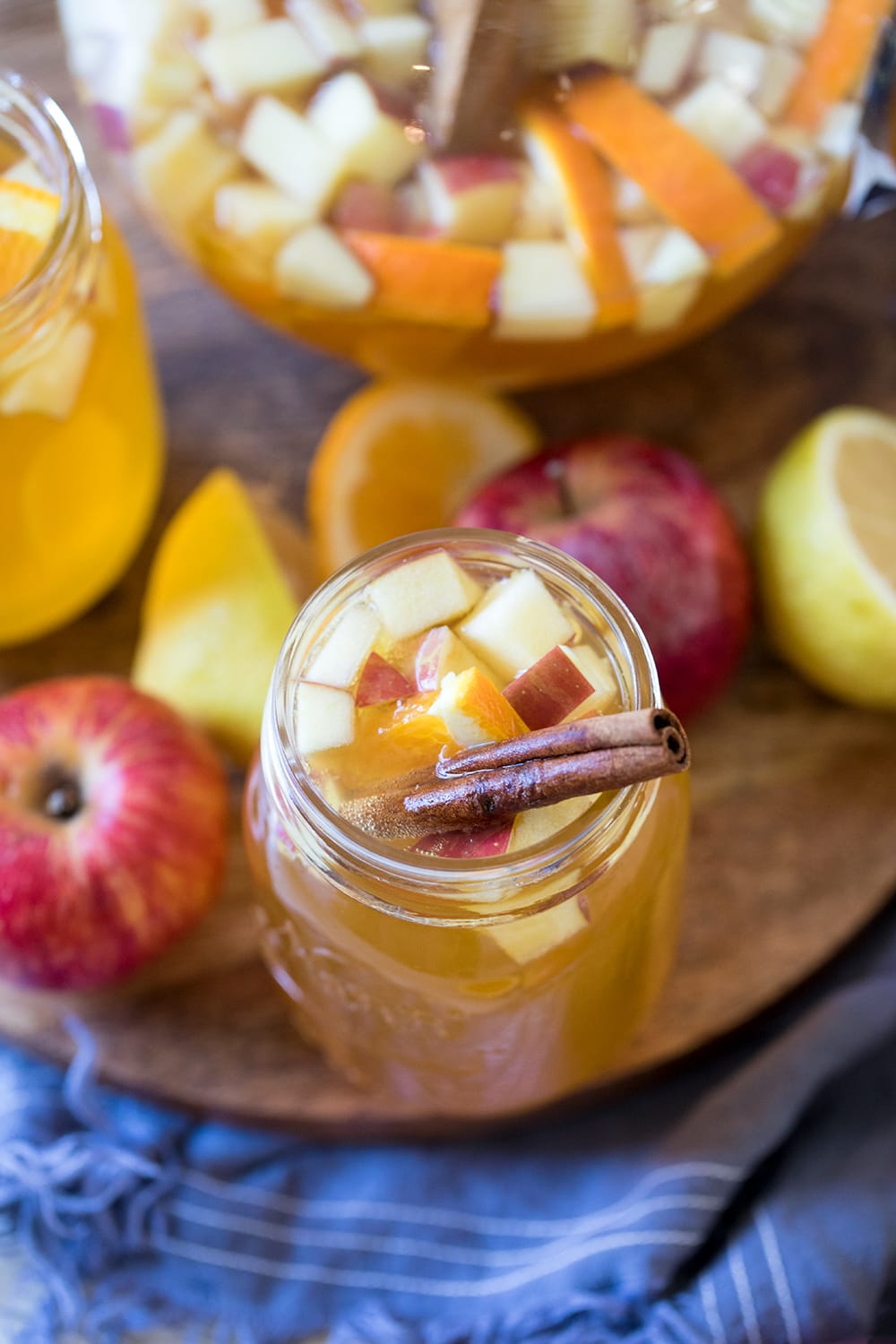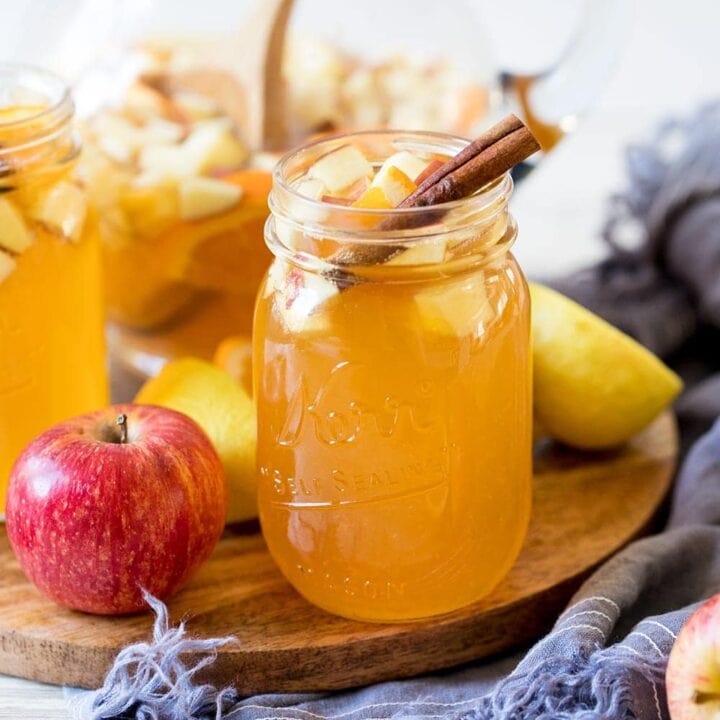 Sparkling Fall Hard Apple Cider Sangria
A sparkling fall hard apple cider sangria packed with apple flavor is perfect for the end of summer or beginning of fall.
Ingredients
5 (12 oz) bottles crisp or dry hard apple cider
1 cup good brandy
juice of 1 orange
juice of 1 lemon
1 large honey crisp or pink lady apple, diced
1 large orange, sliced and cut into small triangles
2 cinnamon sticks + more for garnish
Instructions
Slice and dice fruit and place in the bottom of a large pitcher.
Add cinnamon sticks and brandy.
Add juice of lemon and orange and mix to combine.
At this point you can chill the mixture to allow the cinnamon to flavor the brandy about 30 minutes. If you are short on time it will still be tasty made and served right away.
Add in hard apple cider and stir to combine.
Serve cider with fruit in jars or glasses garnished with a fresh cinnamon stick.