Easy 3-ingredient Tornado Hot Dogs will be a smashing hit at your 4th of July barbecue!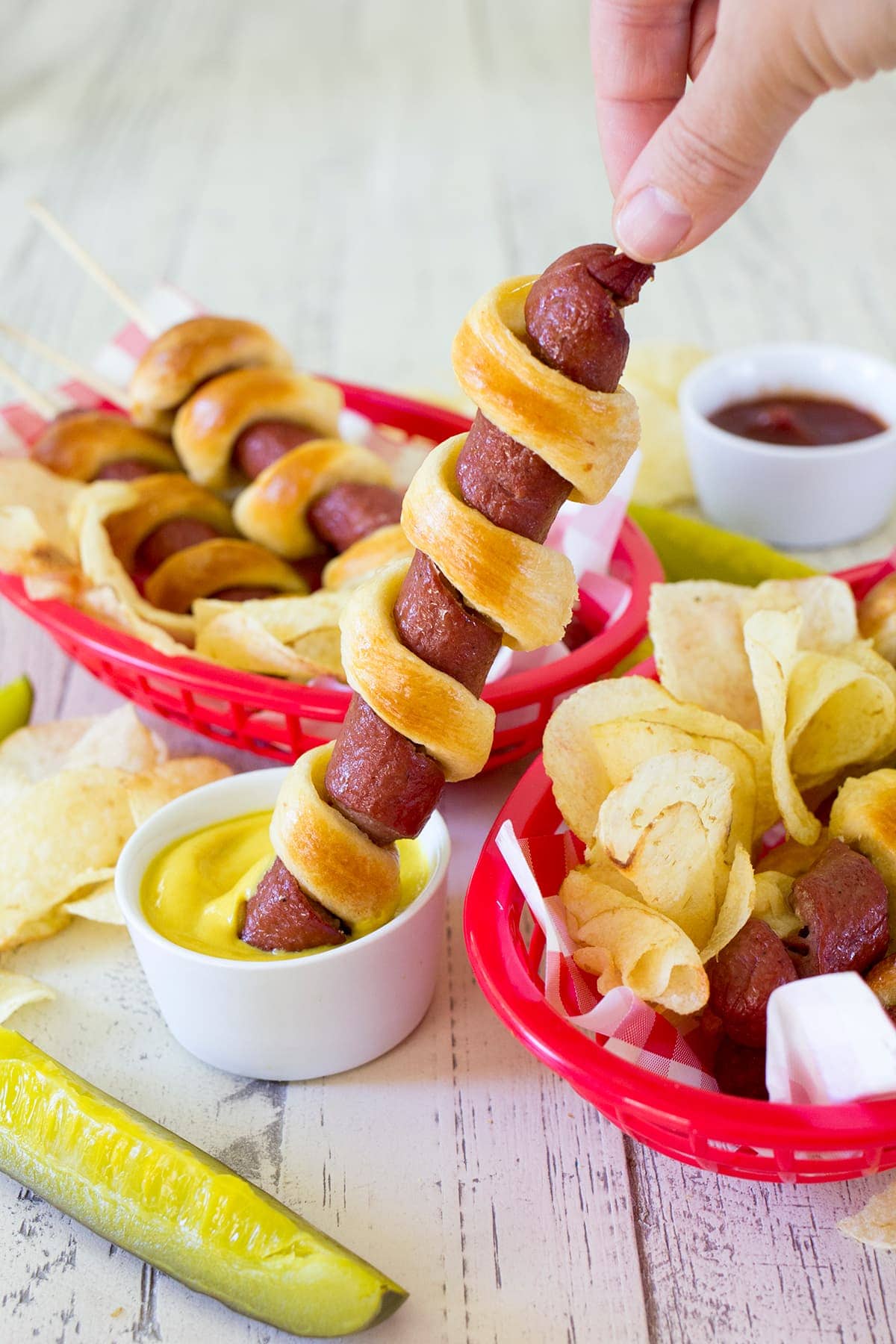 So, are you a ketchup or mustard dipper? I'm team mustard all the way but my twins are split. Millie loves all things dipped in mustard and Jackson is a fan of sweet ketchup. Whichever condiment you choose, can I make one suggestion…buy Applegate Naturals® Beef Hot Dogs and Applegate Organics Uncured Beef Hot Dogs to serve your family. Today I'm partnering with Applegate, a brand I love, to share an EASY 4th of July hot dog recipe with all of you.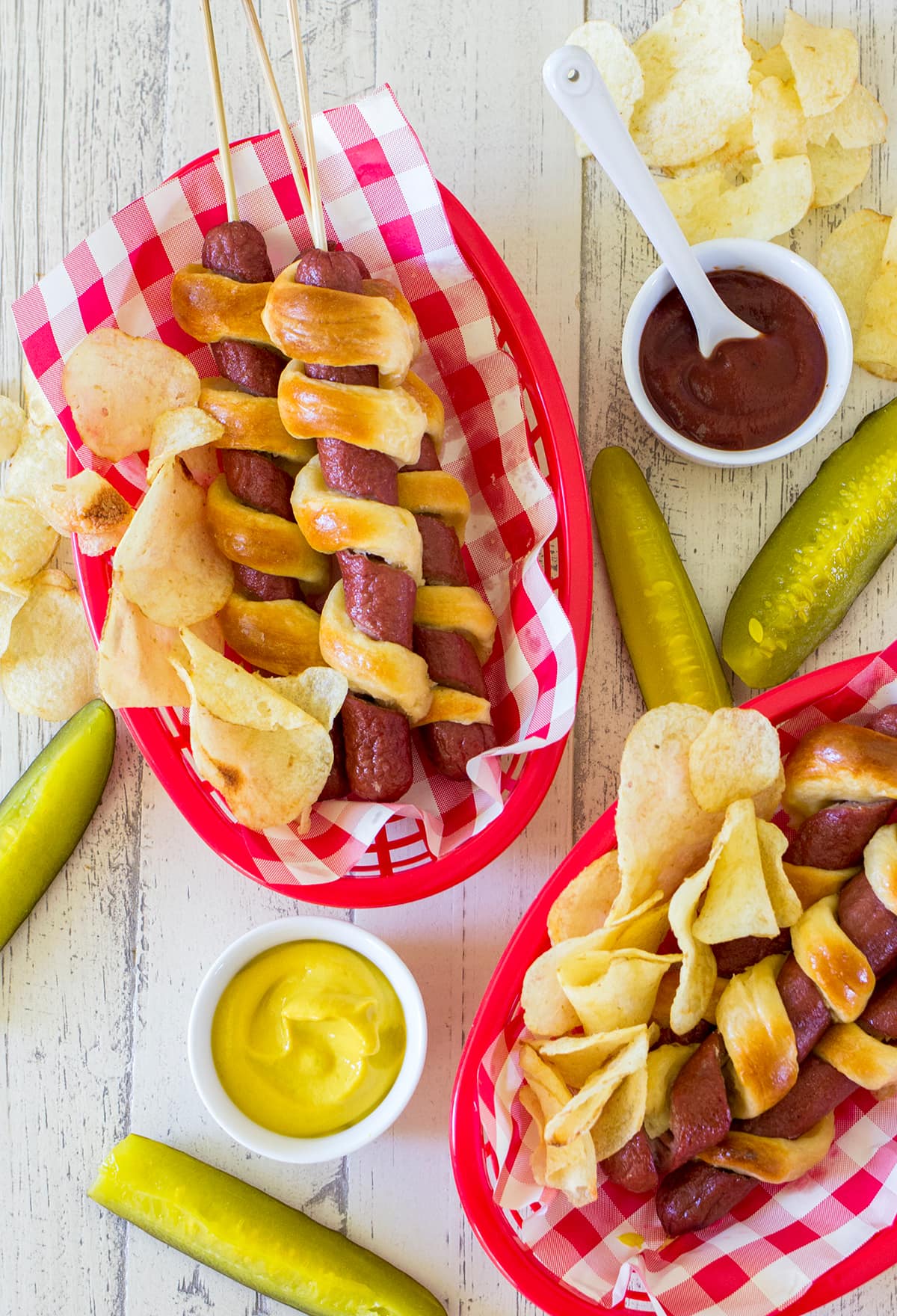 Applegate's hotdogs were an obvious choice for me because they are super clean, only 4-ingredients, made with grass-fed beef, and non-GMO. Let's just say, they are one clean hot dog!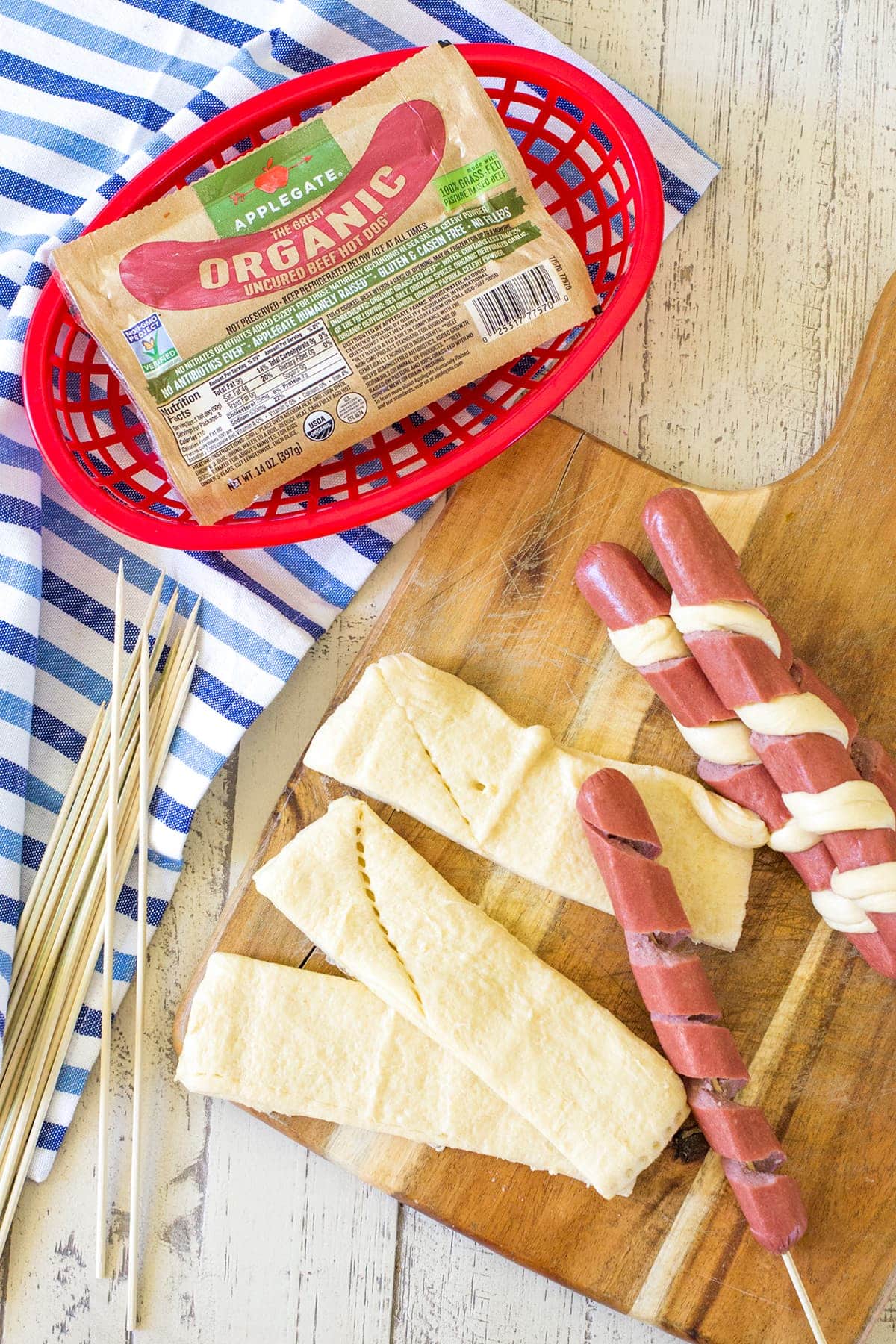 This 4th of July I'm hosting a barbecue and you'd better believe these easy 3-ingredient Tornado Hot Dogs are on the menu. Made with spiral cut Applegate hot dogs wrapped in crescent roll dough and baked, these dogs are festive, delicious and fun to eat! Both kids and adults will love the nostalgic "pigs in a blanket" flavor with the modern twist…get it, twist?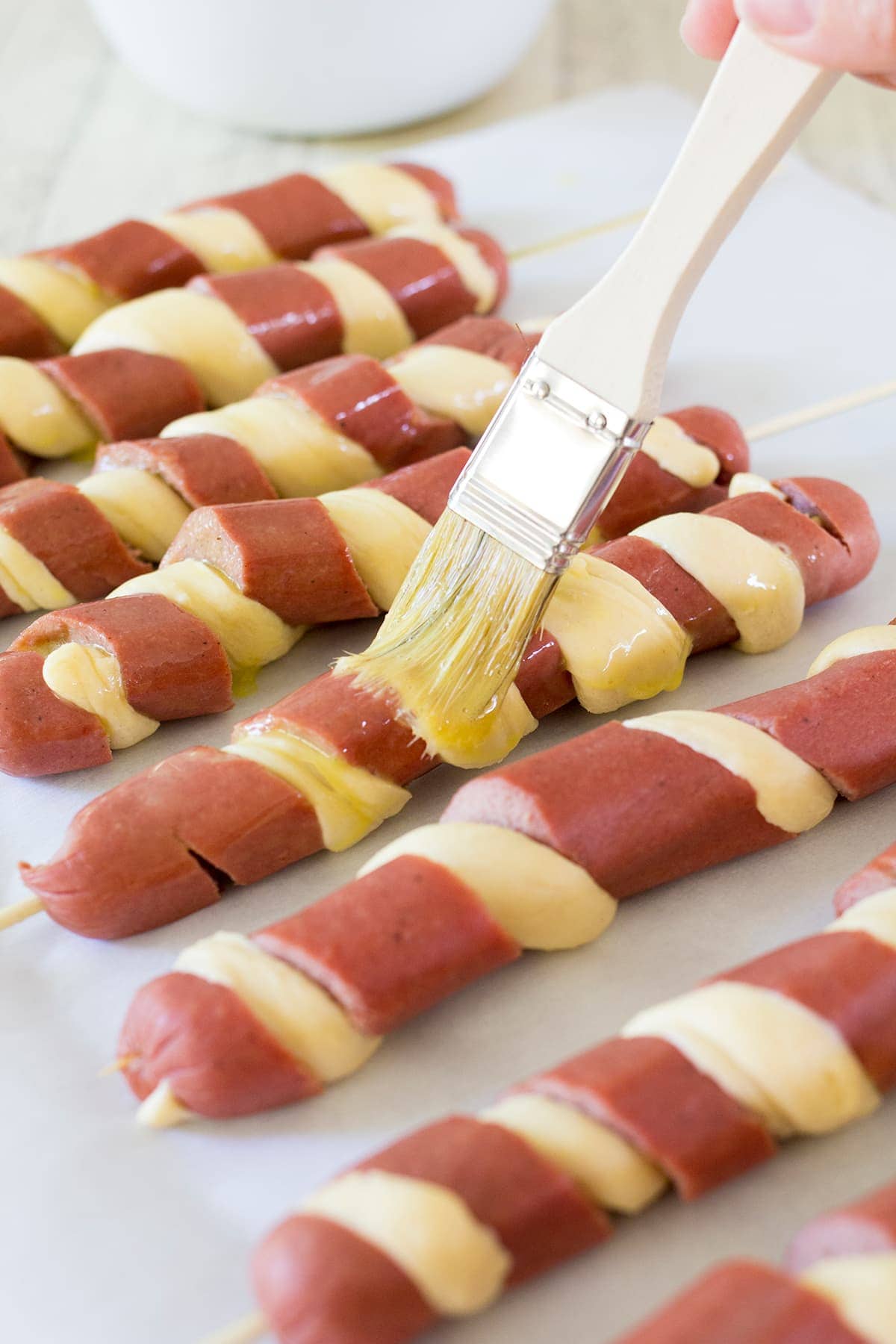 Start by skewering your Applegate hot dogs onto a bamboo skewer. Next, use a sharp paring knife to slice a spiral cut down the hot dog. Don't be intimidated by this step, you really can't go wrong. I found that the easiest way to achieve a spiral is to lay the skewered hot dog on a cutting board and starting at the top, cut while rotating the dog. Next spread out the spiral cut hotdog to make room for the crescent roll "filling." Wind the crescent roll dough around the hot dog and place on a parchment lined baking sheet. Brush with beaten egg and you are ready to bake.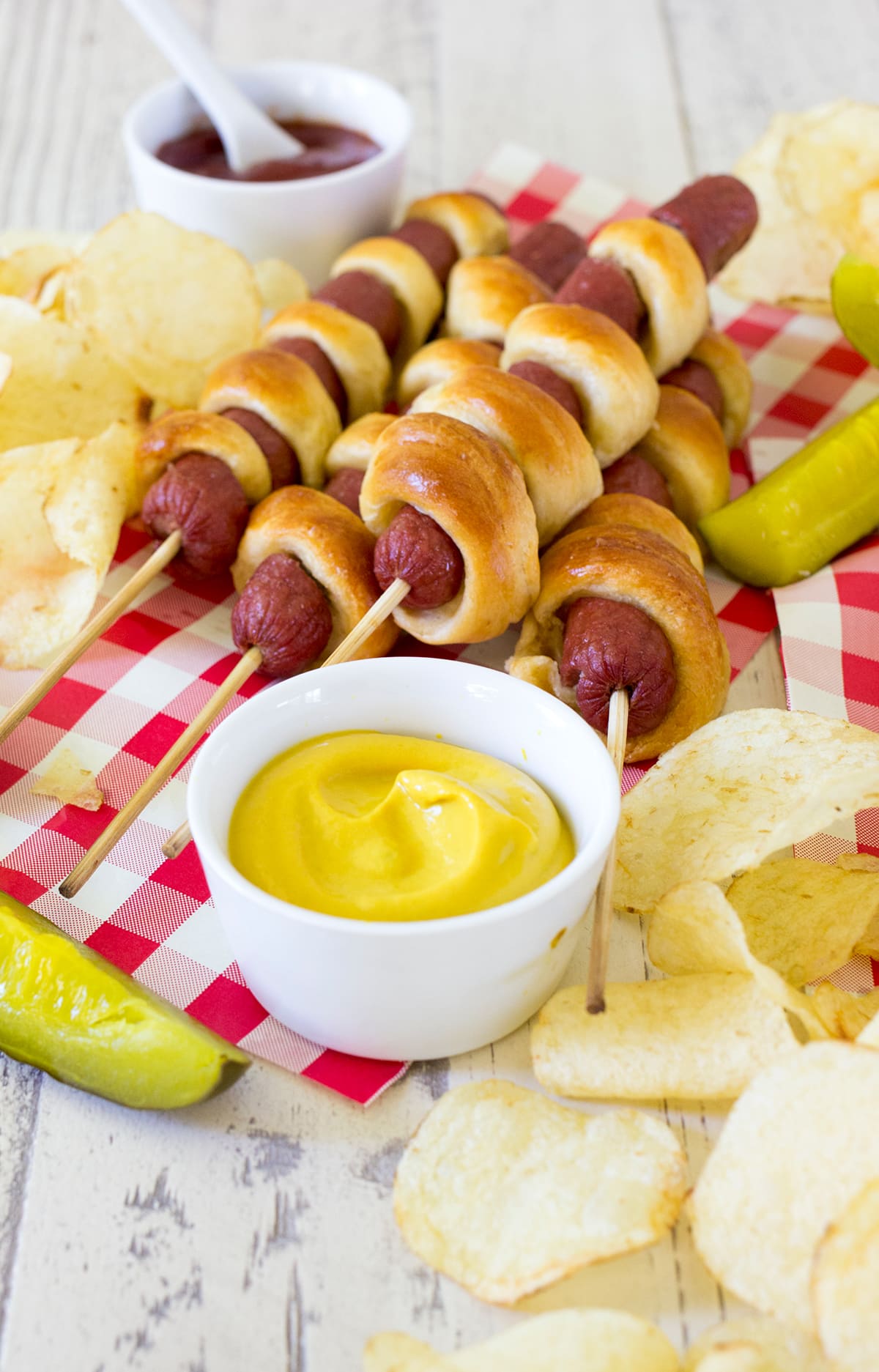 In just under 20 minutes you have tornado dogs on a stick ready for dipping in your favorite condiments. These dogs are fun for The Fourth because they remind me of classic bottle rockets. So, are you serving hot dogs for the 4th of July? And are you team ketchup or mustard? Either way, I hope you give these tornado dogs a try and have a very fun and festive 4th of July!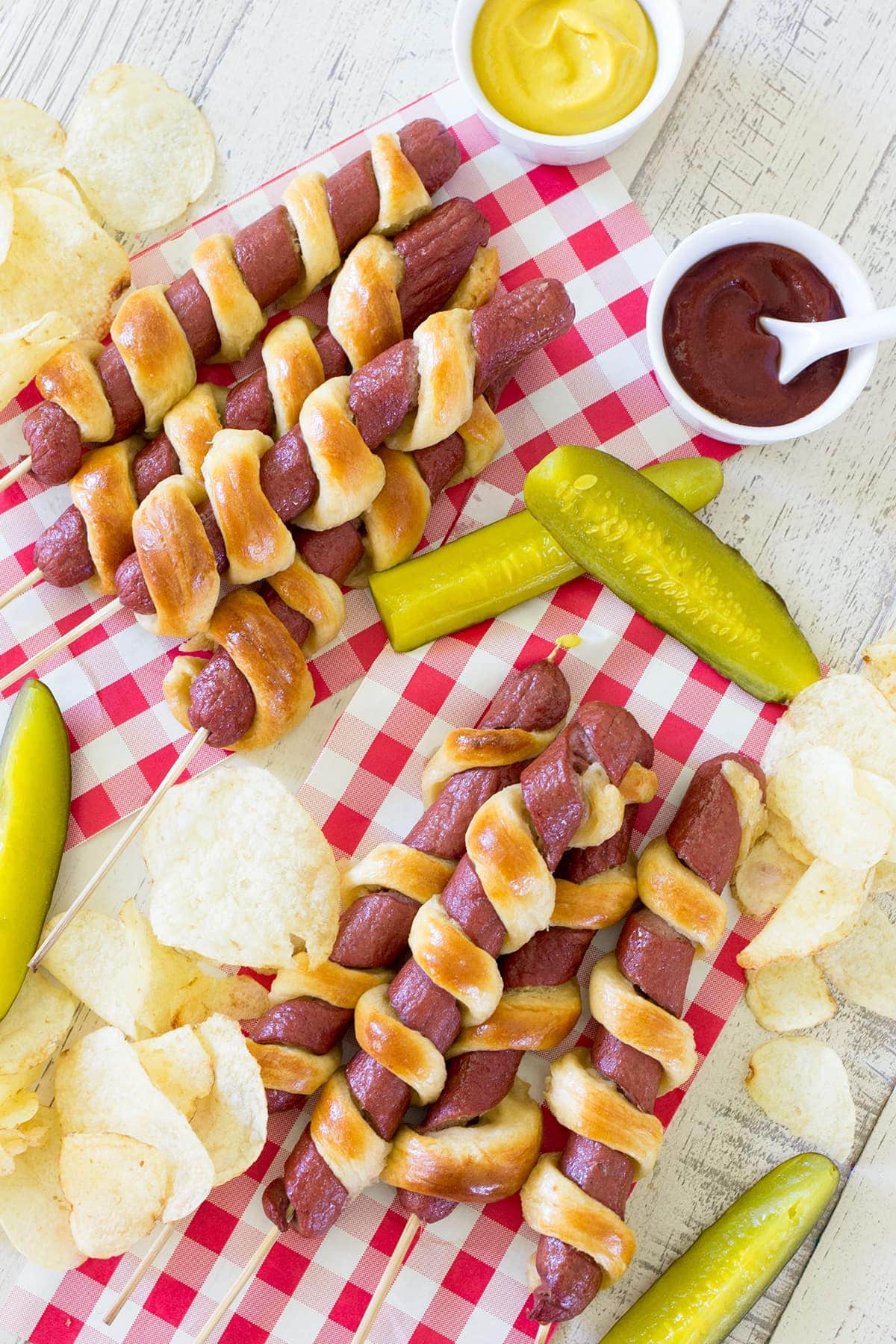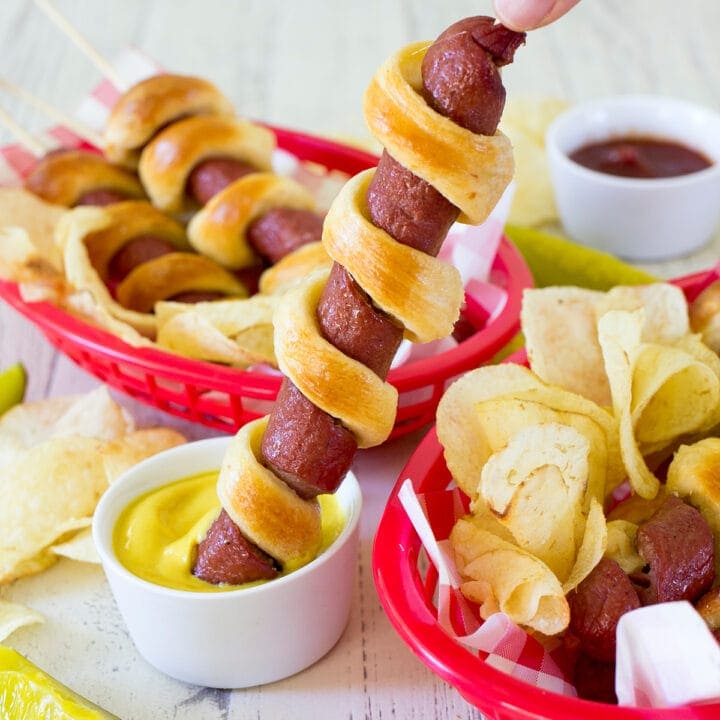 Easy 3-Ingredient Tornado Hot Dogs
Ingredients
1 package Applegate Naturals® Beef Hot Dogs
1 package crescent roll dough
1 egg, beaten
Instructions
Preheat oven to 350 degrees and cover a baking sheet with parchment paper to prevent sticking.
Skewer hot dogs down the center with wooden bamboo skewers and set aside.
Unroll crescent roll dough and cut into 8 equal parts.
Use a small sharp knife to cut hot dog while you rotate, creating a spiral cut.
Gently pull hot dog to spread out the spiral and make room for the crescent roll.
Roll out each piece of crescent roll dough and wind it through the hot dogs pressing into the spiral slice.
Place hot dogs on a parchment lined baking sheet.
Brush with beaten egg wash and place in the oven. Bake at 350 degrees for 17-20 minutes or until golden brown and the crescent roll dough is cooked through.
Serve warm with ketchup and mustard for dipping.
Disclosure: This post was sponsored by Applegate however all opinions regarding their products are my own! Thank you for supporting the sponsors who keep Freutcake delicious.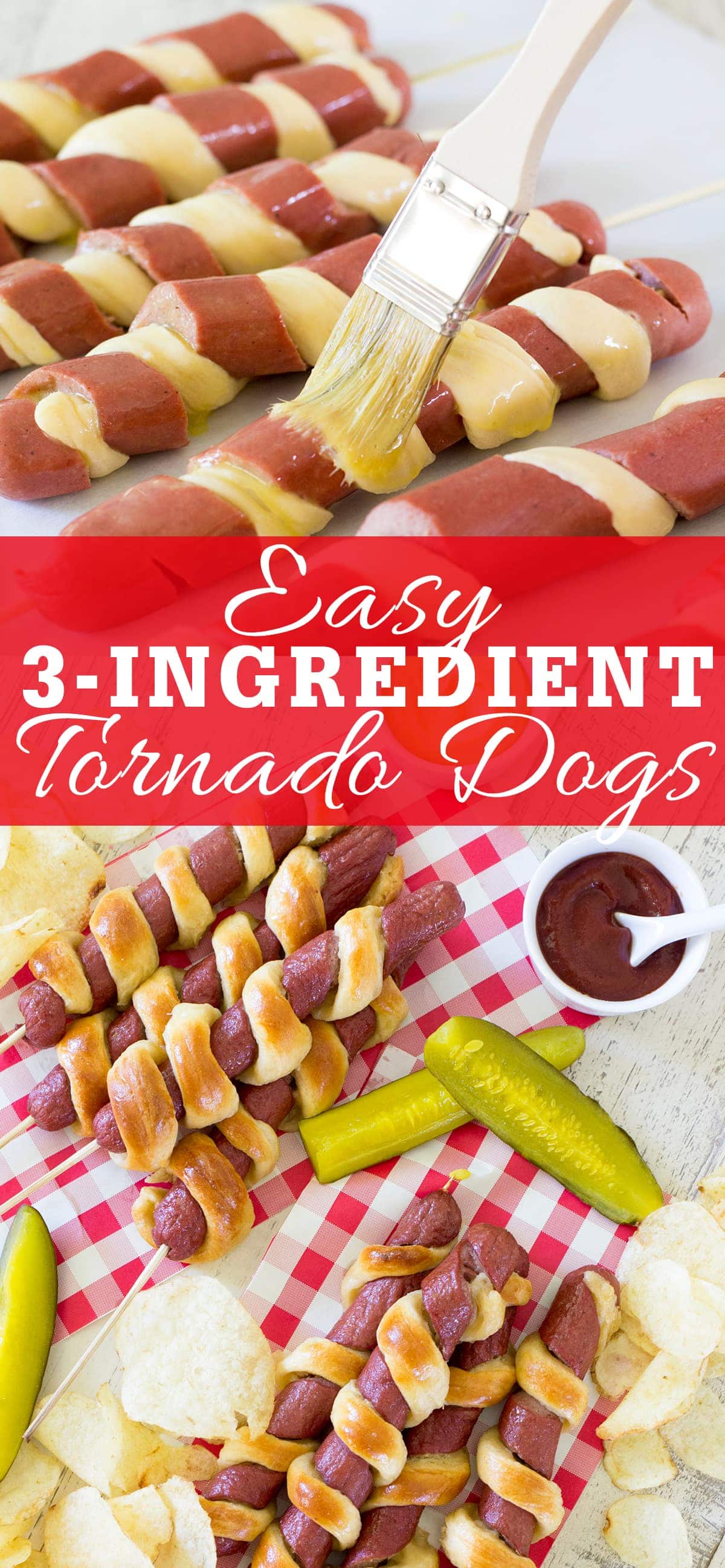 Want more 4th of July Recipes? Here's a few you'll want to try!
The Ultimate Red, White & Blue Cheese Board
Blueberry Tomato Caprese
Strawberry Rhubarb Pie
Warm Potato Salad
4th of July Dessert Hacks