Traditional Mexican Wedding Cookies are the most buttery and delicate, melt in your mouth holiday cookie you will find! Serve them with cinnamon coffee for a delicious after dinner treat.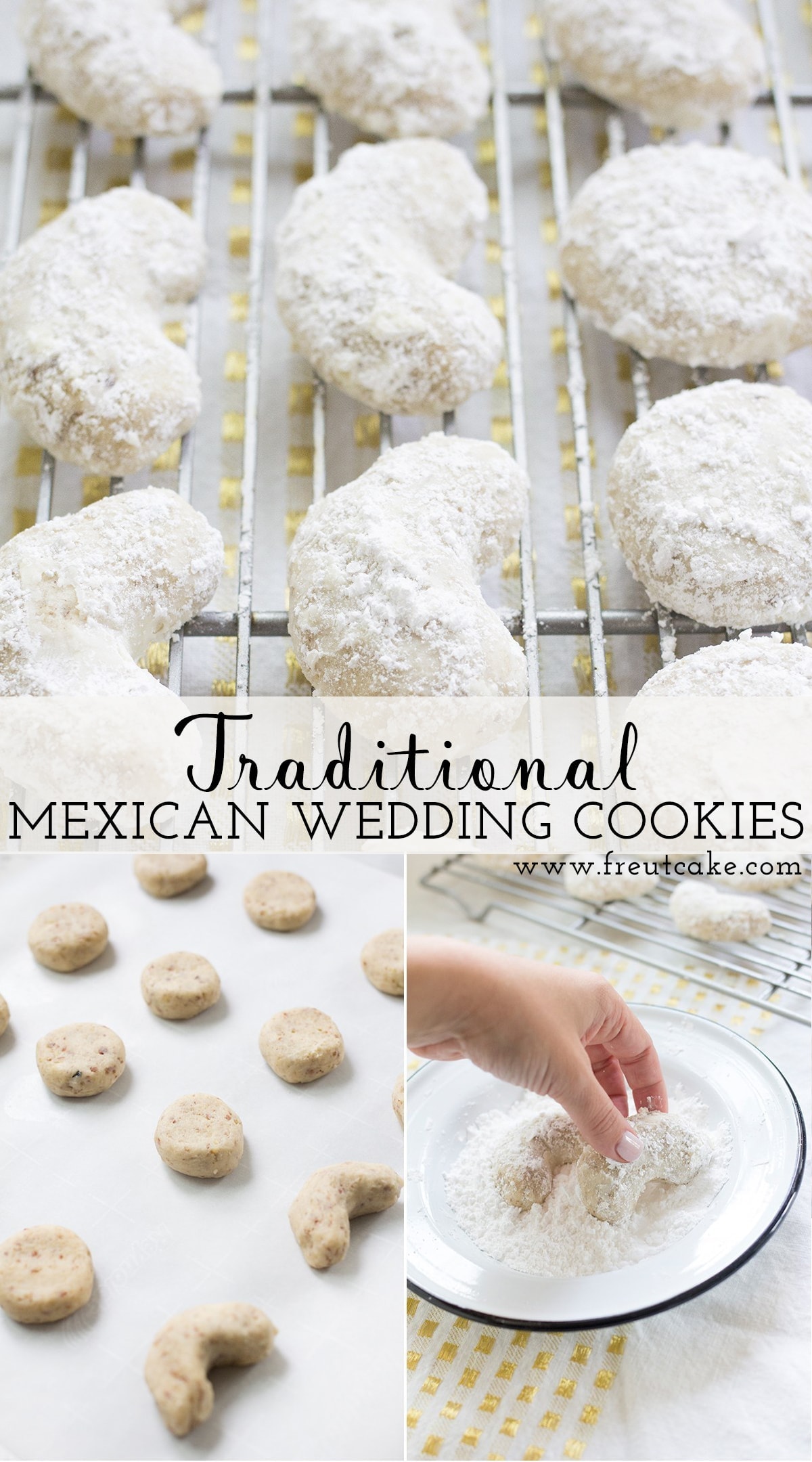 Christmas Cookie Traditions
Family holiday traditions are a funny thing. For me, there is something so special and essential about doing things the way I always have in my own family, that sometimes I can get pretty ridged about our traditions.
Like my Christmas cookies, for example: every year I make the same Christmas cookies, the ones my Grandmas both made and a few more modern recipes like my favorite gingersnaps....definitely not Mexican Wedding Cookies.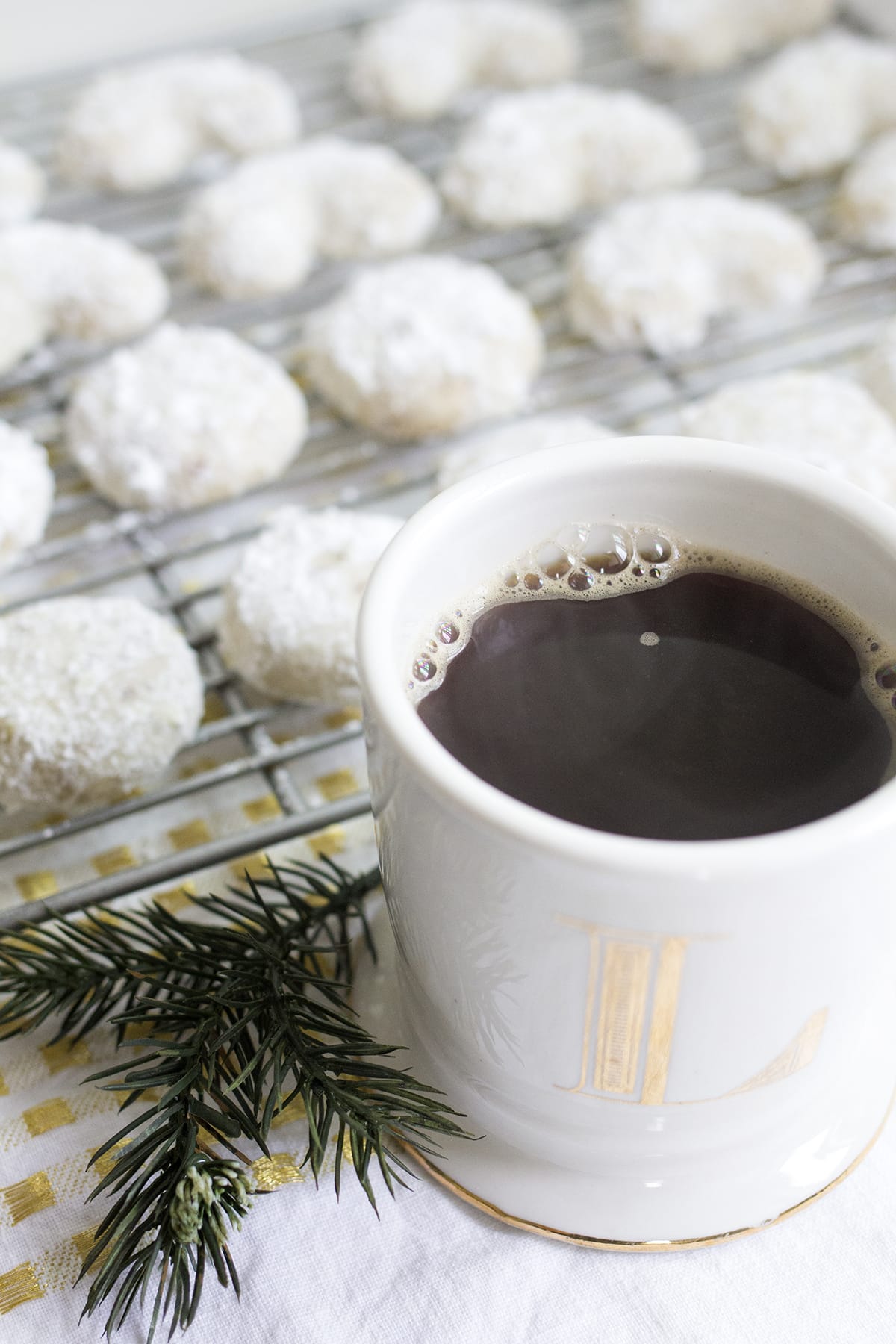 Mexican Wedding Cookies Recipe
This year I decided to try something new during the holidays, be adventurous and try a Christmas Cookie that wasn't what my family always made.
So, out of my recipe box I dug a recipe for Mexican Wedding Cookies, given to me by a family friend. She had been raving about how delicious they were for years, insisting that I try them.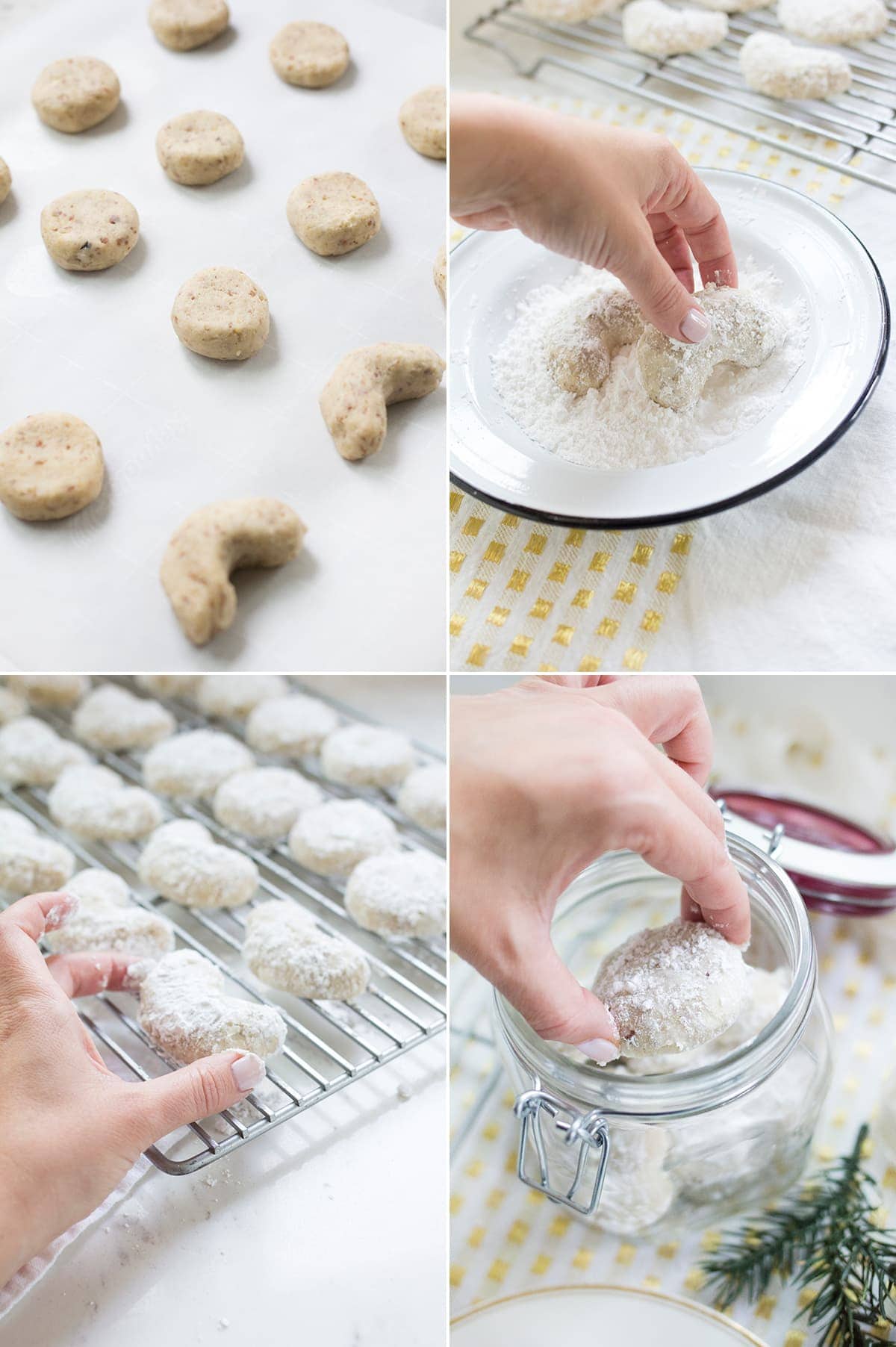 So, I made her Mexican Wedding Cookies. Buttery little crescents or rounds (depending on which shape you like best) full of finely chopped pecans and rolled while still warm in powdered sugar.
Ingredients for Mexican Wedding Cookies
salted butter - there is no other salt in this recipe so make sure to use salted butter.
confectioner's sugar - otherwise know as powdered sugar, sweetens the cookies and adds a crumbly texture.
vanilla extract - use the good stuff! Real Vanilla Extract has the very best flavor.
all-purpose flour - I've only used white all-purpose flour for this recipe.
minced pecans- this adds texture and flavor to these simple butter cookies.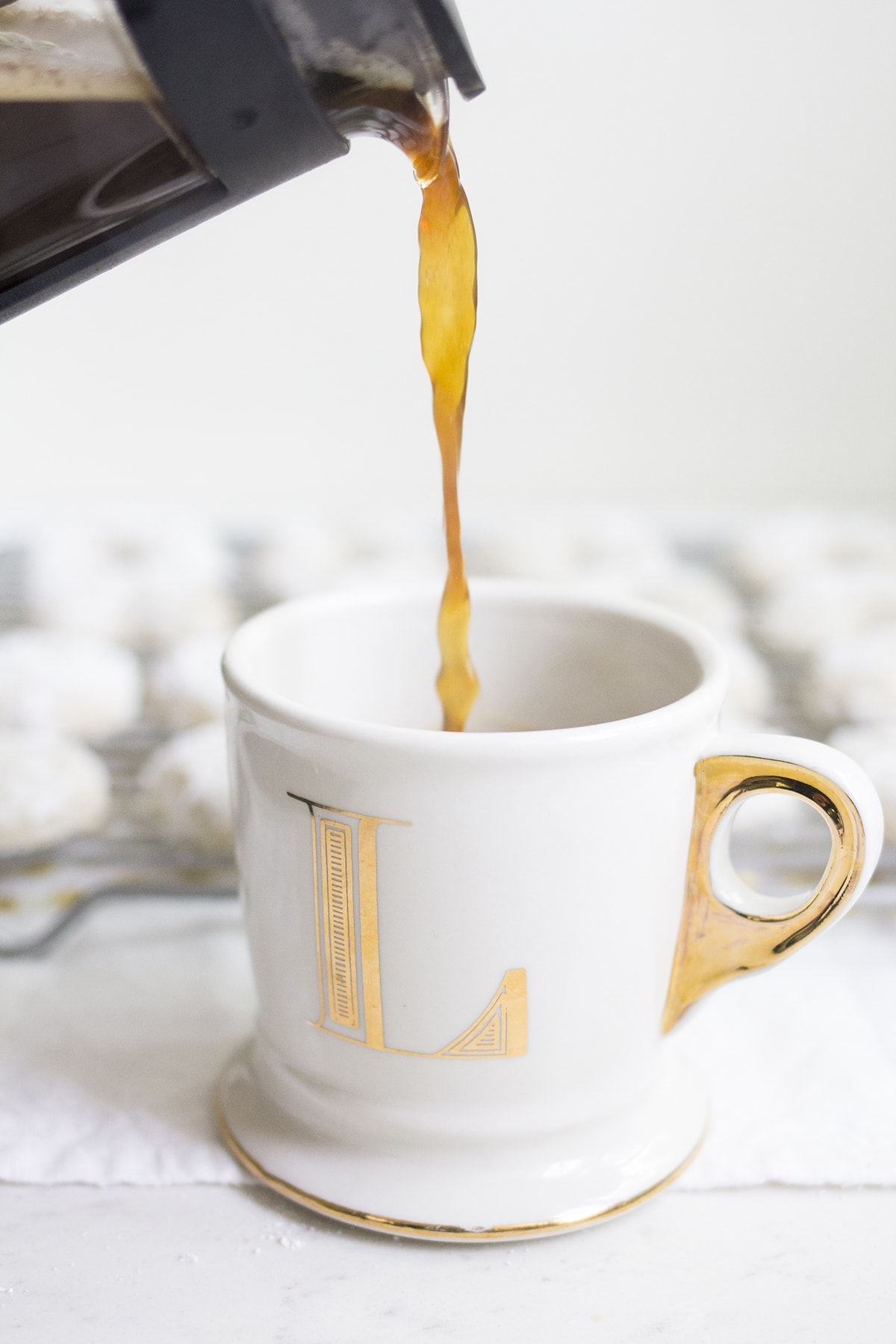 The Best Mexican Wedding Cookies
As I pulled the cookies from the oven, they looked perfect. The recipe was so easy and I wondered why it has taken me so many years to try it for myself. They literally crumble and melt in your mouth!
I brewed myself a pot of coffee and served myself a few cookies. The taste of the cinnamon with the warm sugary and buttery cookie... oh my gosh you guuuuuuys, I'm making these again and again! Holiday traditions are a funny thing, aren't they?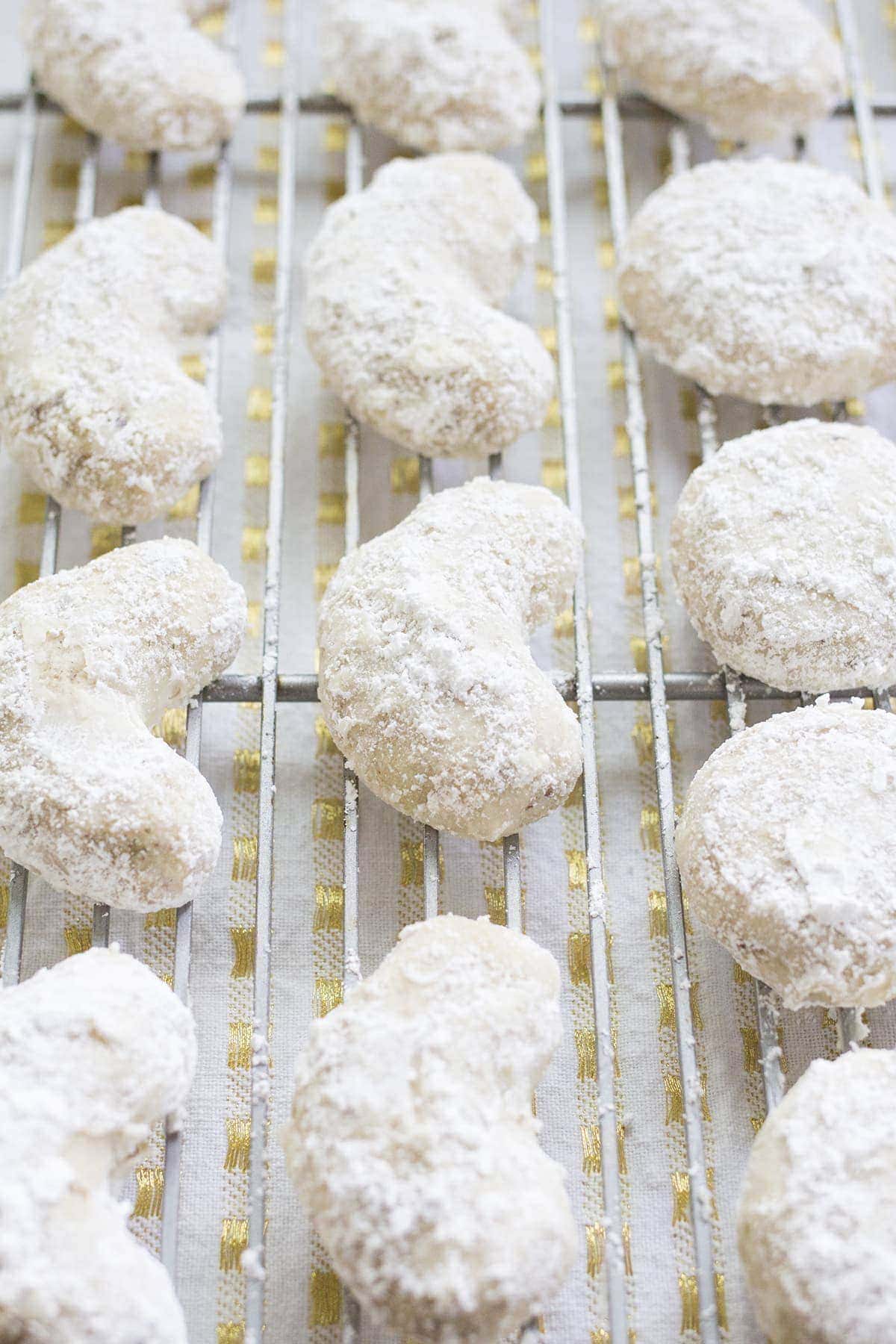 Looking for More Christmas Cookie Recipes? You Might Enjoy...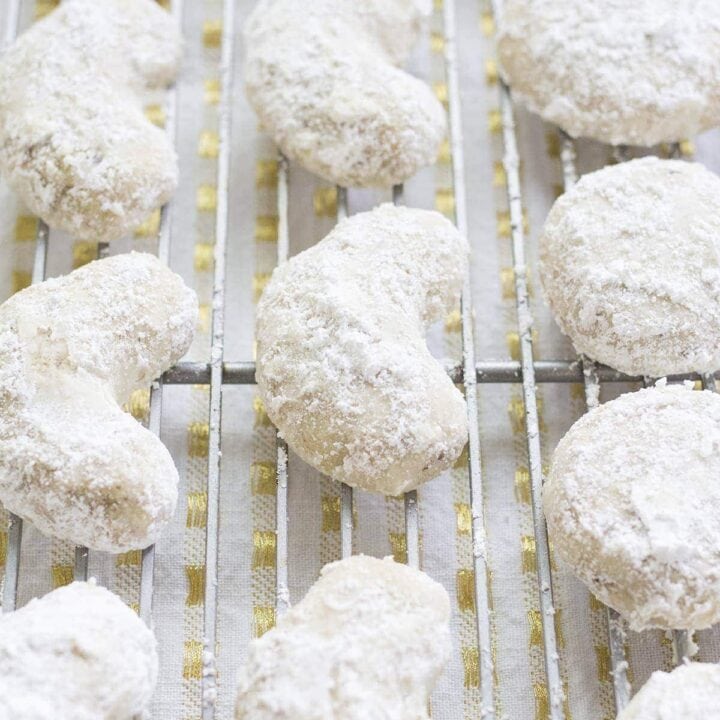 Mexican Wedding Cookies
Classic and buttery Mexican Wedding Butter Cookies rolled in powdered sugar.
Ingredients
1 cup salted butter, cold
½ cup confectioner's sugar, plus more for coating
1 teaspoon vanilla extract
1 ¾ cups all-purpose flour
1 cup pecans, minced very fine
Instructions
1. Preheat oven to 275 degrees. Line cookie sheets
with parchment paper and set aside.

2. Using an electric mixer, cream the butter and
sugar until smooth. This might take a little while because the butter is cold.
Beat in vanilla.

3. Add flour in on low speed and mix just until combined.
Mix in the pecans with a wooden spoon, by hand. With floured hands roll out 1 Tablespoon of dough at a time and shape into crescents or rounds.

4. Place on prepared cookie sheets and bake for 40
minutes. When cool enough to handle, roll in confectioners' sugar and allow to cool completely on cooling racks.