Memorial Day weekend is upon us friends, which means barbecues, warmer days, and the unofficial start of summer! Who's ready for the easiest Barbecue Pulled Chicken Sliders with a Mango-Jicama Slaw recipe? These tasty little bites will give you all the good summer feels.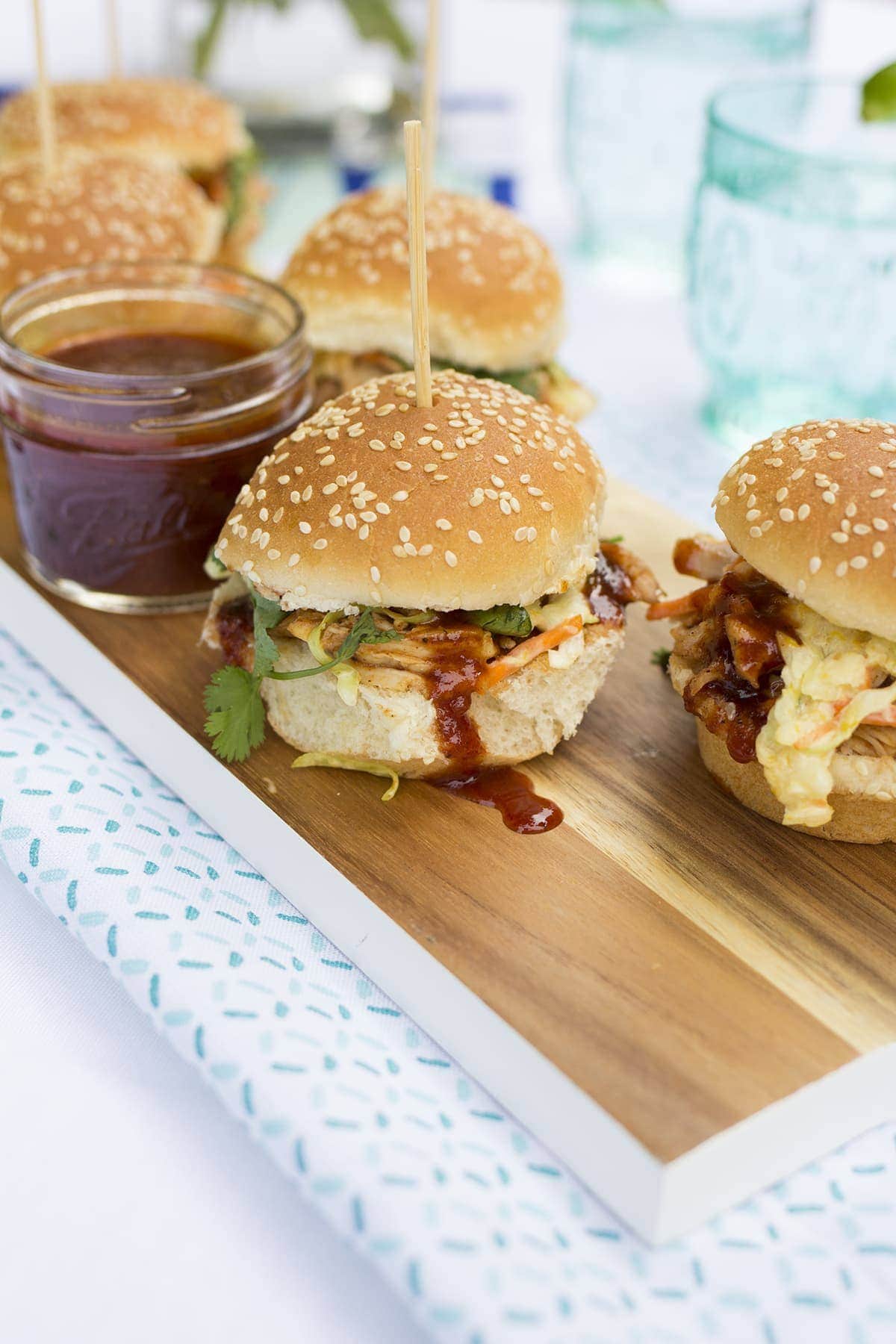 Barbecue Chicken Sliders
Spending summers with my family in West Virginia, we ate a lot of Barbecue...and when you talk about "barbecue" in West Virginia it simply means tender barbecued pulled pork on a bun with coleslaw. THAT IS BARBECUE...period. Of course growing up in California, barbecue is broader than just a sandwich. However that doesn't change the fact that this classic combination is delicious. My Chicken sliders are what I call the California version of barbecue.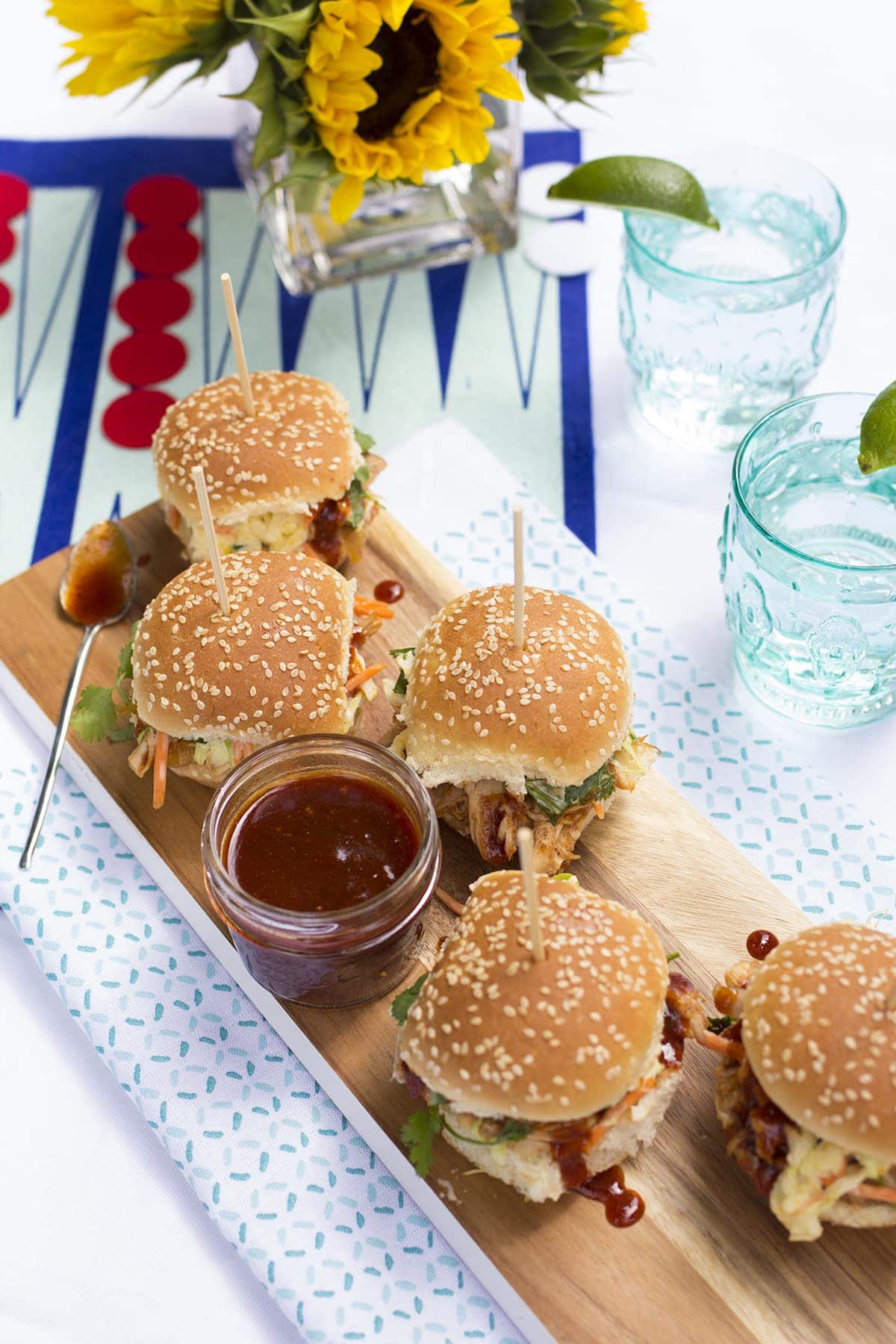 Ingredients In Barbecue Chicken Sandwiches
Chicken - I like chicken thighs for this because they are more moist but use whatever cut you have.
Barbecue Sauce - use your favorite brand!
Onion and Garlic - for adding all the flavor to your chicken.
Buns - I used mini slider buns but you could do full sized sandwiches.
Slaw - made of cabbage, carrot, jicama, mango, cilantro and a simple creamy dressing.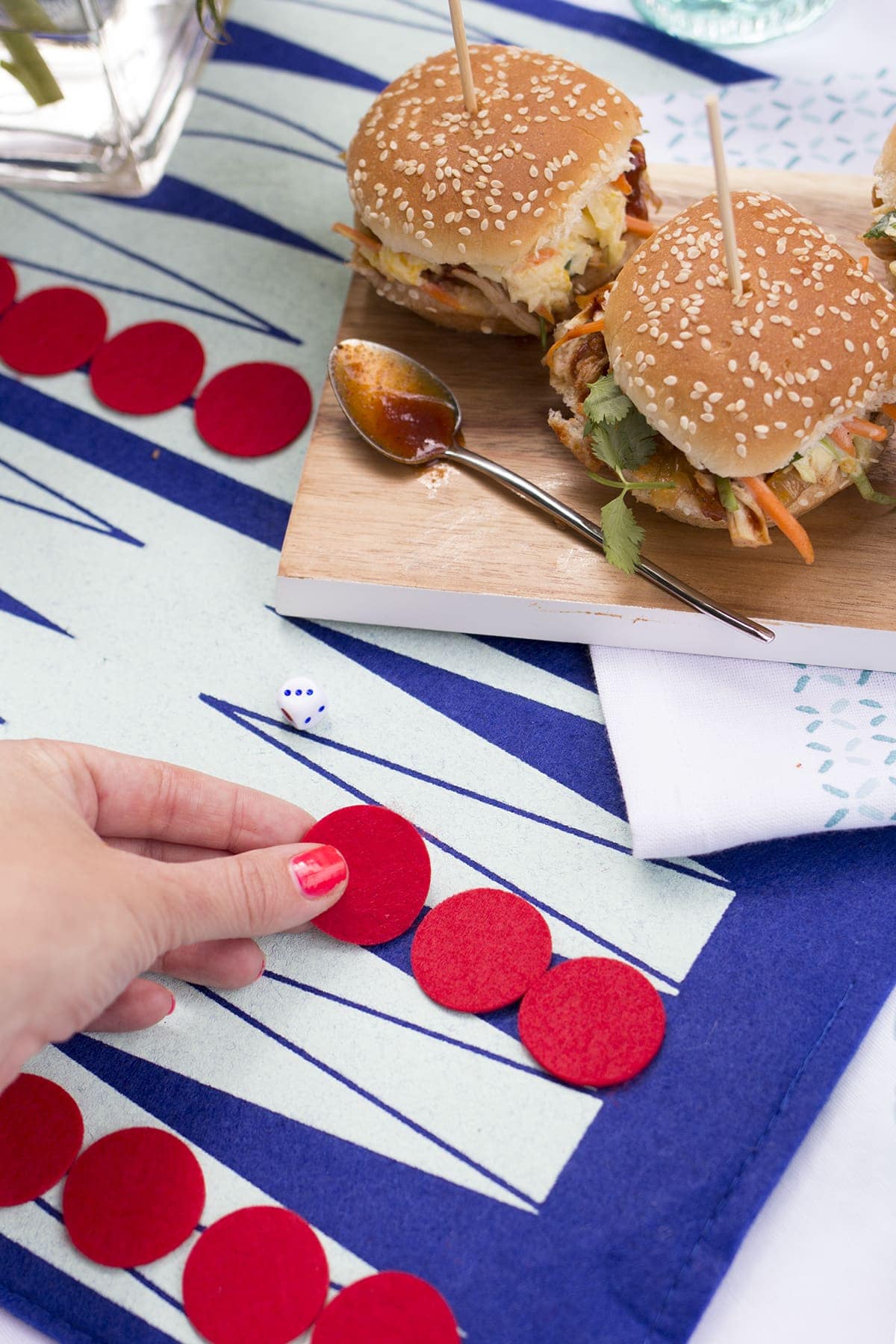 Mango Jicama Slaw
To top off these chicken sliders, I made a cabbage slaw with sweet mango, crunchy jicama, and lots of cilantro. The combination of flavors is fresh, bright and delicious. The perfect compliment to spicy and tangy barbecue sauce. I like these flavors more than classic coleslaw which can be pretty bland.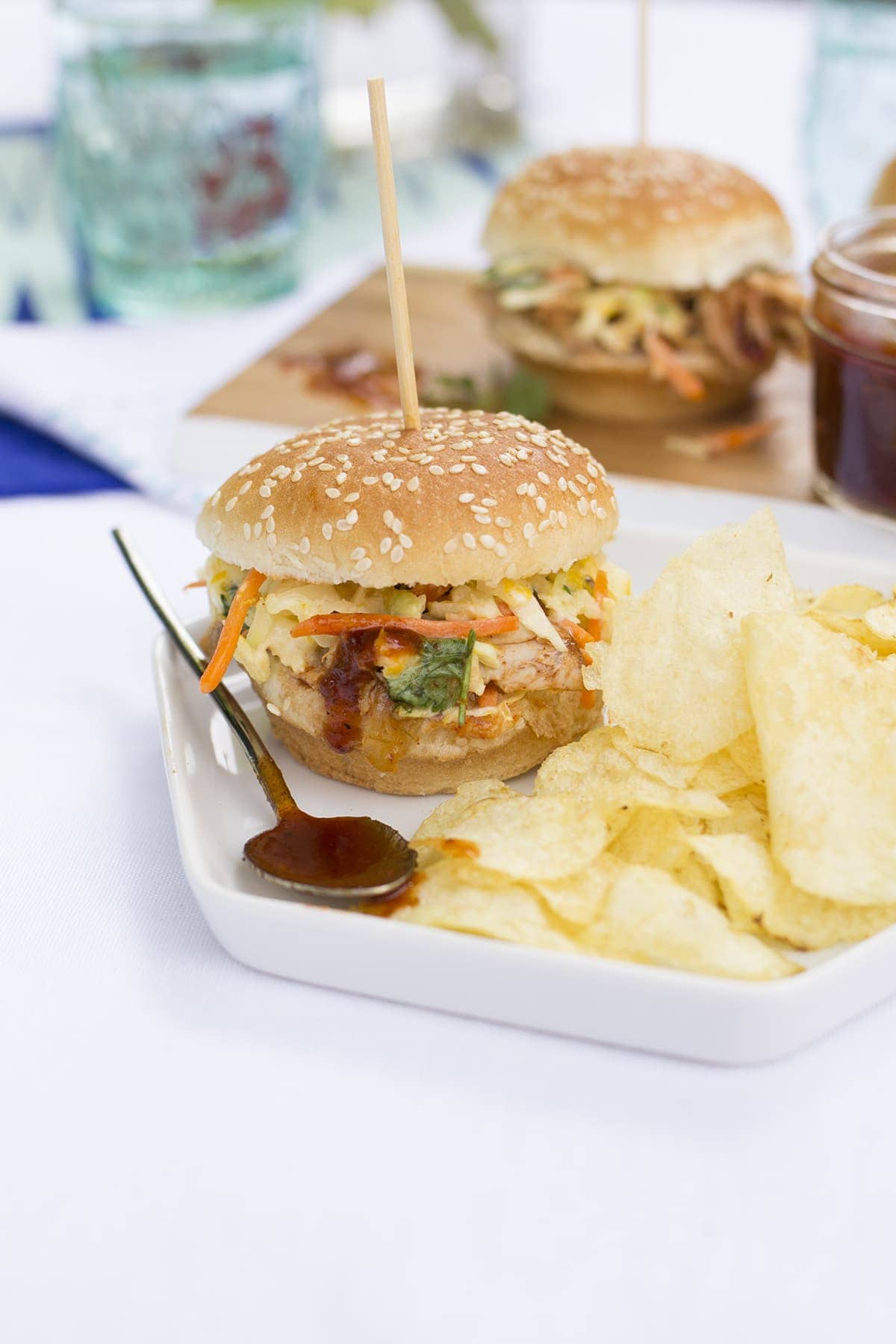 How to Make Shredded Barbecue Chicken
Cook Chicken - Season chicken, then sear on all sides until skin is golden brown. Remove the chicken, add onions and garlic cloves and cook. Pour in barbecue sauce, add chicken to the sauce, and place lid on the pot and cook until the chicken is cooked through and falling off the bone.
Remove Bones- Remove the Remove chicken from pot and use hands or two forks to remove the bones and shred the chicken.
Shred- Carefully skim off the excess fat that has risen on top of the sauce. Return shredded chicken to the pot and stir into the sauce. Reheat so that it's warm.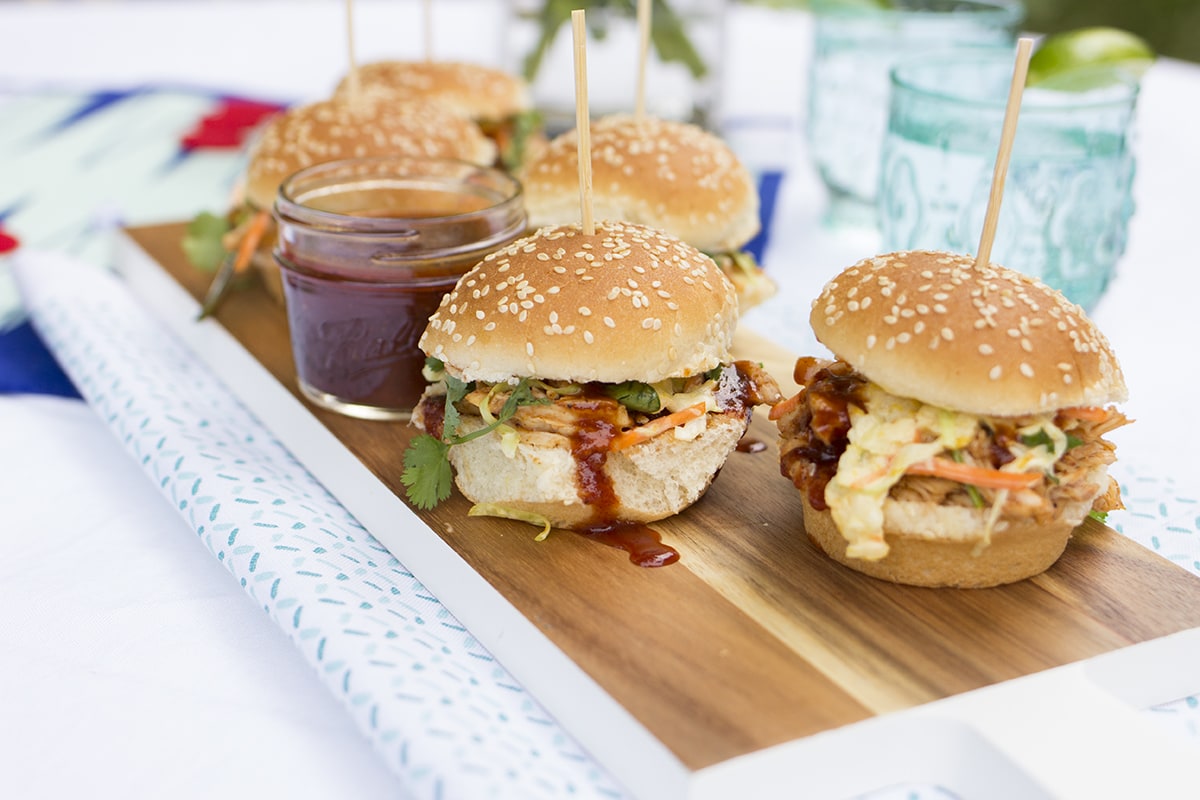 What to Serve with Barbecue Chicken Sliders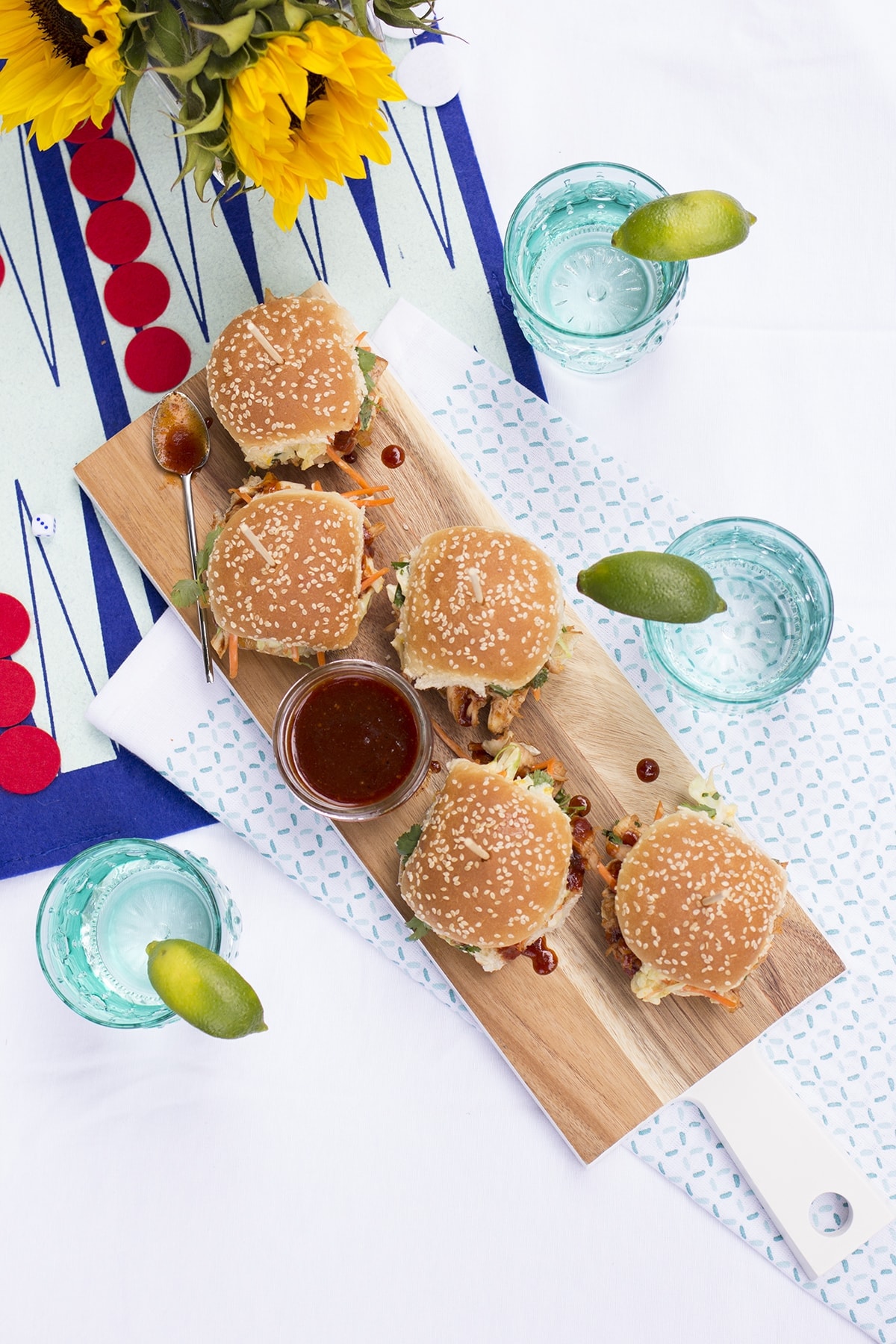 I hope you and your family enjoy your holiday weekend! If you make these sliders, please leave a comment letting me know what you think. Happy Memorial Day!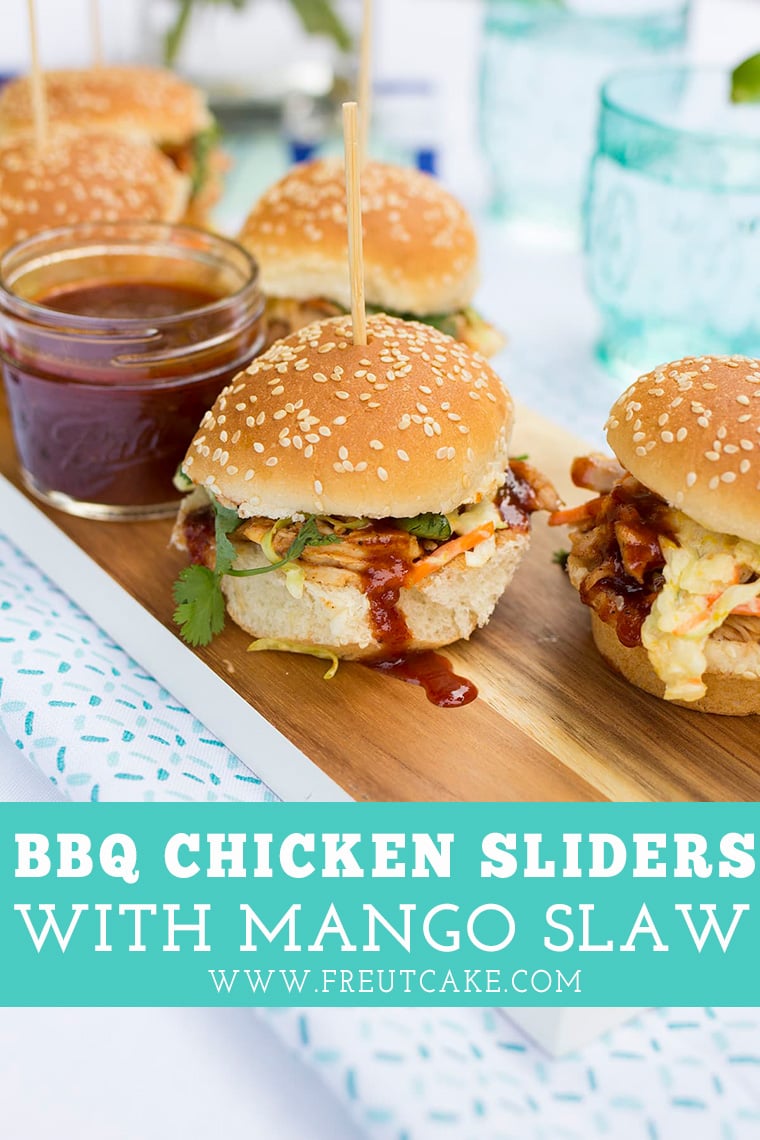 *I updated this recipe to make some slight changes to the chicken as of May, 2020.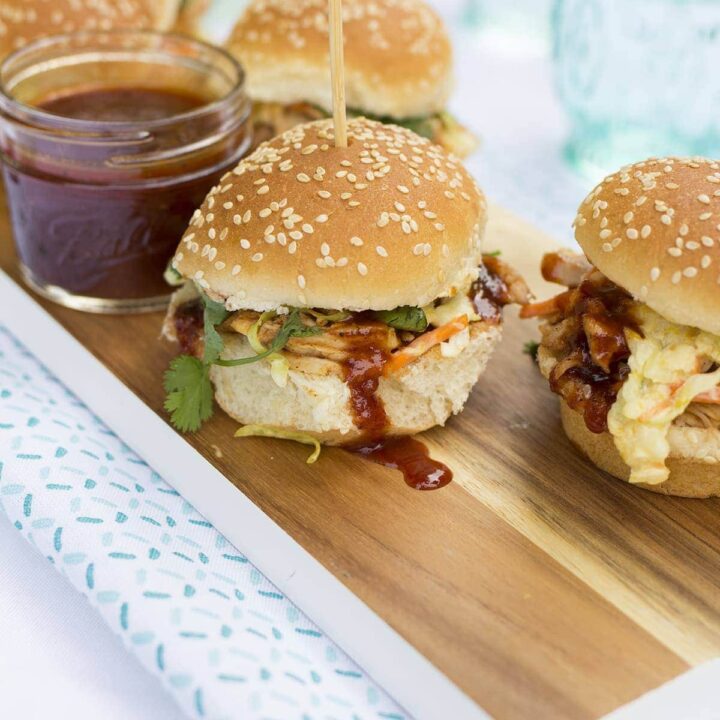 Barbecue Chicken Sliders with Mango Slaw
Total Time:
1 hour
5 minutes
Barbecue pulled chicken sliders with a mango jicama and
cilantro slaw.
Ingredients
4 lbs boneless chicken thighs
Salt And Pepper, to taste
2 Tablespoons Canola Oil
1 bottle Barbecue Sauce
1 cup water
1 whole Onion, Sliced
8 whole Cloves Garlic
18 mini hamburger buns
Slaw:
10 oz bag shredded cabbage
1 ½ cups shredded carrot
1 small jicama shredded
1 mango, peeled and julienned
½ cup Whole Milk
½ cup Mayonnaise
1 Tablespoon White Vinegar
¼ teaspoon Salt
¼ teaspoon Cayenne Pepper
1 bunch Cilantro, Roughly Chopped
Instructions
Slaw: Combine shredded cabbage, carrot, jicama and mango in a bowl. *You can easily shred cabbage, carrot and jicama in a food processor fitted with the shredding plate.
In a separate bowl mix milk, mayonnaise, vinegar, salt, and
cayenne. Pour over cabbage mixture. Toss to combine. Cover and refrigerate until chicken is ready. Before serving, toss in cilantro leaves. Adding them earlier will make them soggy.
Chicken: Heat oil in a heavy dutch oven or pot over medium high heat. Season chicken with salt and pepper and sear on all sides until golden brown. Remove chicken from pot and set aside.
Add sliced onions and whole garlic cloves to pot and stir
around to cook for 2 minutes. Add back in the chicken and any drippings. Pour in barbecue sauce, and water, cover and cook over medium-low for about 30 minutes or until chicken is cooked through and easy to shred.
Remove the whole garlic cloves from the pot and set it
aside. Remove chicken from pot and allow to cool enough to handle. Using hands or two forks, shred the meat.
Return shredded chicken to the pot and stir into the sauce. Reheat over low.
Top buns with shredded chicken and slaw. Serve and enjoy!


Notes
Check on chicken while it's cooking to make sure it's not boiling. The heat should be low enough to keep it simmering. If the barbecue sauce gets too thick while cooking the chicken, you can add a bit more water.
Nutrition Information:
Yield:

7
Serving Size:

1
Amount Per Serving:
Calories:

598
Total Fat:

23g
Saturated Fat:

4g
Trans Fat:

0g
Unsaturated Fat:

18g
Cholesterol:

20mg
Sodium:

894mg
Carbohydrates:

81g
Fiber:

7g
Sugar:

22g
Protein:

17g