Are you ready for the understatement of the century? Here goes…The first year with babies is tough.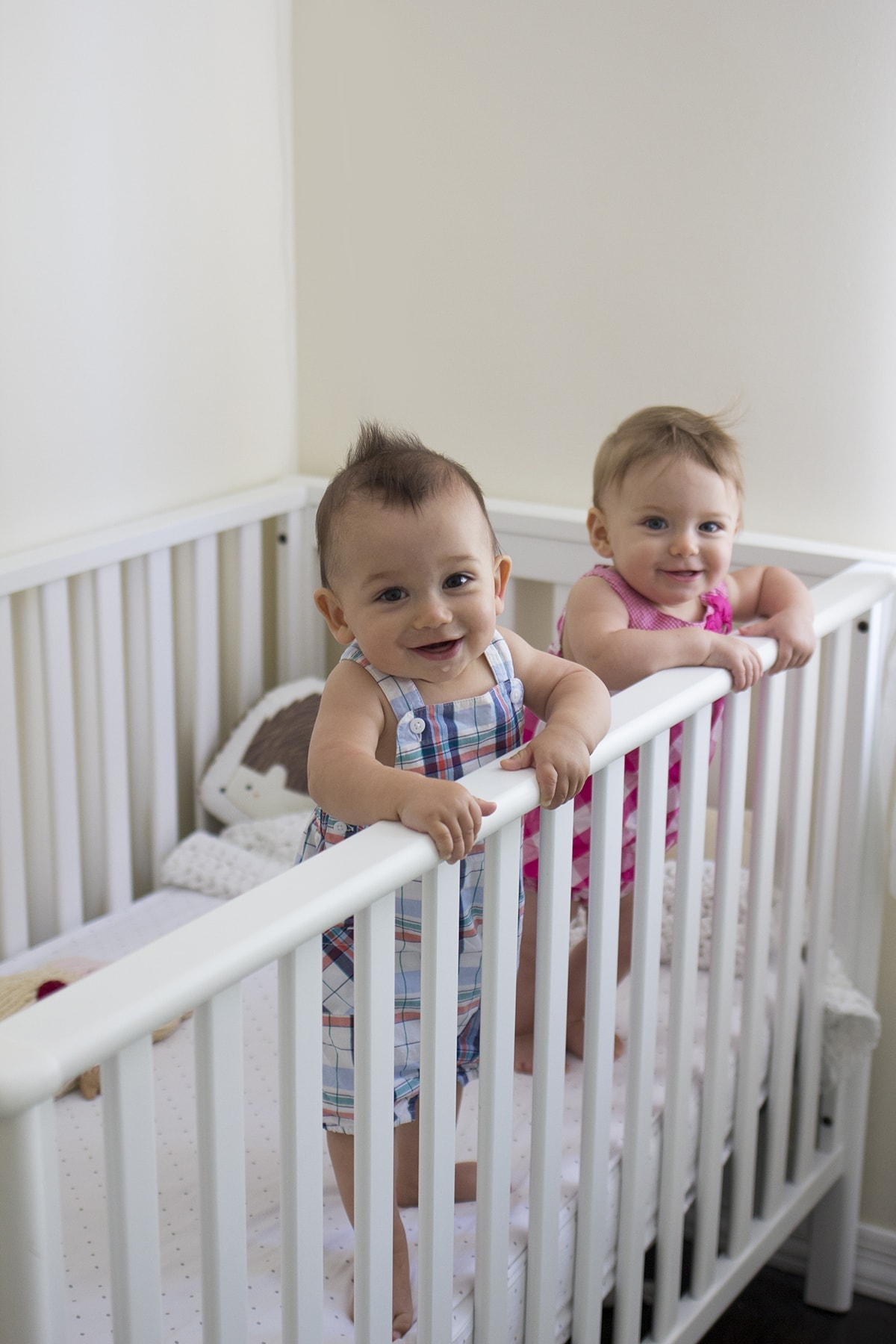 I've been skirting around this post topic for months now and have sat down to write some version of it at least a dozen time, but the words simply don't come. Not because I have nothing to say but because I can't seem to put all of my raw emotions into any sort of cohesive blog post. Or because my sleep deprived brain has somehow forgotten how to function, ya, it may be that.
Yes, I'm still sleep deprived and no, my babies do not not sleep through the night yet and they are 10 months old. But that's an entirely different post, one I never wrote because I couldn't find the right words.
In fact, there are plenty of posts I never found the words to write. Posts on sleep training which lead to co-sleeping, about lactation consultants and working back to breast from bottle after the NICU. About the pressure babies put on a marriage, and about how I felt the first time I was brave enough to look at my C-section scar in the mirror. About how I still can't eat graham crackers and milk without crying because it's what the nurses brought me to snack on in the hospital while I pumped for the twins, or about how crazy twin Mom guilt can be. Wow, so much guilt! And if I had found the words to write all of these posts over the past 10 months, would anyone have even read them or cared?
I'll just stick to posting about recipes and other pretty things and hold those raw emotions inside where no one can see the mess that is my constant emotional state these days. Yes, that sounds better. Because that just feels easier than laying it all out there and saying that it's hard.
You see, I'm starting to plan the twin's first birthday party and I'm procrastinating. Maybe it will make time slow down or maybe I'm just too overwhelmed by the expectation of a really awesome first birthday to do anything about it, but either way, I have a date and not much else. With that date looming over me like a chapter of my life titled "Babies," coming to a close, I'm trudging along day by day with an altogether icky feeling in my stomach and a sweet and painful ache in my heart. The emotional mess hasn't exactly cleaned itself up, along with my dishes and our garage, it's still there and it sucks.
Isn't the first year with baby or in my case babies, supposed to be sweet drooly bliss? No one prepared me for the hormones and the guilt and the unmet expectations. Not that babies didn't meet my expectations…they are everything and more! But I sure have fallen short. Don't get me wrong, Motherhood is better than expected! Really, it is. And no two babies were ever wanted as badly or loved as fiercely as these two. But that's not what this post is about. It's about the end of the day, when exactly zero emails have been responded to, when I've once again failed to make a home cooked dinner, when my jeans feel extra tight from all of the stress snacking and take out we've been eating, when all I want is a break and a shower, when I finally get the babies to sleep and the heavy-heavy guilt sets in. Did I read a book to the twins today? Did I hold Jackson as much as Millie? Was I present? Was I cranky? When will we ever have a date night? What ever happened to meal planning? Is it terrible that I fed non-organic blueberries to Jackson? Did I write in the baby books? Jesus! And I've gotten zero work done, or laundry folded, and I sit on the couch like a vegetable eating ice cream and hoping that if I get to bed at a decent hour the all-night nursing sessions won't completely drain me and leave me feeling resentful towards Jason and the entire population of parents whose babies sleep. Is it tomorrow yet? And in a blink of an eye a year has past.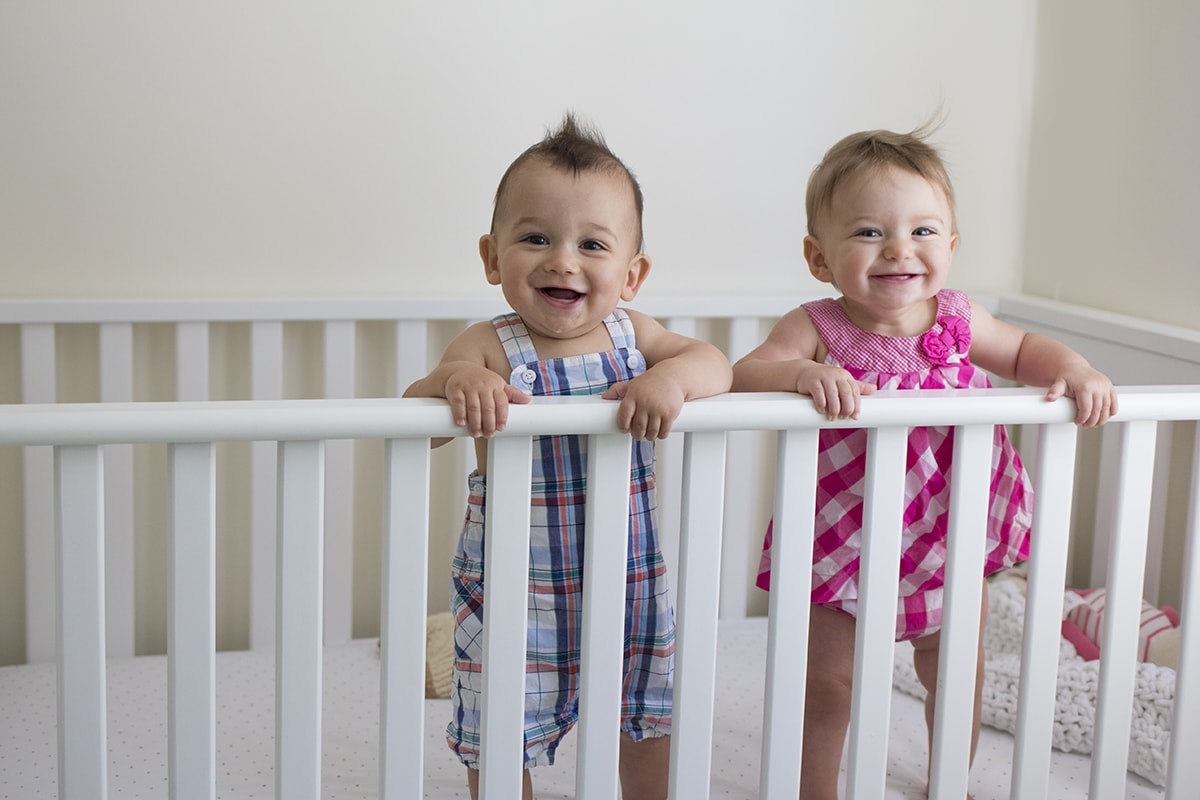 My Mom is sitting next to me on the couch with tears in her eyes reminding me that there will come a day in the near future when Millie won't even want to sit on my lap anymore and the ickiness returns. Slow and sad and creeping in on everyone's words of sweet sentiment and parenthood advice. The days are long but the years are short, they say. Now a woman is standing next to me in an elevator with her teenage son looking down at Jackson in the stroller telling me that her son was that age just yesterday! It goes by so fast she says, enjoy it! Take more pictures, enjoy every moment before it's gone. That's when I want to silence the world and hold my babies tighter and tell their first birthday to take a hike! (but not in the nice way)
The first year is so hard, and so precious and so short and nothing you can do changes that. So until they shove their chubby little fists into their very first piece of refined sugar birthday cake (ugh.), I'm going to try extra hard to soak it all up and give myself a break. It's not my season to be in shape, or to have the well decorated house, or to cook every night. It's not my season to kill-it career wise, or to start some amazing new creative venture, or to plant my dream vegetable garden. It's my season to be Jackson & Millie's Mama, and that's enough. I'd better write that on my hand, my sleep deprived brain is likely to forget it in the morning.
Save
Save
Save