One of my favorite side dishes on the Thanksgiving table has always been sweet potatoes. These Twice Baked Sweet Potatoes are the best of both worlds...mashed and roasted topped and topped with marshmallows. With a brown sugar, pecan and oat crumble; these sweet potatoes are irresistible.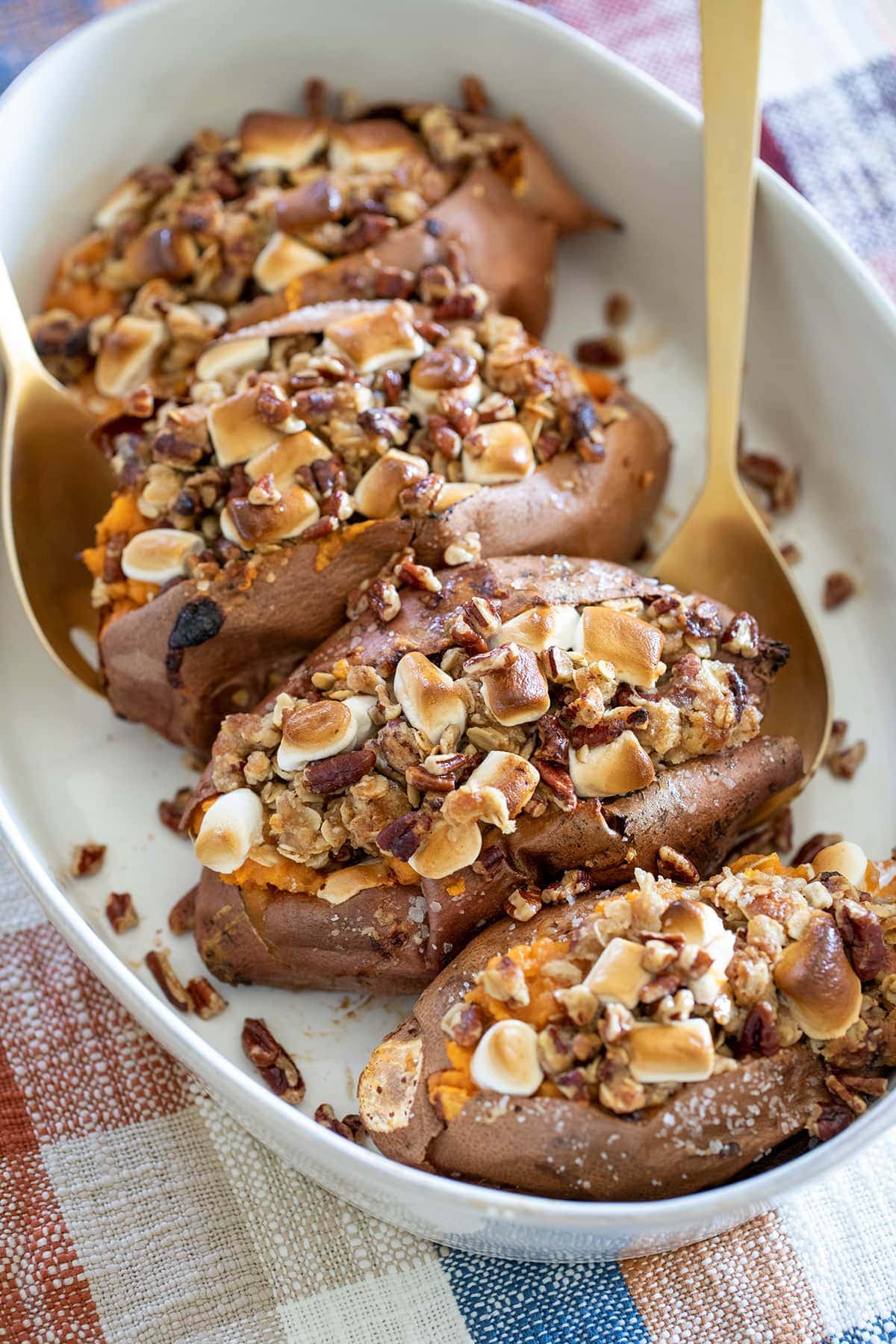 Twice Baked Sweet Potatoes
Let's face it, Thanksgiving is all about the sides dishes! I mean a delicious buttery moist turkey is delicious but our plates are generally filled with all of the sides. From sausage stuffing to cranberry sauce, delicata squash and even delicious cranberry cocktails; Thanksgiving food is a meal I look forward to all year long.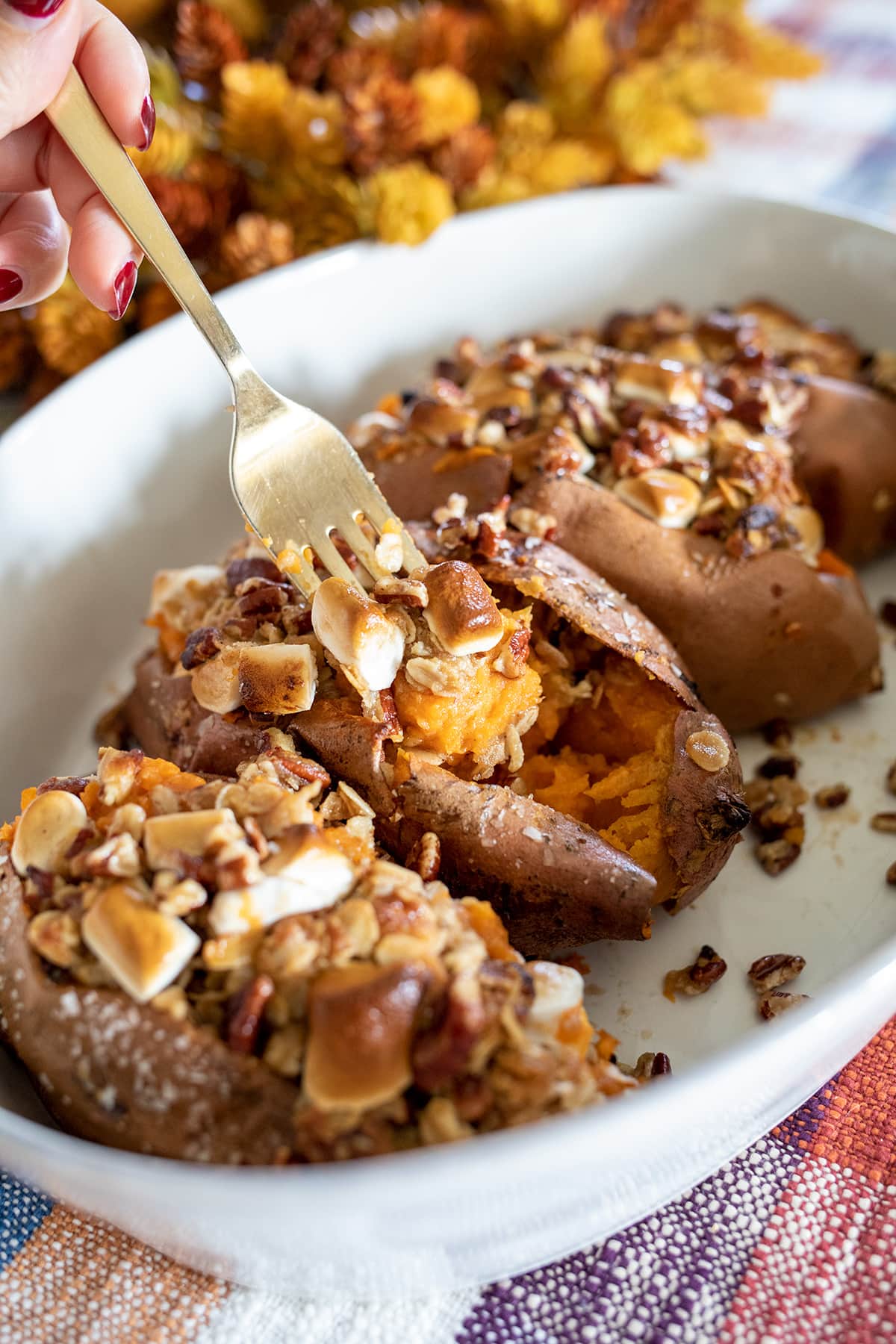 The Best Thanksgiving Side Dishes
Today I'm joining my Tastes of the Season blogger friends in sharing a round-up of new and delicious side dishes to add to this year's Thanksgiving table. My offering, of course is twice baked sweet potatoes but at the end of this post I'll be linking to all of the rest. There are so many great recipes to try and I hope you enjoy them all.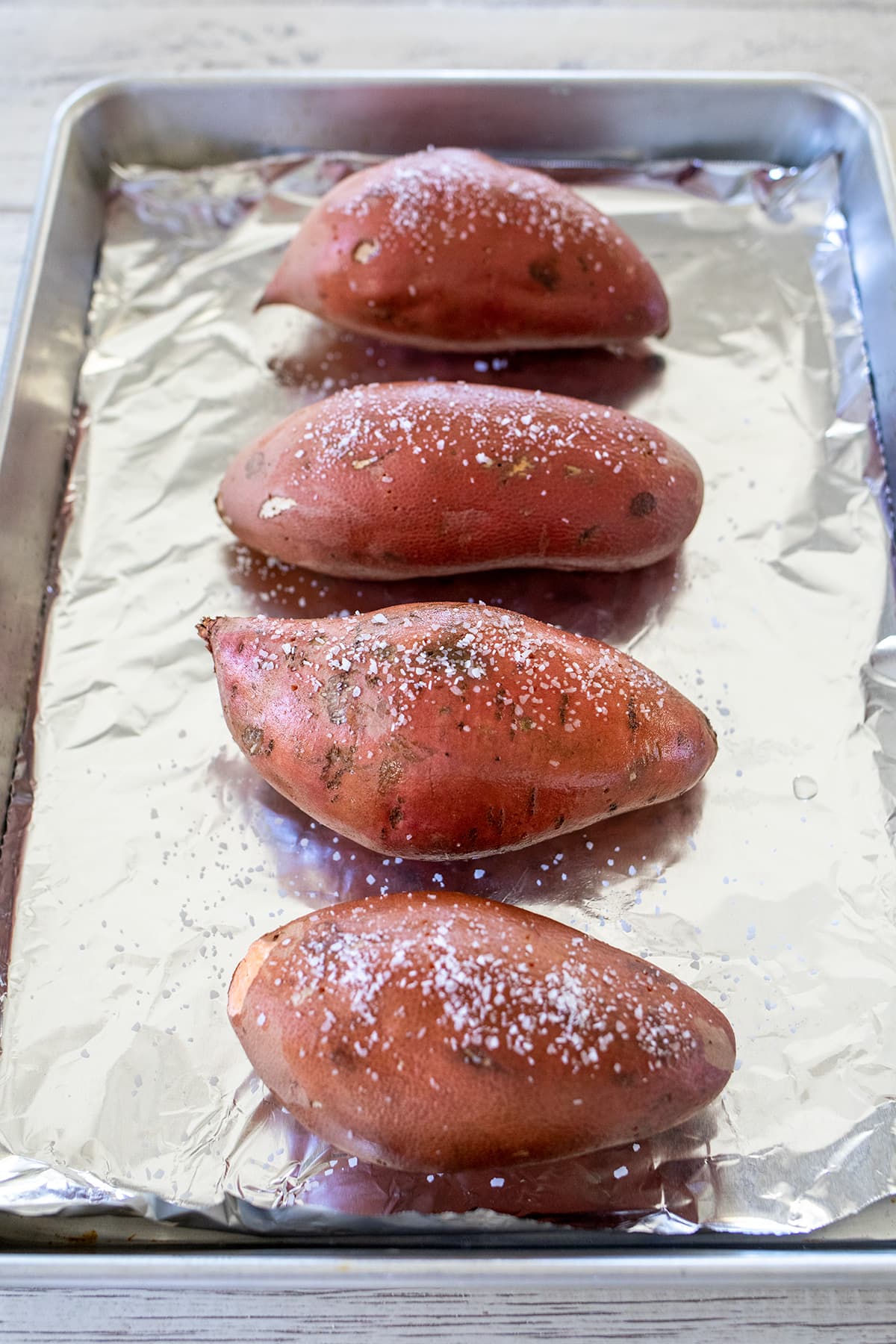 How to Bake Sweet Potatoes
Sweet potatoes bake up much like regular baked russet potatoes however I crank up the oven temperature just a bit. Here's how I make them:
PREP: Line a baking sheet with foil and preheat oven to 425 degrees.
POKE: Stick a fork in the potatoes multiple times to vent.
SEASON: Rub (washed) sweet potatoes with vegetable oil and generously salt with coarse ground kosher salt.
ROAST: Roast for 40-45 minutes or until a fork easily sticks through the potato.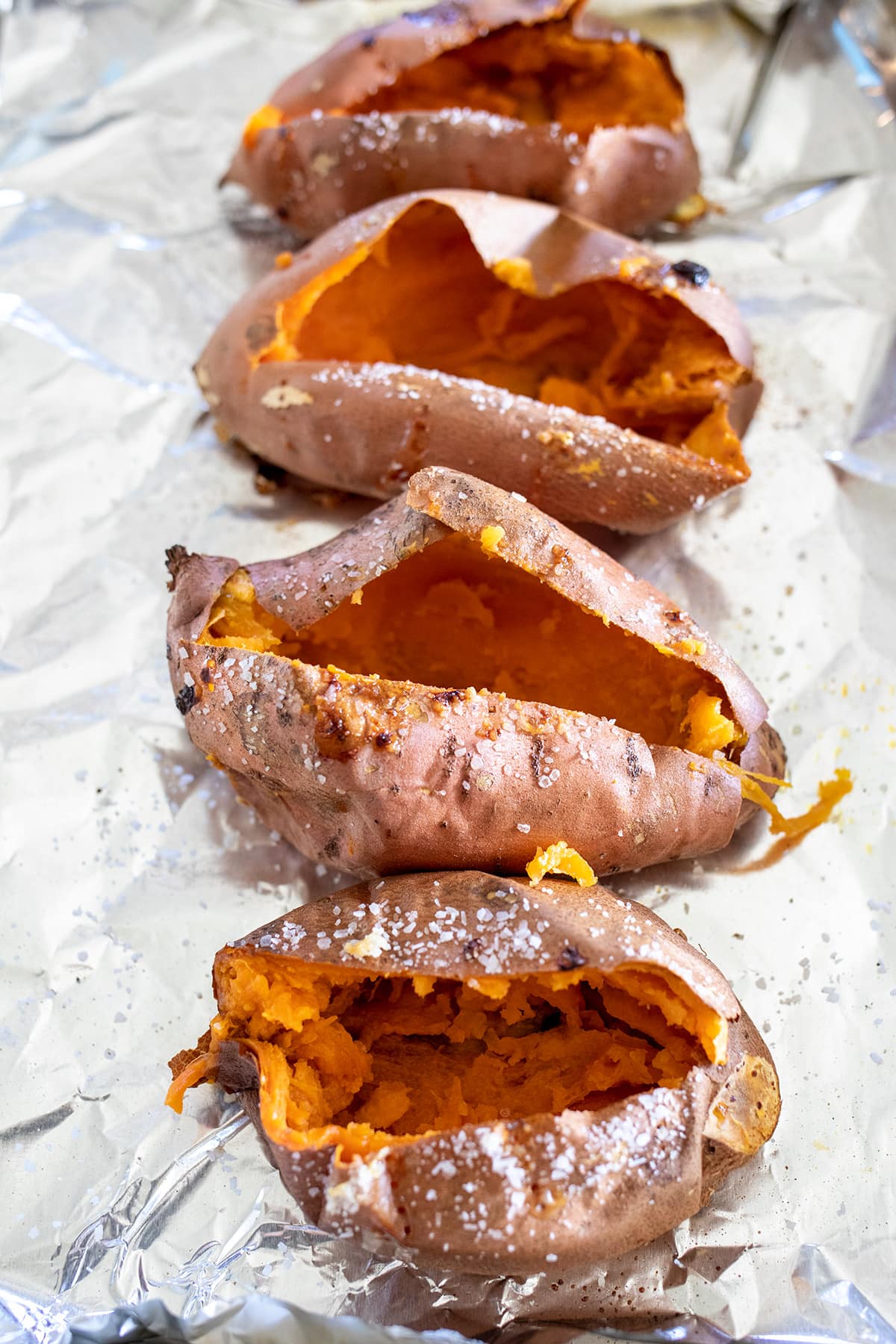 Once the sweet potatoes are roasted and tender, let them cook for about 30 minutes before cutting them open and scooping out the insides. Because sweet potato skin is thin, you will want to leave a bit of sweet potato "meat" still attached to the skin so that it holds up better. Scrape the inside into a bowl and it's time to make the whipped filling.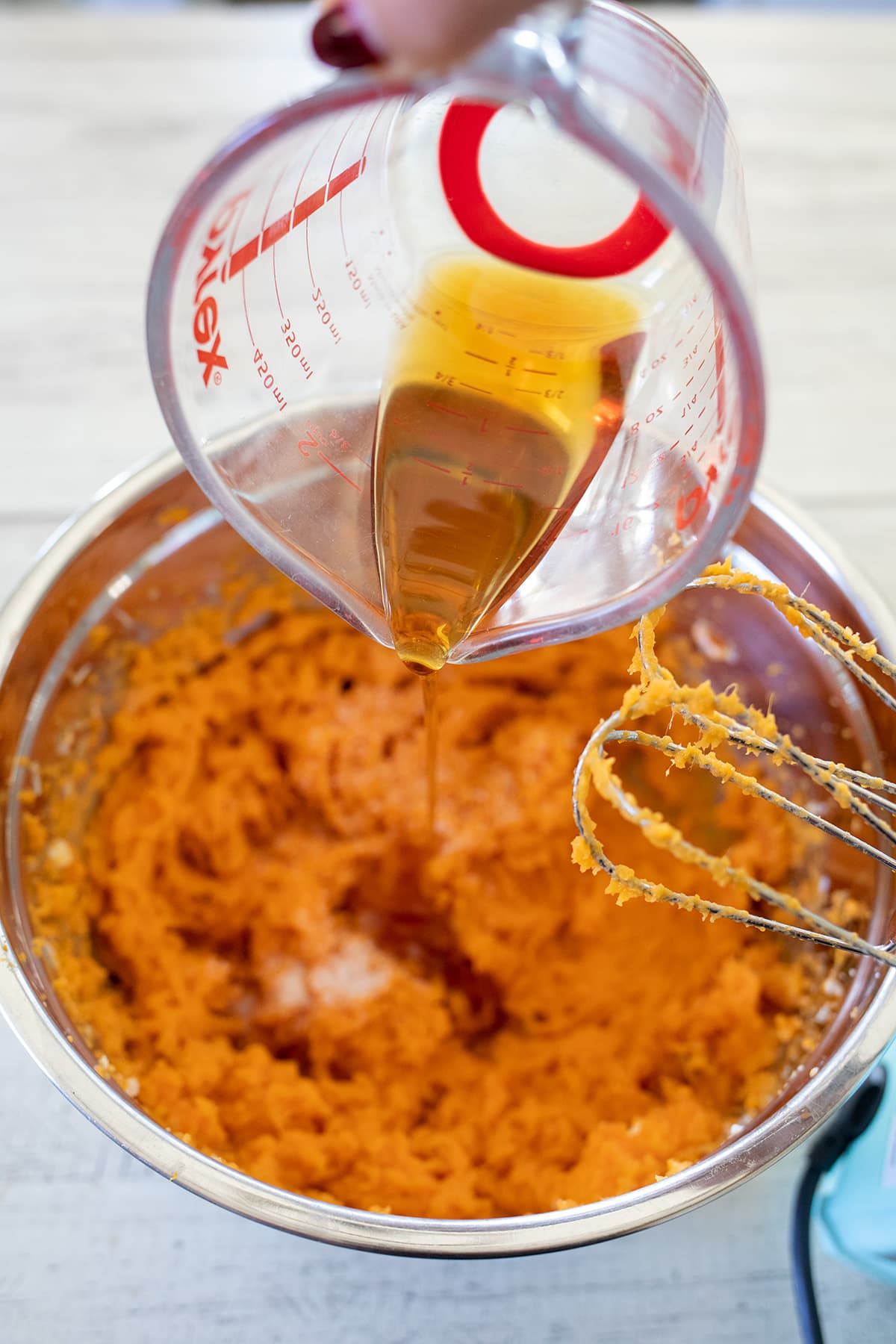 Mashed Sweet Potatoes
Sweet and buttery mashed sweet potatoes are one of the most luscious ways to eat your vegetables. In a bowl, add the scooped out insides of the roasted potatoes, butter, salt, maple syrup, nutmeg, cinnamon and salt. From there it's all about whipping or mashing it up until the mixture is velvety smooth. This could be served as is on the side of turkey or any meat!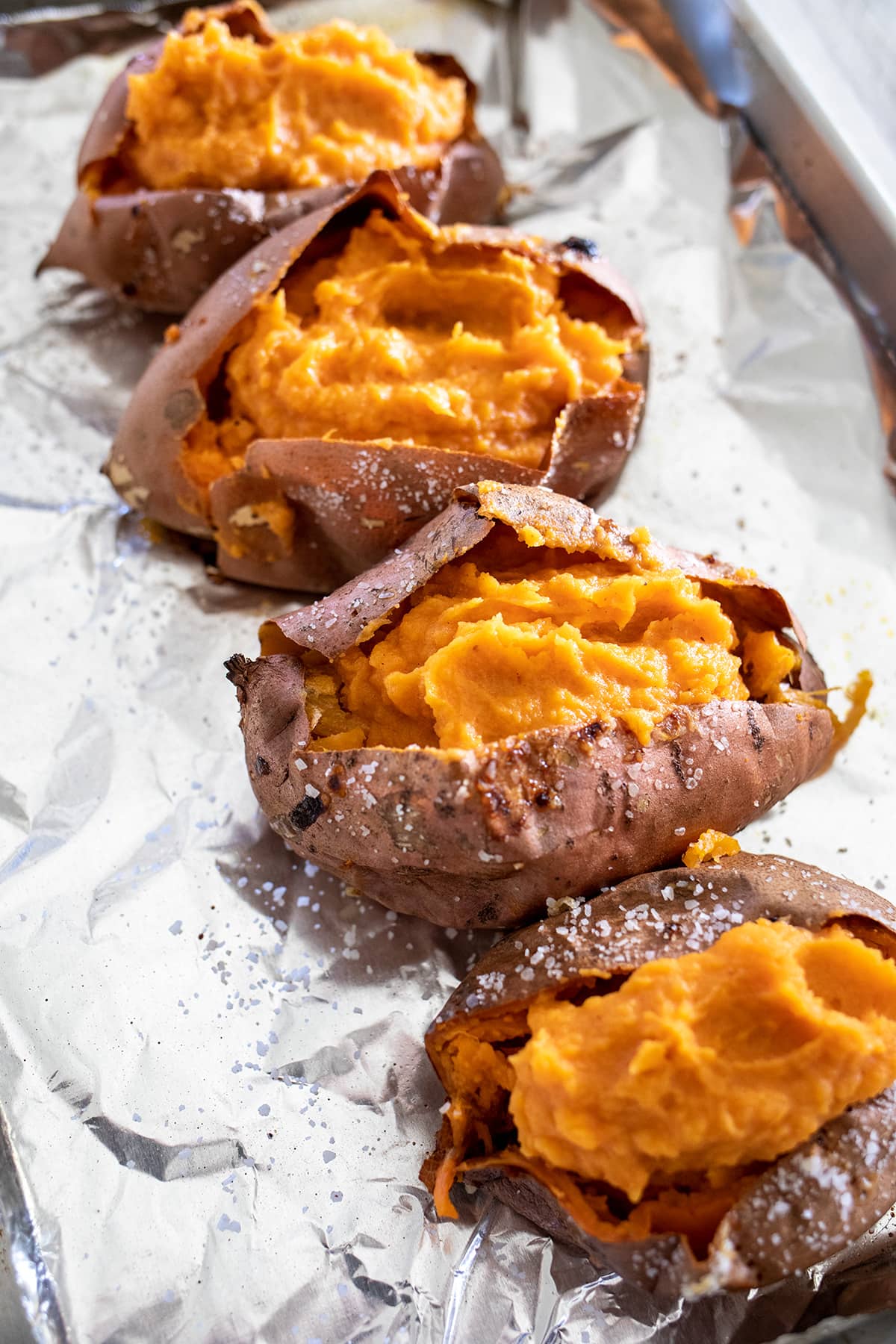 Once the filling has been made, it's time to stuff it back into the sweet potato shells. Are these not the most mouthwatering sweet potatoes you've ever seen? I love the creamy texture of this filling.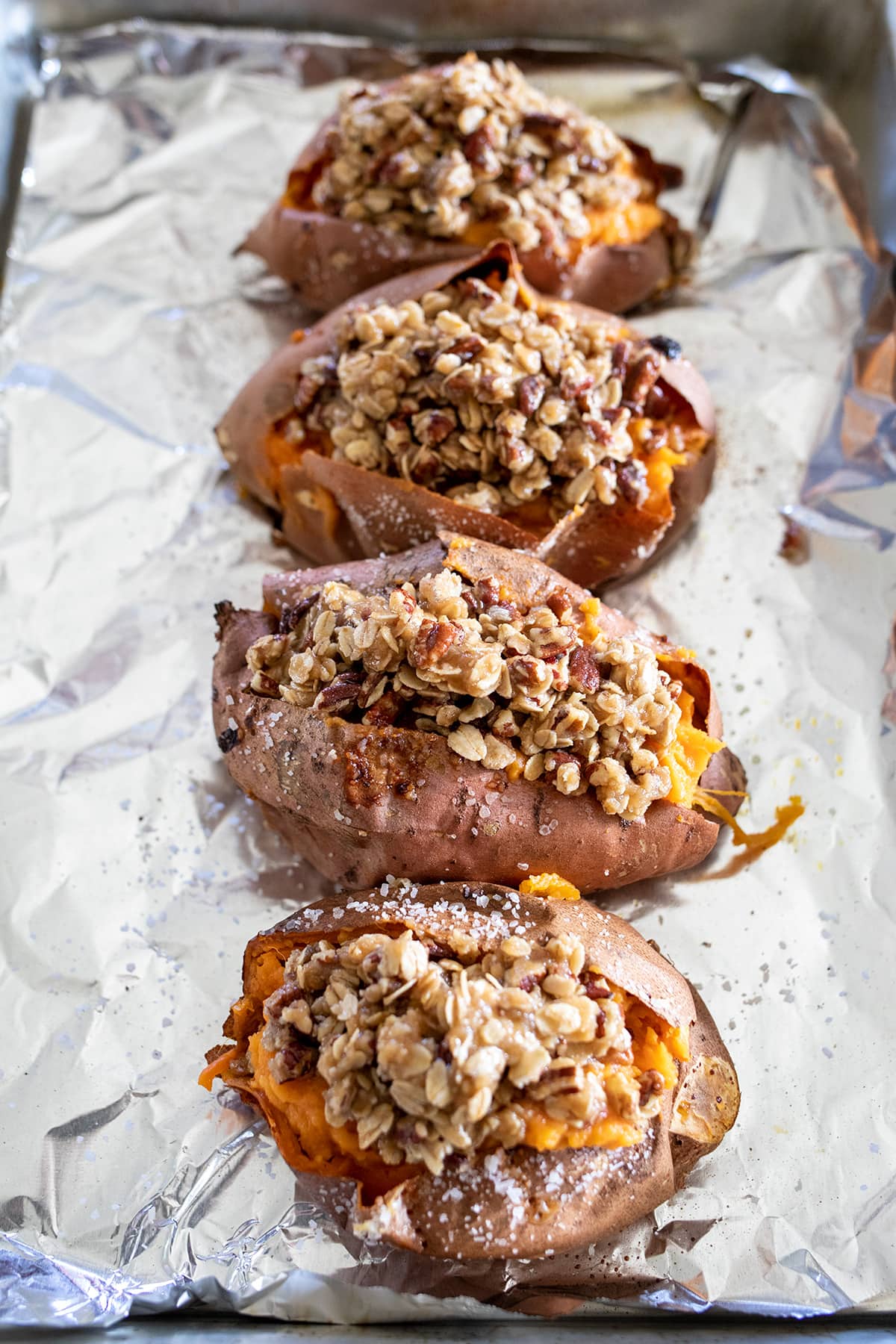 Crumble Topping For Sweet Potatoes
After the sweet potatoes are stuffed, it's time to top with the brown sugar and oat crumble topping. Here's how to make it:
In a bowl combine oats, brown sugar, flour, and chopped pecans.
Drizzle with melted butter and stir with a fork until mixed and crumbly.
Pile over sweet potatoes.
Top with mini marshmallows.
Bake until golden and crisp.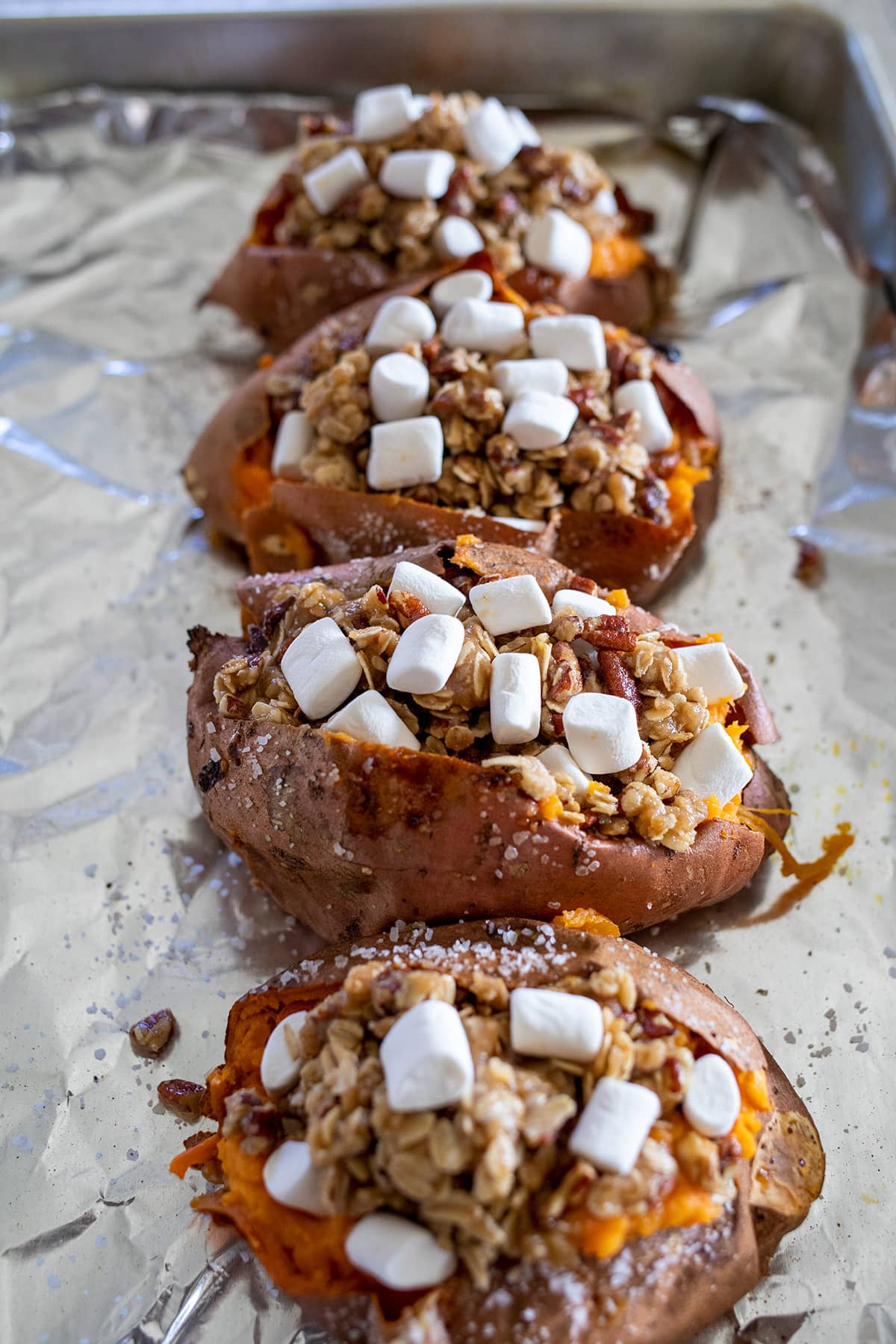 Tips for the Best Roasted Sweet Potatoes
Make sure your sweet potatoes are all roughly the same size. This will prevent some from being over or under cooked.
Line your sheet pan with foil so that potatoes don't stick.
Poke all over with a fork to allow potatoes to vent and cook evenly.
Generously oil and salt the sweet potato skin before roasting. This makes a delicious and edible skin plus adds flavor to the potato.
Poke with a fork or sharp knife to check if the potato is done. If it goes in easily, it's ready!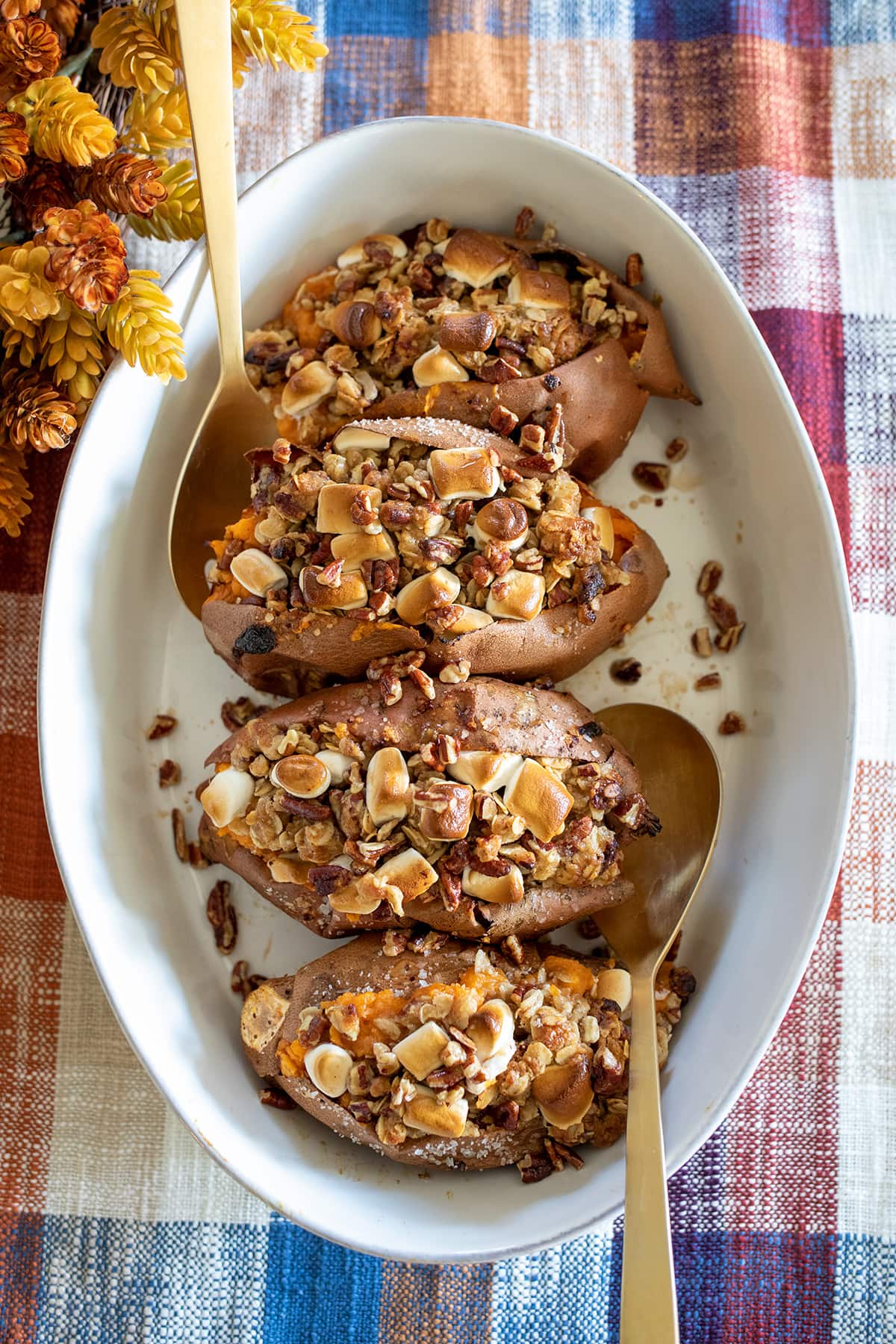 Once the sweet potatoes are stuffed, topped with the crumble and marshmallows, all they need is another quick bake in the oven to brown up the topping and add some delicious crisp. These Twice Baked Sweet Potatoes will be an absolute hit on your Thanksgiving table. If you are looking for more Thanksgiving Side Dishes to try this year, look no further:
Sautéed Green Beans with Garlic and Parmesan by Ella Claire & Co. | Cranberry Apple Jello Salad by Anderson + Grant | Roasted Honeynut Squash by Inspired by Charm
Twice Baked Sweet Potatoes by Freutcake | Maple Glazed Roasted Carrots by Boxwood Avenue | Fool-Proof Crescent Dinner Rolls by Handmade Farmhouse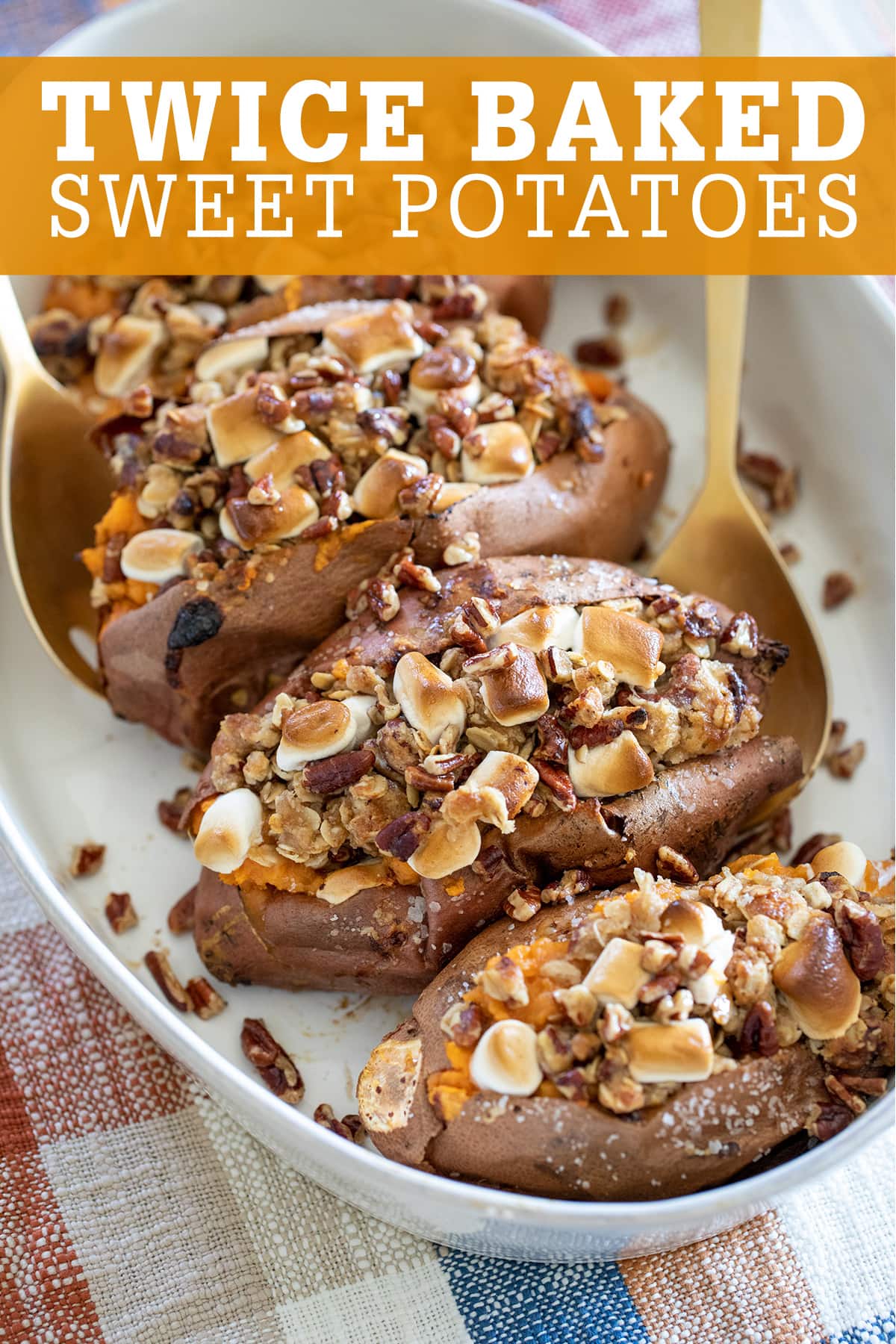 More Thanksgiving Recipes to Love:
Twice Baked Sweet Potatoes topped with a brown sugar, pecan and oat crumble topping are sure to be a hit on your Thanksgiving table! I hope you enjoy this recipe. If you make it, please come back and let me know by leaving a comment and review in the box below. xo, Leah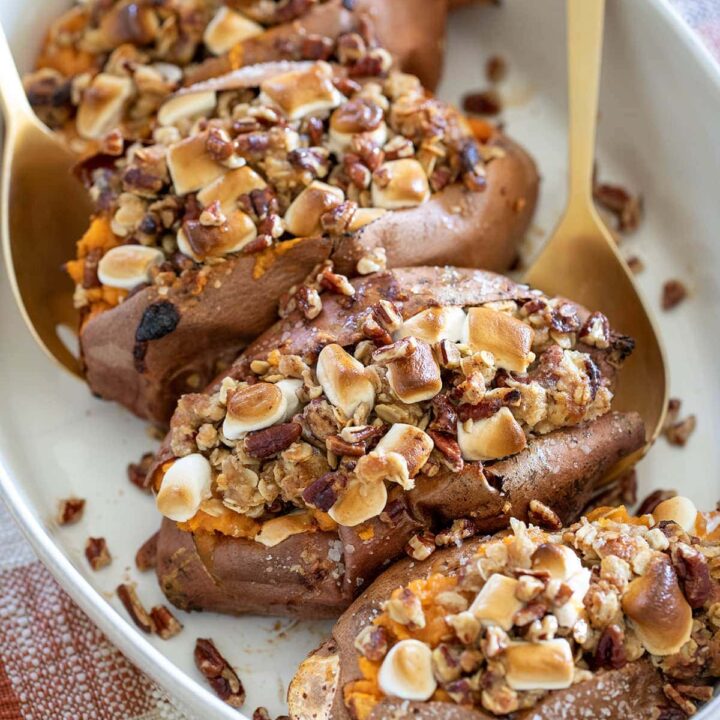 Twice Baked Sweet Potatoes
Additional Time:
10 minutes
Total Time:
1 hour
25 minutes
Twice Baked Sweet Potatoes topped with a brown sugar, pecan and oat crumble topping.
Ingredients
4 medium sweet potatoes
vegetable oil
1 teaspoon kosher salt + more for roasting
¼ cup maple syrup
10 tablespoons butter, divided and at room temperature
½ teaspoon cinnamon
¼ teaspoon nutmeg
½ cup old fashioned oats
½ cup chopped pecans
¼ cup brown sugar
4 Tablespoons all-purpose flour
mini marshmallows - to taste if desired
Instructions
Line a baking sheet with foil and preheat the oven to 425 degrees.
Wash and dry sweet potatoes and prick all over with a fork. Place on baking sheet.
Rub sweet potatoes all over with vegetable oil and sprinkle with kosher salt.
Roast for 40-45 minutes until a fork easily pokes into the center of the potatoes.
Remove from oven and allow to cool for 20 - 30 minutes or until cool enough to handle.
Cut a slit in the top of each sweet potato and carefully scoop out the inside leaving a bit to "support" the skins.
Place scooped sweet potato in a bowl and add 6 tablespoons butter, ¼ cup maple syrup, 1 teaspoon salt, cinnamon and nutmeg.
Whip with an electric mixer until fluffy and smooth.
Spoon filling back into shells.
Melt remaining 4 Tablespoons of butter in a small sauce pan over low heat.
In a small bowl combine oats, pecans, brown sugar and flour. Pour melted butter over the top and toss with a fork to combine.
Top sweet potatoes with crumble mixture and dot with mini marshmallows (if desired.)
Return to oven and bake an additional 15-20 minutes to brown up the topping.
Serve warm.
Nutrition Information:
Yield:

4
Serving Size:

1
Amount Per Serving:
Calories:

651
Total Fat:

43g
Saturated Fat:

20g
Trans Fat:

1g
Unsaturated Fat:

21g
Cholesterol:

76mg
Sodium:

806mg
Carbohydrates:

65g
Fiber:

7g
Sugar:

32g
Protein:

6g