Pear French 75 Cocktails are light and refreshing, bubbly from the Champagne, and get their delightful flavor from gin and French pear liqueur. Perfect for toasting in the new year and saying goodbye to 2020.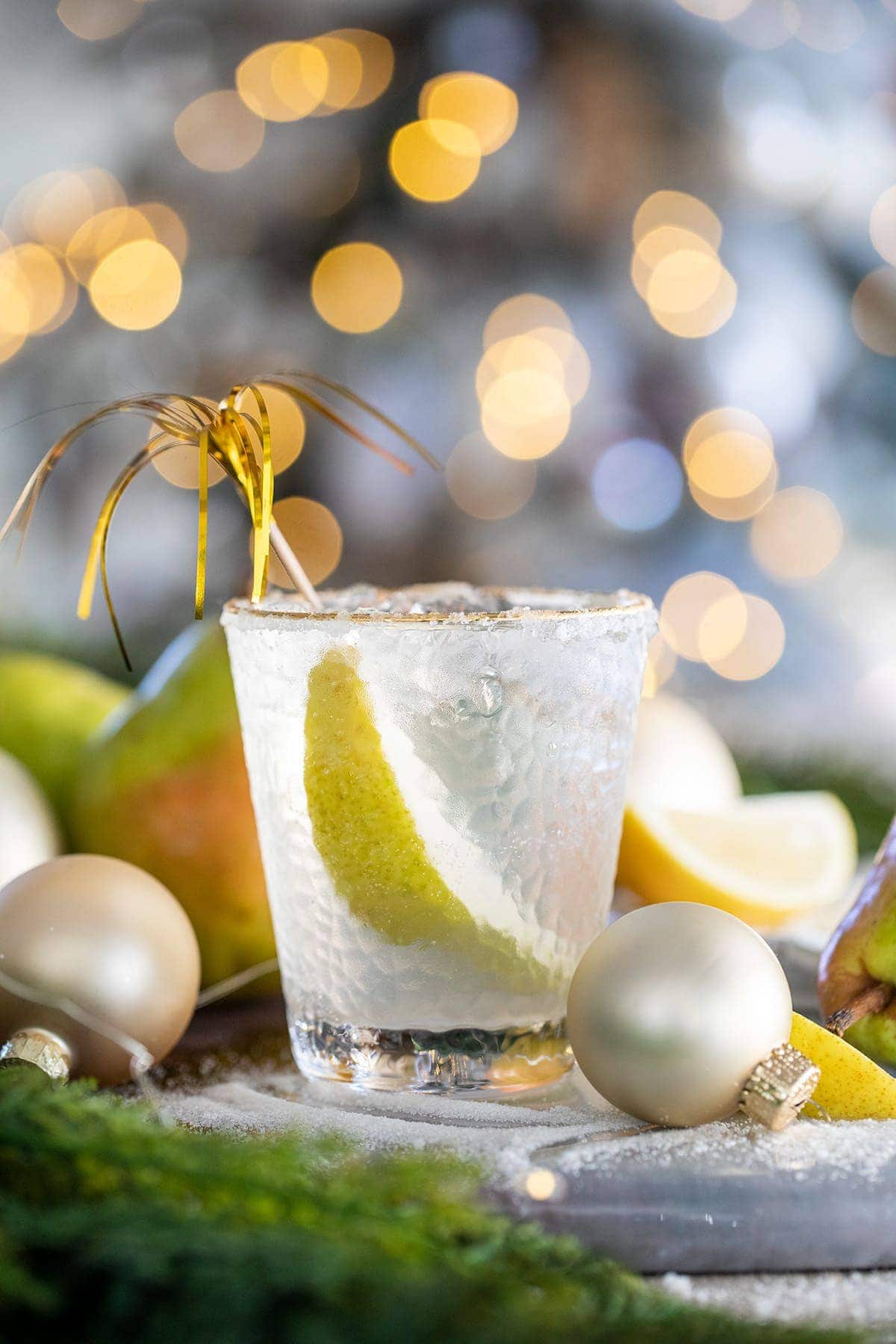 Pear French 75 Cocktail
I love the cozy festive feel of a New Years Eve spent at home with good food and delicious cocktails. Twinkle lights and party blowers, the twins running around dancing and singing, board games and a round of champagne for John and myself.
If you enjoy a classic French 75 you will fall head over heals for the pear version. This drink is refreshing and light in flavor so it pairs well with my Puff Pastry Tarte or dishes like baked brie and crab stuffed mushrooms.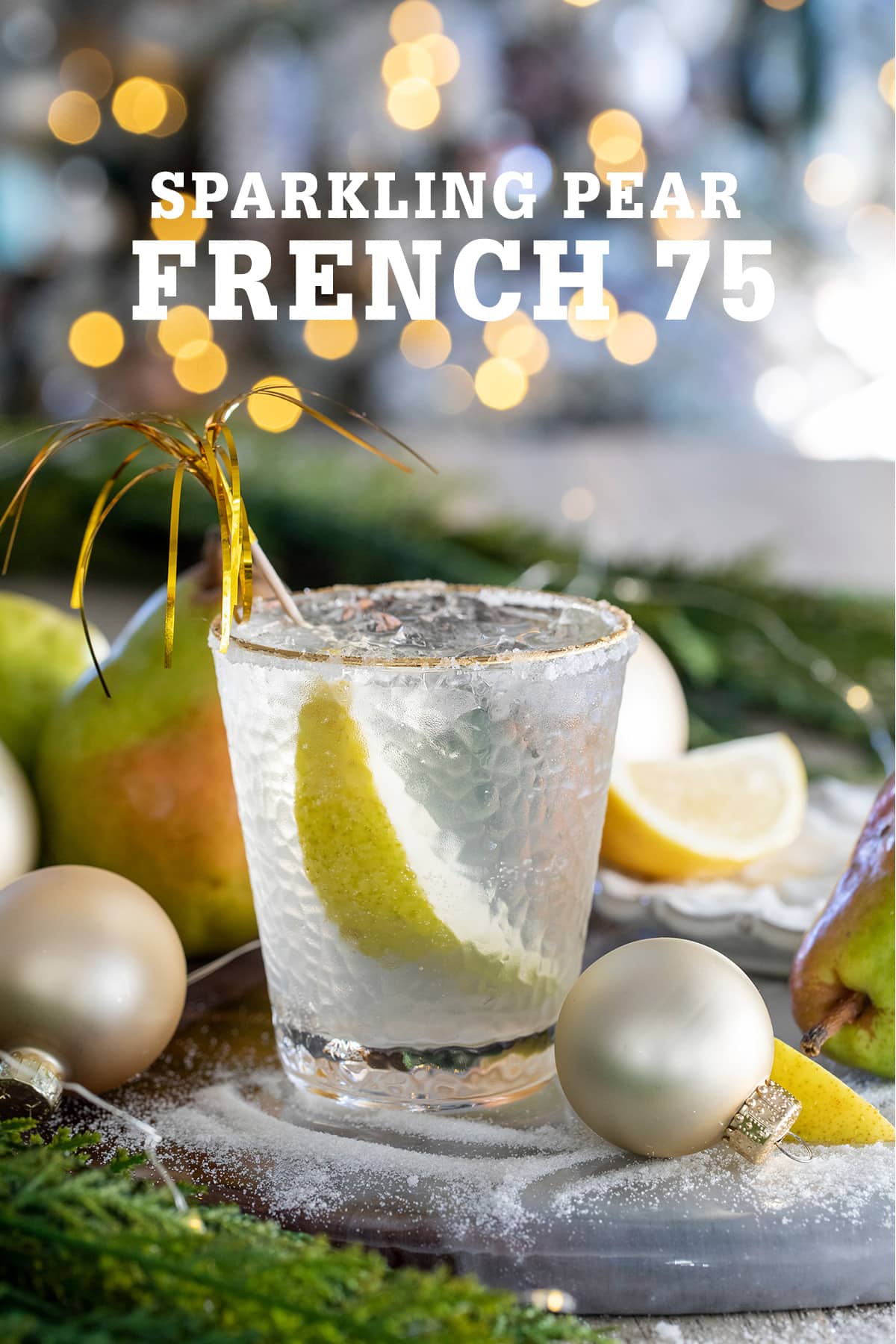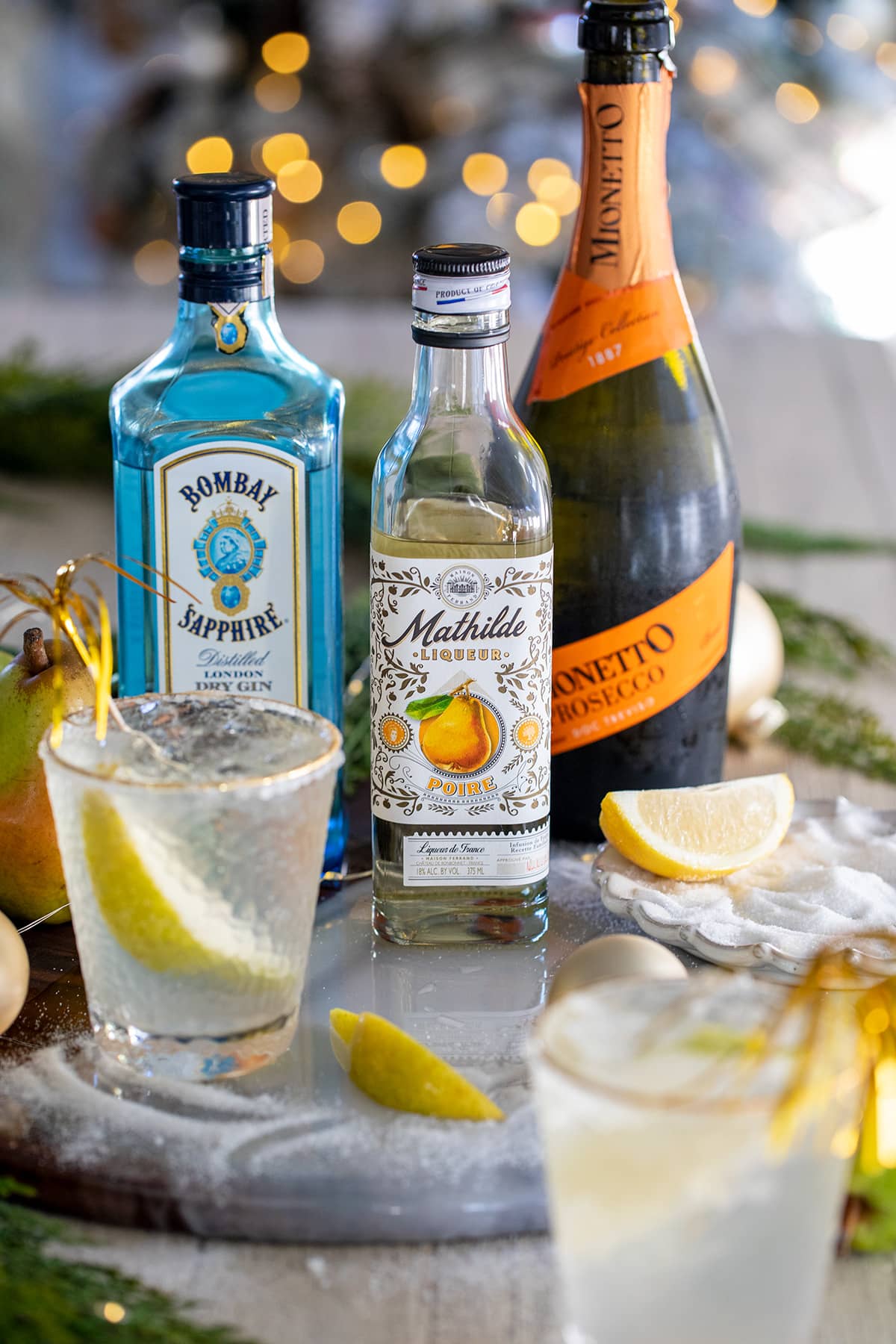 Ingredients in a Pear French 75
Gin - my favorite gin for classic gin and tonics or mixed drinks is Bombay Sapphire however you can use any gin you like best. I do not recommend Tanqueray however as the flavor profile is much different.
Pear Liqueur - Mathilde Liqueur Poire is my favorite pear liqueur. It's delicious and has a nice strong fresh juicy pear flavor in this cocktail.
Prosecco - I use Prosecco but you can also use champagne for this cocktail!
Lemon Juice - fresh lemons are best for this drink.
Sugar - this is to rim the cocktail glass.
Fresh Pears - for garnish.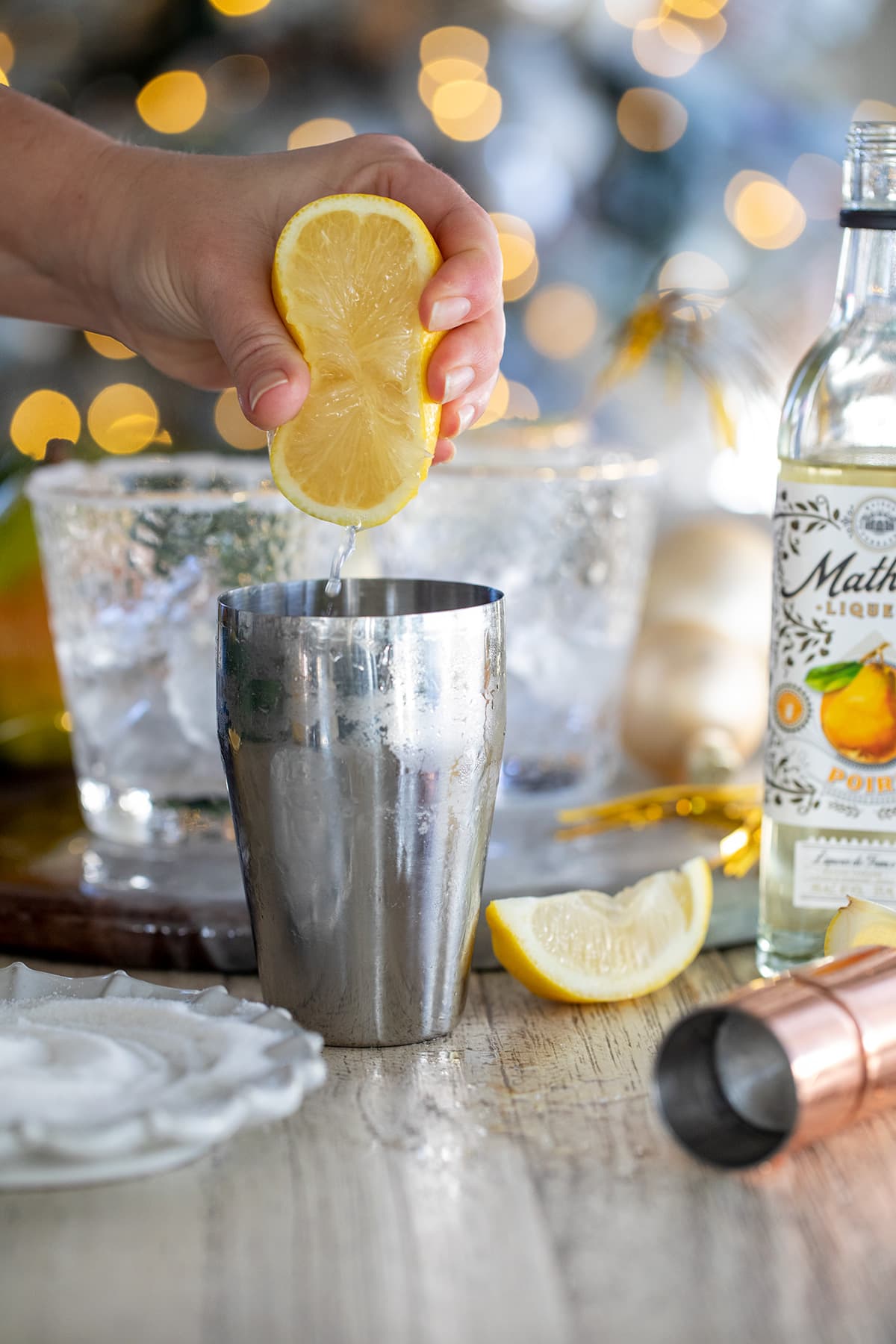 How to Make a Pear French 75
Rim cocktail glasses with lemon juice and a quick dip in granulated sugar.
Fill a cocktail shaker with ice and add gin, lemon juice and pear liqueur.
Shake vigorously for about 30 seconds to chill the cocktail. You'll want it ice cold.
Fill rimmed glass with ice. Strain cocktail into the glass leaving enough room for the Prosecco.
Top with Prosecco and stir gently.
Garnish with a slice or wedge of pear. Cheers!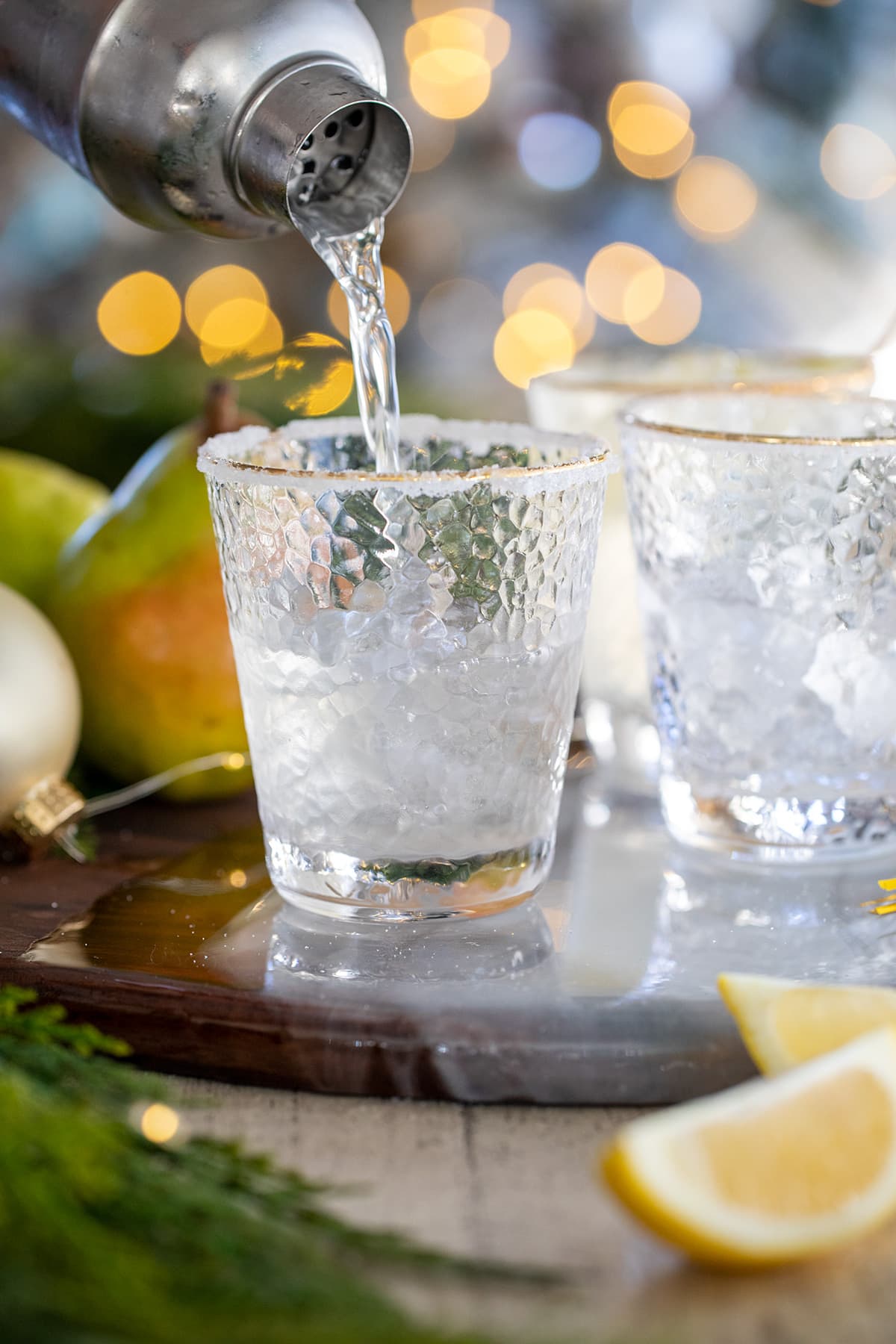 What is a French 75 Cocktail?
A classic French 75 consisting of gin, fresh lemon juice, sugar and Champagne. The sugar is sometimes in the form of simple syrup and in my Pear French 75, I switch it out entirely for a sweet Pear Liqueur. Champagne is classic in this drink but you can also substitute Prosecco for a very similar flavor.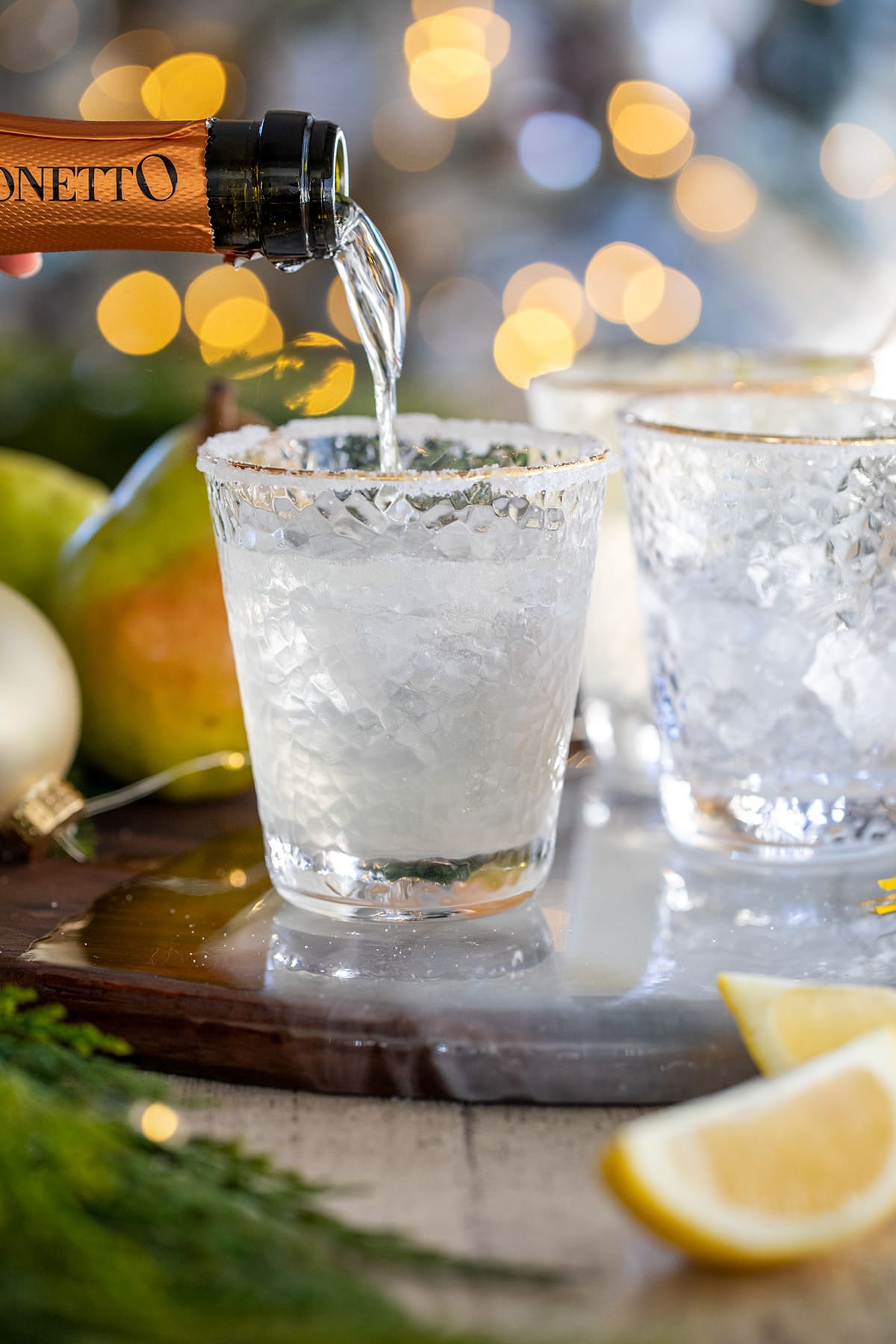 The Best New Years Eve Cocktails
The very best cocktails to drink on New Years Eve all include bubbles! Here are a few of my favorite cocktails I've made over the years that feature champagne or Prosecco.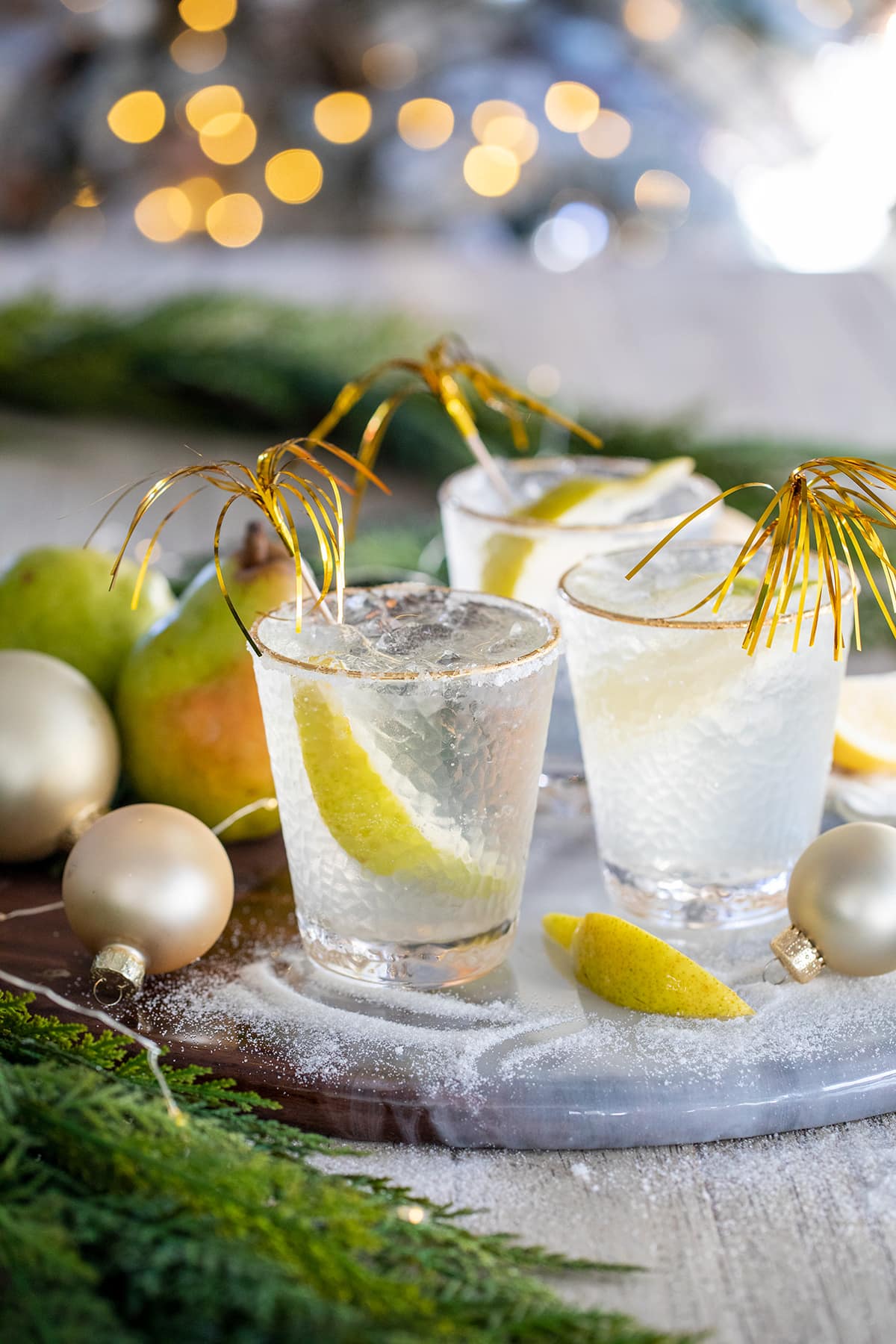 Appetizers to Serve with this Cocktail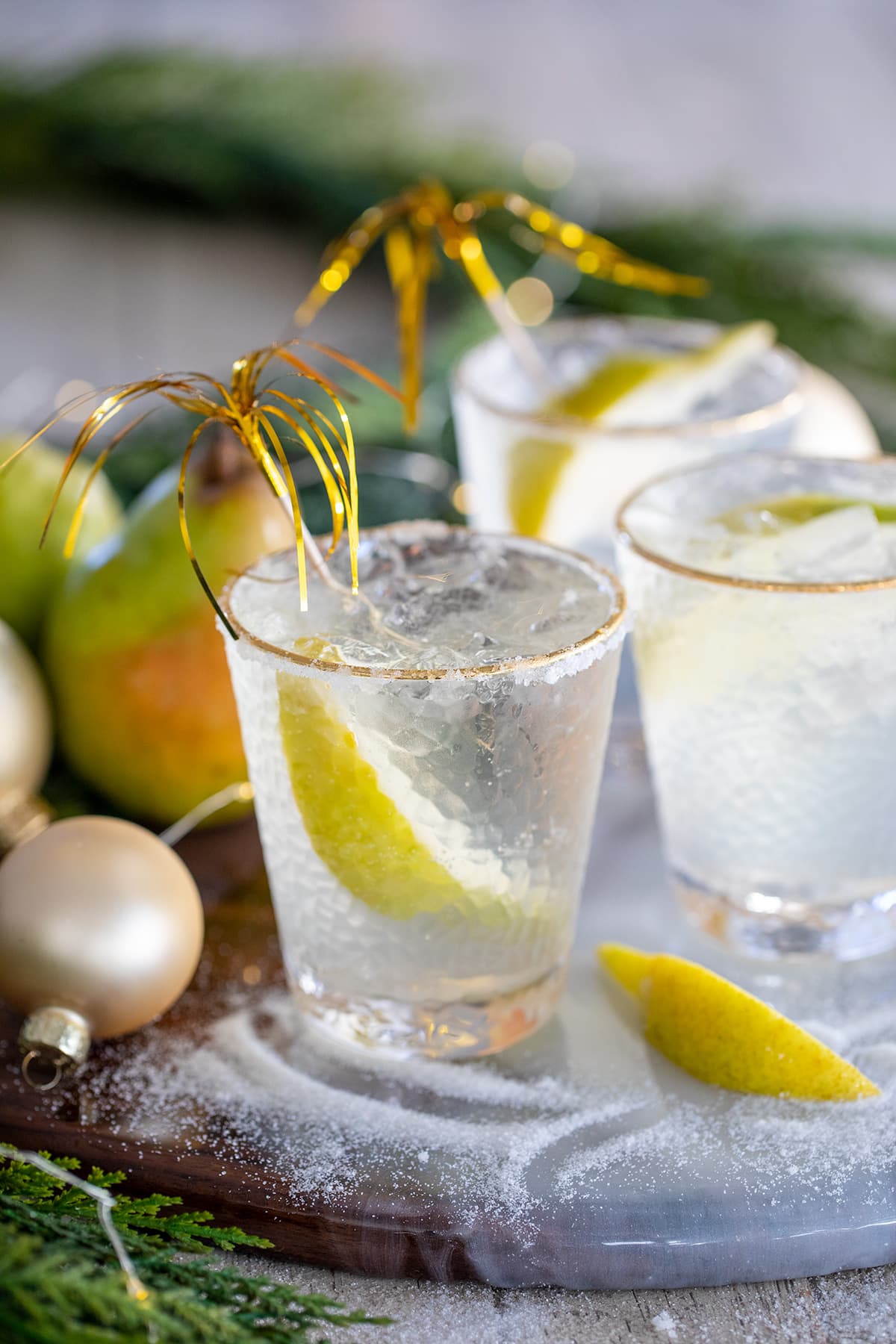 Whatever your New Year's Eve traditions, I hope you will try this cocktail! If you enjoy the fresh, sweet juicy flavor of pears you will definitely enjoy sipping on this drink. The sugar rim really makes these drinks sparkle and the champagne makes the entire drink bubbly and celebratory.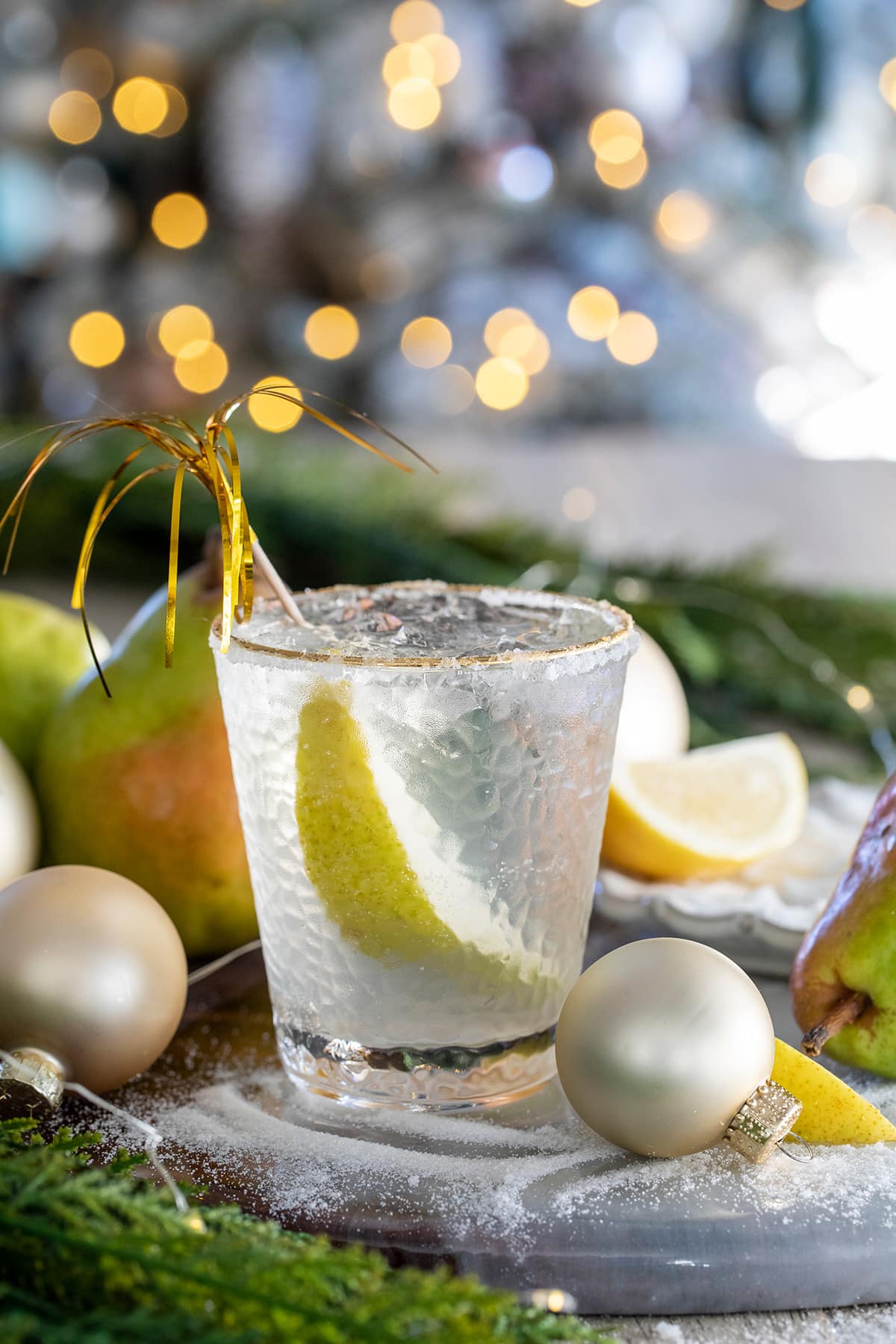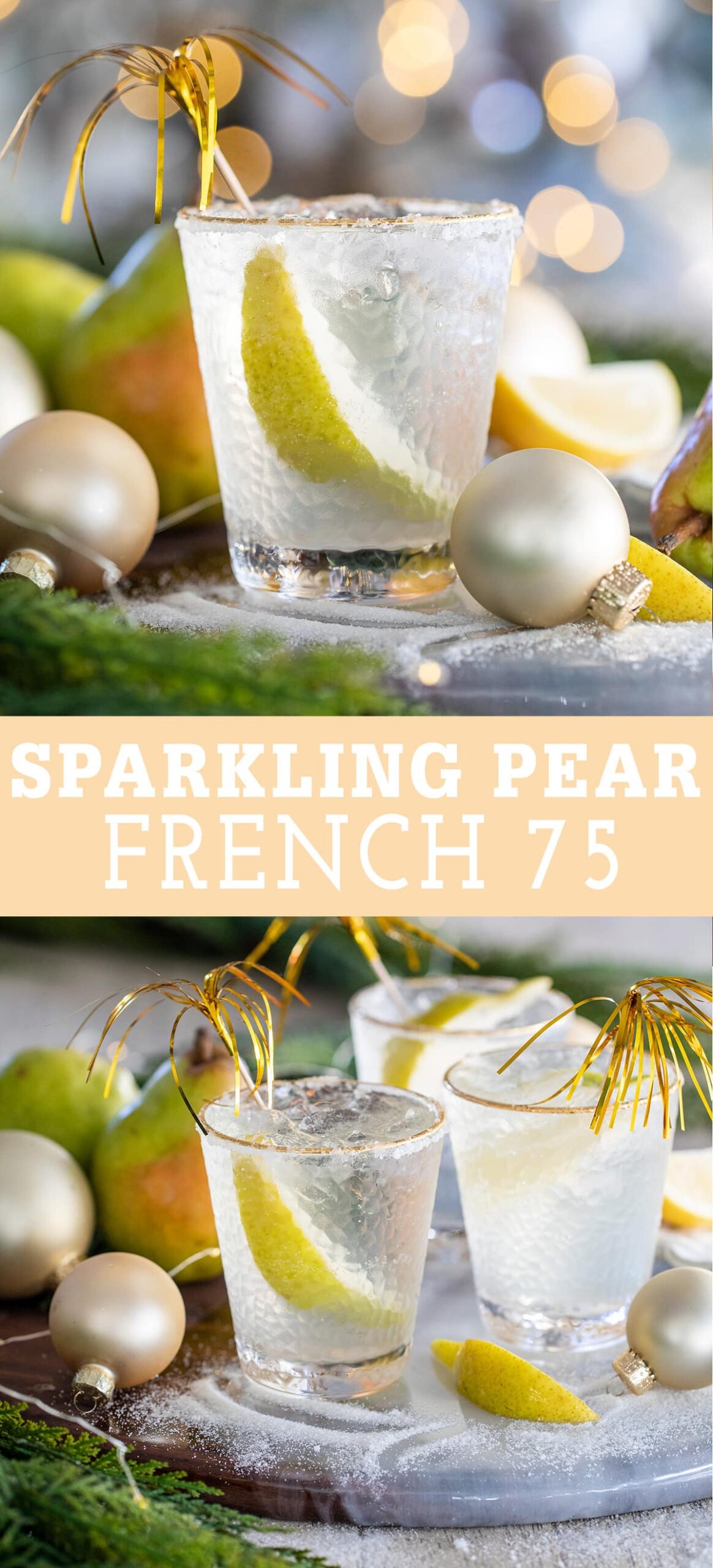 Happy New Year's Eve my friends! I hope you enjoy a night of celebration and happiness. If you make this drink I would love for you to come back and leave a comment and recipe review! And as always, I can't wait to see your drinks on Instagram so remember to tag me @freutcake. Cheers!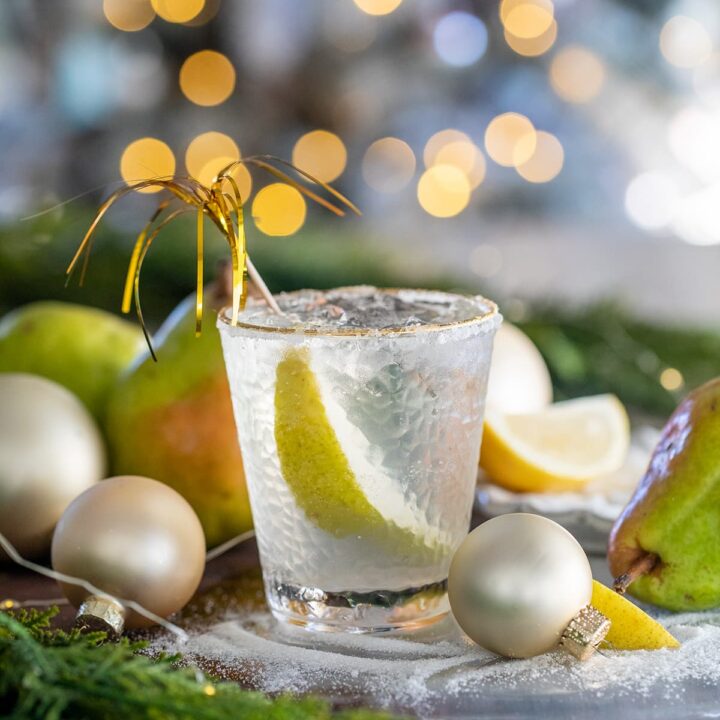 Pear French 75 Cocktail
A sparkling pear version of the classic French 75 made with French pear liqueur, gin, fresh lemon and champagne or prosecco.
Ingredients
2 oz Gin
½ oz fresh lemon juice
¾ ounce Pear Liqueur
2 ounces Champagne or Prosecco
fresh pear for garnish
granulated sugar, for the rim
Instructions
Run a lemon wedge around the edge of a cocktail glass and dip in granulated sugar to rim the glass. Fill with ice.
In a cocktail shaker filled with ice add gin, lemon juice and pear liqueur. Shake for 30 seconds until well chilled.
Strain into prepared cocktail glass and top with 2 oz of chilled champagne or Prosecco.
Garnish with a slice of fresh pear. Cheers!