Peppermint White Christmas Cocktails are simple, elegant and absolutely delicious! Champagne with just a splash of White Creme de Cacao and a candy cane garnish are all you need for the most festive bubbly Christmas drink.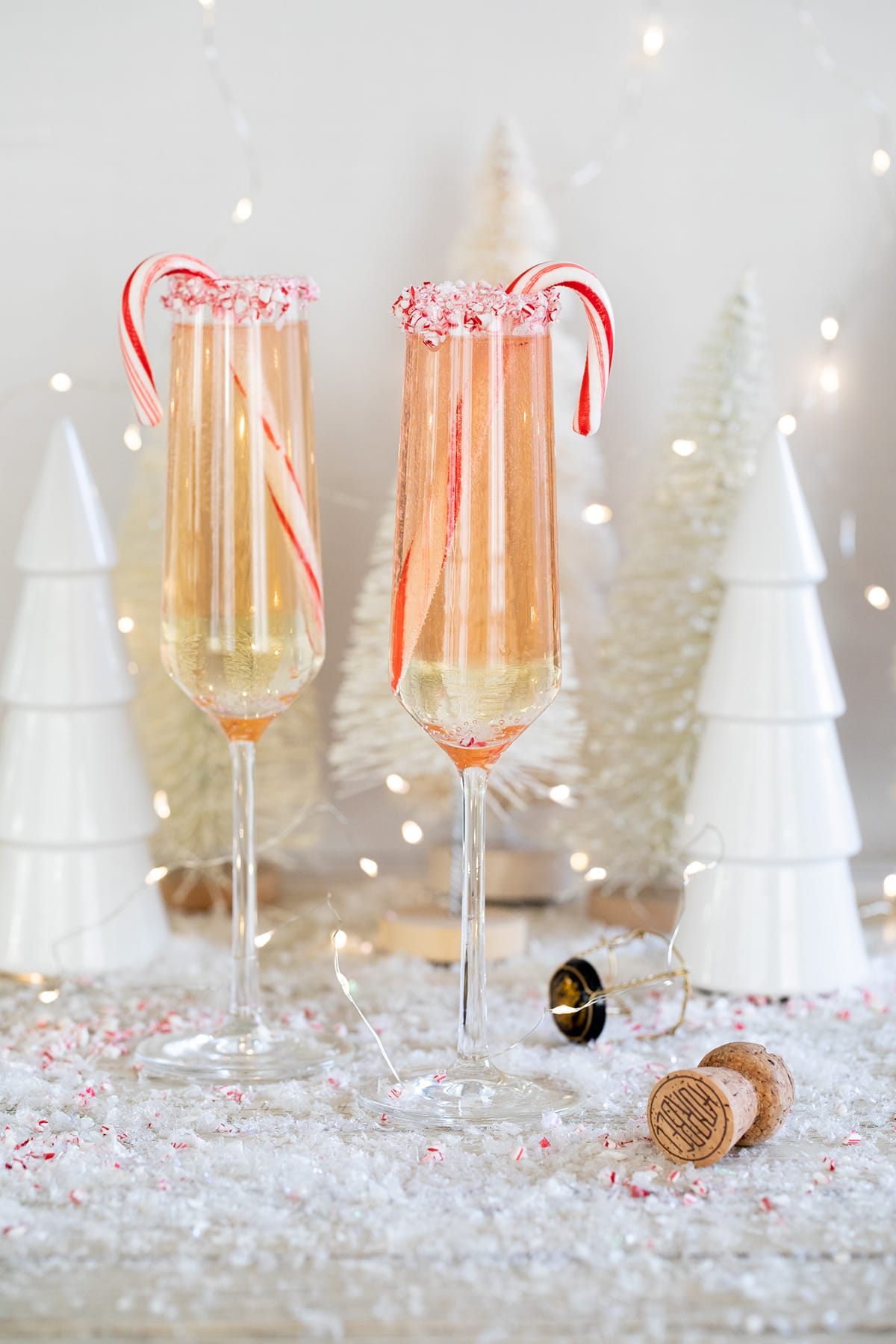 Peppermint White Christmas Cocktails
Years ago, a group of my girlfriends all got together for a Christmas DIY and cocktail party. We sipped on champagne with candy cane stir sticks and everyone was hooked on the flavor combination.
Today, I like to add a White Creme de Cacao because it adds another layer with chocolate flavor to this simple cocktail. If you enjoy peppermint bark or the combination of white chocolate and peppermint, you will love this cocktail.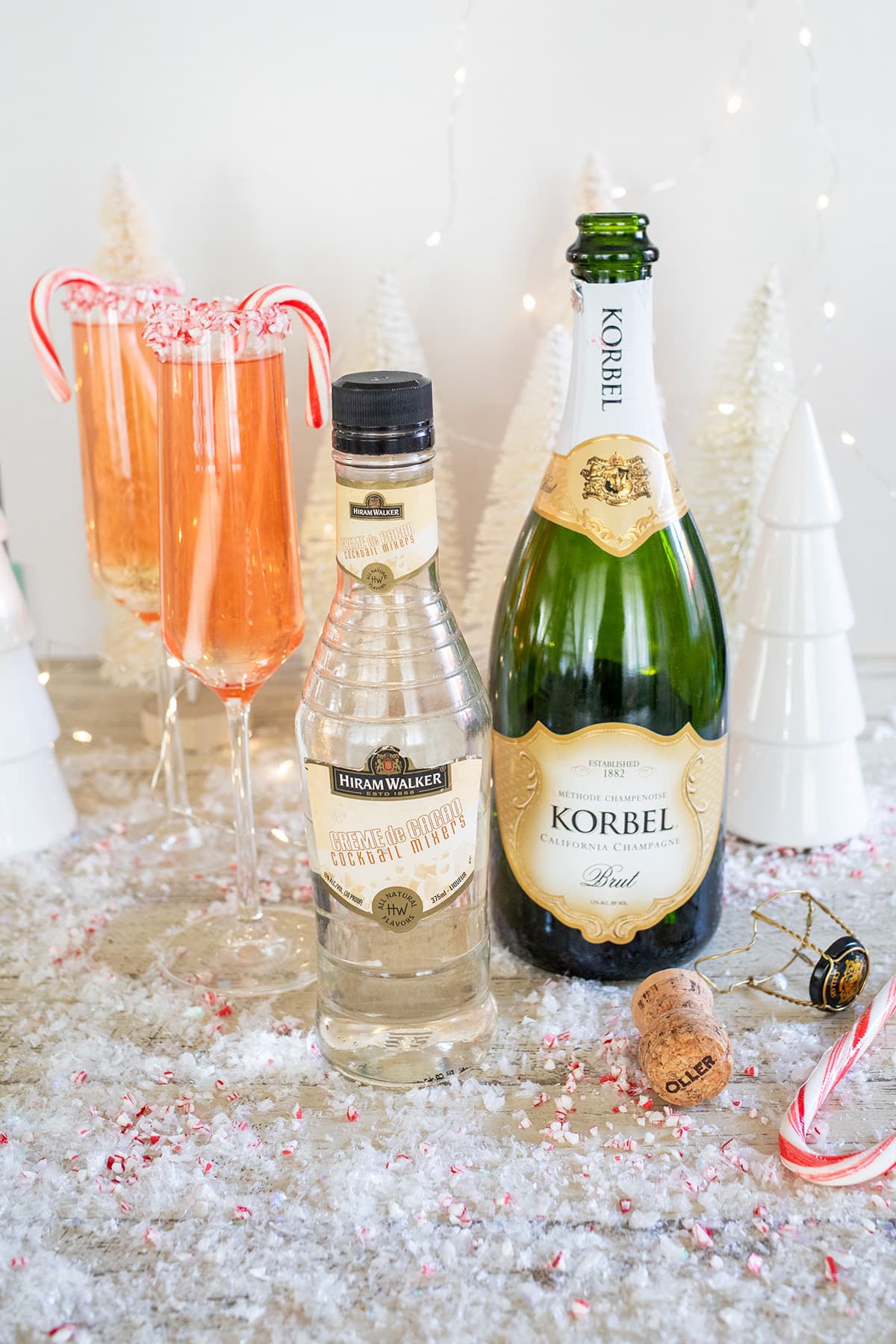 Ingredients In A Peppermint White Christmas Cocktail
I love a cocktail with a short and sweet list of ingredients. For this cocktail you will need...
Chilled Champagne - Any champagne will do so chose your favorite! You can also use Prosecco which is a more affordable sparkling wine which is also delicious. I recommend finding a champagne that is dry and not overly sweet as you will be adding sweetness with the creme de cocoa and candy canes.
White Creme de Cacao - Creme de Cacao is a chocolate flavored liqueur and White Creme de Cacoa is a white chocolate version. TIP: Make sure not to use white chocolate cream liqueur as that will curdle with the champagne.
Candy Canes - For this cocktail I rimmed the glasses with crushed candy canes and also garnished them with a whole candy cane in the champagne. The more peppermint the better! The candy cane cane melts down into the cocktail and adds flavor to the drink.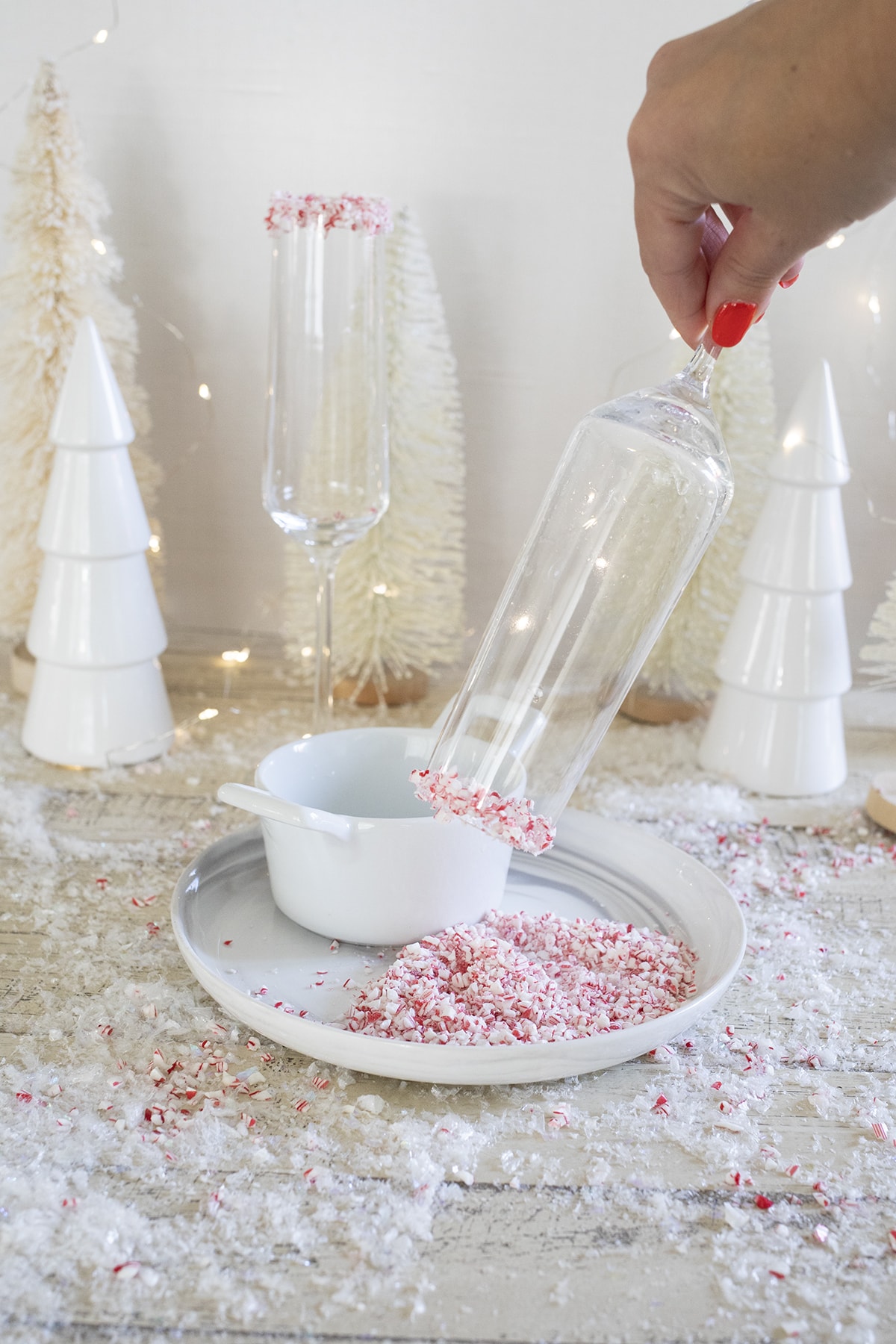 How to Rim A Cocktail Glass with Candy Cane
In a ziplock bag, crush 1 whole candy cane with a rolling-pin or something sturdy until you are left with a semi fine powder.
Dip the rims of your champagne flutes in a small dish of White Creme de Cocoa and then in the crushed candy cane.
After the glass is rimmed you can fill with your cocktail!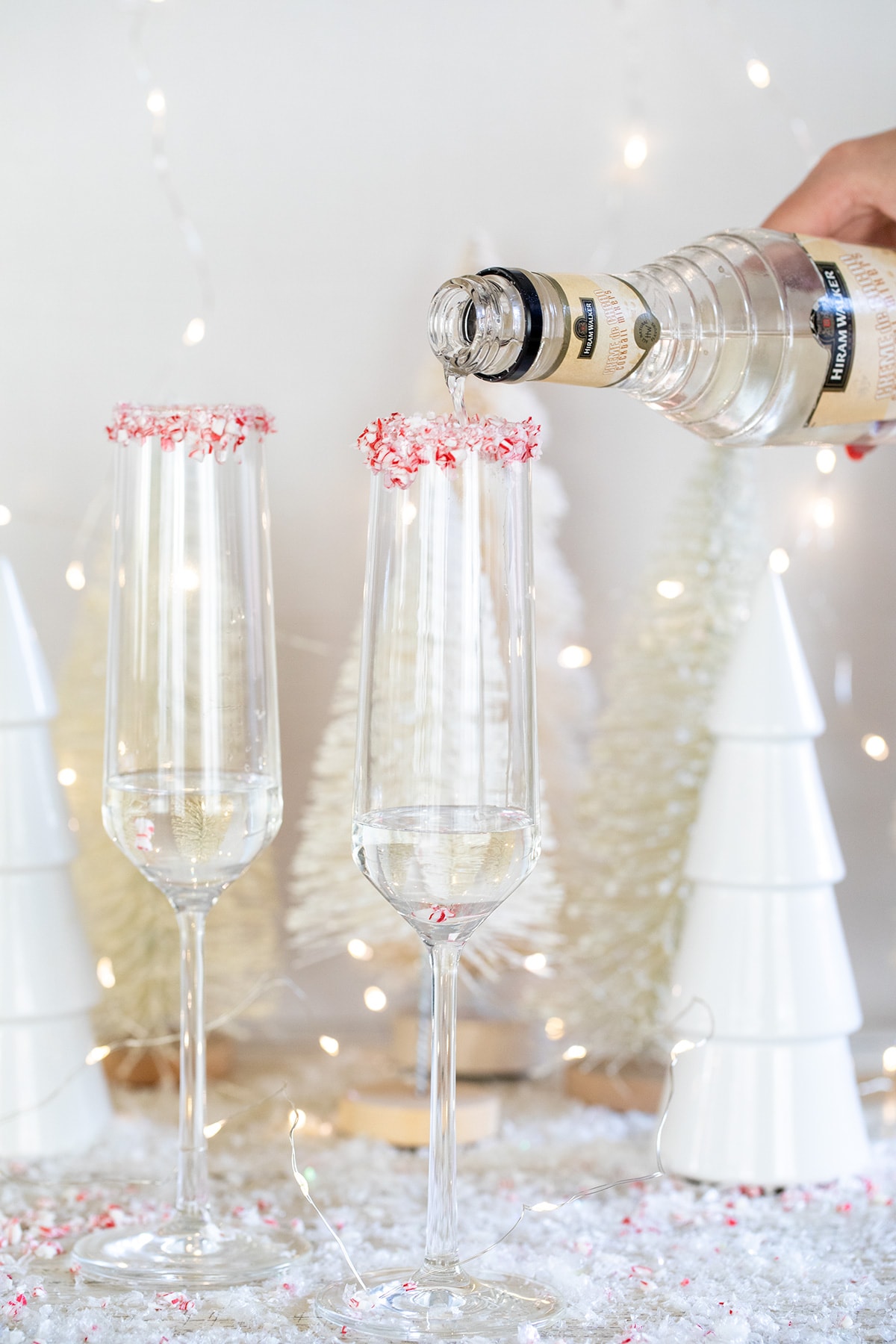 What is Creme de Cacao?
Creme de Cacao is a sweet chocolate flavored liqueur that is used in lots of classic dessert cocktails. It's reasonably priced and can be found at liquor stores, BevMo, and even occasionally at the grocery store!
The name is misleading as there is actually no dairy in this liqueur. In this way creme de cacao is different from white chocolate liqueur which is cream based! In this particular cocktail, I do not recommend using a cream based liqueur as it will curdle when hit with the champagne.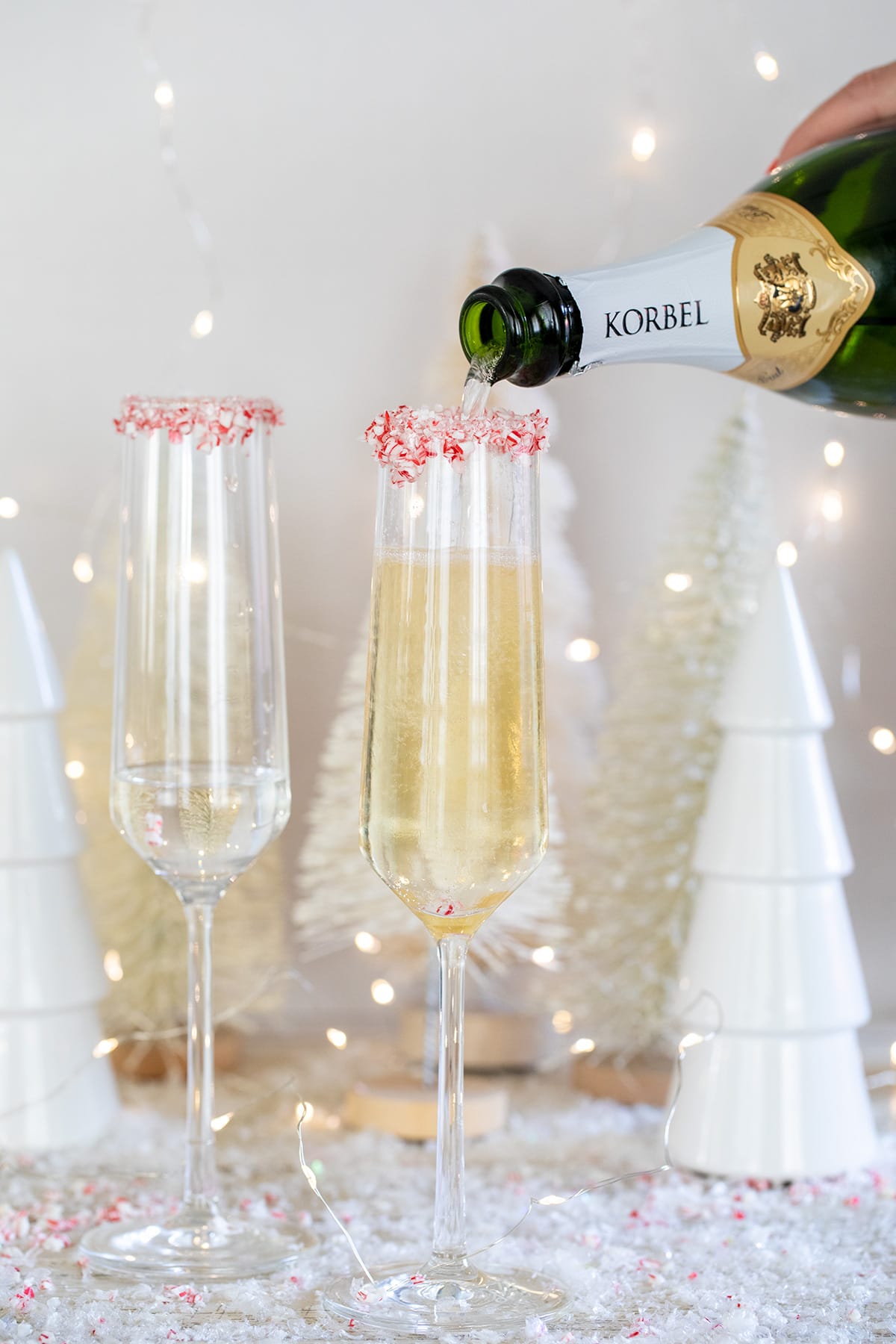 Champagne Christmas Cocktail
Even though this recipe calls for Champagne, it's also delicious with a dry Prosecco! I have used both for this drink and they are equally as delicious so buy whatever you enjoy drinking. I do recommend a dry champagne or Prosecco however as any sort of sweet sparkling dessert wine would be too much with the creme de cacao and candy cane.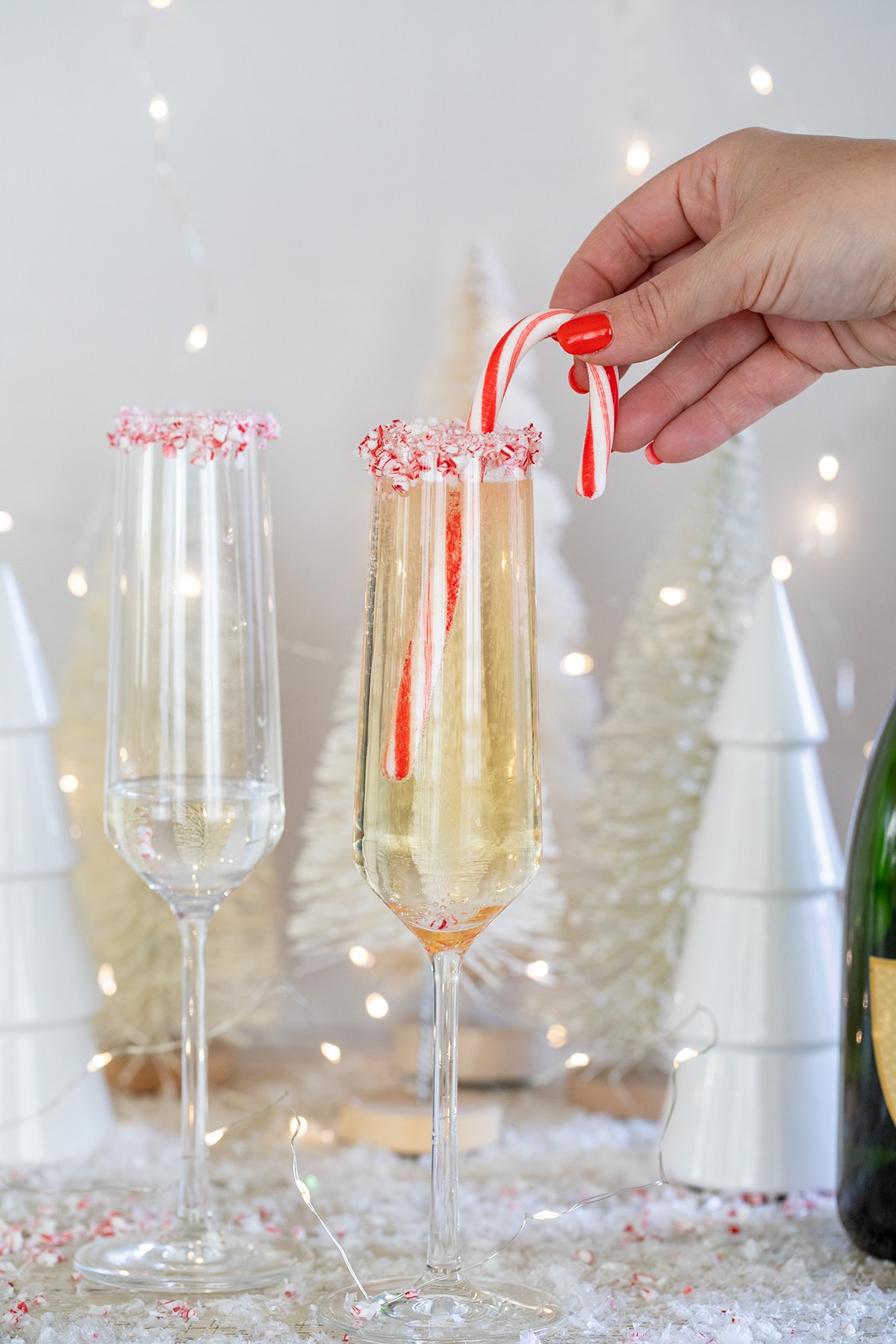 Candy Cane Cocktail
Finish off this pretty cocktail with a candy cane for garnish. The candy melts down into the champagne rather quickly and turns the drink into a pretty pink, sparkling peppermint and chocolate treat. If peppermint bark were transformed into a champagne drink, this would be the result.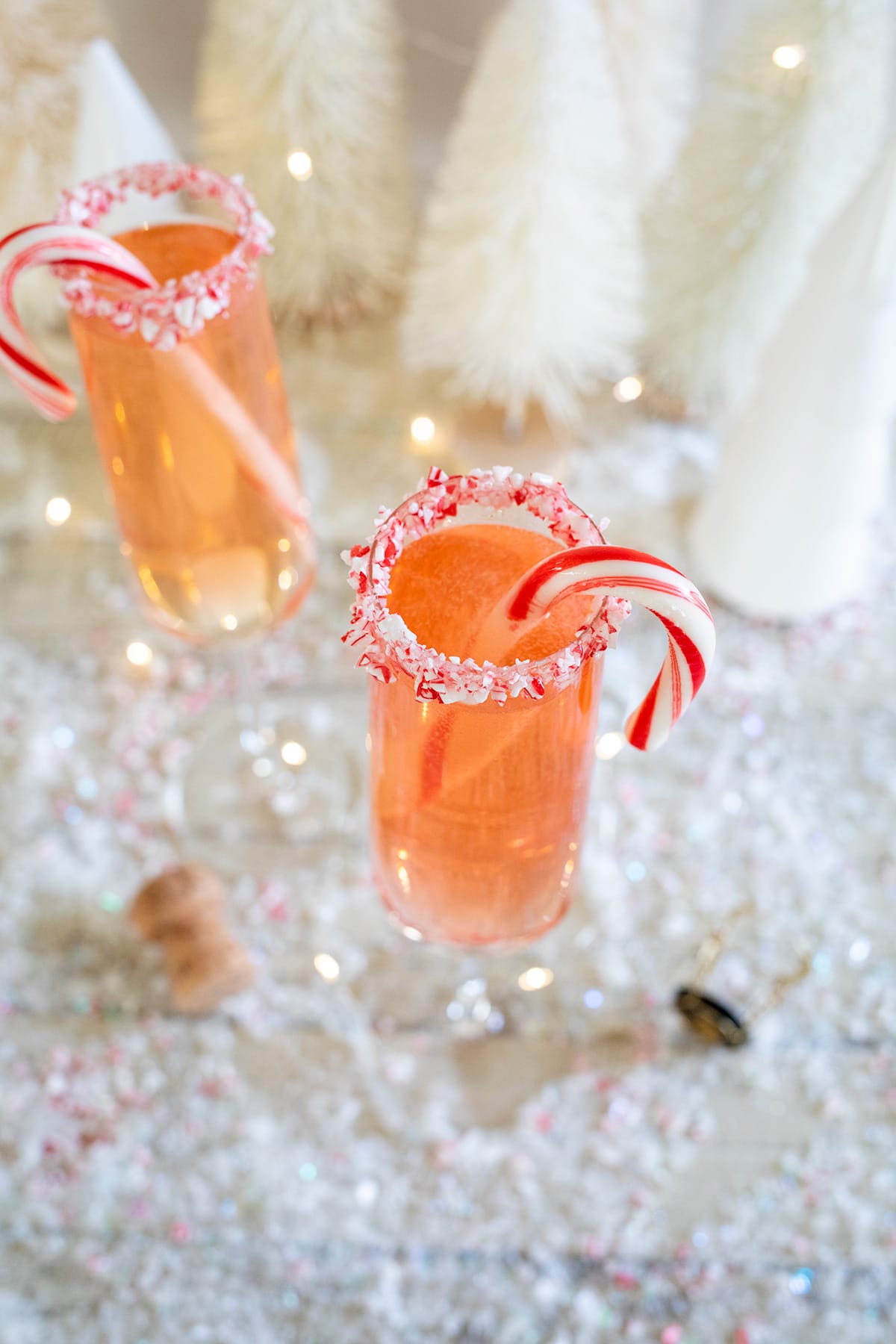 Looking for More Christmas Cocktails? You Might Enjoy These: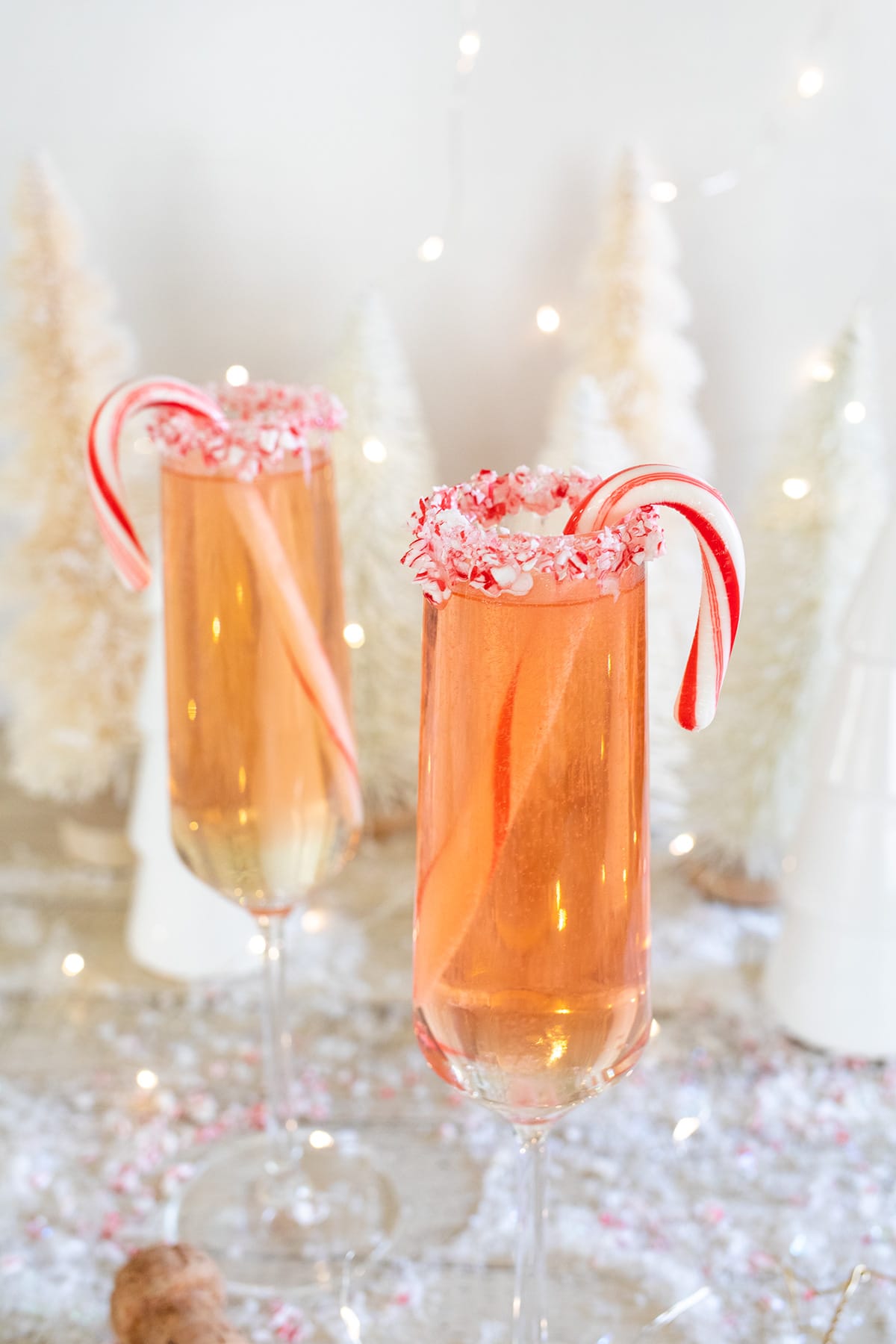 Peppermint White Christmas cocktails are the perfect drink to sip while decorating the Christmas Tree, wrapping gifts, or served with Christmas Charcuterie and appetizers for a girls night. Cheers to the holidays!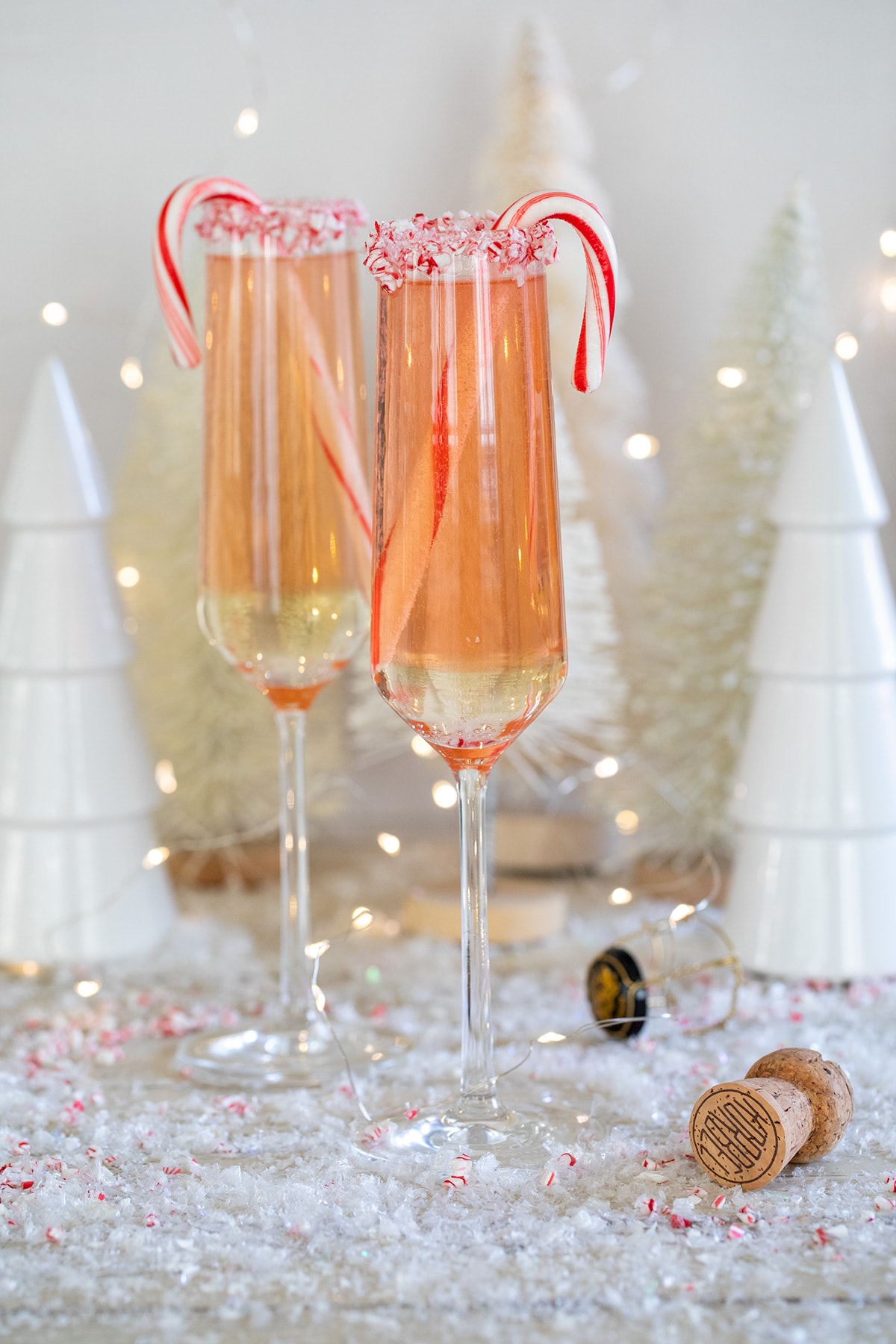 More Peppermint Recipes to Love: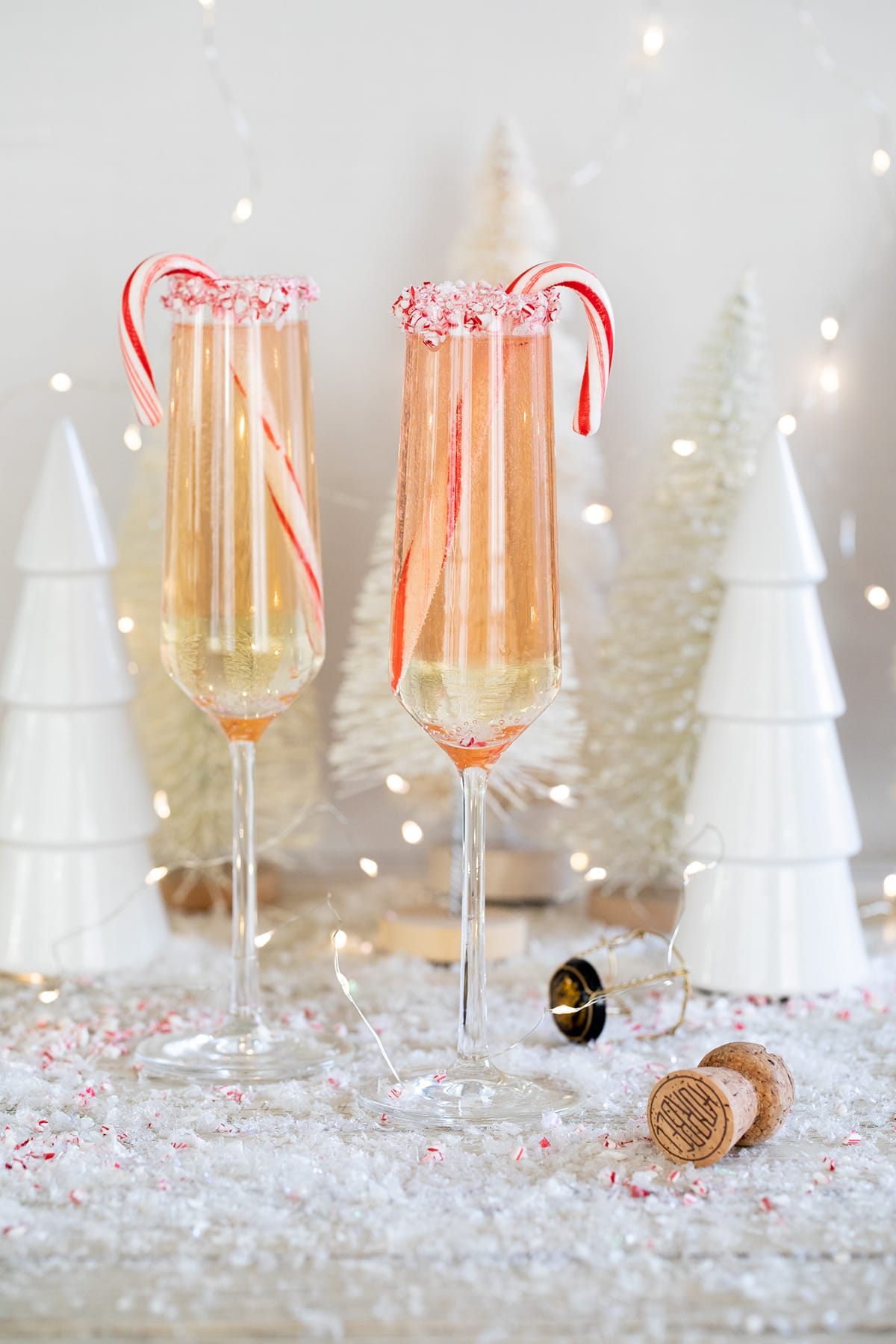 Peppermint White Christmas Champagne Cocktail
A white chocolate, peppermint and champagne cocktail.
Ingredients
1 oz White Creme de Cacao
5 oz Chilled Champagne

candy canes, crushed for the rim
whole candy cane, for garnish
Instructions
1. In a ziplock bag, crush 1 whole candy cane with a rolling-pin or
something sturdy until you are left with a semi fine powder.
2. Dip the rim of your champagne flute in a small dish of White Creme de Cocoa and then roll in the crushed candy cane.
3. Add 1 oz White Creme de Cocoa to champagne flute and top with chilled Champagne.
4. Garnish with a whole candy cane. The candy cane will melt down adding color and flavor to the cocktail!
5. Sip & enjoy.
Notes
*Recipe and photos were updated December 2021. Cocktail proportions remain the same.
Nutrition Information:
Yield:

1
Serving Size:

1
Amount Per Serving:
Calories:

303
Total Fat:

0g
Saturated Fat:

0g
Trans Fat:

0g
Unsaturated Fat:

0g
Cholesterol:

0mg
Sodium:

18mg
Carbohydrates:

41g
Fiber:

0g
Sugar:

29g
Protein:

0g