Get your paws off of that jarred marinara sauce, darling! It's summer. Treat yourself to something that's fresher, healthier, more flavorful with this No-Cook Tomato Sauce Pasta.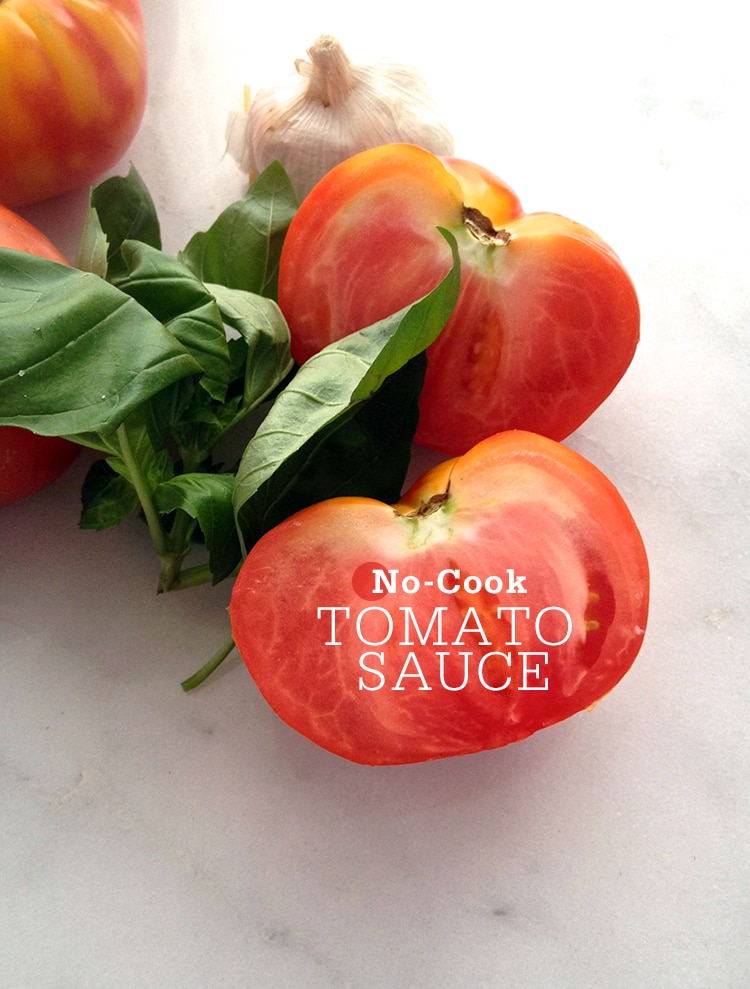 Easy No-Cook Tomato Sauce Pasta!
No-Cook Tomato Sauce Pasta is a staple in my weeknight dinner rotation once the sweet, juicy heirlooms pop up in the market. Gah! I love it. Basically, you whizz up tomatoes, basil, garlic, olive oil...toss in pasta. Done. You can do it. I know it!
Ingredients You'll Need:
Spaghetti
Ripe Tomatoes
Fresh Basil
Fresh Garlic
Parmesan Cheese
Extra Virgin Olive Oil
Salt & Pepper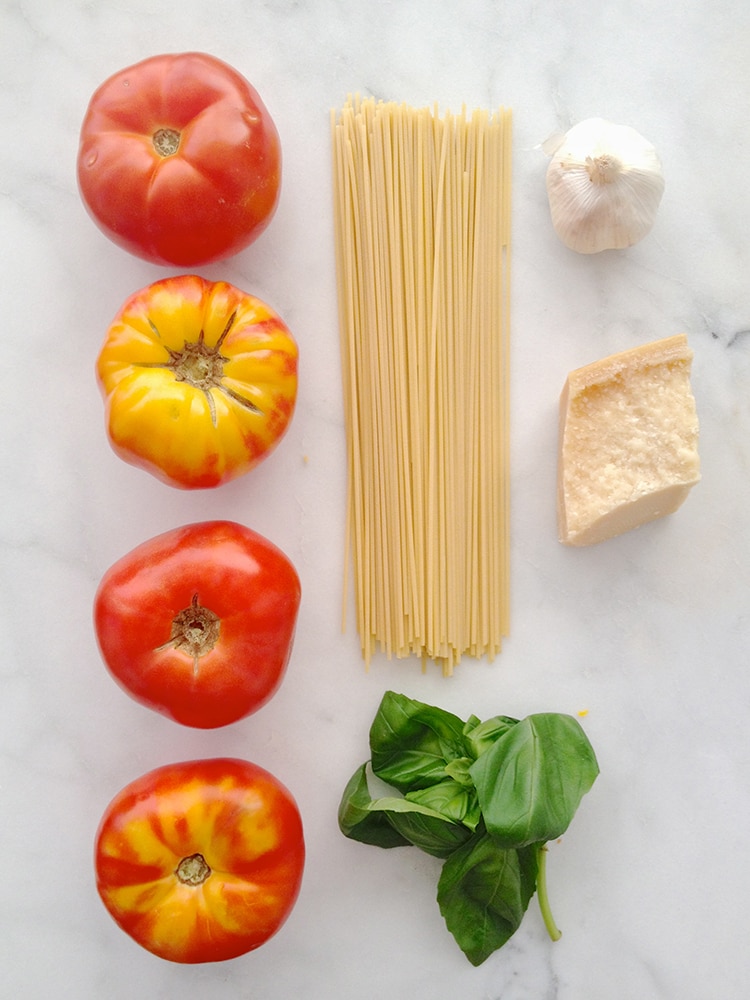 Fast Homemade Tomato Sauce
Here's the thing: You could very easily chop the tomatoes by hand. I started doing that but quickly got lazy and moved the whole project over to the food processor—the job's done in seconds this way!
If you don't feel like pasta, use the no-cook sauce as a topping for grilled steak, chicken or fish. Ooh! You could even just spoon it over crostini for a quickie appetizer.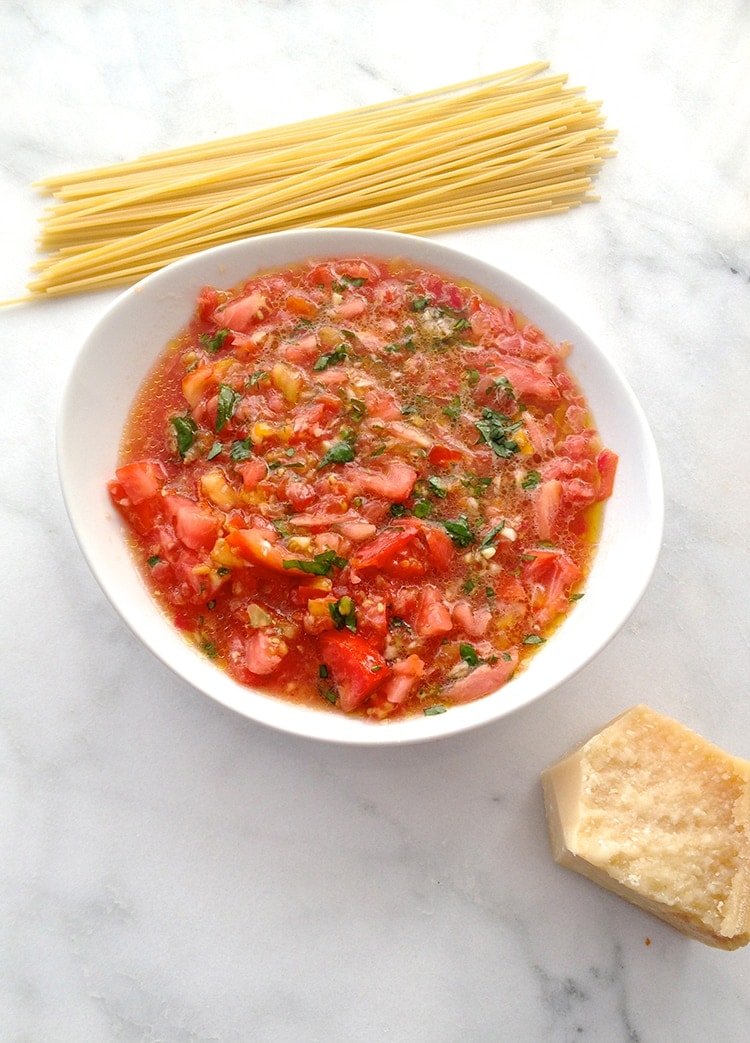 Variations for Tomato Sauce
If you're feeling adventurous, experiment and mix-in other things you have in your pantry.
Sliced olives would be awesome.
Capers.
Dried oregano.
Red pepper flakes.
No one knows your taste better than you (and you really can't mess this one up). Give it a try and let me know what you think. Psst! The more salty parmesan cheese you add, the better it tastes. Enjoy!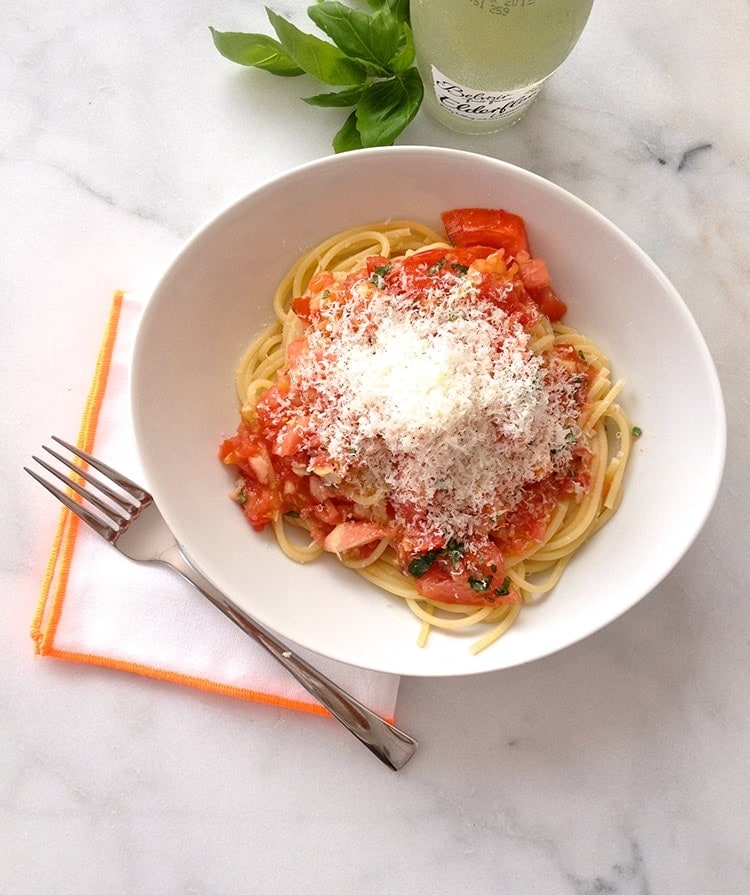 Recipe & photos by Erin Phraner of Hey, EEP!
More Weeknight Pasta Recipes: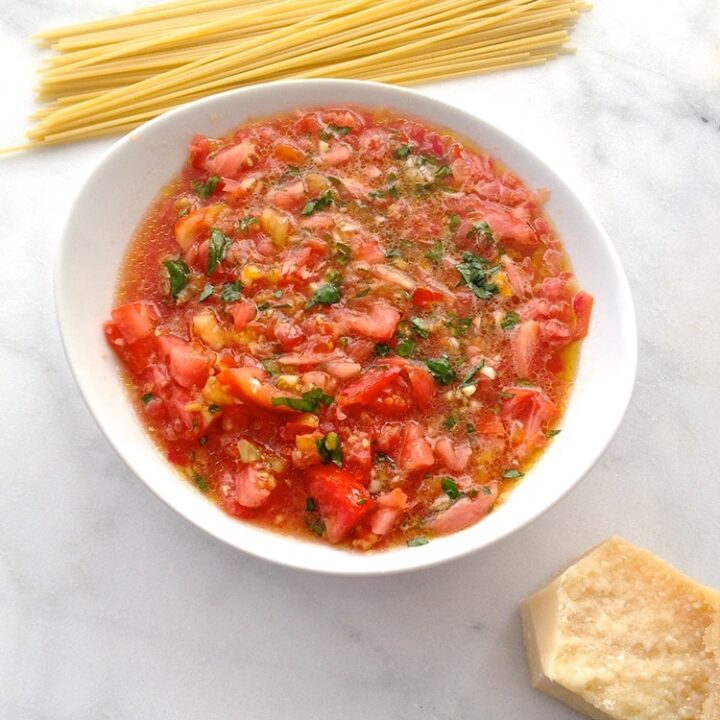 No-Cook Tomato Sauce Pasta
A quick no-cook pasta sauce you can add to any pasta dish.
Ingredients
1 pound spaghetti
4 large ripe tomatoes
1 large handful fresh basil leaves, finely chopped
3 to 4 cloves garlic, pressed
Good-quality parmesan cheese, for grating
PANTRY STAPLES: Extra-virgin olive oil, salt and freshly ground pepper.
Instructions
Bring a large pot of salted water to a boil. Add the spaghetti and cook at the label directs.
Trim any gnarly bits off your tomatoes, then cut into quarters and add three to a food processor fitted with the blade attachment.
Pulse 15 to 20 times until finely chopped. Add the remaining tomato and pulse about 5 times or until coarsely chopped; transfer tomato mixture to large bowl.
Stir in basil, garlic, about ¼ cup olive oil, two big pinches salt, and
pepper to taste.
Drain the pasta. Toss with the prepared sauce. Divide among
plates and top with lots of finely grated parmesan cheese.