Making a prediction here but I'd say that Strawberry Rhubarb Sorbet Popsicles are going to be my family's go-to freezer treat all summer long...or as long as we can find rhubarb that is! These easy sorbet pops are creamy, sweet, just a little bit tart and completely dairy free.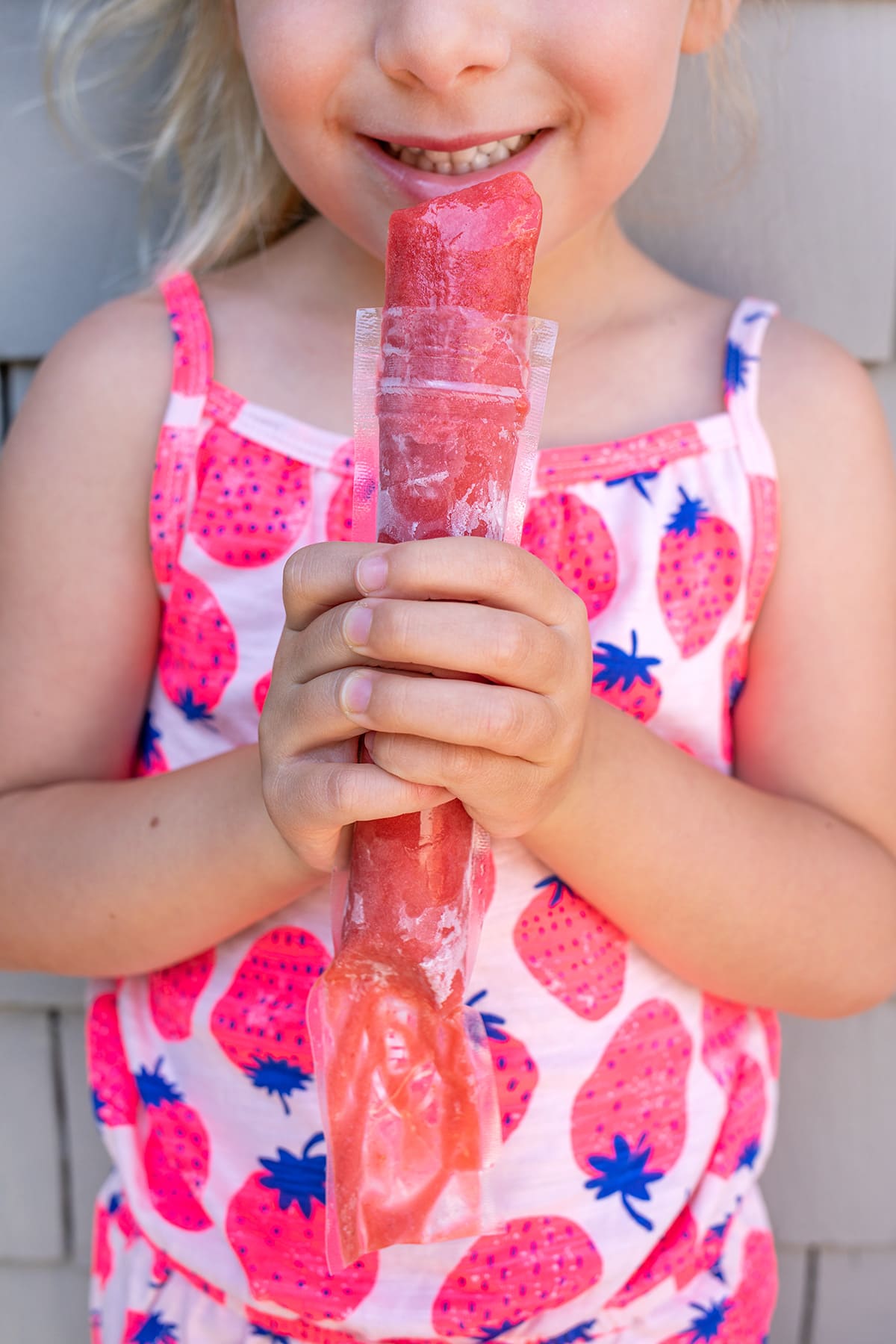 Strawberry Rhubarb Sorbet Popsicles
The combination of sweet strawberries and tart rhubarb is one of my favorite flavors this time of year. From Pie to Crumbles, Easy Compote for topping ice cream and even Margaritas...I find ways to add rhubarb to everything.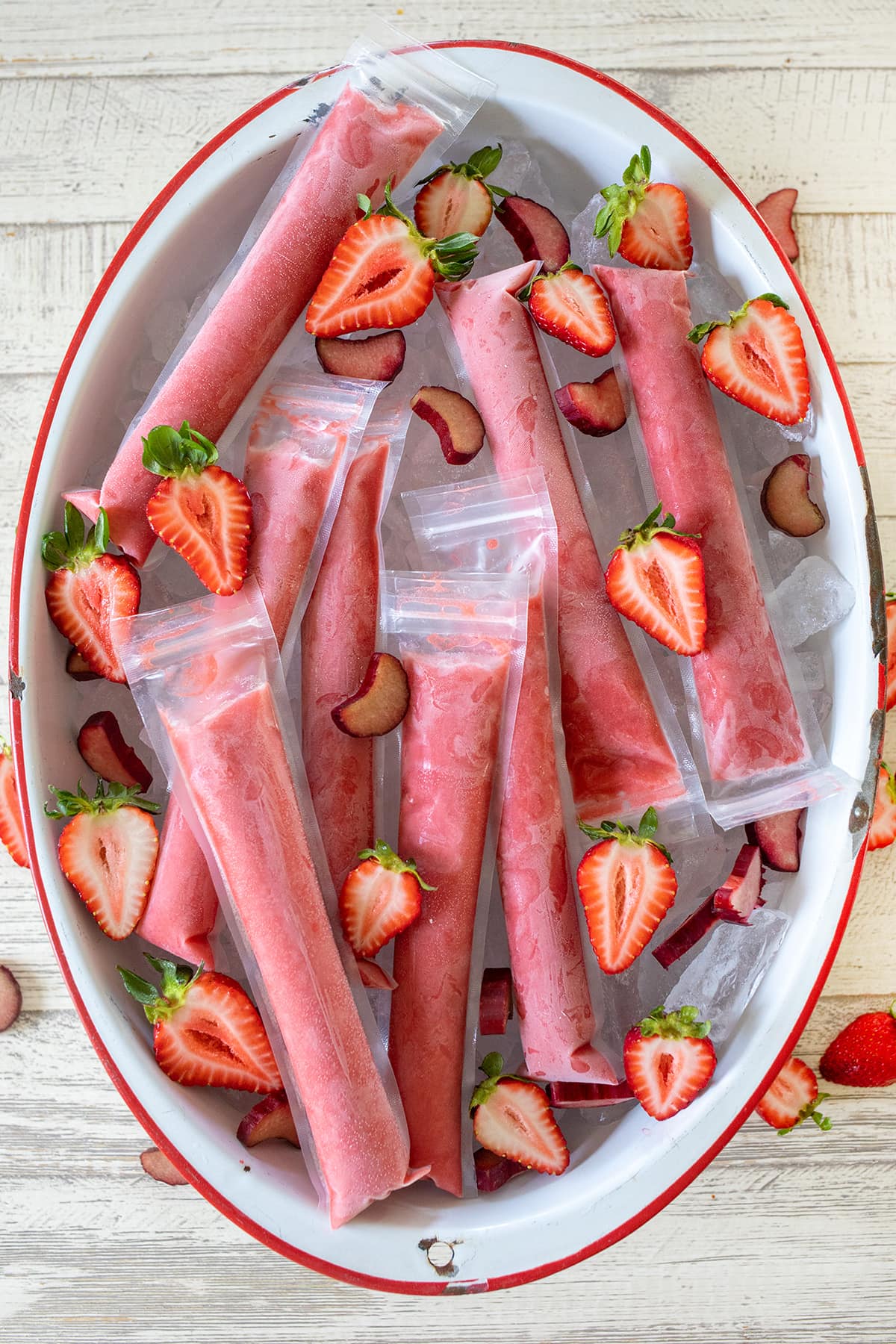 What is Rhubarb?
Rhubarb is vegetable that grows in a long stalk that is naturally very bitter but when cooked with sugar and often berries, it has the most amazing flavor. I like to refer to it as nature's sour candy because it reminds me so much of sour patch kids. Strange to say about a vegetable but it has a similar flavor quality to it when sweetened. It's crisp and crunchy and ripe in the spring.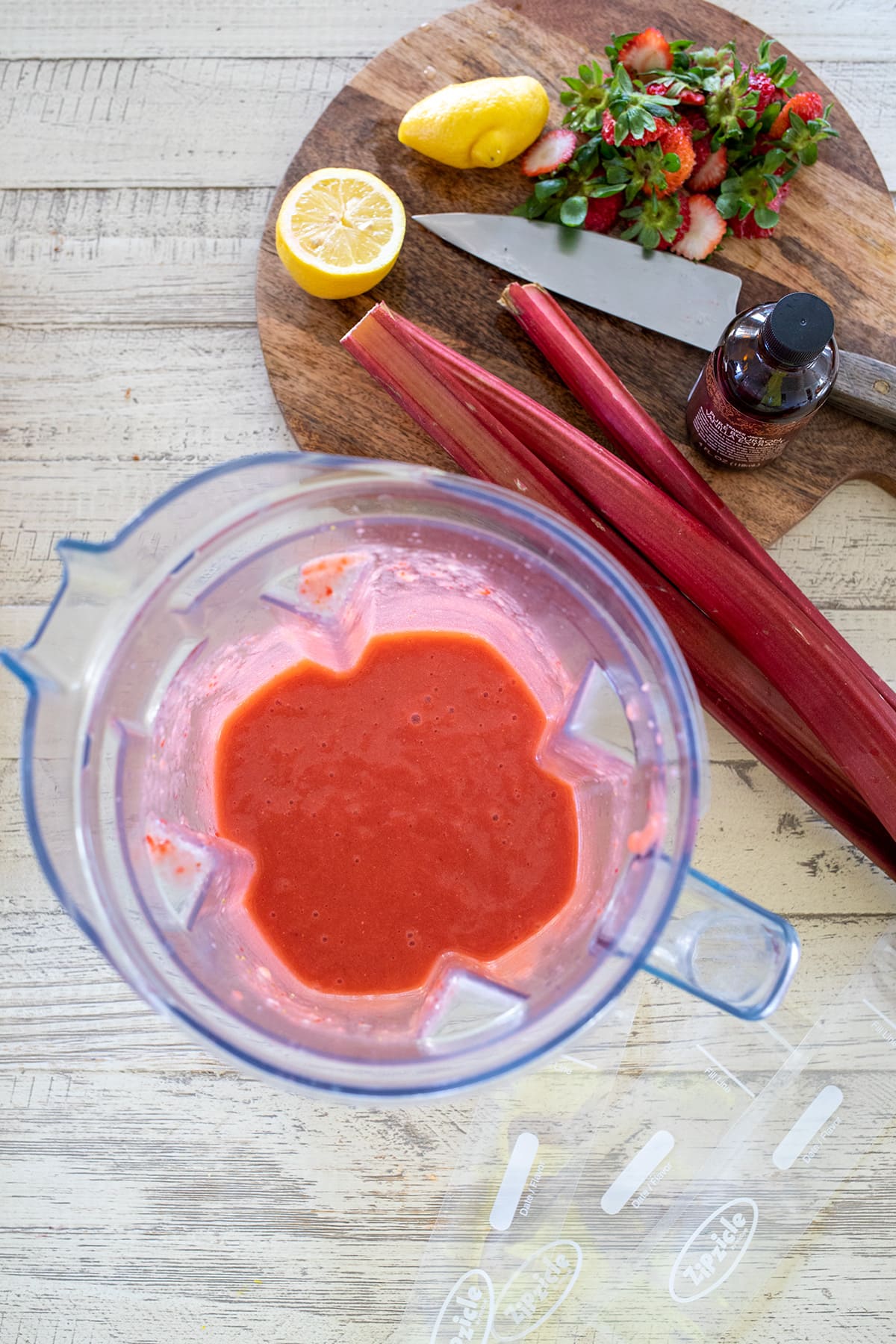 Ingredients in Strawberry Rhubarb Popsicles
Strawberries - fresh in season strawberries are going to give you the best flavor for these pops.
Rhubarb - grab it while it's in season because rhubarb comes and goes rather fast in late spring/early summer.
Sugar - to make it sweet!
Lemon Juice - you need just a bit of sour to balance out the sweet.
Vanilla - good vanilla extract.
Water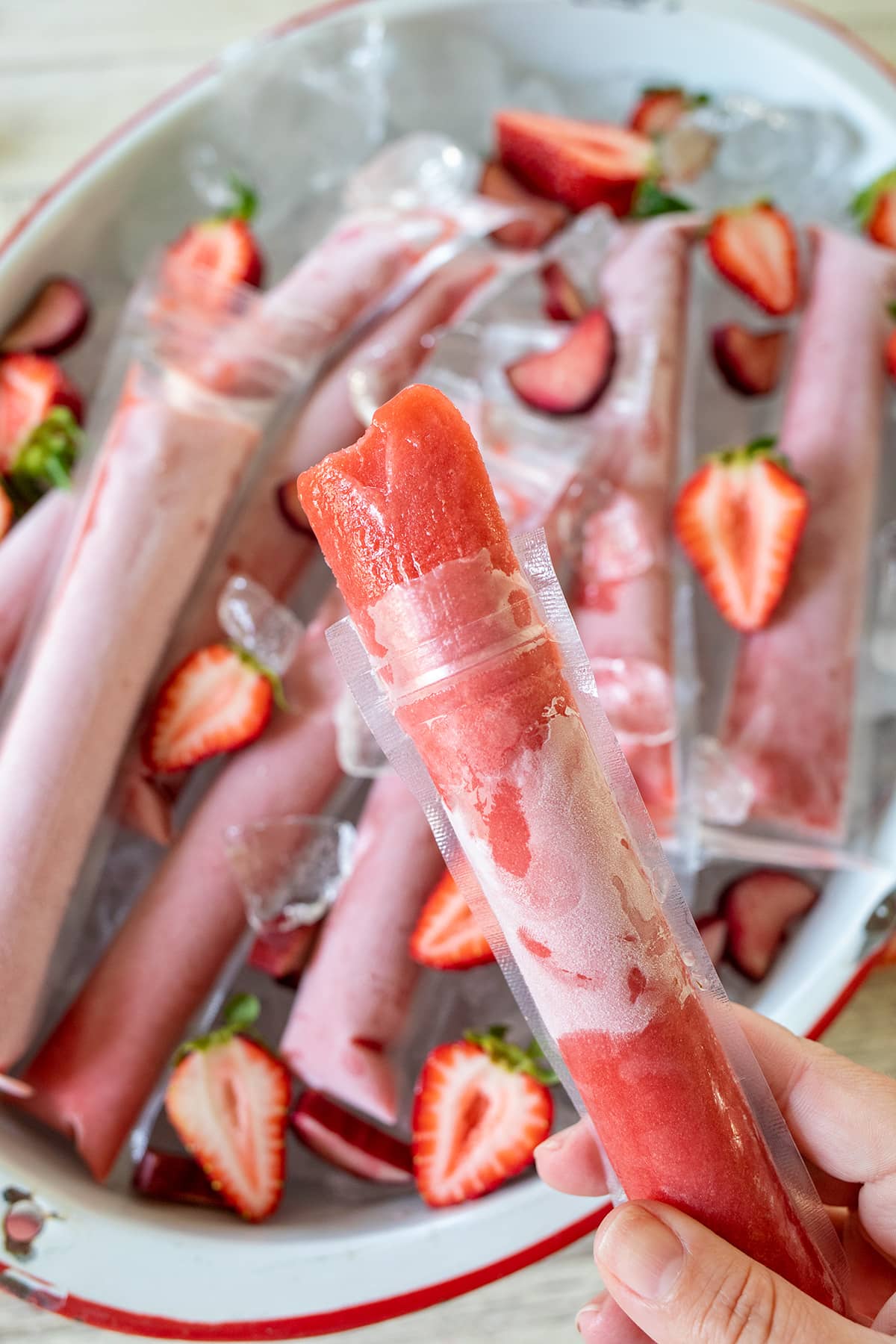 How to Make Zipzicle Pops
I found these zipzicle popsicle sleeves on Amazon and absolutely love them! They are easy enough to fill if you have a kitchen funnel and storing these in the freezer is SO much easier than a tray of traditional popsicles. Plus, you can fill them with anything combination of flavored juices, or in this case, my strawberry rhubarb sorbet.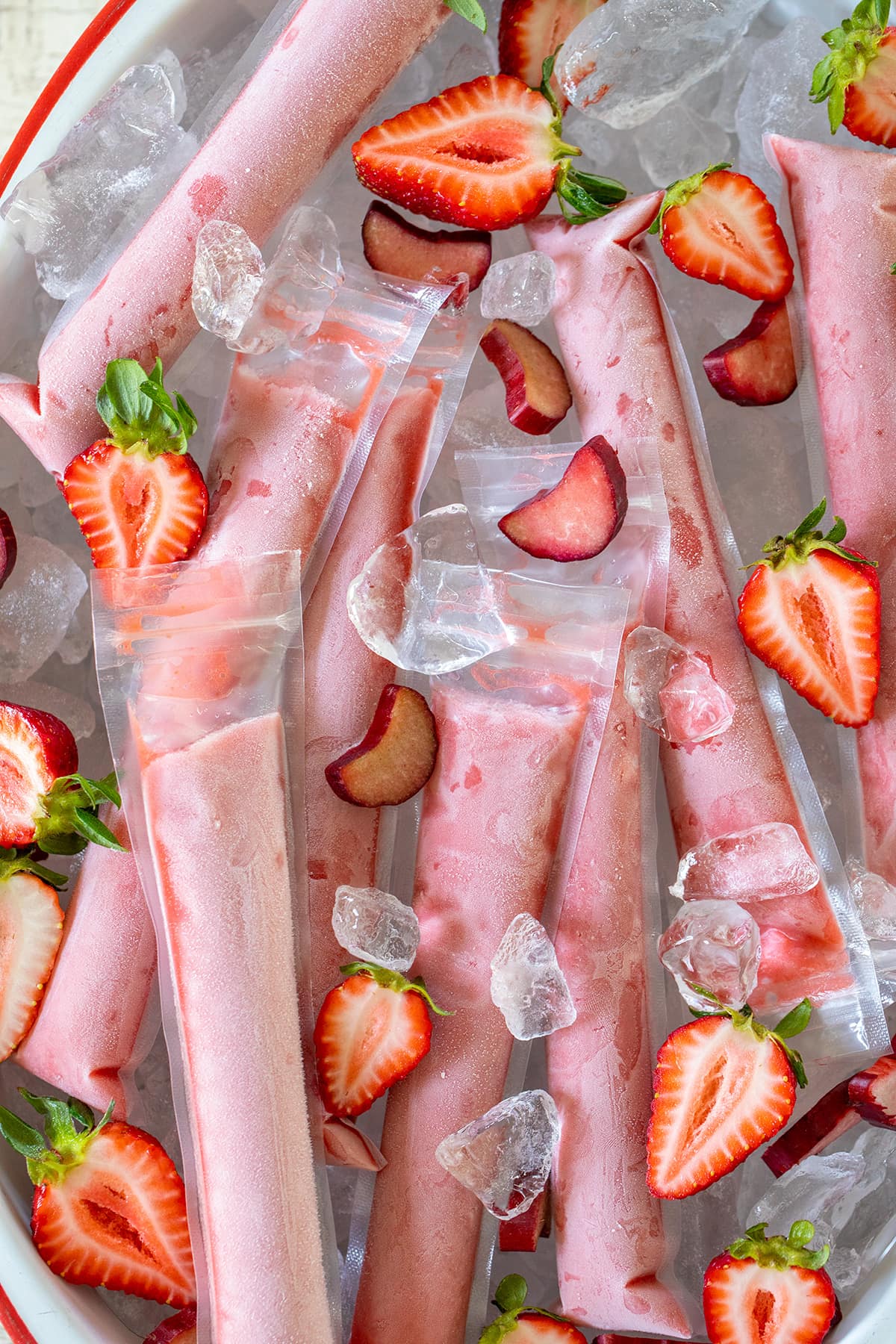 Strawberry Rhubarb Sorbet Recipe
While I chose to freeze this sorbet in these popsicle sleeves, you could also freeze this mixture in an ice cream container or loaf pan covered in plastic wrap. This recipe makes a true sorbet so it's much creamier and softer than a normal popsicle which makes it not so ideal for classic popsicle forms. However it's lovely and scoopable and makes a great "push-pop" like we did here.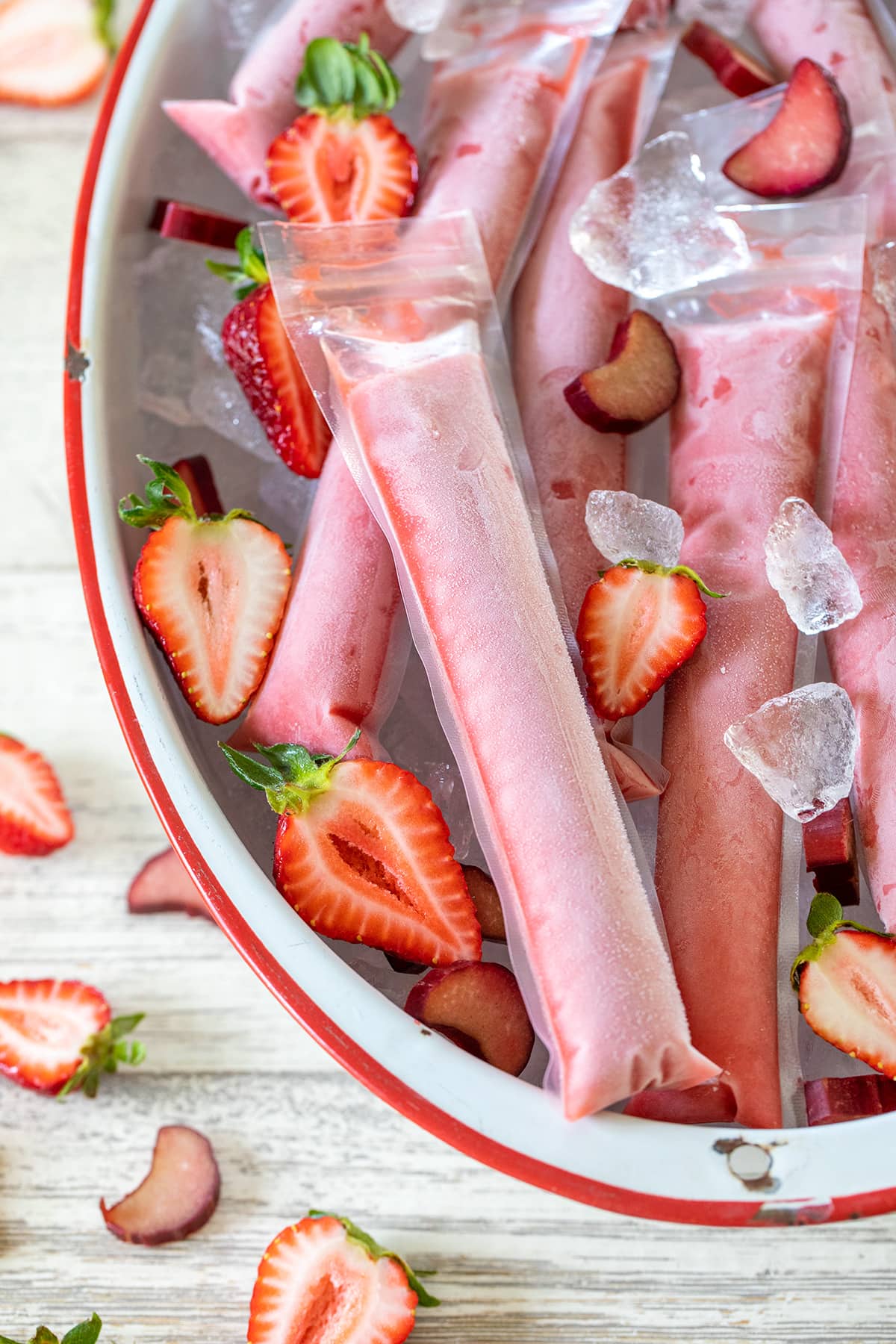 More Strawberry Rhubarb Dessert Recipes: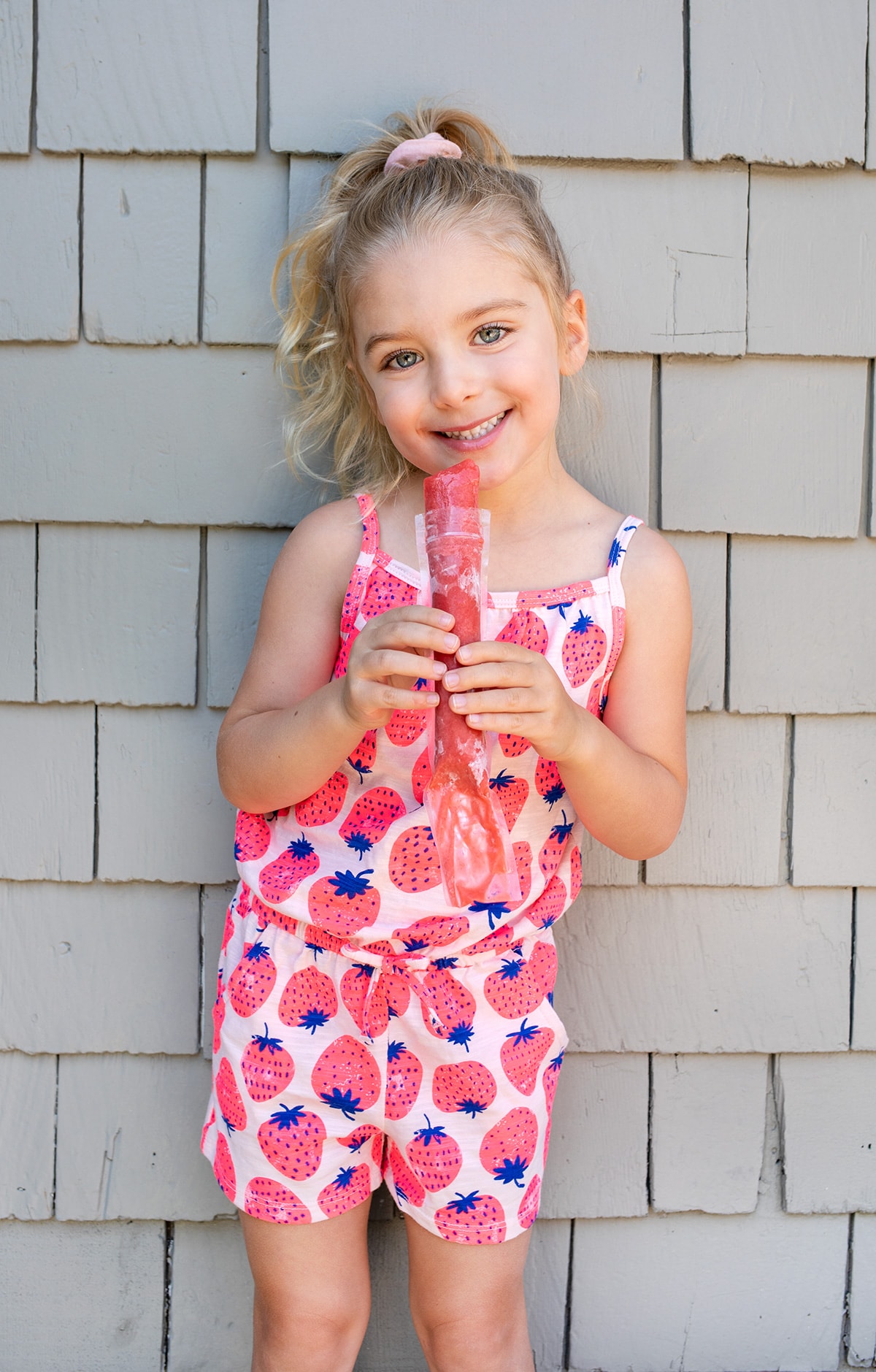 Hot days, messy pony tails and sticky hand are what summer is all about! The twins devoured these popsicles and considering we have a pretty decent stash in the freezer now, I'm sure they will be going back for more very soon.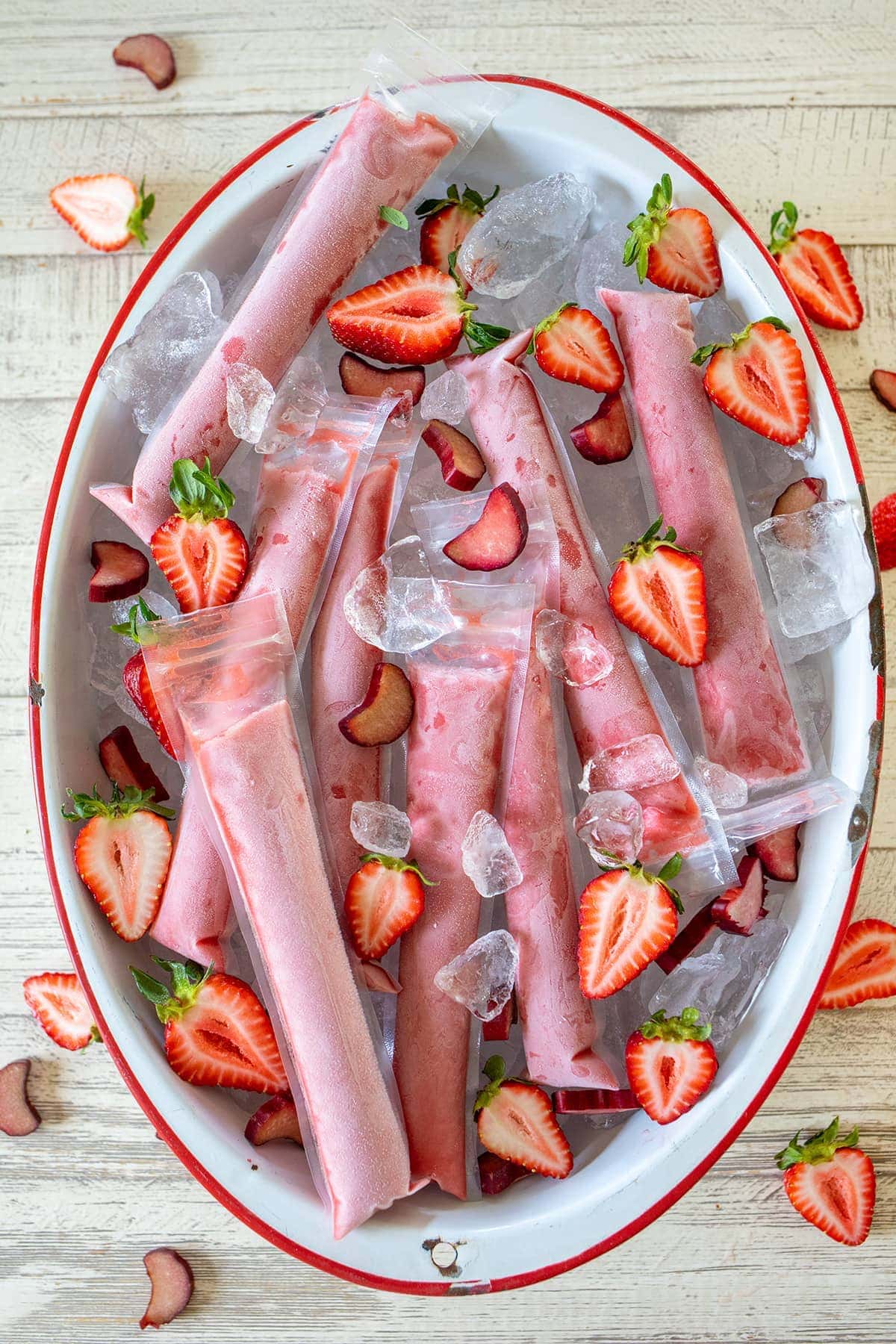 I hope you and your family enjoy making and eating these fun Strawberry Rhubarb Sorbet Pops! If you do make them, please leave a comment and review in the box below. Happy popsicle making!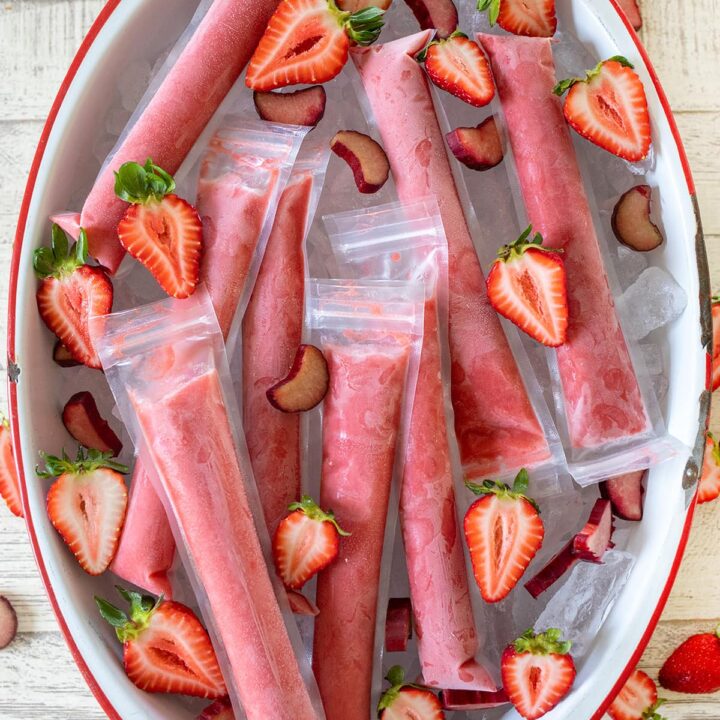 Strawberry Rhubarb Sorbet Pops
Additional Time:
12 hours
A sweet strawberry and rhubarb sorbet that can be frozen into push-pops!
Ingredients
1 pound strawberries, hulled and diced
2 cups diced rhubarb
1 cup granulated sugar
1 cup water
juice of ½ a lemon
1 teaspoon vanilla extract
Instructions
In a saucepan over medium-high heat, combine rhubarb, water and sugar, stir to combine. Bring to a boil.
Reduce to a simmer and cook stirring for 15 minutes.
Remove from heat and allow rhubarb mixture to cool completely to room temperature.
In a blender, combine cooled rhubarb mixture and diced strawberries. Blend until pureed smooth.
Add lemon juice and vanilla and pulse one more time until combined.
Use a funnel to pour mixture into zipzsicle sleeves just up until the "fill line" and zip shut.
Freeze until completely firm, overnight.
Notes
This sorbet can also be frozen in an ice cream container or loaf pan if you would rather have a scoopable sorbet. Cover with plastic wrap, touching the surface of the sorbet, before freezing. Scoop and serve in cups or cones.
Recommended Products
This site uses affiliate links in which I may earn a small percentage from qualifying purchases.
Nutrition Information:
Yield:

8
Serving Size:

1
Amount Per Serving:
Calories:

140
Total Fat:

0g
Saturated Fat:

0g
Trans Fat:

0g
Unsaturated Fat:

0g
Cholesterol:

0mg
Sodium:

21mg
Carbohydrates:

35g
Fiber:

2g
Sugar:

32g
Protein:

1g