Guacamole is my signature appetizer anytime I'm having friends or family over. Everyone loves this guacamole which is why I don't mind saying that it really is THE ULTIMATE. Perfect for parties, barbecues or to served with tacos! I hope you love it as much as we do.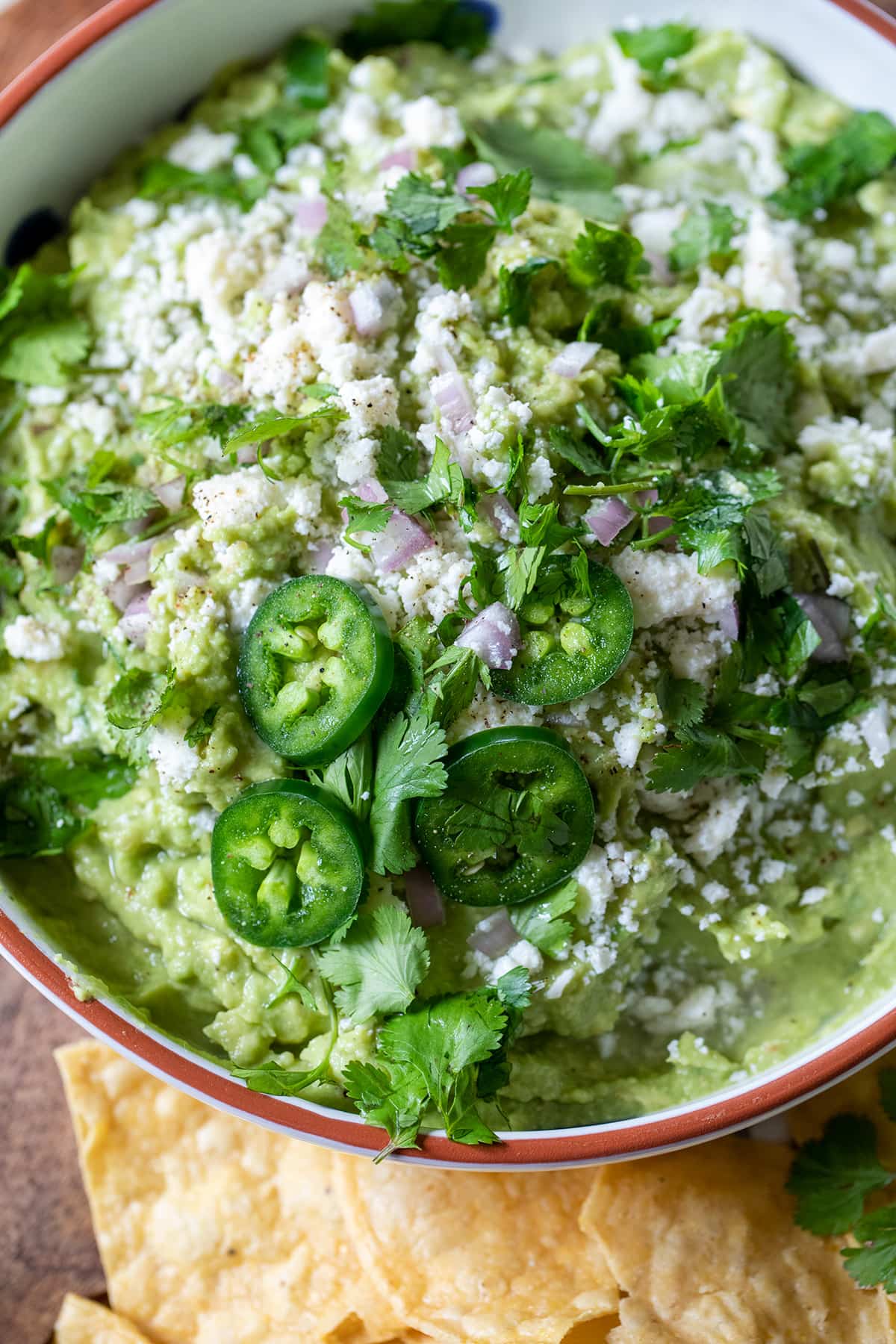 The Ultimate Guacamole Recipe
I started making my guacamole the same way back in 2010 when I first discovered what I called The Perfect Guacamole. A few simple ingredients that when combined create the greatest flavorful guacamole.
To this day I still make it the same but I've elaborated on it a bit as my favor preferences have changed and because I like elevating simple dishes. I usually set aside a small bowl without all of the spice for the twins since they LOVE guacamole too. This really is a family favorite recipe.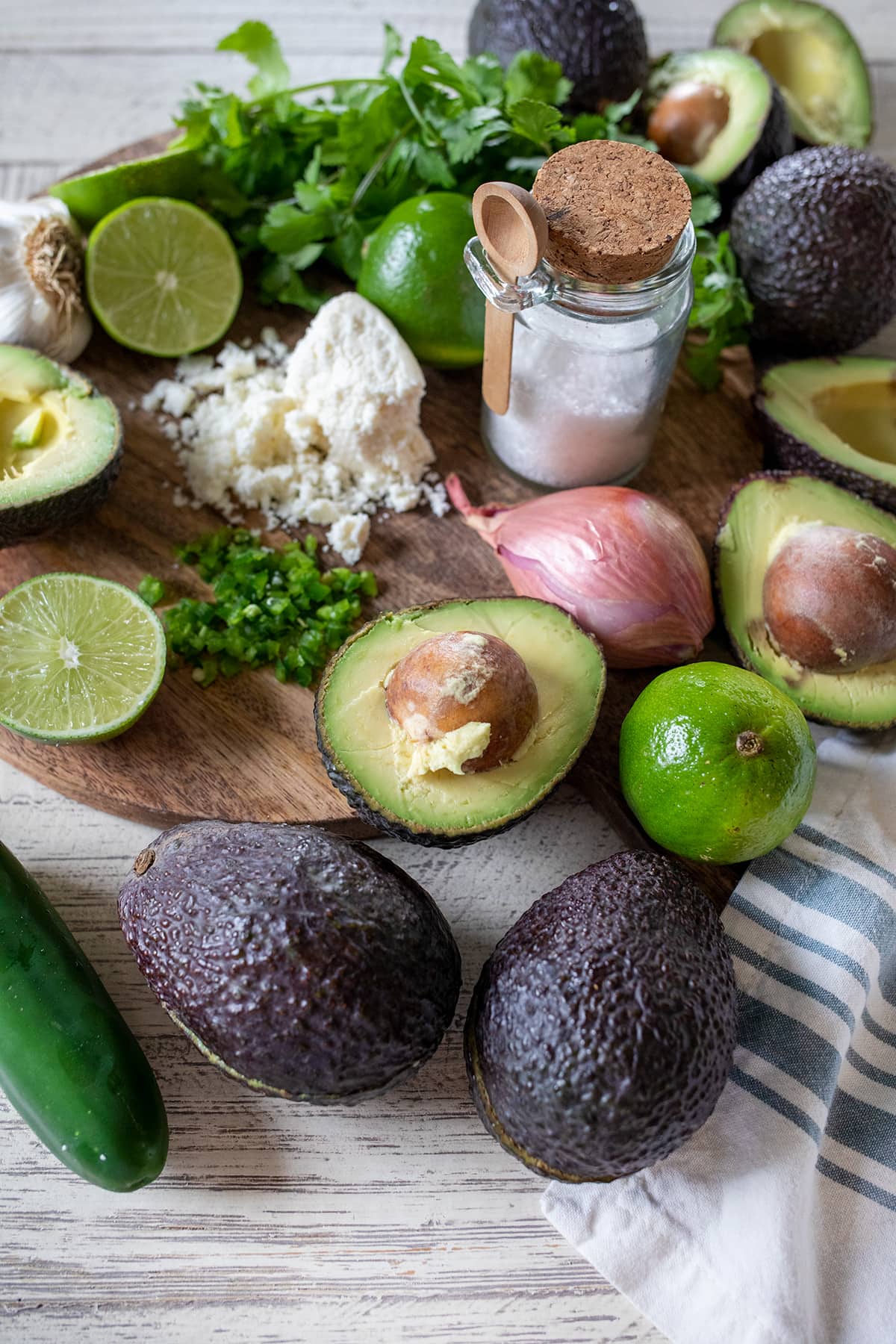 Ingredients Needed for Homemade Guacamole
Avocados - make sure they are ripe but not overly soft. I'll share how to pick the best avocados later in the post.
Limes - fresh lime juice is key and I love my guacamole to be tangy.
Shallots - this brings the flavor without being overpowering like red onion.
Garlic- freshly grated is the best!
Jalapeño - I add just enough for a small kick but you can adjust to your own heat preference.
Cotija Cheese - this is a salty, mild and delicious Mexican cheese that crumbles very nicely. It get sprinkled on top.
Cilantro - just for garnish on top but I do love to be generous with it.
Salt and Pepper - because, flavor.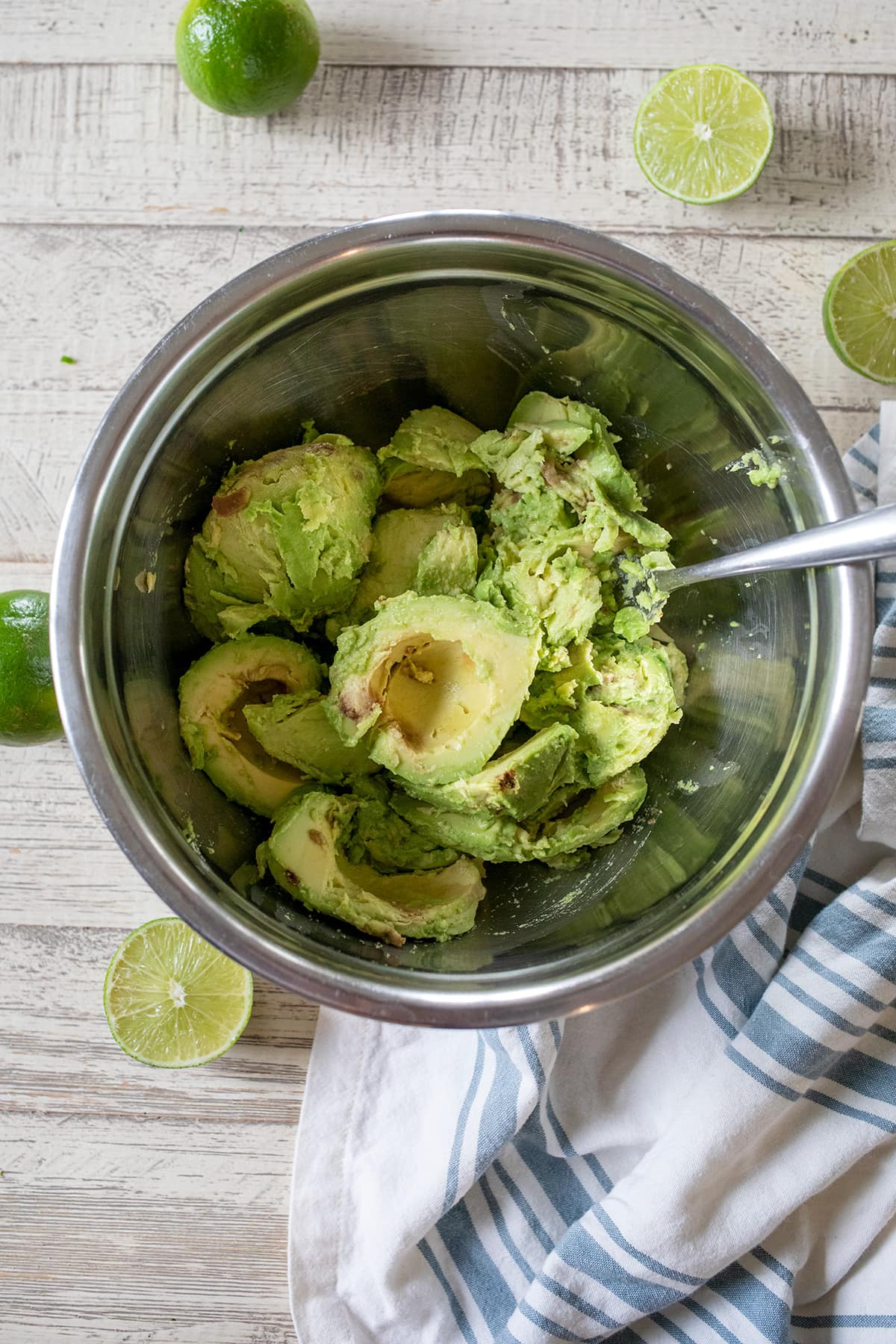 How to Pick the Best Avocados
Anyone feel like avocados go from hard as a rock to soft brown mush in less than one day? You aren't alone. I actually had seven beautiful ready-to-eat avocados ready for guacamole and waited a day too long before shooting this recipe post...as you can see by the small brown spots in the avocado above. Eh, they still tasted amazing! Here are some tips for buying avocados.
CONSIDER: Buy them while they are still firm unless you are planning to eat them the same day.
COLOR: Chose the avocados that are still "turning" or not fully black but not exactly green either. In a day or two they will be perfectly ripe.
FIRMNESS: Gently squeeze the avocado. If it's firm but slightly soft to the touch it's good to go. Again, you will need to decide if you are eating these same day or waiting a few days. Slightly soft to the touch but not mushy is ready to eat right away!
CHILL: If you aren't ready to eat your avocados right away you can stick them in the refrigerator! This keeps them from ripening too quickly.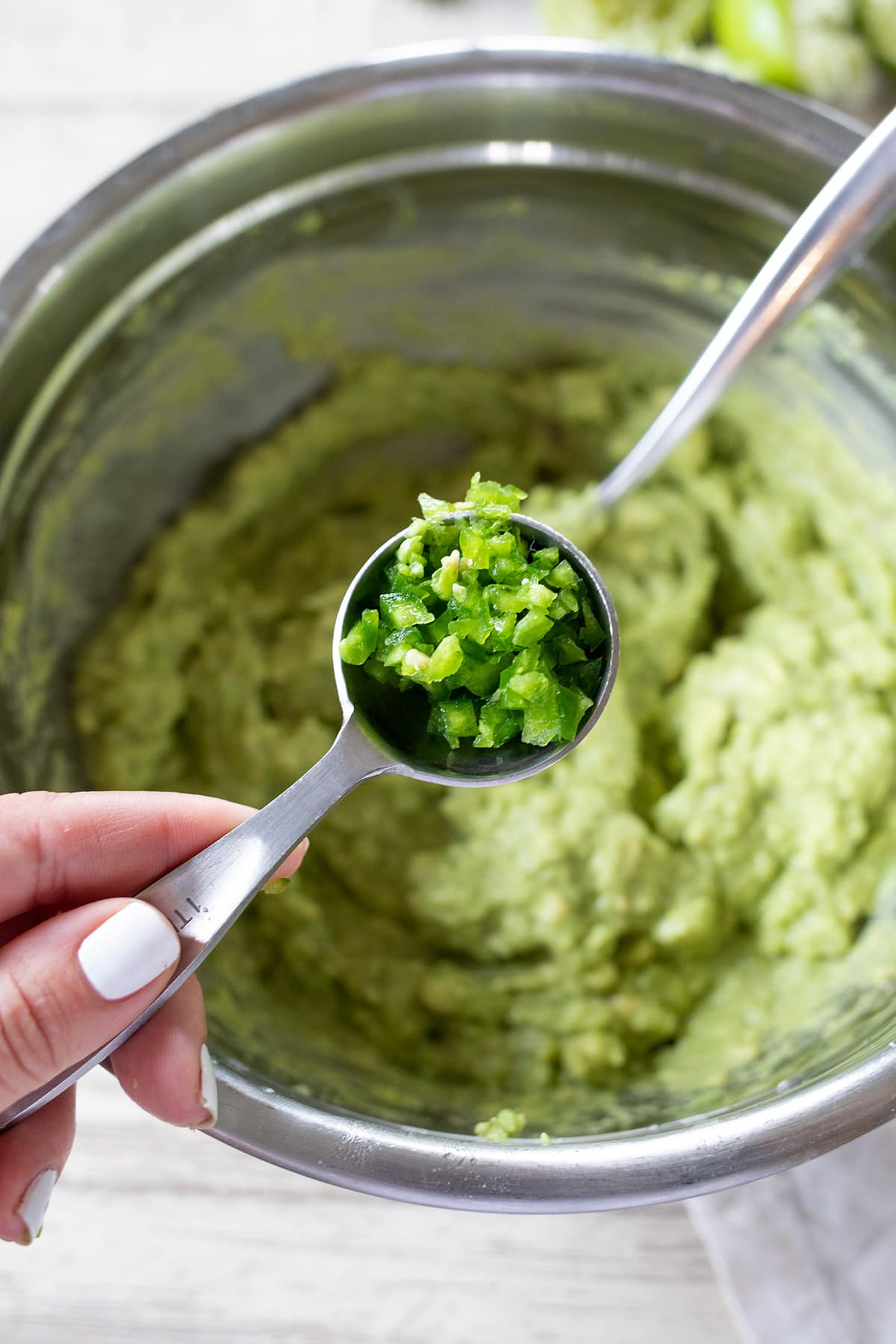 How to Make Guacamole Step-by-Step
Cut- Cut your avocados in half, remove the pit and scoop the flesh into a large mixing bowl. Repeat with all of your avocados.
Mash- Use a fork to mash your avocados. You can either leave them chunky or mash them completely smooth. Personally I like a little bit of texture and chunk to my guacamole.
Acid- Immediately squeeze in your fresh lime juice and stir with a fork to combine. This will keep your avocado from turning brown so it's important to do this step right away.
Seasoning- Season well with salt and pepper before you add any other ingredients. I usually taste it at this point.
Flavor- Stir in minced jalapeno, shallot and garlic. Stir to combine.
Make it Pretty- Transfer guacamole to a serving bowl.
Garnish- Top with crumbled cotija cheese, chopped cilantro, sliced jalapeños if you want (for garnish), and an extra squeeze of lime.
Eat- Serve immediately with chips.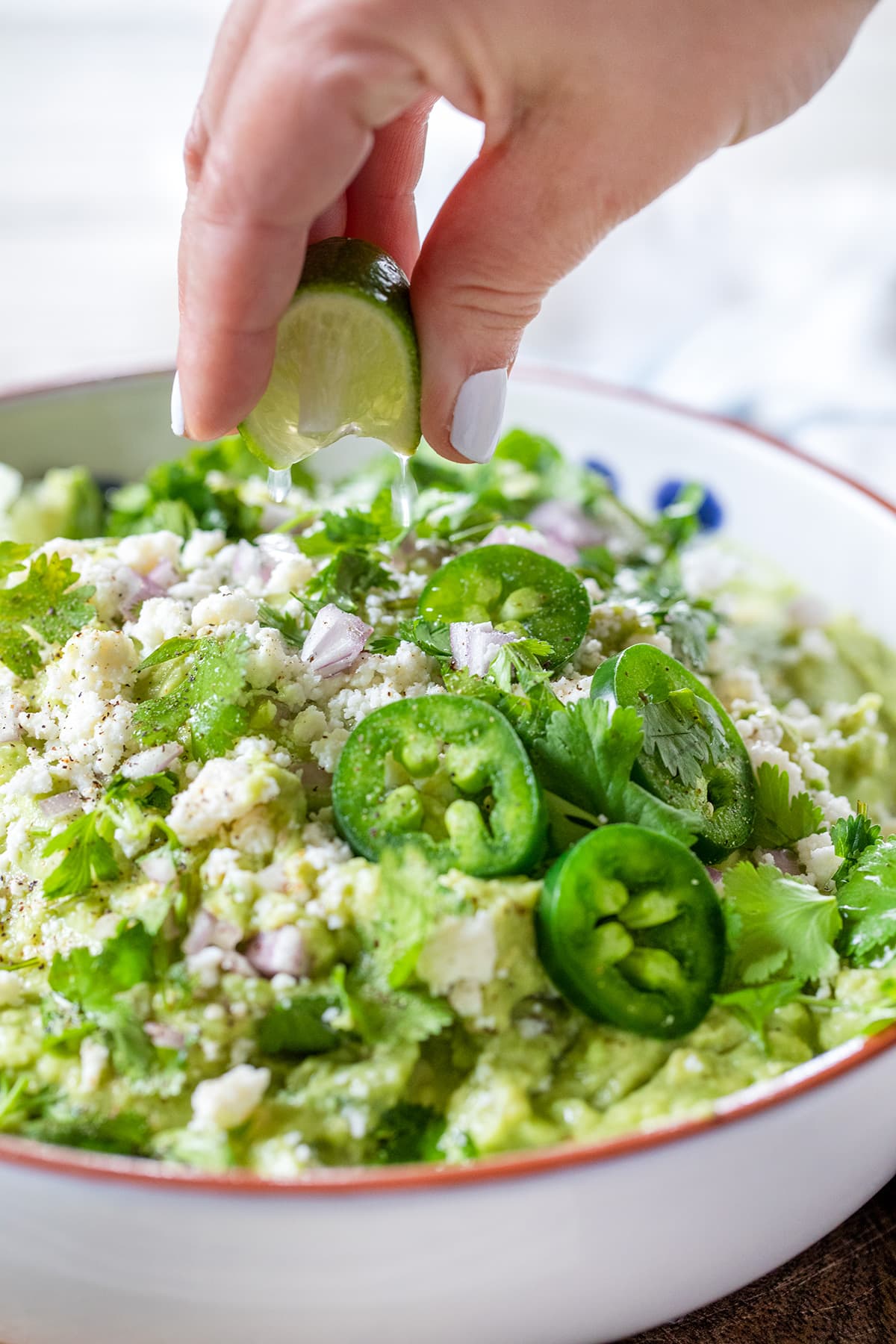 Guacamole Without Cilantro
I know that MANY people don't enjoy cilantro in their guacamole and I get it. For years I didn't want any in mine either. In fact I still feel strongly against tomato in my guac so we all have our preferences. If you don't want the cilantro, you can simply leave it off of the top! I like it as a garnish but too much can definitely overpower the dip. It will be delicious either way you serve it.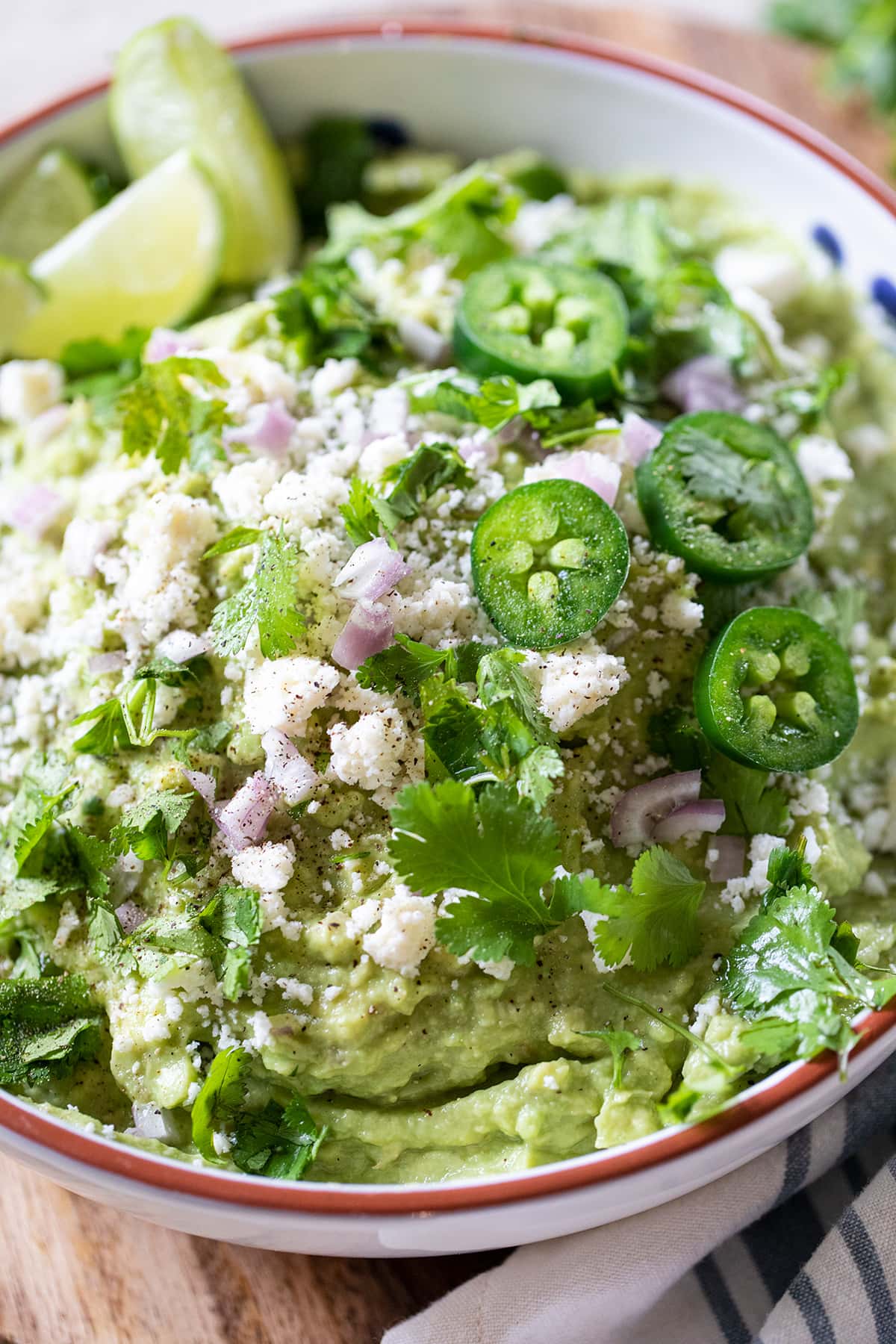 How to Keep Guacamole From Turning Brown
Brown guacamole is so unappetizing, we can all agree on that! So how in the world do you store it or keep it from turning brown? Here are a few tips:
TONS of lime juice. I love my guacamole extra limey so it works to my advantage. However if you know your guacamole needs to look pretty for a longer than usual, add an extra squeeze or two of lime.
Plastic Wrap. Flatten your guacamole out with a spoon and lay a piece or plastic wrap flat against the surface. If no air is exposed, it should stay green. I use this trick with leftovers and it will work decently in the fridge for up to one day.
Water. I found this trick and have yet to try it but evidently it's a great alternative to plastic. If it works for you let me know in the comments below!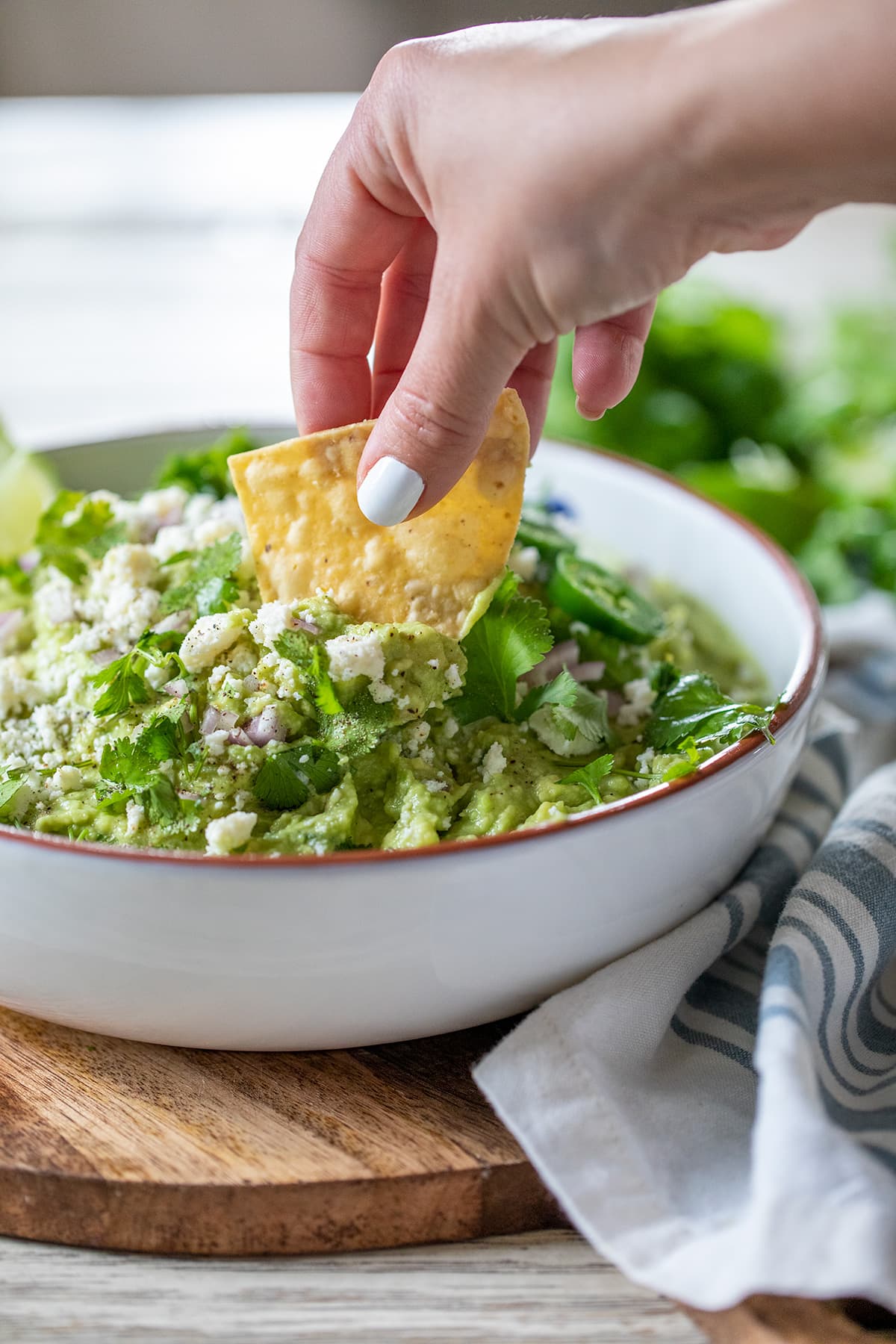 The Best Chips to Serve with Guacamole
I'm not sure if it's a regional thing but grocery stores in Southern California fry up homemade tortilla chips fresh and sell them in big bags in the produce section. They really are the next best thing to the delicious (slightly greasy) and extra crisp chips you get at a Mexican restaurant and every time we make guac we grab a bag! If you can't get store-made chips, look for any thick, rustic, or restaurant style tortilla chips!
What to Serve with Homemade Guacamole
I could make a meal out of this loaded guacamole and a bag of chips, however if you want a more balanced meal, here are a few of my favorites recipes to go with the guac!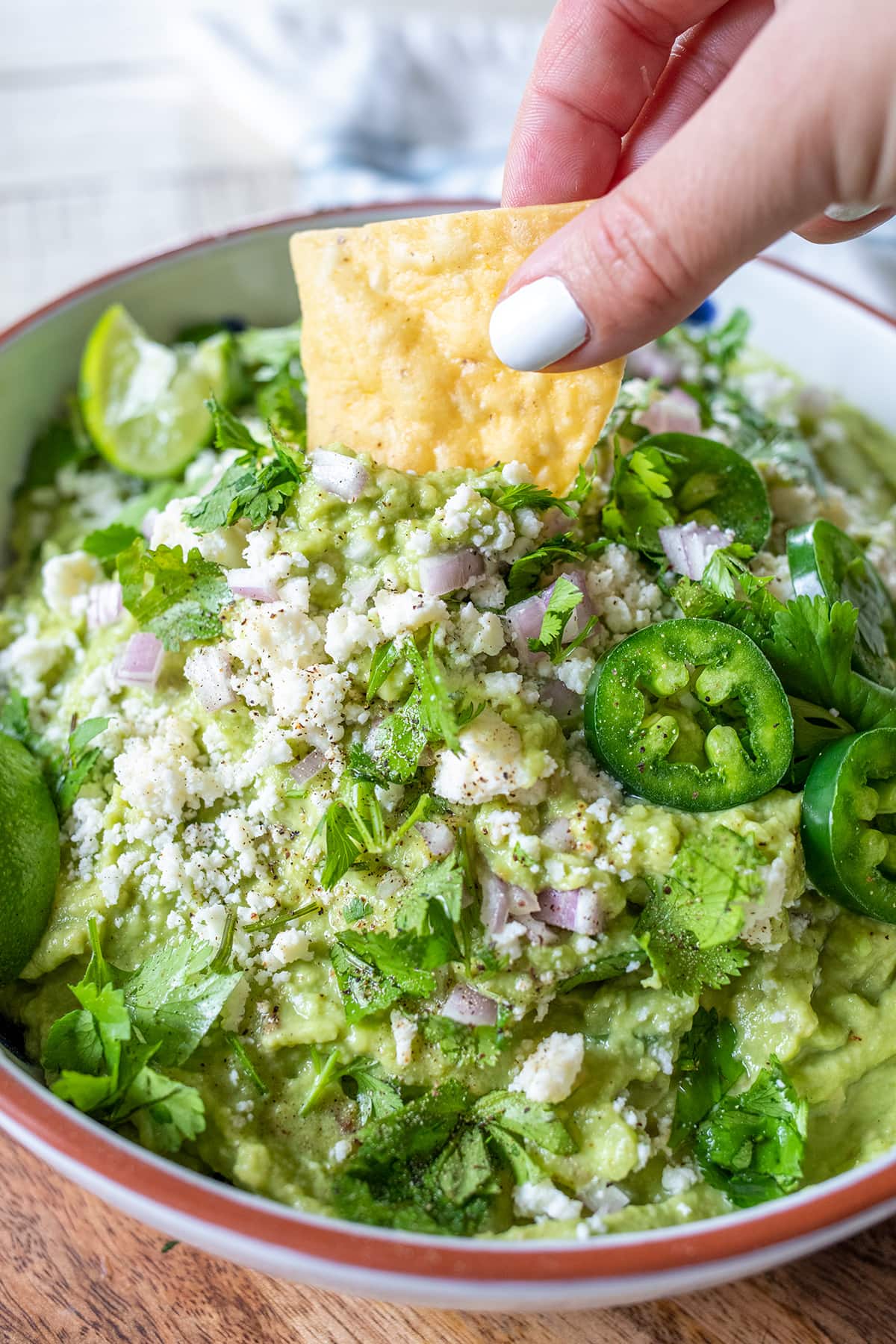 I hope you will try this guacamole for yourself and let me know how you like it! The cotija cheese adds such a nice salty finish while the fresh minced jalapeño, cilantro and shallot add bright fresh flavor. Don't forget all of that delicious lime! One final tip for you: always taste your guacamole on a chip while seasoning! Super salty chips can throw off your salt ratio.
Like always, if you make my recipe, I hope you will leave a comment in the space below and share you guac on social #freutcake @freutcake so that I can see your delicious creation. Happy eating!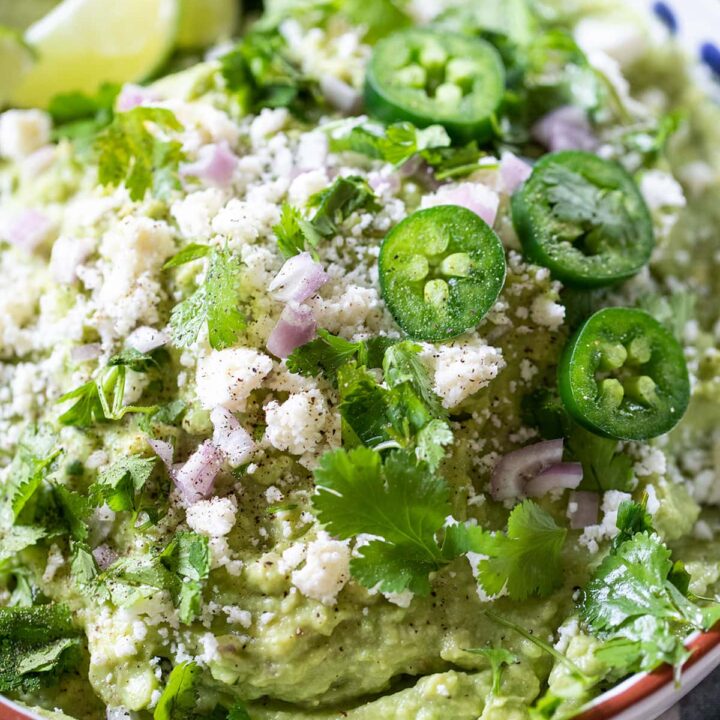 The Ultimate Guacamole
The ultimate guacamole recipe perfect for serving with chips as an appetizer or side for tacos!
Ingredients
7 ripe avocados
3 limes, juiced
1 Tablespoons minced jalapeño pepper - more or less to taste based on how spicy the jalapeño happens to be. They all vary!
½ shallot minced, about 3 heaping Tablespoons
1 large clove of garlic, grated or minced finely
1 teaspoon kosher salt
½ teaspoon pepper
cilantro, chopped for garnish
2-3 Tablespoons Cotija Cheese, crumbled for garnish
Instructions
Cut avocados in half, remove the pit and scoop the flesh into a large mixing bowl.
Use a fork to mash avocados leaving a little bit of a chunky texture.
Immediately squeeze in your fresh lime juice and stir with a fork to combine.
Season with salt and pepper.
Stir in minced jalapeño, shallot and garlic. Stir to combine. Taste and adjust seasoning if needed! TIP: the cotija will add quite a bit of salt so don't over salt the guacamole at this point.
Transfer guacamole to a serving bowl.
Top with crumbled cotija cheese, chopped cilantro, sliced jalapeños if you want (for garnish), and an extra squeeze of lime juice.
Serve immediately with tortilla chips.
Notes
I use a microplane to grate my garlic super fine! This helps it melt right into the guacamole. If you don't have a rasp/microplane you can mince the garlic finely.