Setting up a build your own Michelada Bar for the big game day party is easy and fun for party guests! Plus an easy and delicious Michelada Cocktail recipe to make.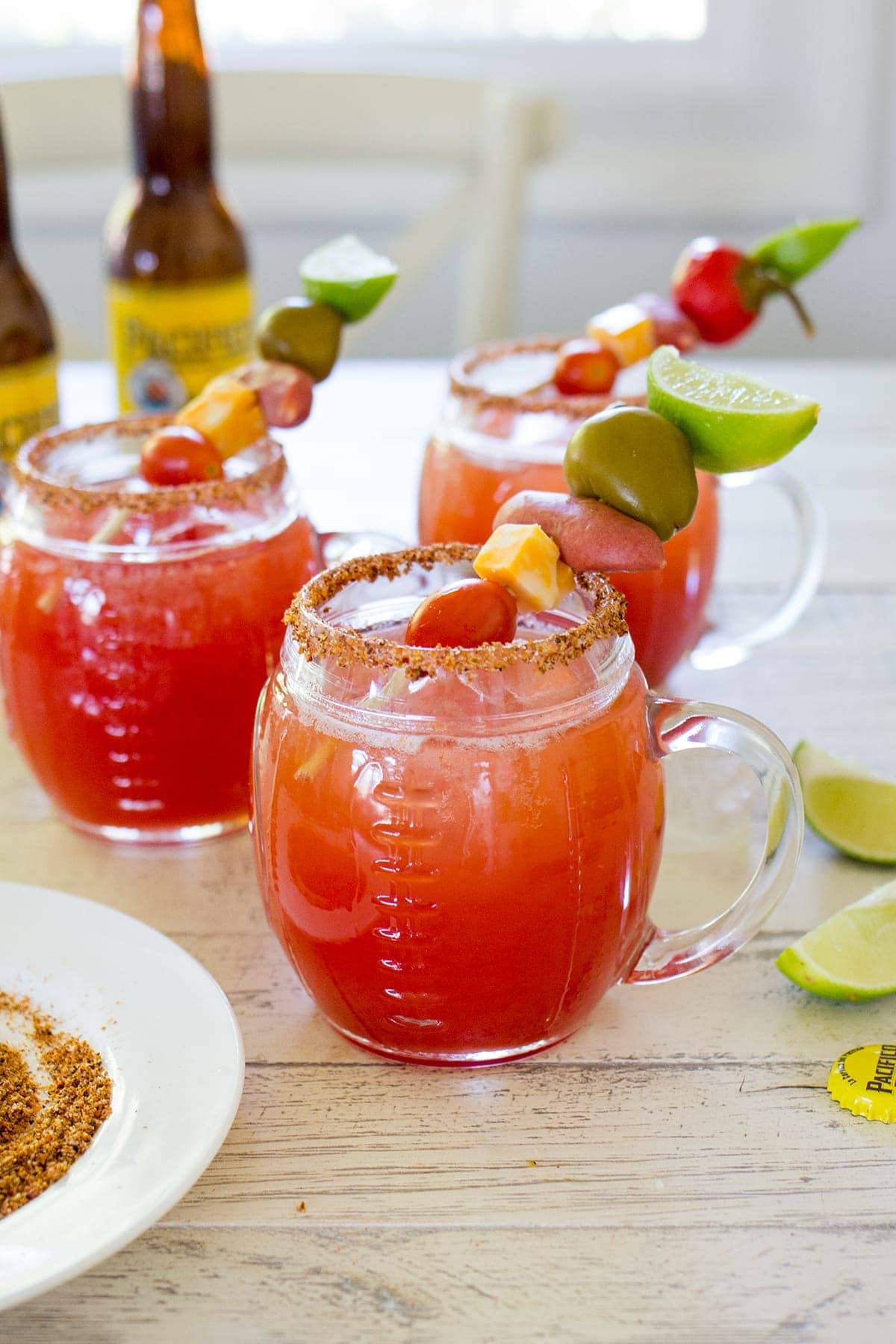 Build Your Own Michelada Bar
Grab the chips and guacamole, it's time to set up a Michelada bar for your football party. I'm sharing the step-by-step for setting this up so that guests can help themselves to drinks and you have more time to enjoy the game. Now let's get to the best part, the cocktails!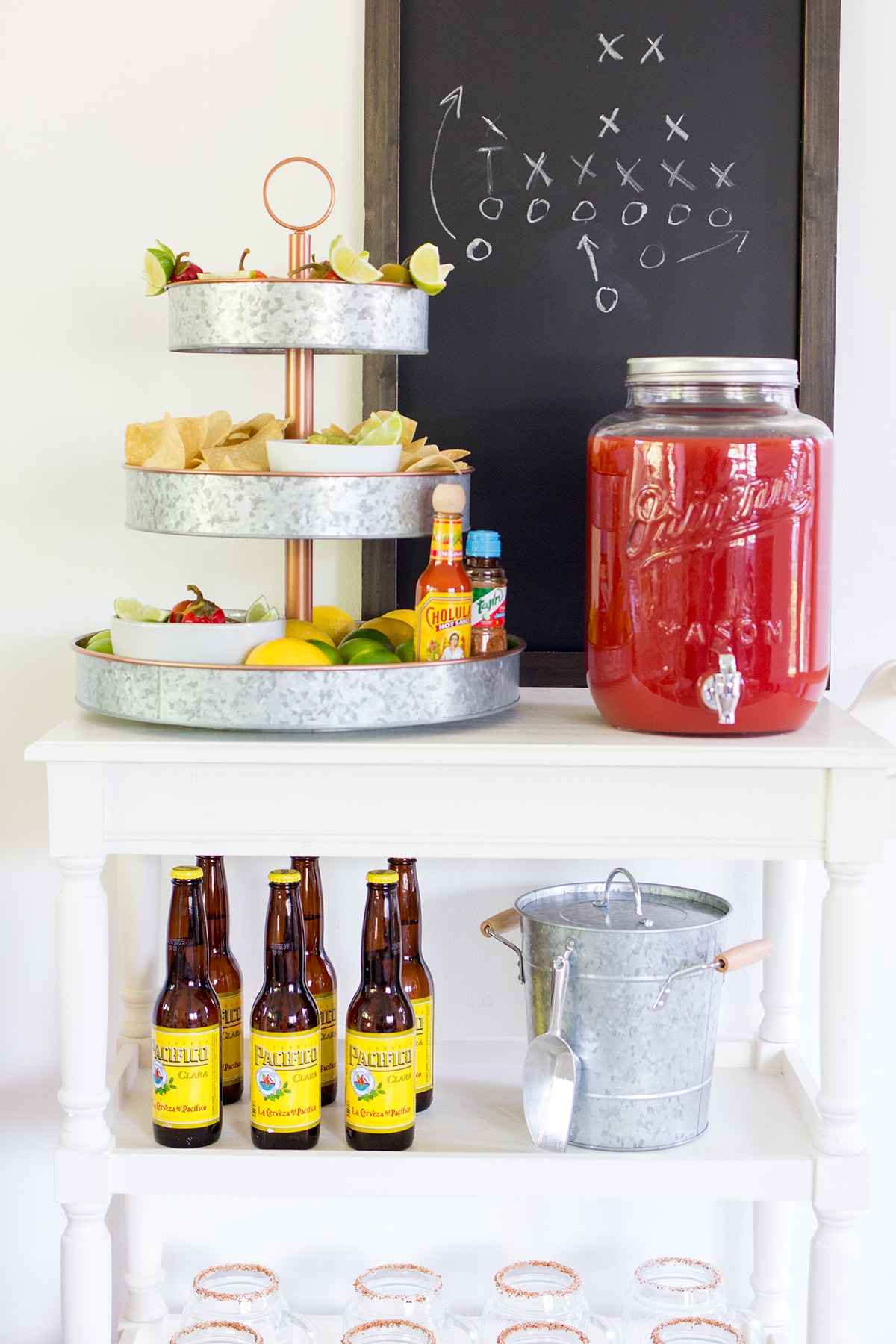 What is a Michelada?
If you've never tried a Michelada, it's a great game-day cocktail made with Mexican beer, tomato juice and few signature seasonings like Worcestershire and hot sauce. It's refreshing (from the light beer) but also savory like a Bloody Mary which pairs well with game day appetizers like my Buffalo Chicken Meatballs and Spinach Artichoke Veggie Dip.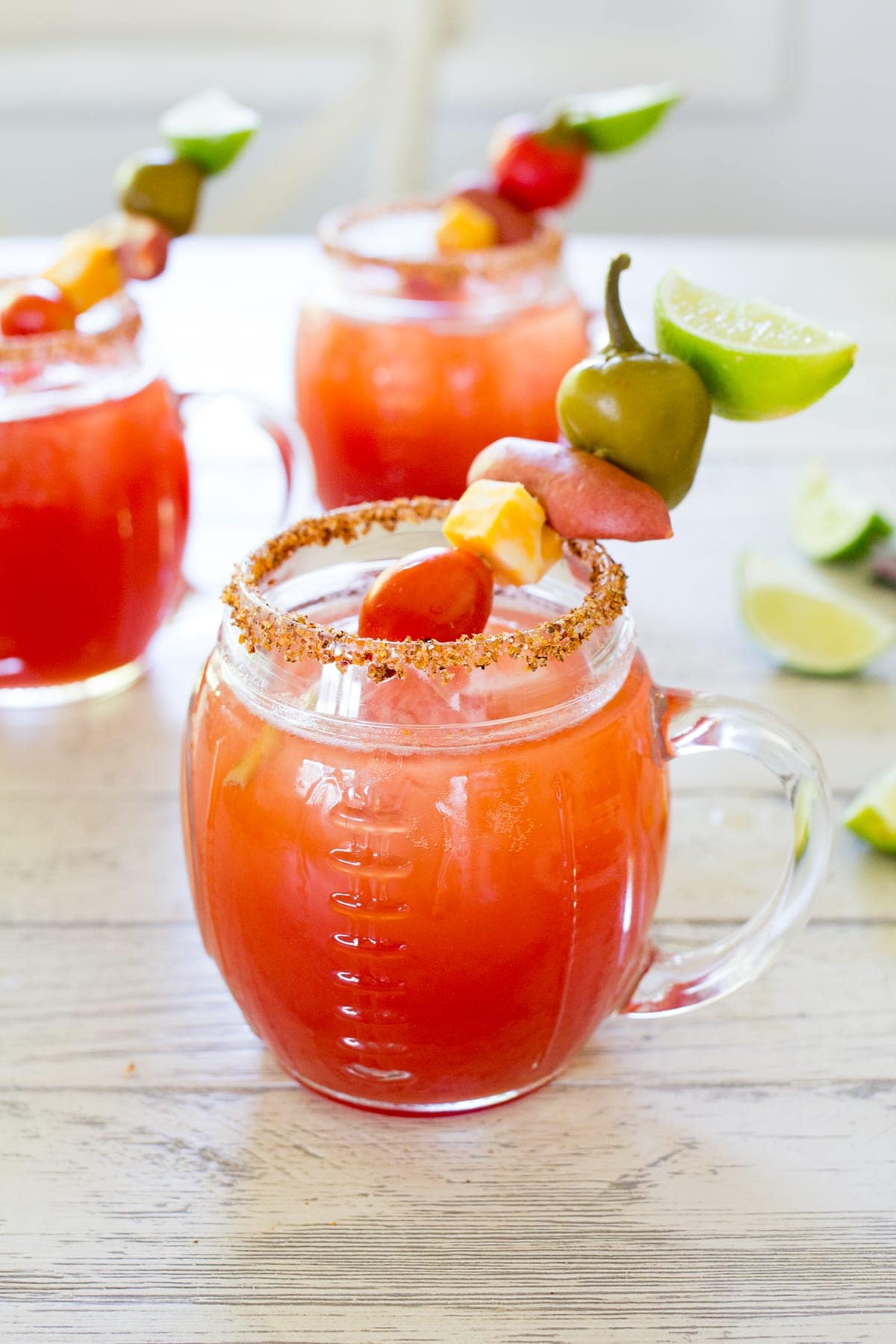 By setting up a bar cart with all of the cocktail components, guests can make their own Michelada to taste. I personally like mine on the spicy side but friends can chose to customize their drinks however they like with more lime, less tomato, or completely loaded with all the fixings!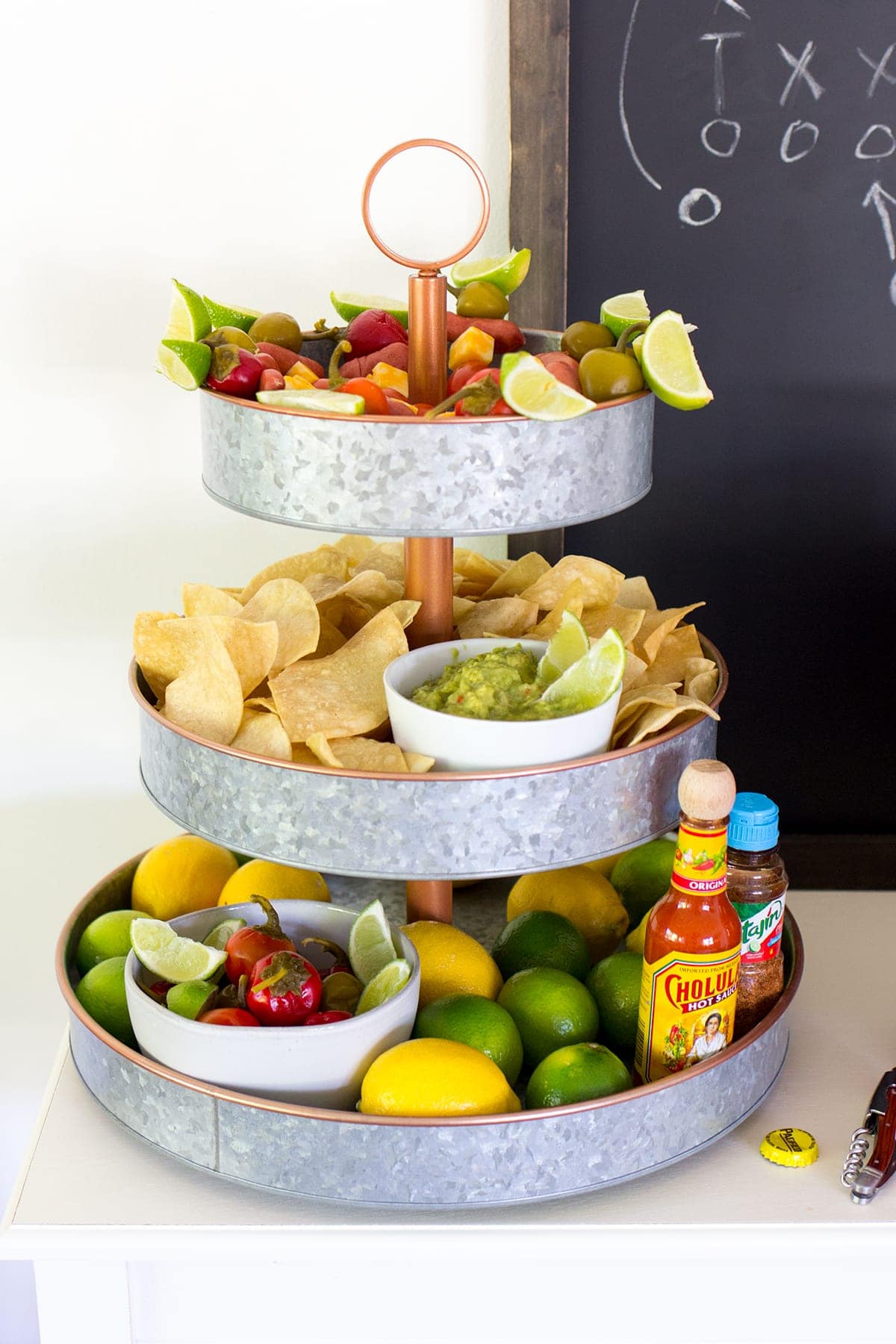 What You Need for A Michelada Bar:
For my Michelada Bar I used a white wooden bar cart, a large chalkboard, and this three tiered serving tray. I filled the top tier of the serving tray with cocktail skewers made with spicy pickled peppers, lime wedges, mini sausages, cheese and cherry tomatoes.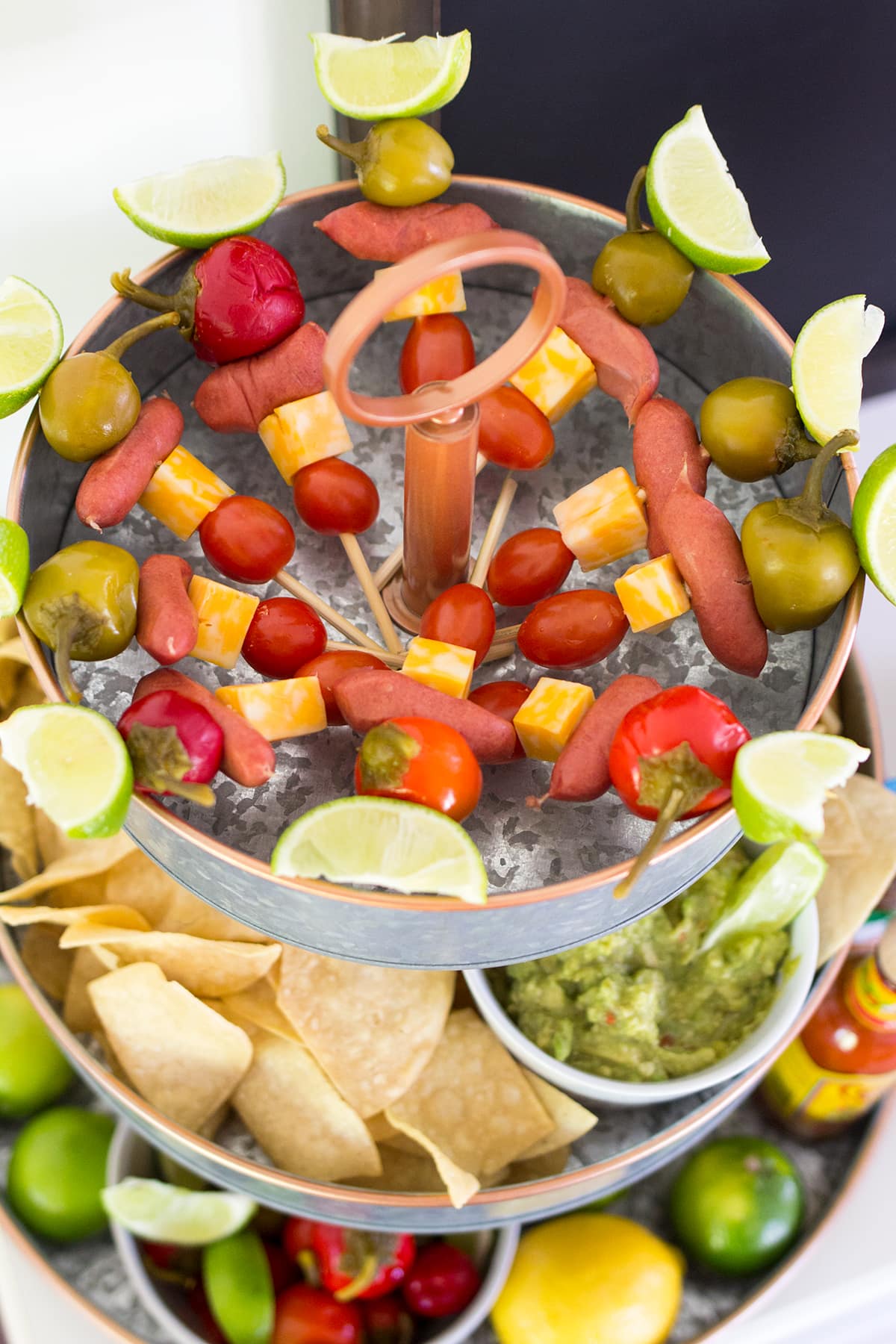 I'm all about heavy garnish and these are delicious! Make them the day before and store in a large ziplock or Tupperware if you'd like to prep-ahead.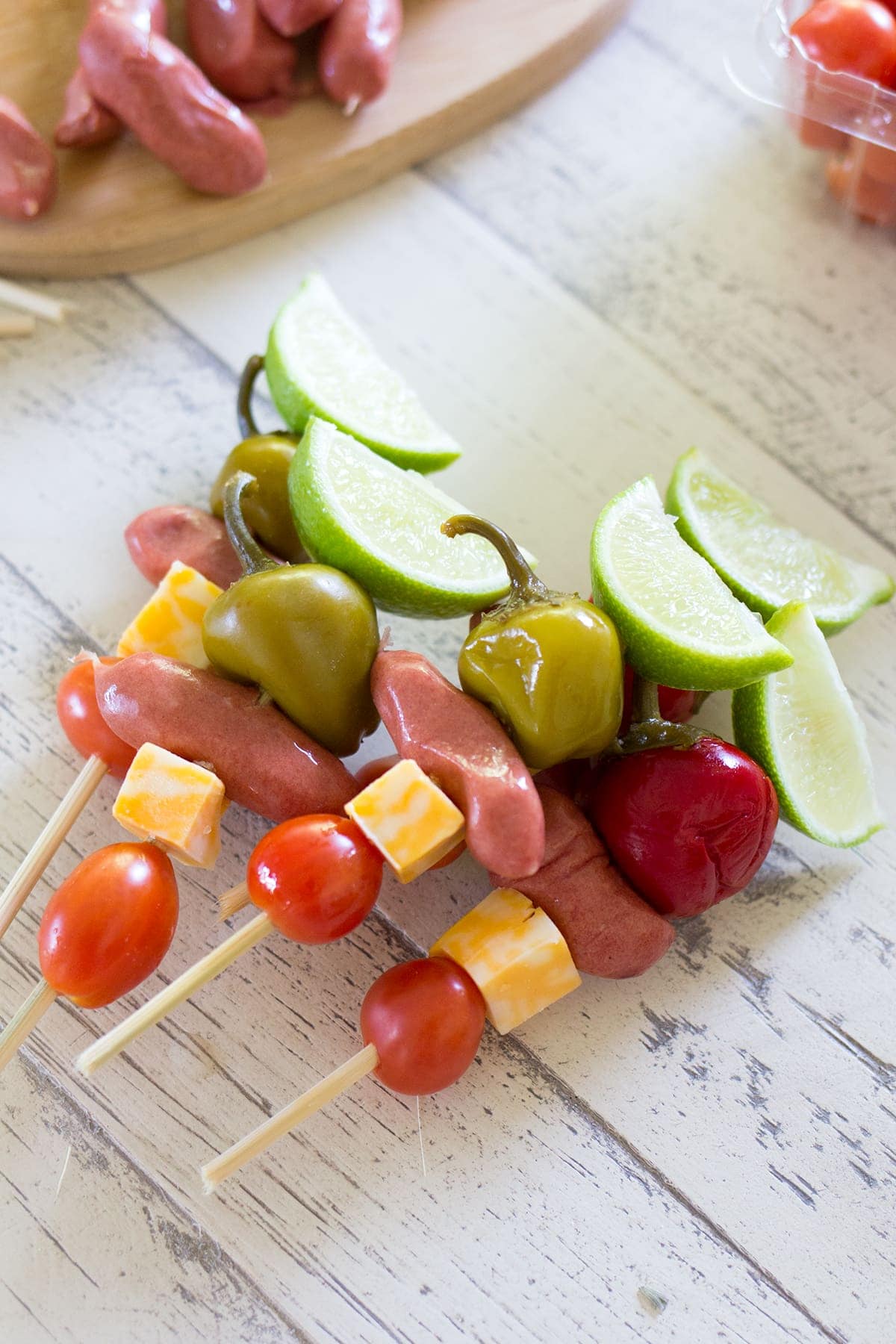 Next I found these adorable glass football mugs to rim with lime and Tajin. They looked so fun with a chili spiced rim! Stock your bar cart with mugs, a bucket of ice with a scoop (I have this one), and plenty of ice cold Mexican beer.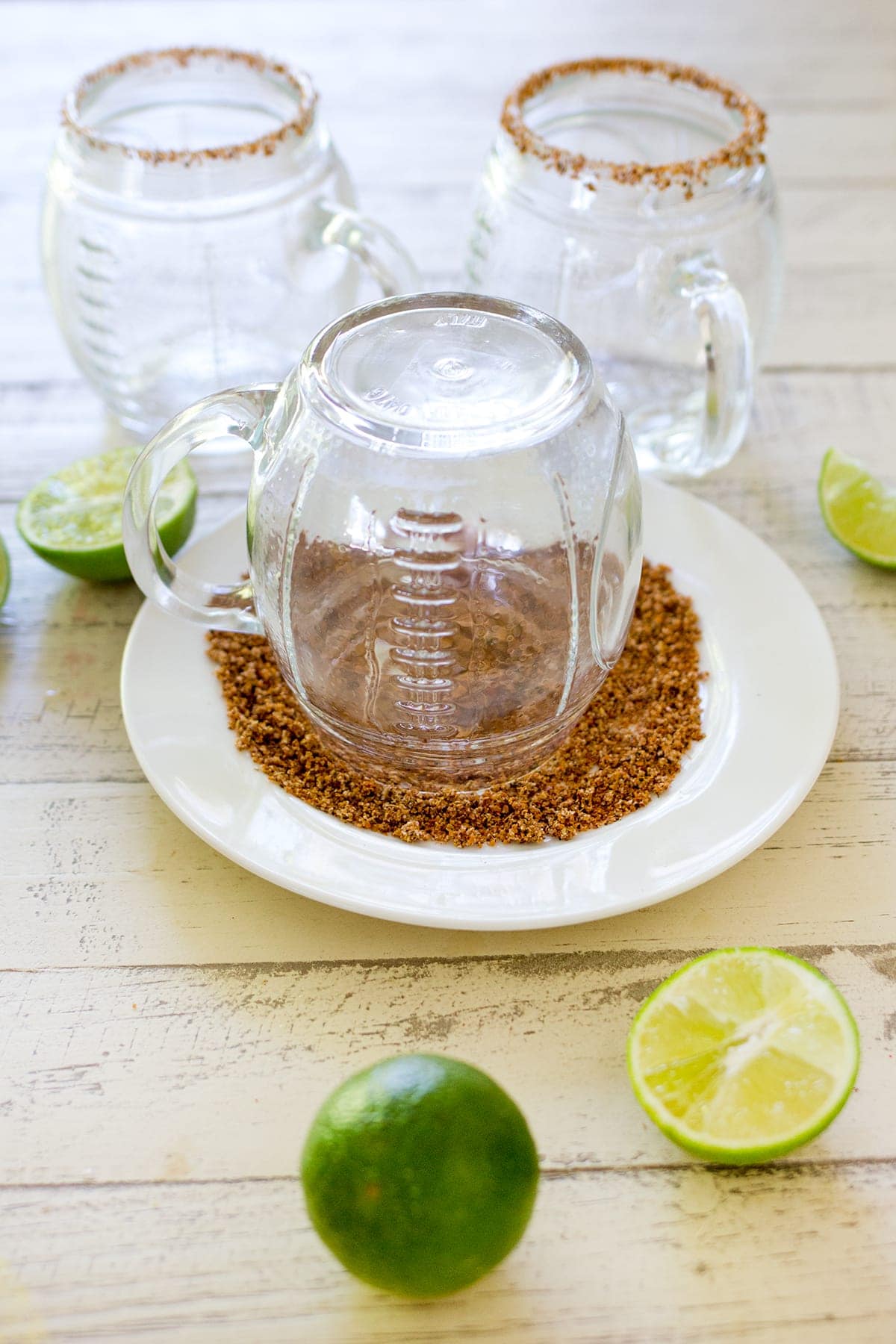 Tomato Juice in Micheladas
The final and most important component is the tomato juice! To serve the tomato juice mix, I used a large glass mason jar drink dispenser. This dispenser is great because the spout is easy to use, doesn't leak, and is self serve. I used Clamato juice mixed with just a bit of Worcestershire sauce and it was delicious.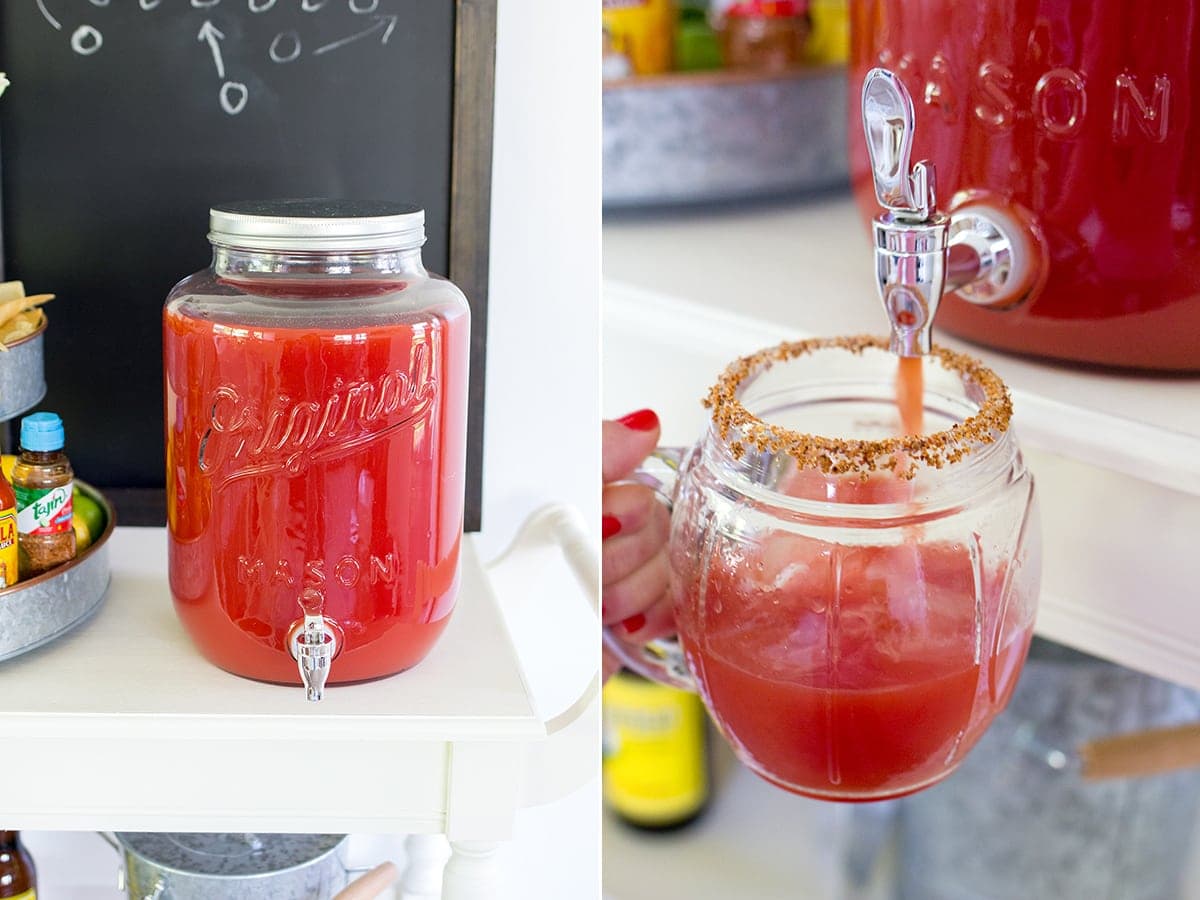 Fill the tray with chips and guacamole, lemons and limes, hot sauce, a bottle opener, and more Tajin to make a full self serve Michelada Bar. Drinks are served!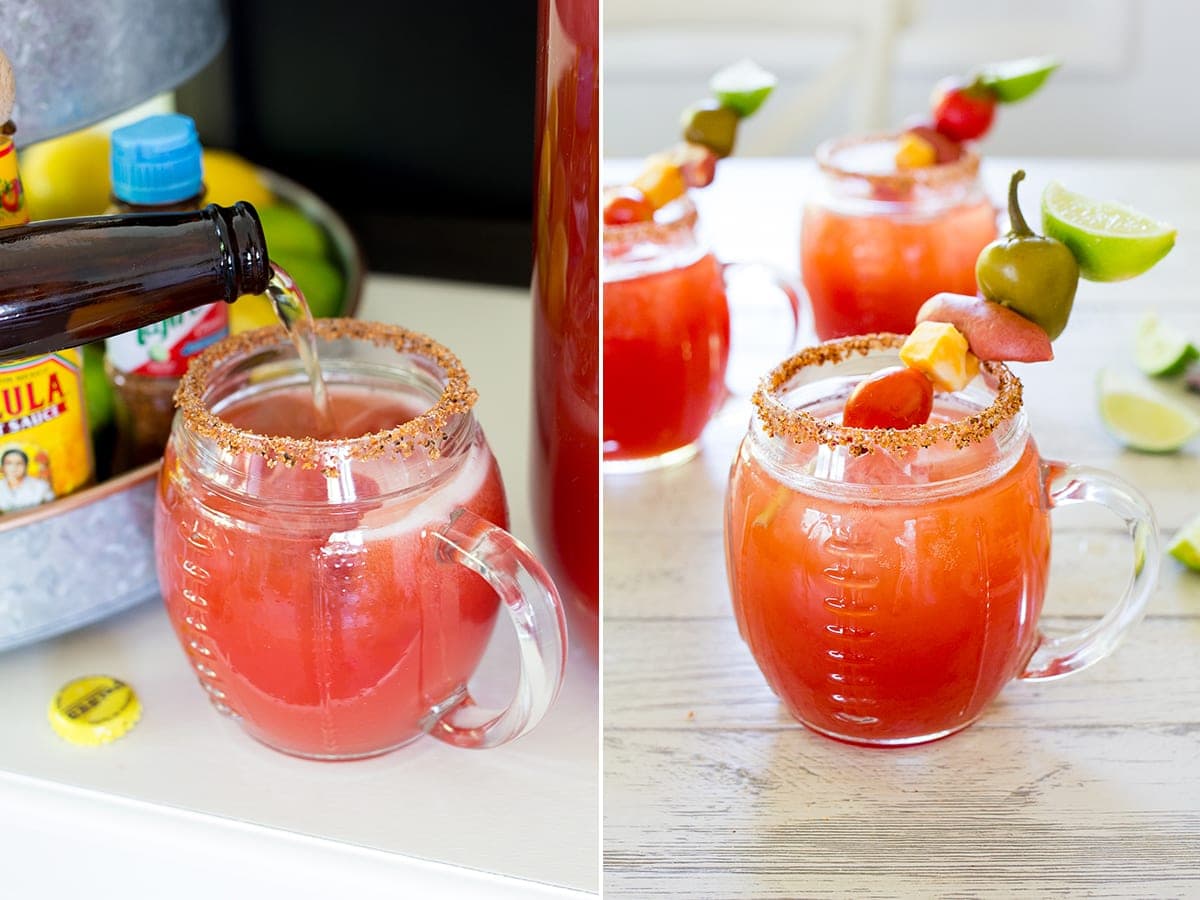 Ingredients Needed for a Michelada
Clamato Tomato Juice - I like using Clamato because it's an easy shortcut to making these Micheladas especially in a large batch.
Worcestershire Sauce
hot sauce
Tajin seasoning
Limes
Lemons
Mexican beer - I like Pacifico but you can use your favorite Mexican Beer of choice!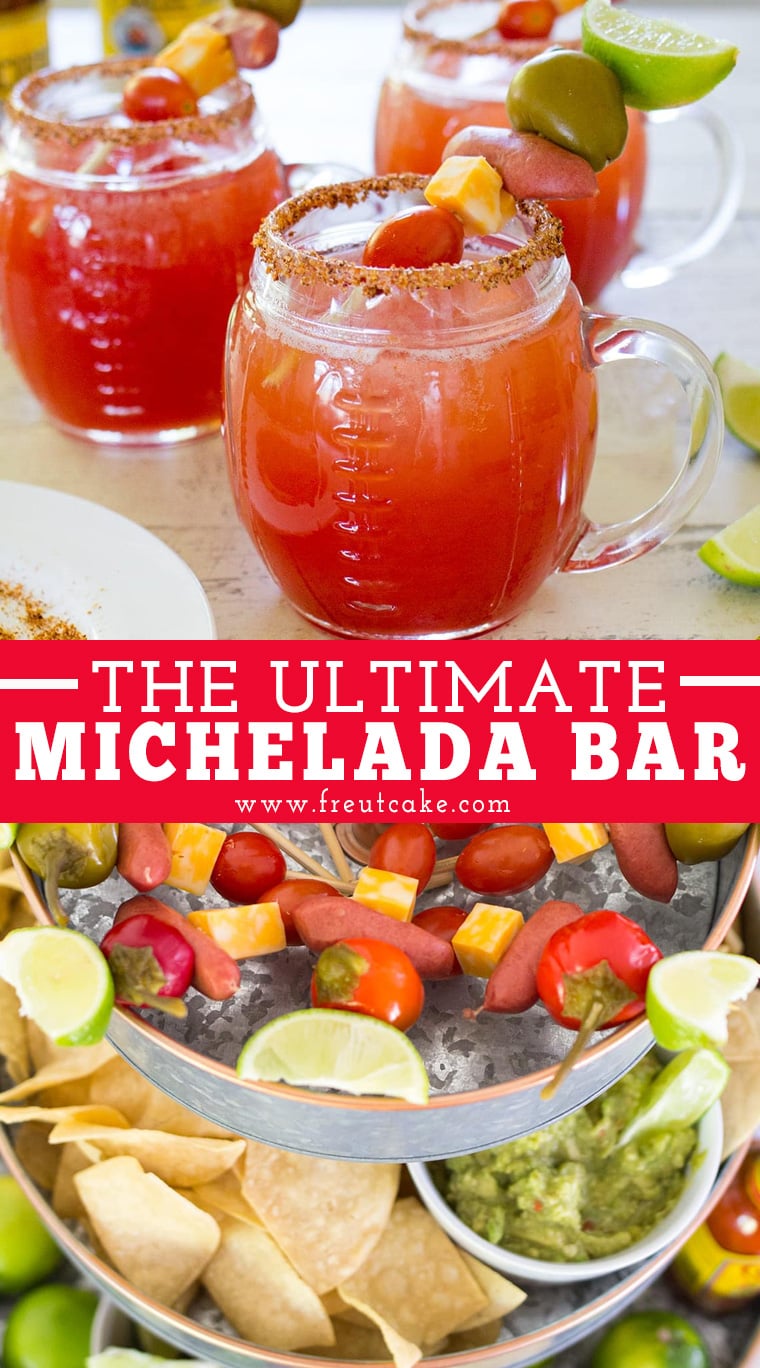 Ingredients for the Michelada Skewers:
Wooden bamboo skewers
Limes, cut into small wedges
Cherry tomatoes
Little smokies or other cocktail sausages
Colby jack cheese
Pickled hot cherry peppers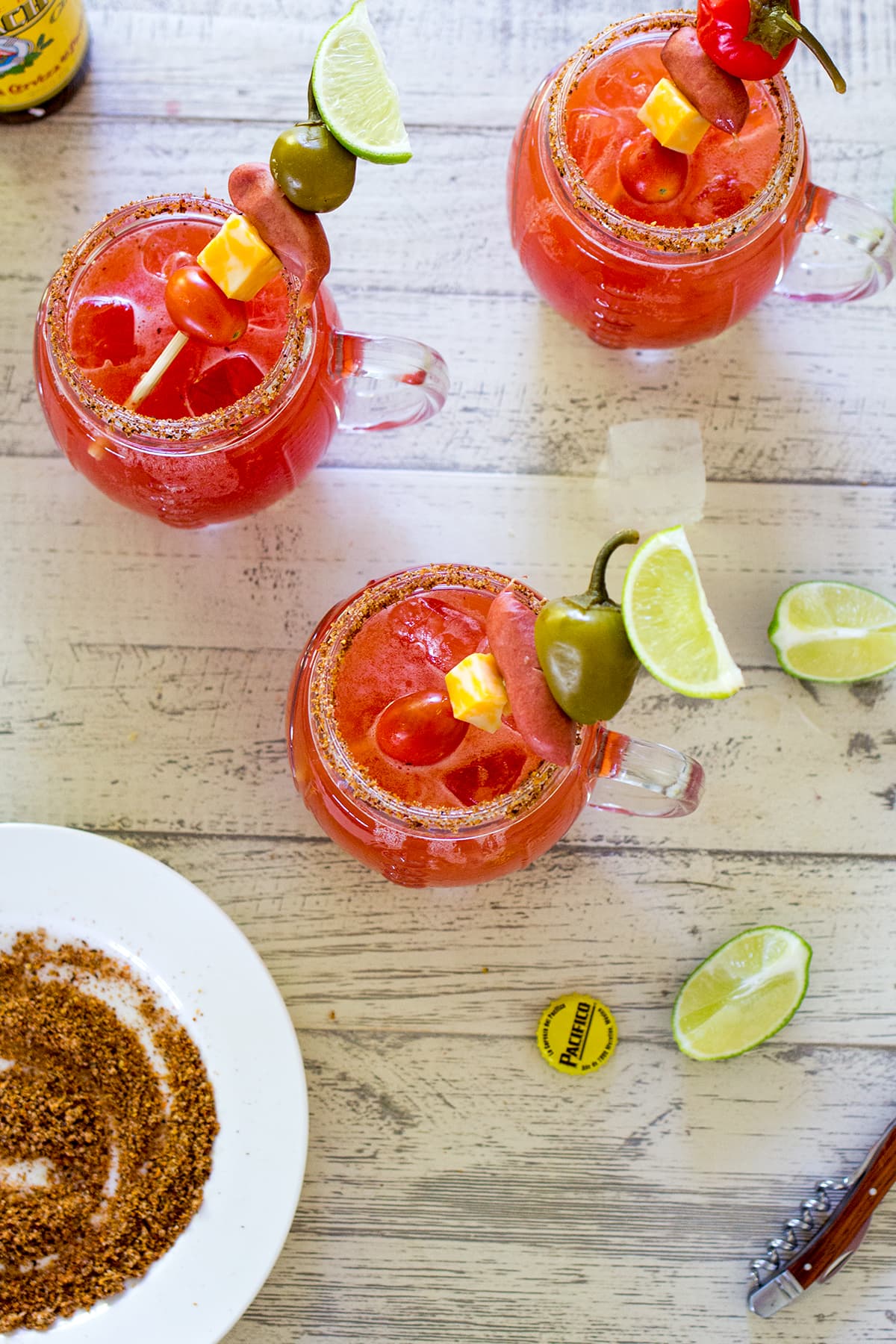 Looking for More Game Day Recipes?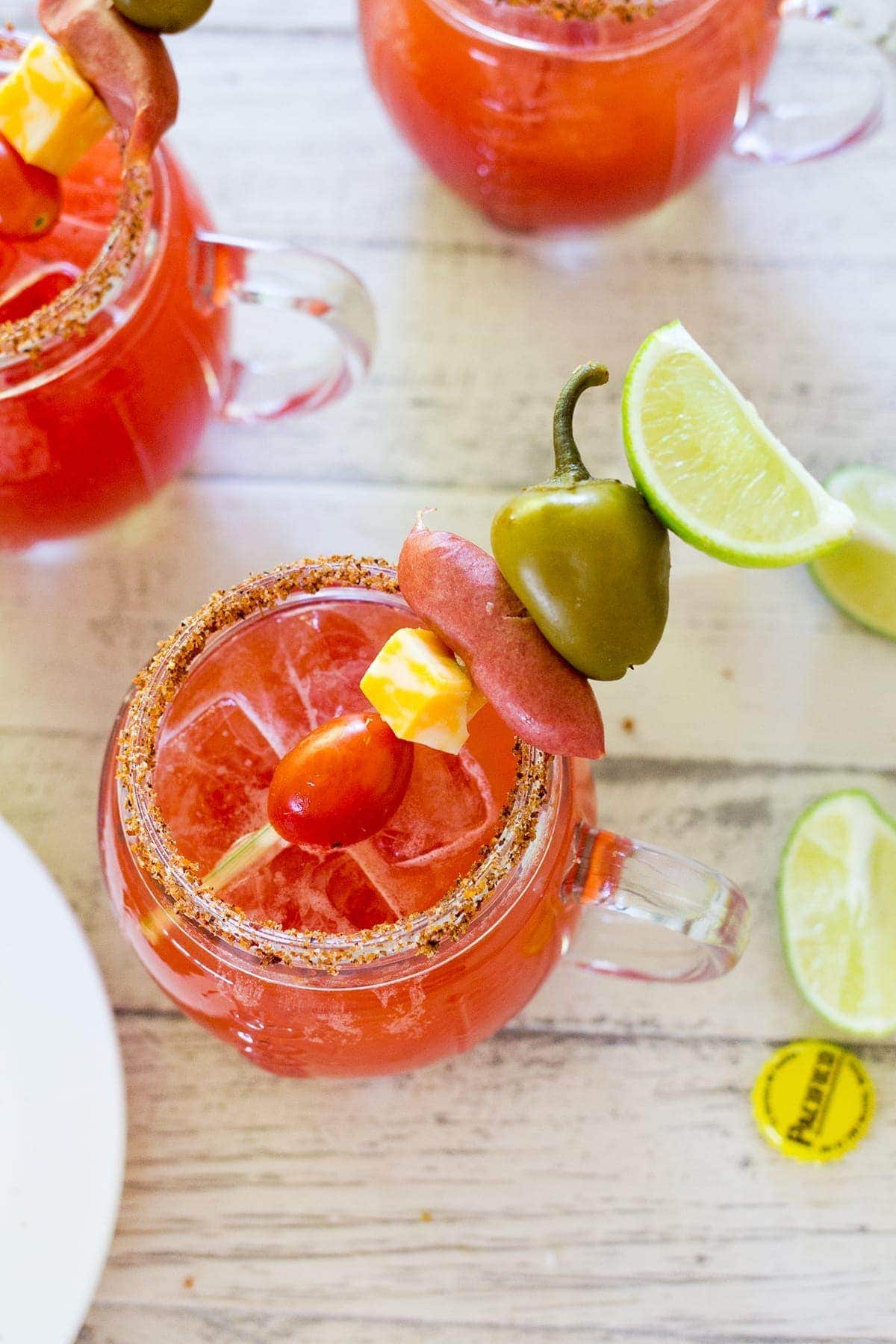 Planning a big game-day party? Here are some more pieces I love for hosting a football party: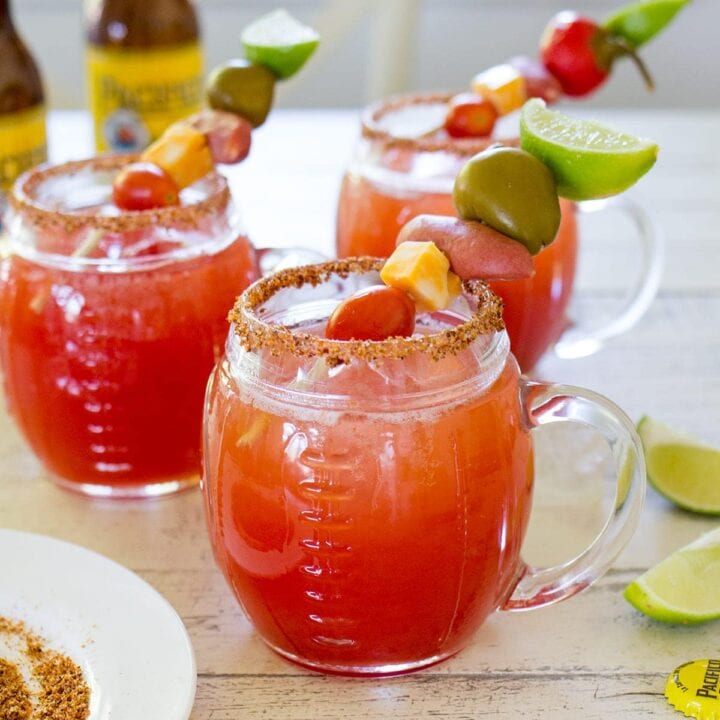 Big Batch Michelada Cocktails
A big batch recipe for classic tomato and beer Michelada Cocktails
Ingredients
4 (2 qt) bottles Clamato Tomato Juice
¼ cup Worcestershire Sauce
hot sauce, for the bar
Tajin seasoning, for the rims
bag of limes
bag of lemons
Mexican beer
For skewers:
wooden bamboo skewers
limes, cut into small wedges
cherry tomatoes
little smokies or other cocktail sausages
colby jack cheese, cubed
pickled hot cherry peppers
Instructions
In large drink dispenser combine Clamato juice and Worcestershire, stir and chill.
Make the skewers by carefully skewering cherry tomato, cheese, sausage, pepper and lime onto wooden skewers. Refrigerate until ready to serve.
To make the cocktail, rim glasses with lime and Tajin. Fill with glass with ice and fill halfway with tomato juice mixture, fill the remaining half glass with cold beer. Serve with skewer for garnish.