Garlic Ranch Pork Chops are one my families favorite dinners. Dredged in Ranch Seasoning, garlic and spices, these chops are full flavored and family friendly. Also, these oven baked pork chops are ready in 30 minutes which makes them a great weeknight meal.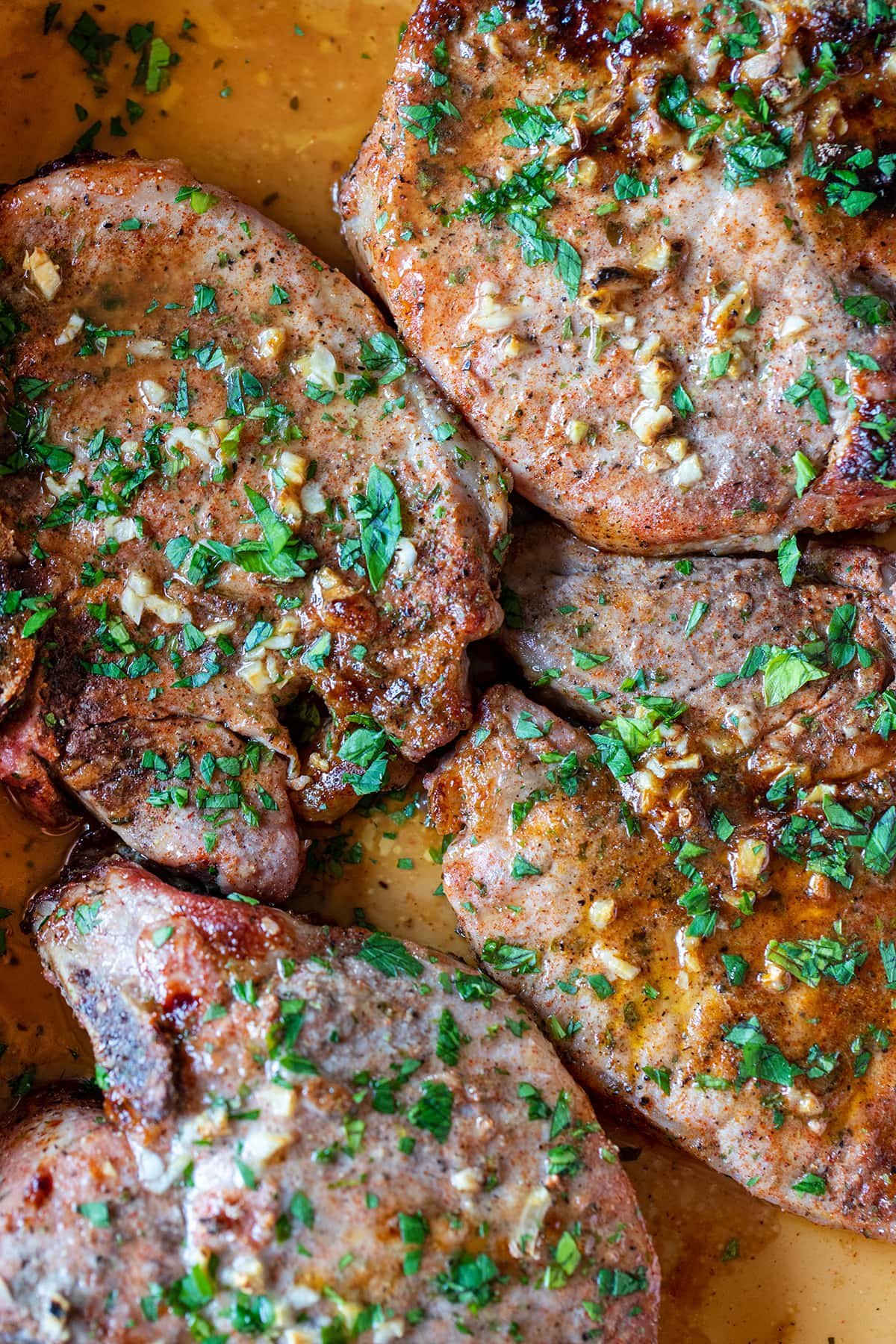 Oven Baked Garlic Ranch Pork Chops
I first discovered the magic of a Ranch Packet of seasoning for bringing all the flavor to meat back when I started making Ranch Chicken Tacos in the crockpot. The twins were very little, not even two years old at the time, and that was a great shortcut in the kitchen. Today, I still keep Ranch in my cupboard for a few go-to dishes like these Ranch Pork Chops. Simple, super flavorful, and the twins love them.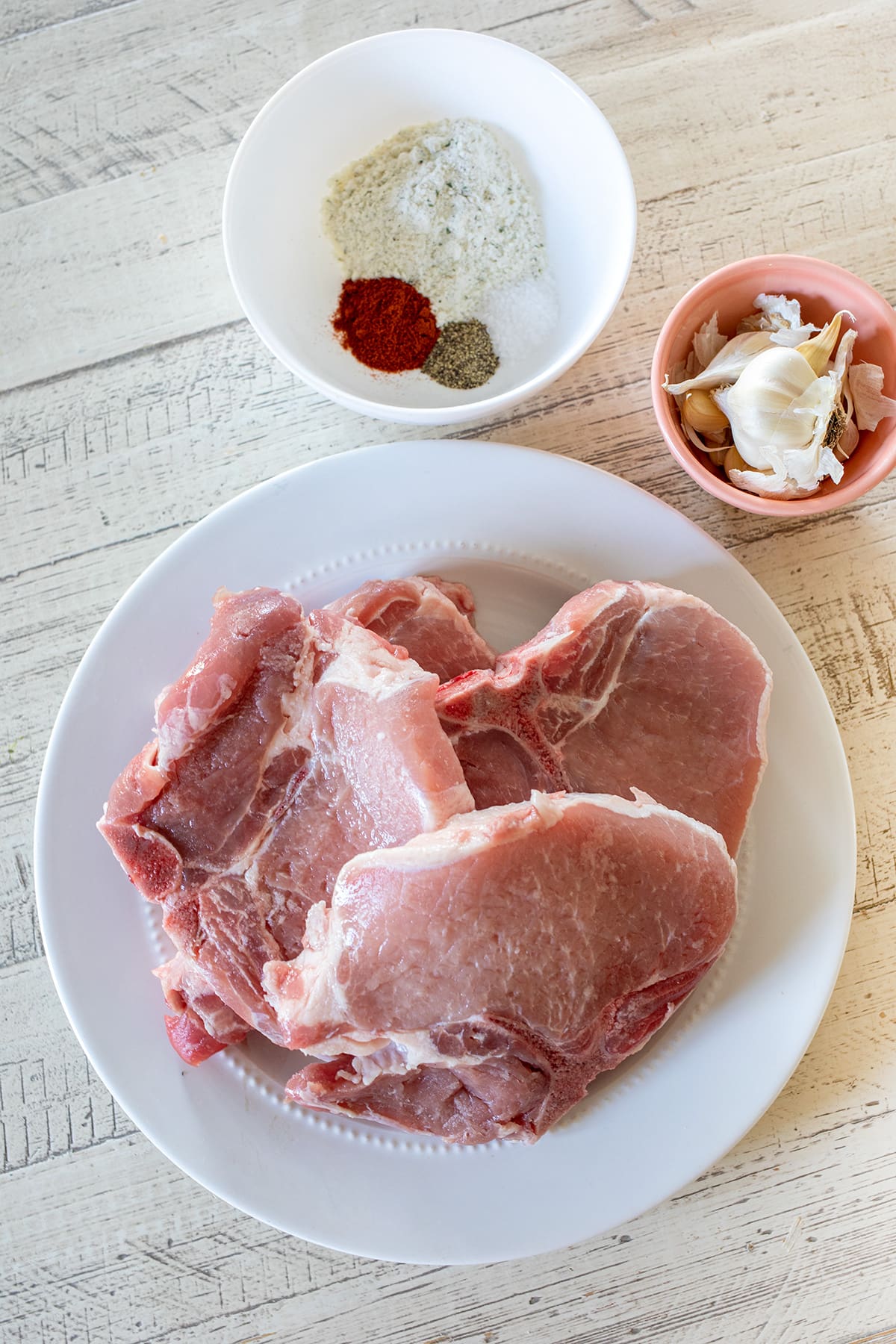 Ingredients In Ranch Pork Chops
Pork Chops - for this recipe I prefer bone-in pork chops because they are juicier, however if you don't want to use bone-in or you can't find them, make sure to use thick cut boneless chops.
Ranch - the dried seasoning packet, not the actual dressing that is! This is the EASIEST seasoning for pork chops.
Garlic - I use fresh garlic for this dish. There is already a bit of garlic in the ranch seasoning but you will want to add fresh minced garlic as well.
Spices - salt, pepper and paprika. If you don't have paprika you can leave it out however I think it brings a depth of flavor and also gives your chops that beautiful color you see in my photos.
Olive Oil - to drizzle in the pan.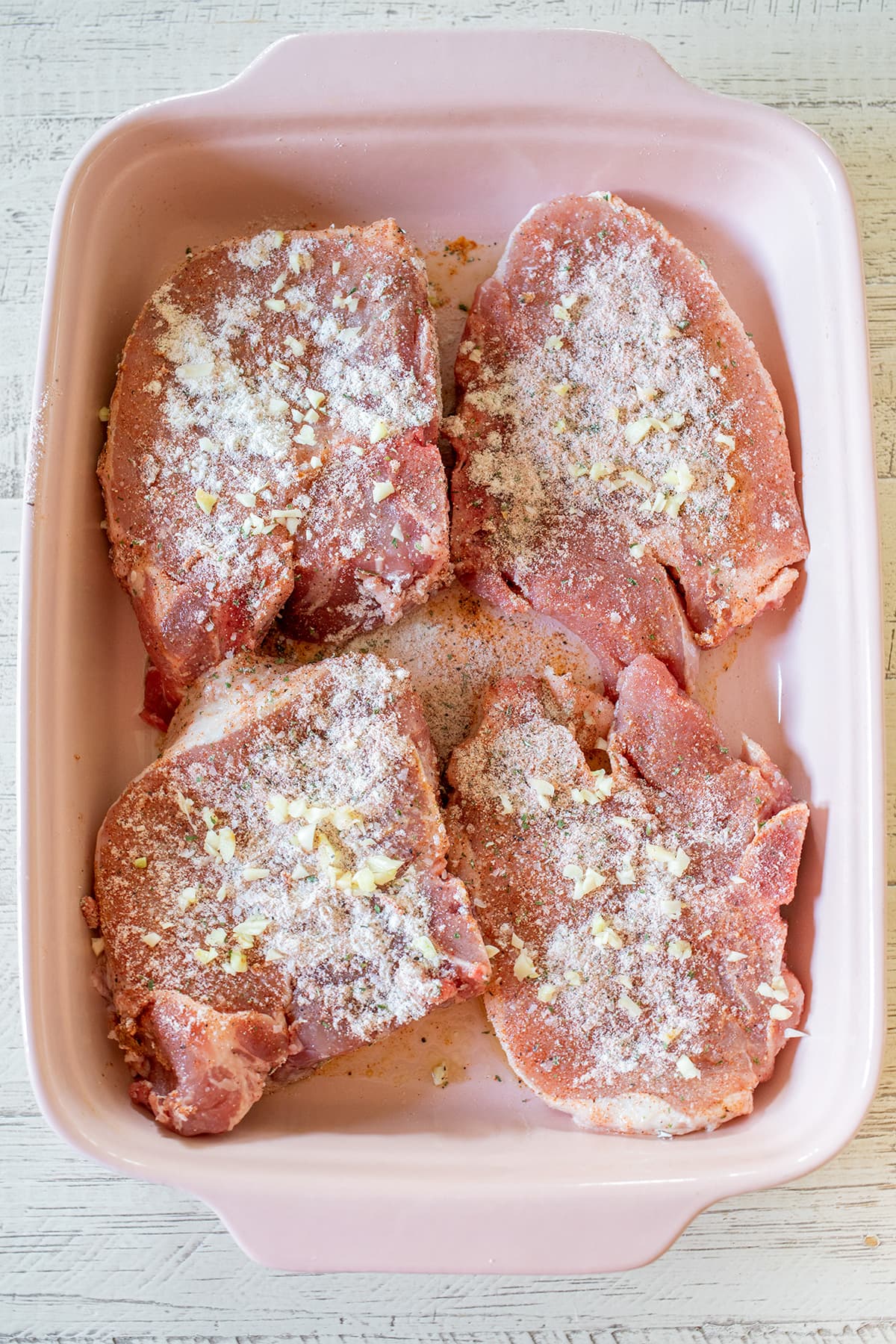 How to Cook Pork Chops in the Oven
I love cooking pork chops in the oven because it's far less messy than frying them in a pan on the stovetop, and if you bake at a high temperature the cook quickly and brown up nicely! Here's how I make mine:
Preheat- I bake my bone in pork chops at 450 degrees which helps them get that beautiful golden brown color.
Grease- Drizzle a bit of olive oil in the bottom of a baking dish.
Seasoning - Mix together your dry seasonings and generously coat all sides of your pork chops in the seasoning before placing in the baking dish.
Garlic - sprinkle with minced garlic.
Bake - bake until the internal temperature reaches 145 degrees. This will take between 20-30 minutes for bone-in chops at 450 degrees, depending on the thickness of your chops.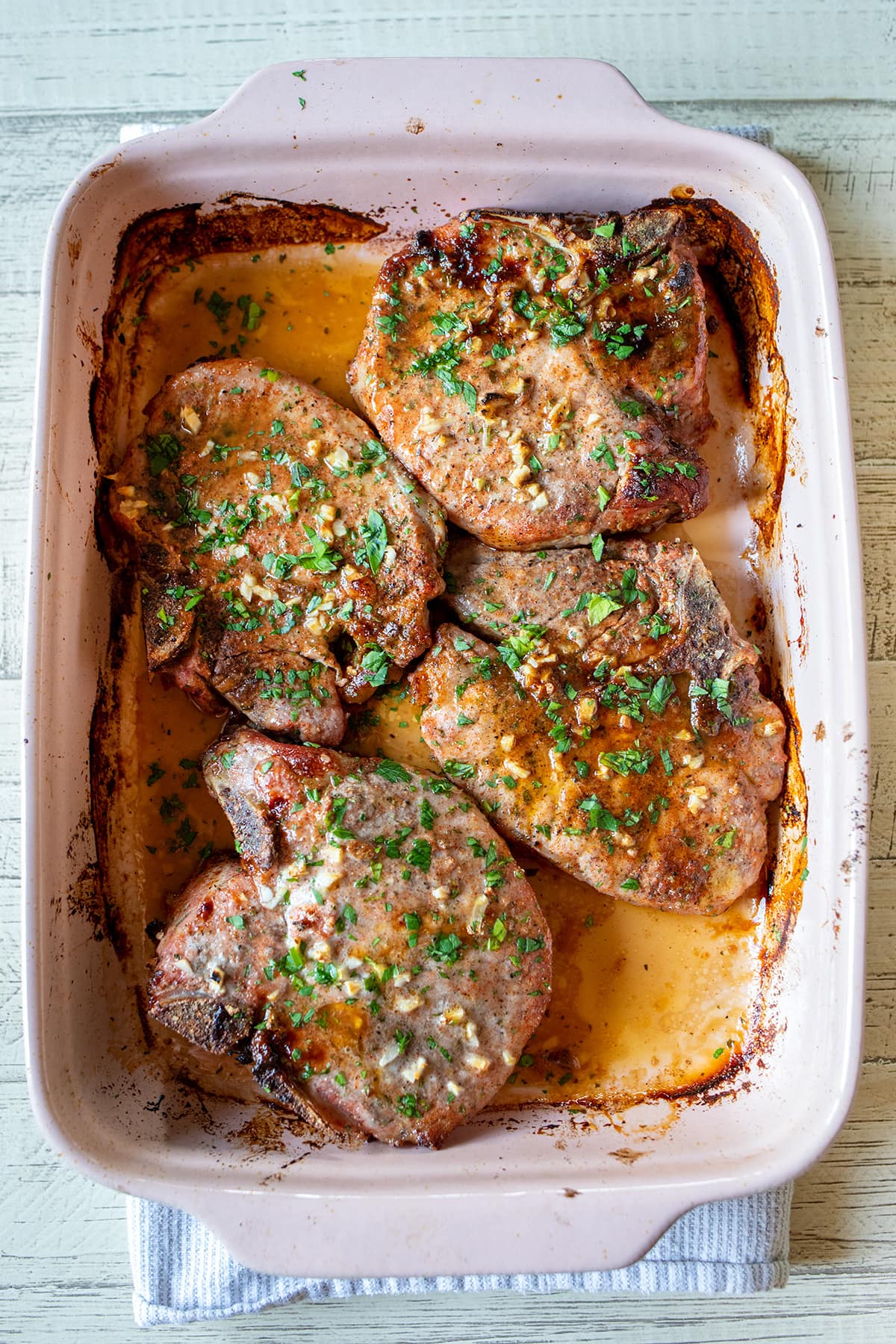 What to Serve with Baked Pork Chops
Roasted apple or homemade chunky apple sauce are always delicious with pork chops and very classic. I also really like simple roasted carrots or broccoli on the side. However, here are a few more side dishes that would go really well with Ranch Pork Chops!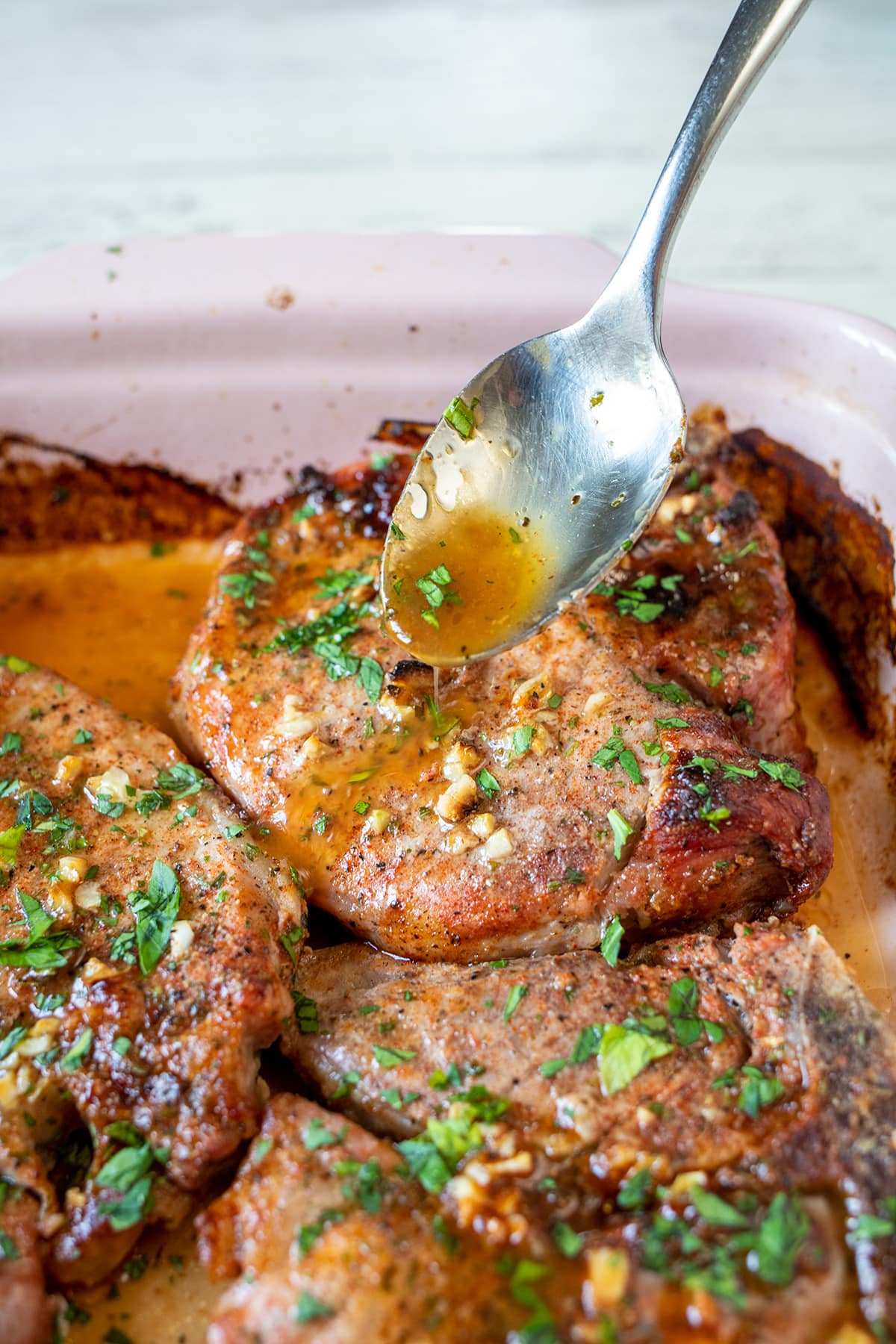 Tips for Cooking Pork Chops
Cold Chops- never cook chops straight from the fridge. Take your meat out of the fridge 15 minutes before you are ready to cook. Placing cold pork chops straight into a pan or the oven results in unevenly cooked and tougher meat.
Under-Seasoned - pork is a very mild meat and requires plenty of seasoning which is one of the reasons why I love using this seasoning mix for pork chops. They come out super flavorful every time.
Overcooking or Undercooking - there is nothing worse than undercooked pork but you certainly don't want it dry and tough either! The best way to check that your meat is done is with a thermometer. Pork should be cooked to 145 degrees. You might have to adjust your cooking time based on the thickness of your chops.
Rested - it's so tempting to cut right into a steak, chicken breast or pork chop but don't do it! Resting your meat will allow the juices to redistribute and you'll have a much juicier meat.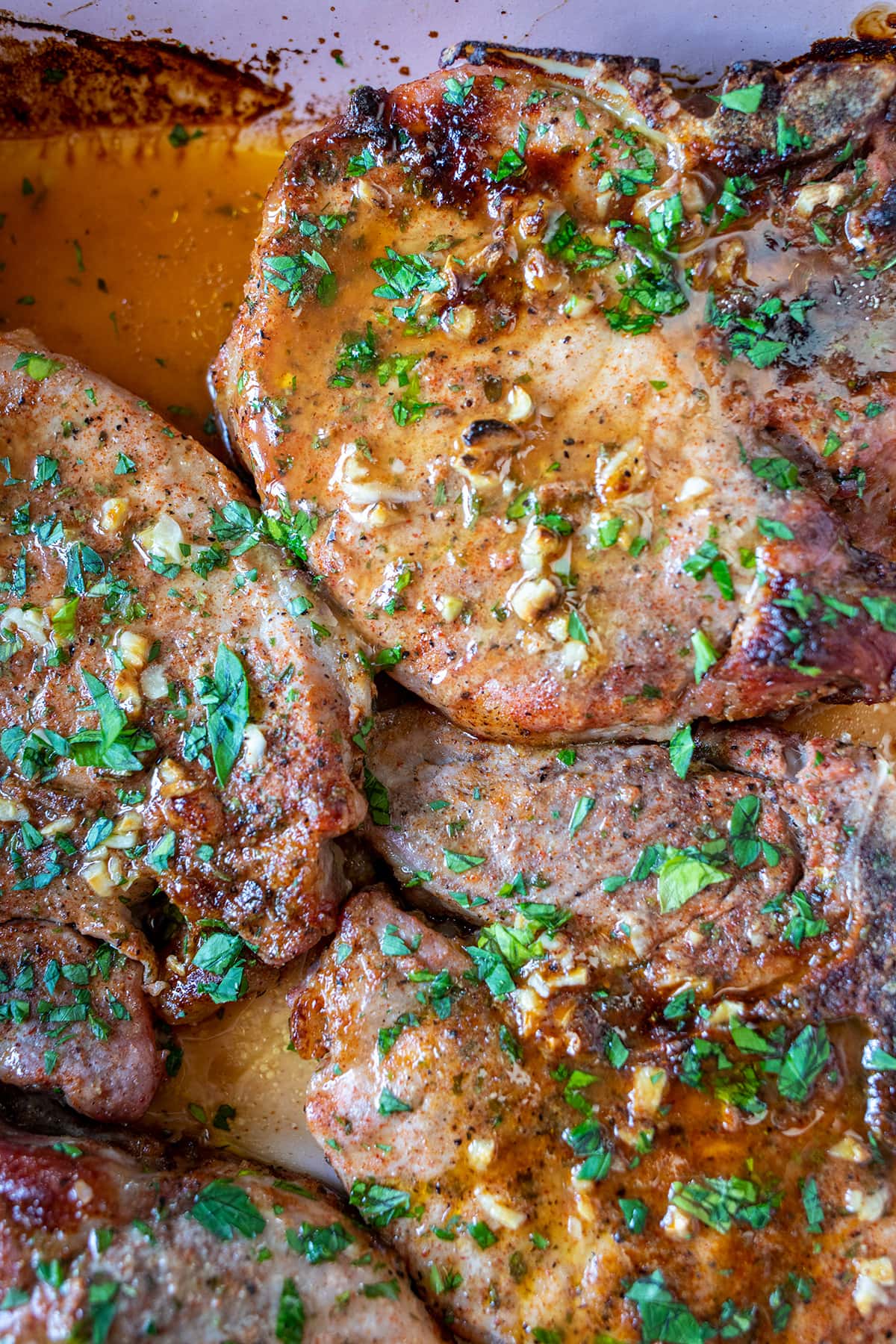 When the pork chops come out of the oven, top with freshly minced parsley. This step is not necessary but with a mostly dry seasoning rub, I like the addition of a fresh herb. Plus, it looks so much more appetizing with a confetti of parsley.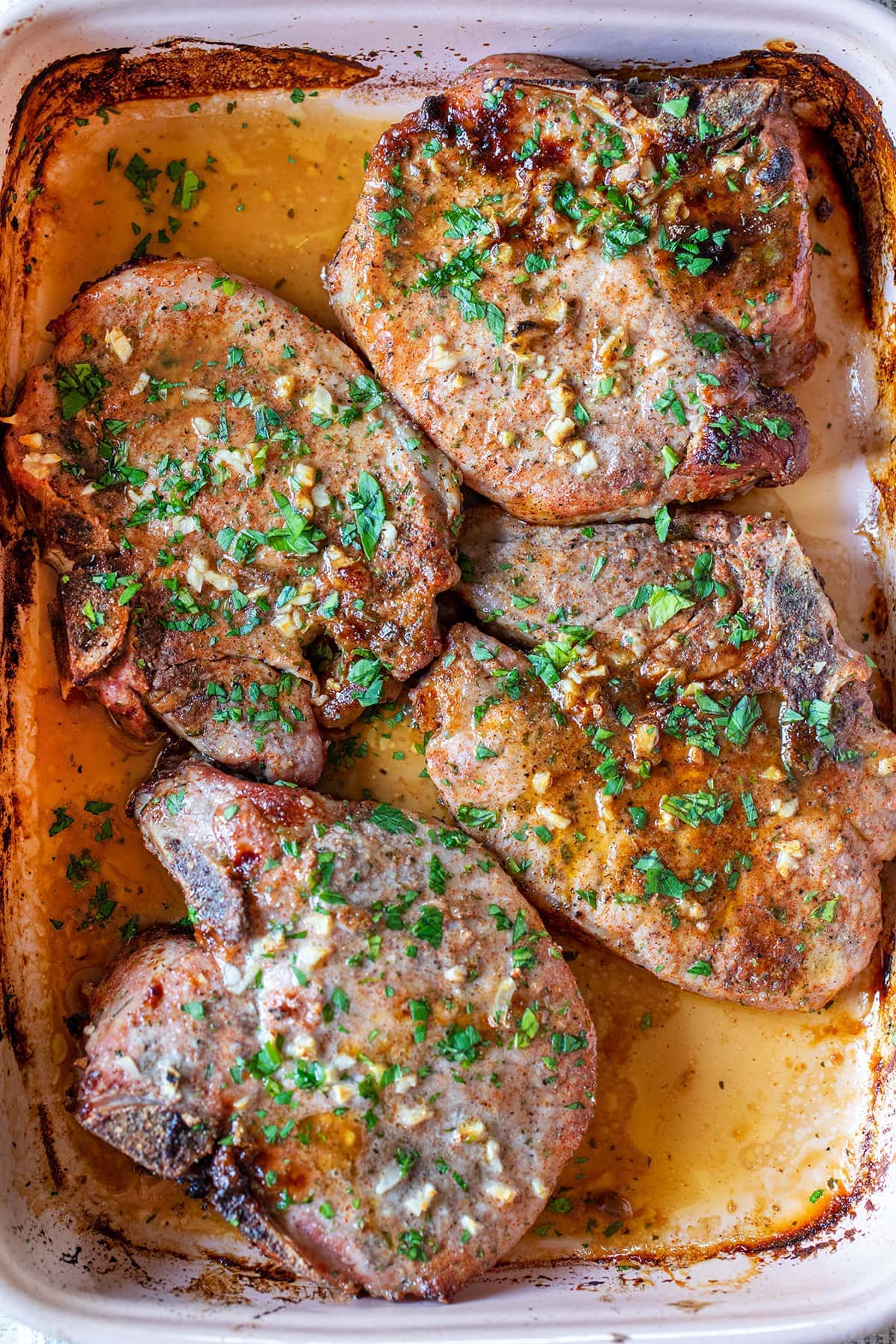 More Family Friendly Weeknight Meals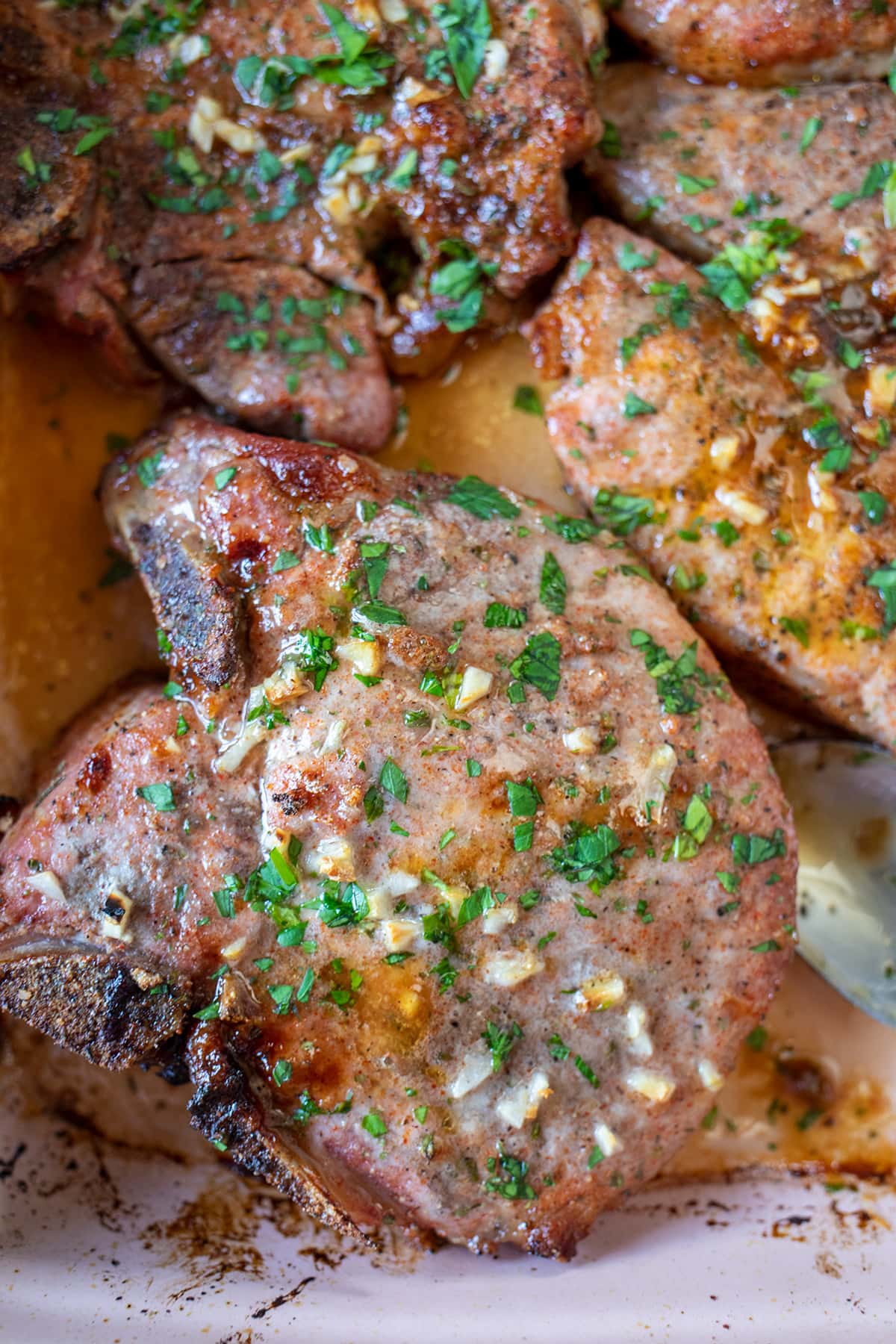 These Garlic Ranch Pork Chops are always a home run dinner with my family! I hope you will enjoy this recipe as well and come back to leave a comment and review. Happy cooking!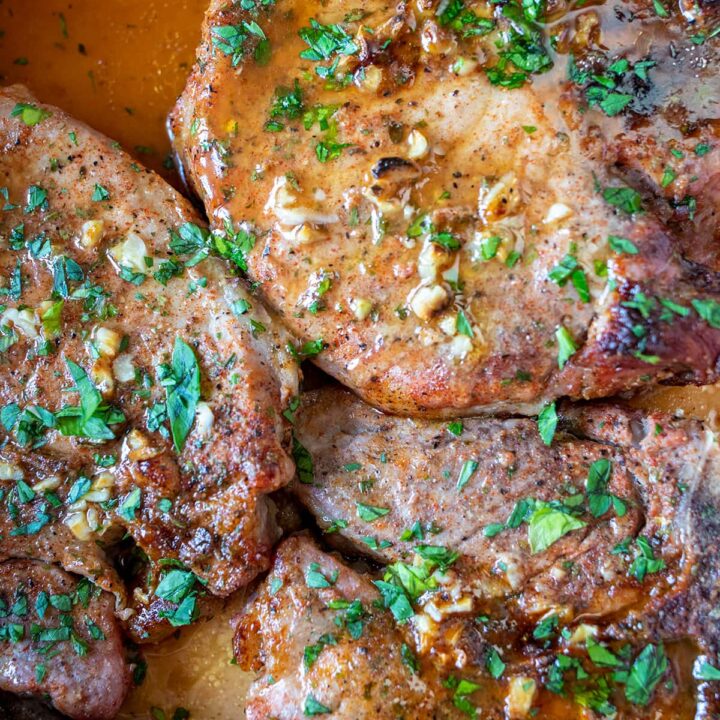 Garlic Ranch Pork Chops
Additional Time:
10 minutes
Juicy and flavor packed Garlic Ranch Pork Chops bake in the oven in less than 30 minutes and are a family favorite!
Ingredients
4 bone-in pork chops
1 oz package Ranch Seasoning
½ teaspoon kosher salt
½ teaspoon ground pepper
1 teaspoon paprika
2-3 cloves minced garlic, finely minced
1 Tablespoon parsley, finely minced
olive oil
Instructions
Preheat oven to 450 degrees and remove pork chops from the refrigerator 15 minutes prior to cooking.
Grease baking dish with olive oil and set aside.
In a small bowl, mix together Ranch Seasoning, salt, pepper, and paprika.
Generously coat all sides of pork chops in the seasoning mix and place in the baking dish. If there is any extra seasoning, sprinkle over the top. Top pork chips with minced garlic.
Bake for 20-30 minutes until the internal temperature reaches 145 degrees with an instant read thermometer. Temperature varies based on the thickness of your pork chops.
Let pork chops rest for 5 minutes before cutting. Serve topped with freshly minced parsley.
Nutrition Information:
Yield:

4
Serving Size:

1
Amount Per Serving:
Calories:

383
Total Fat:

21g
Saturated Fat:

6g
Trans Fat:

0g
Unsaturated Fat:

12g
Cholesterol:

132mg
Sodium:

900mg
Carbohydrates:

5g
Fiber:

1g
Sugar:

1g
Protein:

42g