I'm about to Google, "is it normal for two year olds to drop naps?" Please send help. This "naptime" calls for Easy Creamy Stovetop Mac and Cheese with a side of wine...just kidding, sort of.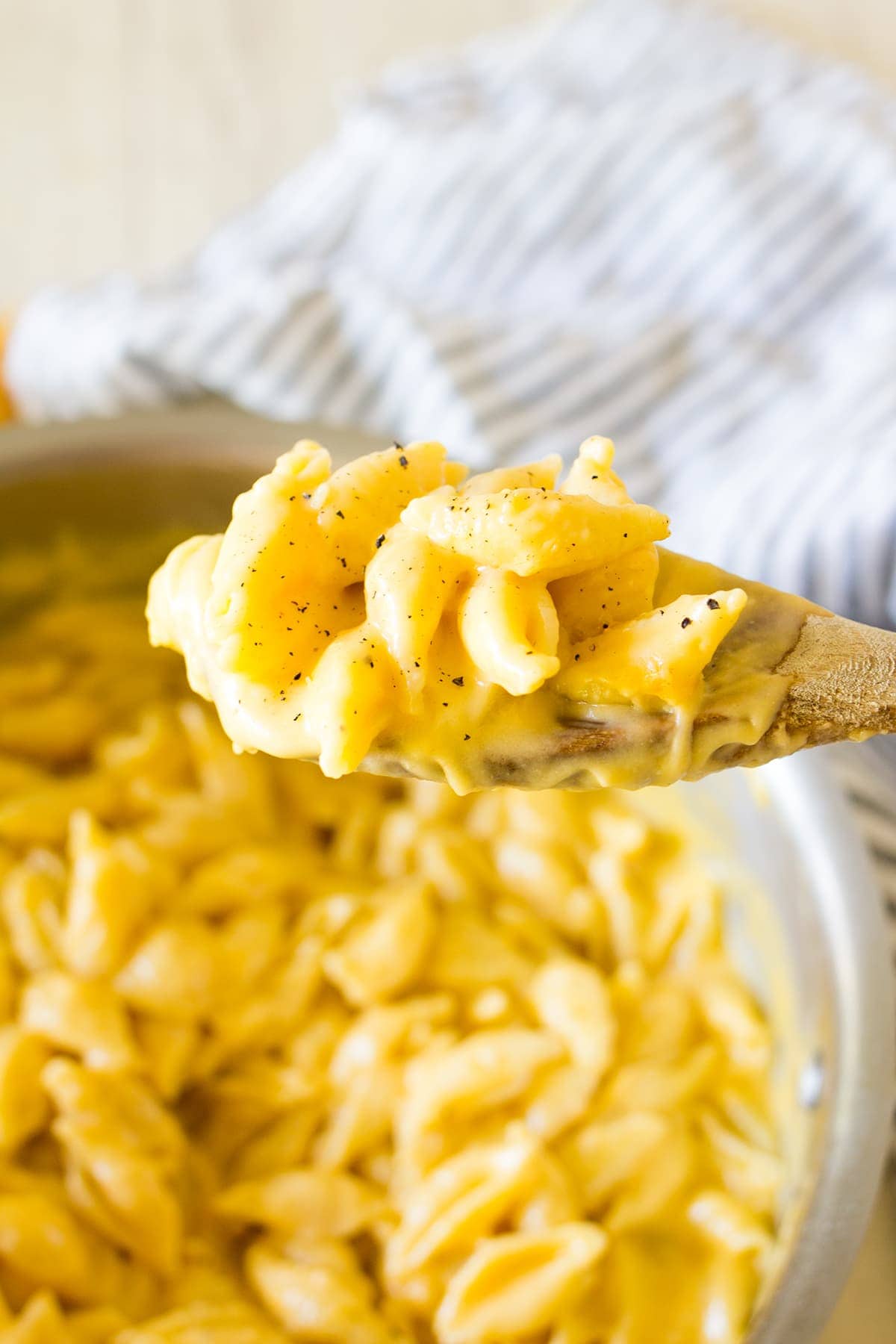 All sleep deprived joking aside, do you make homemade mac and cheese or do you box-it? You will find no judgement here but I am a bit curious. I've been know to break out a box of Annie's Organic from time to time but making this version on the stovetop takes only a marginal amount of effort more than the boxed stuff and it's so much more delicious.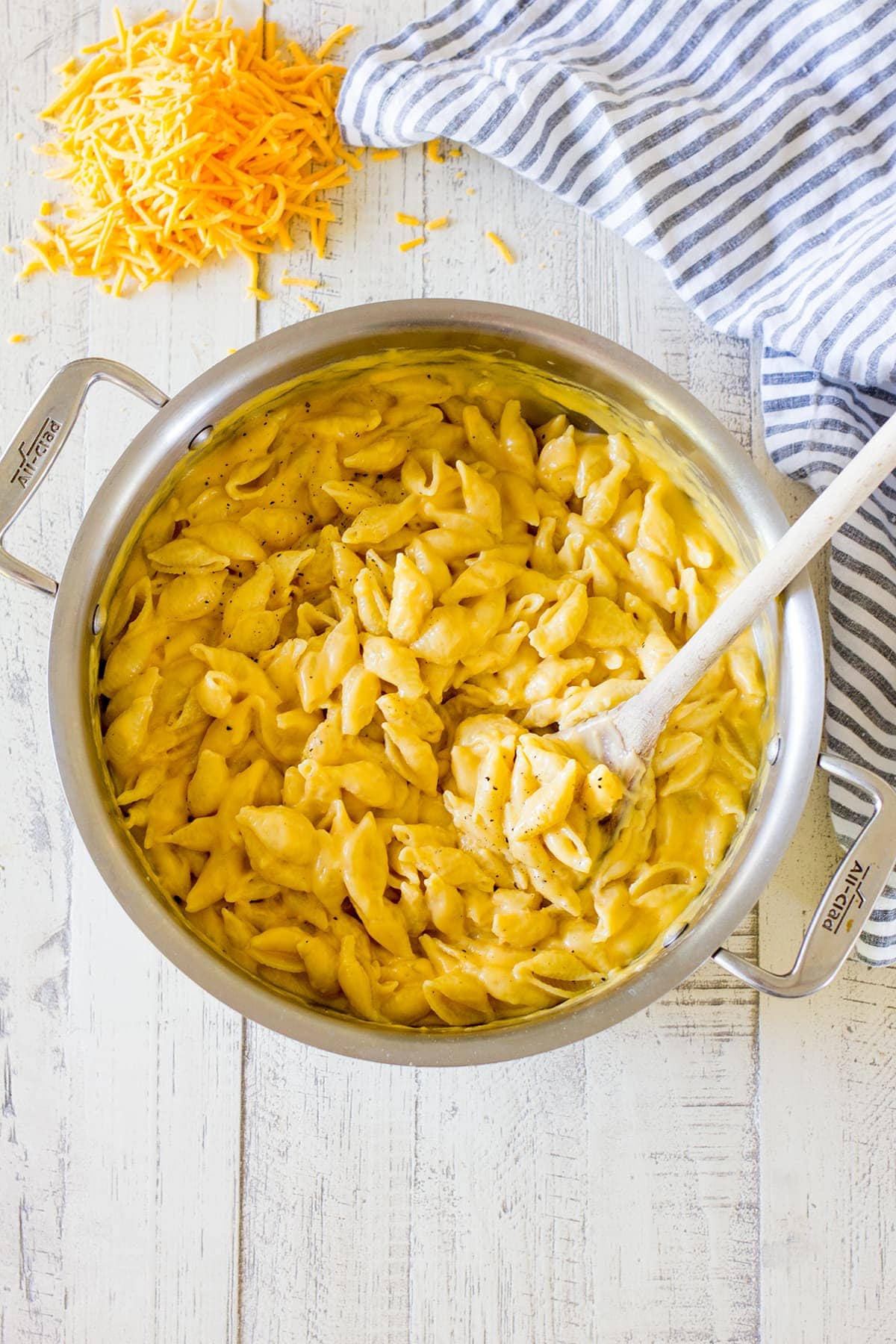 Homemade Macaroni and Cheese
If you're used to measuring milk and cutting up a stick of butter while you boil boxed noodles, you are basically half way there. I like to use mini shells because it always reminds me of old fashioned mac and cheese like Grandma would make, but you can substitute traditional macaroni noodles or any other noodle that your kiddos like.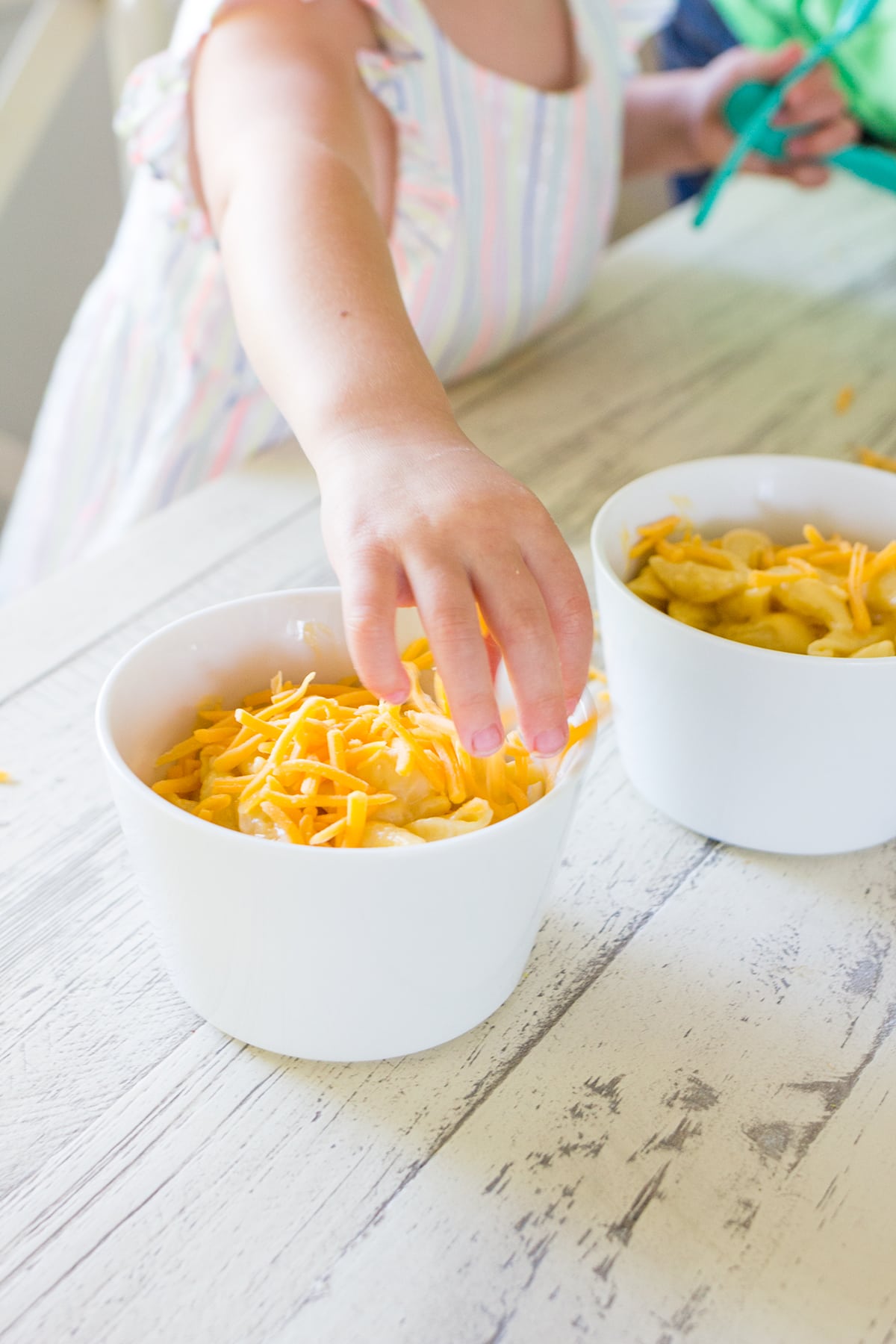 Ingredients in Homemade Macaroni and Cheese
Pasta Noodles- I used shells however you can use any shape you like
Salted Butter - This is a big component in flavor however unsalted is fine too.
Flour - use all-purpose flour, this is the thickening agent for your cheese sauce.
Whole milk - the creamier the better!
Mild cheddar cheese - if you can shred it yourself it's even better however pre-shredded is fine.
Mustard powder - sounds strange but this is classic in mac and cheese!
Garlic powder - again, classic in bringing out the "cheese" flavor.
Salt and pepper - to bring home all the flavors.
How To Make Homemade Cheese Sauce
The cheese sauce comes together faster than it takes the noodles to boil. Just butter and a bit of flour, milk, cheese and a few seasonings for flavor.
I always taste the sauce because it's my favorite part and usually stand there dreaming of turning it into a cheese fondue for dipping chunks of bread and veggies in. Would adding wine be acceptable? Just kidding, sort of.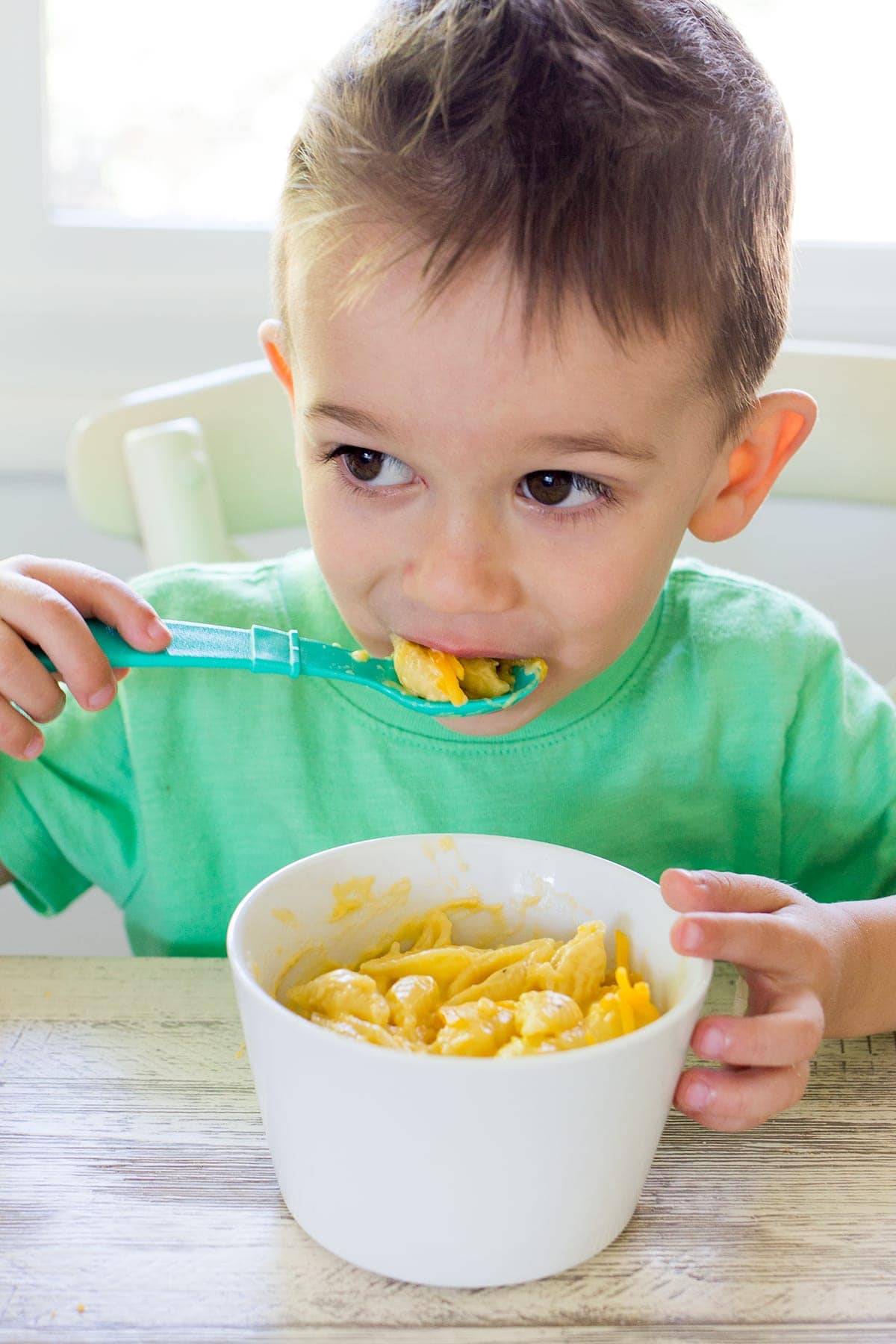 The twins have discovered their love for black pepper on macaroni and cheese. Maybe it's the fascination with the pepper grinder, maybe it's fact that I let them do it themselves, but they love it. More pepper, please Mommy! These little people never cease to shock me.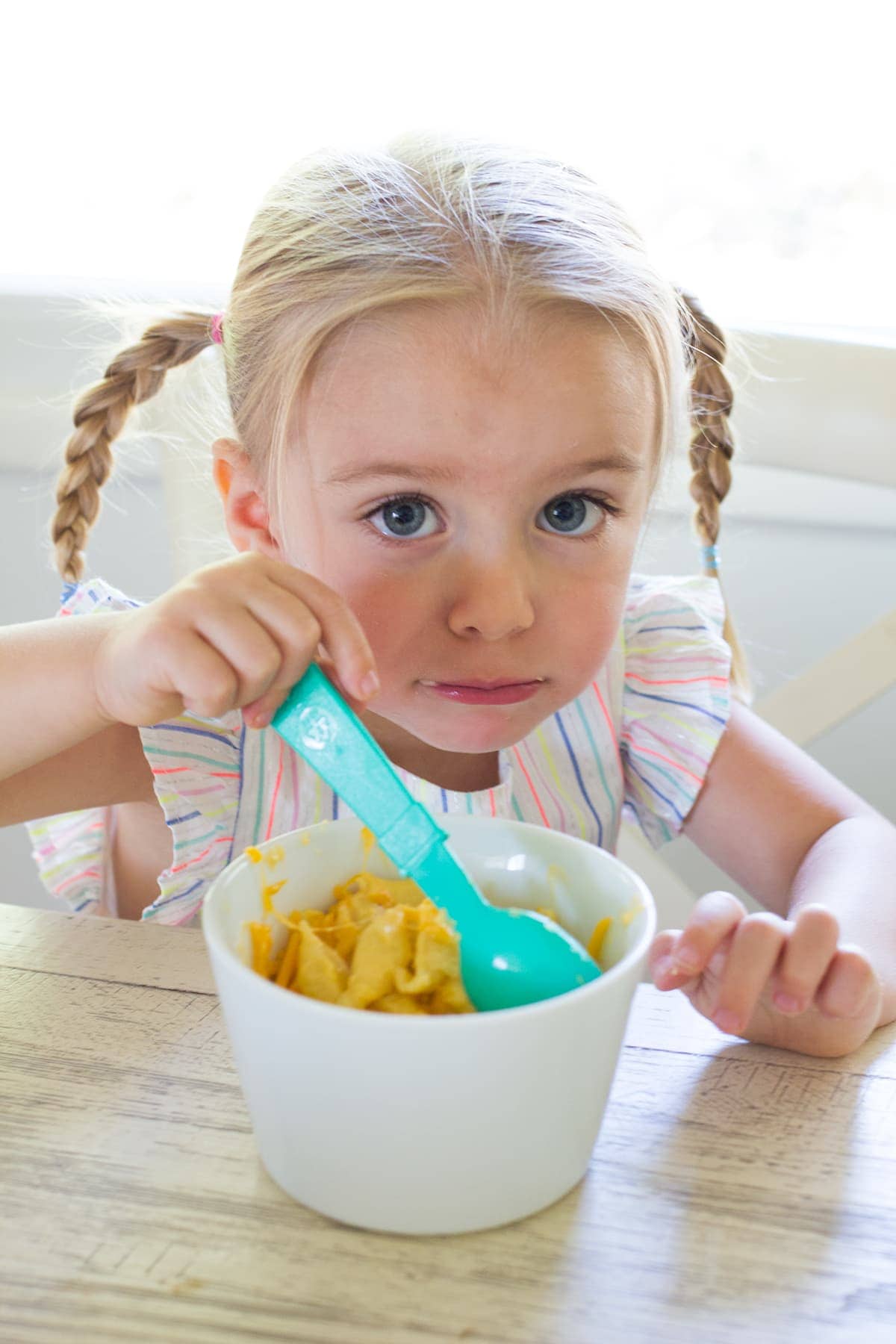 Similar to the shock and horror I'm currently facing at the thought of no more nap time. Did I mention that I'm currently drinking wine? Just kidding, sort of. MACARONI AND CHEESE! Make it. Your sleepless, napless, children will love it and so will you.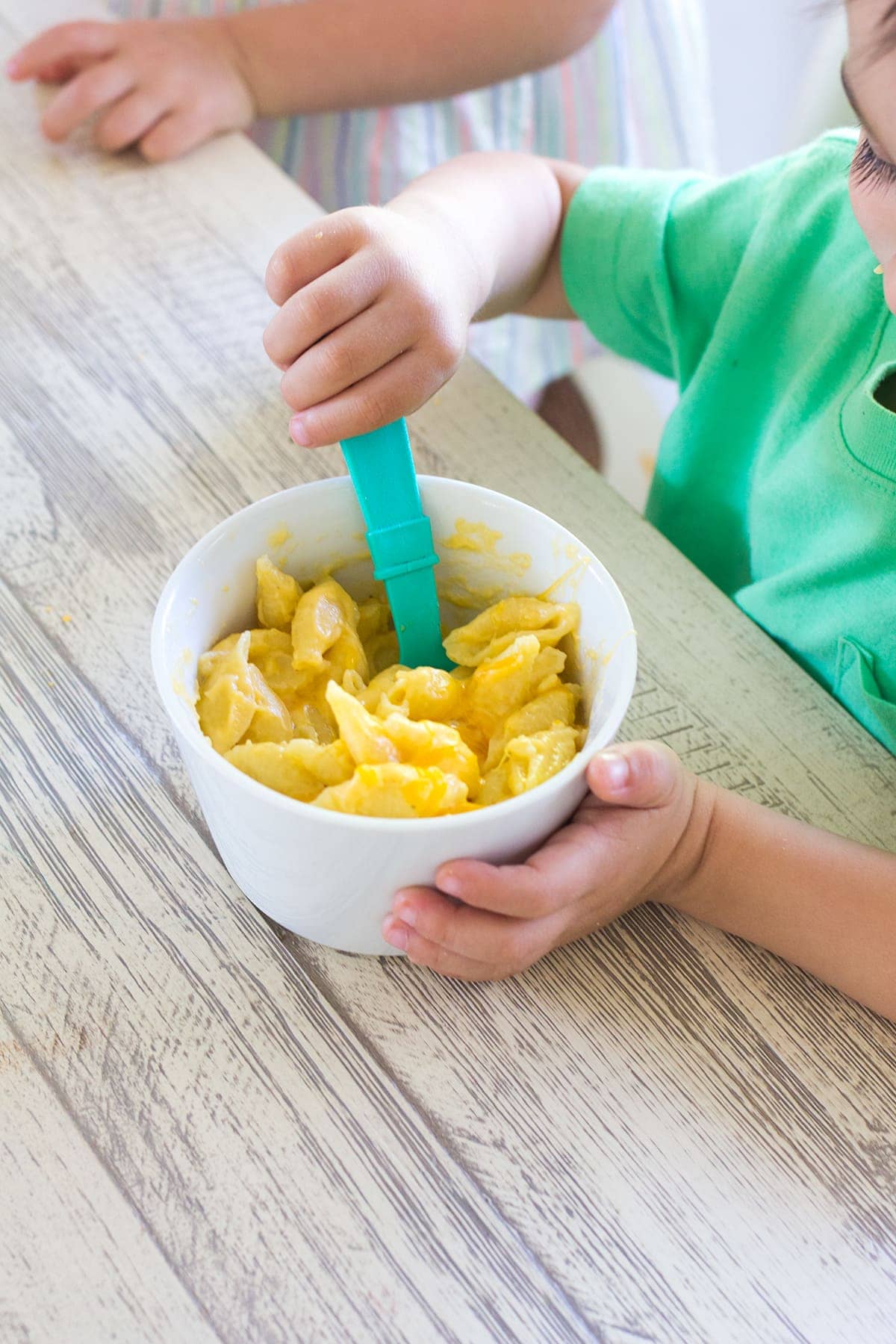 What to Serve with Mac and Cheese
This is the perfect side dish for any weeknight family meal or a great stand alone lunch for little ones. Here are a few of our favorite weeknight dinner recipes that would be perfect with macaroni and cheese on the side.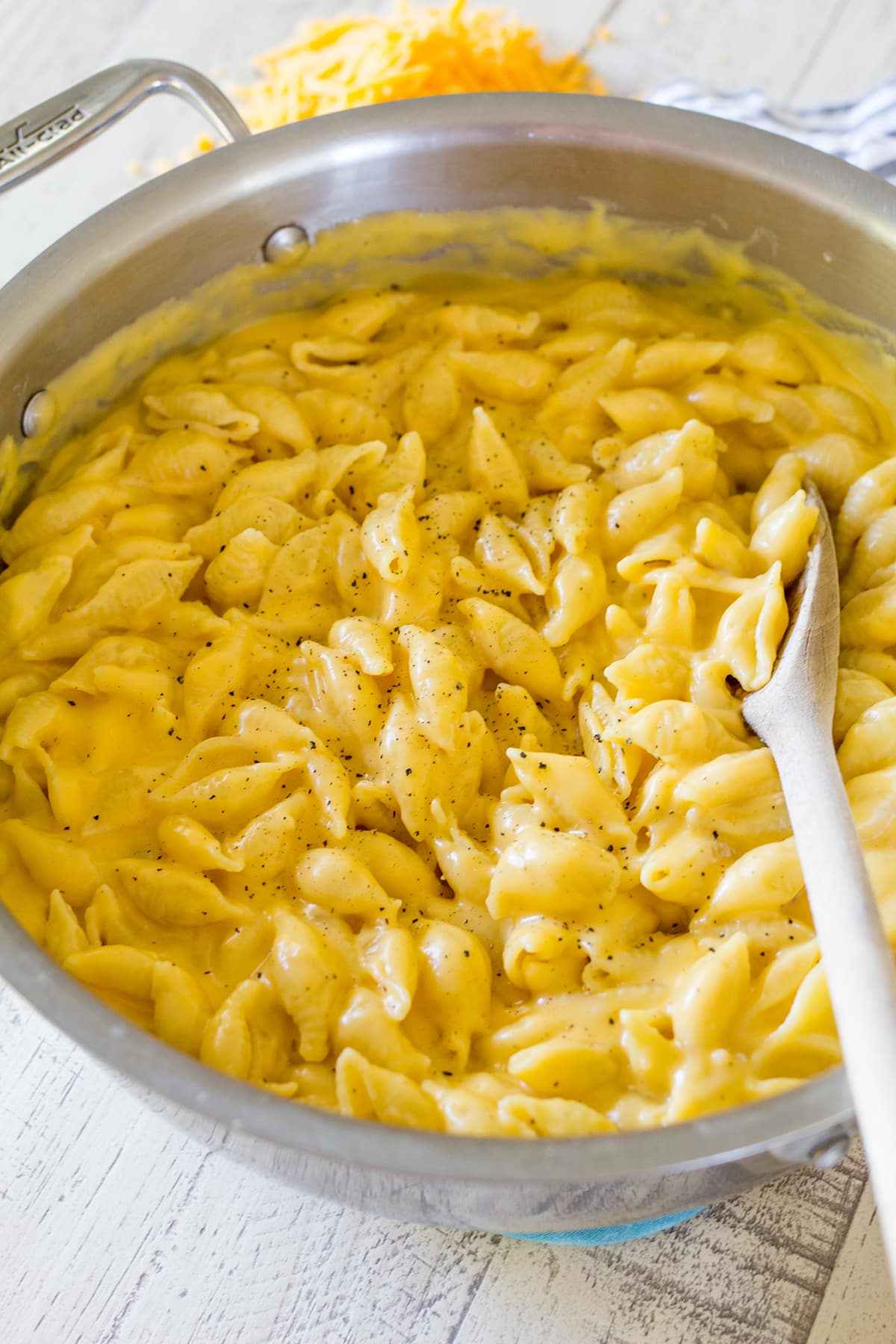 Family Friendly Side Dishes
Looking for more family friendly side dishes? Here are a few my family loves!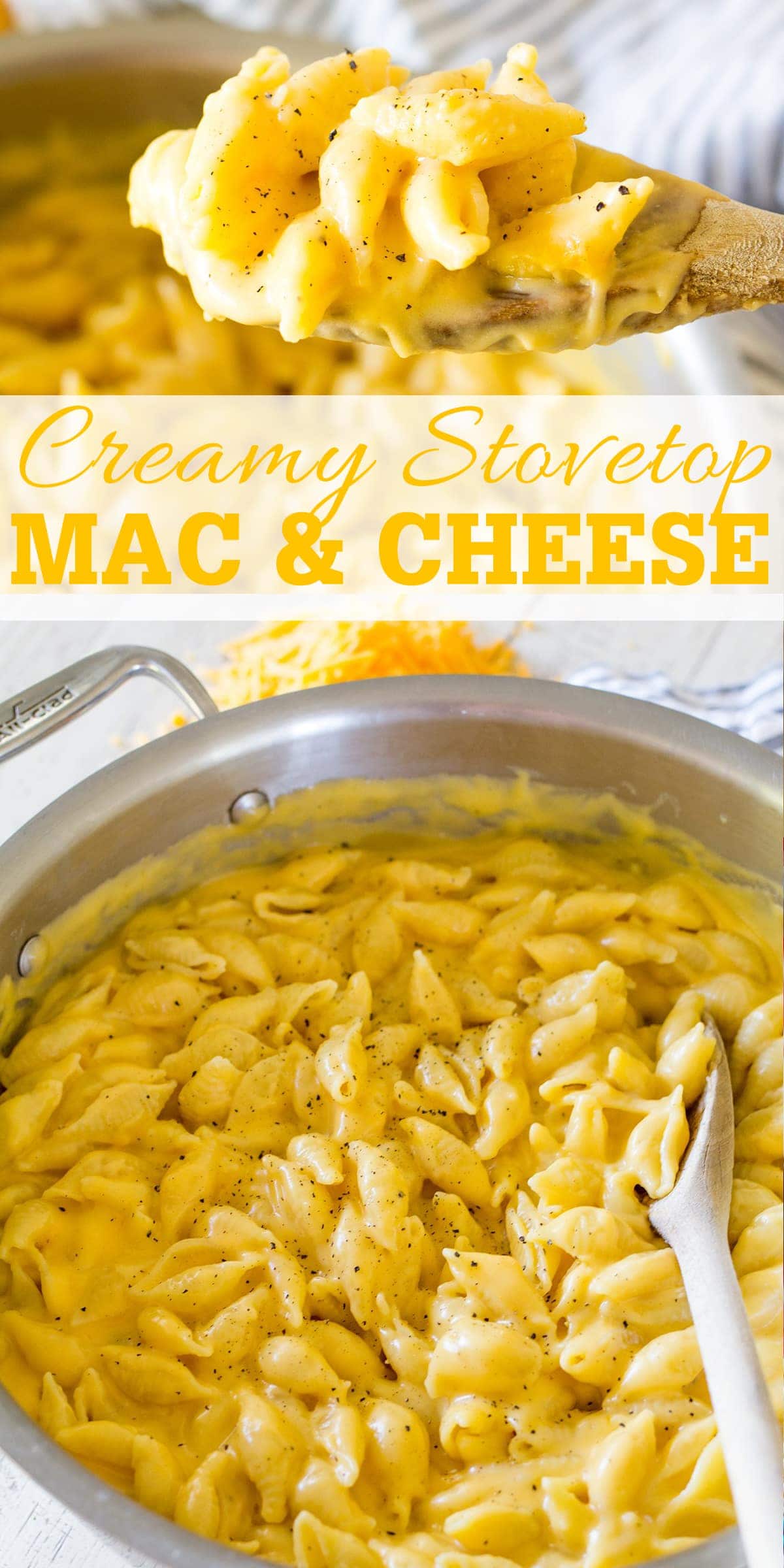 Easy Creamy Stovetop Mac and Cheese
Easy Creamy Macaroni and Cheese that's better than the box and can be made on the stovetop!
Ingredients
1 pound pasta noodles, I use shells
4 Tablespoons salted butter
4 Tablespoons all-purpose flour
2 ½ cups whole milk
4 cups shredded mild cheddar cheese
1 teaspoon mustard powder
½ teaspoon garlic powder
salt and pepper
Instructions
Bring a large pot of salted water to boil. Once the water has come to a rolling boil, drop in the pasta and cook until al dente according to the package instructions.
In a separate sauce pan, melt butter over medium-low heat. Once melted add in flour and whisk for about 1 minute to combine and slightly cook the flour.
Slowly add in the milk, whisking constantly until you get a white sauce.
Reduce heat to low and whisk in the shredded cheese and the spices. Continue to mix until cheese is melted and sauce is smooth.
Taste (careful, it's hot!) and season with salt and pepper to taste.
When pasta is finished cooking, drain (do not rinse) and return to pan. Don't worry about draining noodles well, a little bit of pasta water helps thin the sauce.
Pour cheese sauce over the hot noddles and stir with a wooden spoon to coat all of the noodles.
Top with more black pepper (if desired) and serve warm.