This post was sponsored by Keurig Green Mountain® although all coffee talk is my own.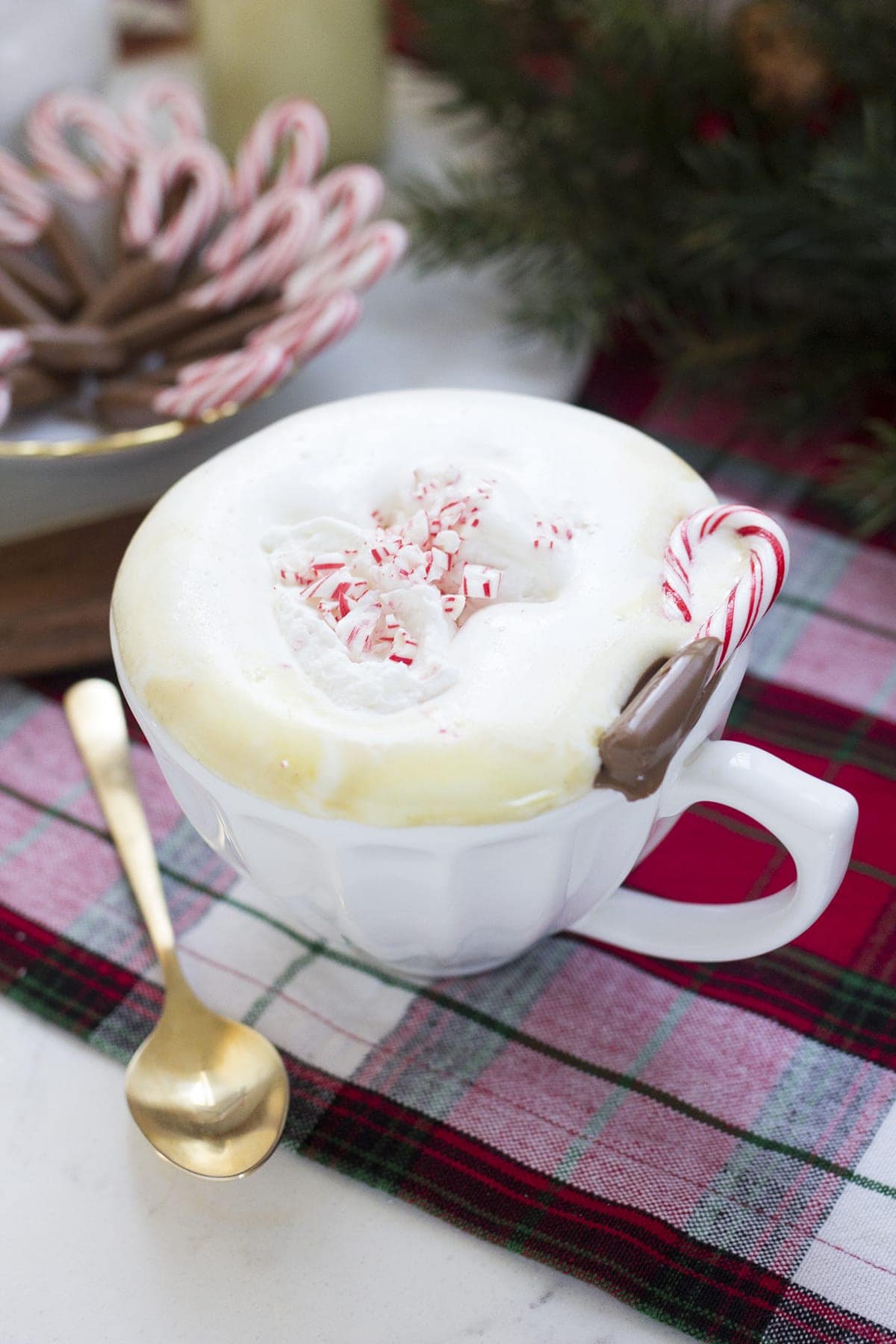 Tis' the season to need caffeine, fa la la la laaaa, la la la la! I joke of course, but I do enjoy seasonal coffee drinks, a whole LOT this time of year. I for one am very excited when coffee shops come out with their Peppermint White Mochas and other delicious seasonal flavored offerings. In fact I love Peppermint White Mochas so much that I now make my own at home, and guess what, they are SO much better homemade!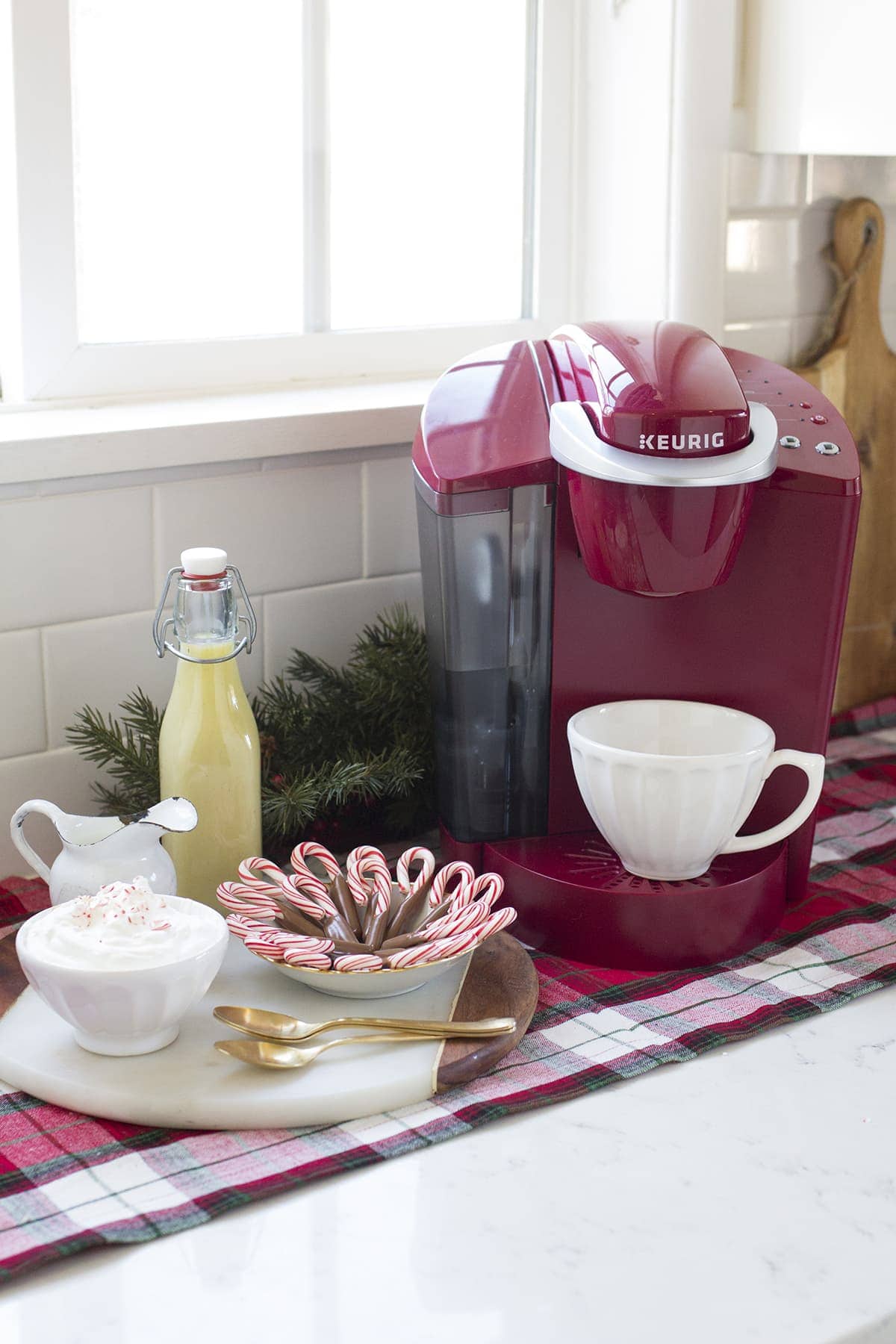 About three months ago, Jason and I made the switch from our usual French Press and traditional coffee maker to a Keurig® K55 brewer. I had no idea I would love it as much as I do. It's so convenient, my coffee can be ready at the touch of a button, I always have a variety of different K-Cup® pods to choose from, I can brew coffee, tea or hot chocolate anytime without making an entire pot, and it's consistently good! So necessary when you have twins. Oh, and it dispenses hot water…GAME CHANGER for a tea lover like me. My current favorites are the Green Mountain Coffee® Holiday Blend and Swiss Miss® Peppermint Hot Cocoa. The Holiday Blend is a delicious Medium Roast so it's the perfect morning cup of coffee and the Peppermint Hot Cocoa is a fun night time or weekend treat. Plus there is something totally indulgent about being able to have Hot Cocoa at the press of a button, am I right?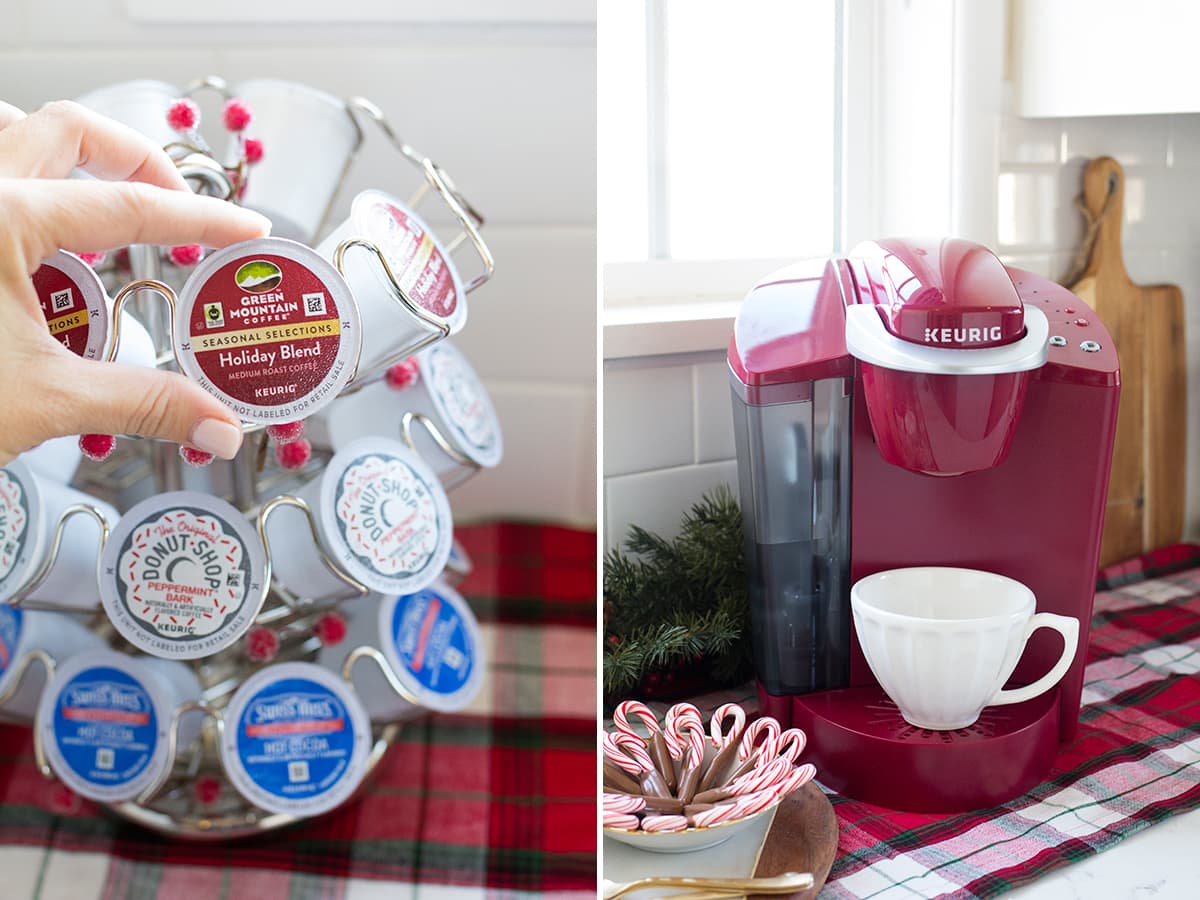 So, I'm thrilled to be partnering with Keurig Green Mountain® today to share how I make my Peppermint White Mochas with my Keurig® K55 brewer, homemade peppermint white chocolate syrup, homemade whipped cream and chocolate dipped candy canes. Ok, I don't always have the candy canes on hand but they really do make this drink ultra-festive and fun for the holidays. If you plan to serve this coffee drink to family or friends, make a batch of the candy canes, they are a guaranteed crowd pleaser!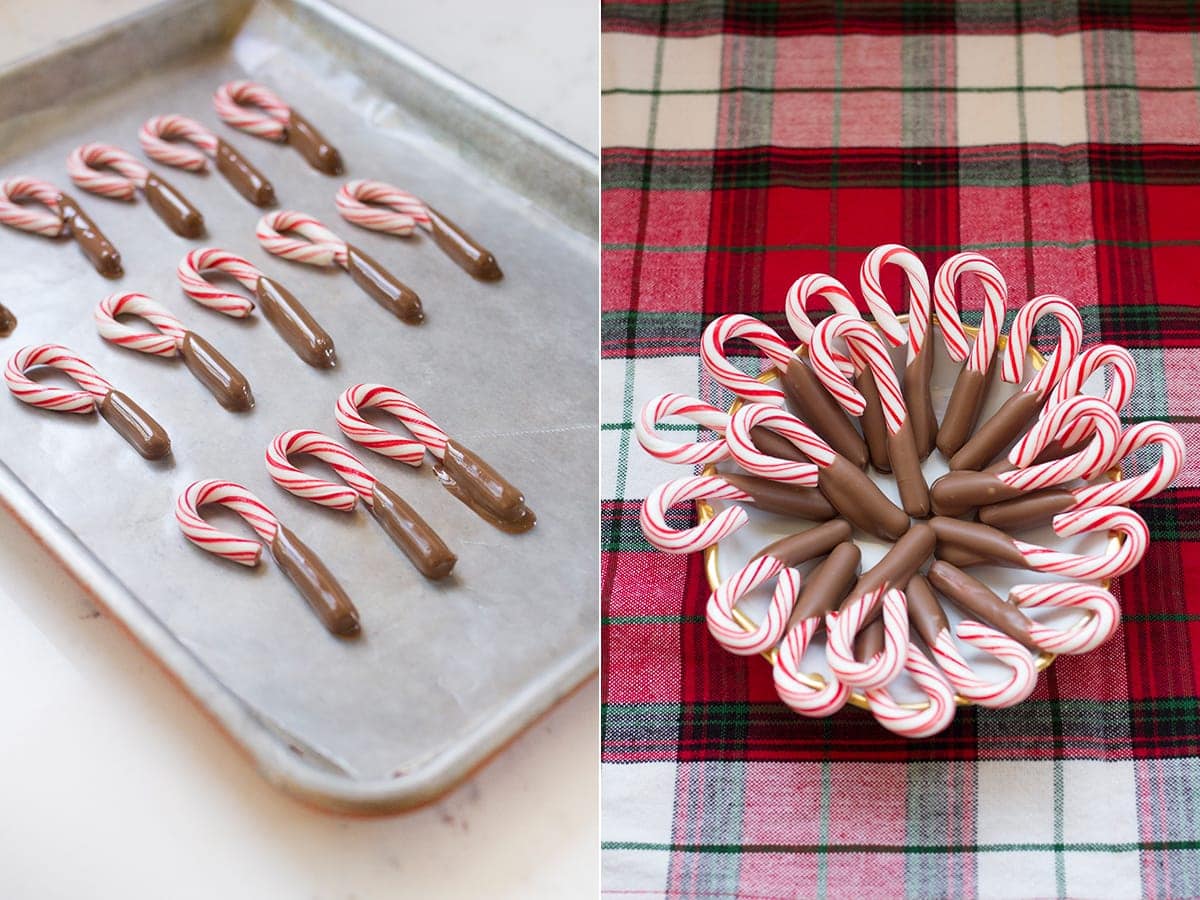 Now let's talk syrup. Homemade peppermint white chocolate syrup is easy to make and only requires 4 ingredients: white chocolate, heavy cream, sugar and peppermint extract. Simple! Keep a bottle in the fridge and you'll have homemade peppermint white mochas anytime the craving strikes, which could be both dangerous and delicious…but mostly delicious. Also, this syrup makes an amazing gift if you are looking to make something homemade. Perhaps a bottle of this syrup and a Keurig® gift subscription? Ok, maybe that's just on my list, ha! Gimme allll of the coffee.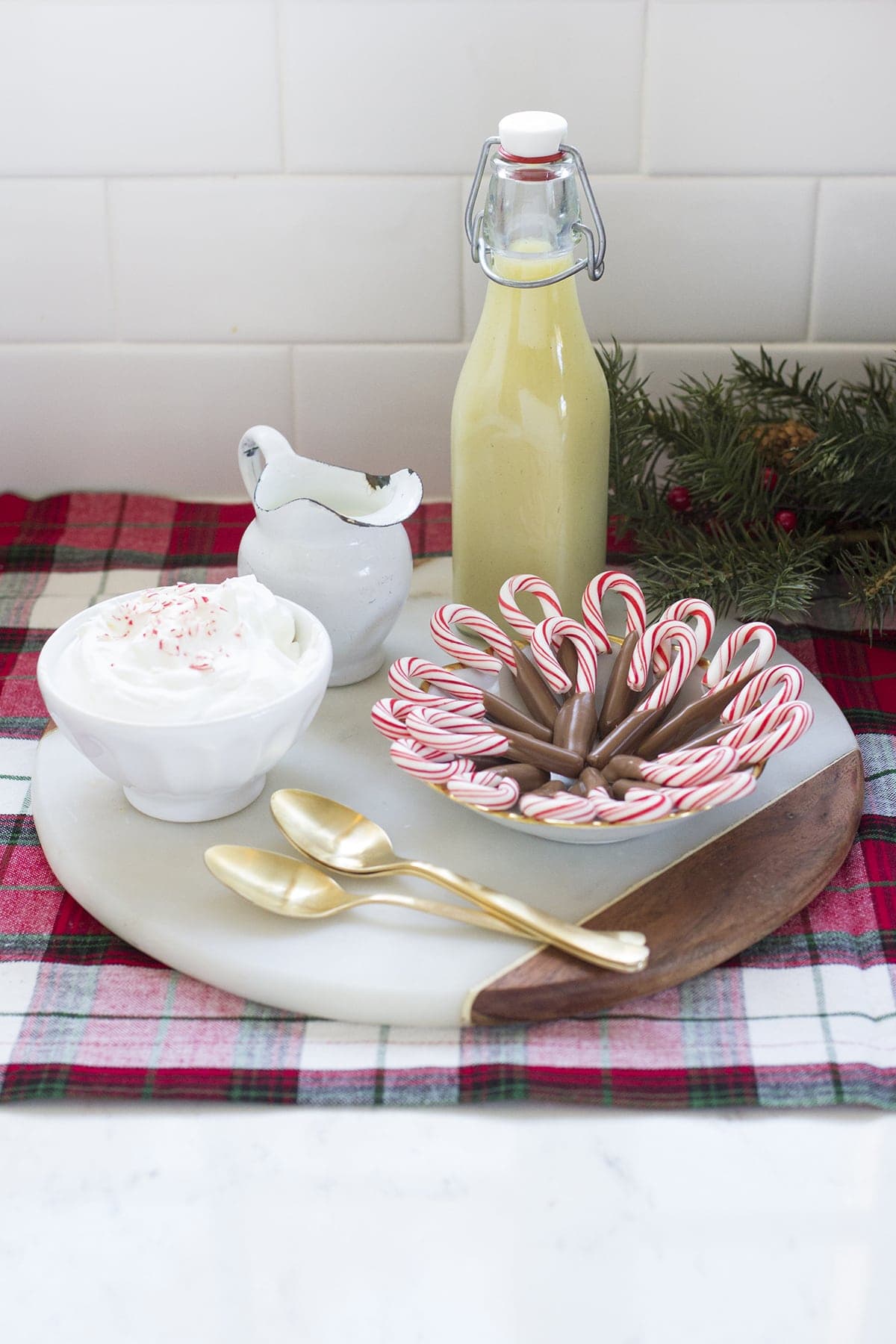 Now let's make a mocha! I start by adding about 2 tablespoons of the white chocolate syrup to a mug (sometimes more if I'm being completely honest) and then a hearty splash of warm milk, about 1/4 cup. Then I brew one Green Mountain Coffee® Holiday Blend K-Cup® pod on the 8 oz. strong setting and pour the coffee right over the syrup and milk mixture. The fresh brewed, hot coffee warms everything through and makes the drink frothy and delicious. Then I top it with a dollop of whipped cream, a sprinkling of crushed candy canes, and one of those chocolate dipped candy canes for an edible stir stick garnish.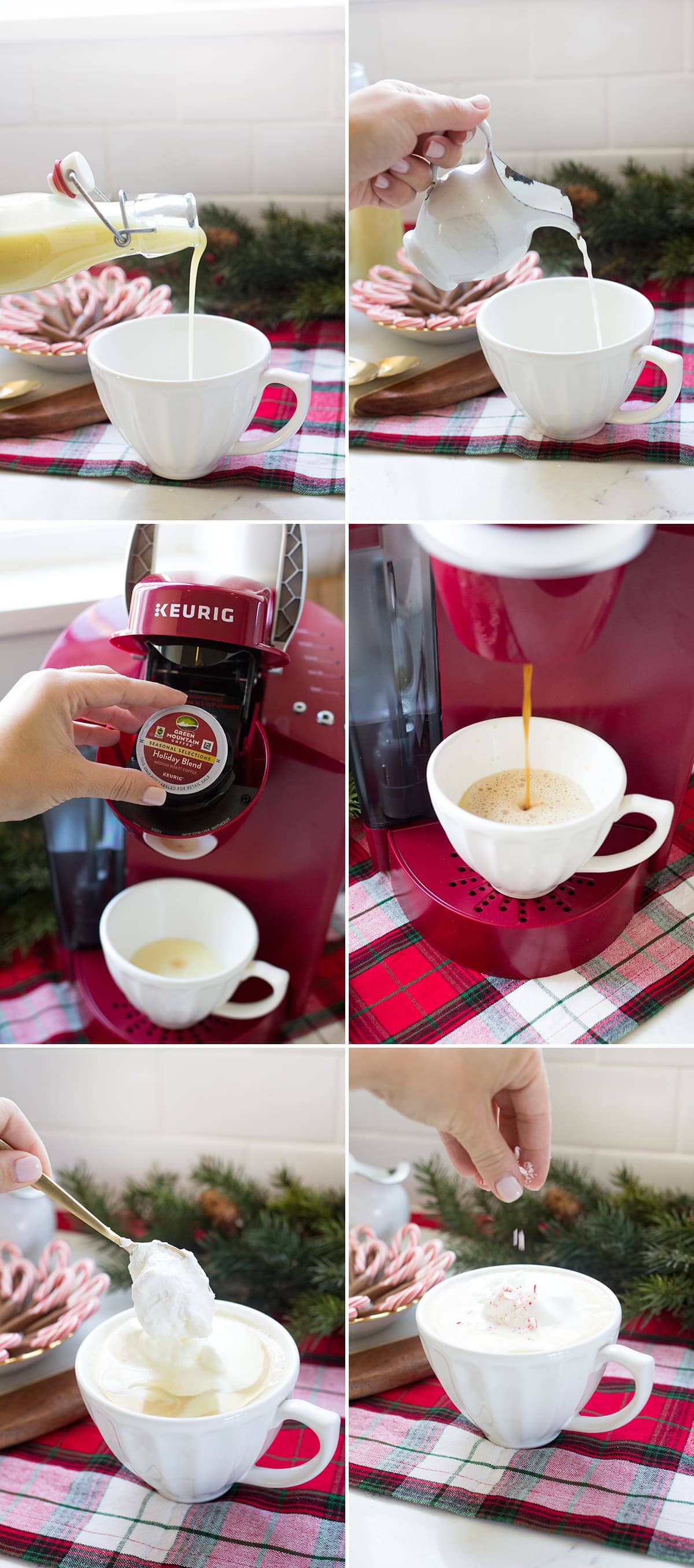 You will be in heaven, your family will be in heaven, your holiday guests will never leave…Ok, maybe I exaggerate just a wee little bit but my gosh these Peppermint White Mochas are good. I hope you will give them a try! Now off to brew myself another Peppermint White Mocha.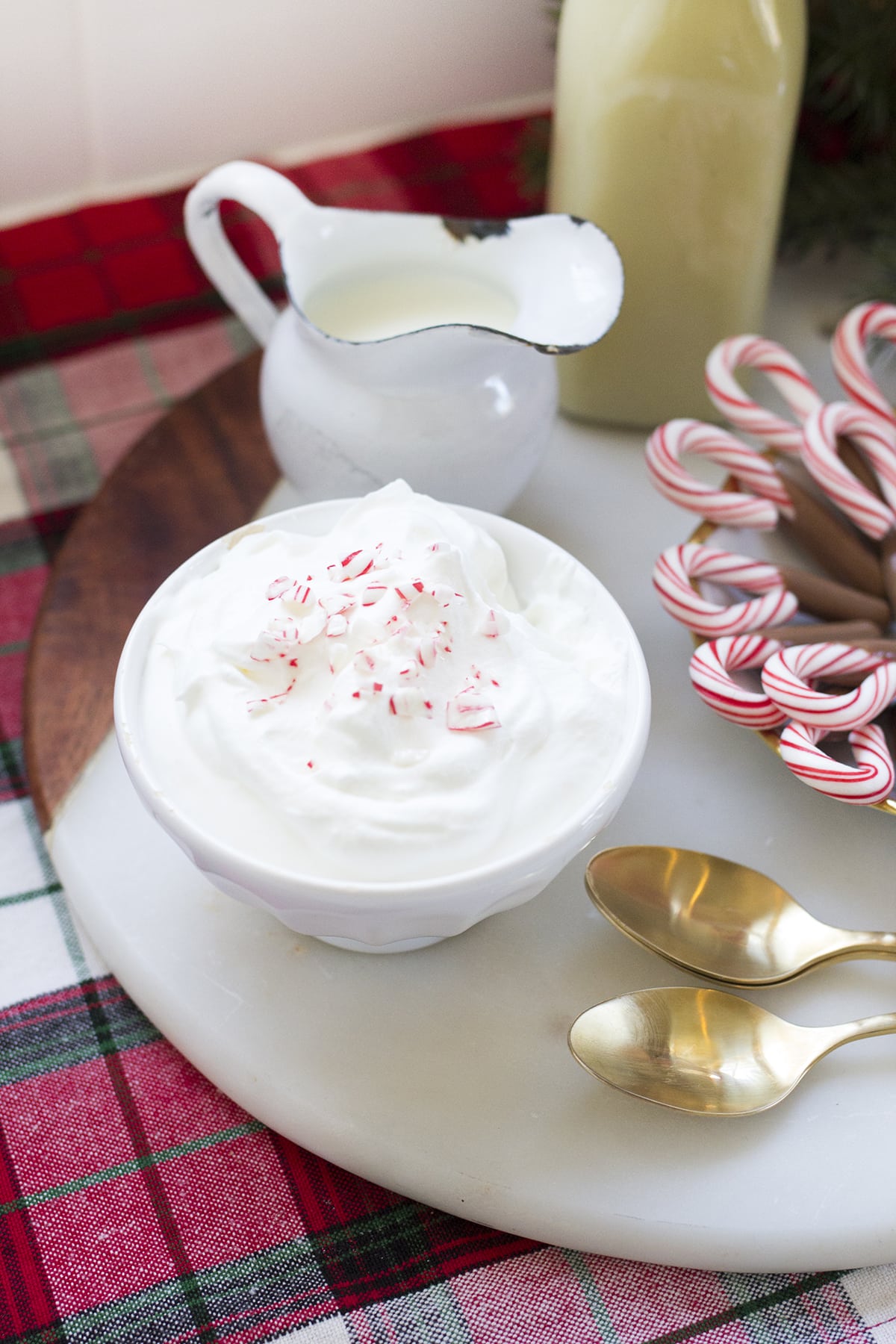 Oh, and if you are considering giving someone you love a Keurig® for Christmas, check out their gift guide for inspiration! I am gifting my Mom a Keurig® K55 brewer in Rhubarb because it's totally her color and super festive for the holidays. Hooray for coffee!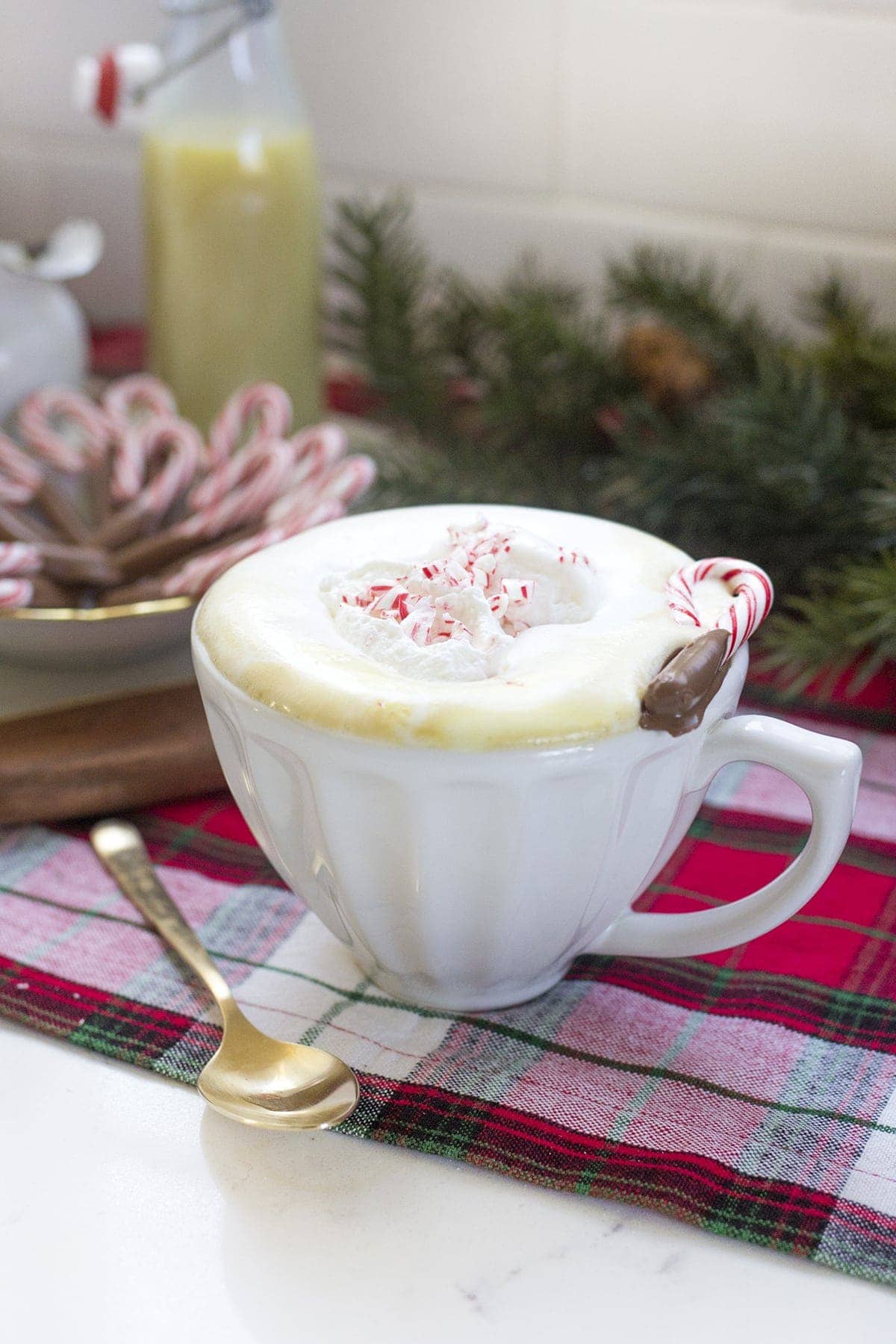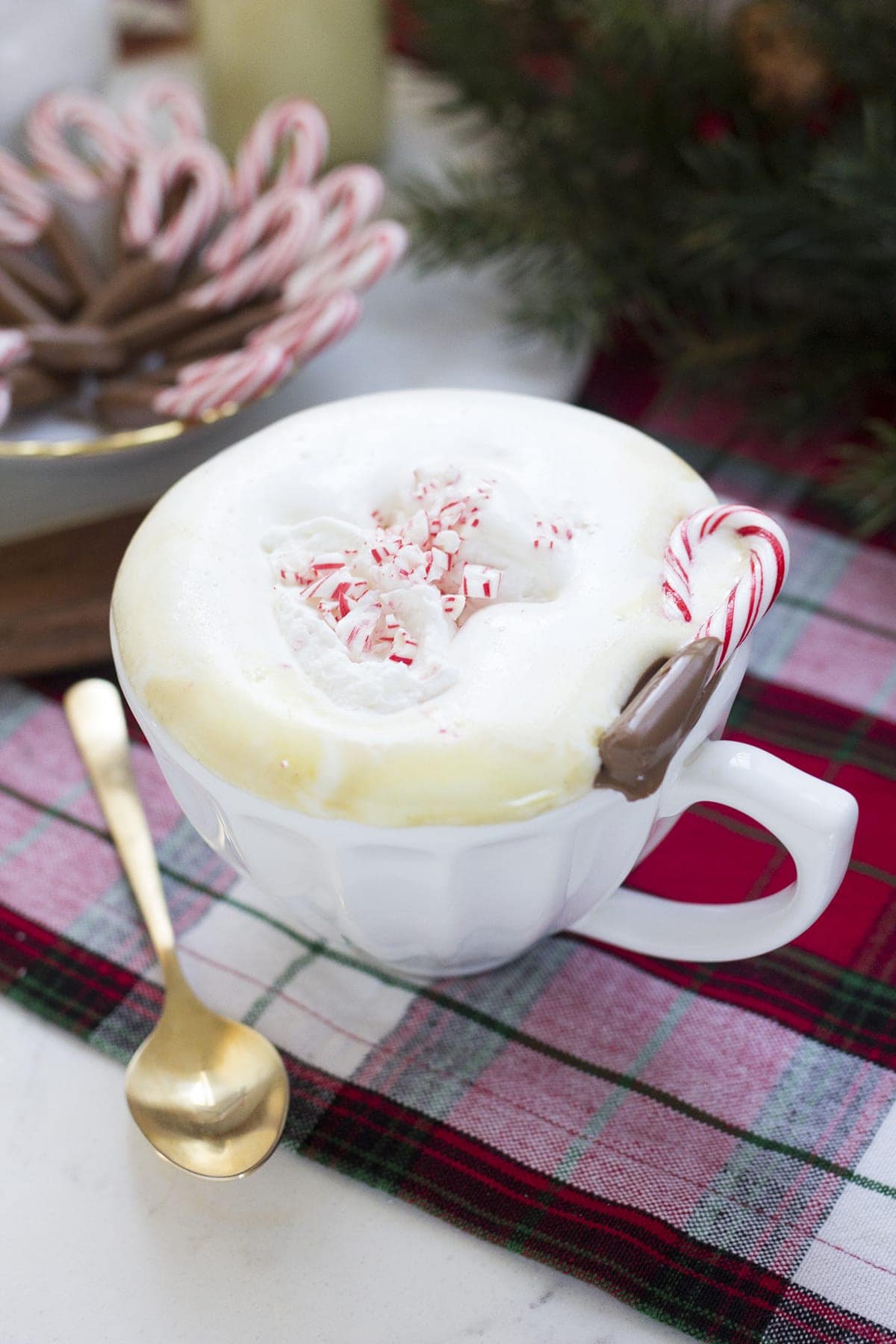 Peppermint White Mocha Drink
2016-11-29 23:27:38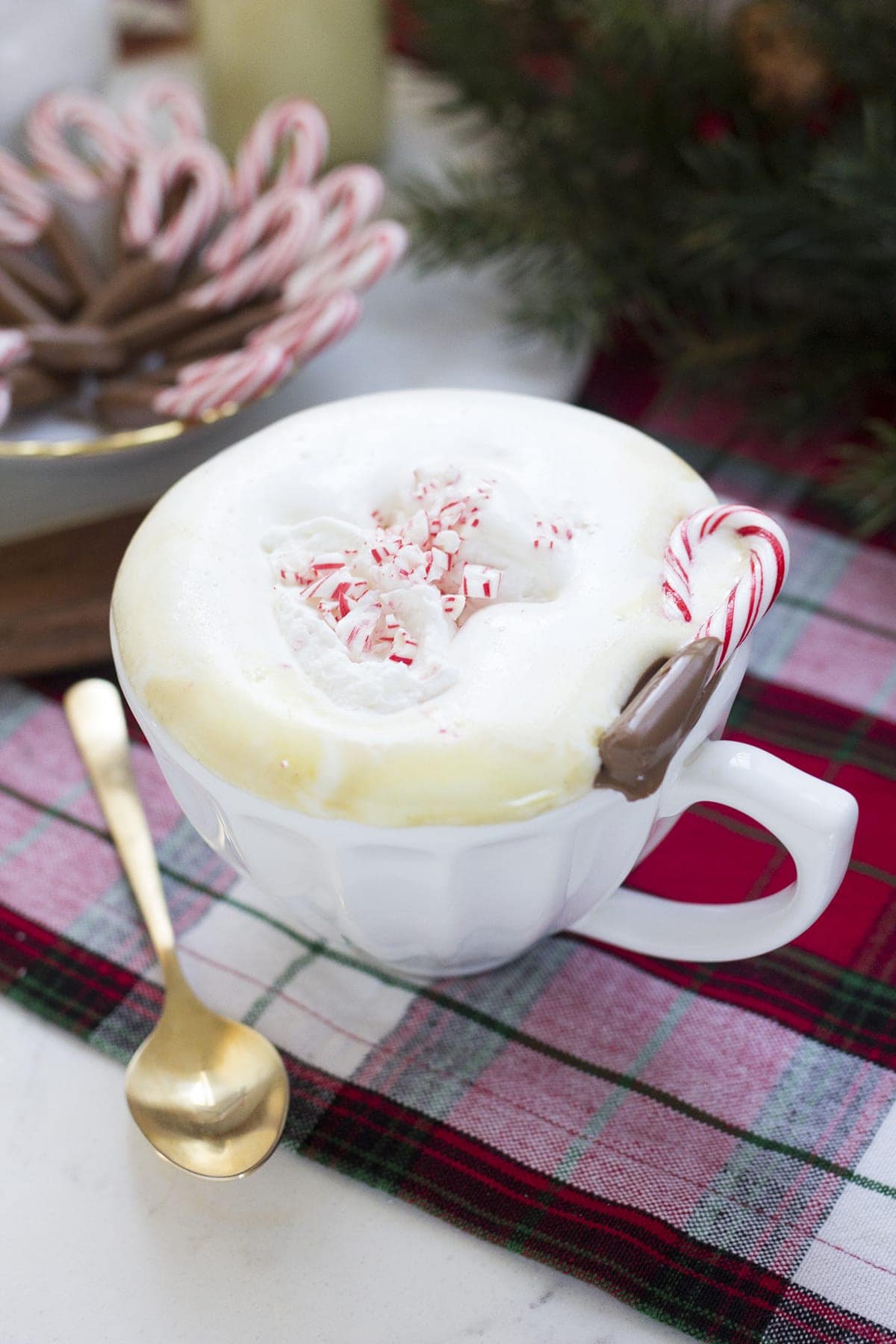 Better than coffee shop Peppermint White Mochas topped with whipped cream and chocolate covered candy canes that you can make at home.
Peppermint White Chocolate Syrup
3.5 oz (1 bar) of white chocolate, chopped into small pieces
1 cup heavy cream
1/2 cup sugar
1/4 teaspoon peppermint extract
Chocolate Dipped Candy Canes
2 cups of milk chocolate chips
1 box miniature candy canes (full sized will also work, just melt more chocolate!)
Peppermint White Mocha Drink
2 tablespoons Peppermint White Chocolate Syrup
1/4 cup whole milk, warmed
1 Green Mountain Coffee® Holiday Blend Coffee K-Cup® pod, brewed on the 8 oz. strong setting
Homemade whipped cream
Crushed candy cane
Peppermint White Chocolate Syrup
In a small saucepan heat heavy cream and sugar over medium heat stirring until sugar is melted and milk begins to simmer.
Remove pot from the heat and stir in chopped white chocolate.
Allow to sit in the hot milk mixture for a few minutes to melt and then whisk. If chocolate is not completely melted, return to lowest heat and whisk until completely melted.
Stir in peppermint extract and pour into a heat proof jar or bottle to cool completely before refrigerating. *Always refrigerate this syrup.
Chocolate Dipped Candy Canes
Line a cookie sheet with wax paper and set aside.
Set a heat proof bowl over a pot of slightly simmering water on low heat.
Add in the chocolate and stir until melted with a heat proof spatula or wooden spoon.
Once chocolate is completely melted, remove from pot and dip candy canes in chocolate one at a time. Shake off the excess chocolate and place on prepared cookie sheet to cool.
Allow candy canes to cool and chocolate to set before using as a garnish for coffee.
Peppermint White Mocha Drink
In a mug, combine peppermint white chocolate syrup and milk.
Top with 8 oz. of Green Mountain Coffee® Holiday Blend Coffee and stir to combine.
Finish with a dollop of whipped, a sprinkle of crushed candy cane and a chocolate dipped candy cane.
Freutcake https://www.freutcake.com/