Mahi fish taco bowls with cilantro lime rice are a fast and delicious recipe for any weeknight dinner, no tortillas required!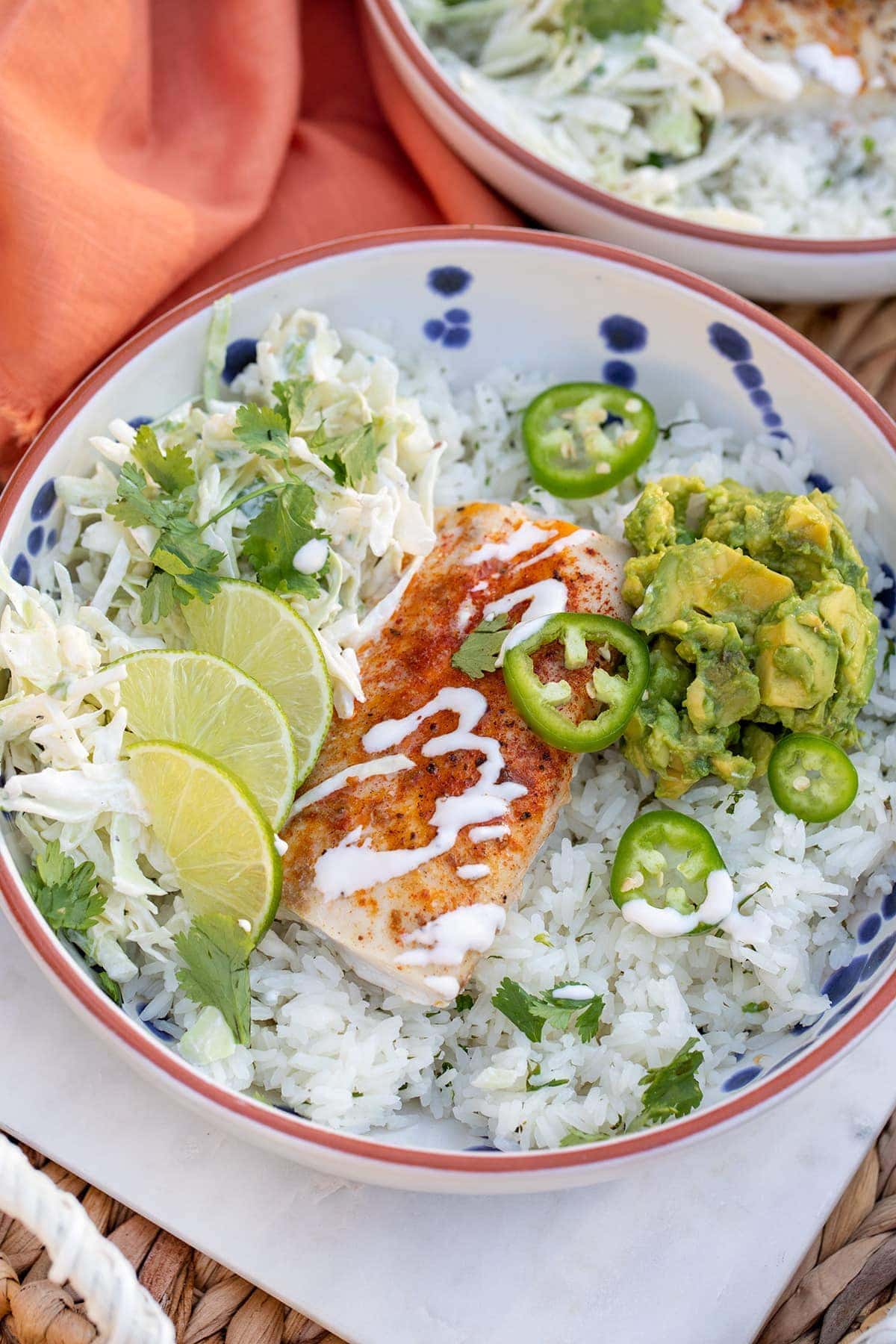 Fish Taco Bowls
Mahi fish tacos are one of my favorite weeknight meals. We like to top them with a creamy cabbage slaw, my favorite guacamole and sometimes even a fresh mango salsa. These fish taco bowls have all the goodness of mahi tacos with the added bonus of cilantro lime rice. So delicious!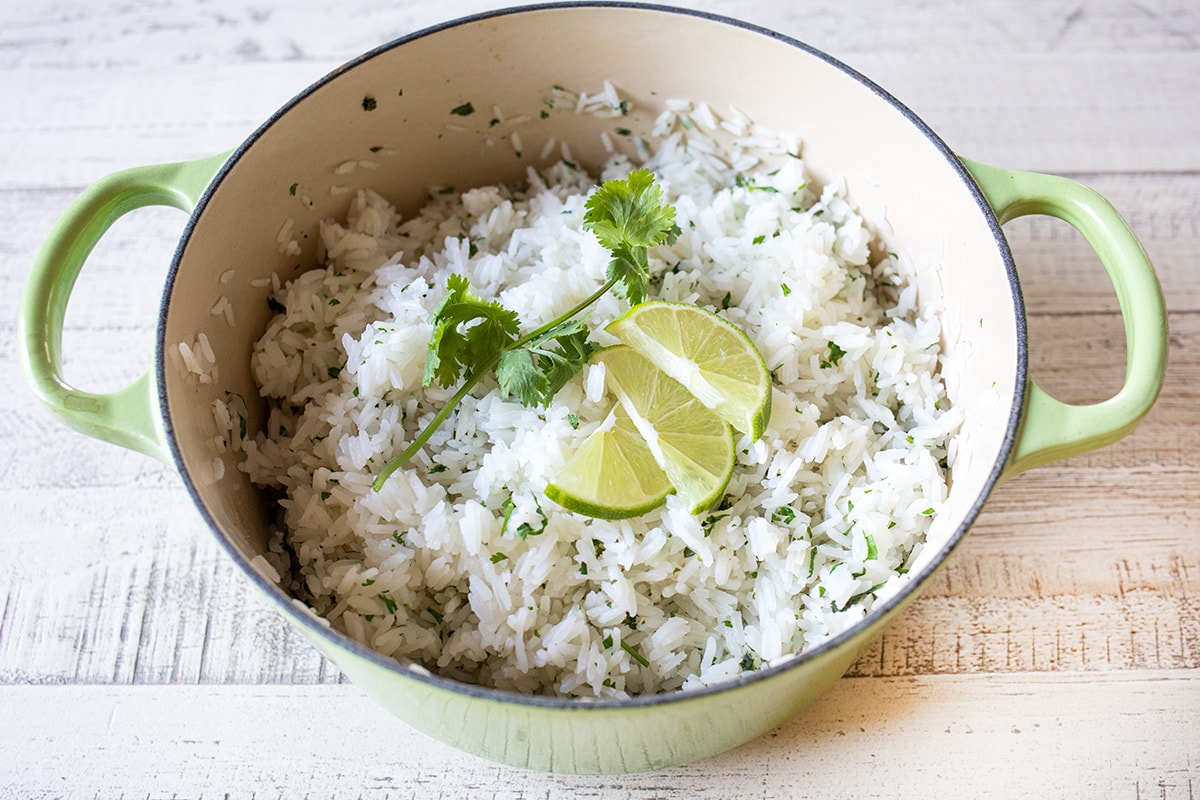 Easy Cilantro Lime Rice
To get started making these fish tacos bowls, I prep a big pot of cilantro lime rice. It's very reminiscent of Chipotle or Wahoo's Fish Taco and so simple to make at home. This rice is a delicious side for any meal from grilled carne asada to my Greek Lemon Chicken. Here's how to make it...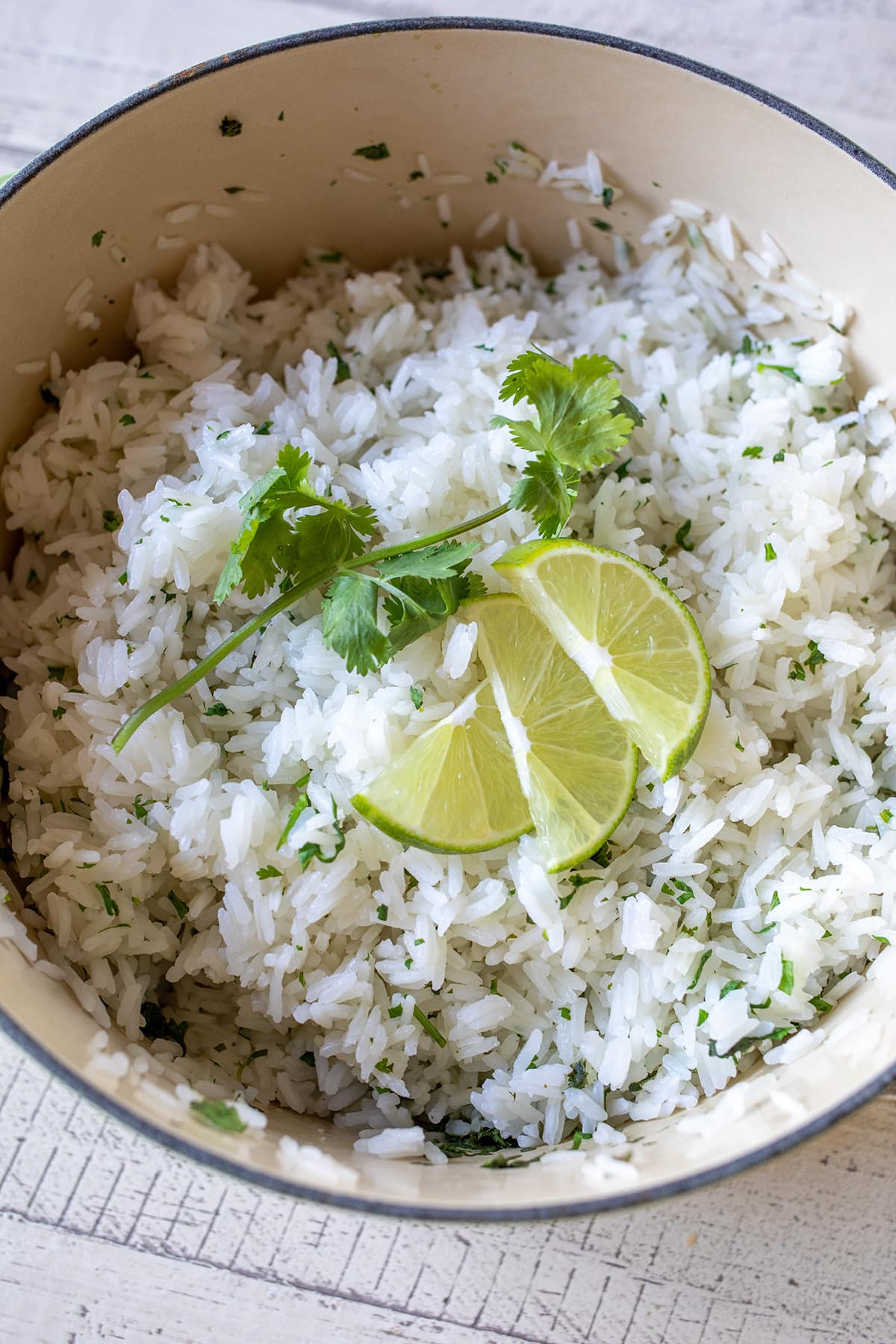 Ingredients in Cilantro Lime Rice
Jasmine Rice - this is a white rice and the perfect taste and texture for this dish.
Lime Juice - fresh squeezed juice only!
Cilantro - Fresh chopped cilantro leaves.
Salt and pepper - to season
How to Make This Rice:
Cook rice and fluff with a fork.
Gently toss in lime juice and chopped cilantro.
Season with salt and pepper if needed to taste. Serve hot.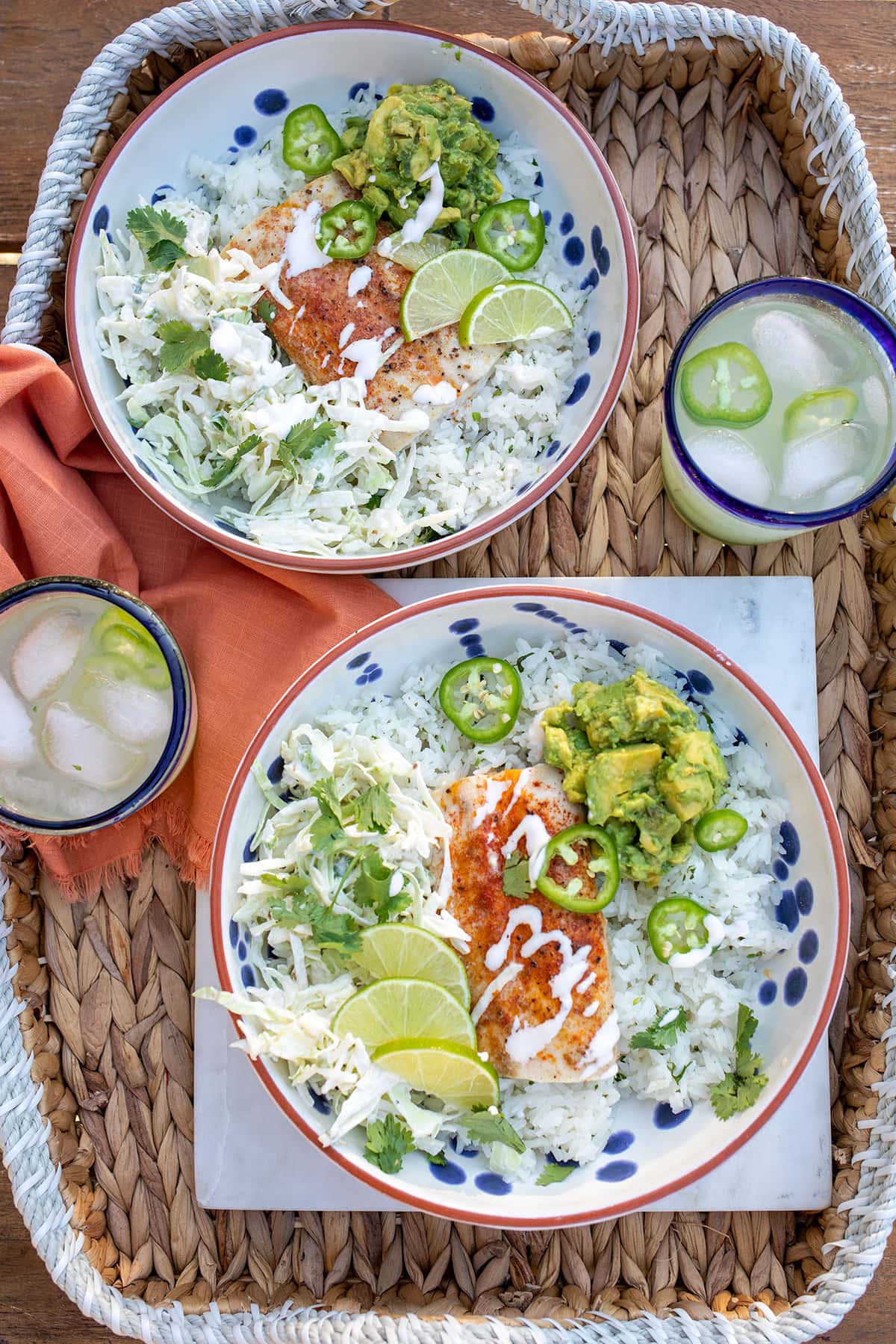 My Favorite Fish Taco Bowl Ingredients
Fish taco bowls can really be customized any way you like them. Here's what I put in our bowls:
Cilantro Lime Rice.
Baked Mahi Mahi.
Creamy Cabbage Slaw.
Chunky Guacamole or Avocado slices.
Mexican Crema for drizzling over the fish.
Fresh limes, cilantro and jalapeno slices for garnish.
How to Bake Mahi Mahi
One of my tricks for getting this dinner on the table fast and without the mess of cooking fish in a pan is baking it! I place mahi mahi filets on a lightly oiled and rimmed baking sheet, season generously and bake in a 375 degree oven for 12 minutes just until firm. It's the easiest way to cook fish, fast!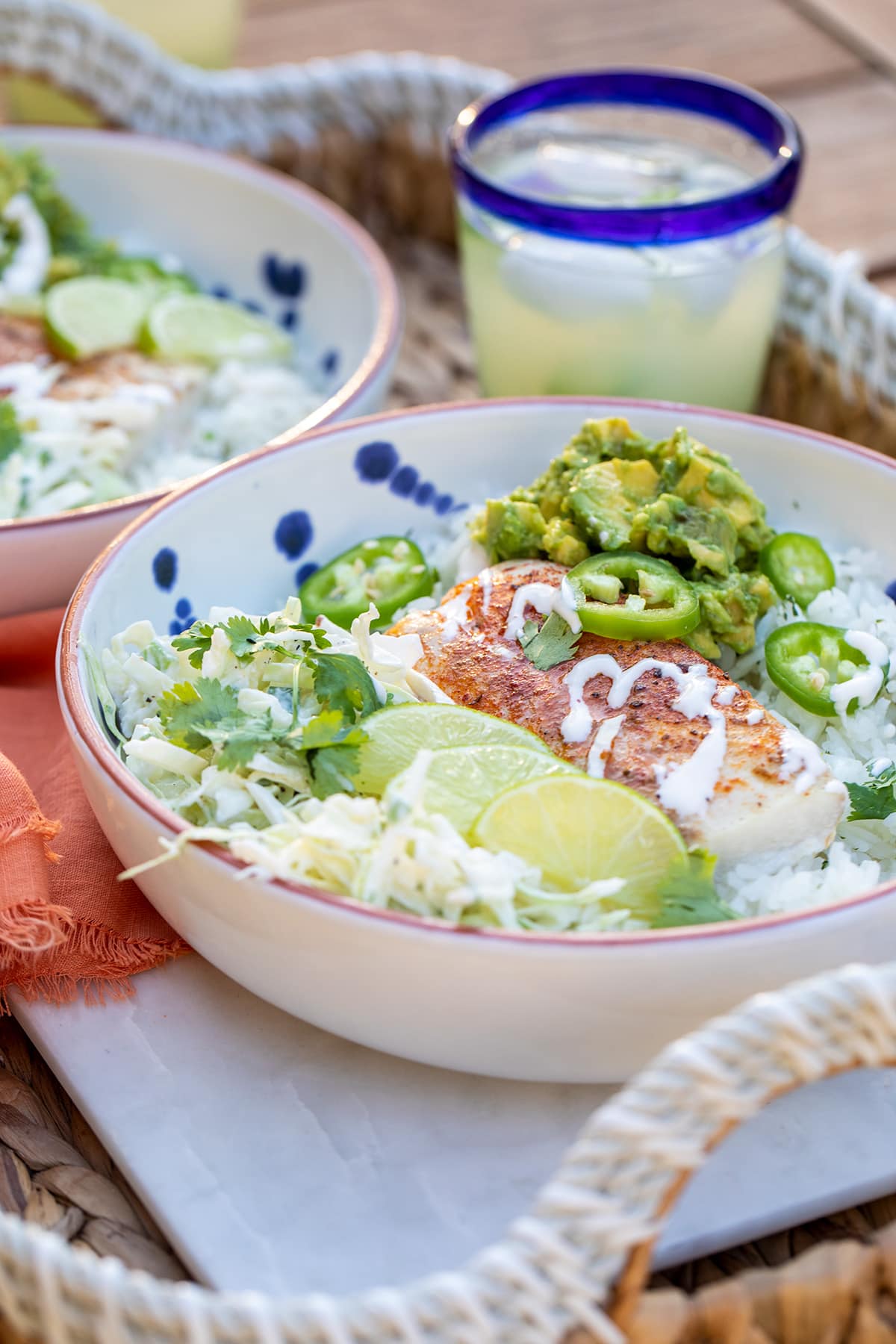 What to Serve with Fish Taco Bowls
Every good fish taco night deserves a margarita to go with it! Here are a few of my favorite margarita recipes for serving anytime I make this dish, or frankly any taco recipe!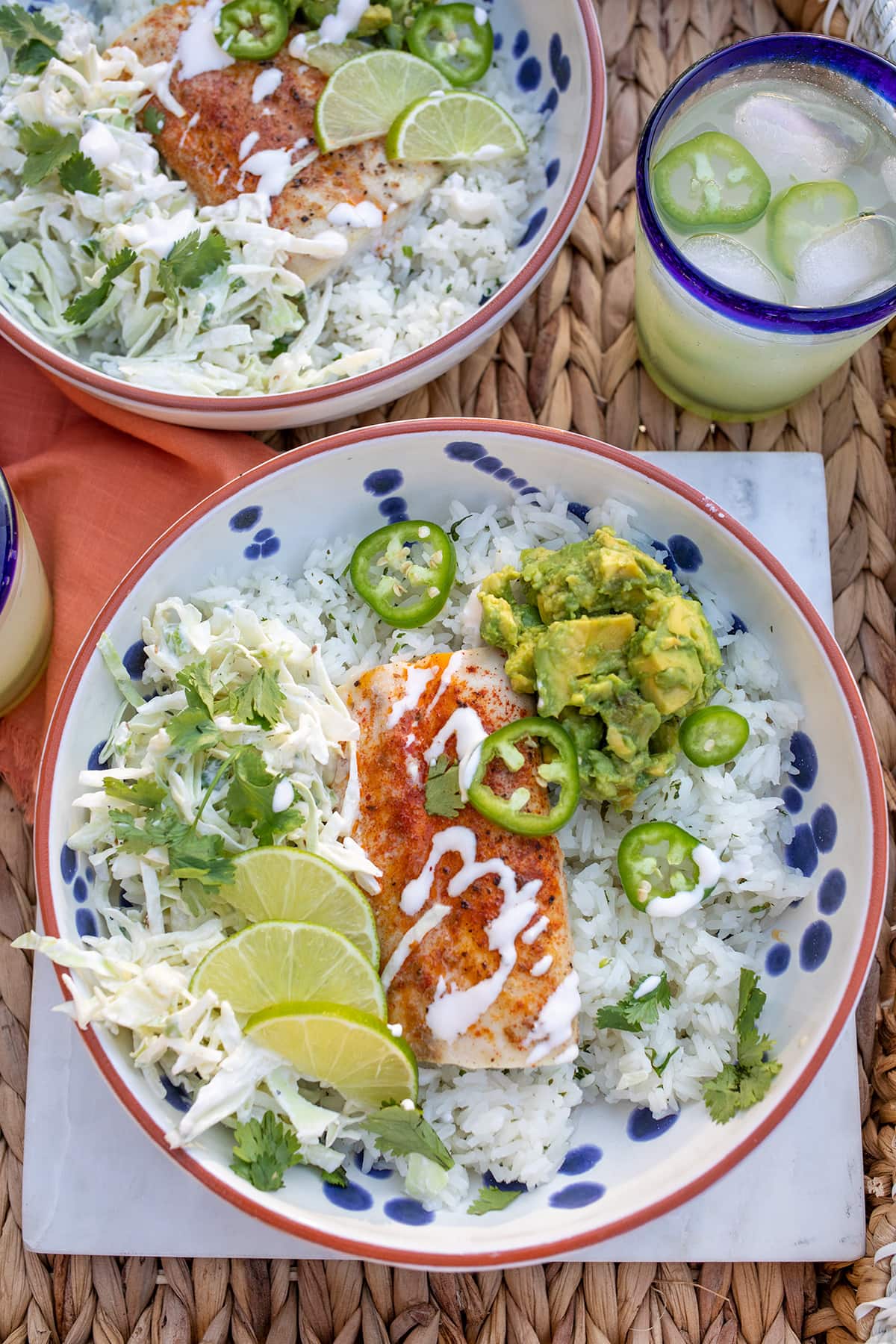 More Seafood Recipes You'll Love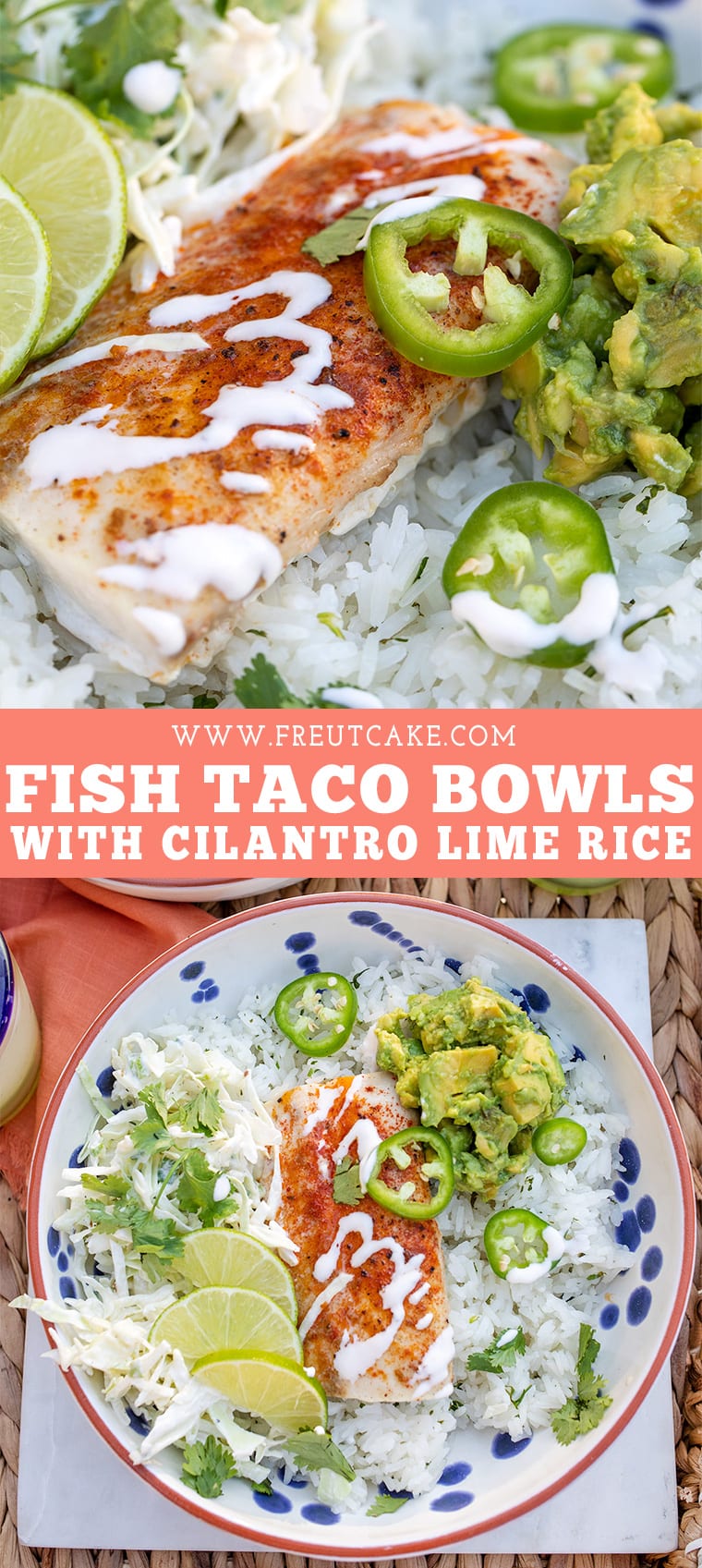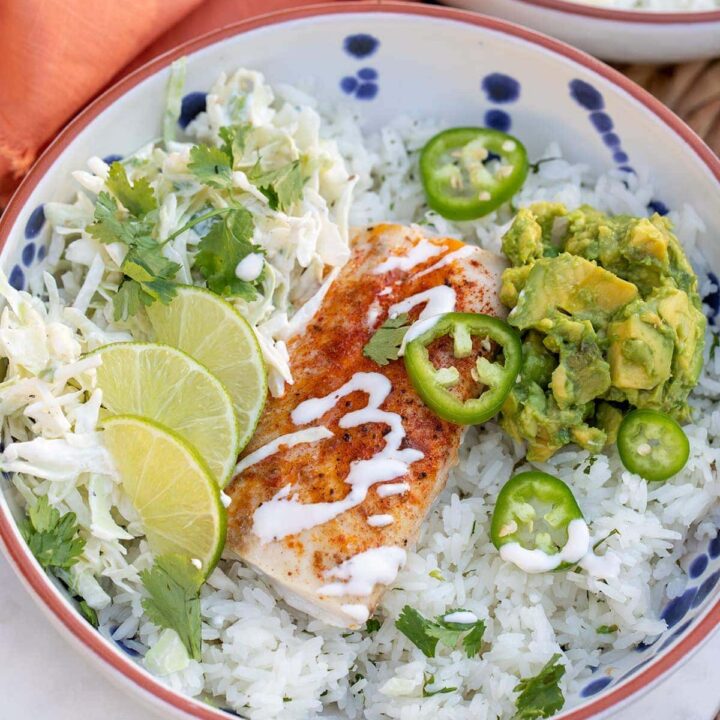 Fish Taco Bowls with Cilantro Lime Rice
Mahi Mahi fish taco bowls with cilantro lime rice.
Ingredients
4 Mahi Mahi filets
1 Tablespoon paprika
salt and pepper
Cilantro Lime Rice:
2 cups Jasmine Rice
3 cups water
⅓ cup lime juice
¼ cup minced cilantro
Slaw:
10 oz shredded green cabbage
juice of 1 lime
½ cup Mexican crema, plus more for garnish
¼ cup chopped green onion
3 avocados, diced
sliced jalapeno
lime slices for garnish
Instructions
1. Preheat the oven to 375 degrees and bring 3 cups of water to a boil in a pot with a lid. Add the rice, reduce to a simmer, cover and cook until fluffy and all of the water is absorbed, 15 minutes.
2. While the rice cooks, drizzle mahi mahi filets with olive oil and place on a rimmed sheet pan. Season generously with salt and pepper as well as paprika. Bake 12 minutes until the fish is firm and cooked through. Remove from oven and keep warm.
3. Make the slaw: In a bowl combine shredded cabbage, green onion, lime juice and crema. Toss to combine and season with salt and pepper to taste.
4. When the rice is done cooking, gently fold in ⅓ cup lime juice and ¼ cup chopped cilantro.
5. To serve, add a scoop of rice to each bowl, top with baked mahi mahi, cabbage slaw, diced avocado, sliced jalapenos and more fresh cilantro.
Nutrition Information:
Yield:

4
Serving Size:

1
Amount Per Serving:
Calories:

638
Total Fat:

32g
Saturated Fat:

9g
Trans Fat:

0g
Unsaturated Fat:

21g
Cholesterol:

175mg
Sodium:

438mg
Carbohydrates:

48g
Fiber:

14g
Sugar:

5g
Protein:

45g