Frosé Champagne Floats are the ultimate in fancy, celebratory holiday cocktails! A dollop of blended, fruity Frosé floating in a coupe of champagne, topped with sugared cranberries. The cocktail is as delicious to drink as it is beautiful to look at.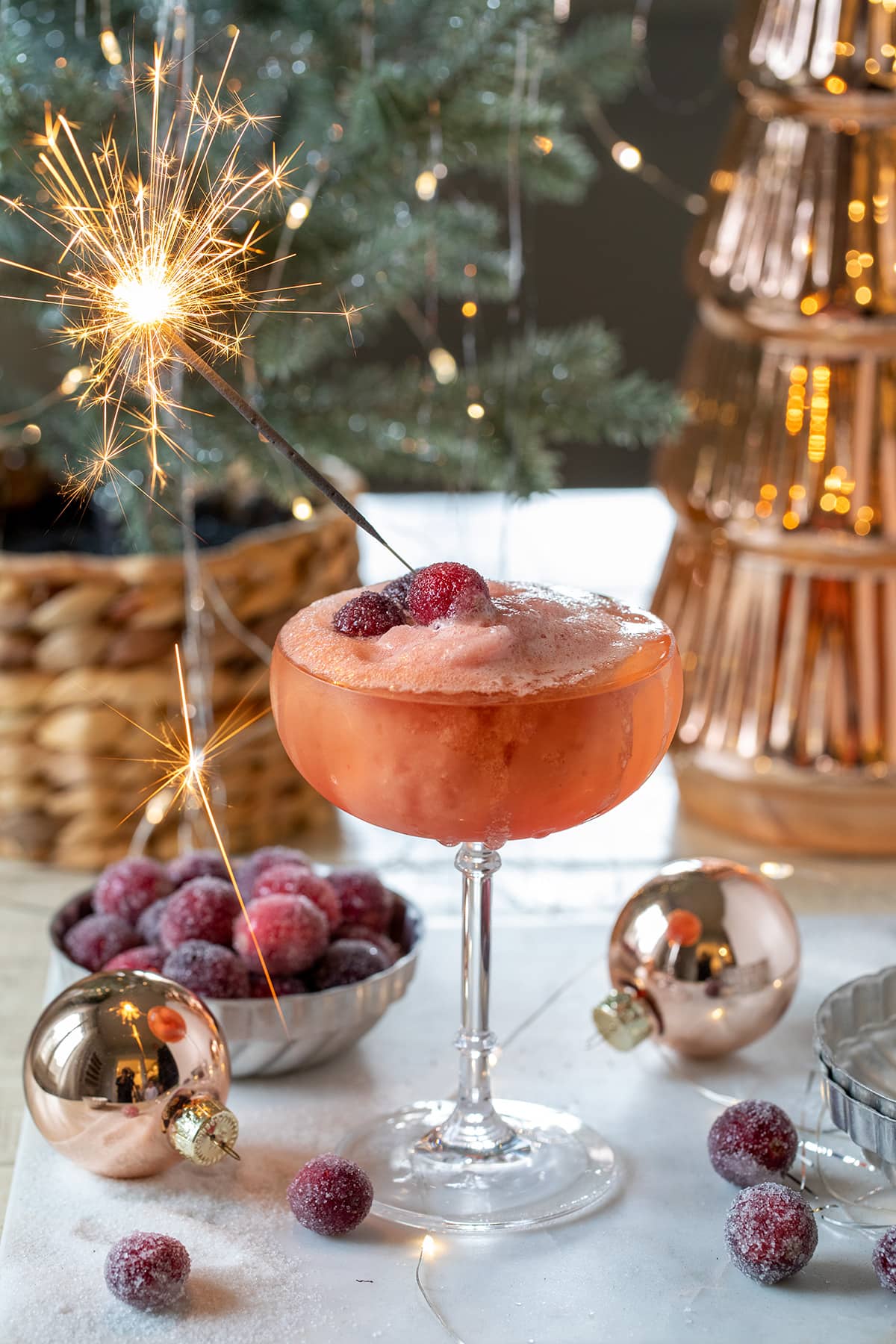 Frosé Champagne Float
The holidays call for extra special drinks and whether you are looking for a Christmas Eve cocktail or something to toast in the New Year, this Frosé Champagne Float is it. I love a good champagne cocktail, and the addition of Frosé Mix blended up with cranberry and lemon makes it even more delicious!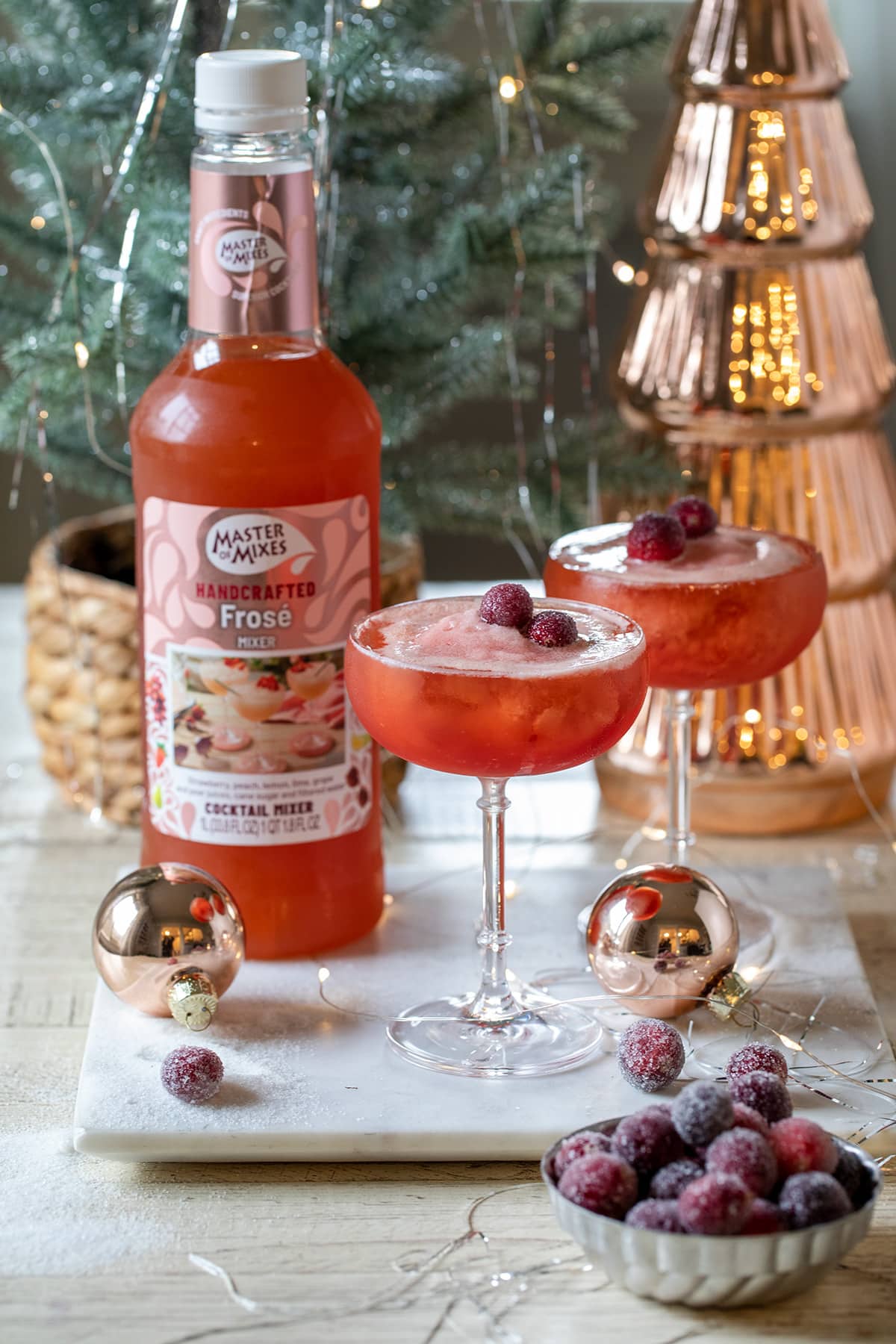 What is Frosé?
If you haven't tried Frosé, it's essentially Rosé wine blended with frozen fruit, usually strawberries, lemon juice and sugar. It has become a quintessential summer drink similar to my Peach White Wine Slushies or Mixed Berry Wine Slushies.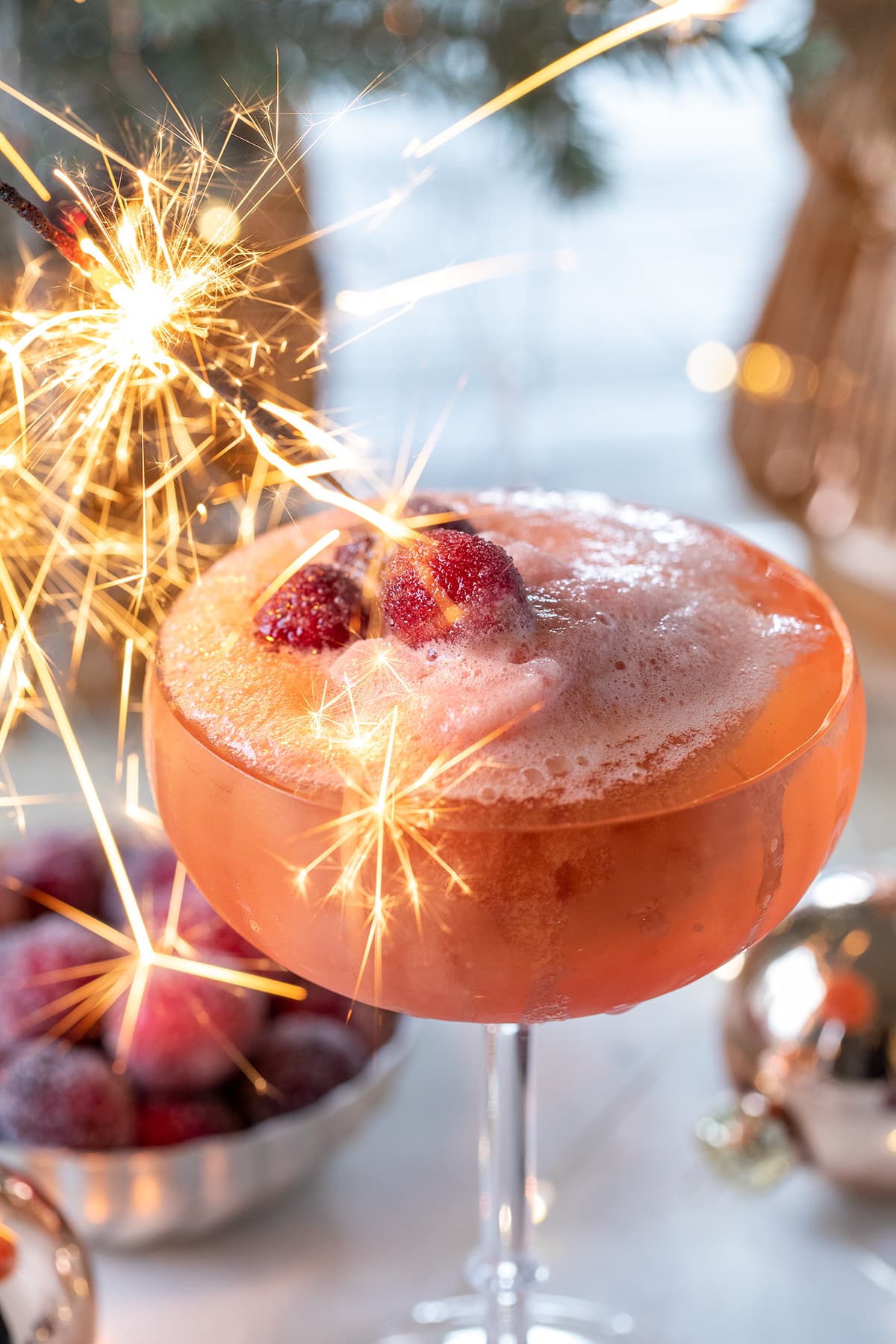 How to Make Frosé
Typically you would blend this mixer with ice and your favorite Rosé wine to create the classic drink, however for my Champagne Float, I used it a little differently. Frozen cubes of mixer blended with cranberry and lemon the frozen base for this cocktail and when topped with champagne, turn into a bubbly delight.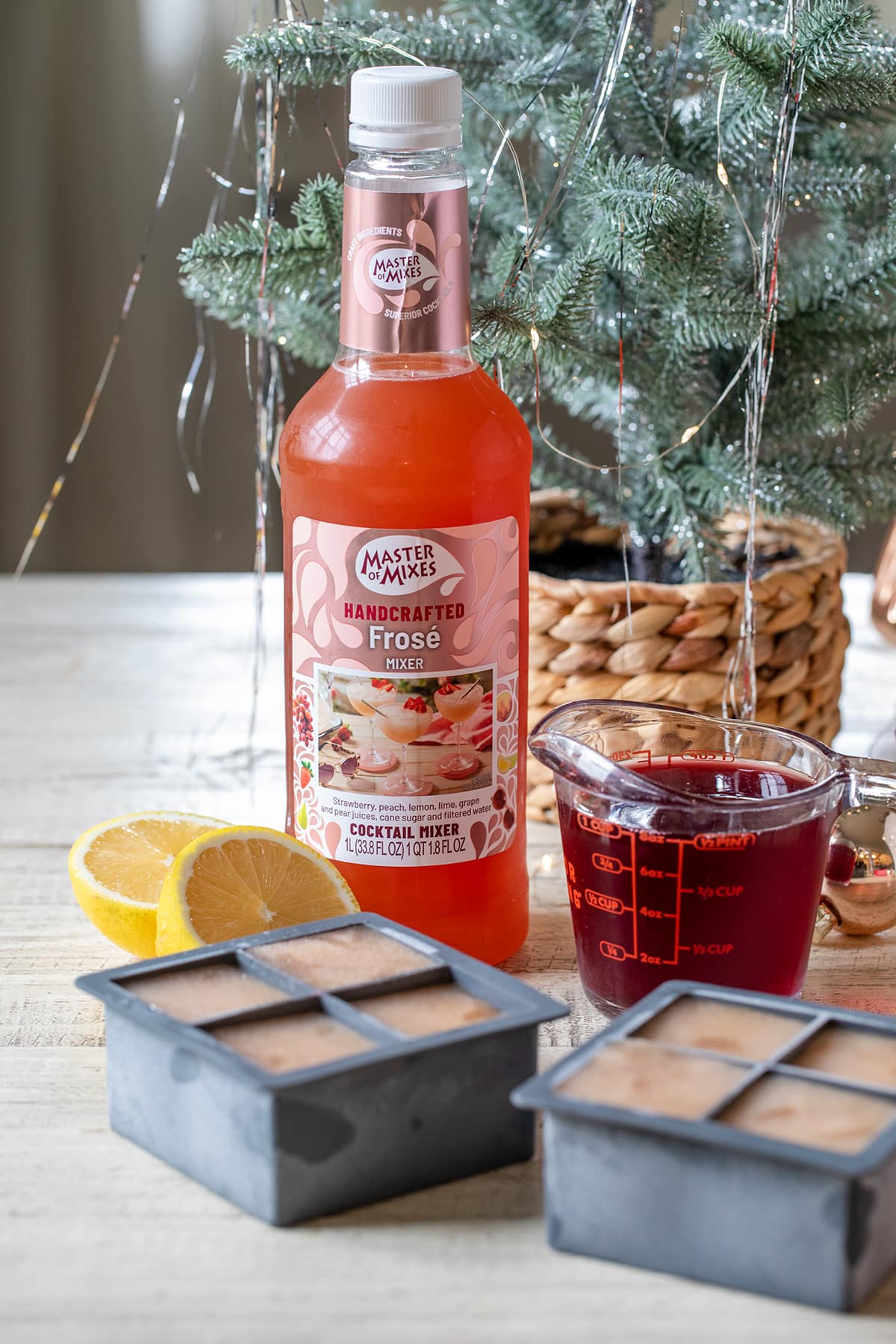 Ingredients in a Frosé Champagne Float
Master of Mixes Frosé Mixer
Cranberry Juice - unsweetened cranberry juice works best for this as the mixer is already sweet and this balances the flavors.
Lemon - the juice of one whole lemon.
Champagne - either a dry champagne, Prosecco or Cava will work. Just make sure you choose a dry sparkling wine and not a sweet variety.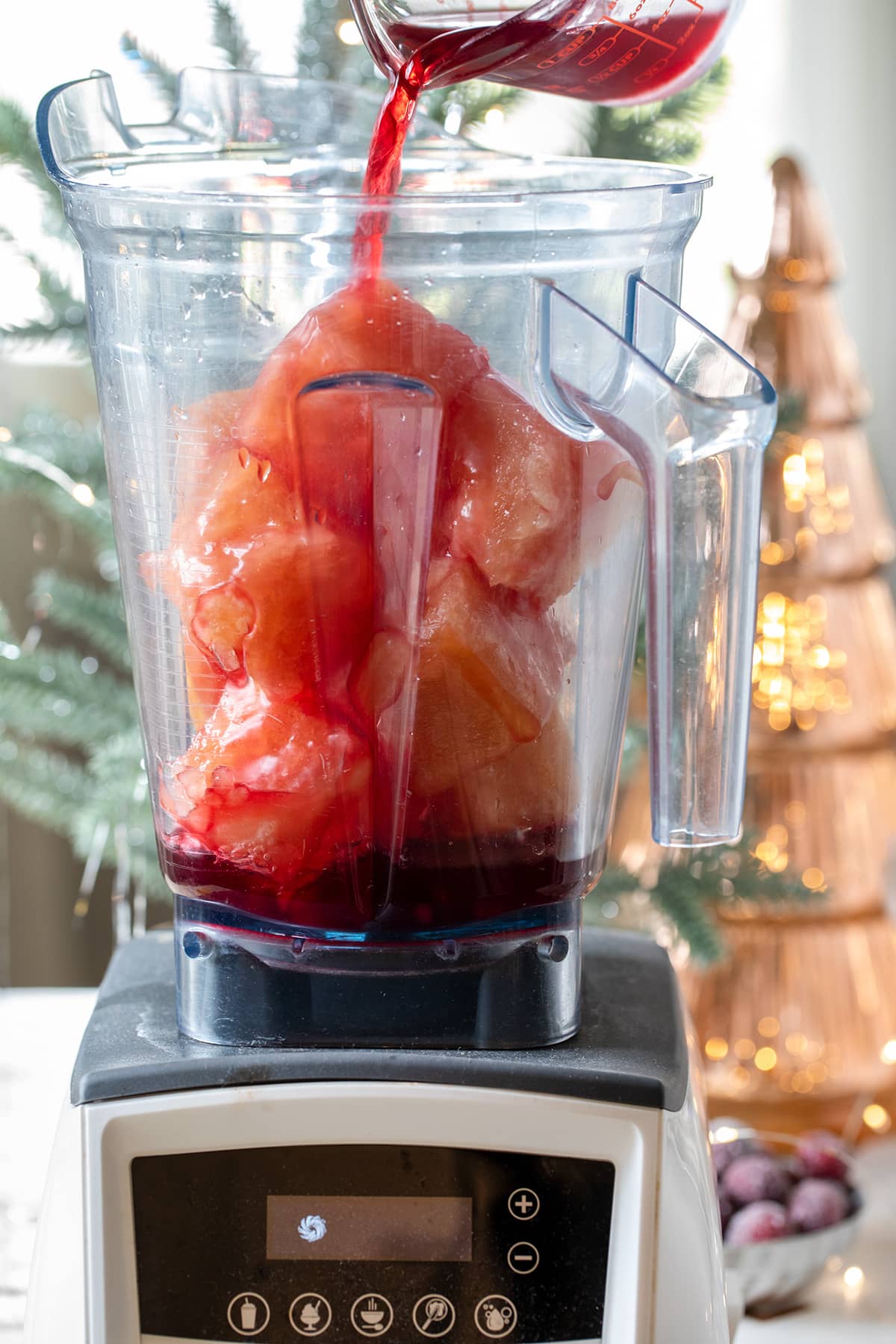 How to Make this Cocktail:
Freeze Frosé Mixer - start by freezing mixer in ice cube trays. I recommend large silicone ice cube molds as they are much easier to get the mixer out of.
Make Sugared Cranberries - totally optional for garnish but I love how pretty and easy they are to make! (directions to follow so keep reading.)
Freeze Frosé Mixer - In a blender combine frozen mixer cubes, cranberry juice, and lemon juice.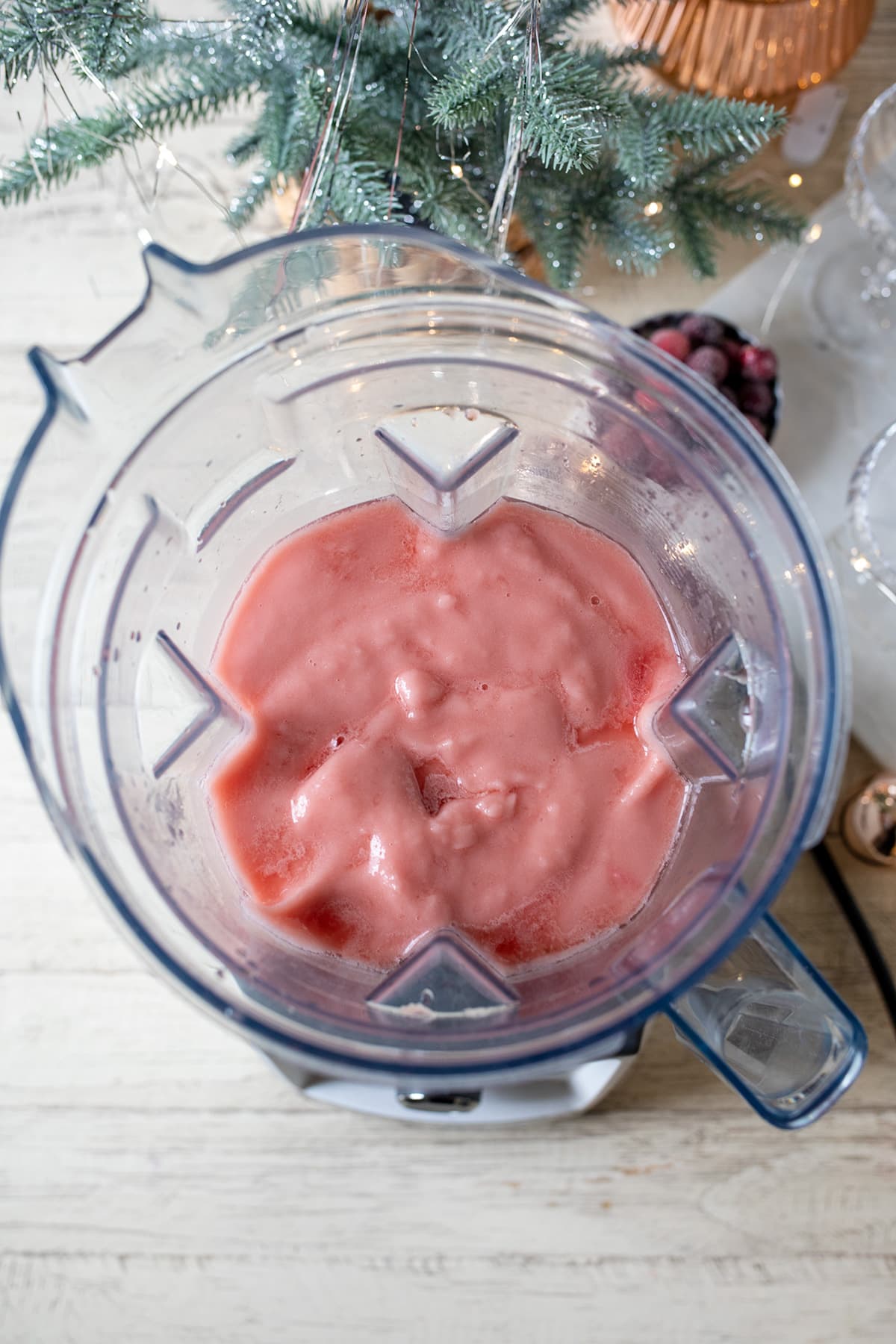 4. Blend - blend until completely smooth and the consistency of soft sorbet.
5. Assemble the Float - Fill a coup glass halfway full with champagne and top with a scoop of Frosé.
6. Garnish - garnish with two or three sugared cranberries and serve right away!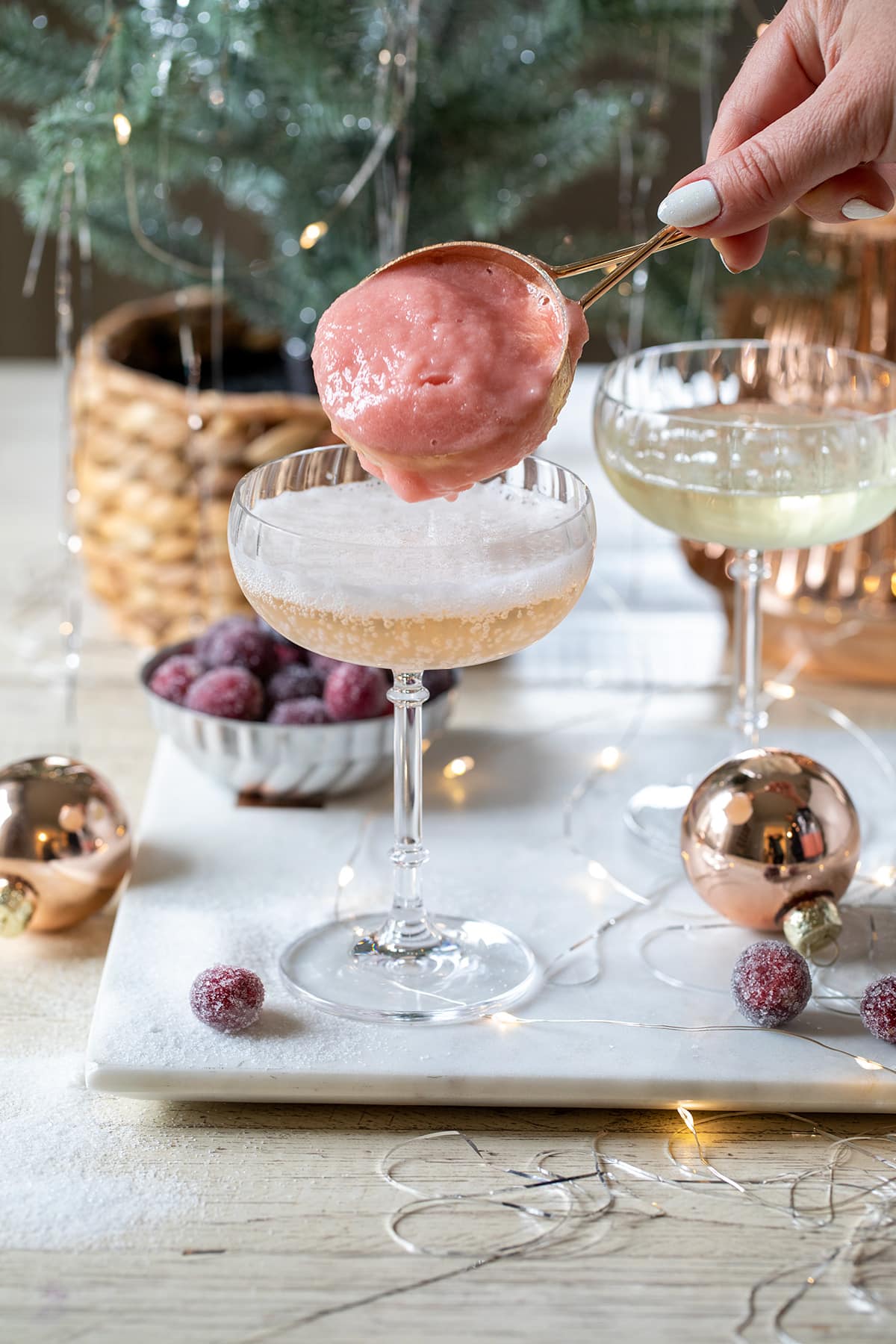 The sweet pink frosé sorbet, melts down into the chilled champagne slowly and the combination is sweet, tart, sparkling and absolutely delicious!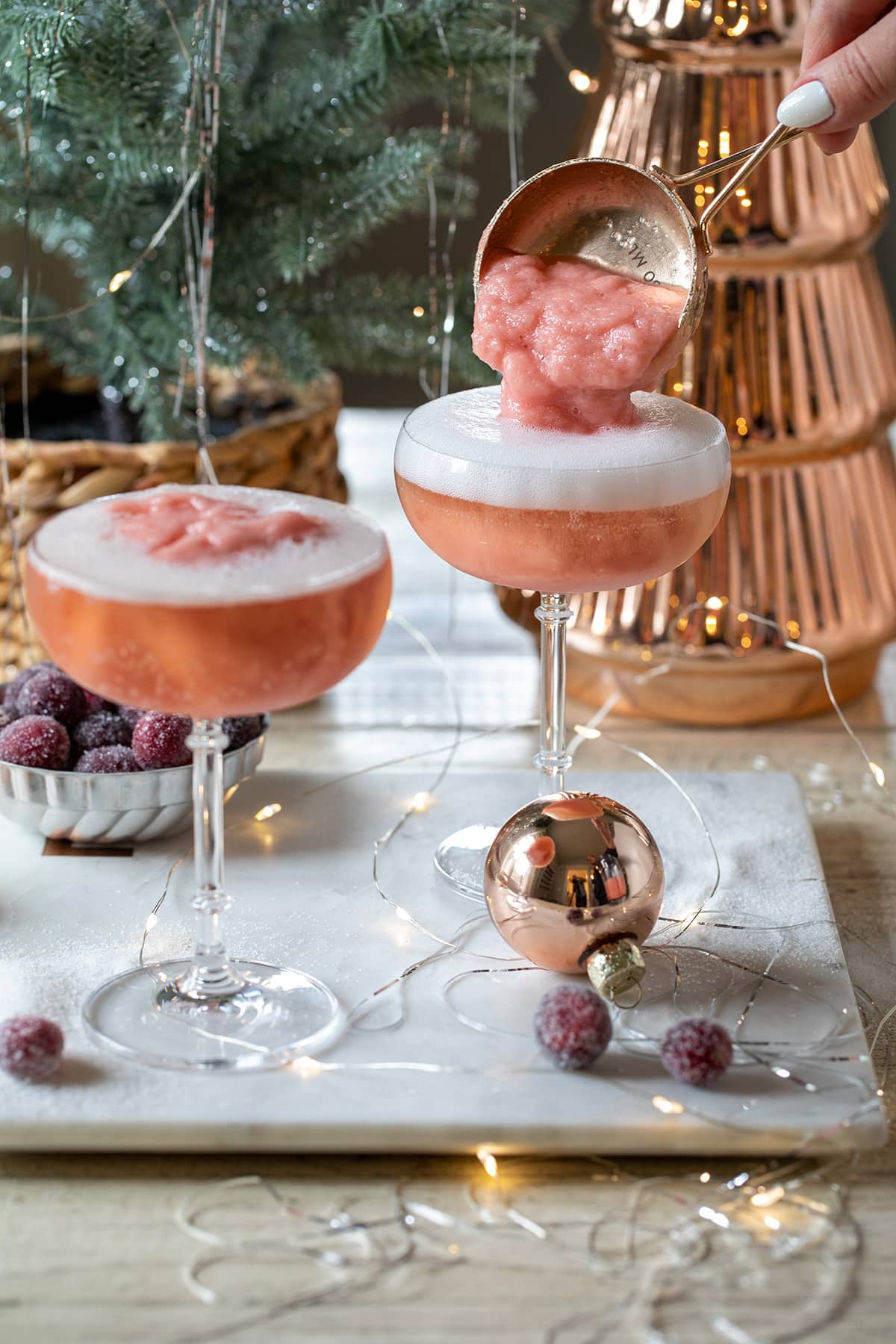 Garnish with a couple of sugared cranberries and these pretty drinks are ready to serve! The frosé melts nice and slowly in the chilled champagne so it's perfect for topping with a bit more champagne as you sip.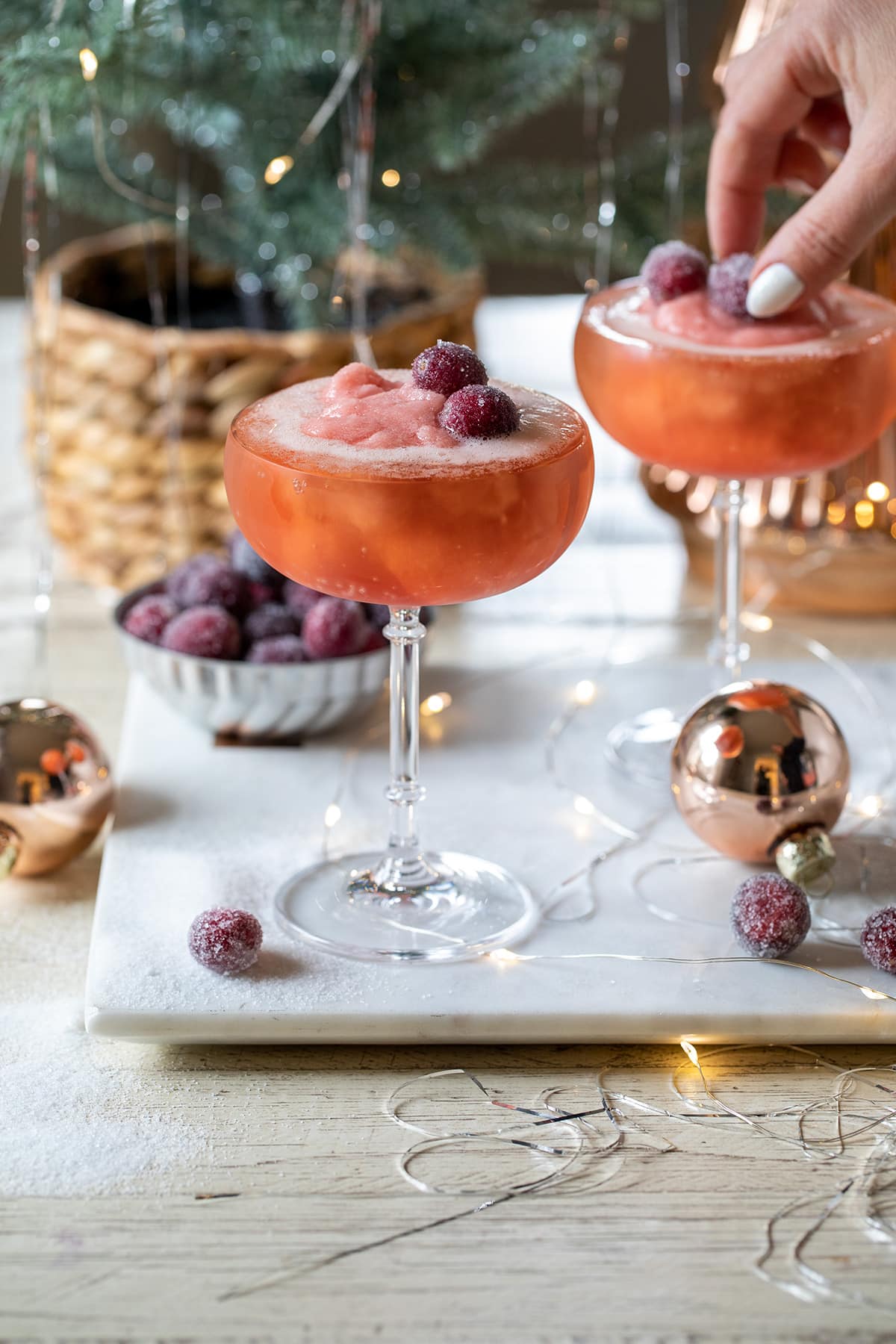 How to Make Sugared Cranberries
Sugared cranberries are a classic garnish for cocktails and desserts and couldn't be easier to make! Here's how to make them:
Toss fresh cranberries in simple syrup. You can make your own or buy store bought. I like this one for mixed drinks and for making sugared cranberries so I always have it in my fridge.
Roll in sugar. Drain cranberries of any excess syrup and roll in granulated sugar until fully coated.
Dry. Allow cranberries to sit and "dry" out a bit before garnishing with them.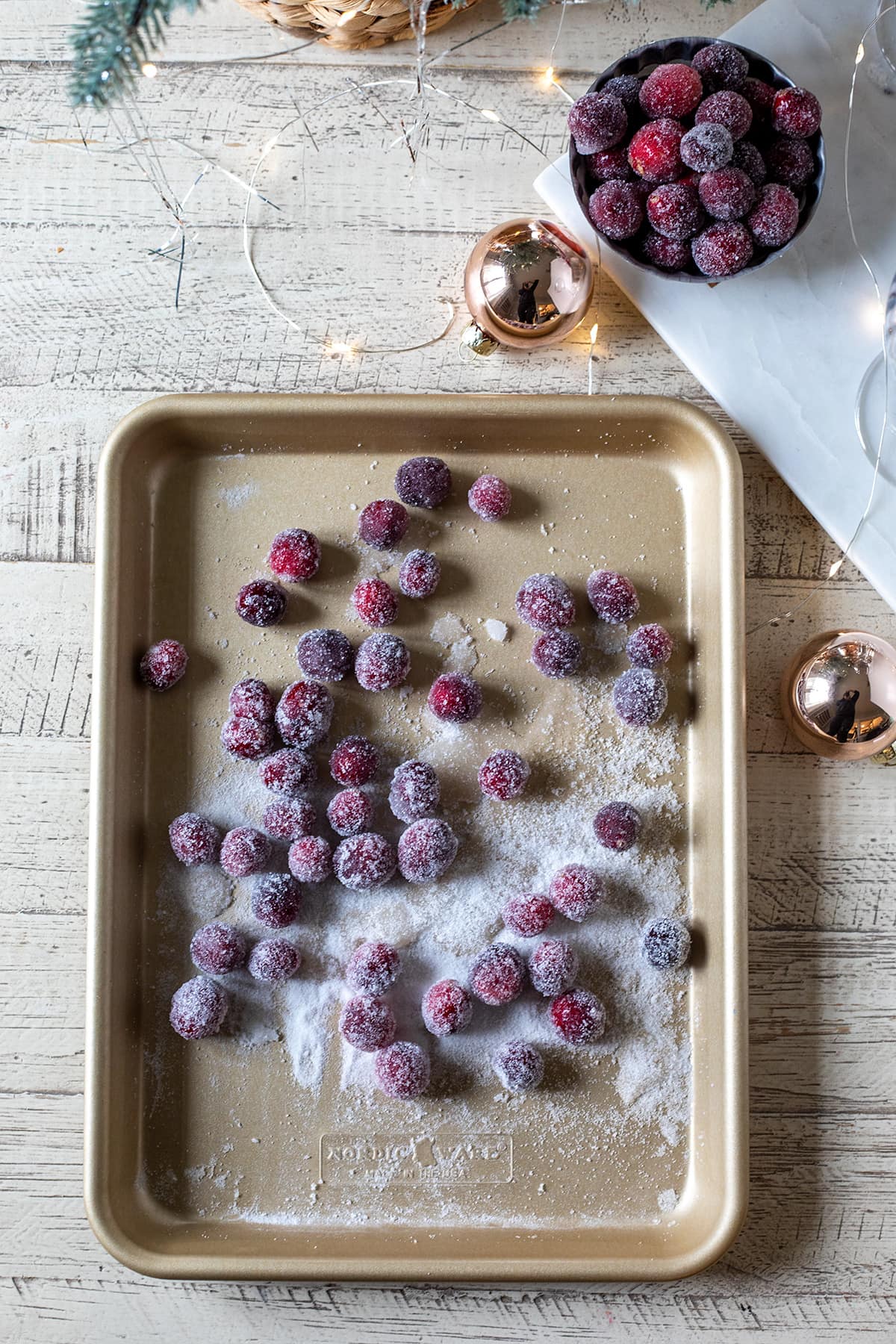 Are Sugared Cranberries Edible?
They sure are, and they are tasty too! Tart, sweet and crunchy, this is a completely edible garnish. A raw cranberry is very bitter but the sugar and simple syrup cut that tartness and makes them more palatable.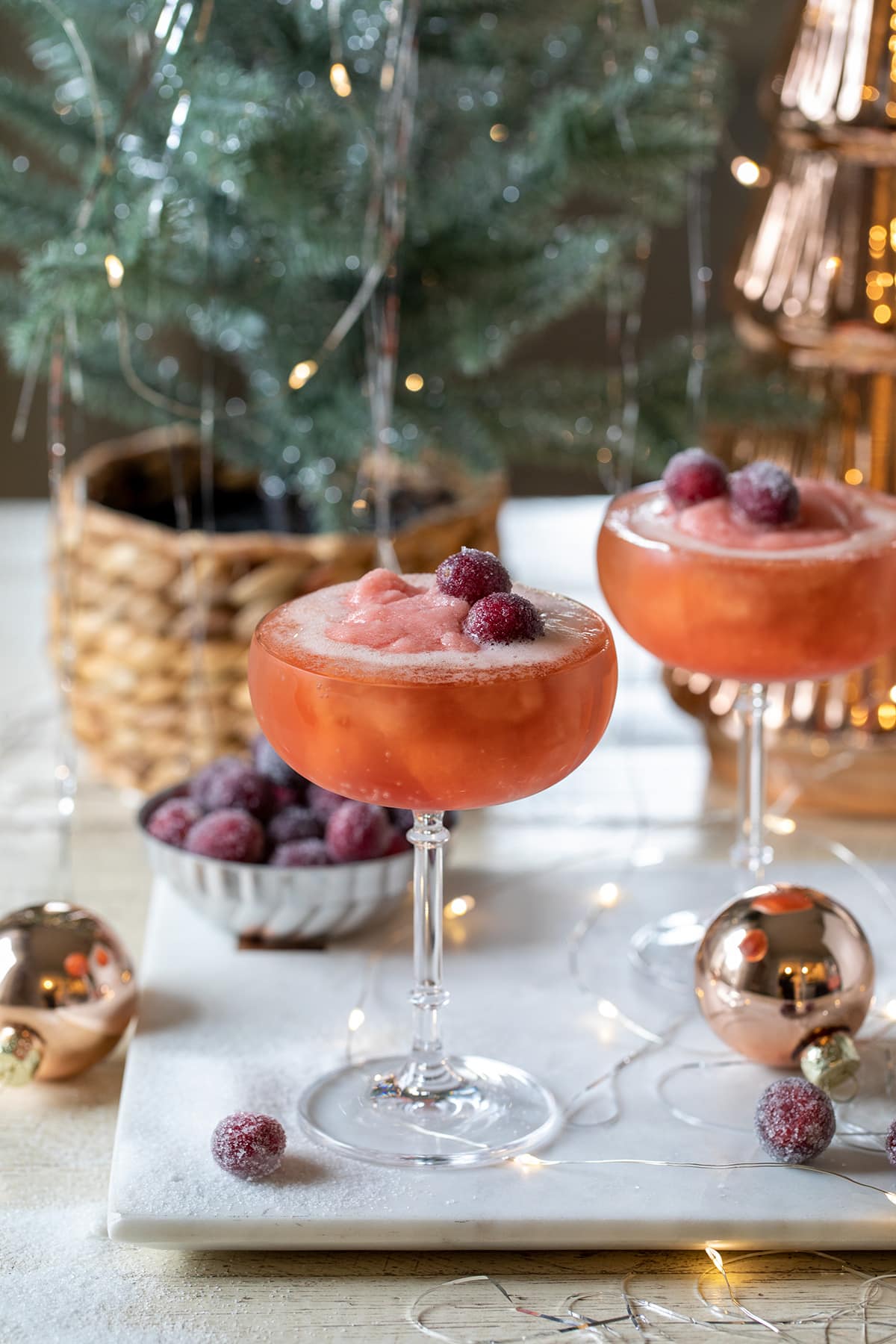 If this isn't the most beautiful holiday cocktail, I don't know what is! The only thing that could make it even more stellar is sparklers and if you are making these for a New Year's Eve party, it's a must.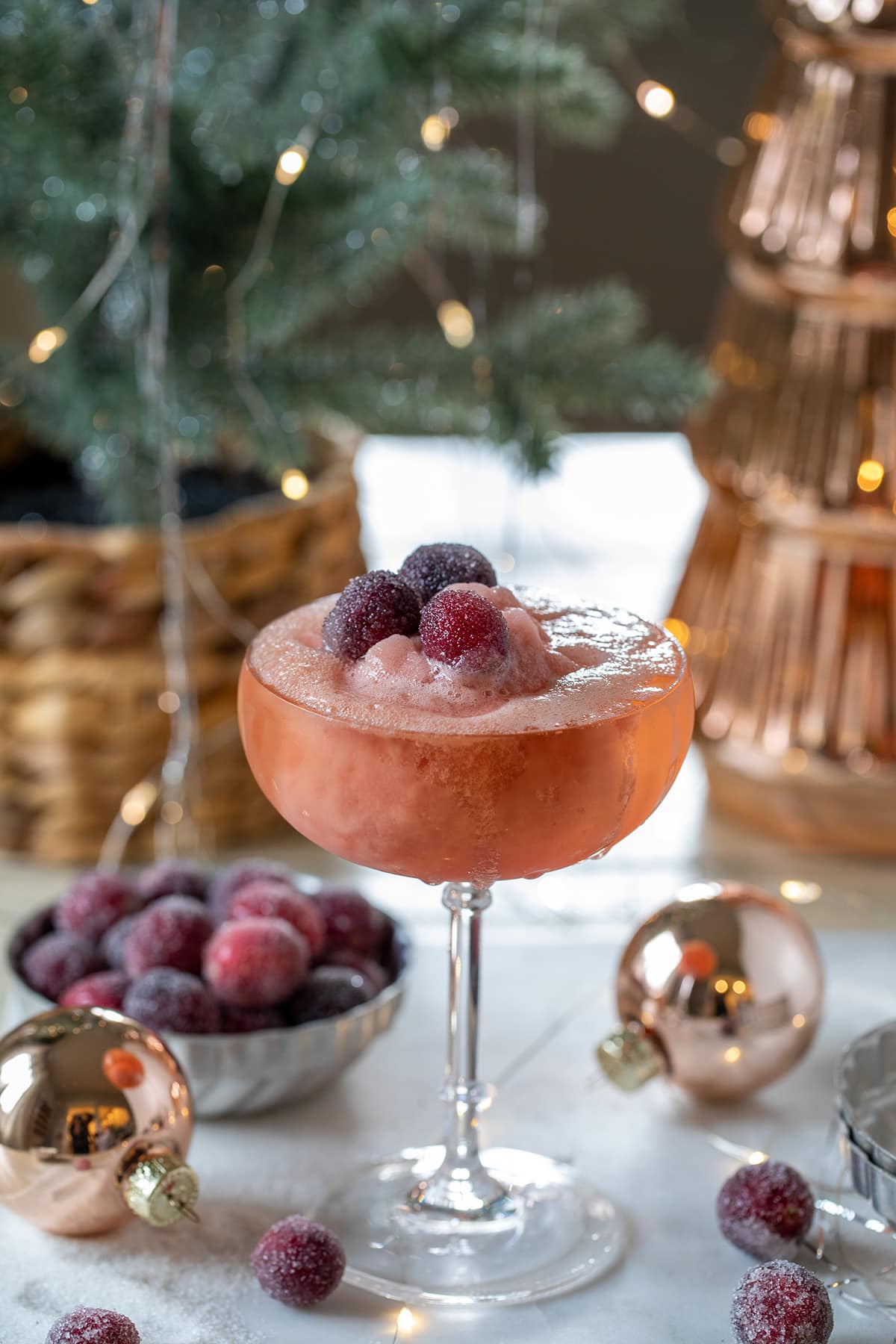 Making these Drinks Non-Alcoholic:
You can make these cocktails into mocktails by skipping the champagne and using a sparkling water instead! I would recommend either a lemon or cranberry flavored sparkling water.
Make Ahead Tips:
If you are planning ahead and would like to make this for a party, you can start by freeze cubes of frosé mixer ahead of time and sugaring the cranberries. Sugared cranberries can be made one day ahead and left to dry, uncovered at room temperature. Do not refrigerate or cover cranberries once they are sugared.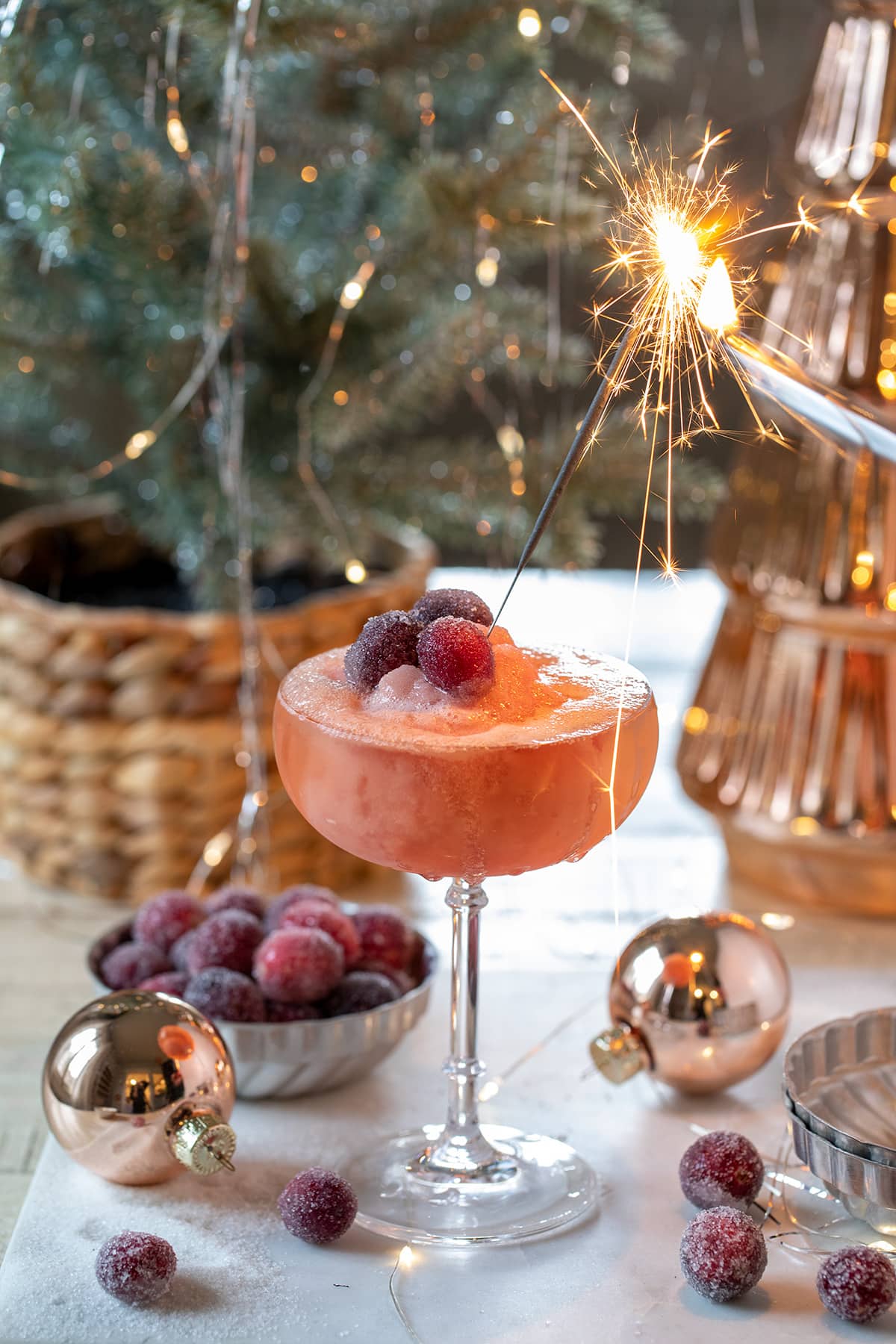 What to Serve with Frosé Champagne Floats
These drinks are perfect for serving with savory appetizers, and here are a few of my holiday favorites!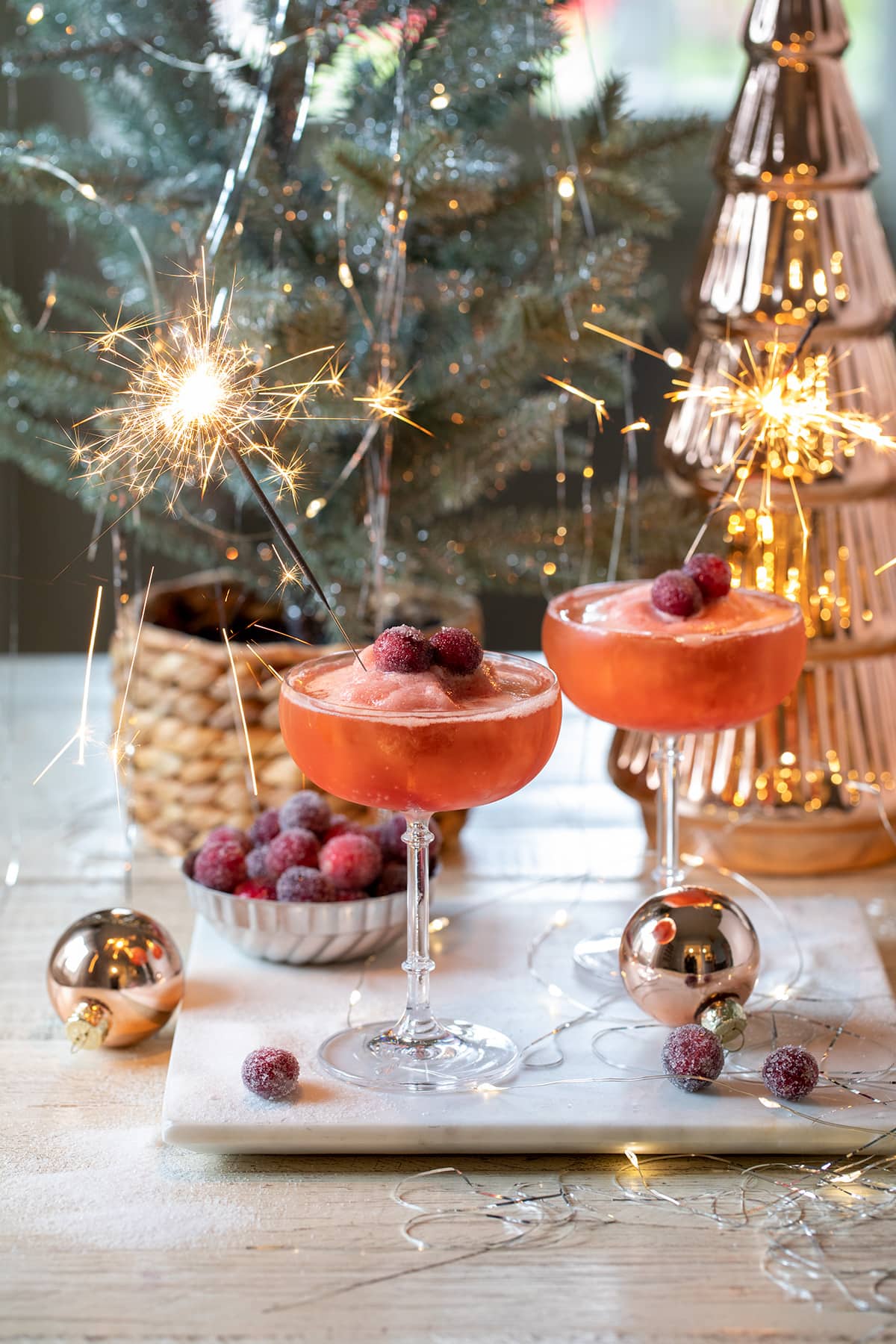 More Holiday Cocktails to Try:
I hope you will try this fun drink for your holiday party or celebration! I ordered sparklers online and my champagne coup glasses can be found here. Cheers!
Disclosure: This post is sponsored by Master of Mixes, a brand of products I love to use for my cocktails.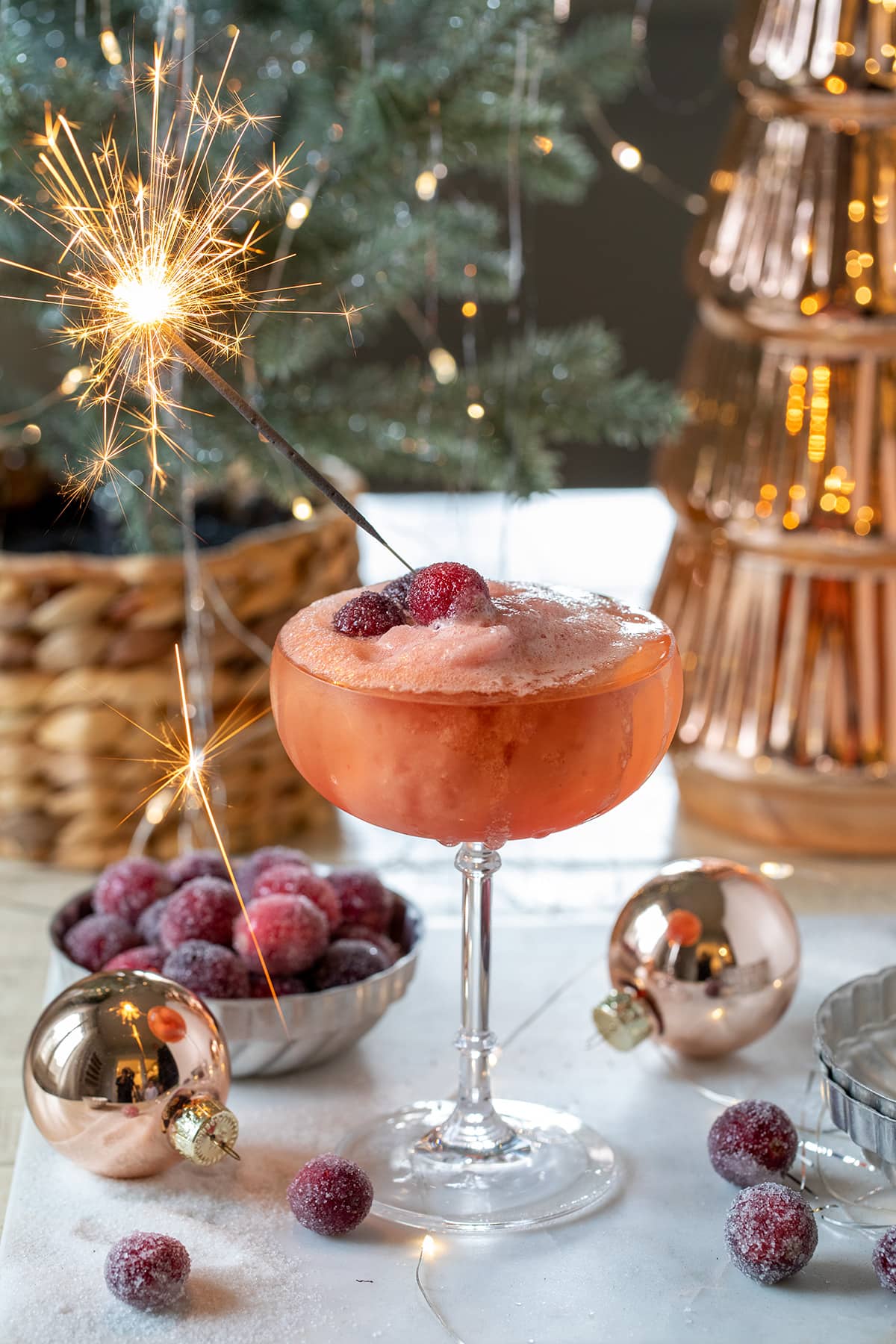 Frosé Champagne Floats
Additional Time:
10 minutes
A sweet and sparkling frose and champagne cocktail.
Ingredients
Frosé Sorbet
1 bottle Frosé Mixer
1 cup unsweetened cranberry juice
juice of one lemon
Sugared Cranberries, optional for garnish
Fresh cranberries
Simple Syrup
Granulated Sugar
Instructions
Fill large silicone ice cube trays with Frosé Mixer and freeze at least 4 hours, or overnight until completely frozen.
In a blender combine Frosé cubes, cranberry juice and lemon juice. Blend until mixture is completely smooth.
Fill coupe glasses half way with champagne and top with a scoop of Frosé sorbet.
Garnish with a couple of sugared cranberries.
How to Make sugared cranberries:
Toss cranberries in simple syrup and drain well.
Roll cranberries in granulated sugar.
Allow cranberries to dry for at least one hour before using for garnish.
Notes
This recipe will make more than 6 servings of the frose sorbet however one bottle of champagne will serve roughly six people so that is the yield I am noting in this recipe.
Recommended Products
This site uses affiliate links in which I may earn a small percentage from qualifying purchases.
Nutrition Information:
Yield:

6
Serving Size:

1
Amount Per Serving:
Calories:

267
Total Fat:

0g
Saturated Fat:

0g
Trans Fat:

0g
Unsaturated Fat:

0g
Cholesterol:

0mg
Sodium:

10mg
Carbohydrates:

42g
Fiber:

1g
Sugar:

38g
Protein:

0g