This post has been rolling around in the back of my mind for a couple weeks now as I began slowly (and now quickly) stocking my pantry in case of emergency due to the Coronavirus.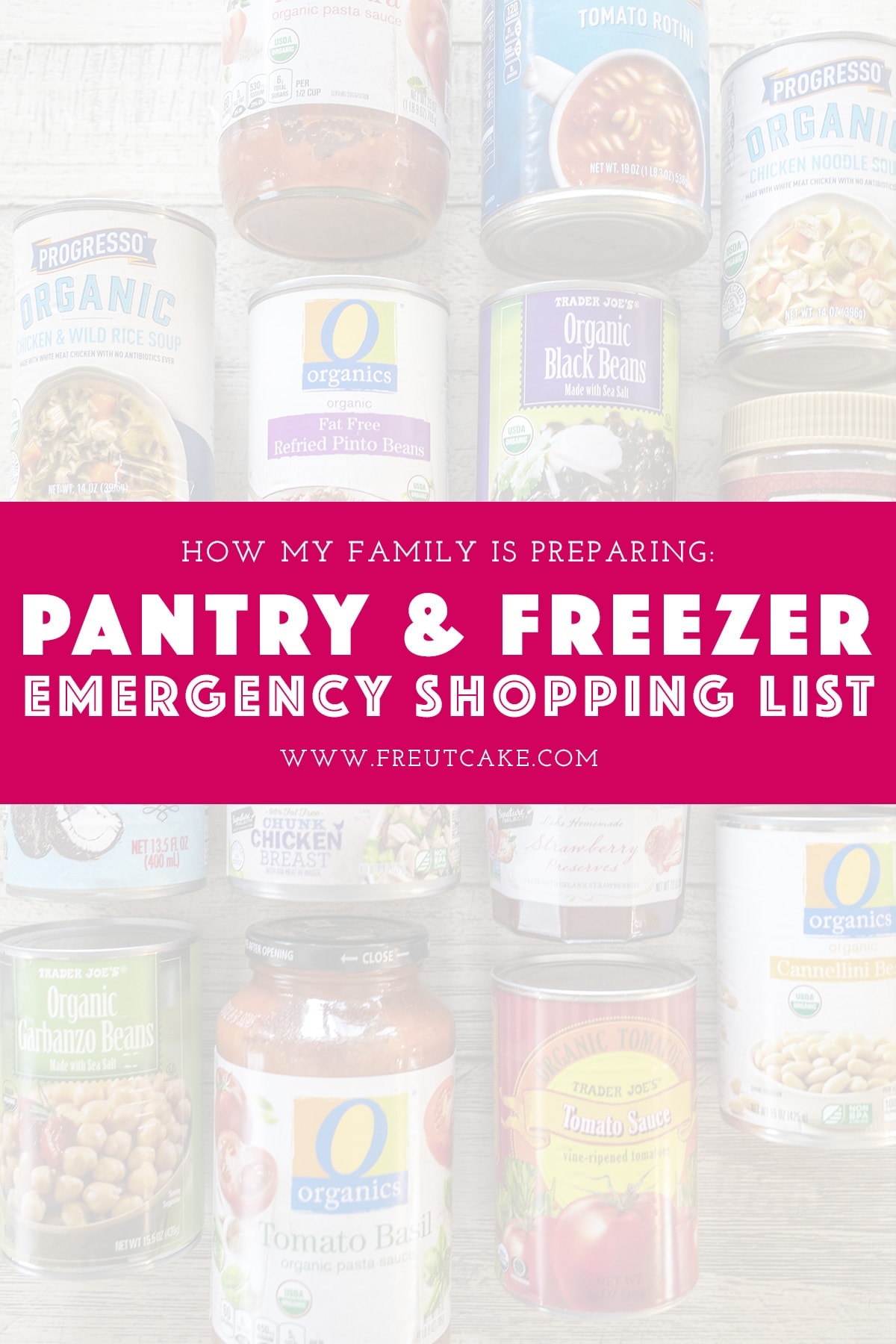 Emergency Pantry and Freezer Shopping List
Let me start by saying that this post is by no means meant to cause panic, in fact it's the complete opposite. It's an attempt for me to organize my thoughts at a time when everything is spinning and hopefully help you organize yours.
My hope is that this list might act as a guide for anyone who is completely overwhelmed by the sight of empty store shelves and unsure where to start in the process of stocking up in your pantry and freezer.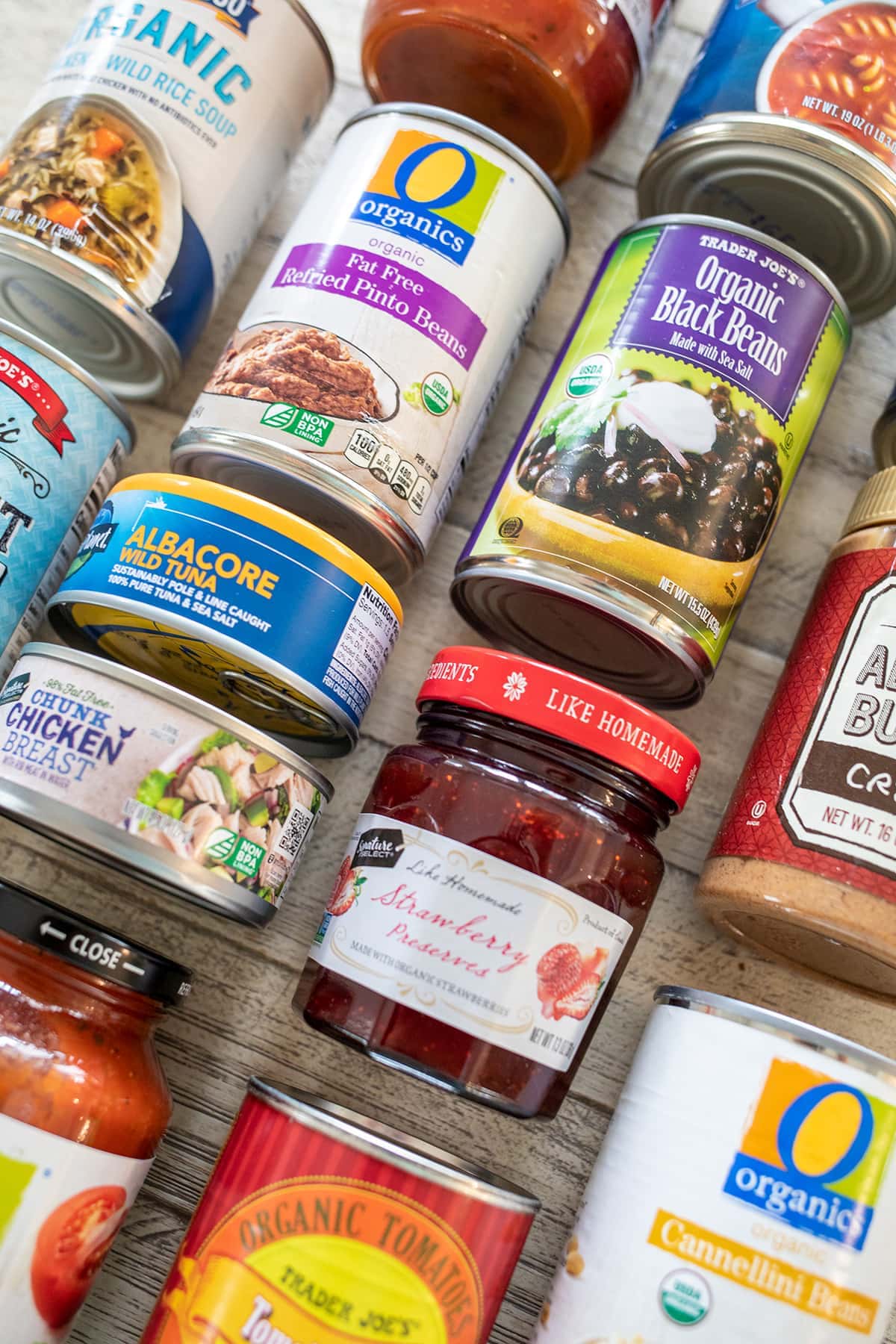 Overtime, as this virus blows over, this post will remain here on the blog as a resource for anyone who feels compelled to keep an emergency ready pantry. Living in Southern California where Earthquakes are inevitable, this is a standard practice.
It's also important to note that this list doesn't include First-Aid supplies and other household items such as toilet paper and soap. Let's get started:
Inventory Your Pantry & Freezer
Do you have enough pantry and frozen goods to feed your family for one full week? Let's get it to three or even four weeks! Start by taking inventory.
Pull everything out of your pantry shelves if you need to.
Assess what you already have and what you need more of.
Print off my shopping list at the bottom of this post and cross off anything you already have enough of.
Write numbers next to items on your list such as 4 next to "canned black beans" etc.
Quickly organize your freezer, take inventory, toss anything old that's taking up room such as a ¼ bag of frozen peas that have frost bite.
Go Shopping
If you can't get everything on your list in one trip, don't panic! I have been building our pantry and freezer for a few weeks now going back to the store every few days to get more supplies.
If you can't find rice at your grocery store, try Walmart or Target. Try not to feed into the hysteria of people loading their carts to the brim with toilet paper. You got this.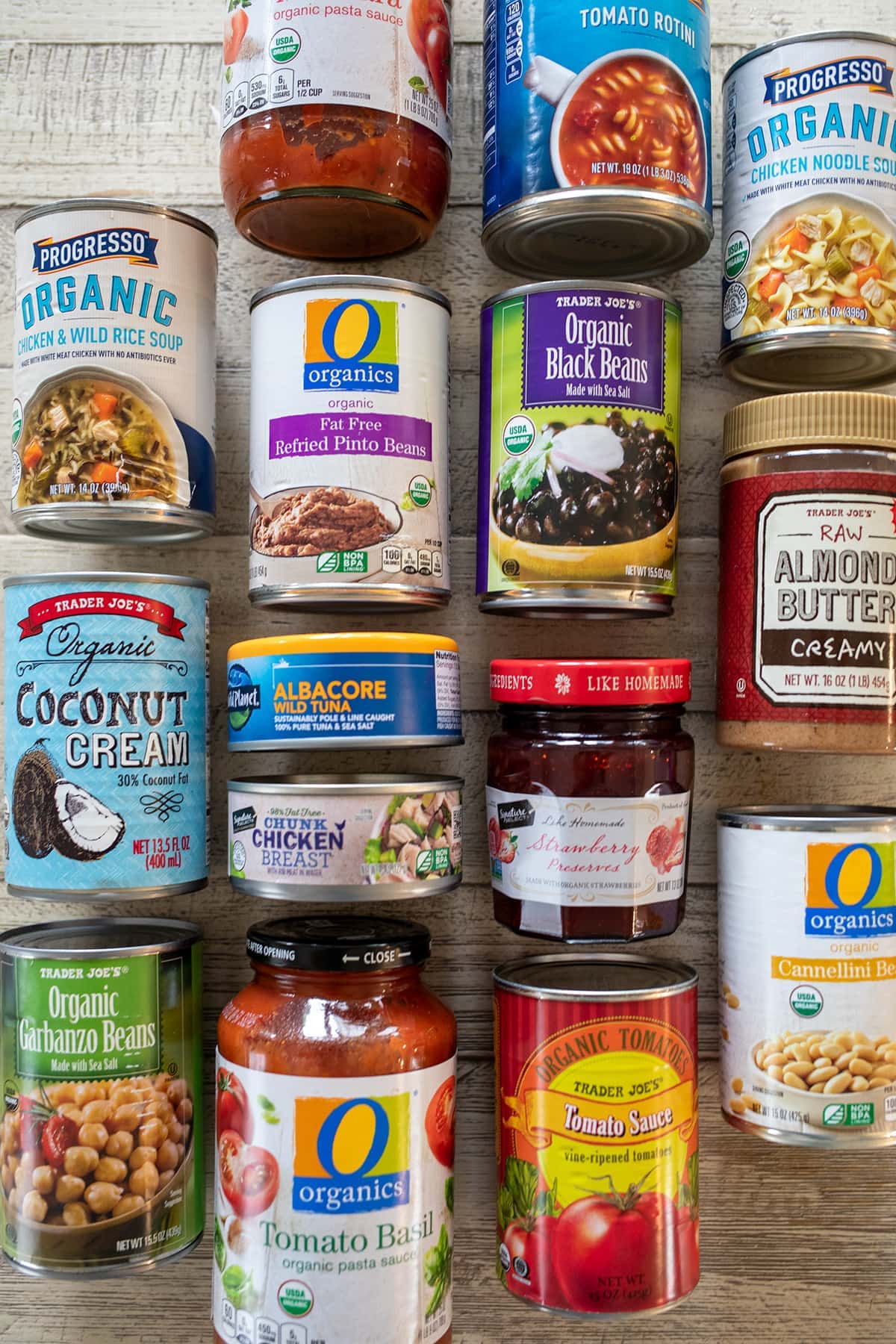 Emergency Pantry Food List
I am by no means a "prepper." I do not have a basement with a well stocked pantry of shelves lined with canned goods and pickled veggies like my Grandparents do back east. I've never canned vegetables or made homemade bread. That's not what this post is about.
We have always been a family who eats through just about everything in the pantry and replenishes it with what we need for the week's meal plan. Two cans of black beans here, a box of chicken stock there, lots of snacks. However this Coronavirus scare has shown me how bad of a practice that is. It is something I am changing from here on out.
Best Foods For an Emergency Pantry
Here is my basic list of emergency pantry and freezer foods which I've created over the last few weeks while preparing for the Coronavirus Pandemic. (CLICK HERE TO PRINT MY SHOPPING LIST)
Canned Foods
Beans – I am only purchasing beans I regularly cook with which means I'm sticking to black beans, kidney beans, cannellini beans, garbanzo beans and adding in refried beans because it's a good high calorie and kid friendly meal option.
Tomato Products– I cook with a lot of tomato products so I have diced tomatoes, and tomato sauce in my pantry at all times.
Soups – while my family doesn't generally eat canned soups, these are a great addition to an emergency pantry because they are a simple meal that can be prepared in most conditions.
Canned Meats– for us this means plenty of tuna fish and canned chicken but you could also consider corned beef and canned chili as well.
Canned Fruits & Veggies –For now we have fresh "long-life" fruits and veggies on hand as well as frozen however if this continues in the next few weeks I may add these to our pantry.
Marinara Sauce – ok, this comes in a jar not a can but we stocked up! Nothing is easier than a pasta dinner.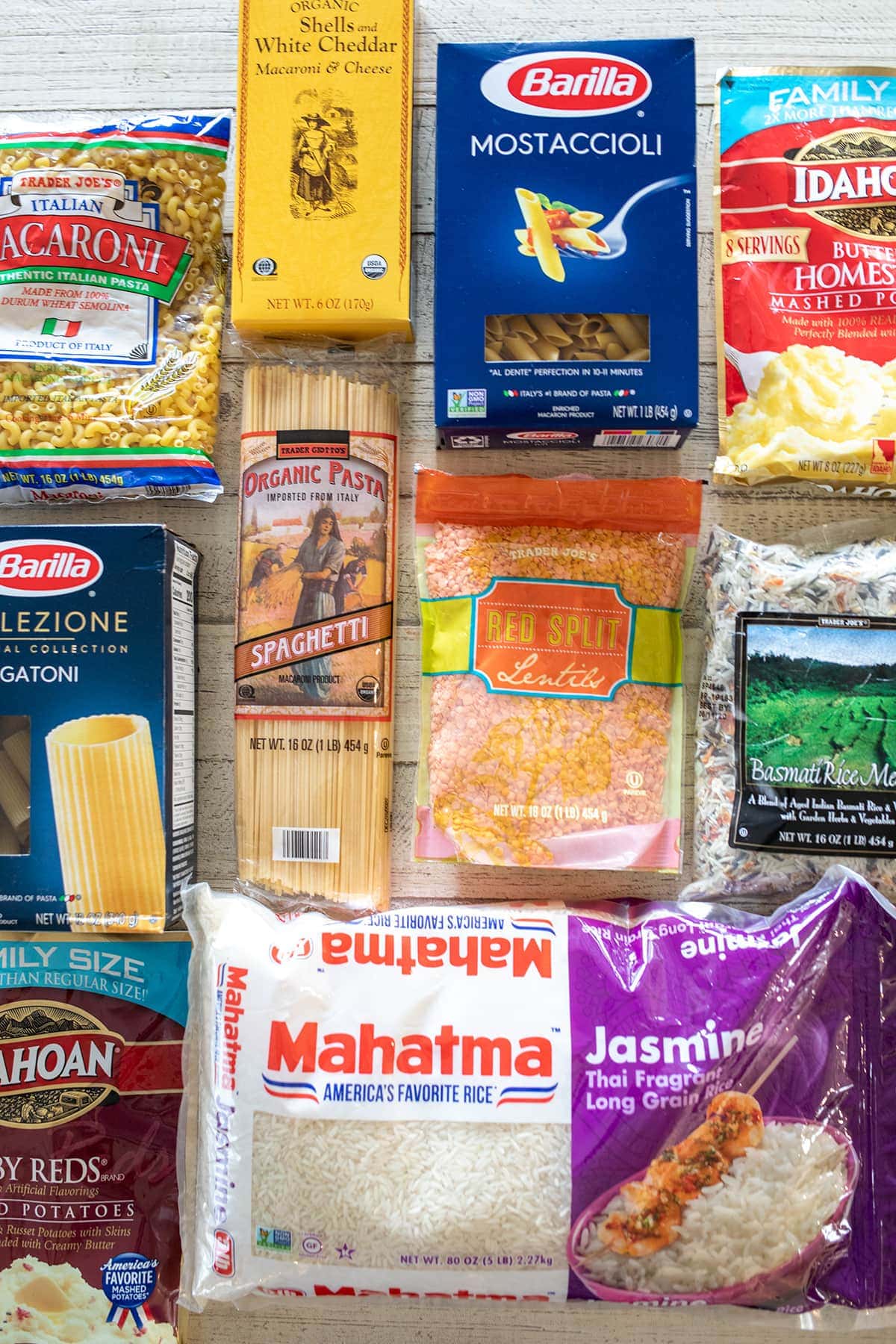 Pastas & Grains
Pasta – you can honestly never have enough of this so stock up. Also, grab a bag of shelf stable tortellini while you're at it. It's great in soup.
Rice – I purchased a huge bag of Jasmine rice to add to the pantry. We already had brown rice and a wild rice blend. Buy whatever you normally cook.
Lentils – if you cook lentils, this is a great addition.
Quinoa – I love keeping quinoa in my pantry regardless of emergencies because it's so high in protein.
Boxed Macaroni & Cheese – because there will be a kid rebellion without it.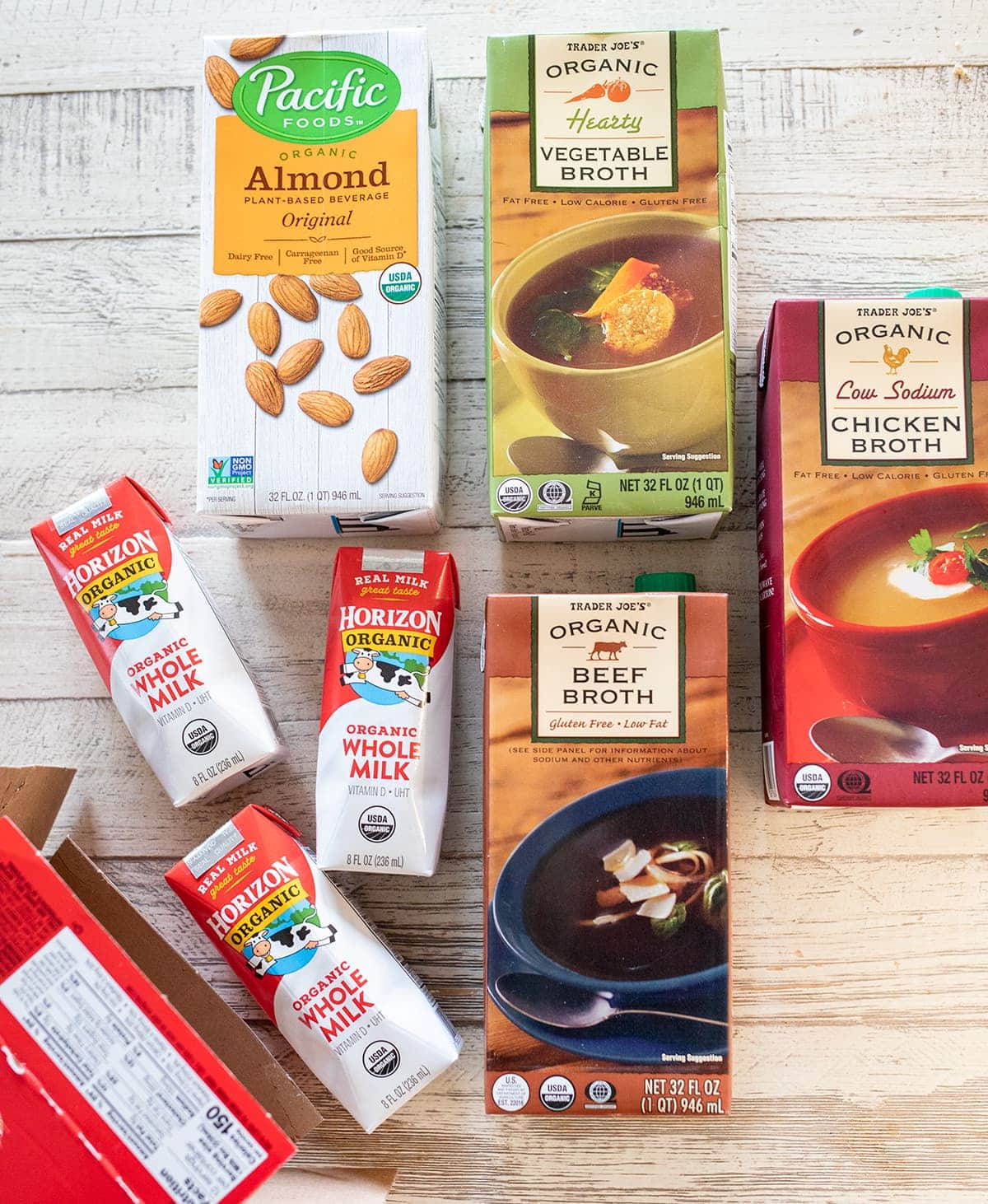 Pantry Liquids
Shelf Stable Milk – stock up on shelf stable whole milk especially if you have children who are used to drinking milk or having it in their cereal. We like Horizon Organics individual milk boxes. They sell them in one large box.
Non-Dairy Milks– if you drink almond milk or coconut milk you might want to look into the shelf stable variety.
Stocks & Broths – you can really never have too many chicken, beef and vegetable stocks and broths in your pantry for soup making or even for fortifying rice.
Water – Always good to have on hand.
Drinks – fruit juices, electrolyte drinks, powdered lemonade, all good ideas.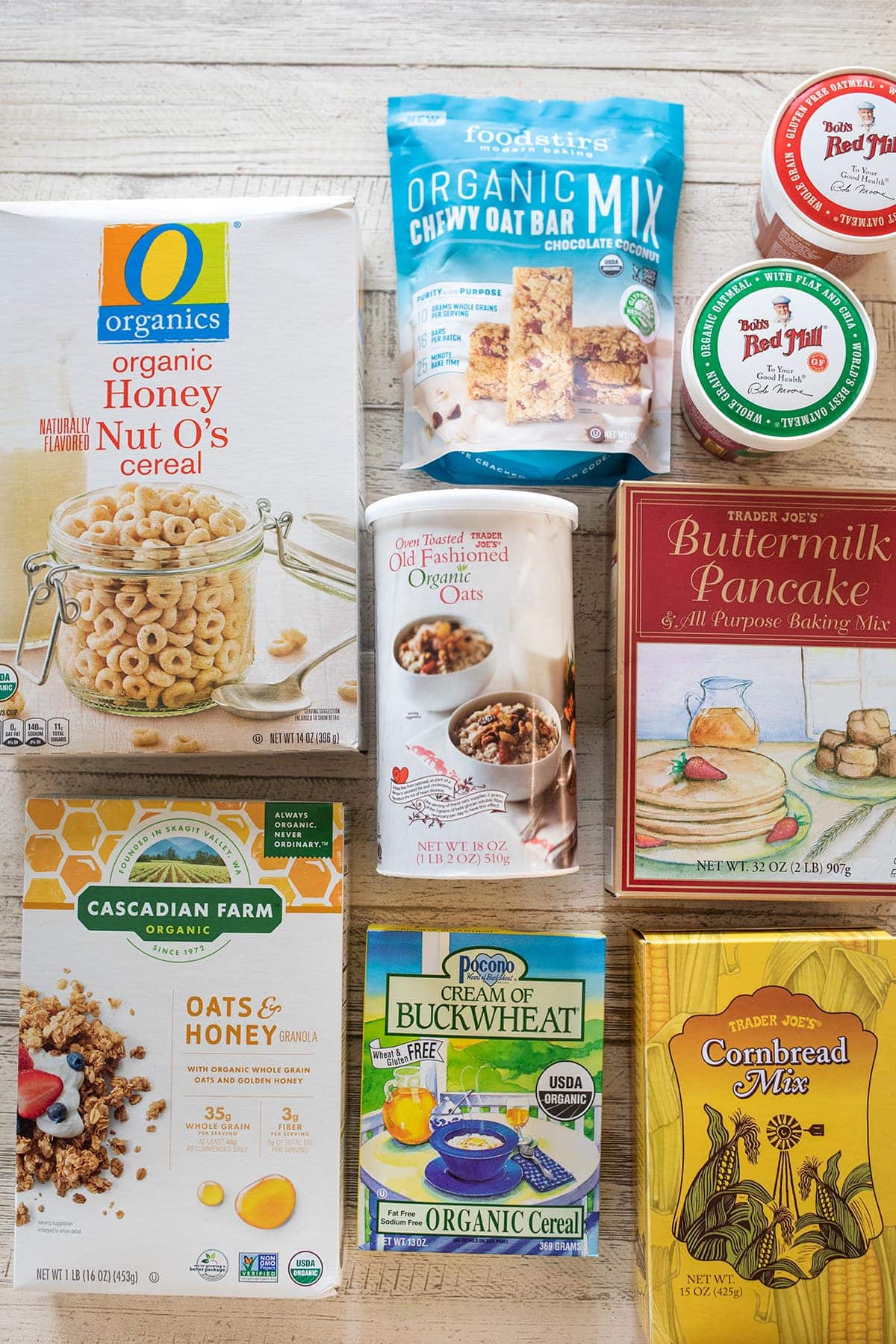 Breakfast Foods
Stocking a pantry with a family and small children in mind means I'm always thinking about breakfast foods!
Cereal – it won't last forever but in this case and the possibility of spending a few weeks indoors, it's great!
Pancake Mix – can be used for pancakes, waffles, and if you purchase a mix like Bisquick, even biscuits.
Granola – an easy and nutritious breakfast item or snack.
Granola Bars – my children might riot if there aren't chocolate chip granola bars in the pantry.
Oatmeal or Cream of Wheat – instant packets and regular oats are all great to have in the pantry.
Dried Fruits & Nuts – trail mix, raisins, cranberries, walnuts, pecans, peanuts, whatever your family likes.
Nut Butters – peanut butter, almond butter, etc.
Jelly – hello PB&J sandwiches!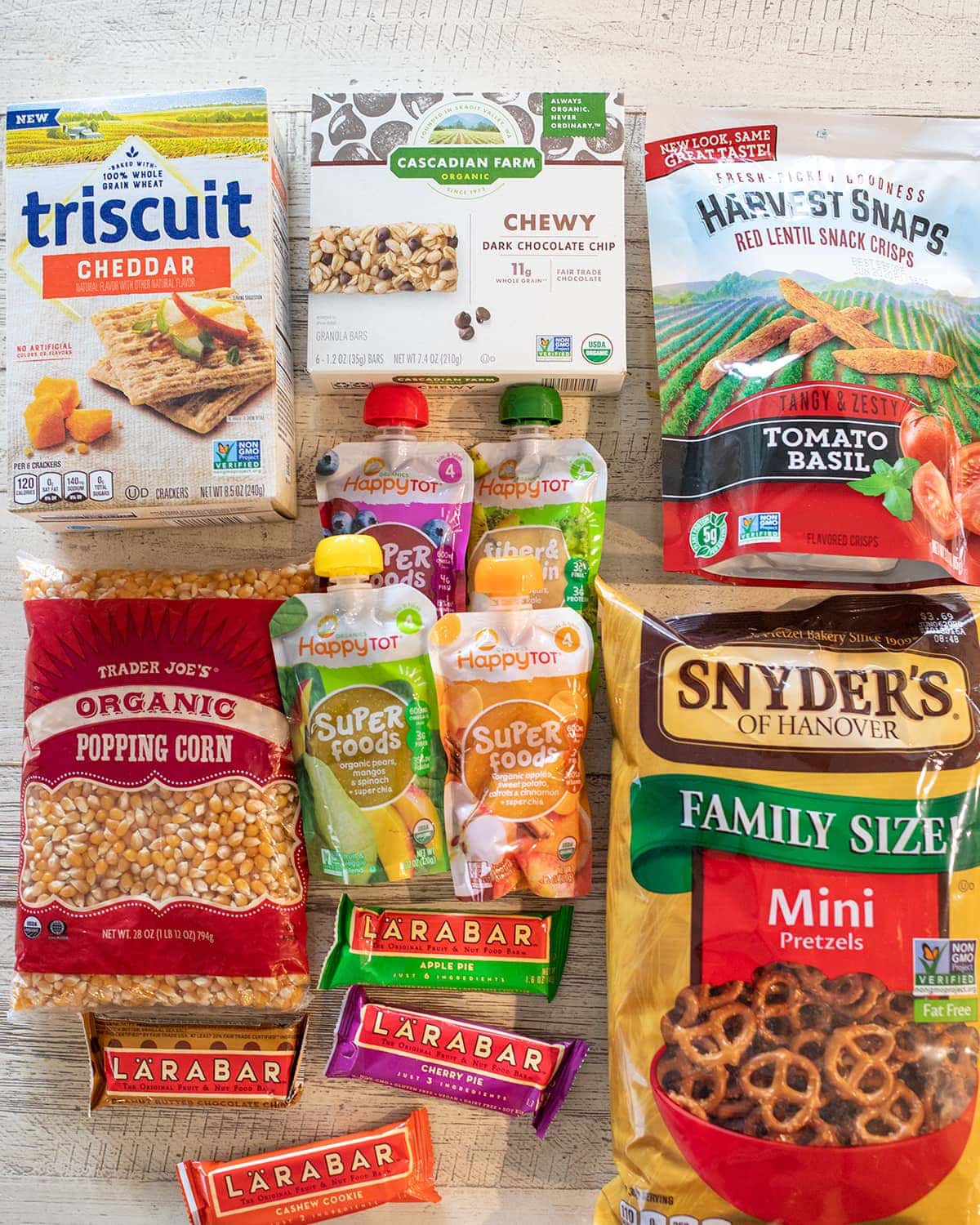 Snack Foods
With twin 4 year olds in the house, we had better have snacks! Here are a few pantry staples anytime.
Popcorn – whole kernel or microwave. Perfect for long days spent at home playing board games or watching movies.
Pretzels & Crackers – buy whatever your family likes. My kids love Harvest Snaps so I grabbed two bags. This is about comfort food and things remaining normal.
Pouches – with little children, it's always good to have these on hand. They last for a decent amount of time in the pantry and would be a good substitute if fresh fruits and veggies aren't available. Plus, my twins still love them!
Other – Any and all other snack-y things that might get you through a long hard week at home. Candy? I won't judge you, we definitely did it.
Frozen Foods
Now it's time to stock that freezer! This is definitely not for emergencies like an Earthquake where you might loose power, however with the coronavirus epidemic, a stocked freezer will be very helpful.
Frozen Meat – chicken, ground turkey, ground beef, pork chops.
Frozen Veggies – broccoli, green beans, corn, peas, all great in the freezer.
Frozen Fruit – perfect for smoothie making!
Bacon – I bought a huge pack and froze half.
Frozen meals – grab whatever your family likes. Chicken pot pies, lasagna, pizza, orange chicken, etc.
Additional Groceries
Of course aside from your pantry and freezer, you will want to stock your fridge with any necessities as well. Here are just a few ideas although this list will be much more personal to your family.
Blocks of cheese – last longer than shredded
Eggs – have a pretty long shelf life in the fridge
Bread and tortillas – keeps longer in the fridge
Long Life Fruits & Veggies – carrots, celery, onions, potatoes, apples, citrus, unripe avocados, cherry tomatoes.
Oil & Butter
Flour – all purpose flour for baking.
Active dry yeast – great for making homemade bread dough, pizza dough etc.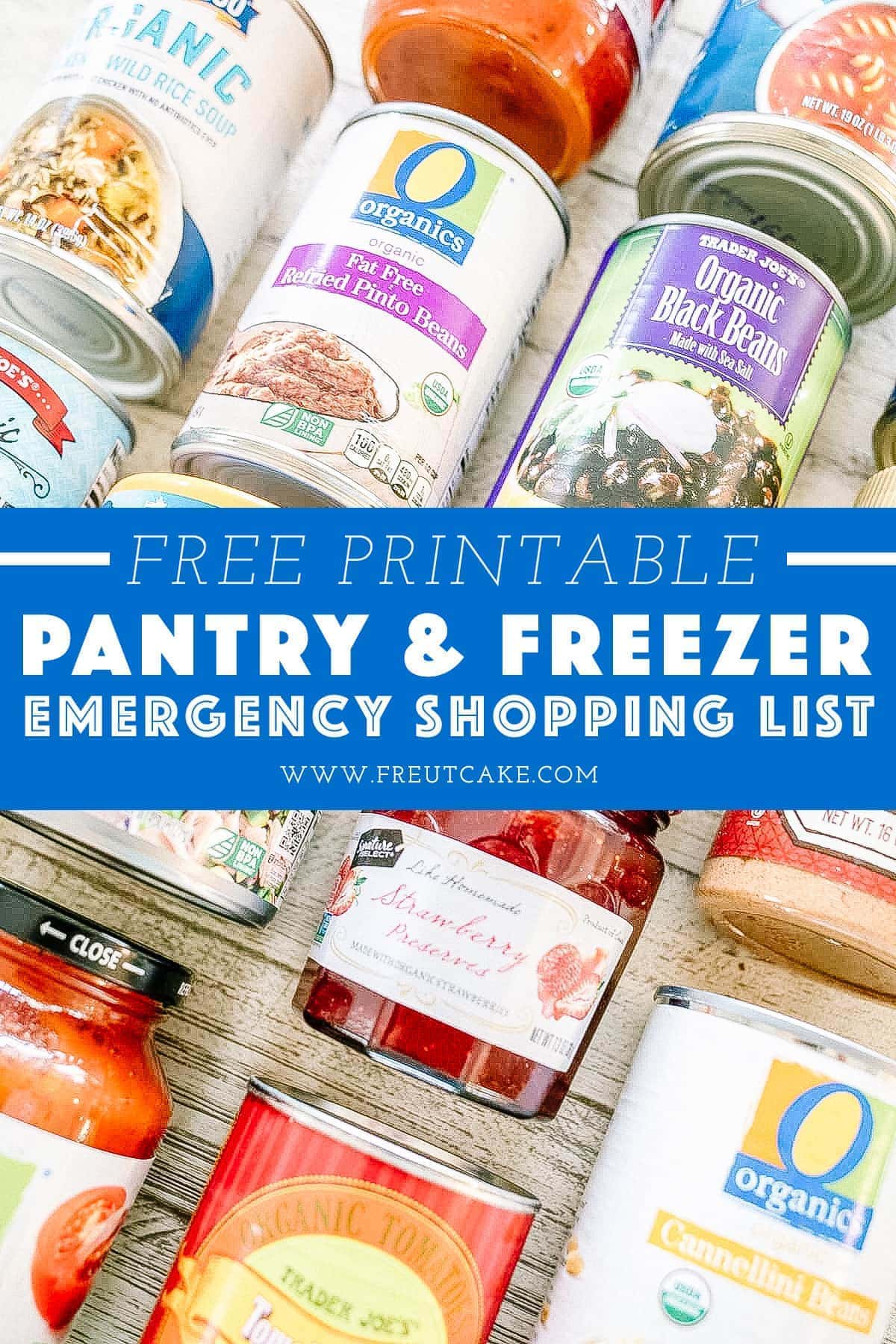 Social Distancing
I hope this list was helpful in getting you started building your pantry and freezer to prepare for the next few weeks or months. I hope you and your families are well, safe, and making the best of this crazy, uncertain time. You are not alone, we are all in this together even in times that feel pretty darn isolating.
While we are all practicing a little social distancing (Ehem, schools are shut down for 3 weeks in our district.) I hope you will be here with me on the blog. Leave me a comment in the space below letting me know if I missed anything on my essentials list! What are the essentials you are stocking up on?
Pantry Meals + Easy Comfort Food Meals
Now that your pantry and freezer is stocked, here are a few simple ideas and recipes to make if you happen to be stuck at home until this virus passes.
Spaghetti and meatballs
Tomato Soup and Grilled Cheese Sandwiches